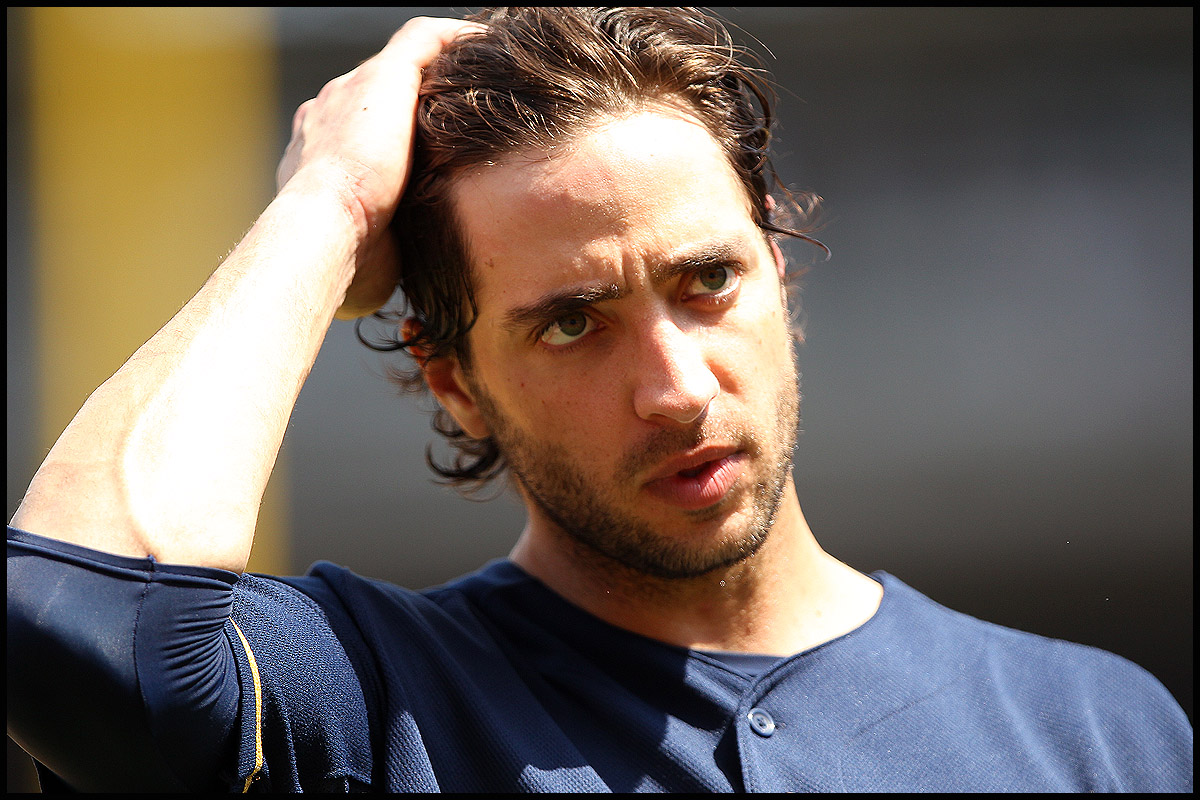 Saturday night will prove a childhood theory of mine wrong: that you couldn't pay me to watch the Islanders.
Alas, it can be done. I'm getting a great opportunity to cover my first NHL game on March 10 when my two favorite teams face off on my favorite island — the Devils head to Nassau Veterans Memorial Coliseum in Uniondale to try and burn the Islanders for the second time in three days. All kidding and Rangers loyalty aside, I'm pretty pumped for this game; Devils goalie Martin Brodeur is an ageless Hall of Famer and I'm going to bring my 400mm lens just to get some tight portraits of him in goal. I bought a new Canon 16-35mm f/2.8 II L super-wide lens earlier this week, so that will get its first real action at ice level. Both teams have some stars and this should be a nice upgrade from shooting Army hockey. The crowds at these games always create such a great atmosphere with most sporting custom jerseys of their favourite team.
But this post isn't just about the Isles. I stumbled across some published images of mine this week, notably a few in Sports Illustrated, and then randomly, more images unashamedly stolen by a variety of obscure and legit websites. Just to humor myself, I'll post it all here.
First, we'll start with the good: this nice photo of the Jets' Shonn Greene ran in a late-October column in SI: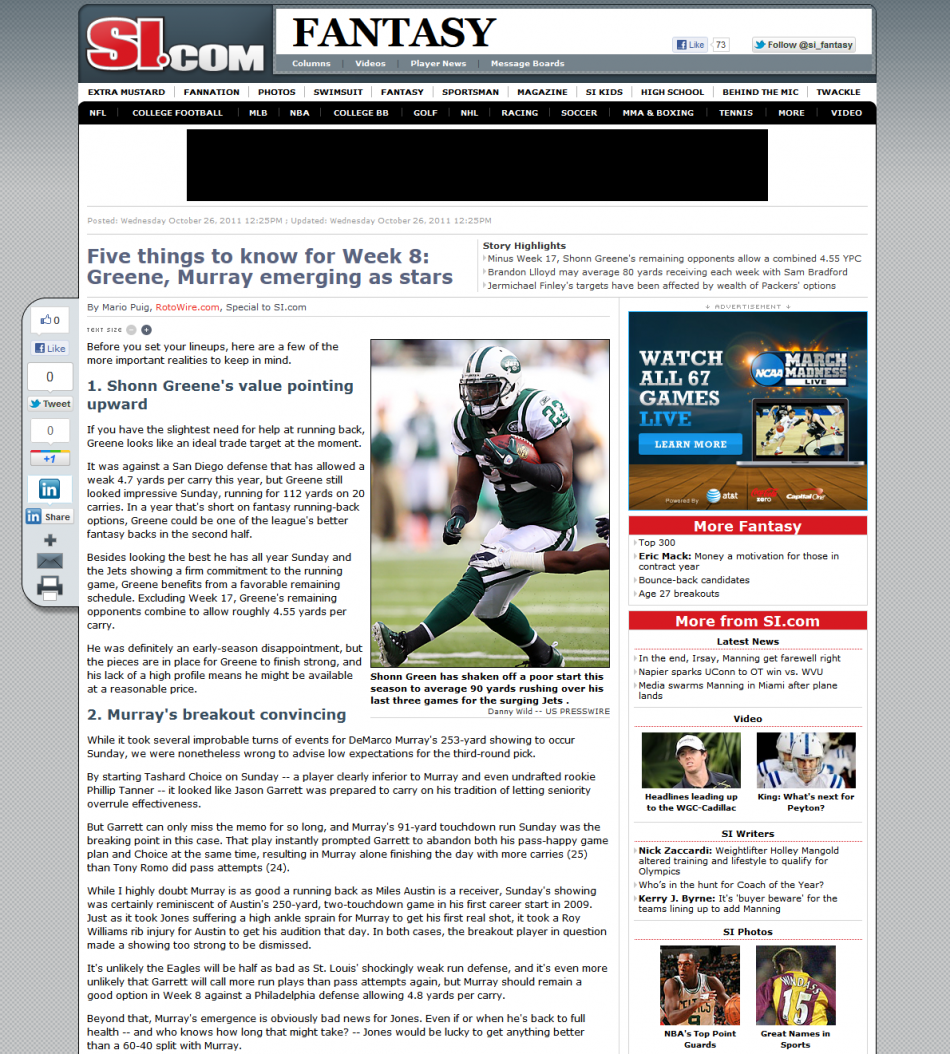 SI also used this image in ranking Don Bosco football this fall: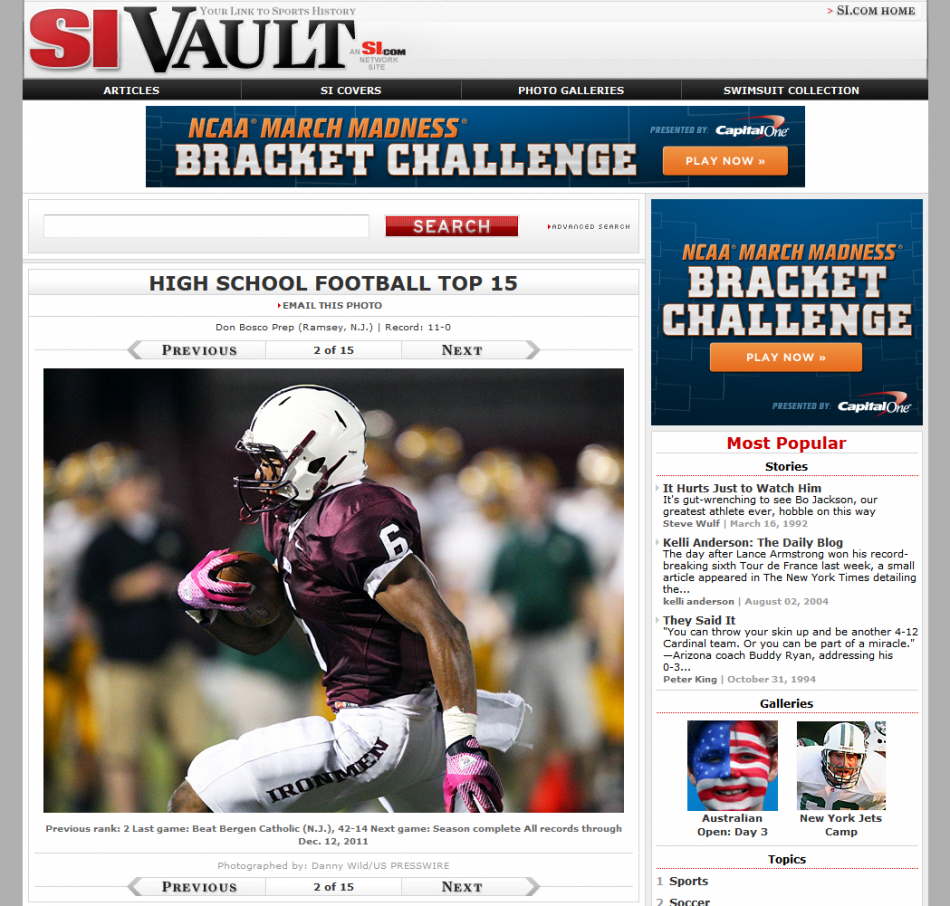 USA Today and ESPN.com both ran the same shot of a former Bosco star who got himself into hot water: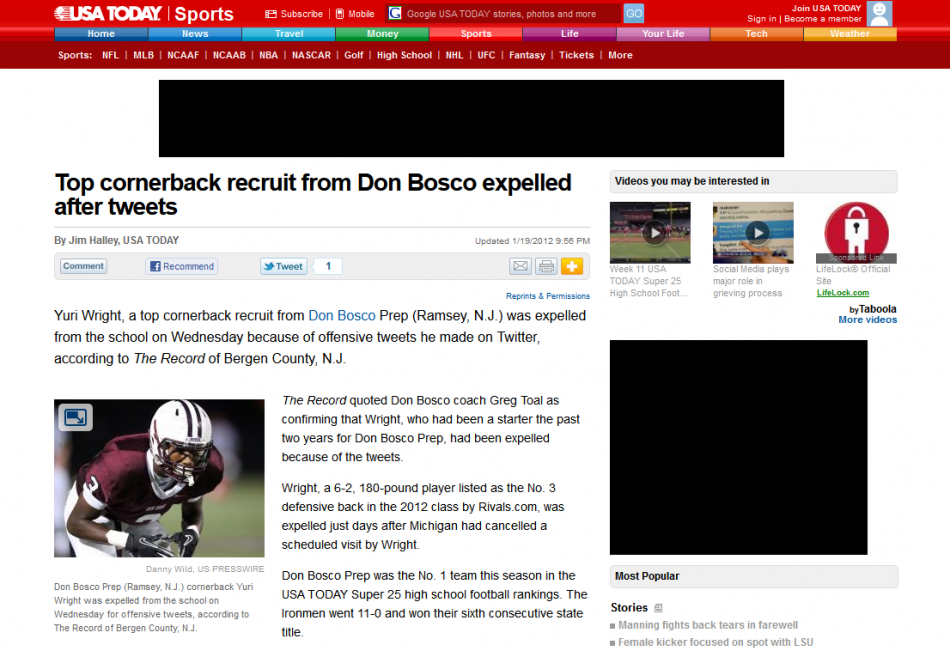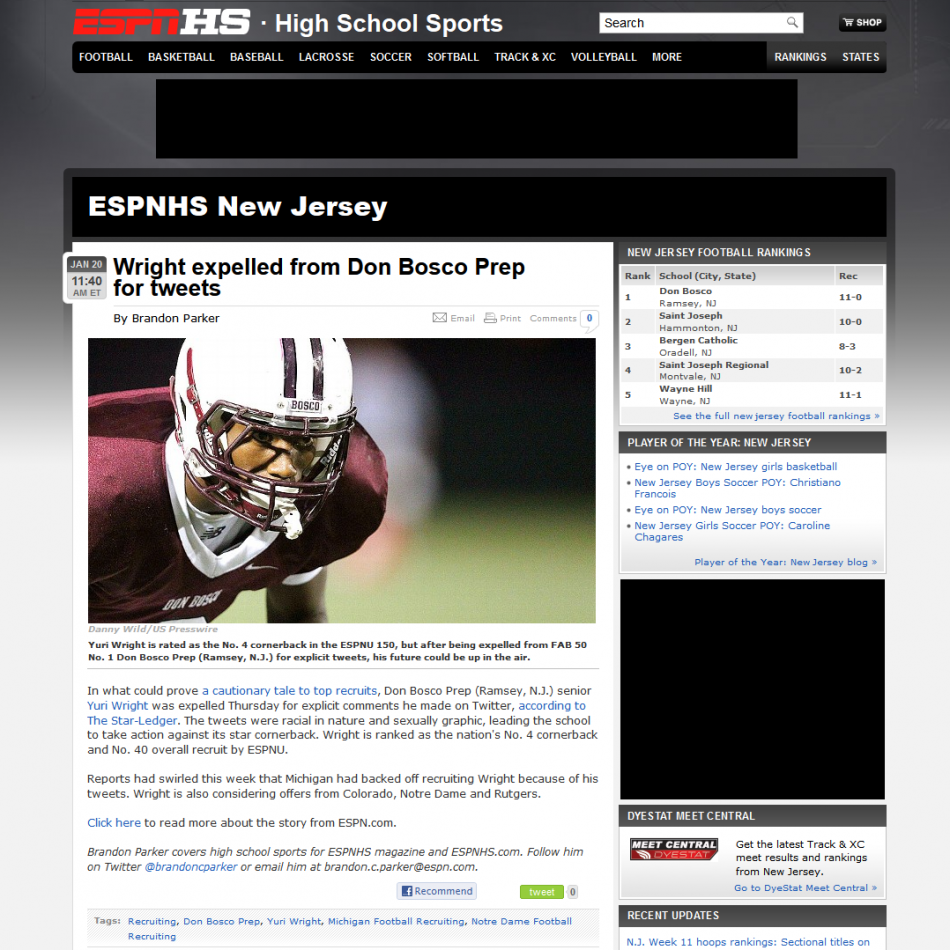 Hooray, published, paid, legit usage of my work in major outlets! Now we'll move over to the "what the?" category. Occasionally I'll Google image search my name, since I'm so impressed with myself, to see what's floating around the web. Here's LaxAllStars.com, a college lacrosse website, swiping a photo from my Flickr page I guess: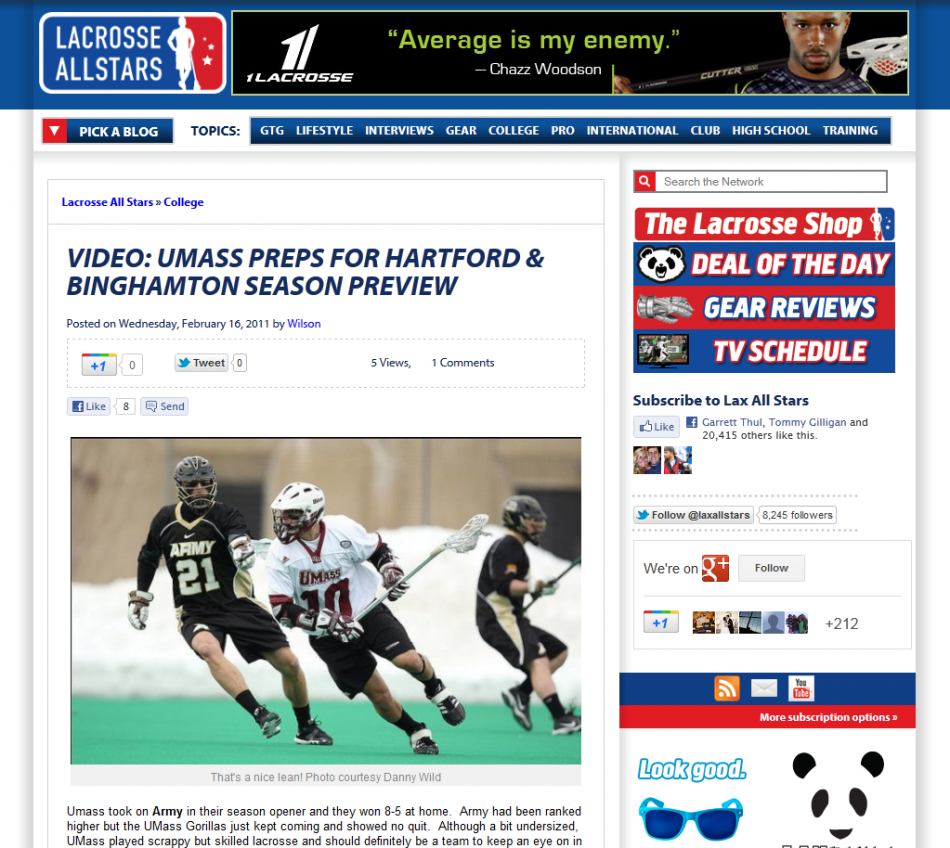 I like when websites write "courtesy xyz," as if it's implying the photographer donated the image or something. Even better than this theft, this sports blog must have felt like they struck gold when they found my collection of Jets cheerleaders — they posted an entire gallery of my Flight Crew shots on their site. Why stop at one? He did thank me for the photos it appears, and I have the satisfaction of knowing maybe a few Jets fans enjoyed 'em.
My personal favorite of late has been people stealing my shot of reigning (and briefly tainted) National League MVP Ryan Braun looking fairly distraught last summer during a game at Yankee Stadium — Joe, "a writer with a BA in communications from Boston College," stole my shot of Braun for his fieend.com blog story in December when Braun tested positive for a banned substance. Does BC teach media ethics?
But wait. This blog also stole the same photo.
And this website (deathandtaxesmag.com) did too! (DJ Pangburn being the thief in this case).
Also here.
And here too, by Ben Herman.
Damn, this site swiped it as well.
Unreal. You'd think I'm the only person who's ever snapped a photo of Ryan Braun looking kind of worried. Just the fact that I posted that image again above means it'll probably be stolen again. Should I start heavily watermarking my stuff everywhere?
I spent some time this week trying to determine a fair value for images, and the answers I got varied. Consider the cost in equipment alone when it comes to producing high-quality images. In general, when folks steal images like these Braun shots, it hurts the whole industry; what value does a professional image hold if you can just find one on Google for free?
This fan-based website I've never heard of stole a rather nice shot I got in August of Hunter Pence and the Phillies. I drove all the way to Philly for that one!
Gothamist, which I've at least heard of, swiped this one of Yankee Stadium I took during the Army-Rutgers game.
Good ol' Bleacher Report stole my photo of Army QB Trent Steelman for a photo gallery (I took that one in Dallas in 2010, no less).
Some people do acquire photos the old fashioned way, though — like this website I've never heard of going with my Obama coin toss frame, and two more I know all about: the Sun Sentinel, my grandmother's hometown newspaper in South Florida, also couldn't resist some Jets cheerleader action, and the nearby Orlando Sentinel went for this cool shot I got following UConn's win over South Florida back in November.
Will Islanders photos be the next off the shelf?