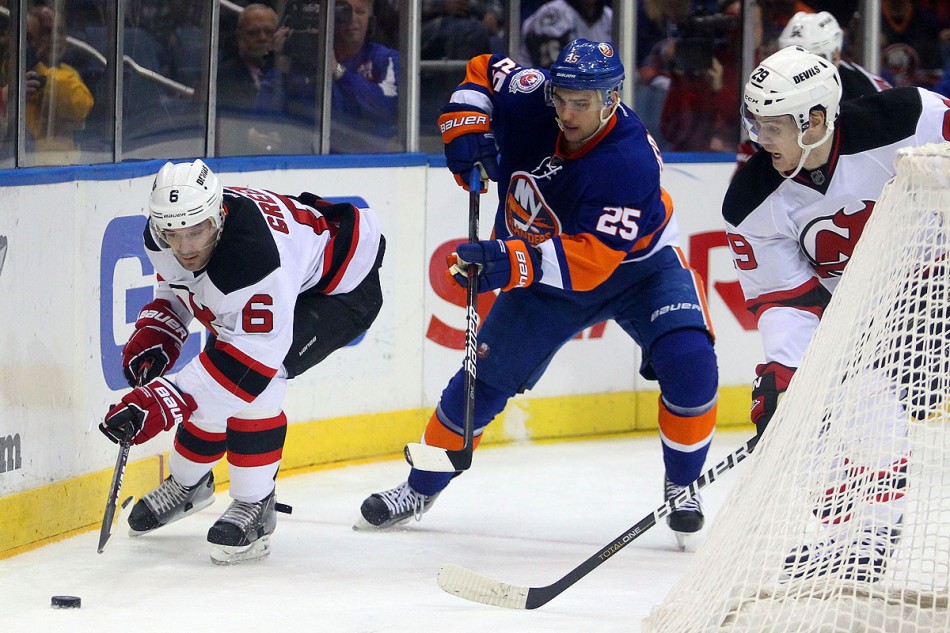 I stole Bruce Bennett's personal work stool. I set up shop in the wrong media workroom. I edited my photos in Sparky the Dragon's sweaty dressing room. And I was kind of hungry. That, and three goals in the last few minutes, was my experience last night in Uniondale as I shot my first NHL game, a 2-1 comeback win by the New Jersey Devils over the stunned New York Islanders.
First I'll admit, I wasn't too thrilled with the images I produced in general. Partly because shooting through the glass (they did not have a hole open for me) was a nightmare and it effected image quality, and partly because nothing happened in this game for the first 50 minutes. People involved with ice hockey moneyline betting must have been chewing their nails… It was scoreless midway through the third period, and I was a least up in a higher shooting position and finally got some better photos when the goals came. But early on, I tried my luck down in the corner nearest the Islanders' locker room.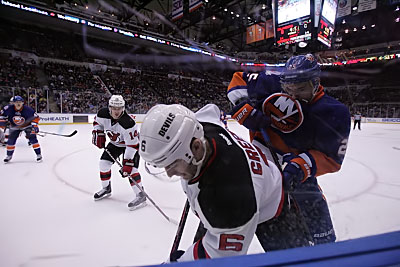 I was sitting beside Mr. Bennett, who is probably the most legendary hockey photographer there is, so that never got old for me.
The shot here on the right was my view for the first two periods (taken with my new 16-35mm lens, which I didn't use much without the hole). Look closely and you can see the stick and puck marks and scuffs on the plexiglass. Not good. That stuff ruins photos, it creates haze and blurry areas and generally is a nightmare. I tried shooting around it for awhile, but went up to Section 217 for the third period.
Nassau Veterans Memorial Coliseum is not what you'd call a charming, picturesque venue. It's dated — maybe even outdated — and feels its age. There aren't any real defining characteristics to this place that make you feel like you're on the Island. To a degree, it's sort of nice, considering the organization's legendary history when this building was the home to four consecutive Cups in the early 80s. One thing I love about this place is how easy it is to park and walk to your seats (or leave your seats early to beat the traffic). Nowadays, the fans are short-tempered and miserable. One of the photography holes on the glass was broken, which ensured I'd have to find other options. The higher-up position wasn't so much a media spot as it was just some steps next to a row of seats.
During pre-game warmups, I snapped this shot of the Isles' peppering goalie Evgeni Nabokov. I thought it was a nice moment, but US Presswire didn't post it. (Thanks again to US Presswire for this opportunity, you can find my set of images from the game here on their site)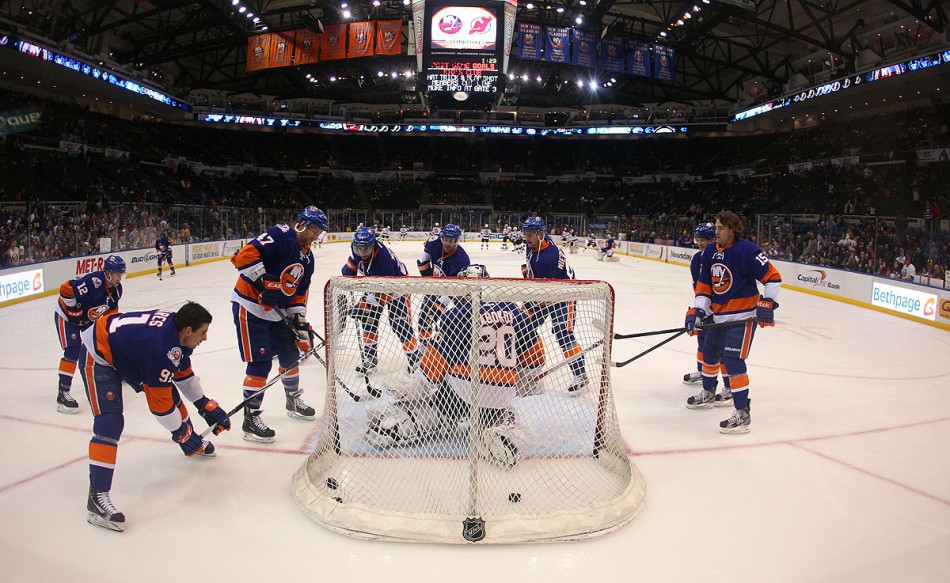 Devils captain Zach Parise during the first period: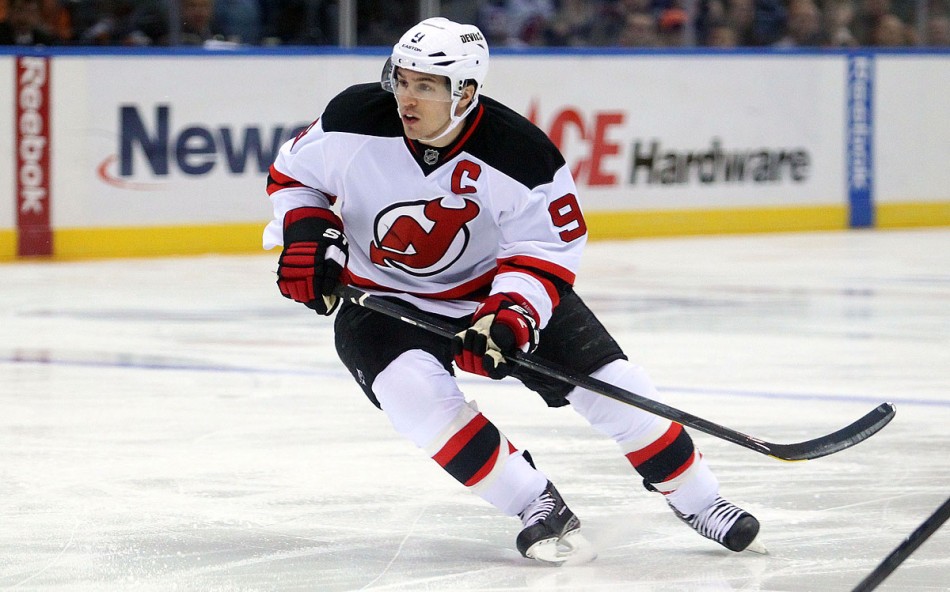 New Jersey Devils right wing David Clarkson (23) fights for the puck with New York Islanders center Josh Bailey (12):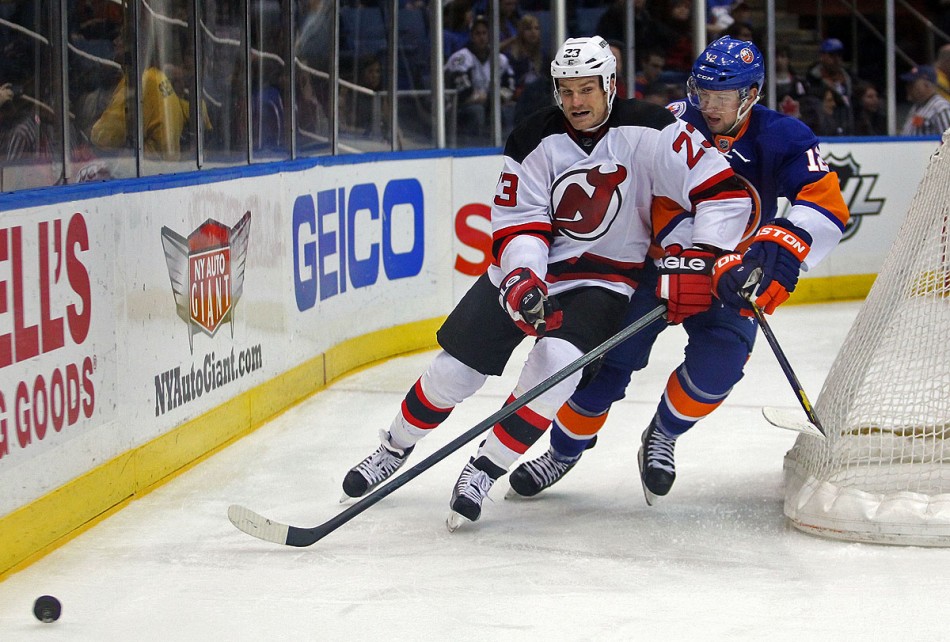 Islanders third-string goalie Anders Nilsson got the start opposite Devils backup Johan Hedberg. I was a little bummed about that since I'd hoped to shoot Marty Brodeur: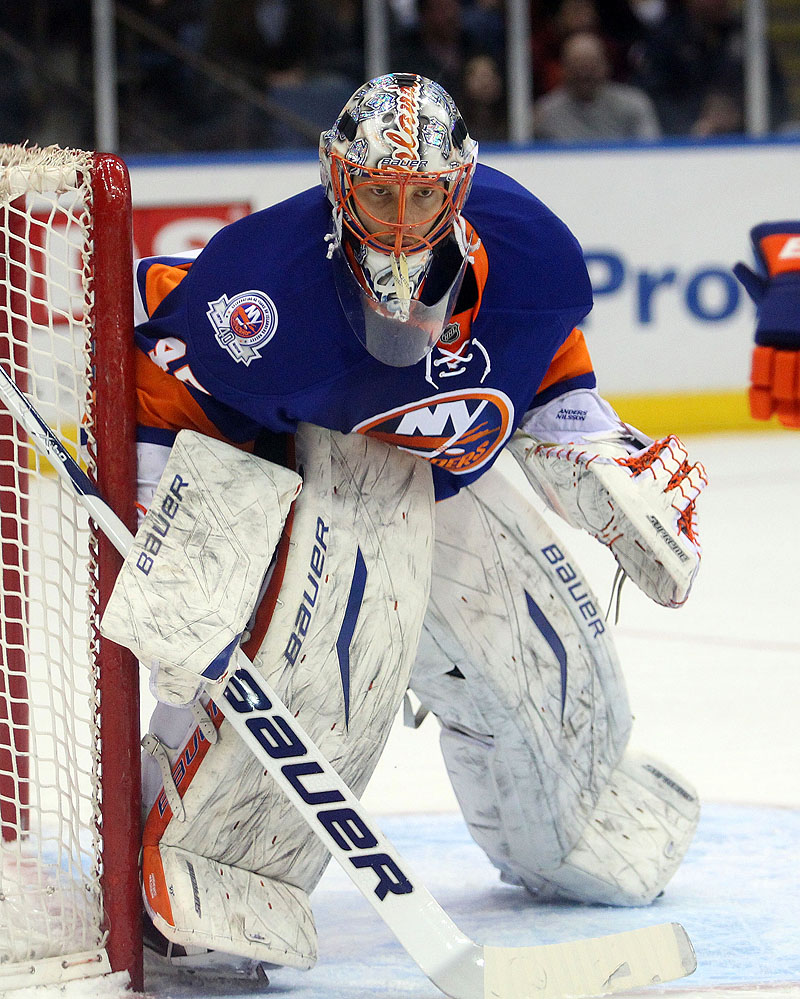 Devils star Ilya Kovalchuk skates the puck into the zone early: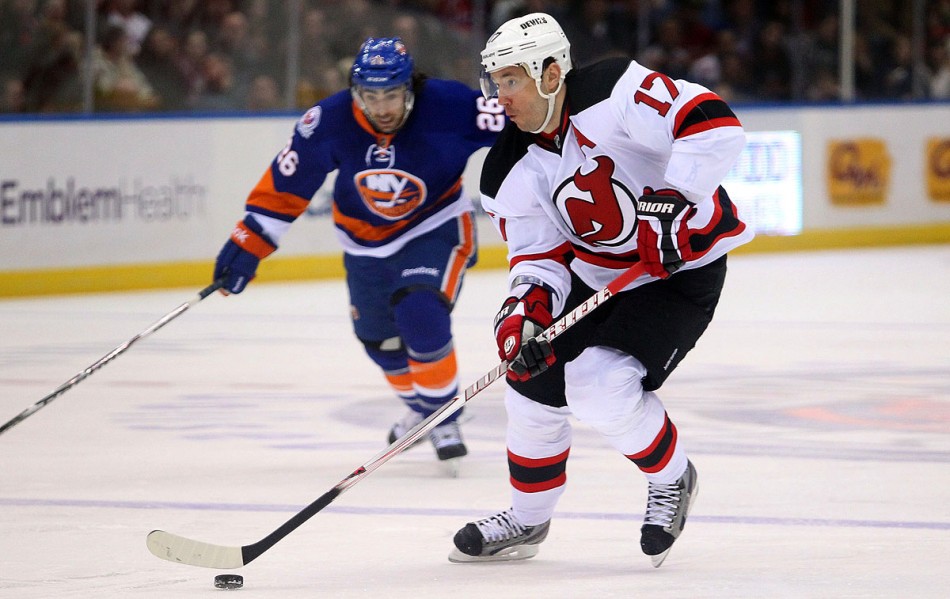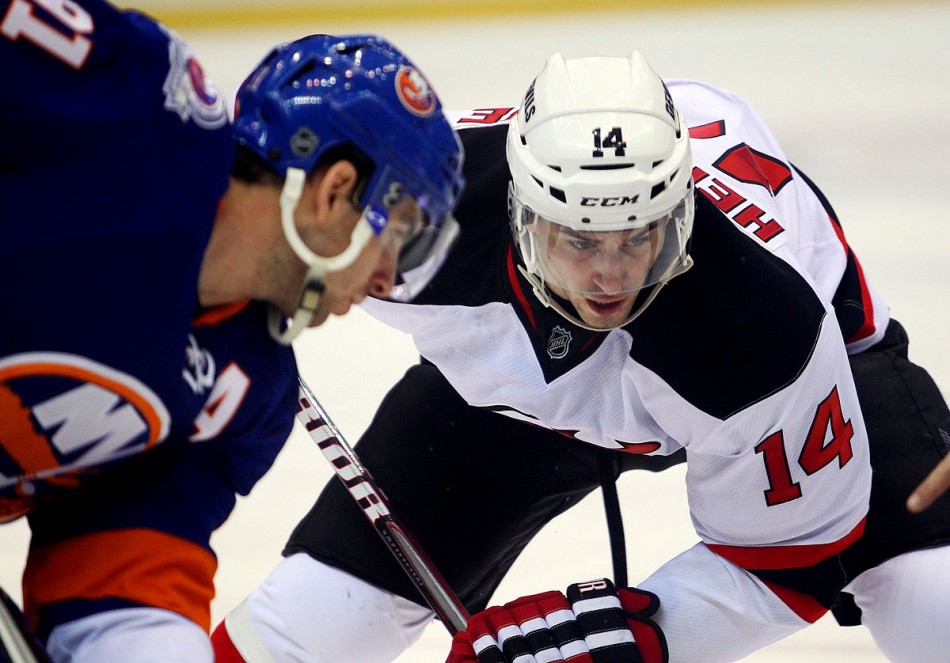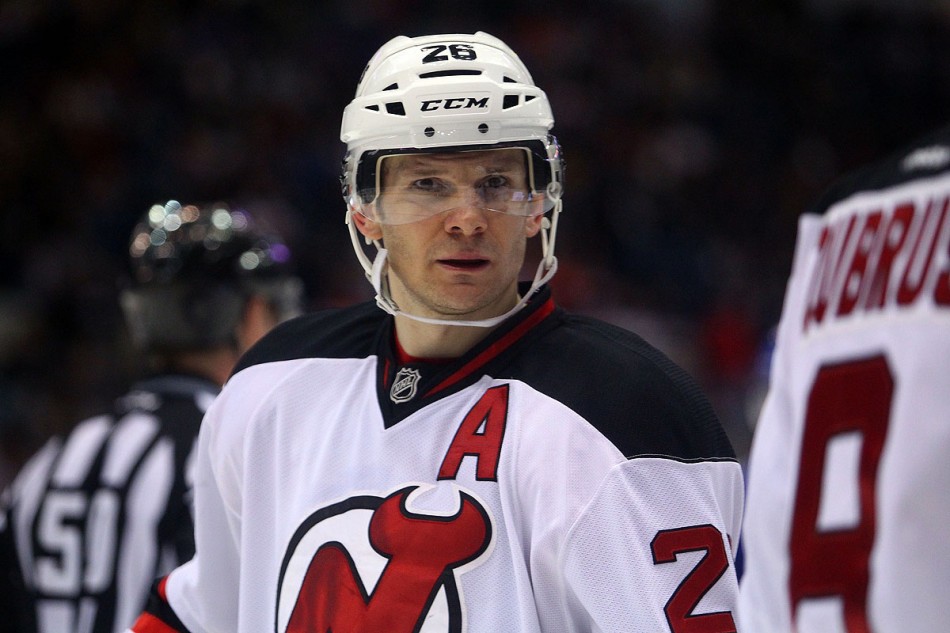 Islanders All-Star John Tavares was one guy I wanted to get a few extra shots of. He ended up scoring the Isles' lone goal in the third: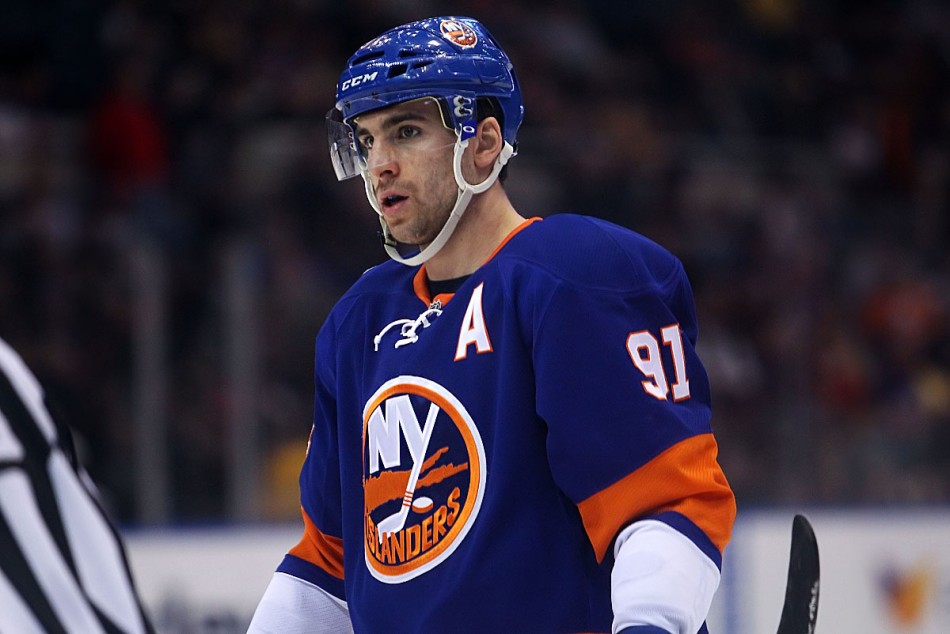 One thing I was really frustrated with was the glass and how it distorted any images with my 300mm and 400mm lenses. I'm not sure what the reason was, but it was impossible to get a sharp frame through the glass with a long lens — only the 70-200 was feasible.
Here's former Devil Jay Pandolfo looking for a shot in close: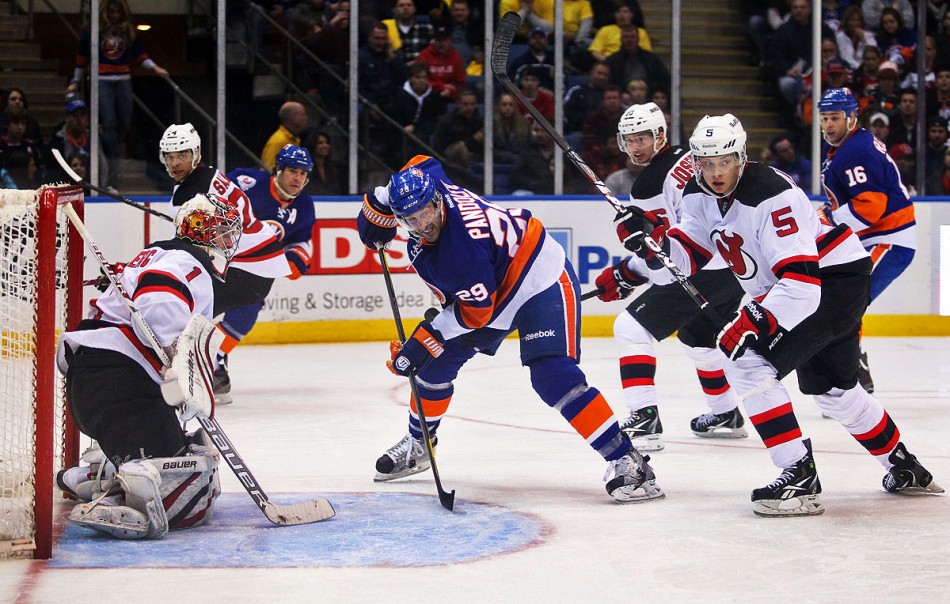 Kovalchuk tries to elude PA Parenteau, one of my favorite names in hockey. This is of course from the third period, as you can see I'm shooting from a higher angle above the glass with a 300mm: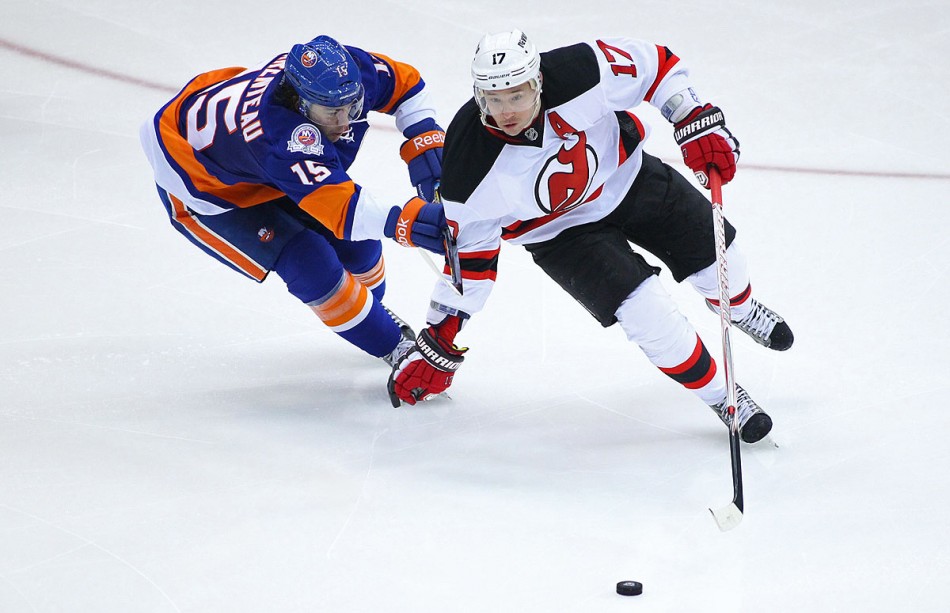 Here's Parise going up against Islanders captain Mark Streit: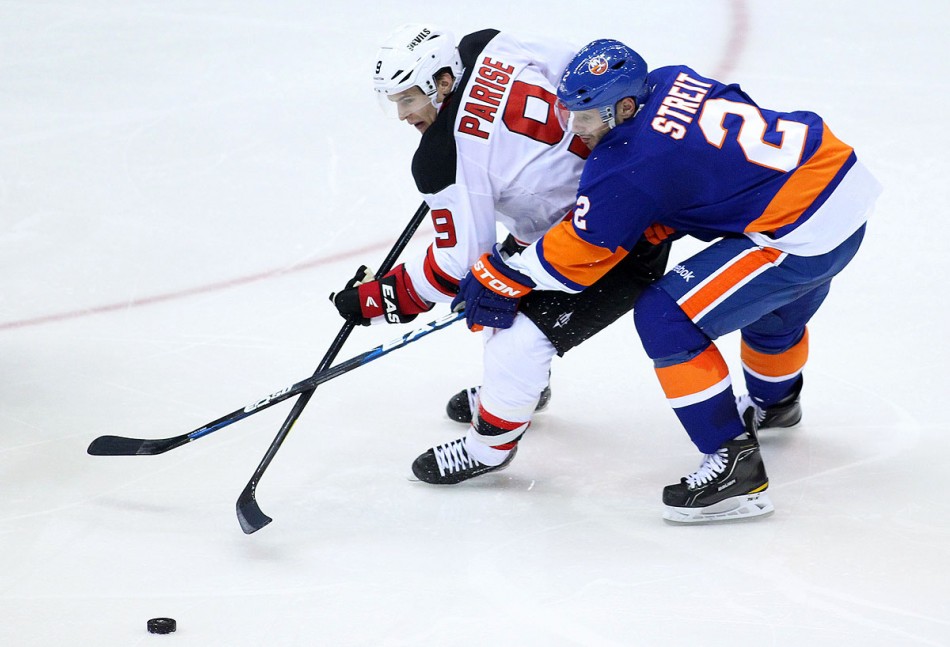 Dylan Reese (42) joined the pair and made for two compositions I liked: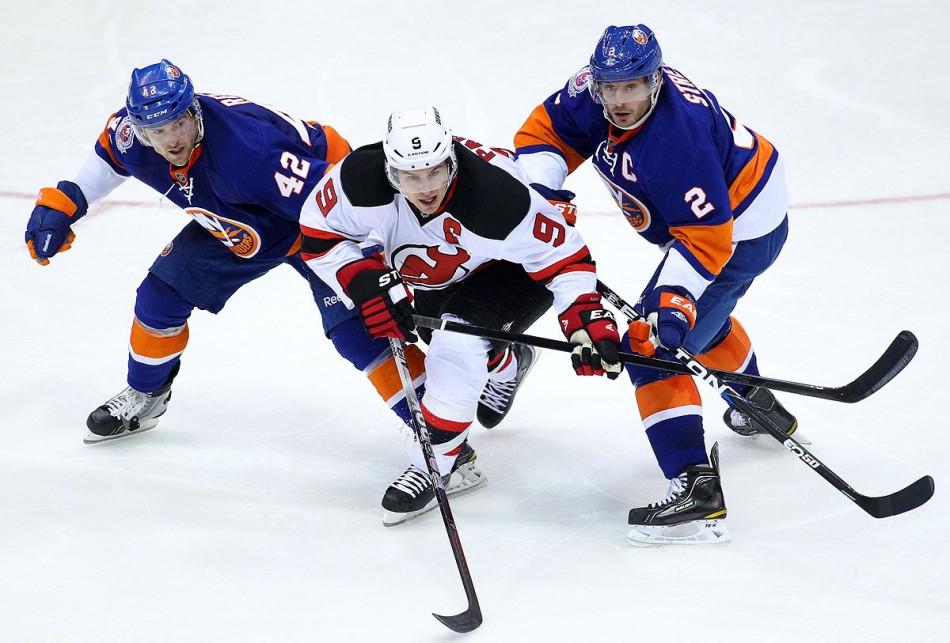 Parise tries to shove the puck under Nilsson's pads: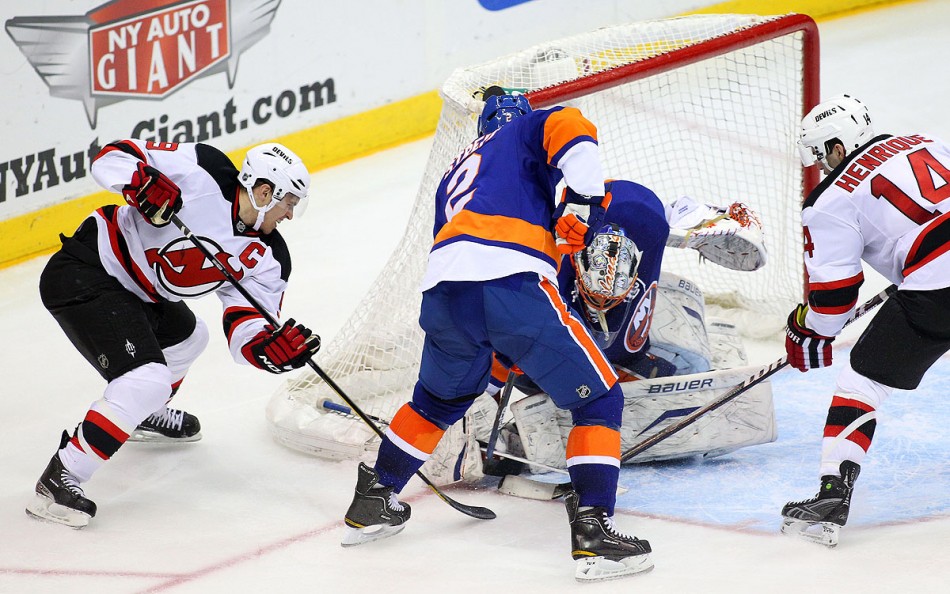 Ahh, the Ice Girls. True, professional and college hockey players tend to cut up the ice surface faster than youth games, so maybe snow removal is helpful, but I think the Islanders' team of spandex cheerleaders are more to distract the fans from the real action on the ice: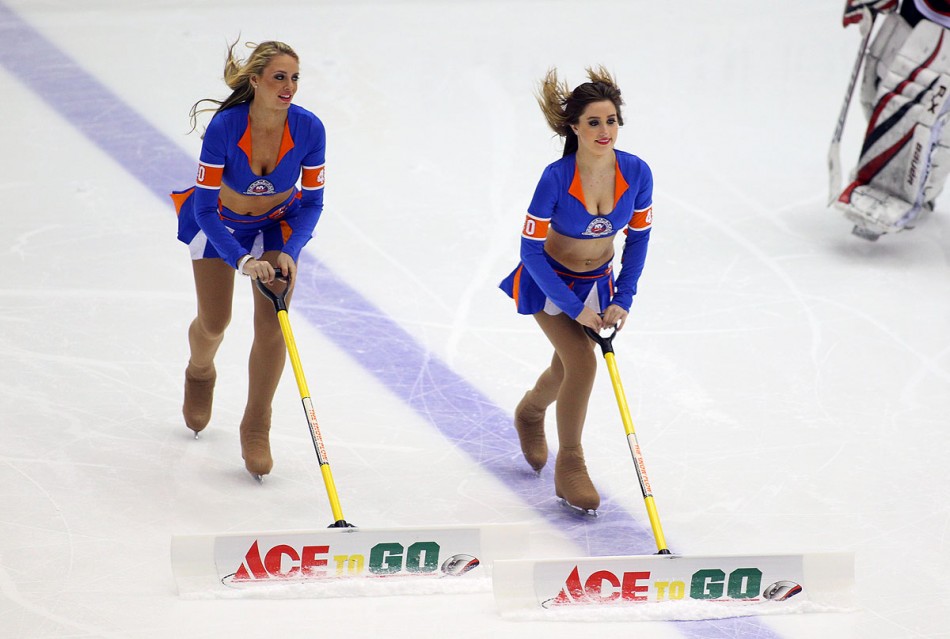 Parenteau reacts after Tavares knocks home the game's first goal late in the third, putting New York up 1-0: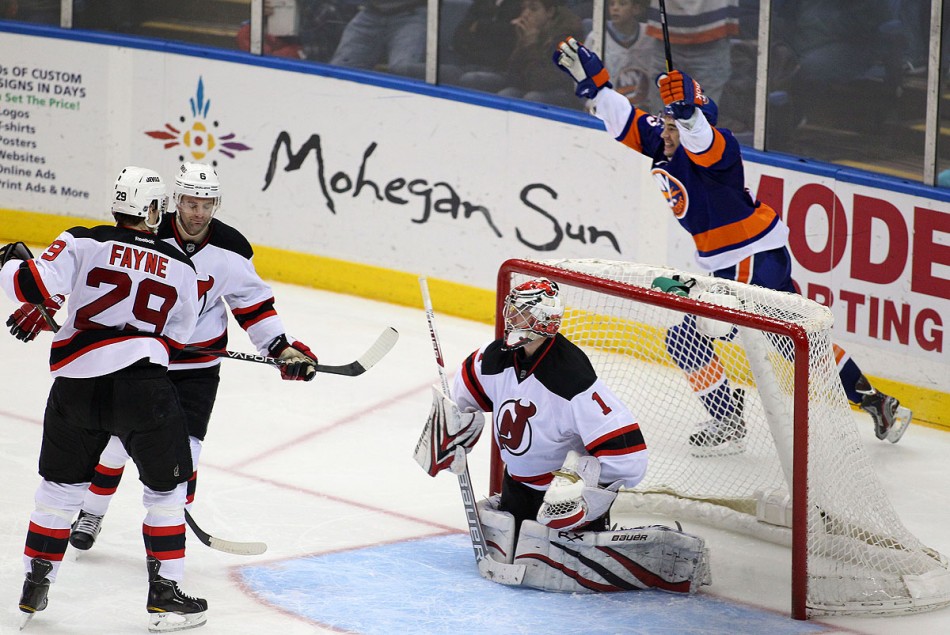 This was one of my favorite shots from the game, but it also didn't make the cut on Presswire's set: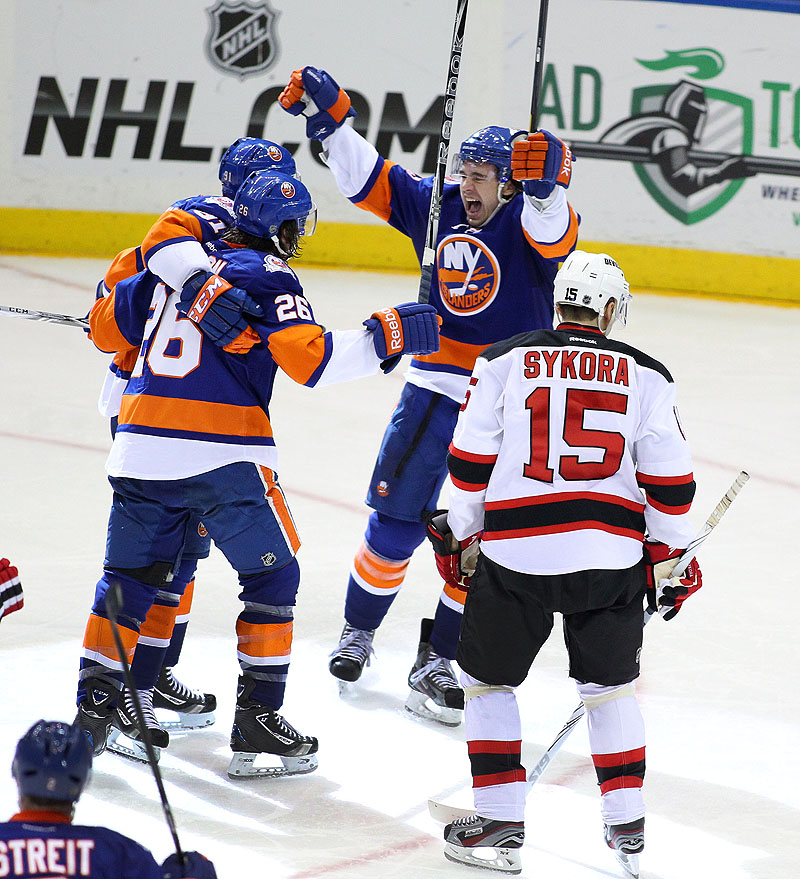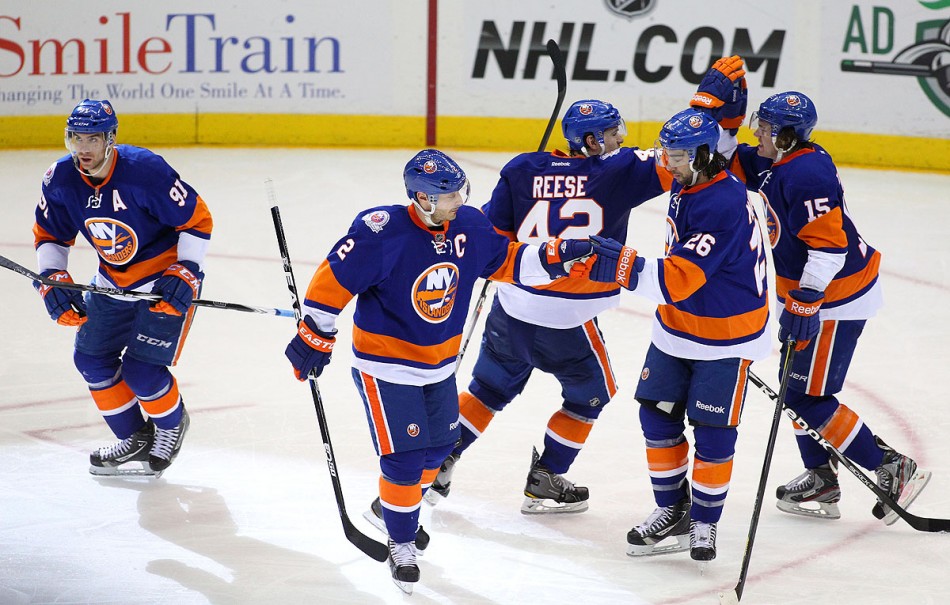 This was my shooting position for the third, just left of center ice: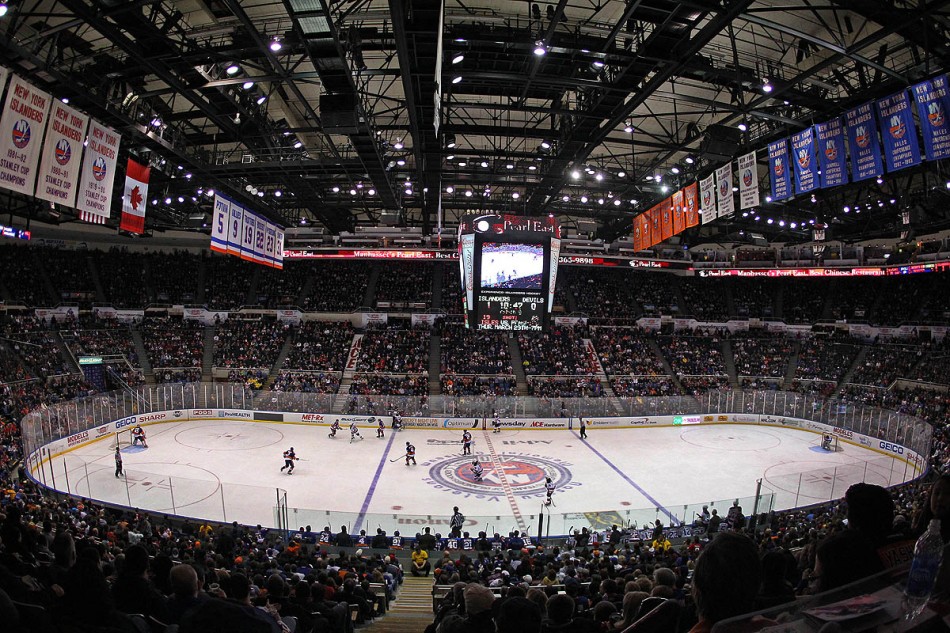 Steve Bernier (18) plays the puck from behind the Islanders' net late in the third: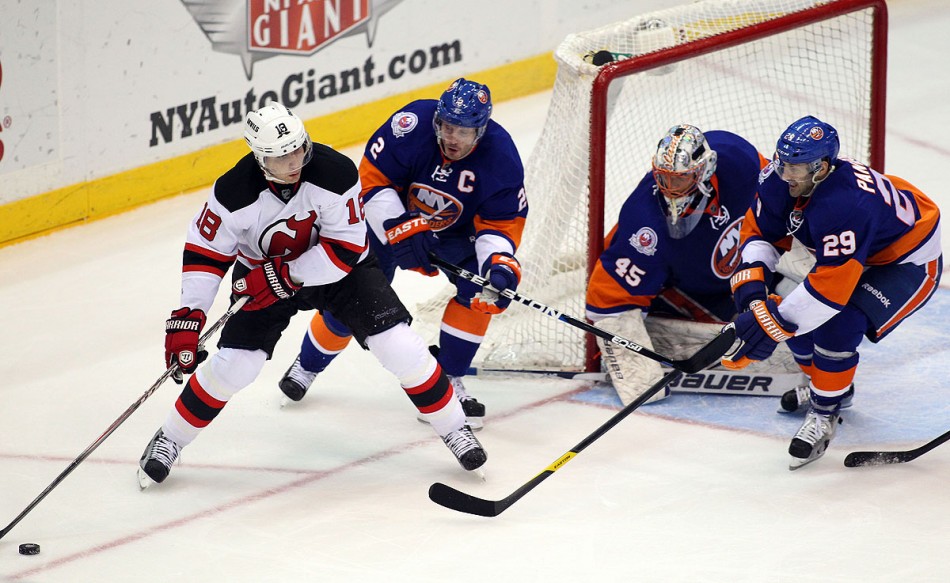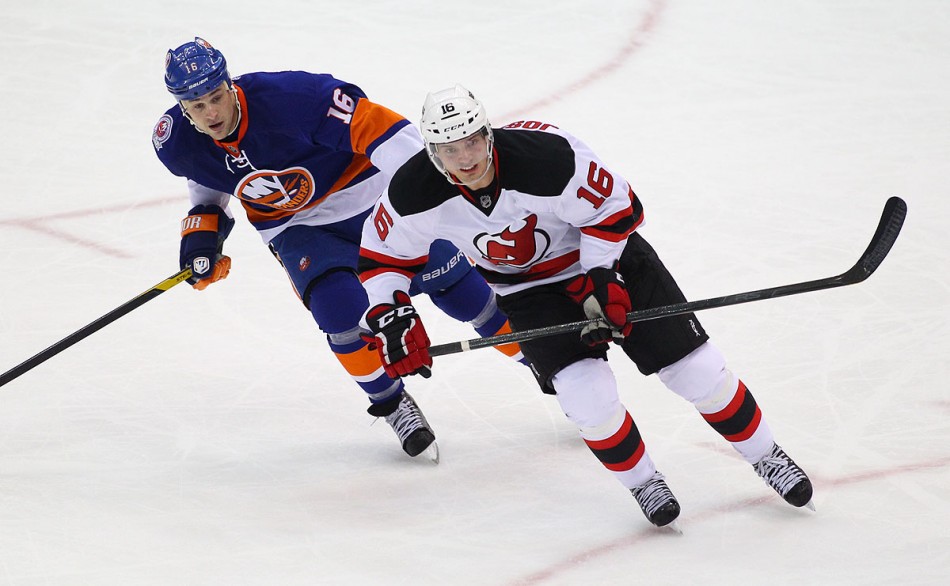 Devils defenseman David Clarkson (23) reacts after scoring the game-tying goal with under two minutes to play. Clarkson tied it with 1:39 remaining, squeezing the puck past Nilsson for his 28th goal: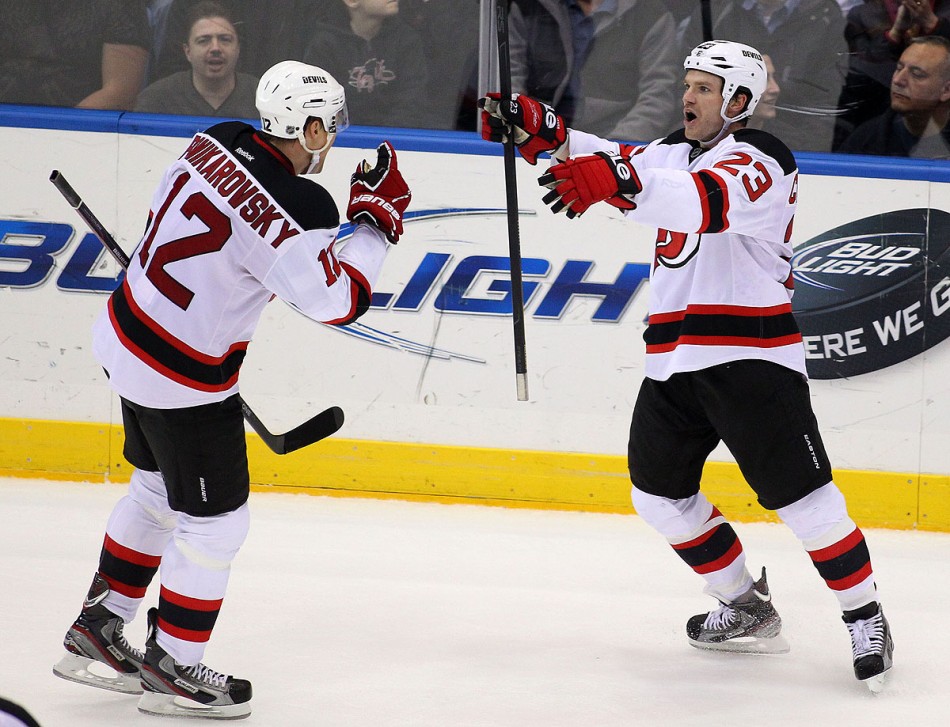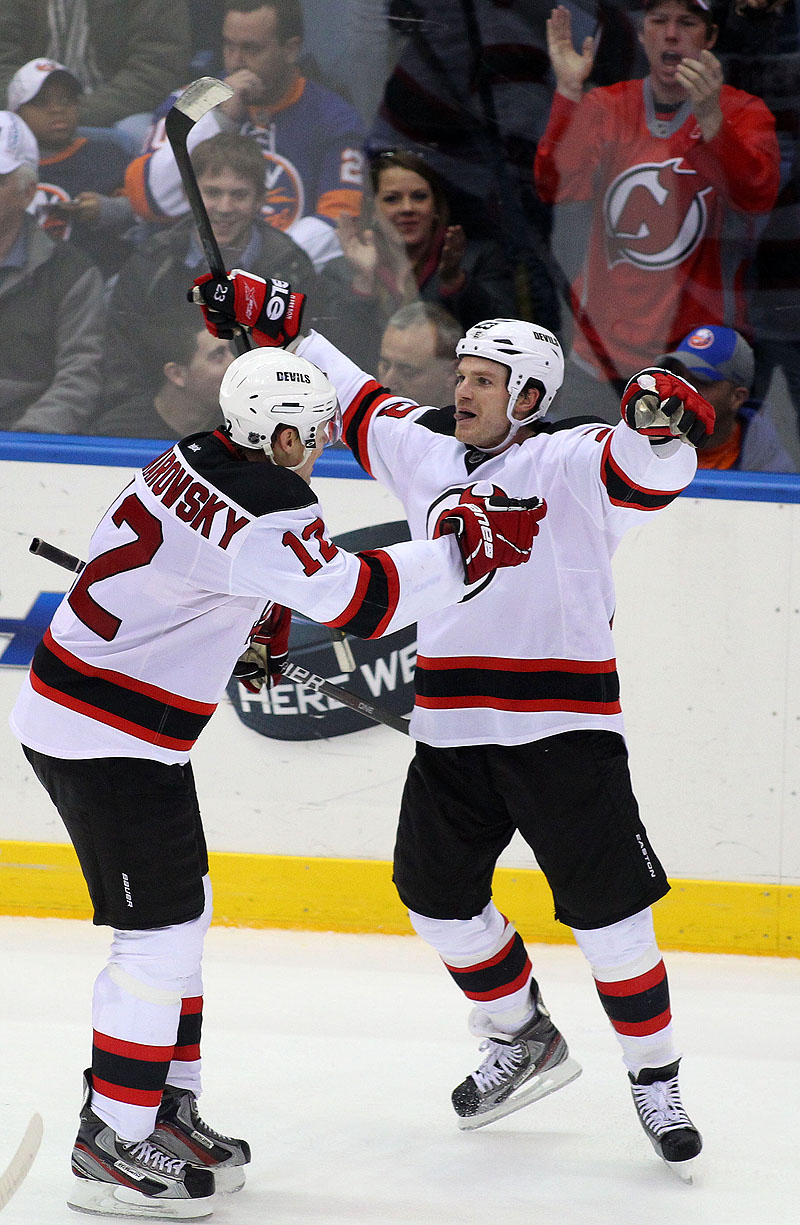 The game slipped away from the Islanders at this point, when Parenteau took a brutal penalty for boarding: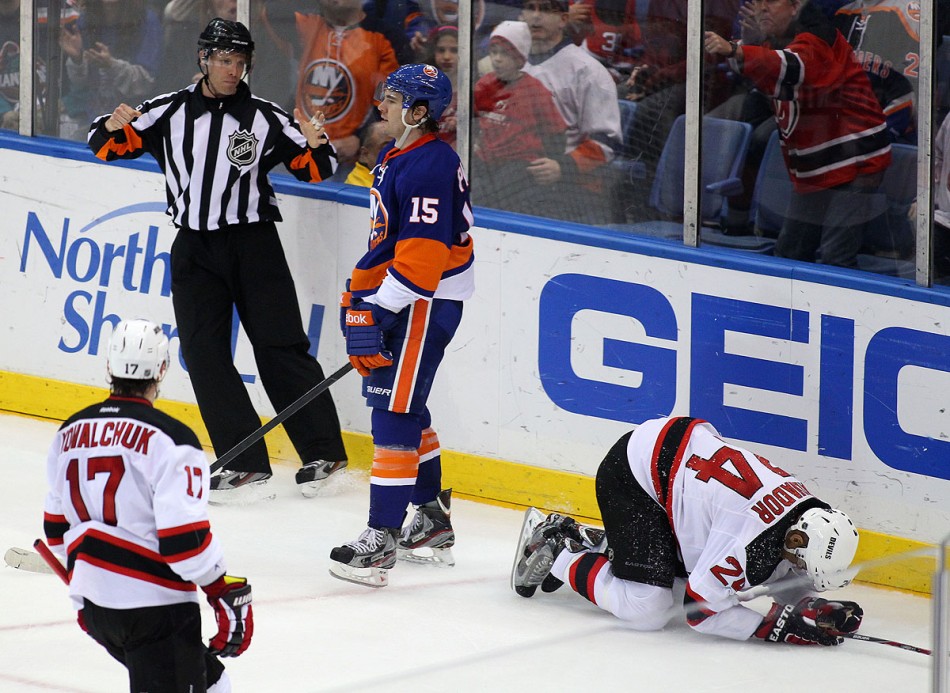 About 14 seconds later, Marek Zidlicky gave the Devils the lead with a power-play goal: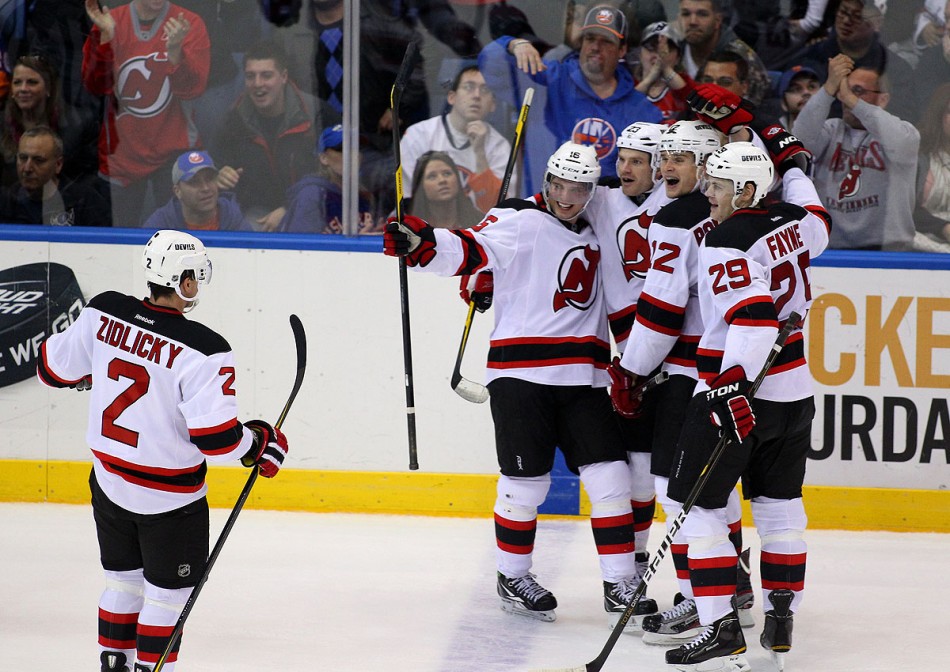 Suddenly, Islanders fans stood up and walked out with 1:38 remaining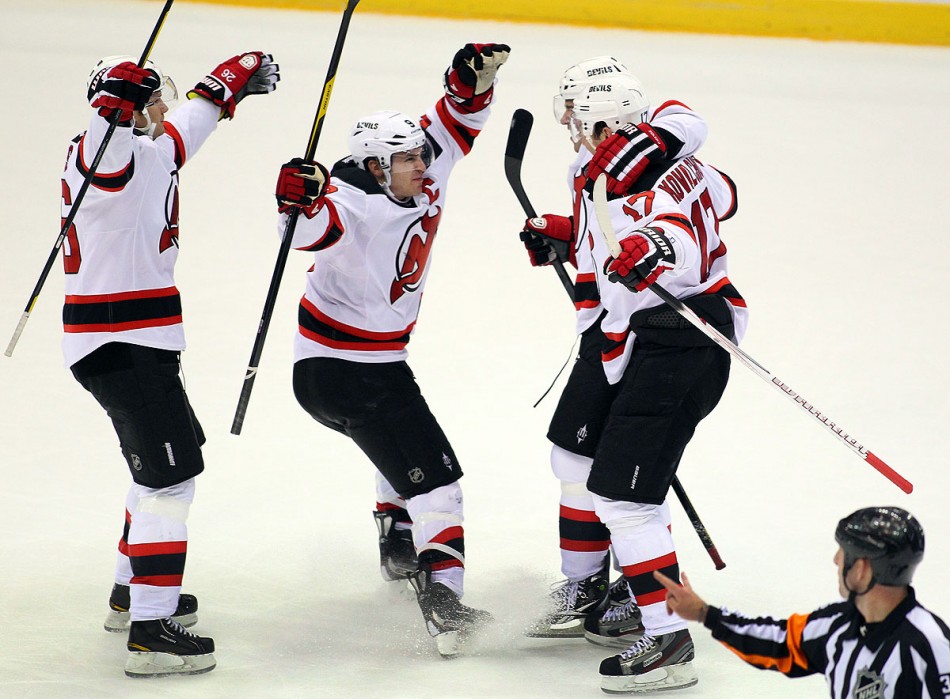 The Isles had one last chance to tie it up with an extra skater, but fell short: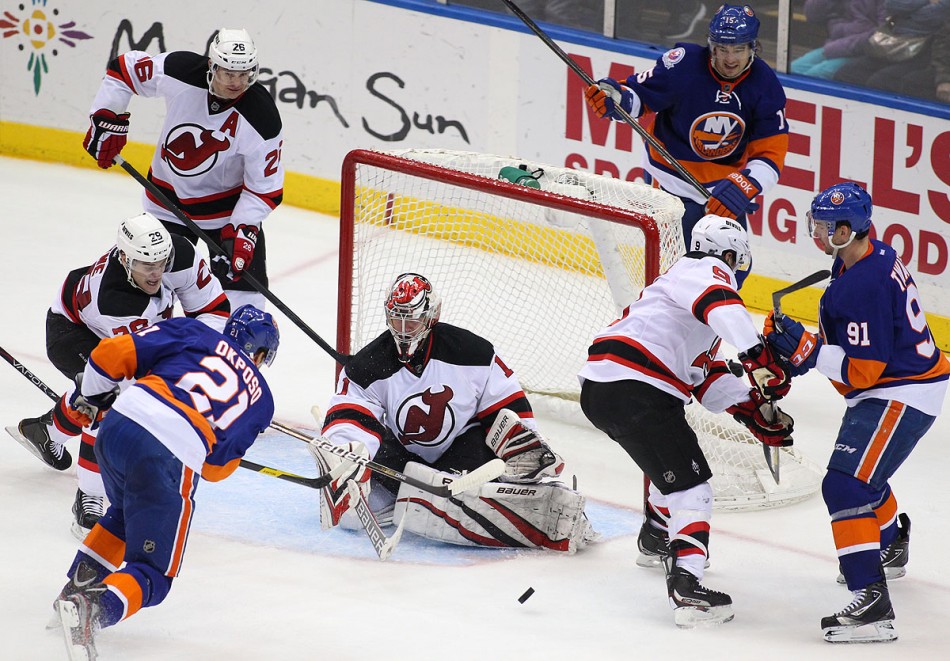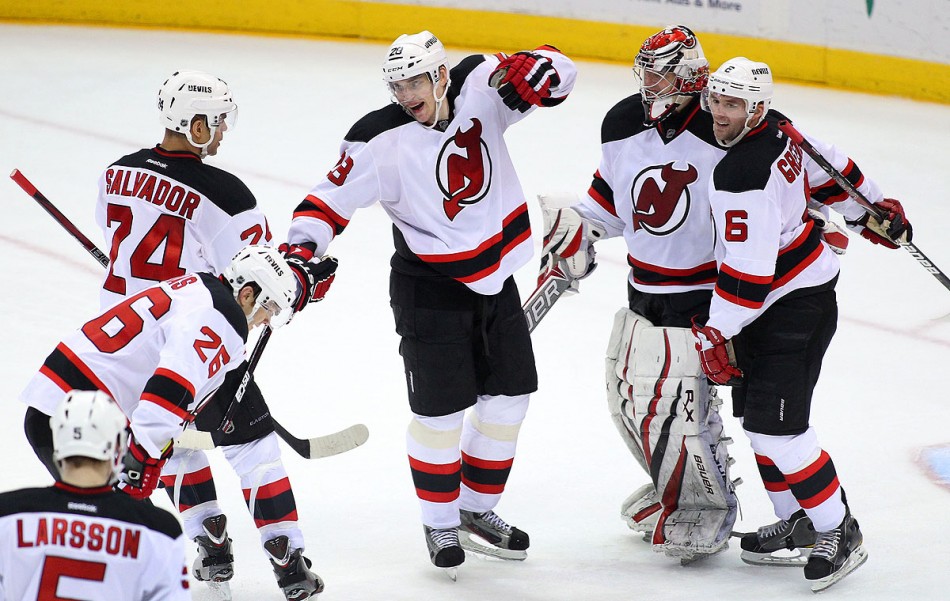 Again, thanks to US Presswire for the chance to go shoot this game. Hopefully more to come!