My photo of Temple Owls quarterback Chris Coyer was featured on ESPN.com Tuesday in a Q&A with the team's new starting QB. Coyer, who played parts of Temple's game against Army last November at Philadelphia's Lincoln Financial Field, spoke about playing under a new offensive system and the Owls' bowl win over Wyoming last year.
Another shot I got of Coyer with my fisheye lens made it to CBSSports.com.
"Our offseason program, everyone's been working hard, and is real enthusiastic," he told ESPN's Andrea Adelson. "We had a great workout in our first practice, so I'm excited, and I feel like we're really pushing and propelling forward as we move toward the season."
Here's the photo ESPN went with — what a great game this was to shoot with that beautiful back-lit sun. I rarely get to shoot teams in red uniforms too up at West Point, so these made for nice portraits: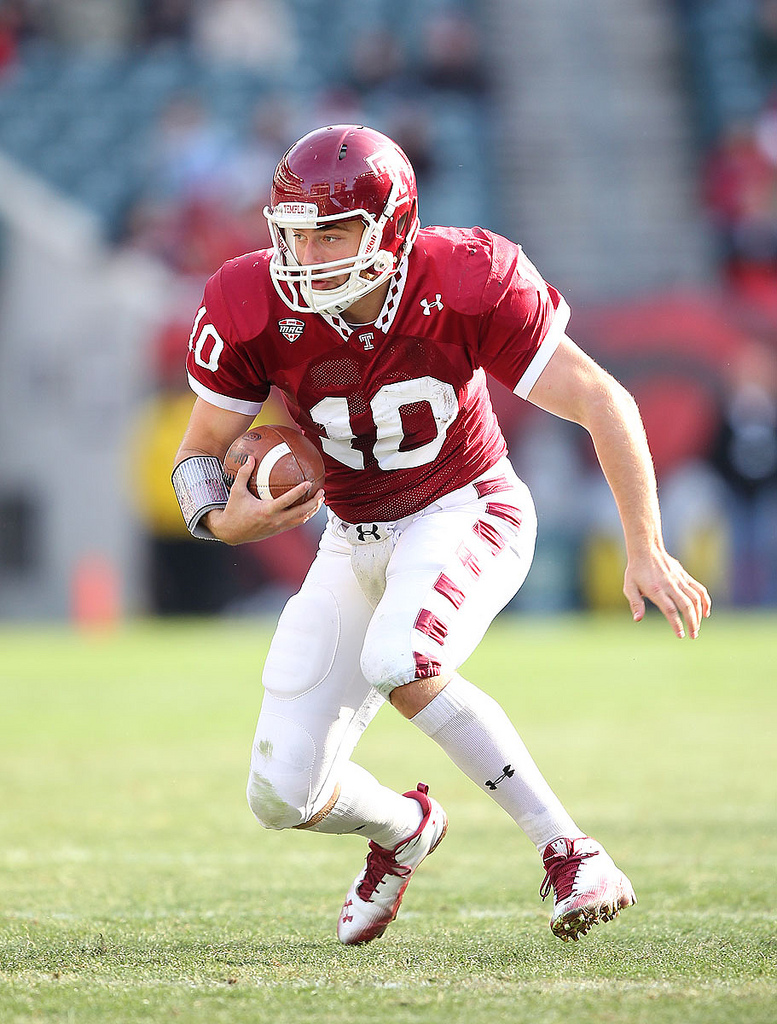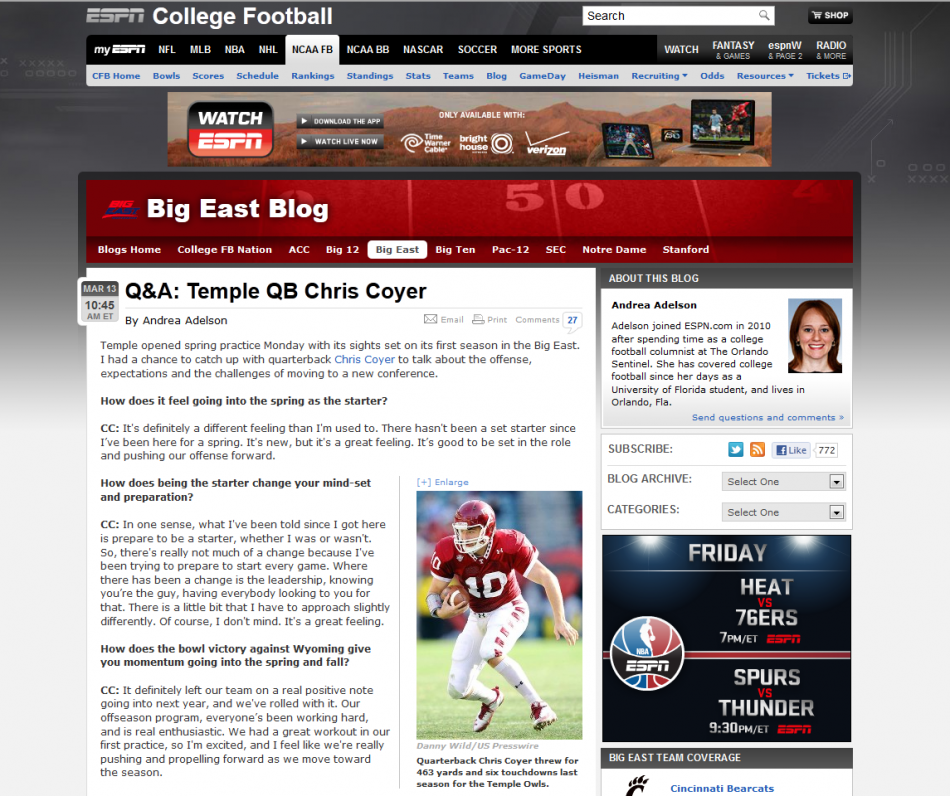 How are you adjusting now to a new offensive coordinator?
CC: A lot of things we've done in the past, we're going to keep doing. The system's not broken. There will be a few different changes in different schemes, so there will be a little bit of a learning curve in the spring, but I feel like we've got a good little bit of leadership on this offense.
You also mentioned the veteran offensive line. But you lose four of five starters. What do you want to see out of the new players up front?
CC: We still have a little bit of experience up front. We don't have the five seniors to play on the offensive line this year, but we've got young talent and leaders on the offensive line to bring them along. I have faith in Coach (Justin) Frye and our teammates to be able to bring that along. I don't think we're going to be hurt at all.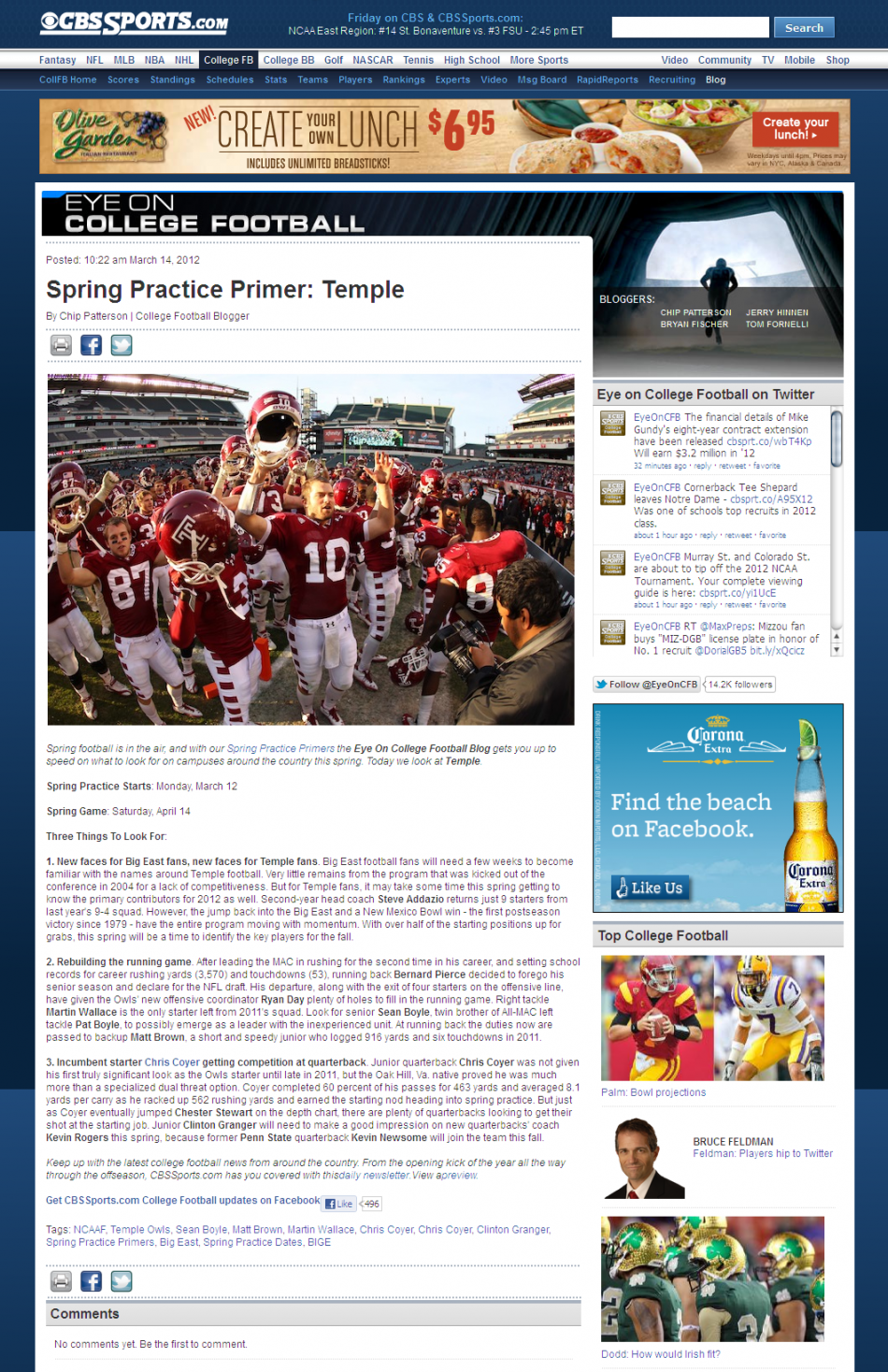 How does the team feel now about getting a shot to play in the Big East?
CC: The team as a whole, everyone's really excited. It's something that we've been striving for ever since all of us have gotten here, knowing as a school we were kicked out, what eight years ago? So we wanted to be a BCS team and be playing those big schools week in and week out. There's where I feel it may be more challenging, playing the type of quality opponents week in and week out is going to be different. But at the same time, nothing will really change in the way we prepare.
For those Big East fans who haven't seen you play, what can they expect out of Temple?
CC: Our style is tough. We're a tough team, we fight. That's our style. We're going to fight and scratch for every inch. No doubt we'll be competing right away, and those are my expectations.
And what can they expect out of you? I know some have compared you to Tim Tebow. What type of quarterback are you?
CC: I like to run the ball, but I'm a quarterback first. I want to put the ball in the air, I like throwing the ball, that's what we do. But I like running the ball and don't mind taking a hit or two. I enjoy the contact and my style of play is our style of play: I like to play tough.