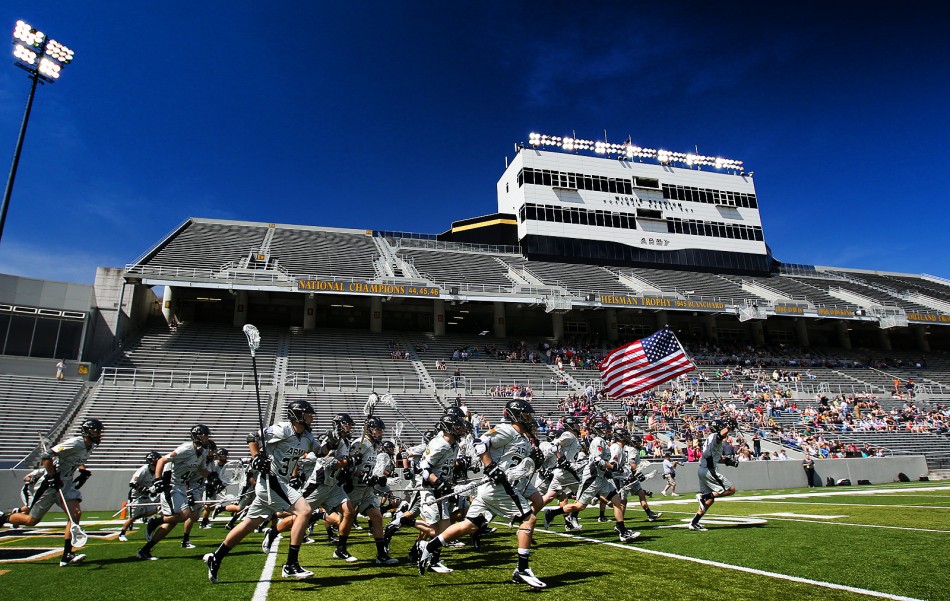 Michie Stadium had a football-like atmosphere on Saturday for a lacrosse showdown between Army and Navy with a playoff berth on the line. It was a long day for me that began well before the game and ended a couple hours after a team speech from the Chairman of the Joint Chiefs of Staff, Gen. Martin Dempsey.
My day began with some portraits around West Point. Army is putting together a book this spring and asked me to take some photos for it — I don't want to spill too many details, but I had a chance to shoot some cadets at the pool, at the tennis courts near the Plain and football coach Rich Ellerson up outside his office in Michie. After the lacrosse game, I photographed two of the lax players with their family. So, there was a lot of driving back and forth and trying to setup quickly and get some usable photographs within 20 minutes or so. A huge thanks to Dave Hahn and Tommy Gilligan for lending me their lighting equipment and expertise, everything worked out perfect.
Back to lacrosse, I started the game using my new 16-35mm II L lens with a polarizing filter. The dude at Adorama tried to sell me a $110 polarizing filter when I bought this lens. I went for the cheaper one (a Tiffen). And? Still nice, deep blue skies over Michie: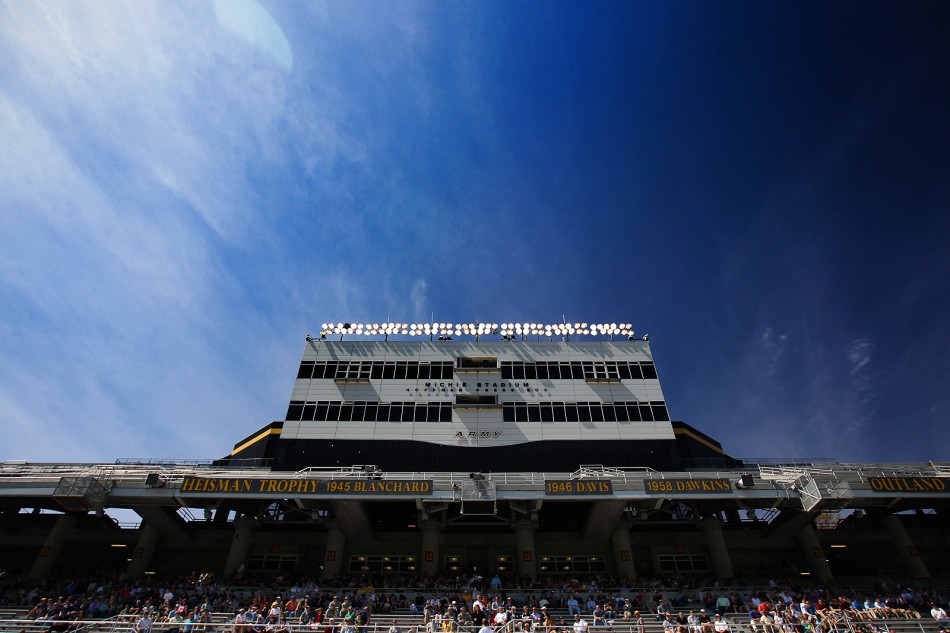 I did edit these to adjust the levels/exposure and darken up the sky a bit, although the sky on Saturday was a really beautiful dark blue. I believe these were taken around ISO 160 or so.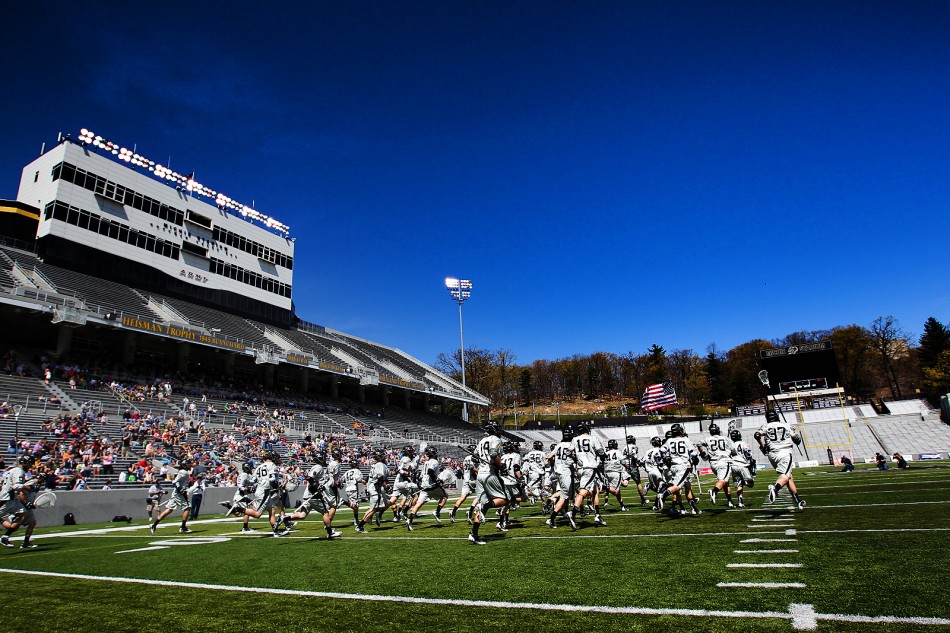 This game drew over 10,000 fans and a jump from the West Point parachute team. Always awesome to see these guys jump from the Lakota: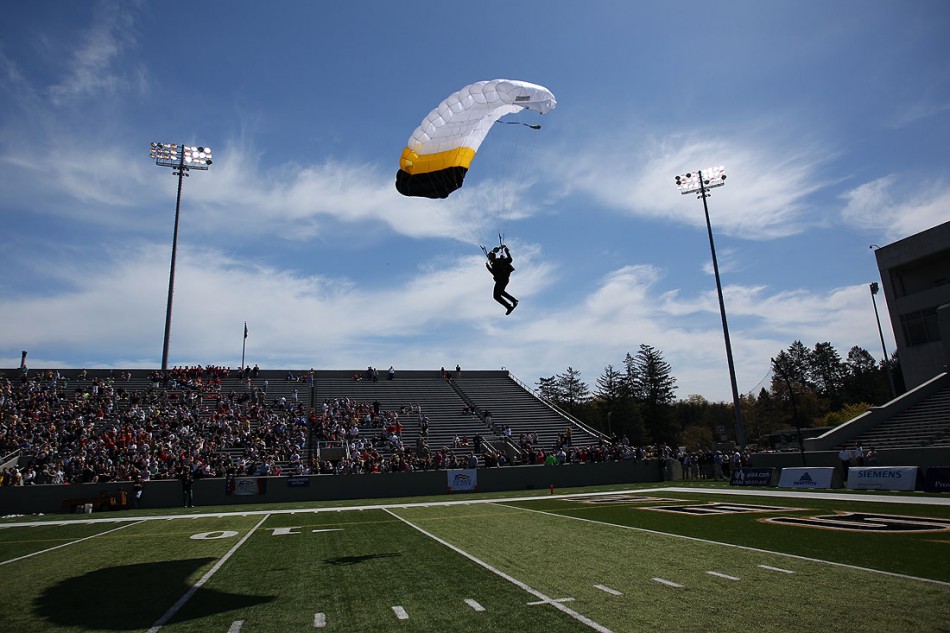 Anyone who saw this game (and it was televised by CBS College Sports) saw a spectacular goal by junior Garrett Thul, who walked in front of the net and rifled a shot over his shoulder — as in, he was facing away from the goal — for a score that brought a gasp from the fans, like some dramatic NBA dunk:
Crazy right? Guy is a beast. Unreal strength, speed and skill.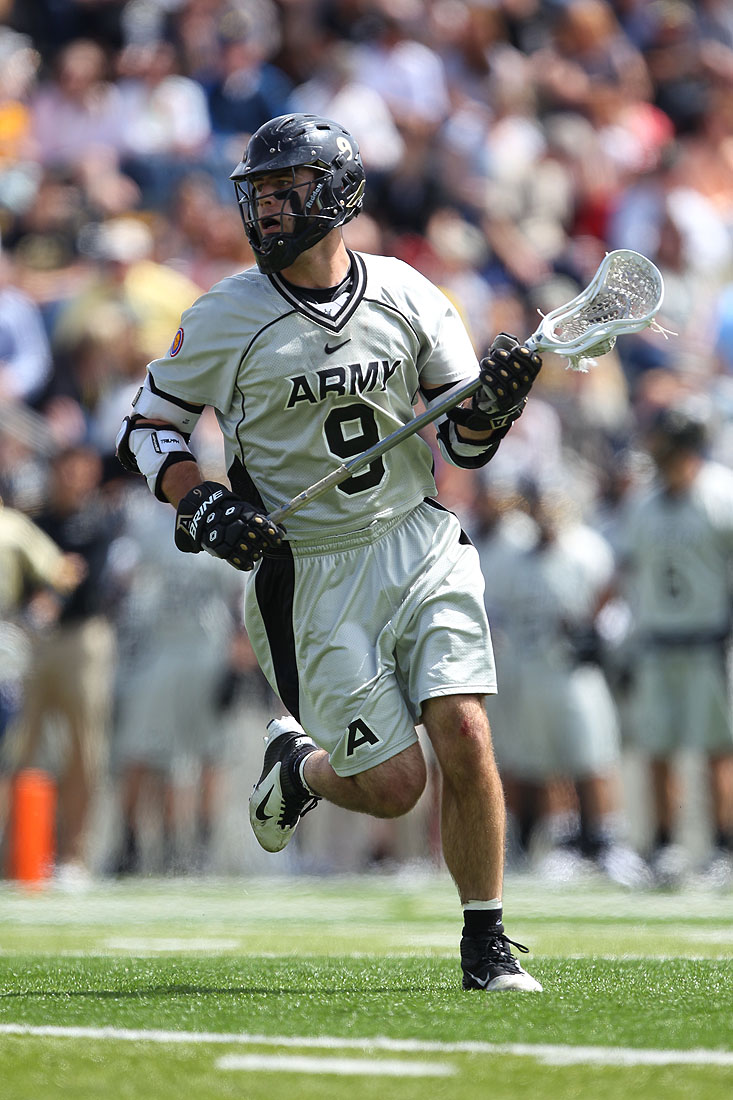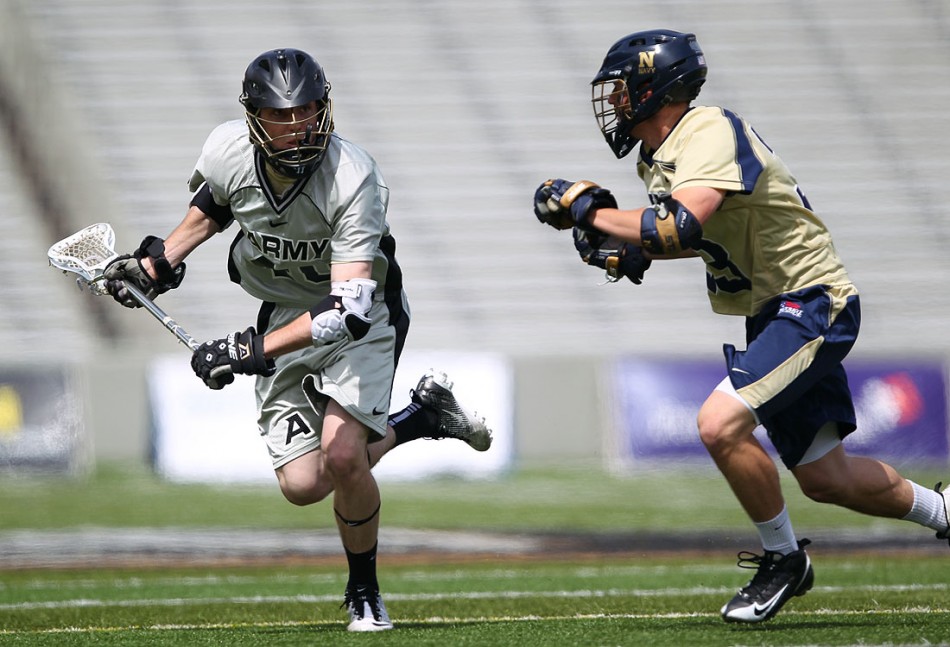 I tried shooting back-lit and with the sun, but it was a high-noon kinda sun for this one for much of the game (12 pm start) so helmet shadows were there and varying angles of light threw off exposures. As I discussed with Dave on the sidelines, Canon just cannot be trusted to expose in Av mode. It's brutal. I have yet to use a Canon camera, from the Rebel series up to my $7,000 1D Mark IV that correctly meters and exposes in Av mode, at least for sports. I was manually shooting at 1/2500th shutter speed and Av had the camera maxing out at 1/8000th. So, to end this rant, it was the usual challenge of not overexposing a player when they ran into the sunlight. Much easier from the south endzone of Michie, where the sun was behind my back: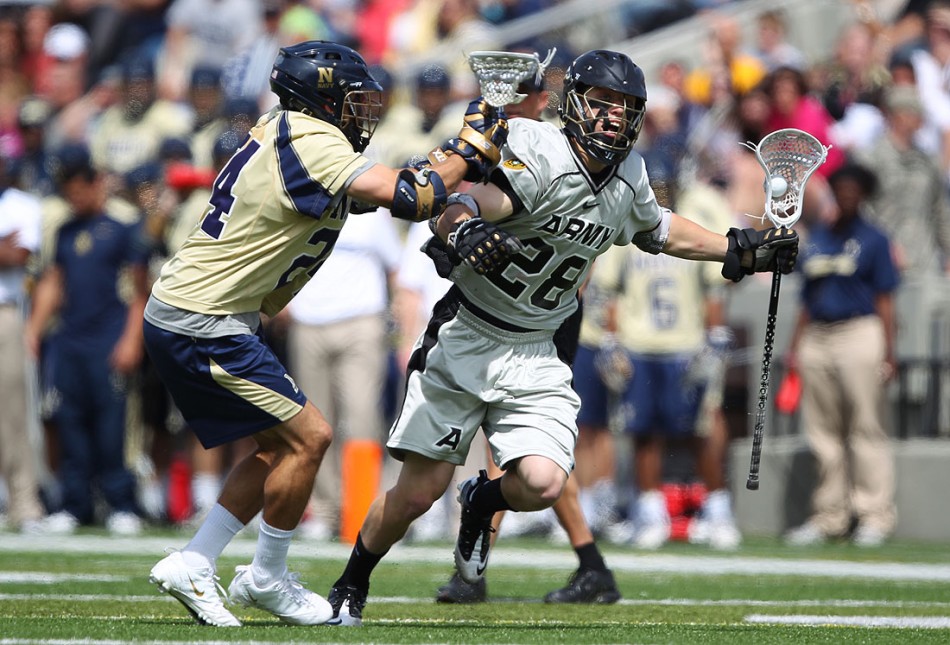 I shot the fourth quarter from directly behind the Navy net, in between the padded advertisements which provide some shelter for me. Wasps love those things, for whatever reason. Anyway, I had the sun behind me and shot this quarter at ISO 100 and 125. Rare opportunity to do that.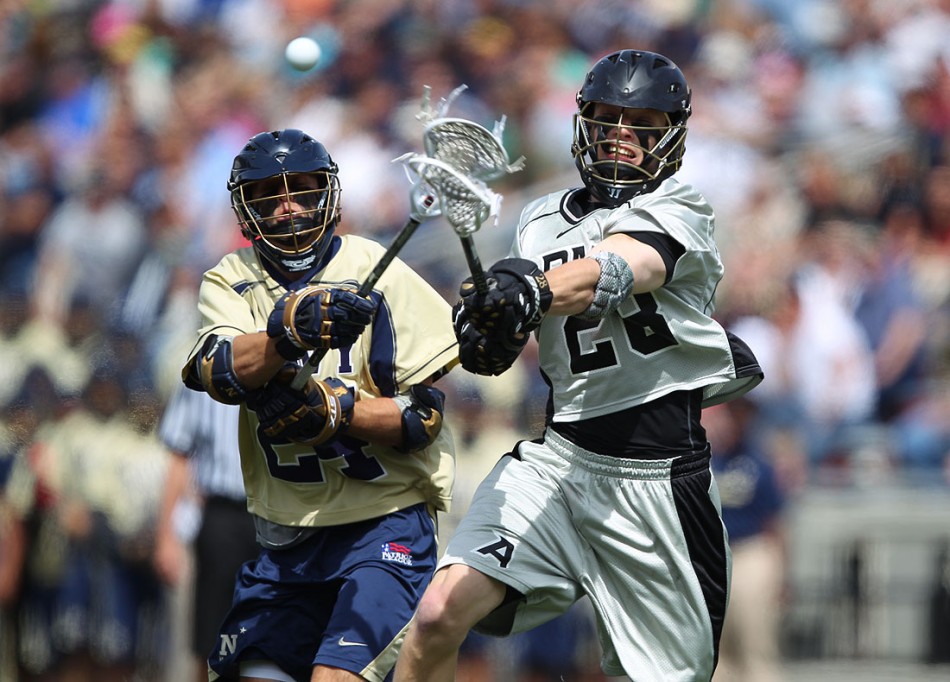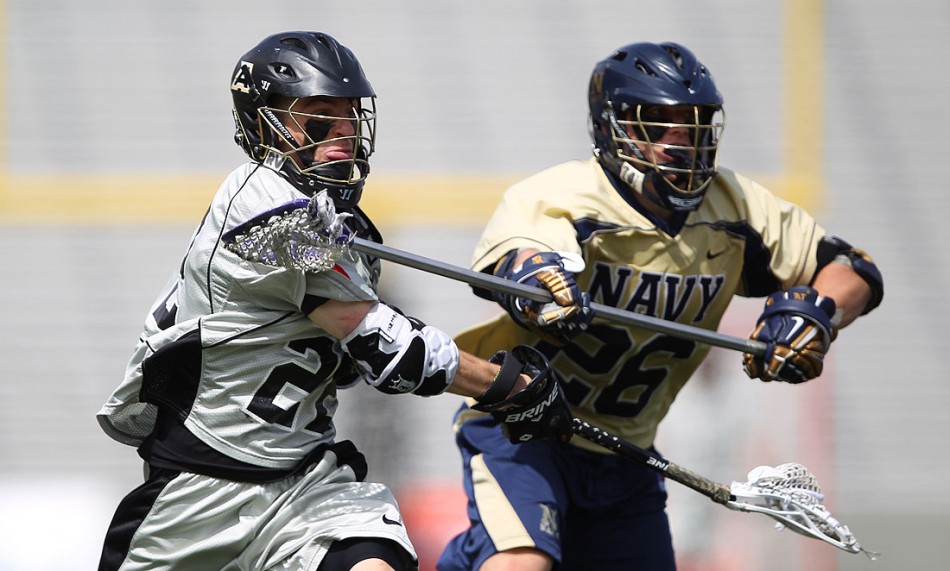 Some football players got in on some early Halloween action, dressing up like the Village People and some random mullet-headed hecklers. Hilarious stuff, until they got run out of the stadium by higher ups. Army football fans will notice the "Keys to Victory" sign here, which hangs in Foley Athletic Center and Army's lockeroom: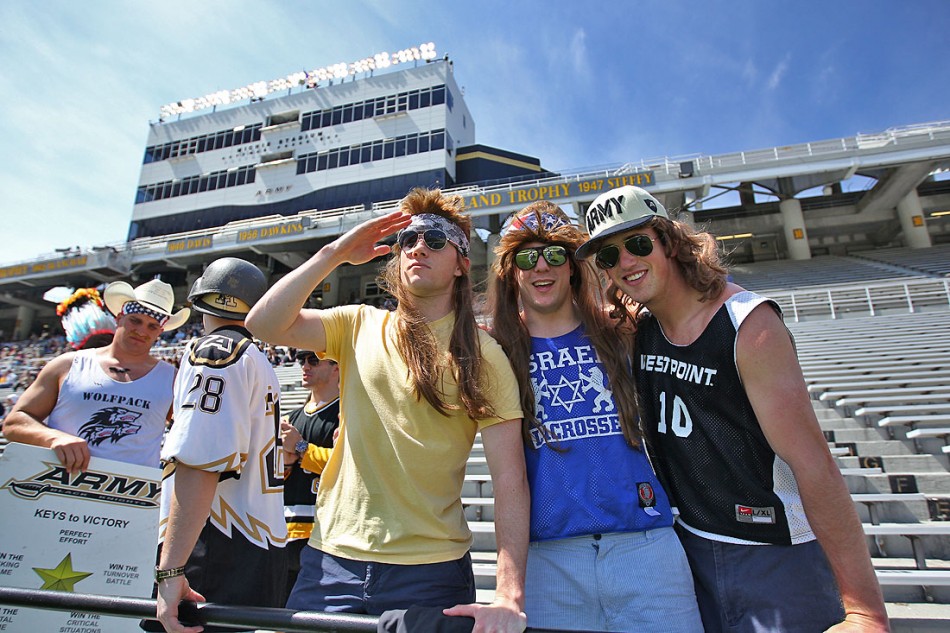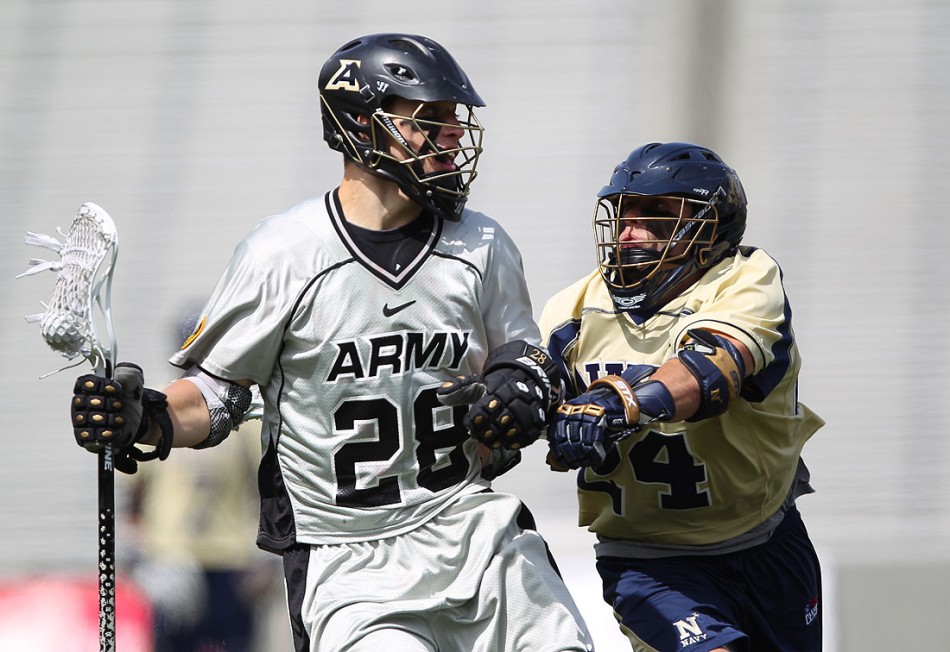 Here's Thul taking a whack to the face: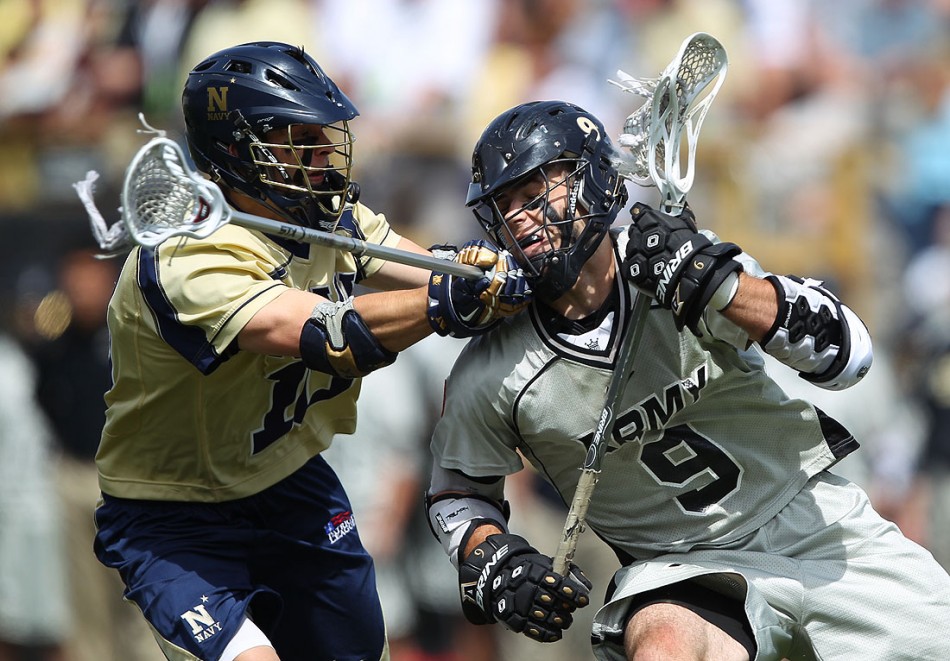 I like this one as, in this split second, both players are facing each other, sort of reminiscent of the football line of scrimmage imagery: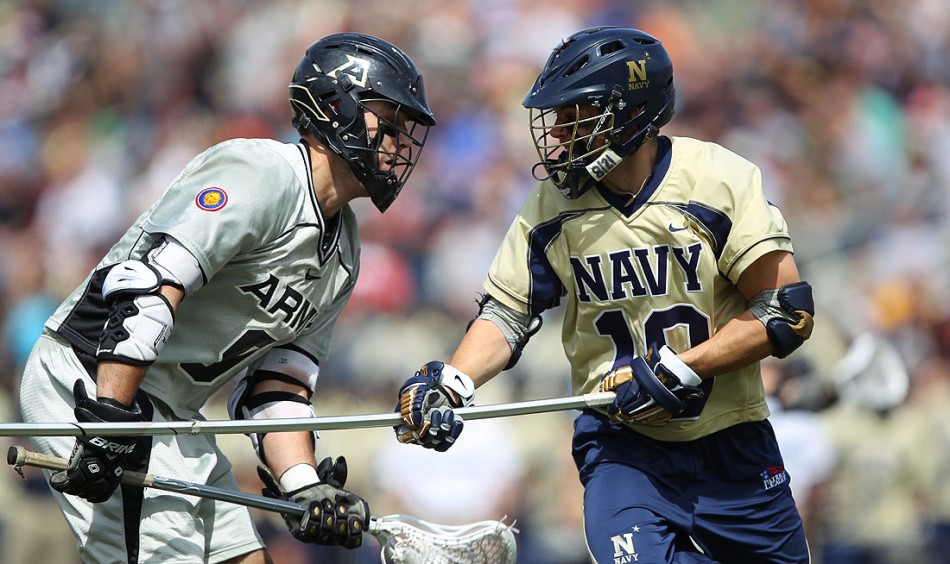 This shot of Thul ran on the Army website: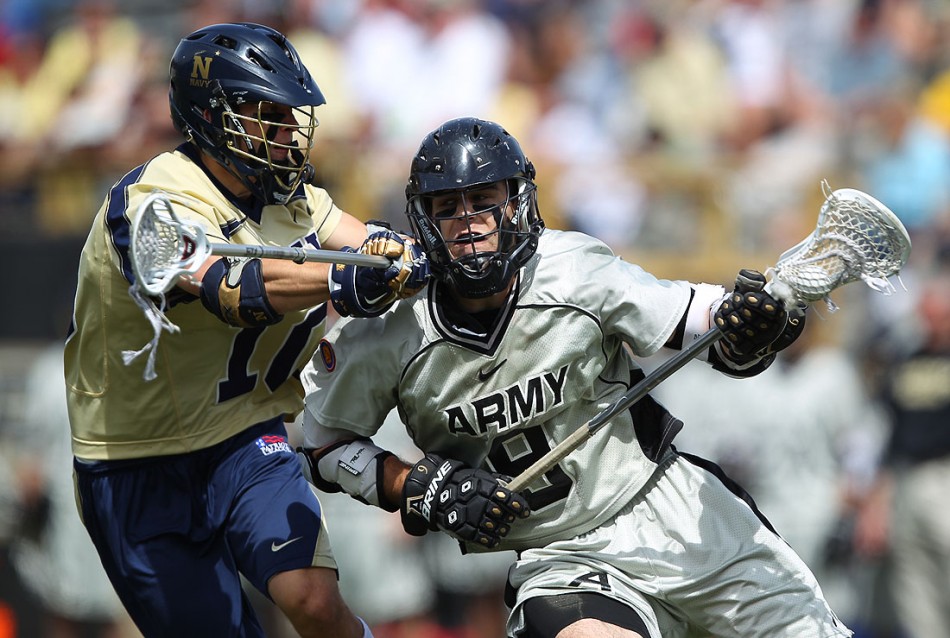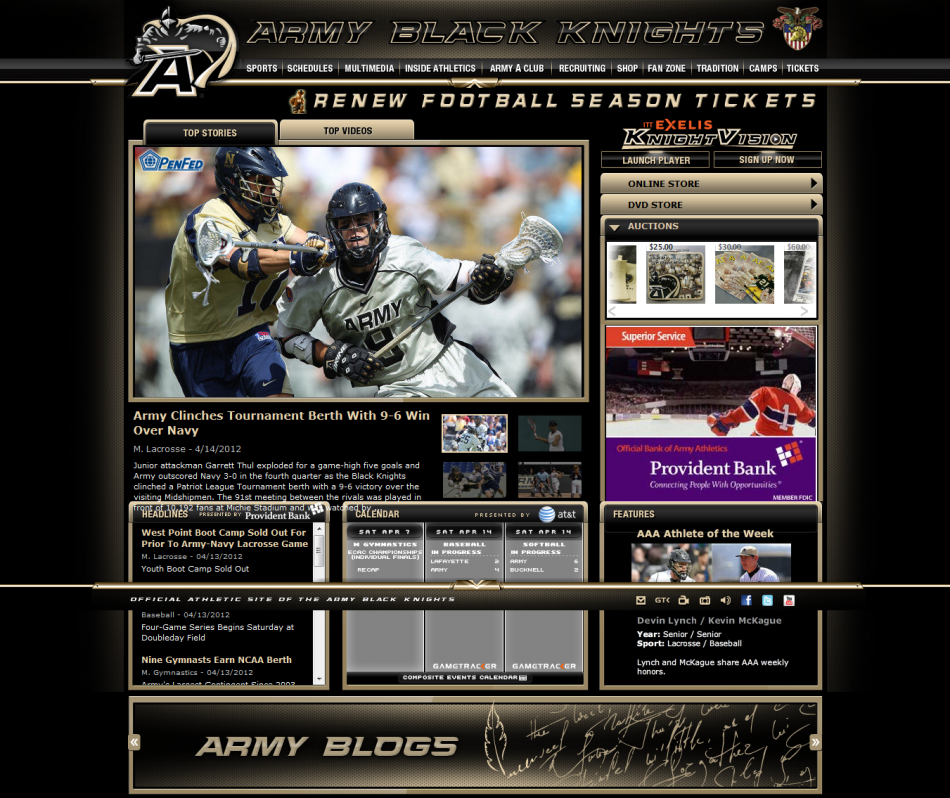 Here's a back-lit shot, where you can see the faces without shadow: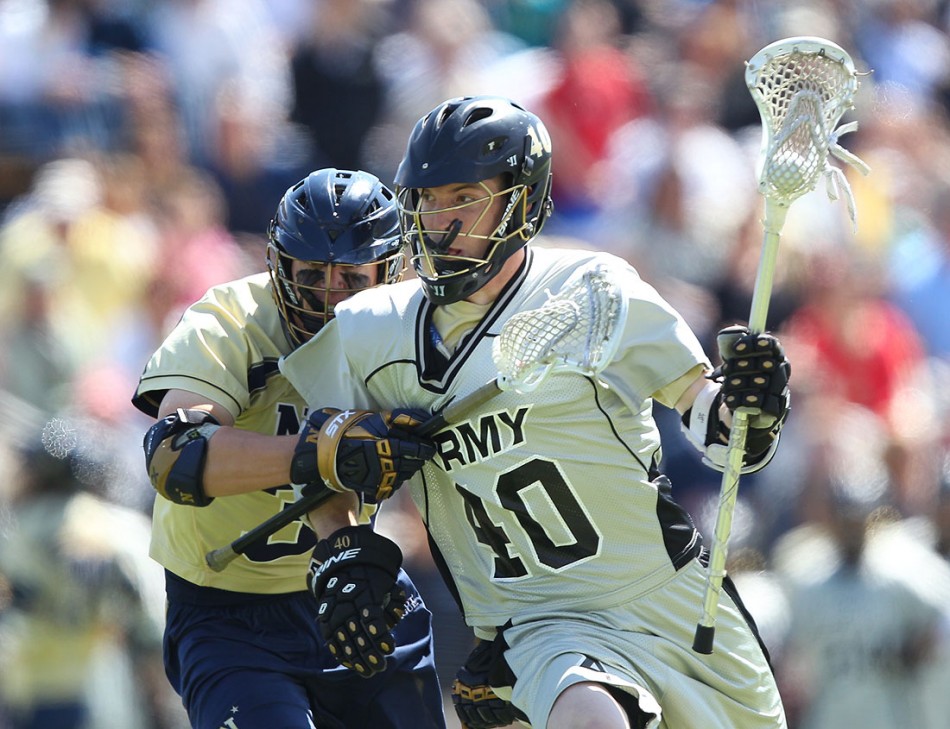 Here's Conor Hayes running behind the net, pushing the line of my manually exposed settings. I'd rather see the eyes than keep the highlights on that shoulder, personally: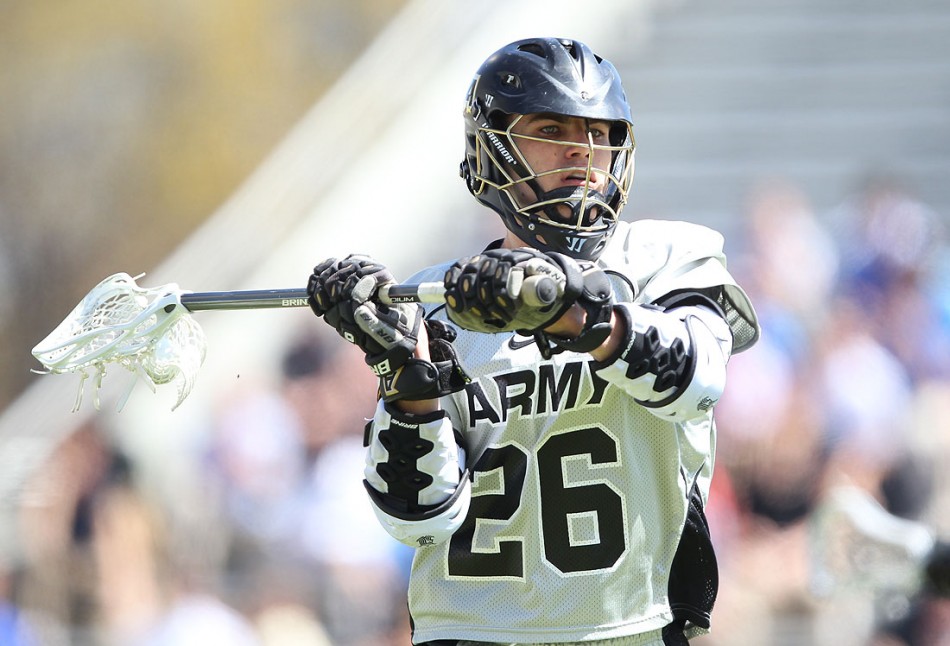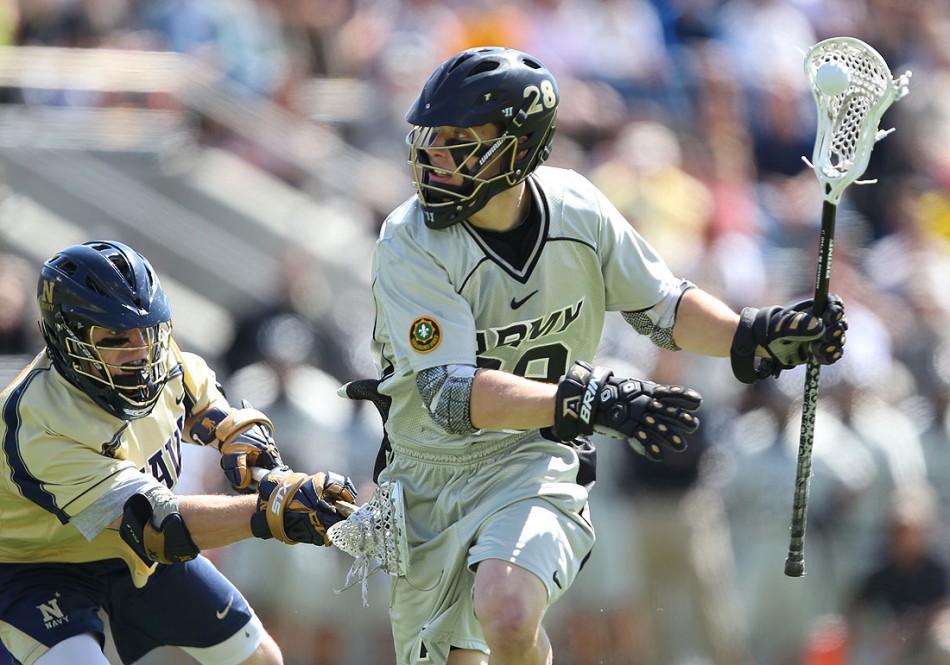 The game was close all afternoon, back and forth, quick responses, etc. Finally Army went up 7-6 and pulled away with two late goals. A 30-second Navy penalty let the cadets kill the clock, and the anticipation built. I swapped my 400mm L for a 16-35mm zoom (no fisheye on this day!) and hit the Army sideline for some celebration shots. Here's Kevin Epp (31) enjoying the final seconds:
Army's Pat Hart knows what's coming: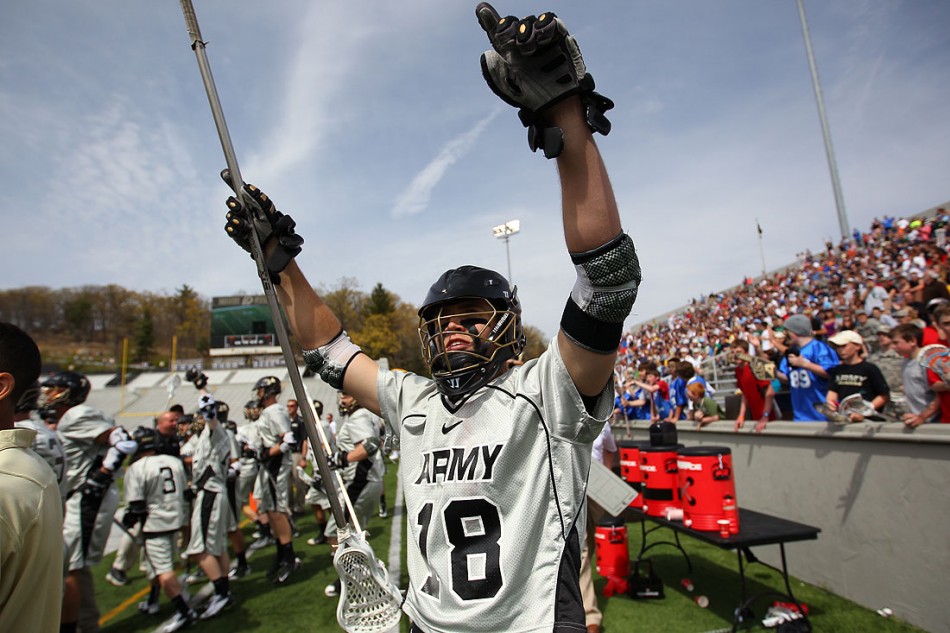 Army head coach Joe Alberici went nuts when clock hit zeros. This is what beating Navy means: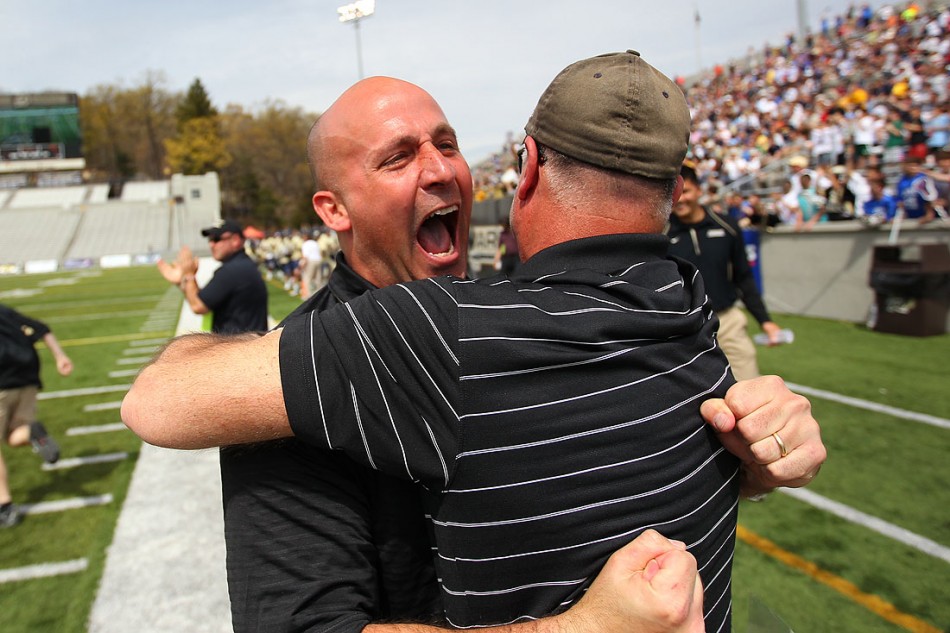 A playing of the alma mater let the team really let it out in front of the Army fans: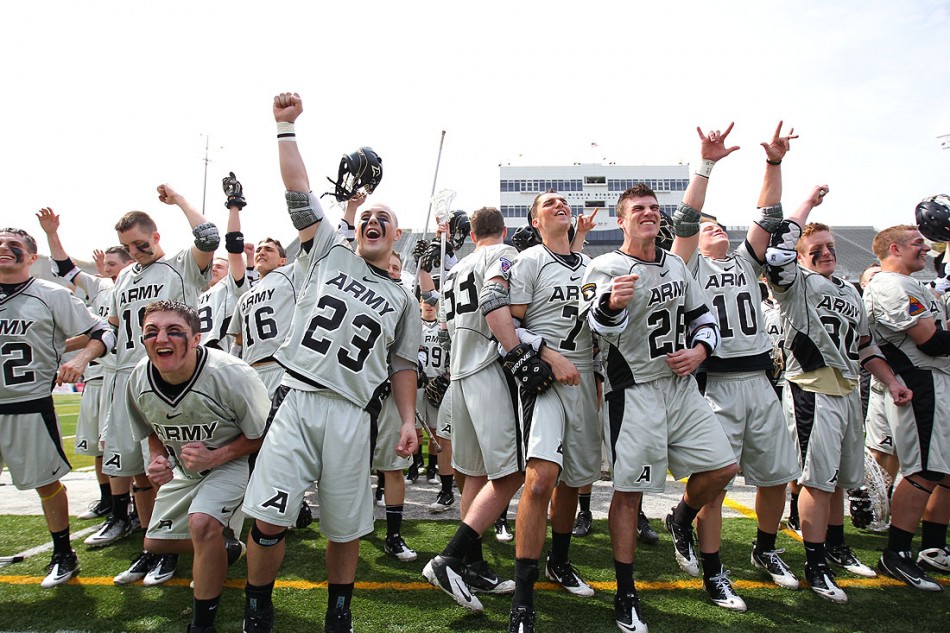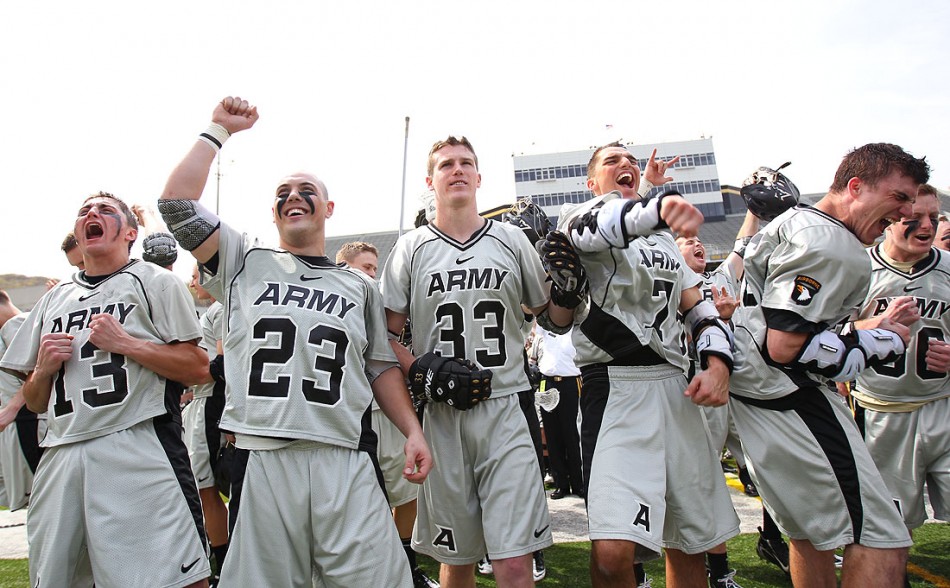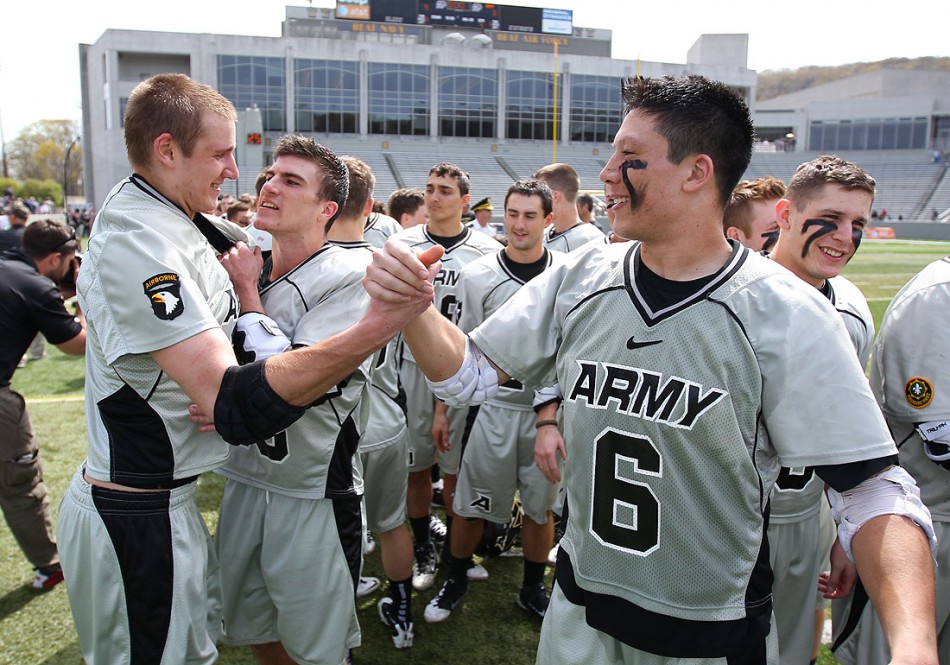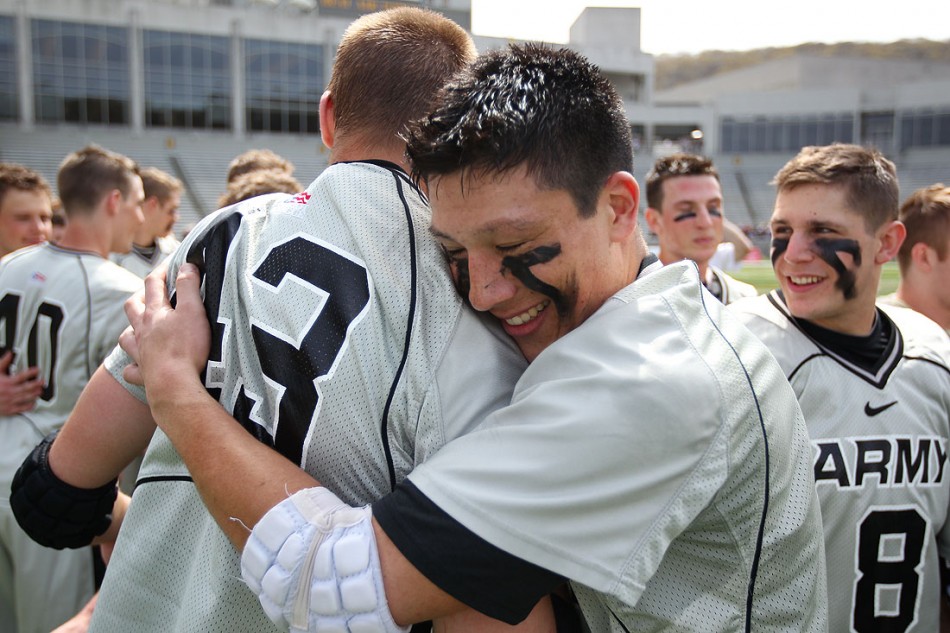 Handshakes at midfield:
U.S. Army General Martin E. Dempsey was in the house to watch this one — Dempsey is the 18th Chairman of the Joint Chiefs of Staff, replacing Admiral Mike Mullen, who gave the graduation speech last spring at Michie. Gen. Dempsey told the team that beating Navy in lacrosse was more important to him than winning the football game (not sure how true that is, but it sounded nice in the moment). He talked about the team's mission following games like this, gave out coins to the team's firsties, or graduating seniors, shook hands and asked the captains to sign a game ball for him. Cool moment: