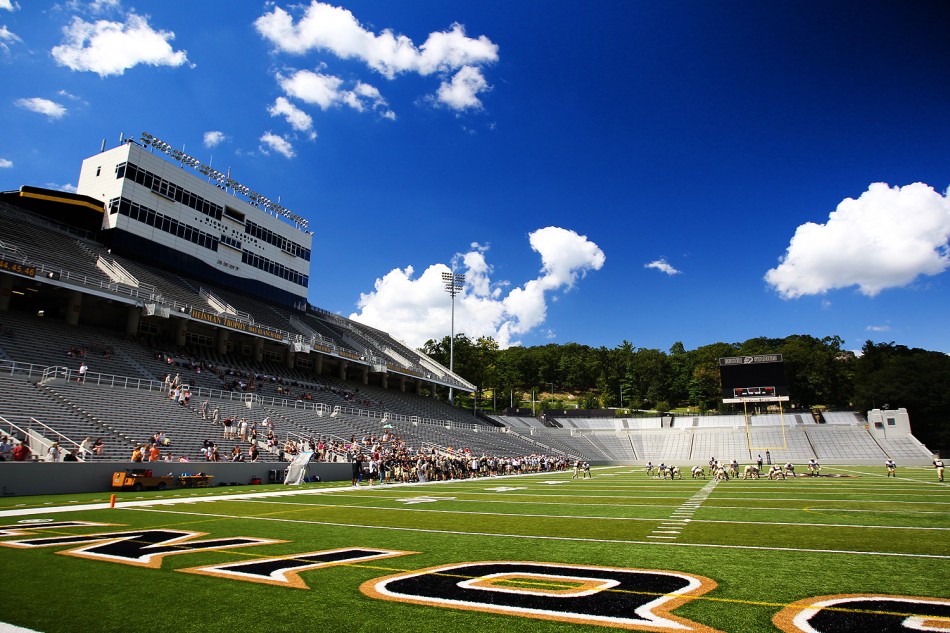 Army showed off a variety of plays and formations on Saturday during its first full scrimmage of the summer, but it came at a price when converted wide receiver Malcolm Brown went down with what looked like a hamstring injury.
I don't know the severity of the injury, just that he basically fell down 10 yards in front of me and Times Herald-Record photog Chet Gordon on a play up the right sideline. Brown, who is making the transition from slotback to receiver, was able to eventually get up on his feet and actually looked pretty good walking off without a limp. But, as Army notes, he remained sidelined with a no-contact red jersey on Tuesday morning.
"It's been great; we had a little setback in the scrimmage on Saturday," offensive coordinator Ian Shields said Tuesday. "Malcolm is one of our best football players, and we are always trying to get our best personnel on the field. We want our best 11 out there to give us a chance to win each snap. Malcolm is definitely one of those guys. With the depth we have at running back, we think that Malcolm can add something outside for us that can make us a more explosive offense."
So, hopefully it's nothing bad and he's back later this week. Junior DE and captain Jarrett Mackey and sophomore OL Ryan Powis are also in no-contact jerseys, and for Mackey, the concern seems to be somewhat serious at this point as he's yet to go at full speed.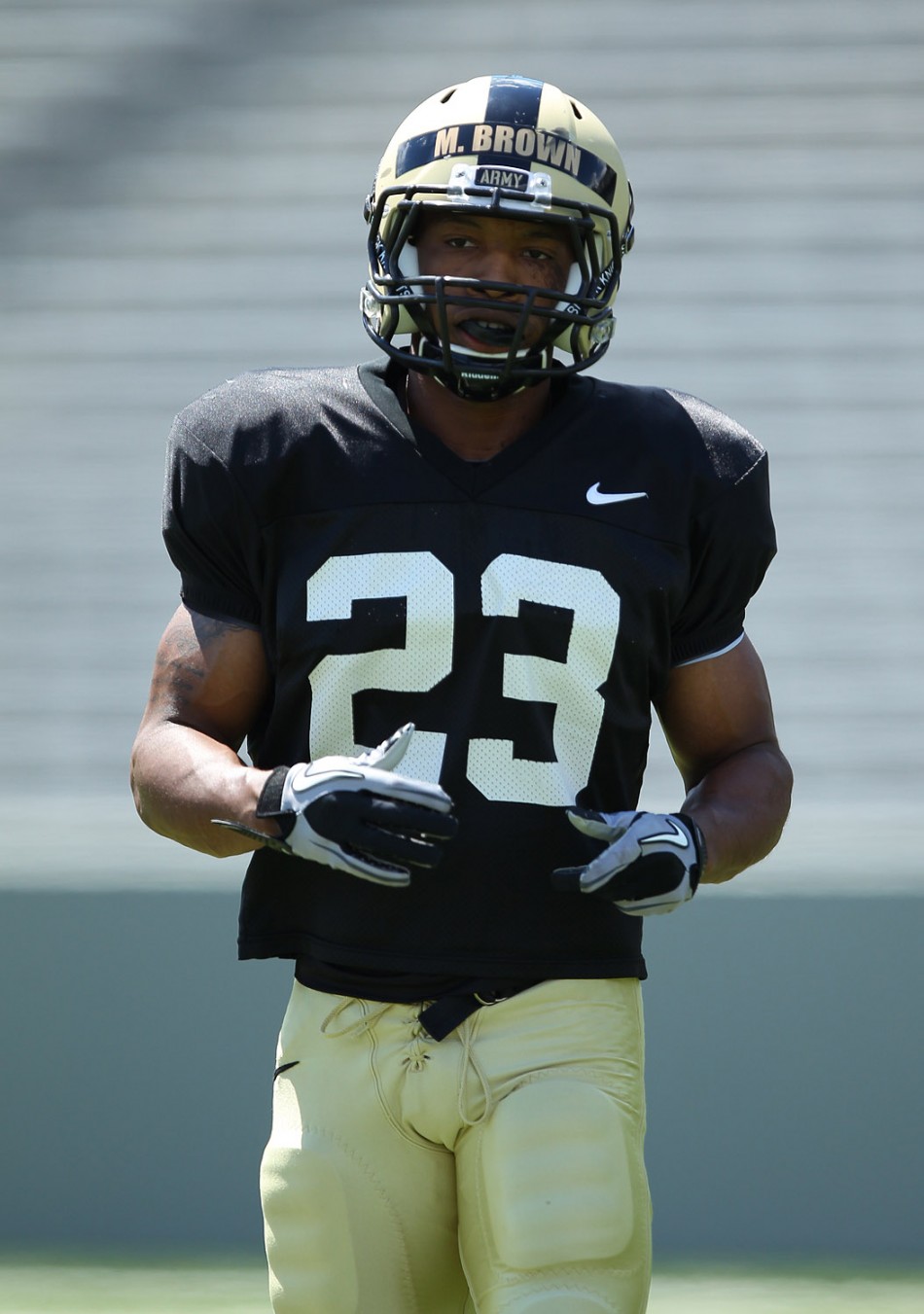 Otherwise, it was a nice afternoon at Michie under blue skies and in front of a few hundred spectators. Army had trouble early holding on to the ball, with a few fumbles, dropped option pitches and sloppy snaps, but they got better as the practice went on. We saw a variety of quarterbacks, too — Trent Steelman started it off with the first unit but stepped aside for pretty much every quarterback on Army's preseason roster. The thought is that freshman AJ Schurr is the favorite to win the No. 3 QB spot behind Angel Santiago. We also saw Kelvin White, Brandon Schmidt, Cody Jackson and Gino DeBartolo take some snaps (yes, that's seven quarterbacks in one scrimmage).
"Trent has a lot of experience, and he is full-speed every day," Shields said. "He's a great leader. We're probably one of the few teams in the country that have the luxury of having a fourth-year starting quarterback. We're fortunate that Trent is here. He's an excellent leader and we need to keep him healthy. At the same time, we have some young guys who have some talent and experience as well. You look at Angel (Santiago) and certainly A.J. Schurr coming up from the prep school and Kelvin White as well. I think we're in good shape at the quarterback position."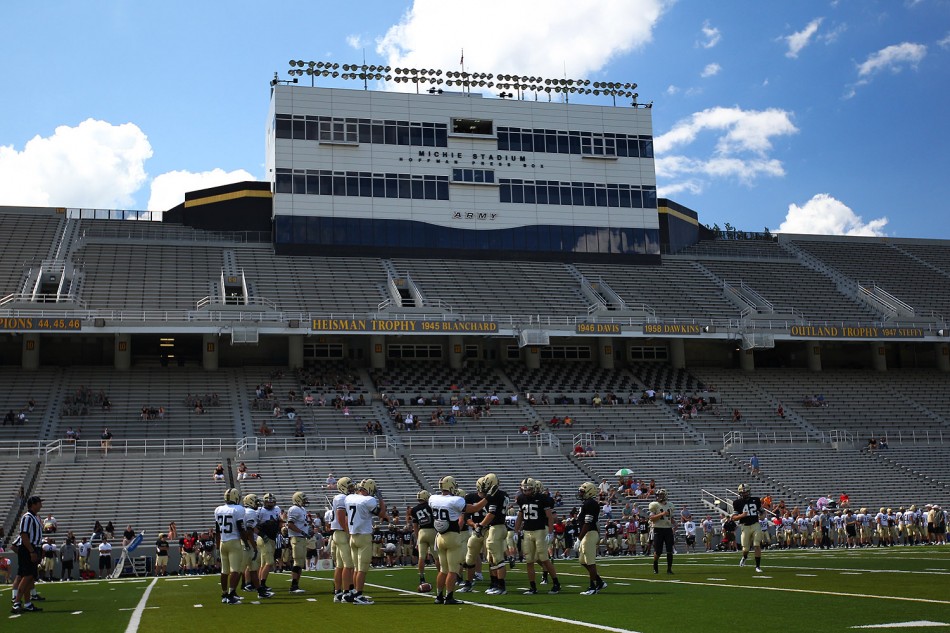 "It's interesting because it's old habit for some of the older guys and the younger guys have never done anything like this," head coach Rich Ellerson said of the scrimmage. "As it went along, we started to have some fun and started to get into a rhythm. If you sit back and watch you can see some of the guys were fighting their legs a little bit. We're about 10 days into this and it looks like we've been on our feet for 10 days. We have to be careful here and try to get ourselves recovered a little bit and get our legs fresh. When you take that many hot reps, snap the ball 100 times or so, with tired legs and you only have one guy with a muscle strain, you have to knock on wood and count yourself fortunate."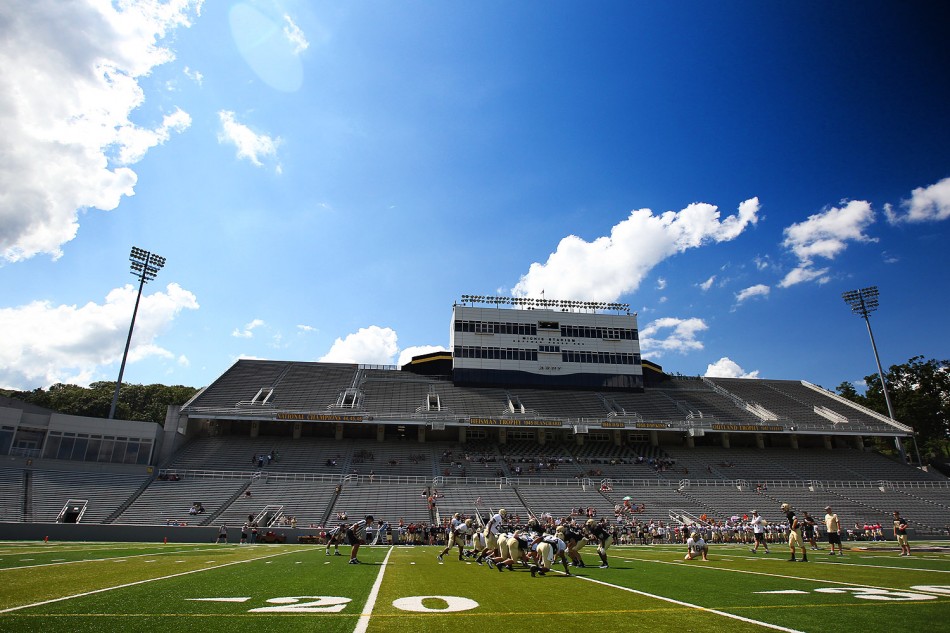 "For some of those guys that's their first experience," Ellerson said. "They didn't know Army football from third base eight or nine days ago, and now they're out here trying to keep score. Then you have guys like Trent Steelman who is a four-year starter on the same field. There is some real differences in the level of expertise. The good news is that it was fun and a good ending point. We take a short pause and the academic year starts so there is a lot on their plate."
Check out this CBS Sports preview of Army:
[embedplusvideo height="365″ width="600″ standard="http://www.youtube.com/v/NiL8ytJ340M?fs=1″ vars="ytid=NiL8ytJ340M&width=600&height=365&start=&stop=&rs=w&hd=0&autoplay=0&react=1&chapters=&notes=" id="ep9108″ /]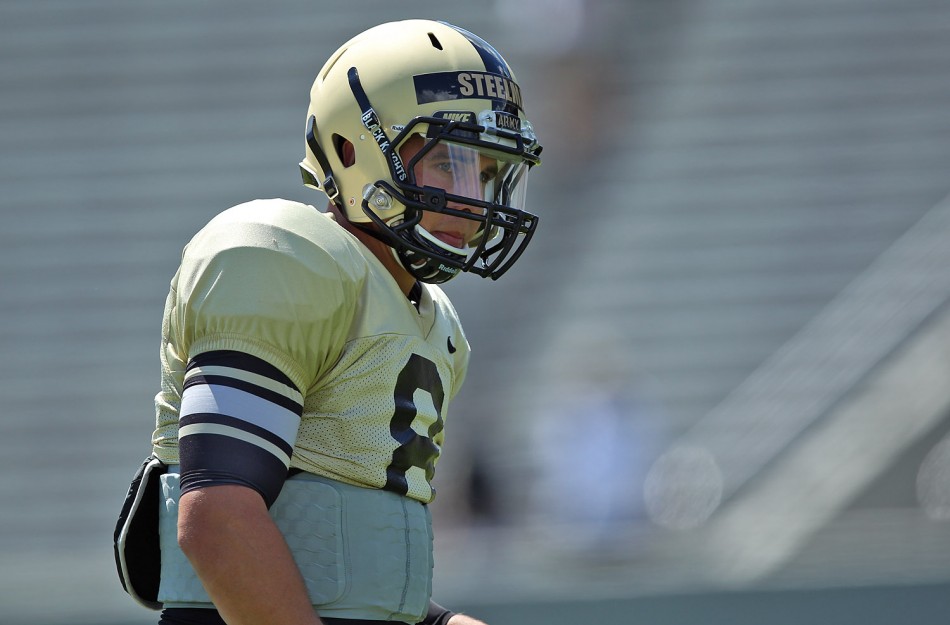 Again, the running back group appears strong with Raymond Maples lined up as the primary option with Larry Dixon and Jared Hassin ready to get dirty up the middle. As I've probably said here before, the triple option is designed to be deceptive and difficult to defend, and when it comes to photography, it's very easy to lose sight of the ball and realize you're tracking a guy busting through a seam with empty hands while someone else is sprinting up the sideline.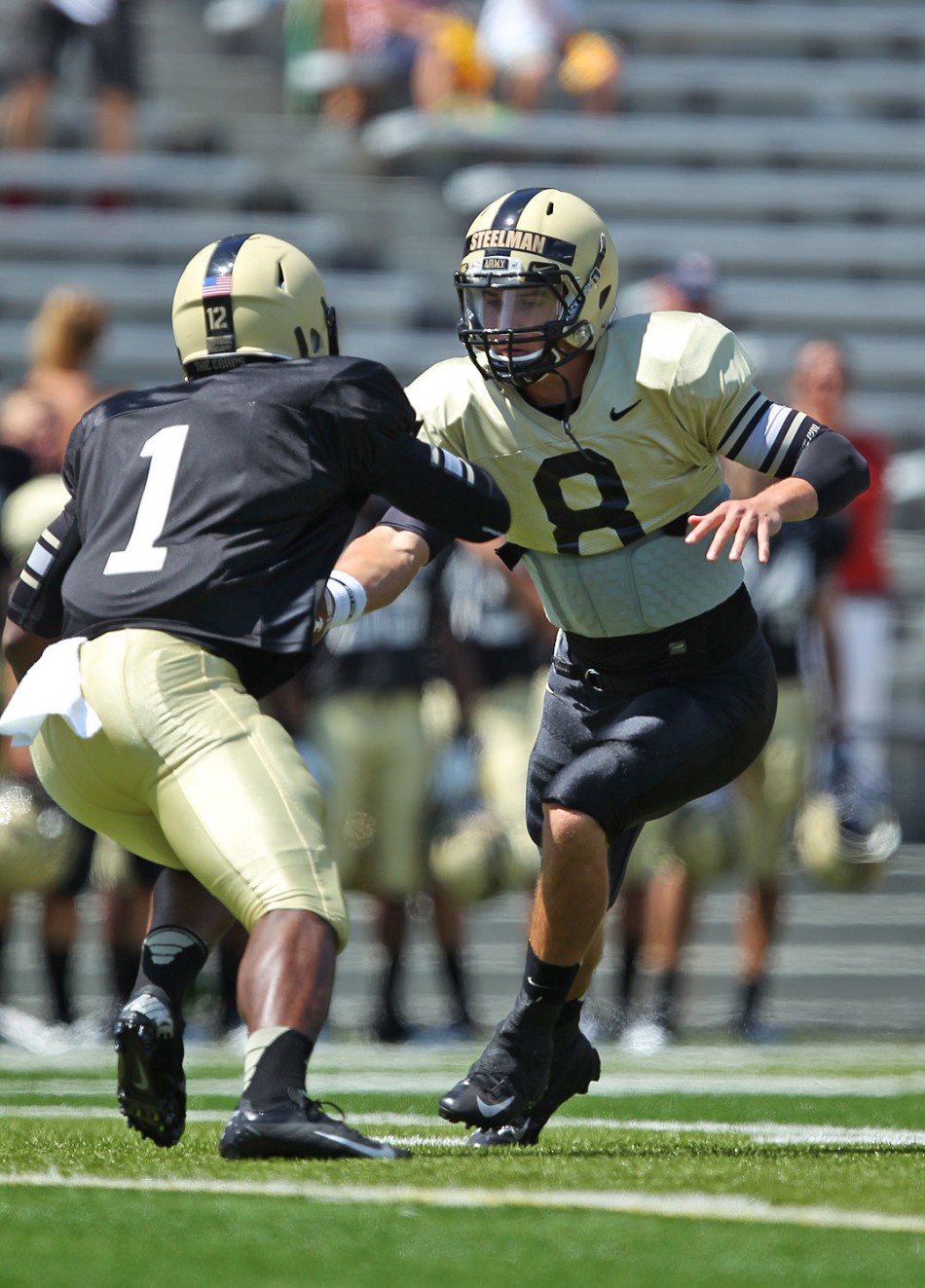 Here's Jon Crucitti giving a stiff arm on one of his early carries. He later scored a touchdown on a red zone scenario. Early on, some players wore the familiar red and yellow flags from high school gym class: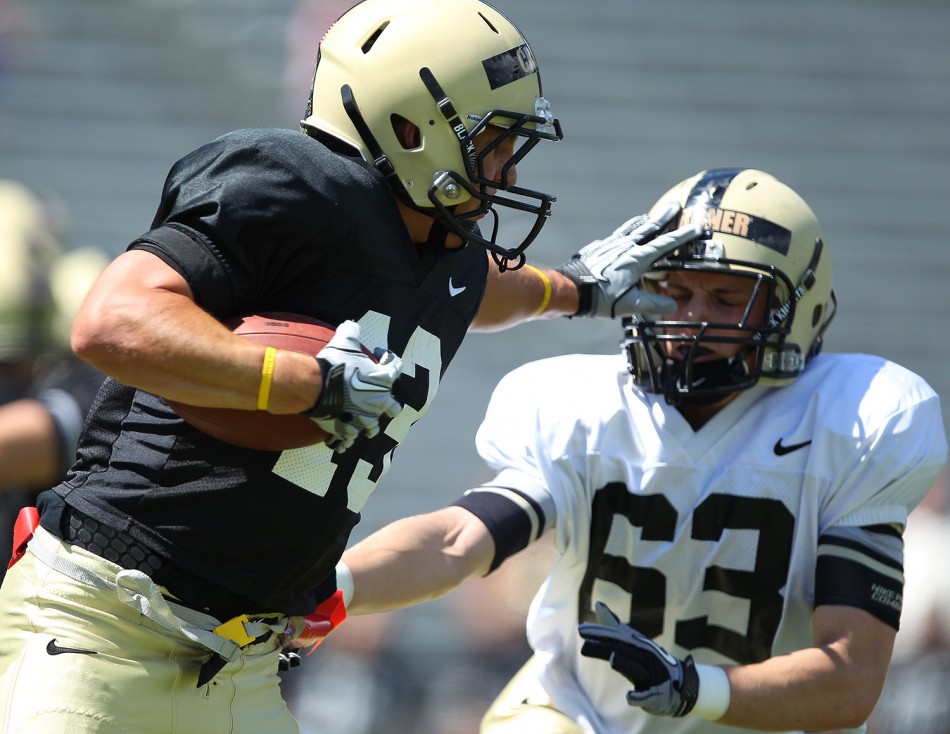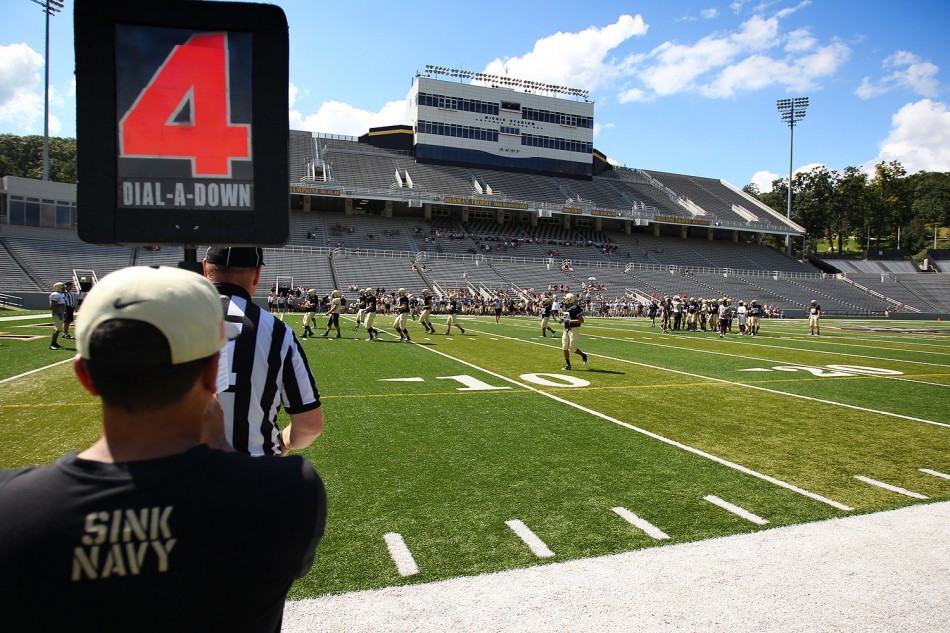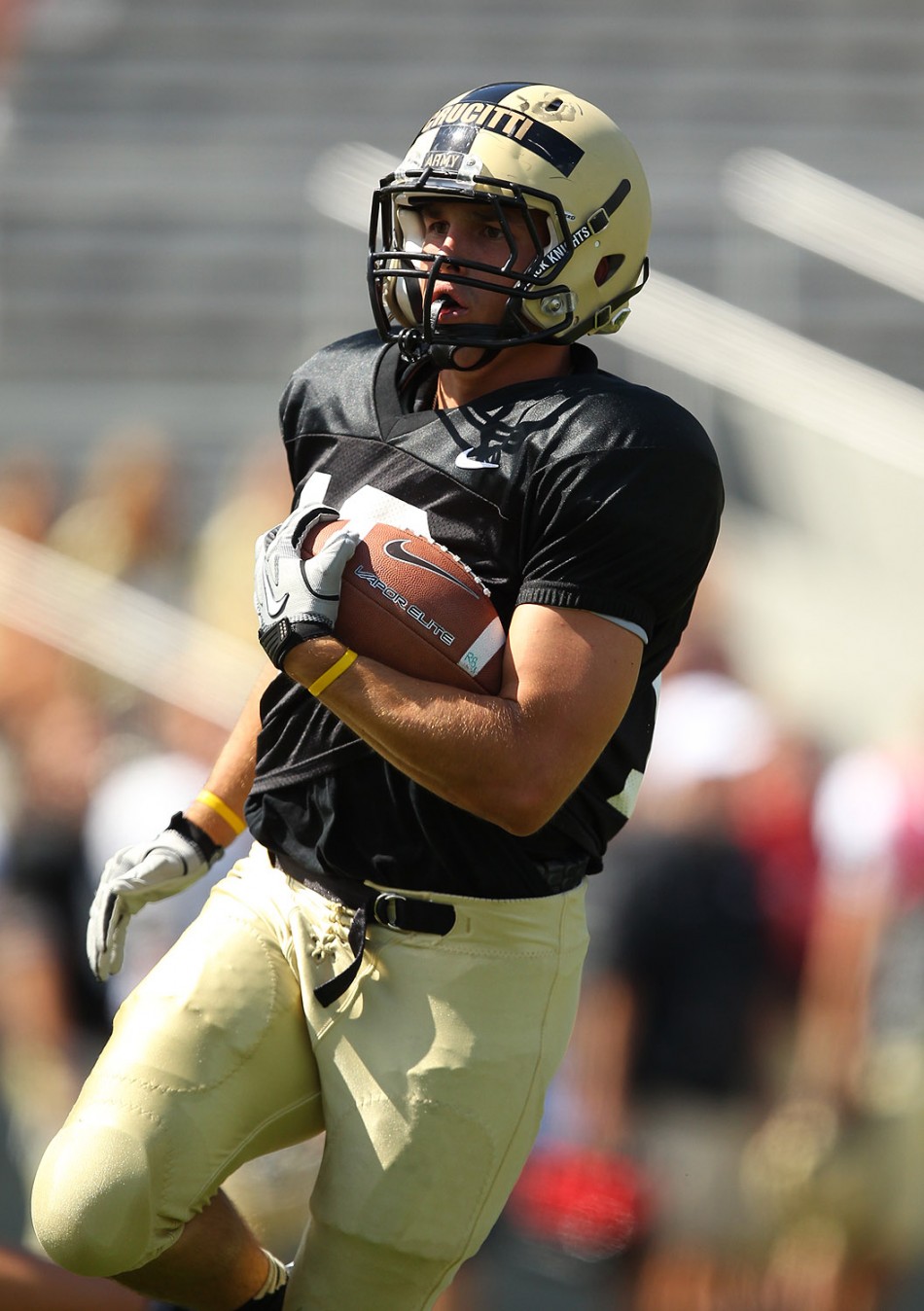 Here's Cody Jackson getting some goal line offense drills in: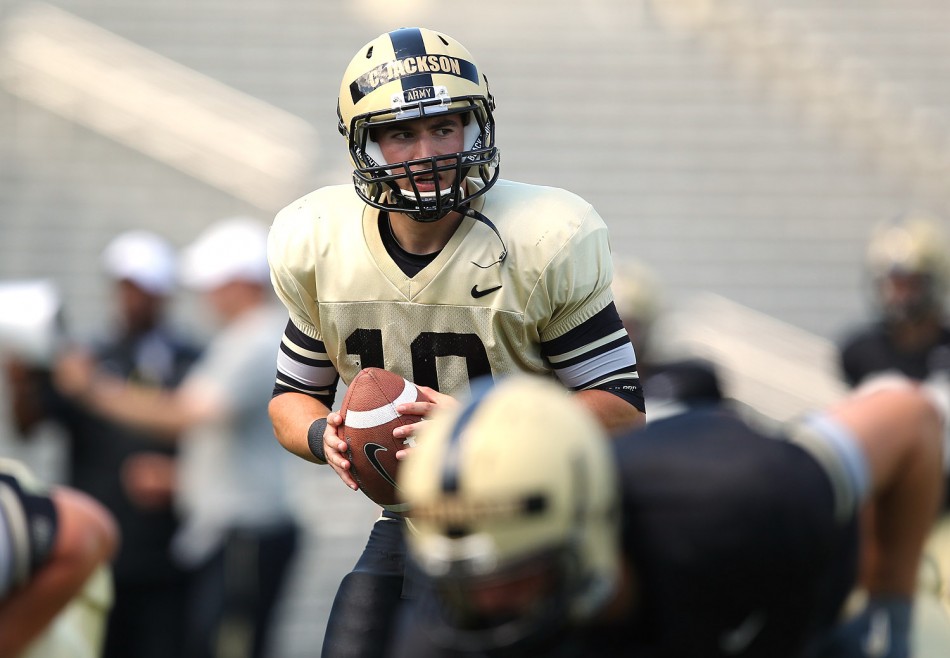 Another rookie QB, Brandon Schmidt: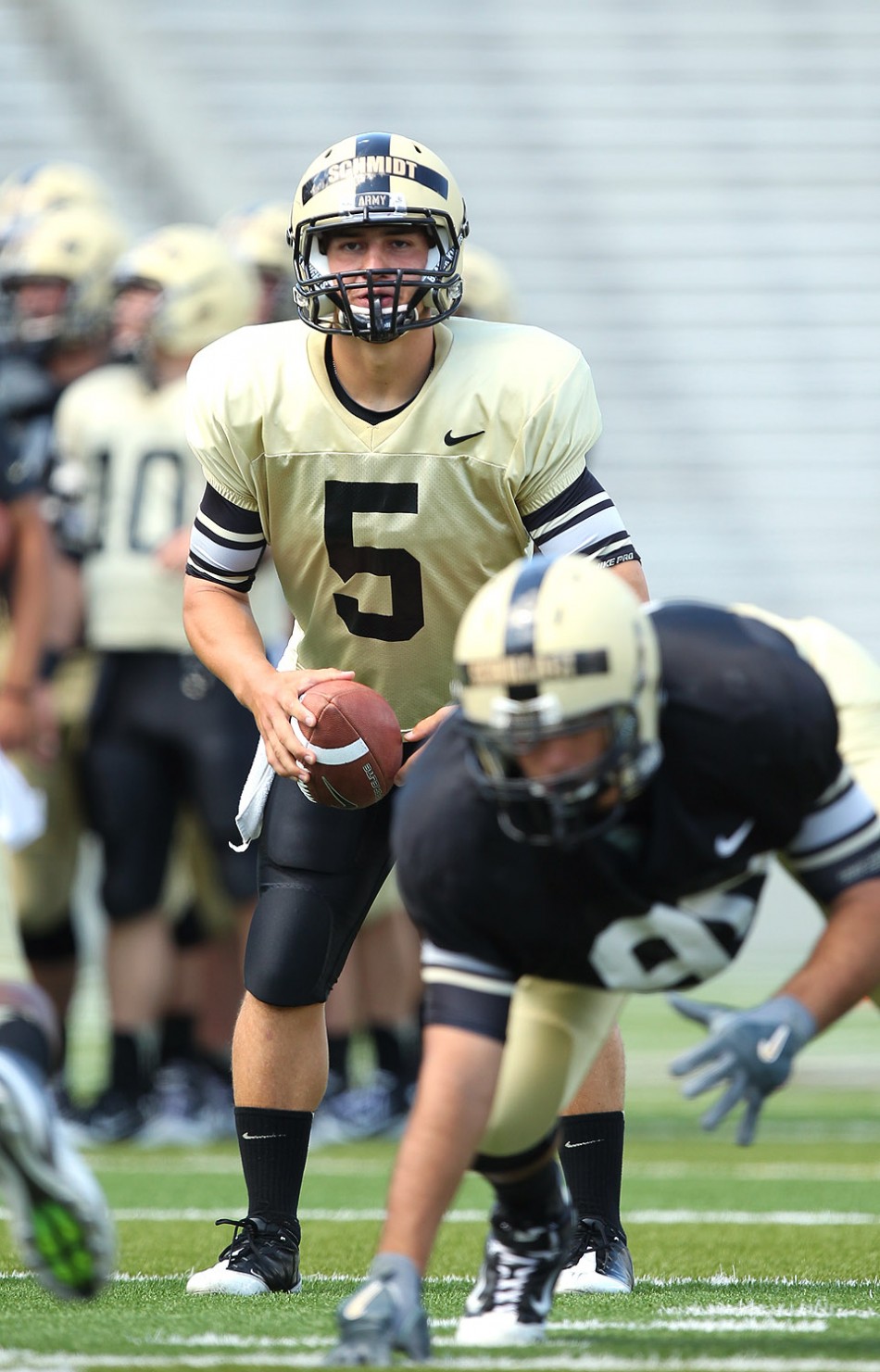 Steelman walks in for a touchdown: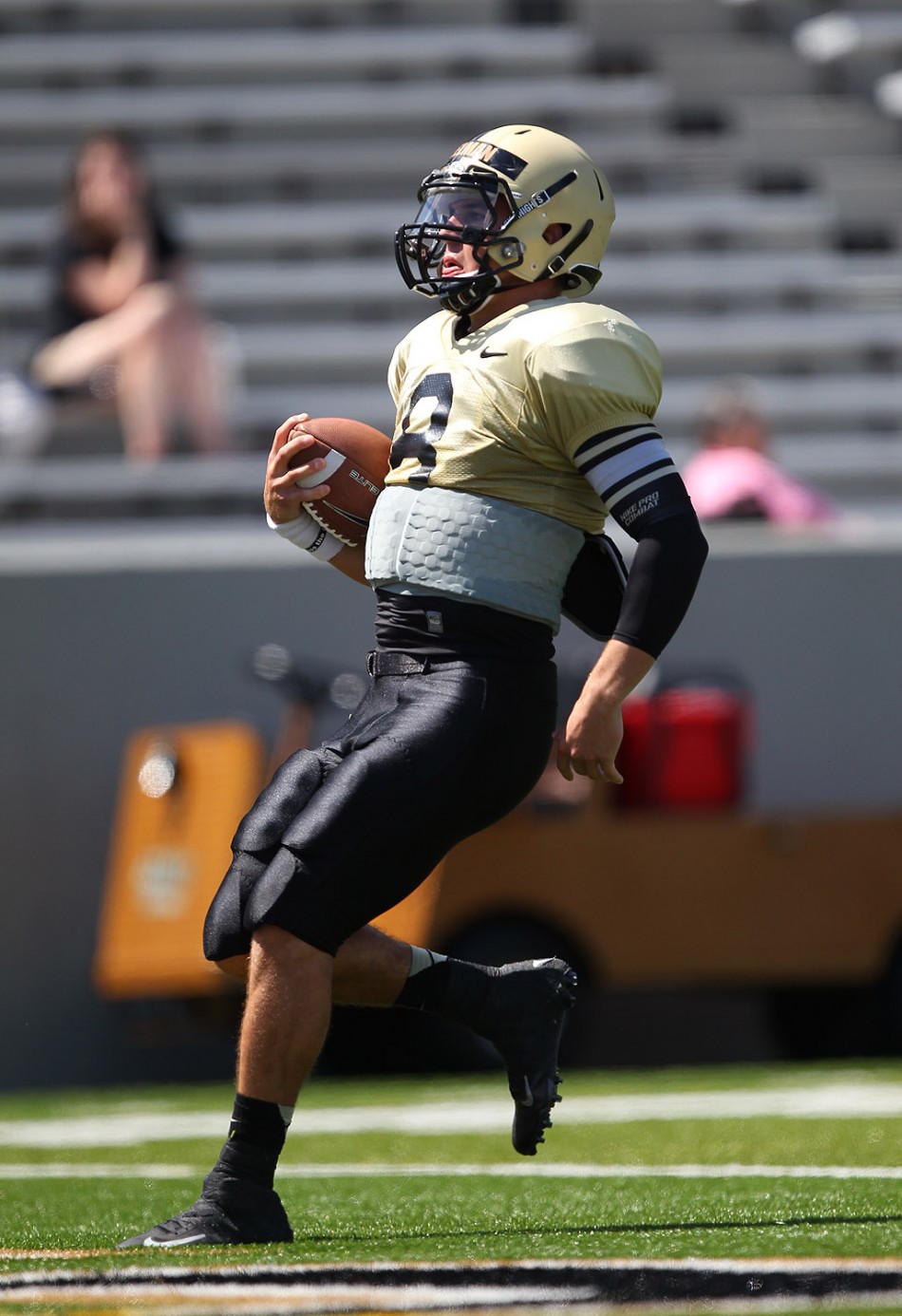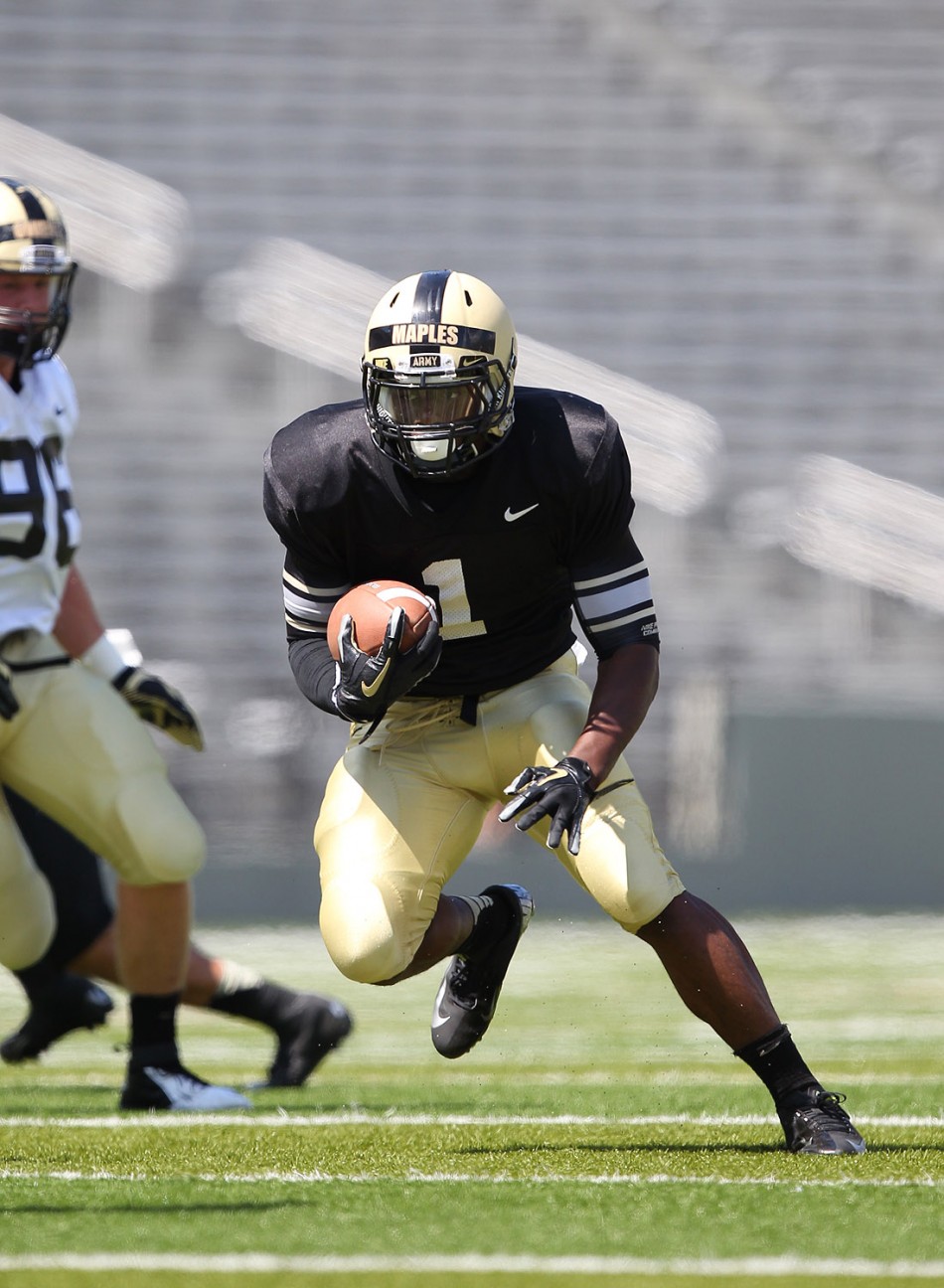 Here's Tyler Dickson breaking up an under-thrown pass in front of head coach Rich Ellerson (left):
"It felt fine," bandit linebacker Nate Combs said. "Coach has been having us do a lot of snap and gather, so finally letting us hit was a lot of fun. The defense looked pretty good from my standpoint. We'll look at film, and Coach [Payam] Saadat and all the coaches will be hard on us because we're looking for perfection. I thought the effort was there, and the critical situations went well for us too."
Lawrence Scott works his way on the right sideline: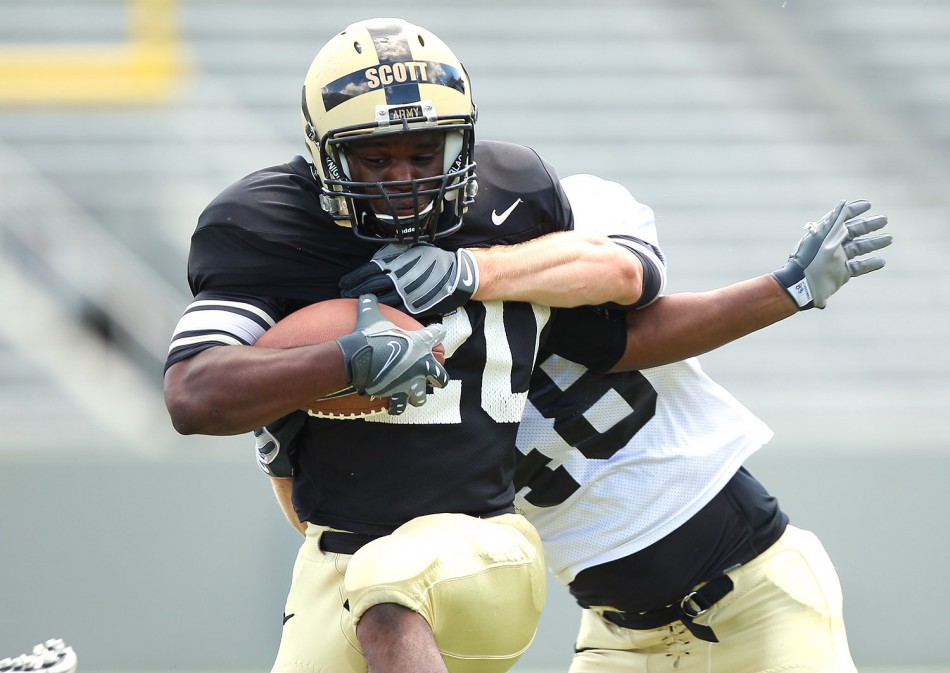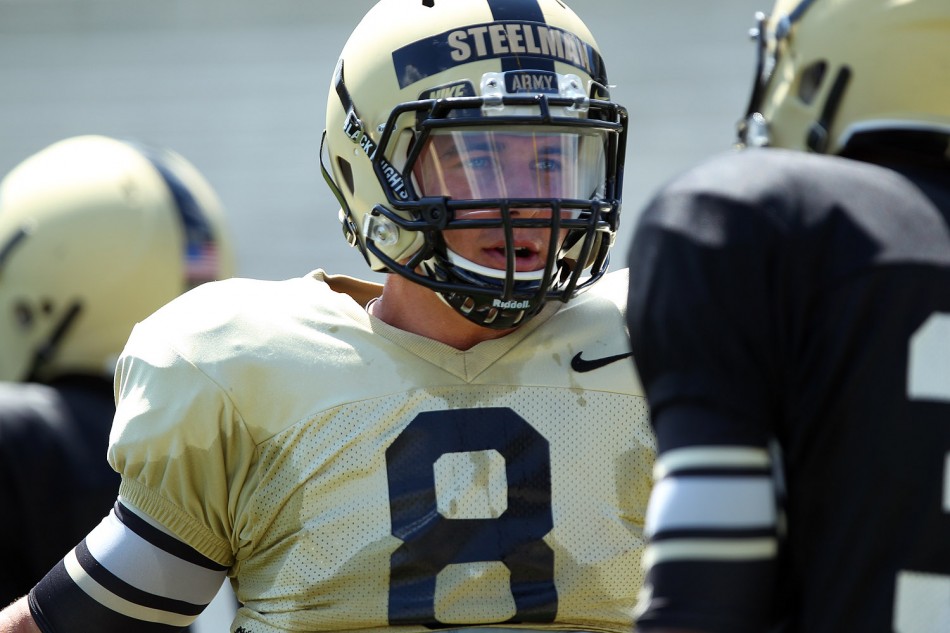 Terry Baggett ripped off this run up the middle for a nice touchdown.
"Well, it looks like football when the one and a halves and some of the twos take a rep," Shields said Tuesday. "Not so much with the threes and fours right now. We're starting to get more focused through training camp now, and onto game preparation. I like where we're at. There is room to grow here, but we're moving forward at a rapid rate."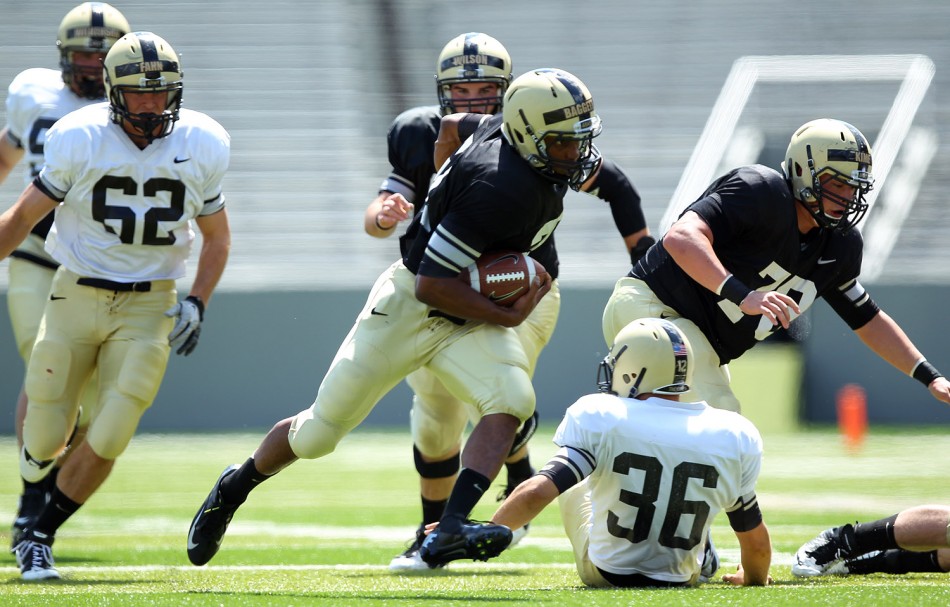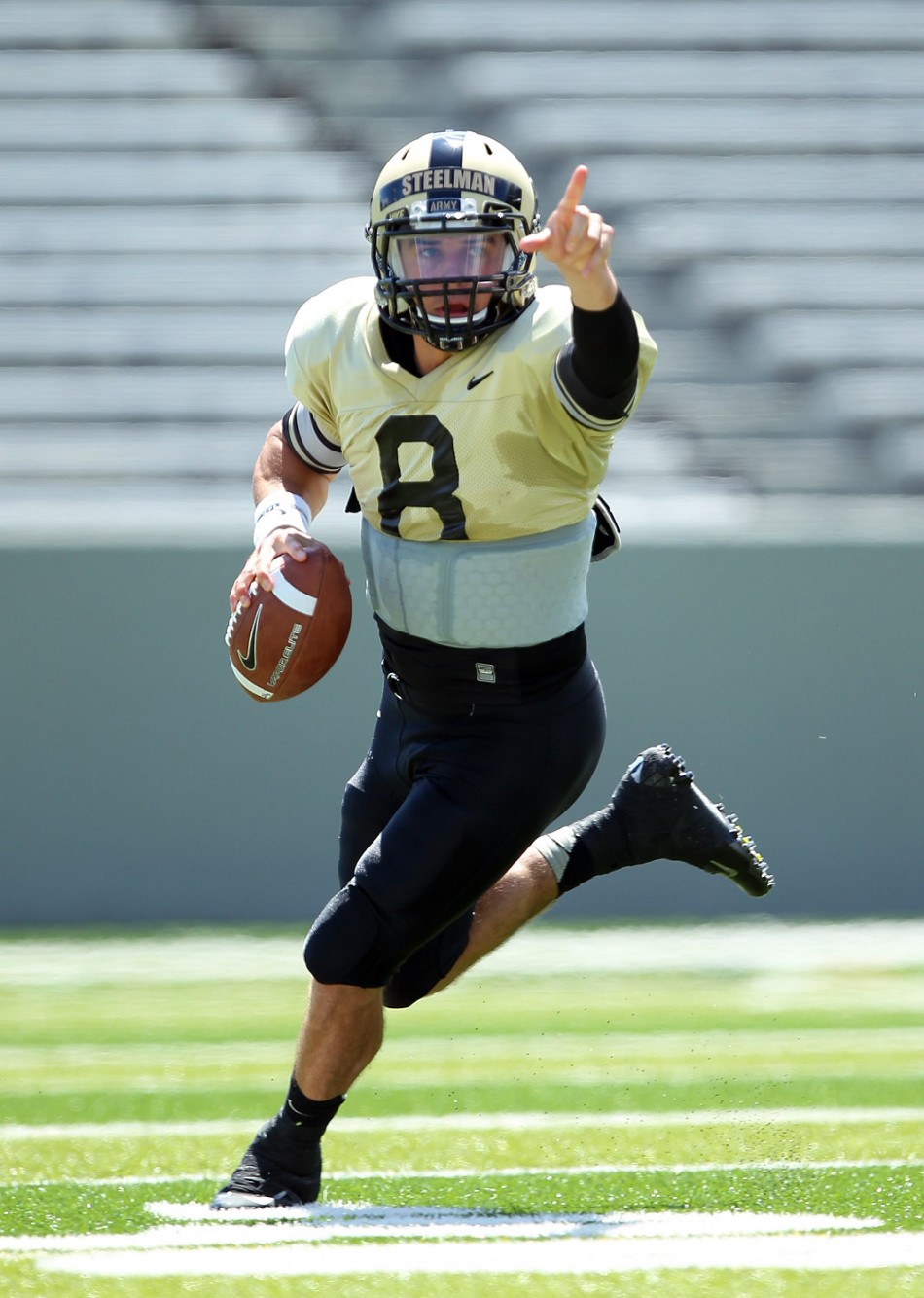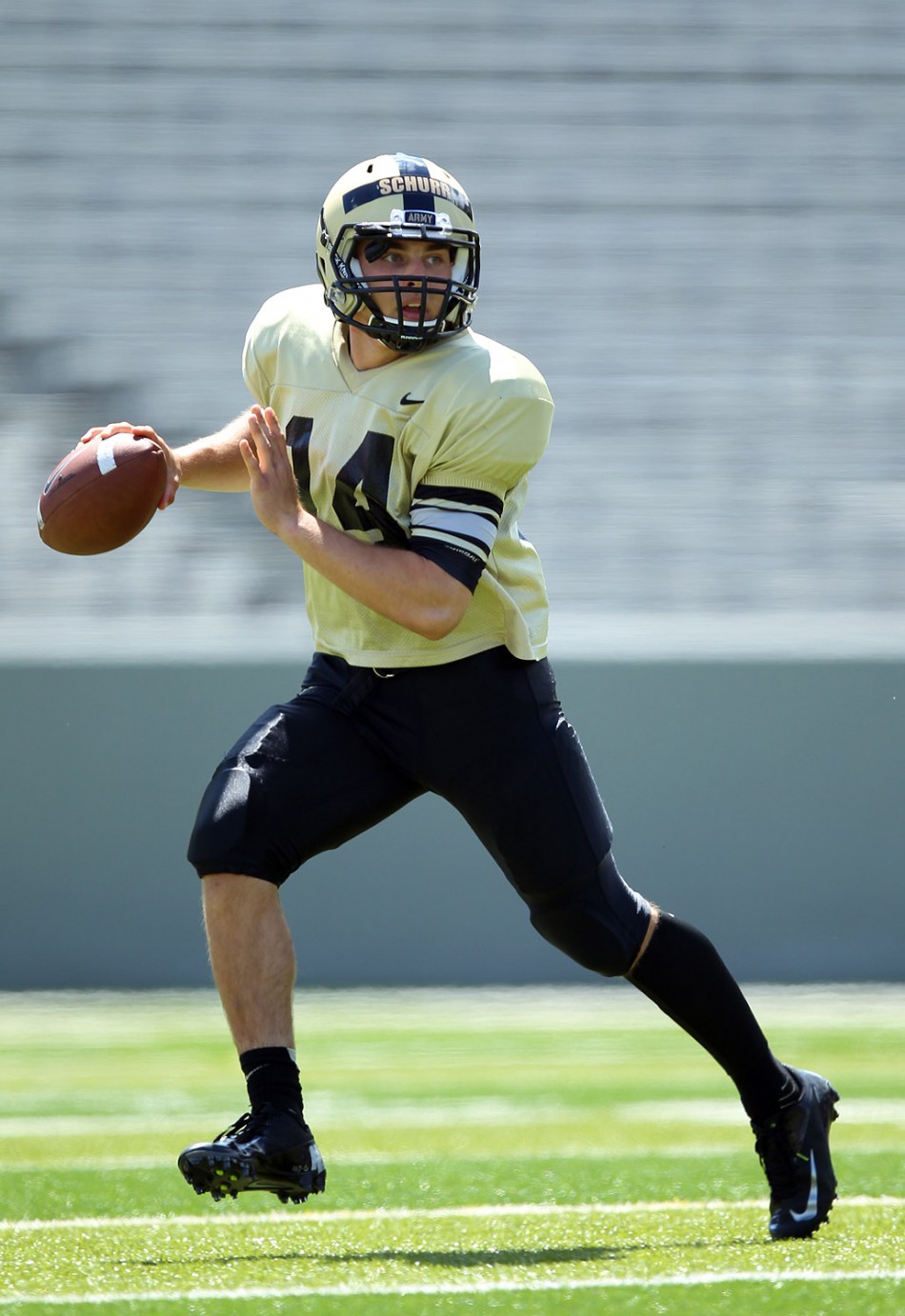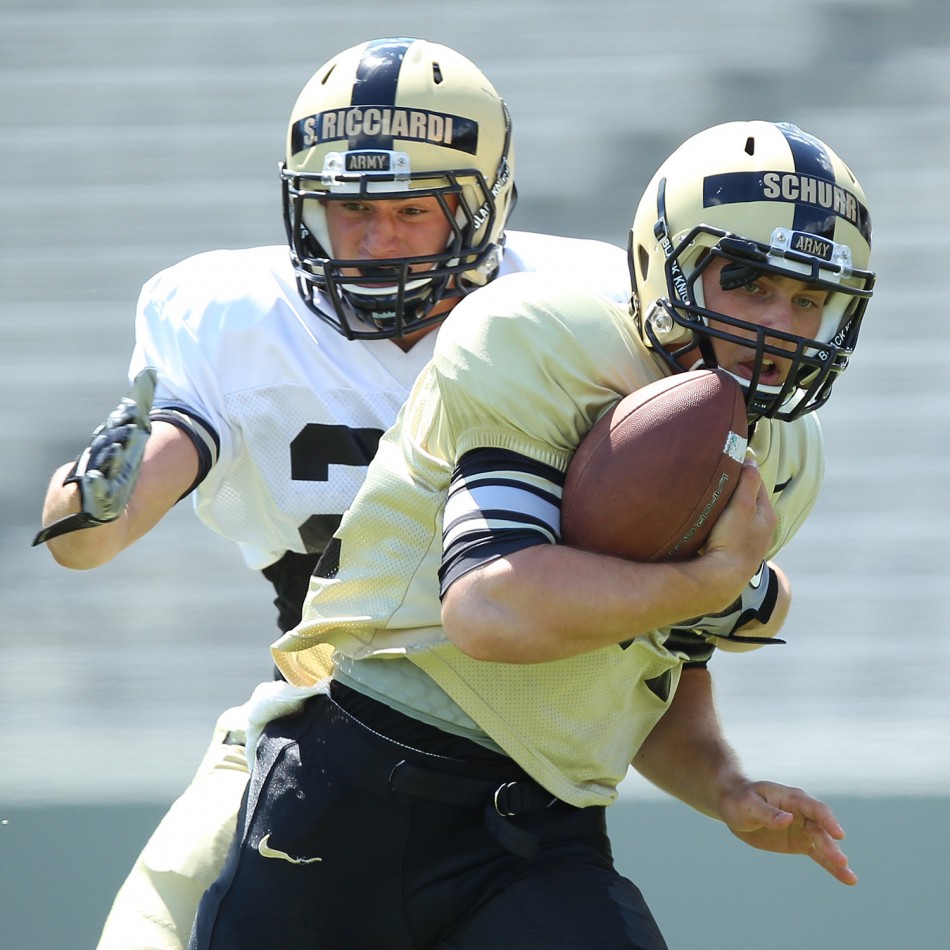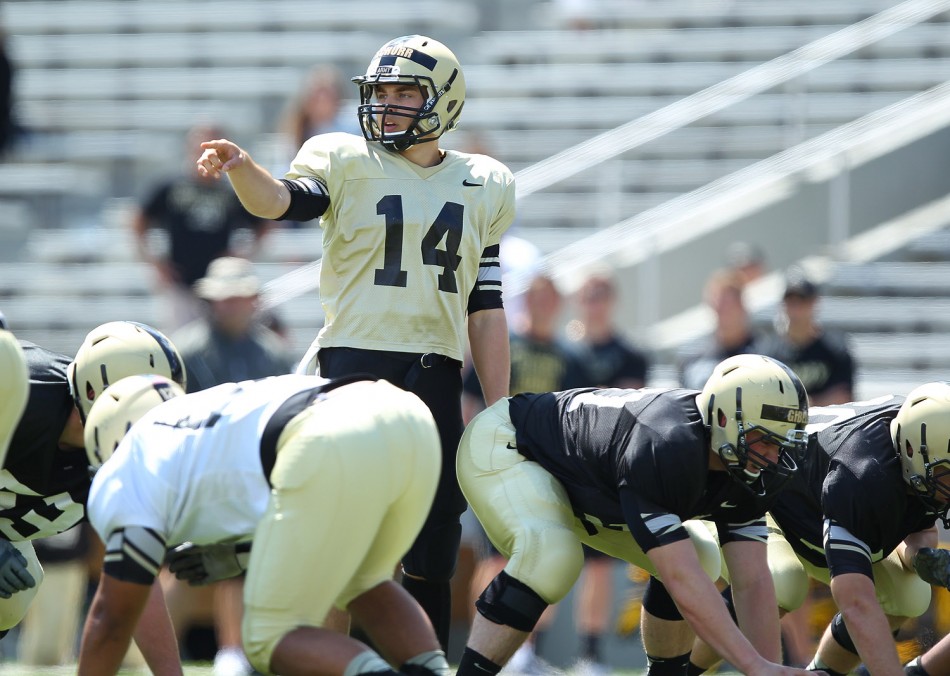 Kyle Maxwell (left) had an interception here: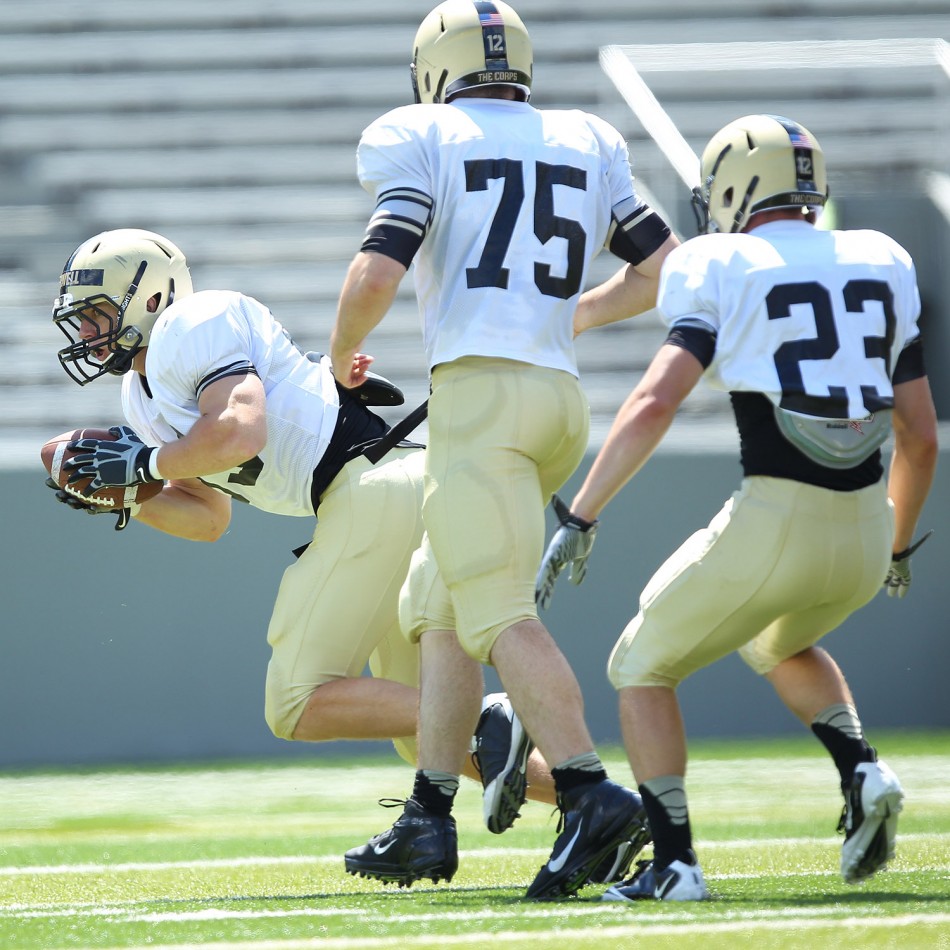 Shields also sounds high on the running game, which he managed into the nation's best last season.
"I think it's a special group, and it's probably one of the strengths of the offense," he said. "Larry had an excellent freshman campaign last year, and it's only going to get better. Raymond Maples had an excellent sophomore year, and I think his best football is still in front of him. Terry Baggett is an exceptional talent as well. He was a direct plebe who got hurt last year. He's just coming into his own, but he may be the fastest of all the backs we have and he's physical. You've got guys like (Jared) Hassin, (Stephen) Fraser, (Jon) Crucitti, (Trenton) Turrentine and (Hayden) Tippett. That's a deep group of backs, probably as deep as anyone could hope to have around the country."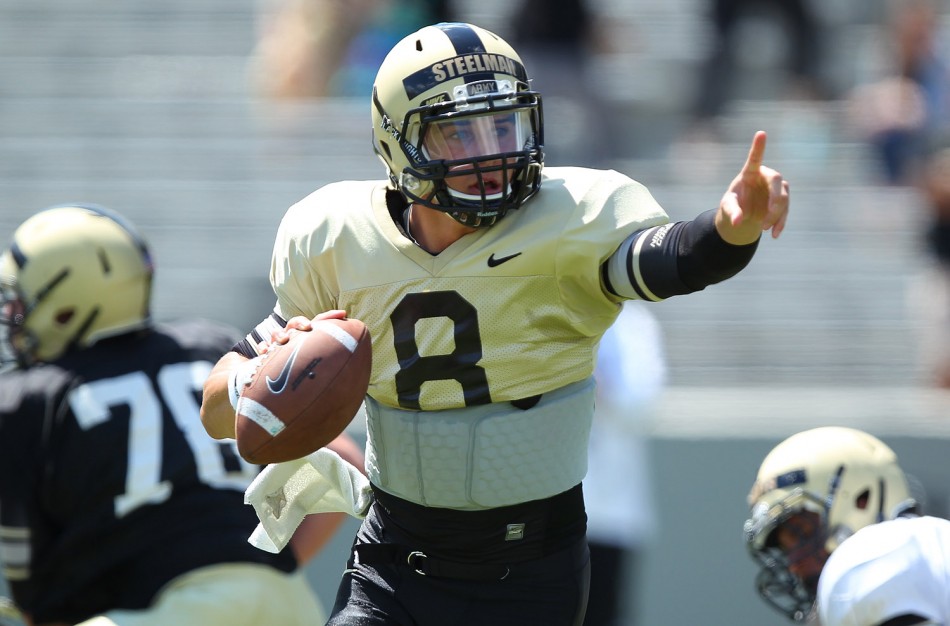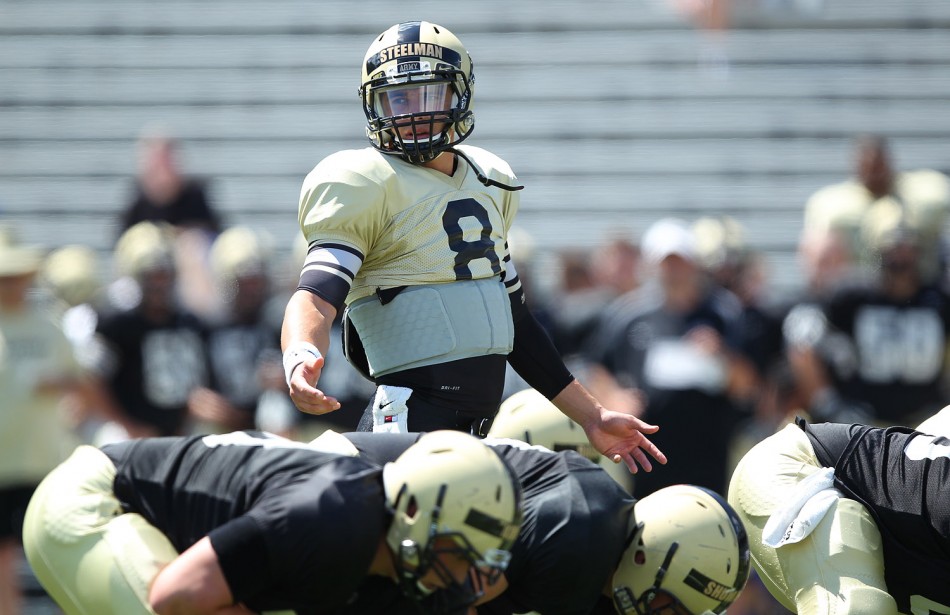 Finally, a rare image, I took a quick break from shooting here in the south end zone while my buddy Chet snapped this. We were going nuts trying to think of the name of Army's backup QB from the 2009 season — one of those tip of your tongue things — and Chet finally got it.  (hint: he wore No. 10)