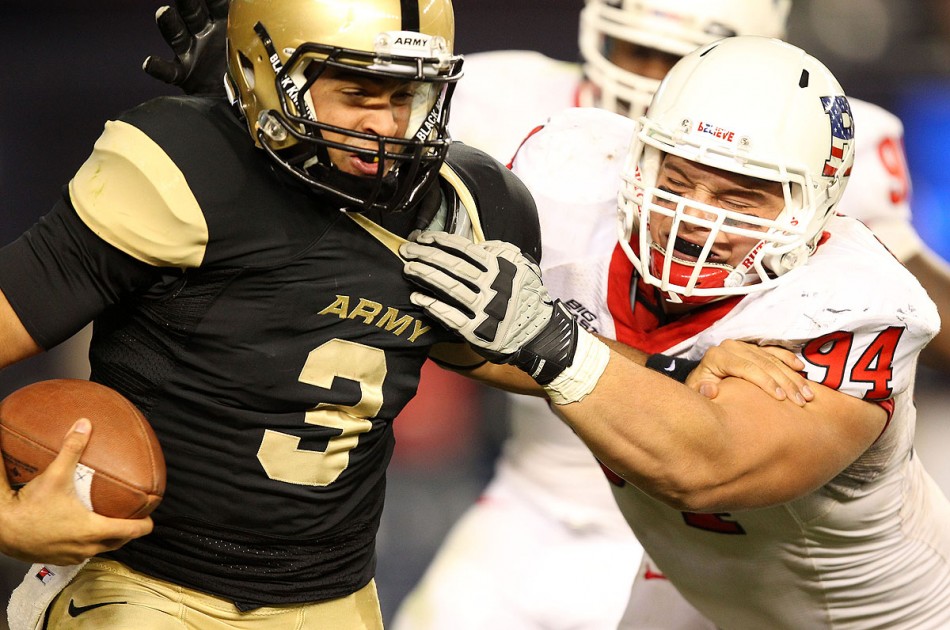 Army let another game slip away in the second half on Saturday, dropping its second straight contest, 27-12, to Rutgers at Yankee Stadium. A 6-6 tie at halftime turned a mess in the fourth quarter thanks to a penalty that pulled back a touchdown and a blocked punt that led to seven more points.
West Point looked good in the first quarter, though, and they took a lead behind a group of freshmen. Plebe quarterback Angel Santiago made his first collegiate start and actually played well at times, throwing for 77 yards and rushing for 72 and a touchdown. Army got some productive runs from Larry Dixon, Stephen Fraser and Malcolm Brown, too.
"There are 10,000 things we can do better, and some of our core competencies continue to frustrate us, but were determined to do that and turn that this season," Army head coach Rich Ellerson said. "We have two opportunities left [Temple and Navy]. I'm not talking about something were doing in the future, but something were going to do now. God bless the guys. They're hanging together and fighting hard. They are devastated but they're so close."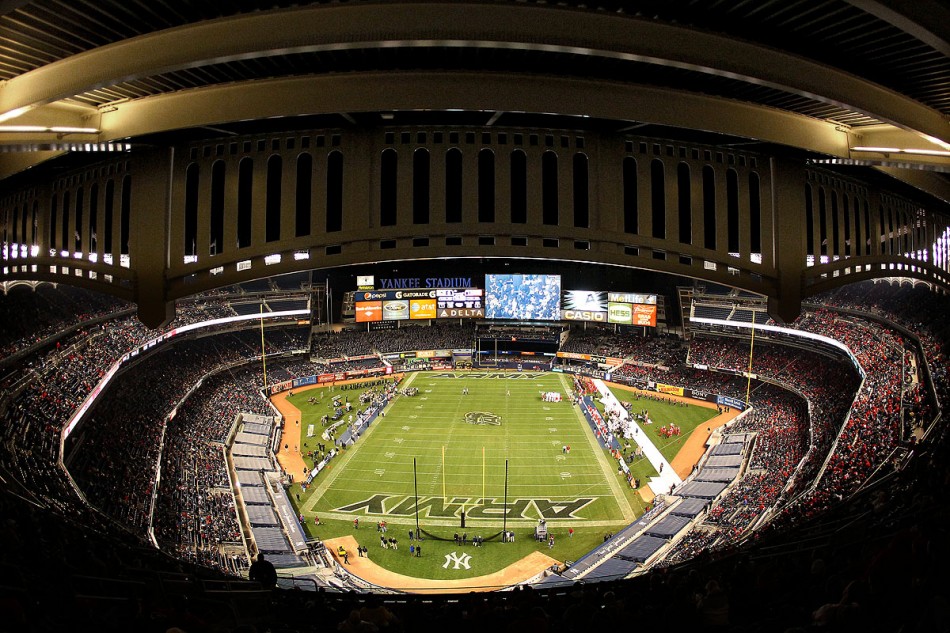 This was Army's second year playing at Yankee Stadium, and this time, they were the hosts after facing Notre Dame last fall. The Stadium did not sell out, which evidently is what led the Yankees to push the Army-Air Force game back to Michie in 2012. The game was certainly marketed by both Army and the Yankees, and the attendance was good, but it wasn't full.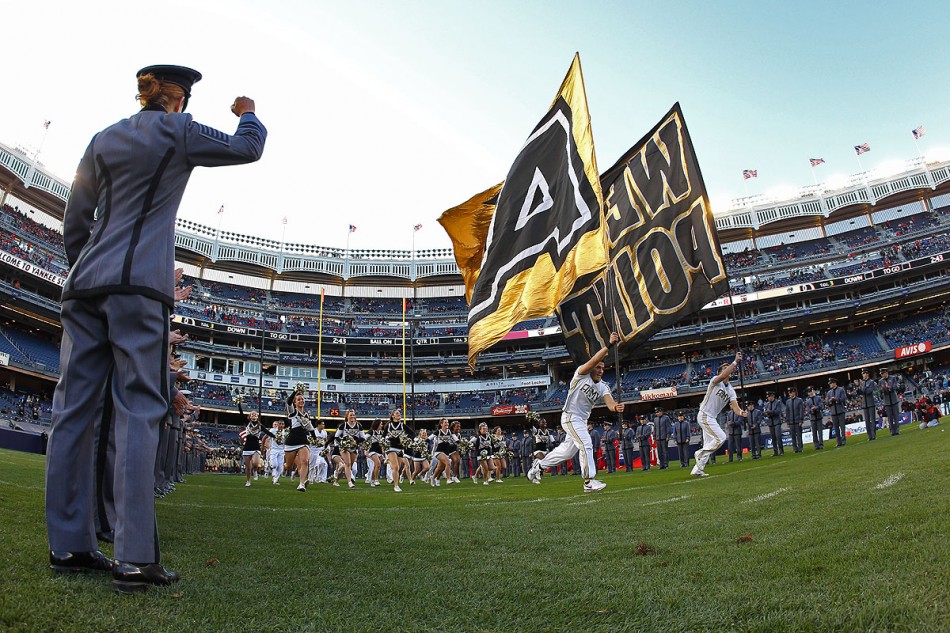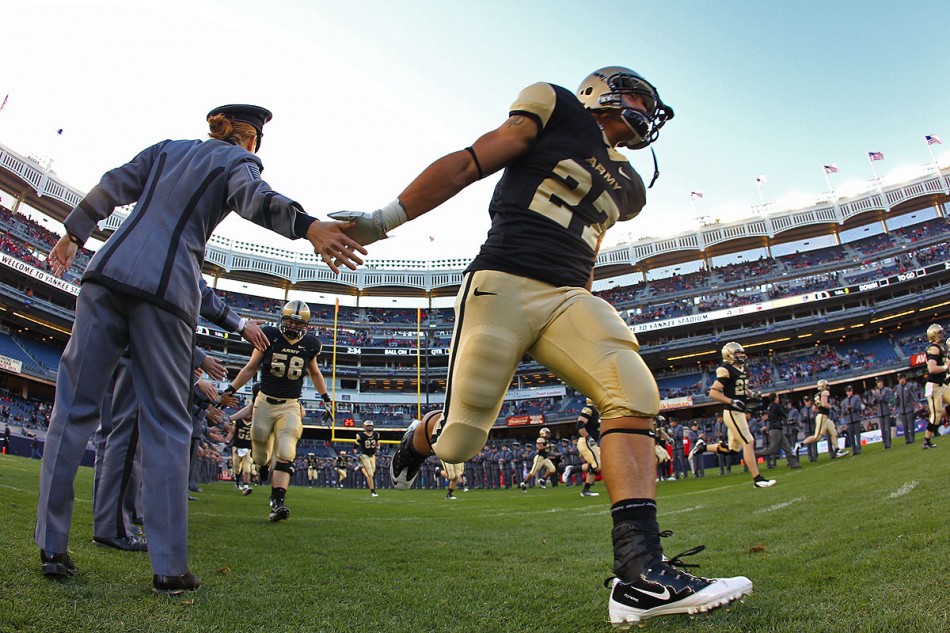 Army freshman fullback Larry Dixon rushed for a career-high 93 yards and one touchdown to pace the Black Knights, who fell to 3-7 on the season.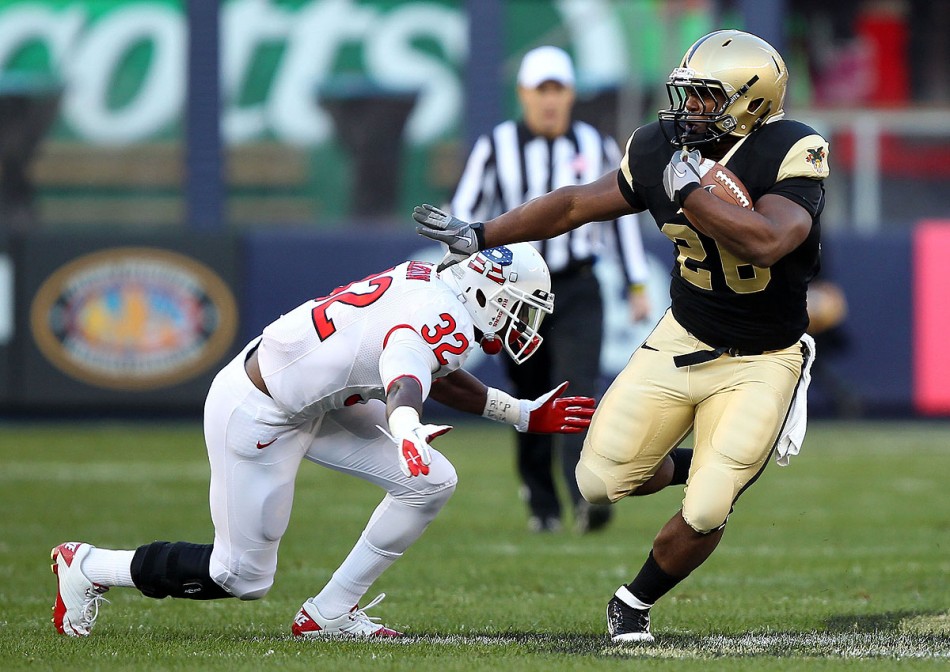 One of this game's storylines was Eric LeGrand, the former Rutgers player who was paralyzed from the waist down last year after he tackled Army's Malcolm Brown during a game at the Meadowlands. It was a scary moment and probably the hardest hit I've ever seen in person. Eric's story has been well-documented since — he's made a remarkable recovery and is close to regaining the power to walk again, although he's still mostly limited to a wheelchair. He now attends every Rutgers game and helps with the broadcasts. On Saturday, he came out for the coin toss and had a chance to see Brown and other Army captains.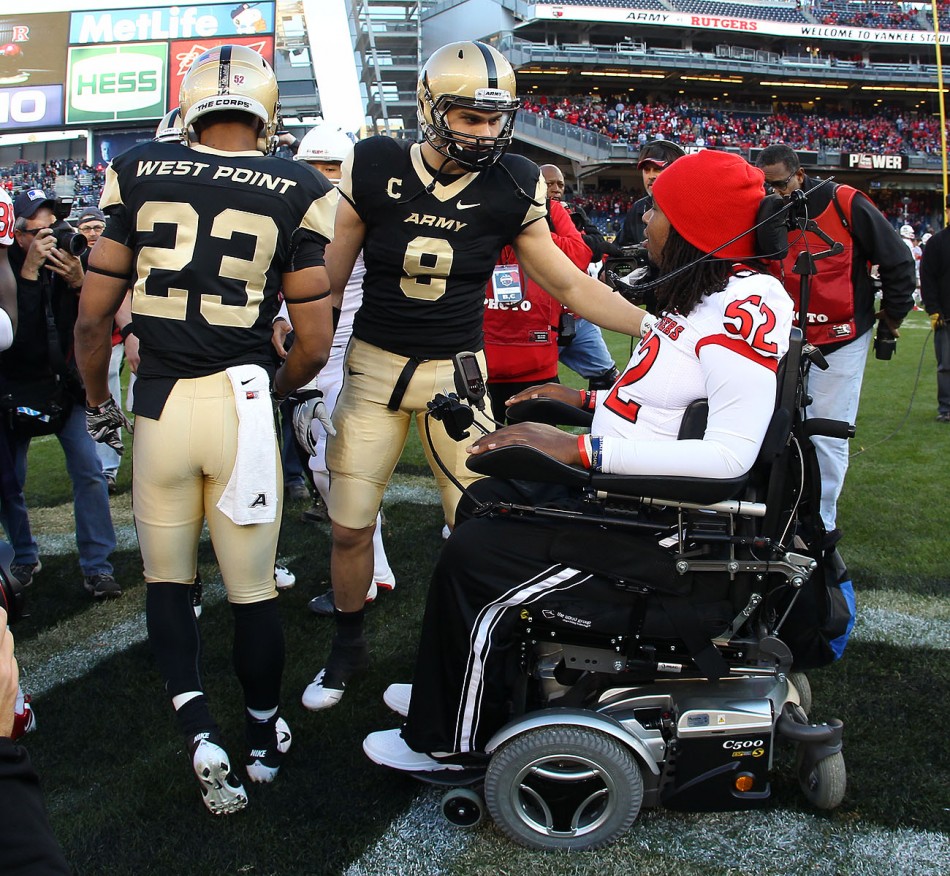 "I just said 'May the Lord bless you' and 'Have a good game,'" Brown said he told LeGrand. "It was a great feeling. It was kind of emotional. I got over and was able to say hi, and pass along my condolences."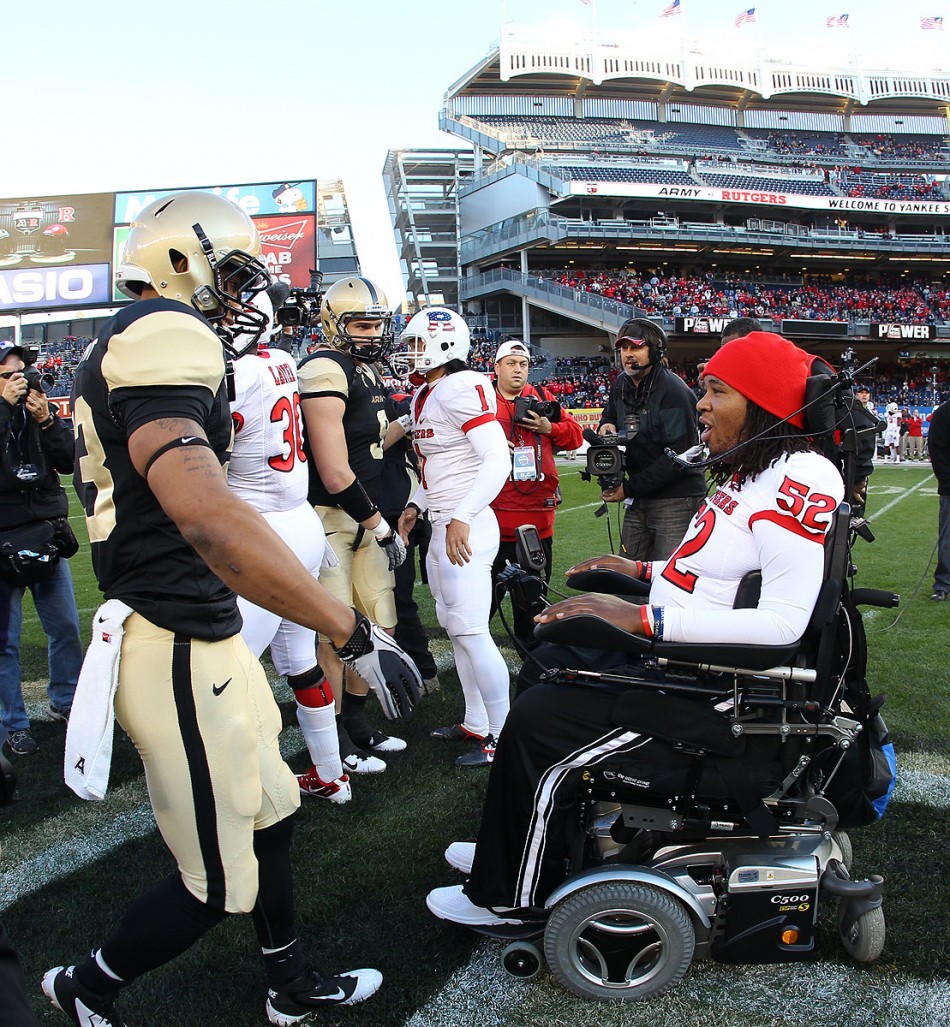 My photo of the moment ran on Yankees.com: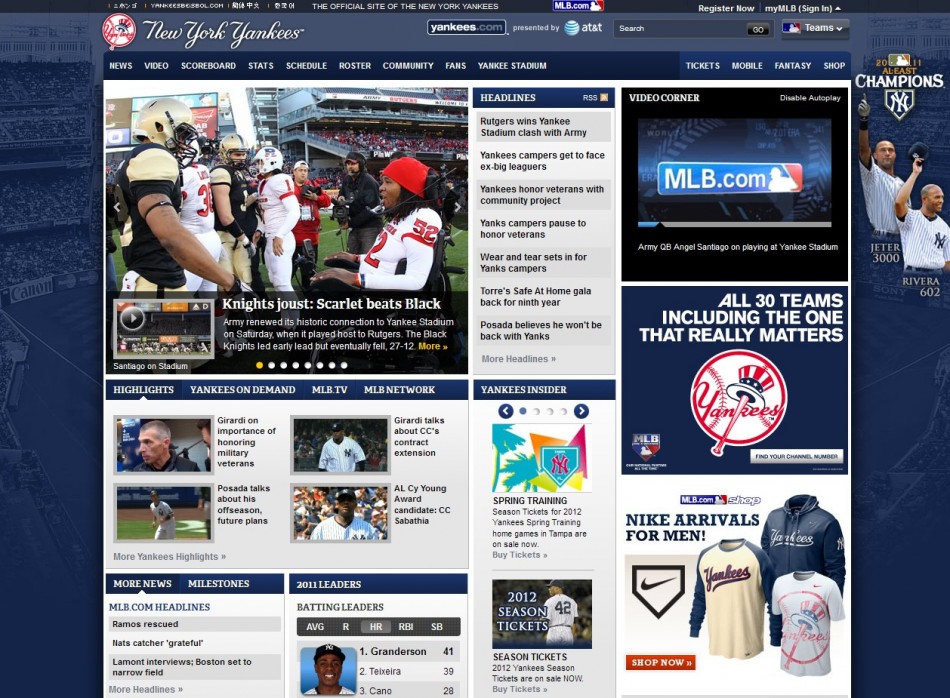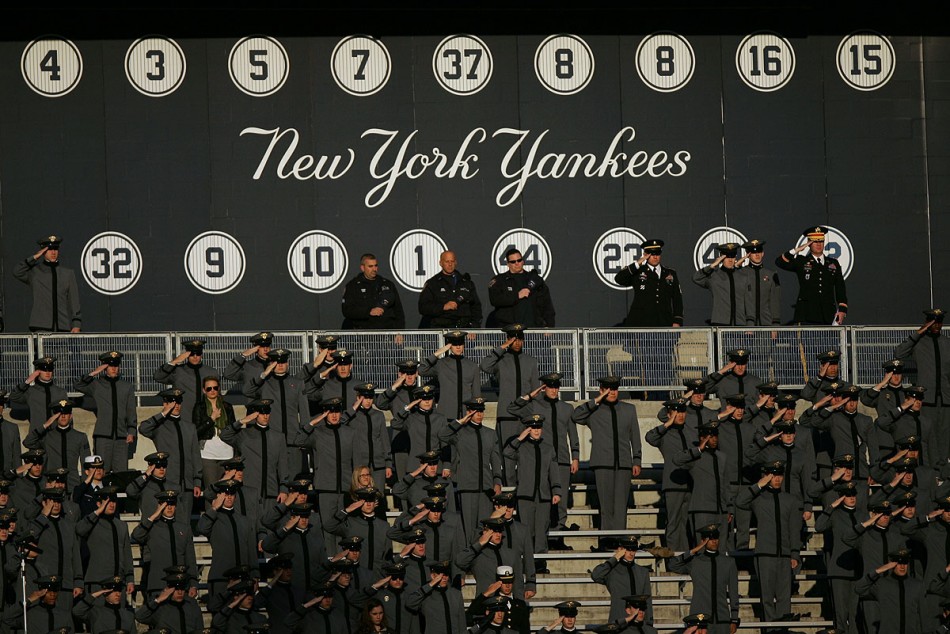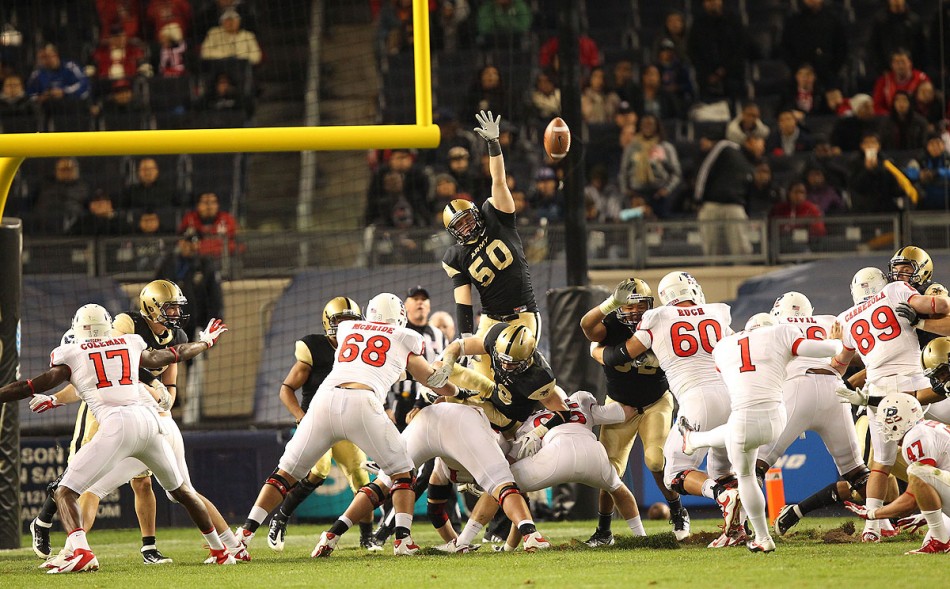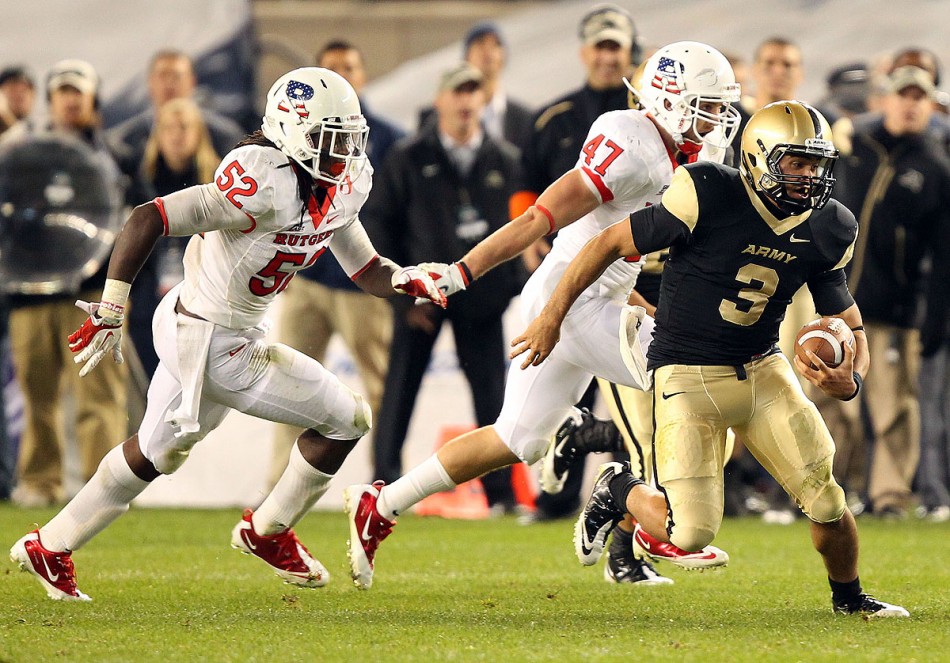 Another storyline was the field itself — the sod, which was laid to cover what was the infield dirt, became loose and was immediately torn up on the very first drive of the game. Stadium staffers ran out throughout to try and manicure the grass, which was a real problem for both teams. Rutgers kicker San San Te actually missed an easy field goal in the first half after he slipped.
"The grass was actually pretty tough out there," Brown said. "It was coming up almost every play. It was coming up pretty bad, especially on that first drive. We were all looking at each other like what's going on. But, that's no excuse."
"The conditions can be a little bit of a competitive disadvantage for an undersized guy because it's a hard time to stick your cleats in the ground," Ellerson said.
Perhaps related, Army kicker Alex Carlton shanked an extra point at the center field endzone, continuing what's been a rough season for a kicker who set the Academy record for field goals in '09.
"The footing at the one end was pretty bad, but it was fine at that end," Carlton said. "I just pushed it and didn't come all the way through. I pushed it. I didn't bring my hips through all the way."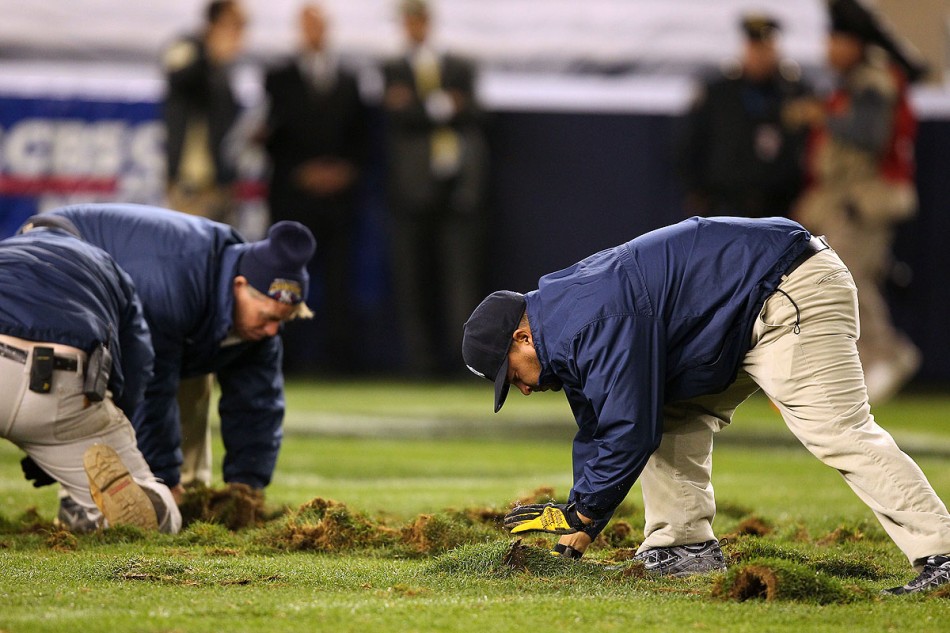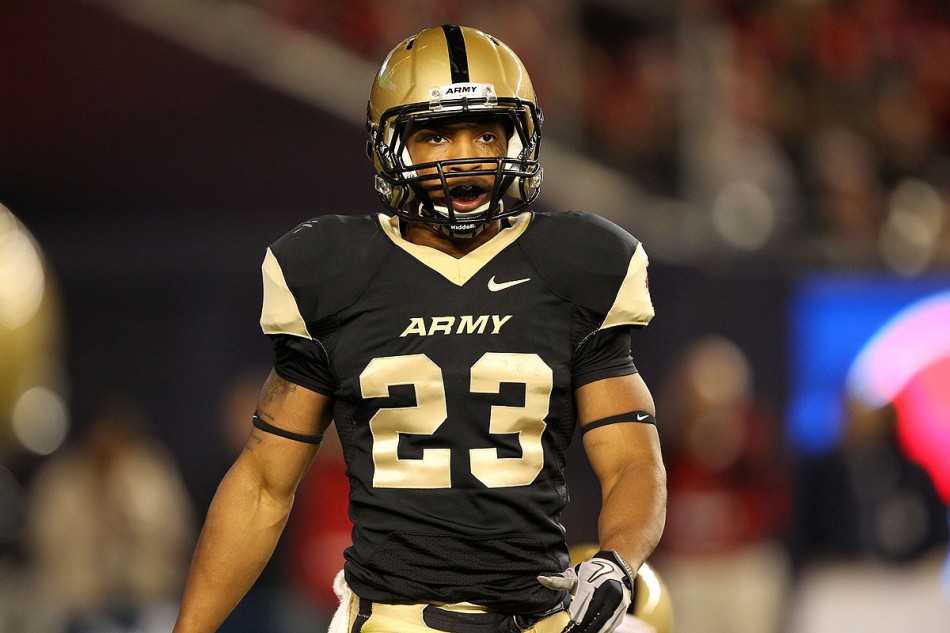 I made my way up to the upper deck after half time for some wide-angle images of the field. While walking around, I spotted some cadets waiting in line for hot dogs: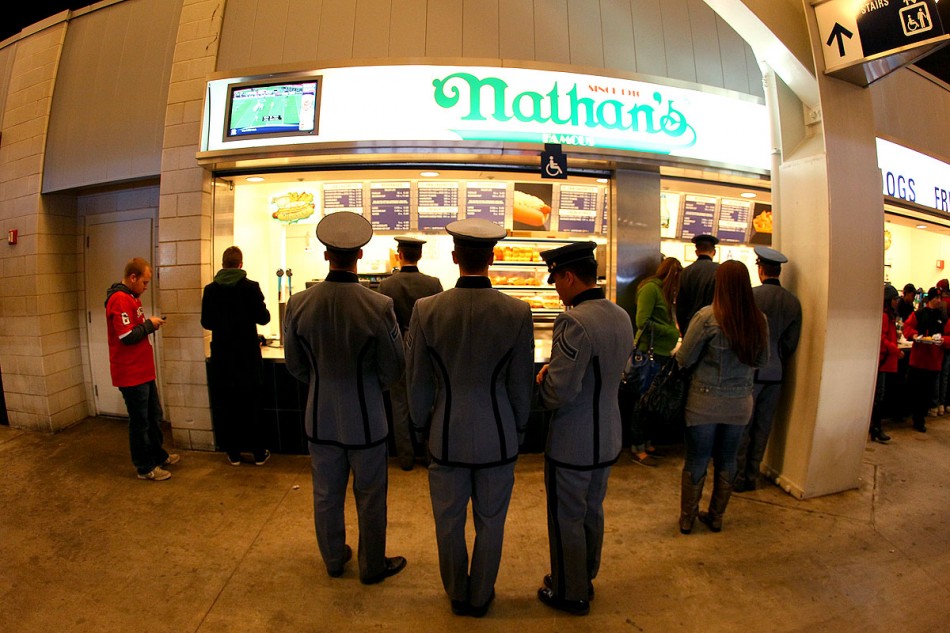 This was the view from the first-base side of the Stadium: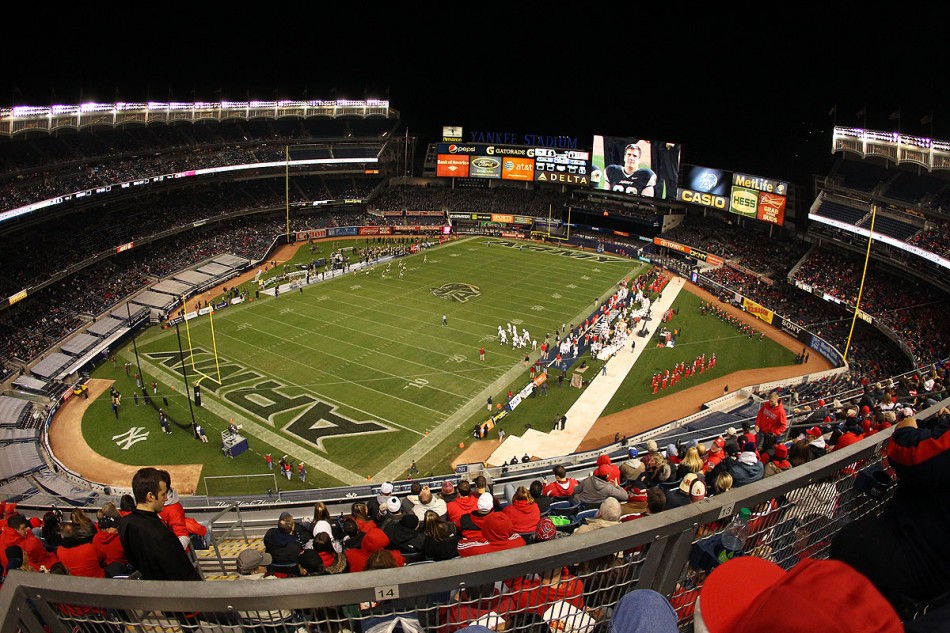 Santiago got the start as junior QB Trent Steelman continues to recover from a high ankle sprain and senior co-captain Max Jenkins deals with a foot injury.
"Coming into this game, I knew I had to go out there and show everybody that, even though I'm a freshman, I can still run this offense," said Santiago, who called his own number numerous times while running the option. "I was really just trying to give my all for the team. Everybody fought hard, but unfortunately it didn't' come out the way we wanted."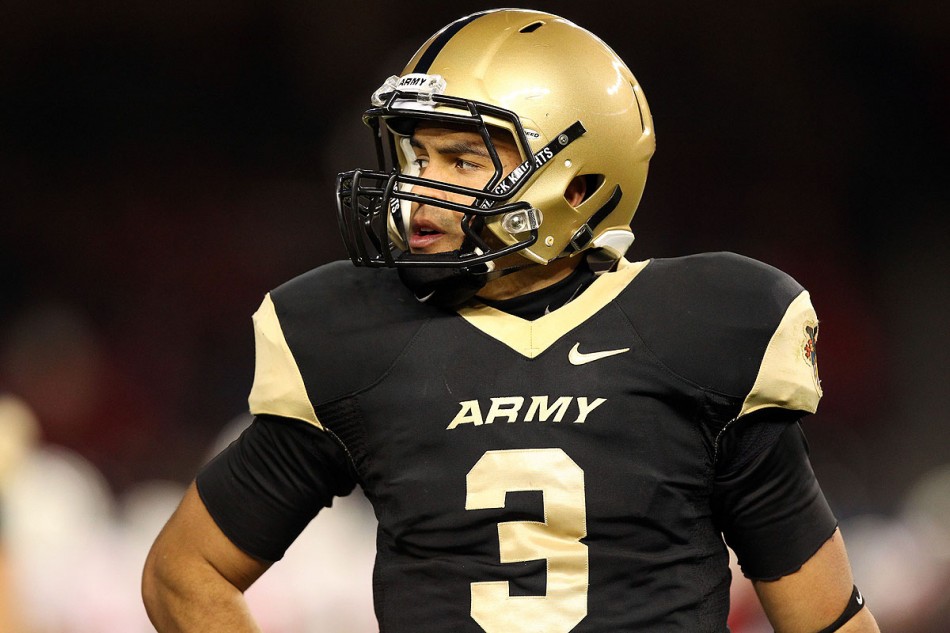 Rutgers QB Chas Dodd threw for 196 yards and two touchdowns.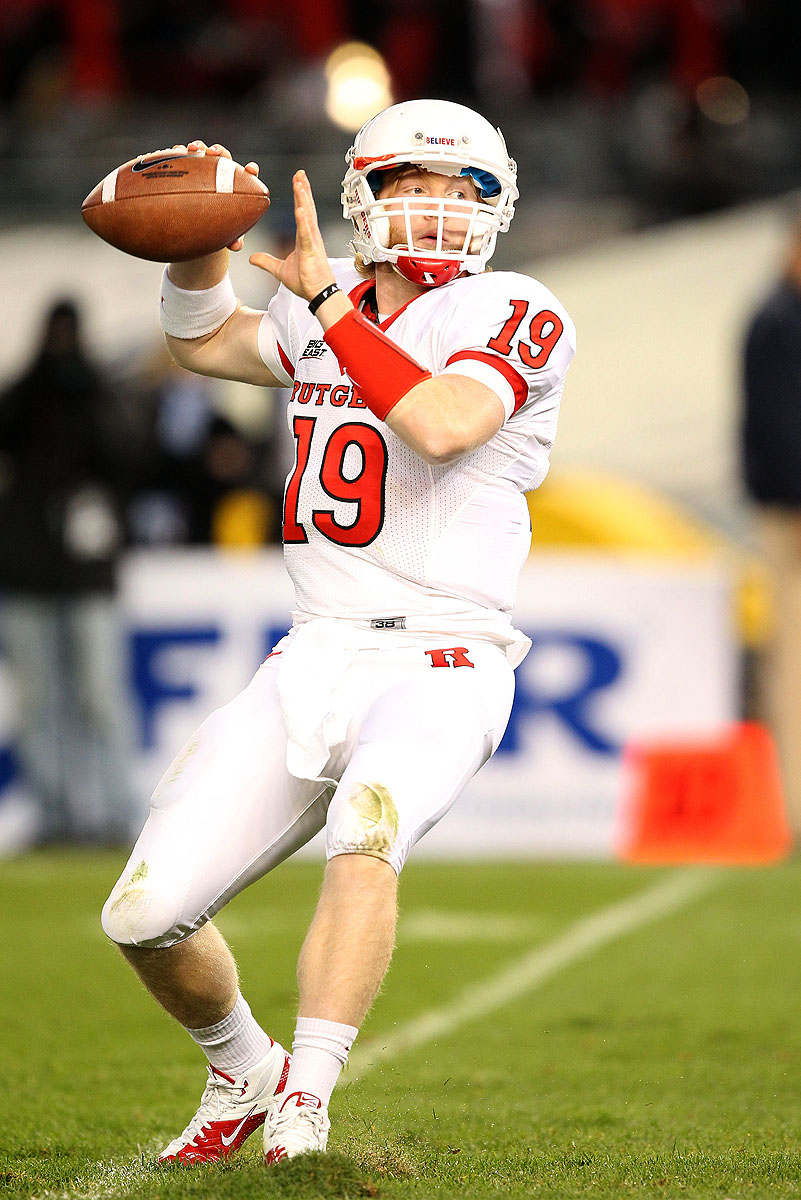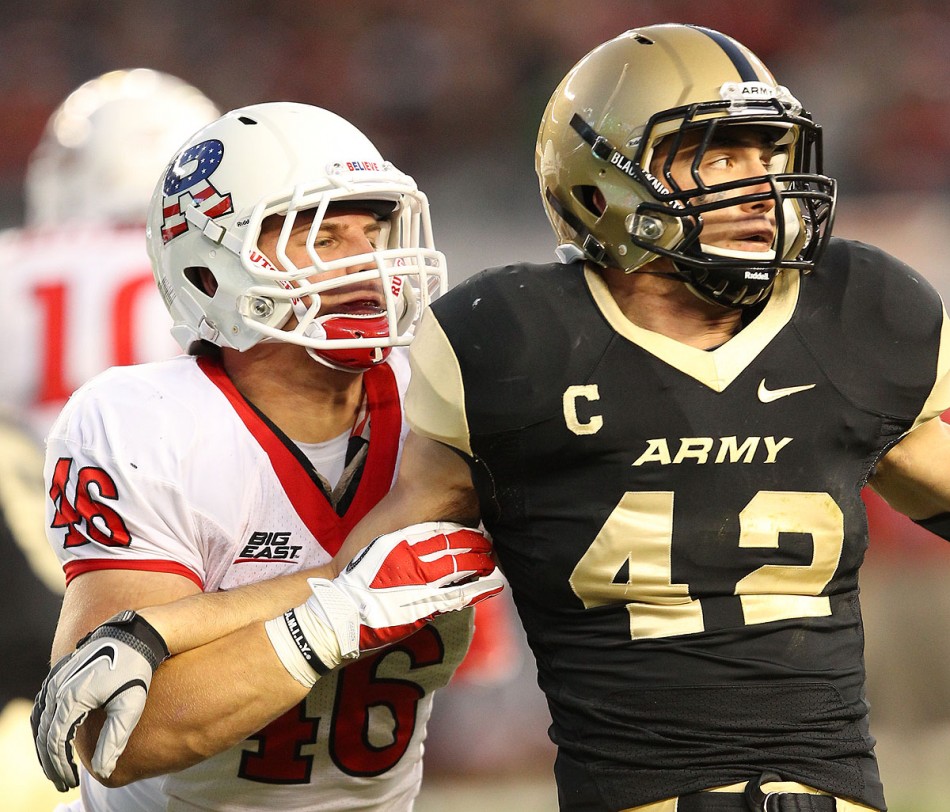 Ellerson ran out to talk with Santiago after the plebe came up short on a 4th-and-1 play around midfield.
"There are 10,000 things he could do better, but I love the way he goes out there and completes," said Ellerson. "He threw the ball better than I would have expected. There's more there when you get his legs going."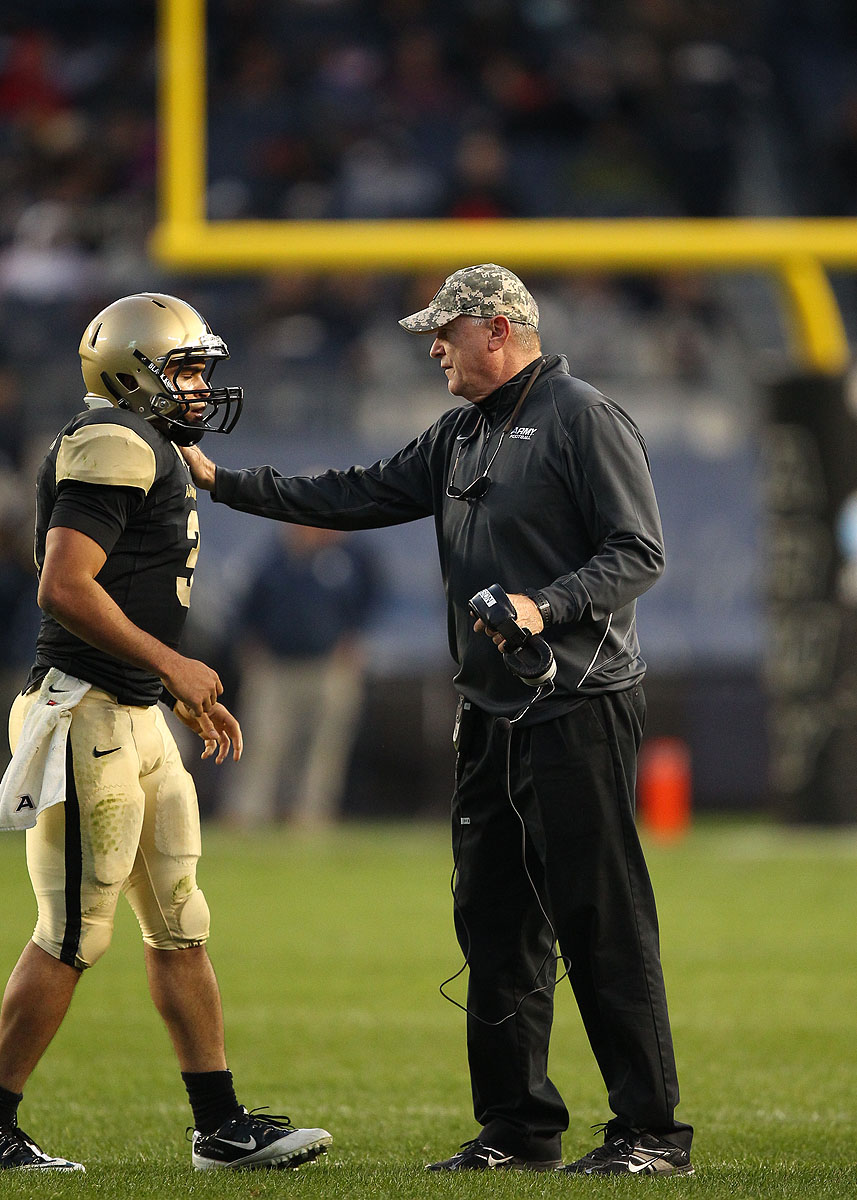 About 3/4 of the Corps of Cadets attended the game, and most sat in the left field bleachers: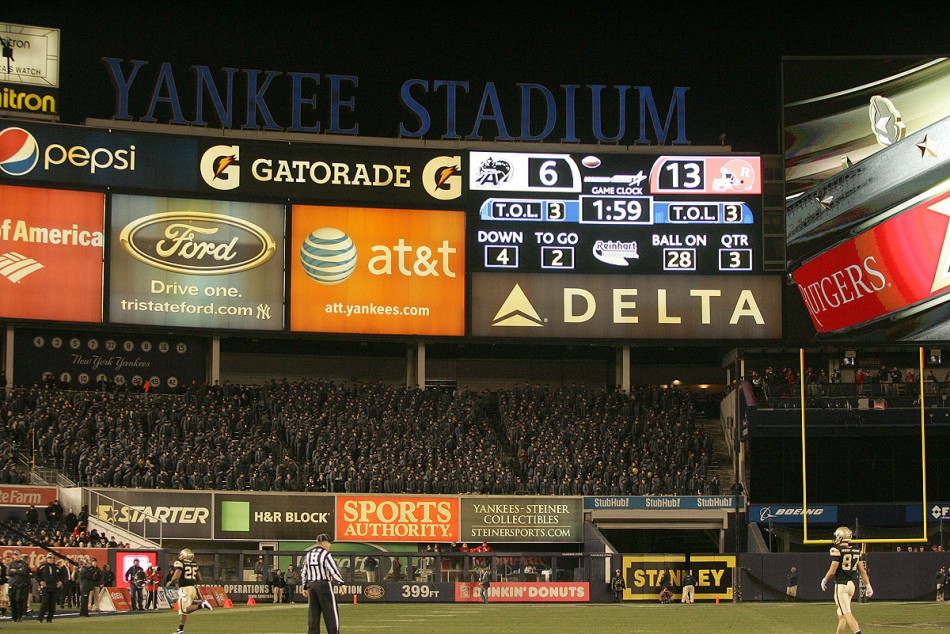 Senior wide receiver Davyd Brooks led Army's receivers with three catches for 35 yards.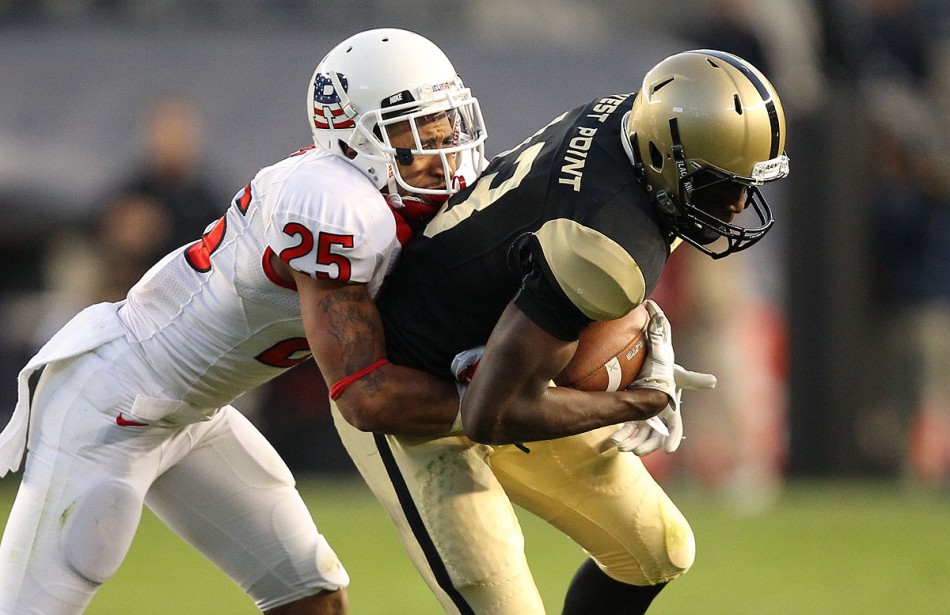 Army Colonel Joe DeAntona snaps a photo with his BlackBerry on the Army sidelines during the second half: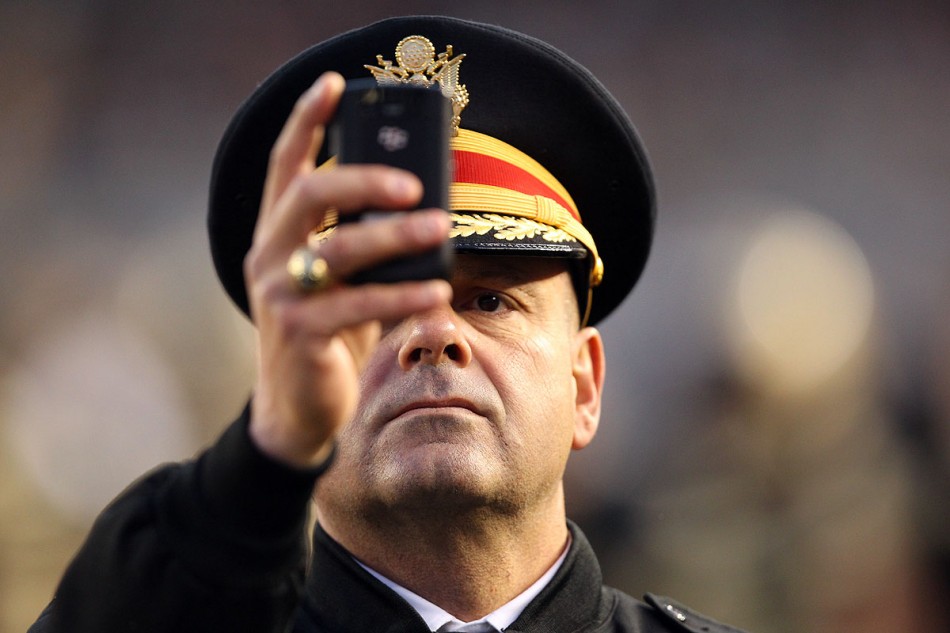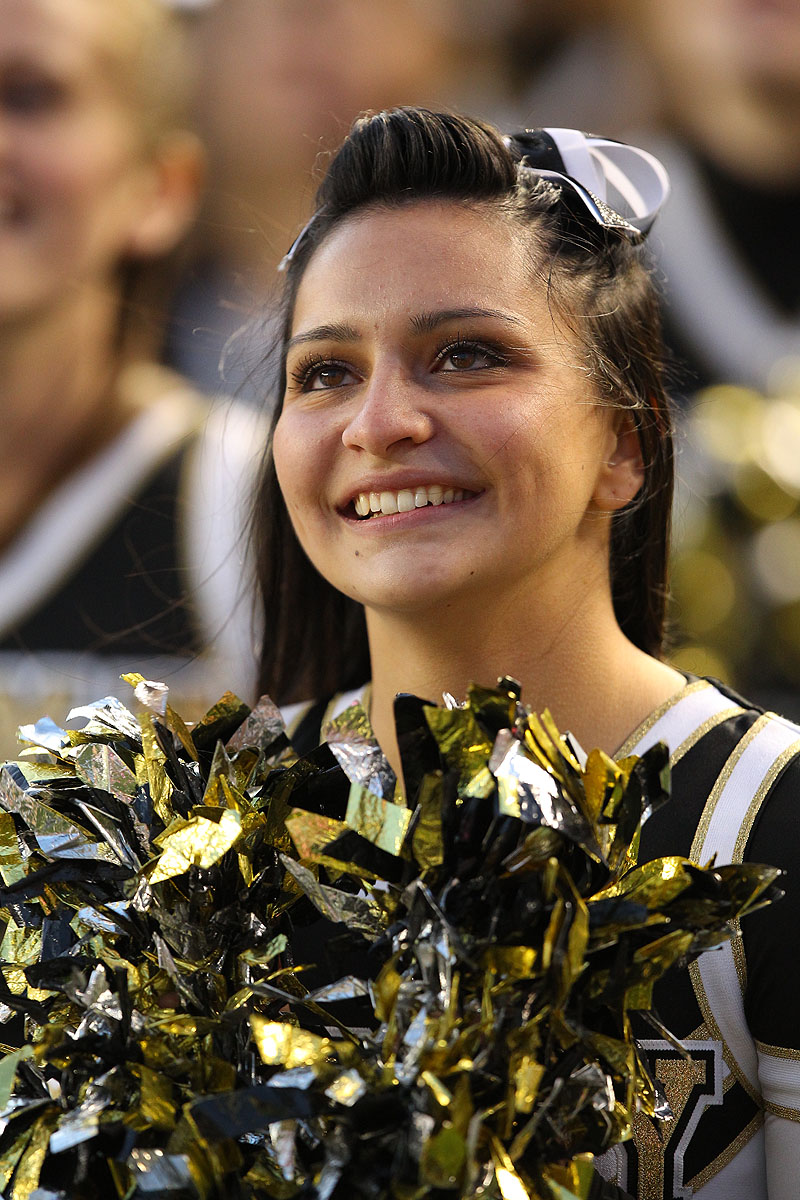 "You want to keep their spirits high and make sure their heads are up, but I haven't sense anyone's getting down or pouting or anything like that," said senior captain Steve Erzinger. "We're coming out and playing and fighting, and tonight is evidence of that."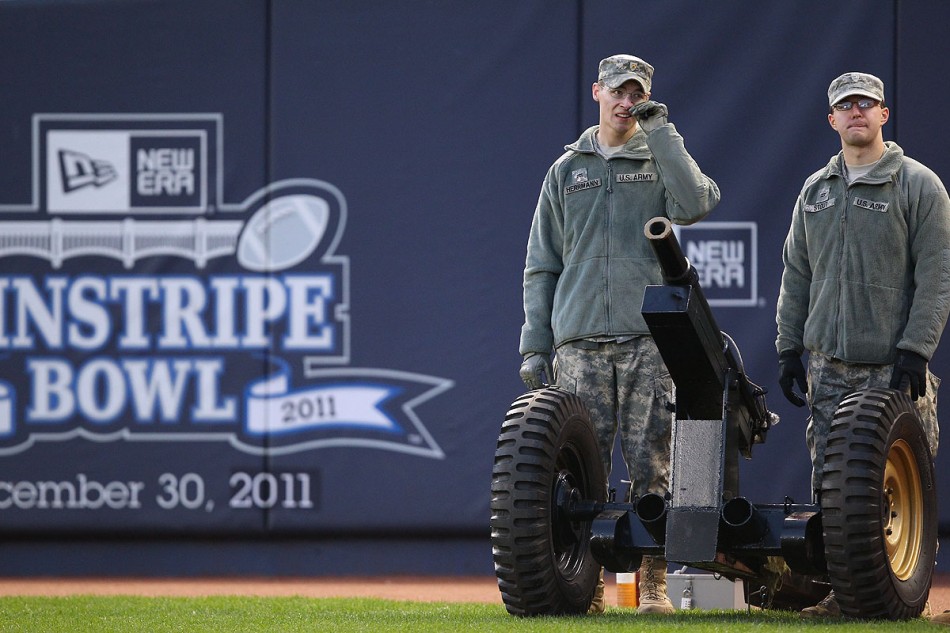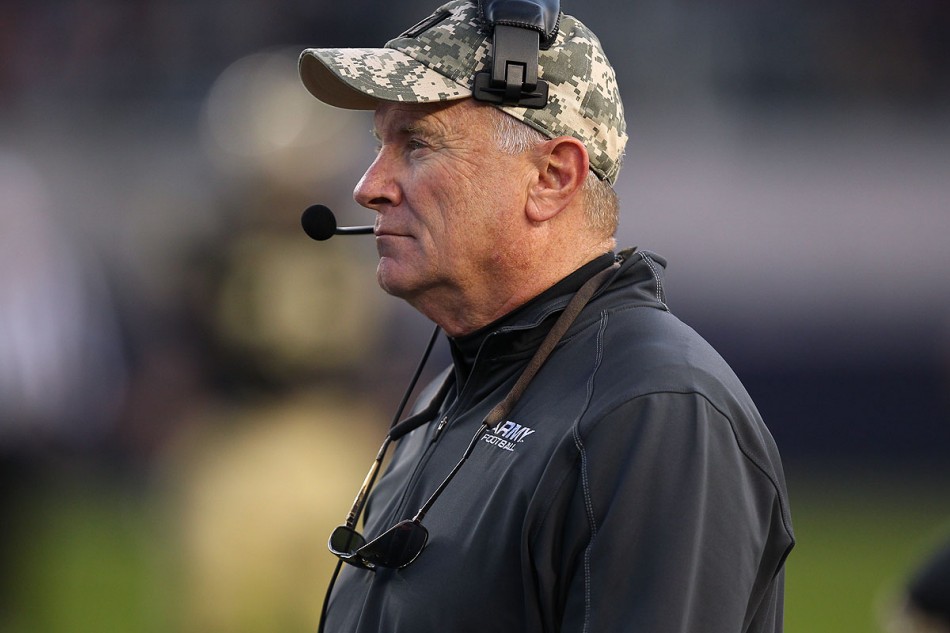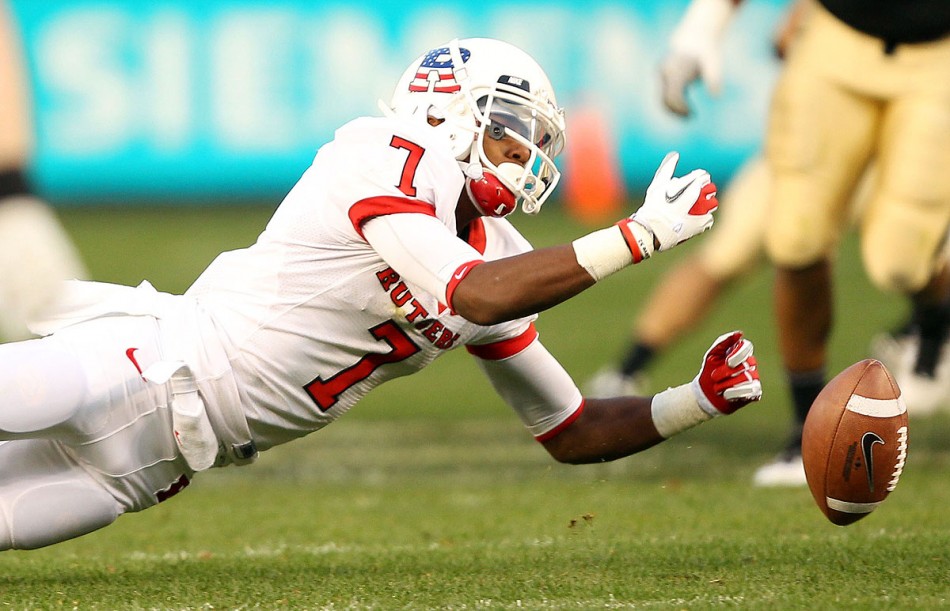 In terms of shooting this game, I tried to look for more shots of the game at the venue, working in the Corps and ballpark signage, etc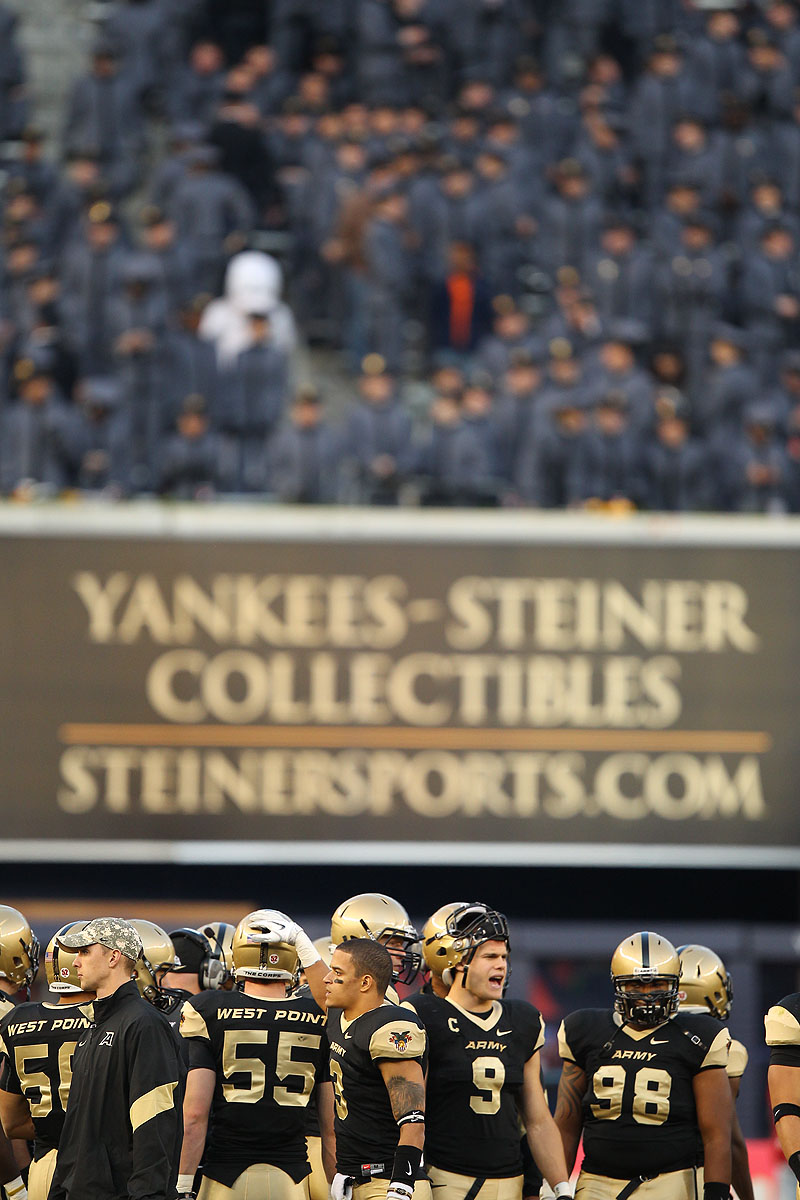 This shot was a nice one, showing the Yankees' logo, retired numbers and the Corps with an American flag: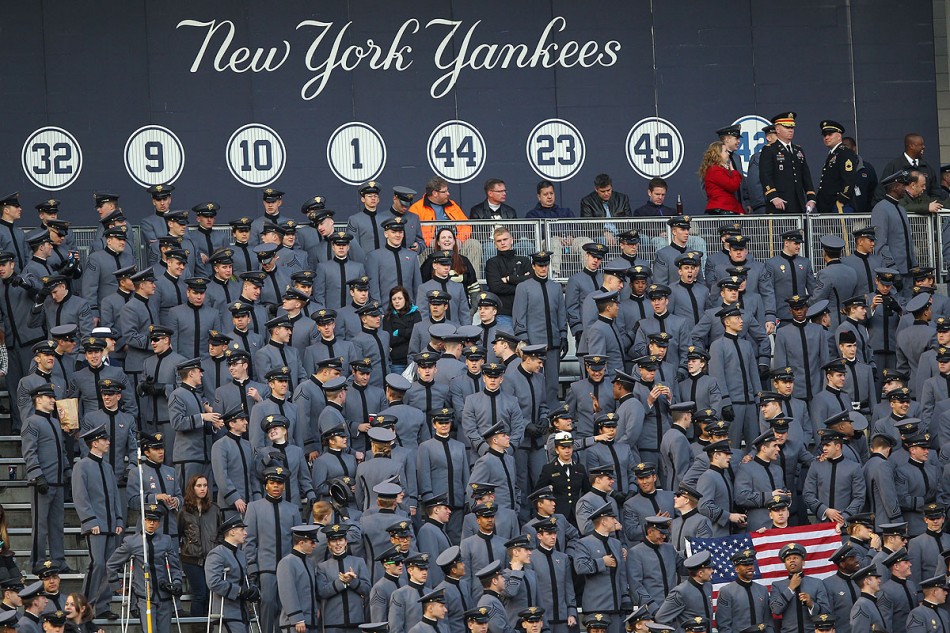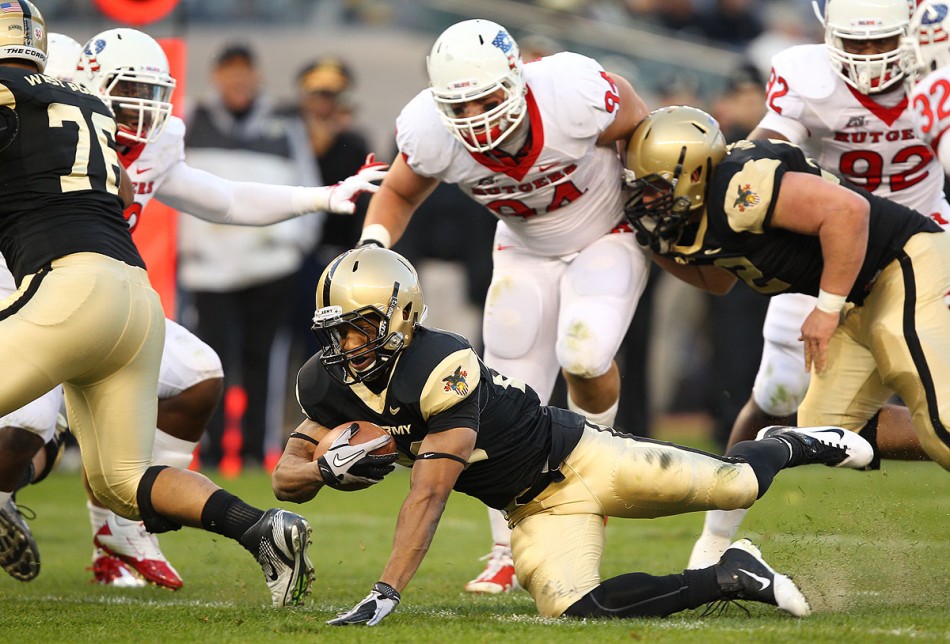 "It hurts really bad," Santiago said. "I really wanted to come out here and win this game to show that we still have what it takes. As you can see, a couple calls, a couple plays didn't go our way. We just have to bounce back next week."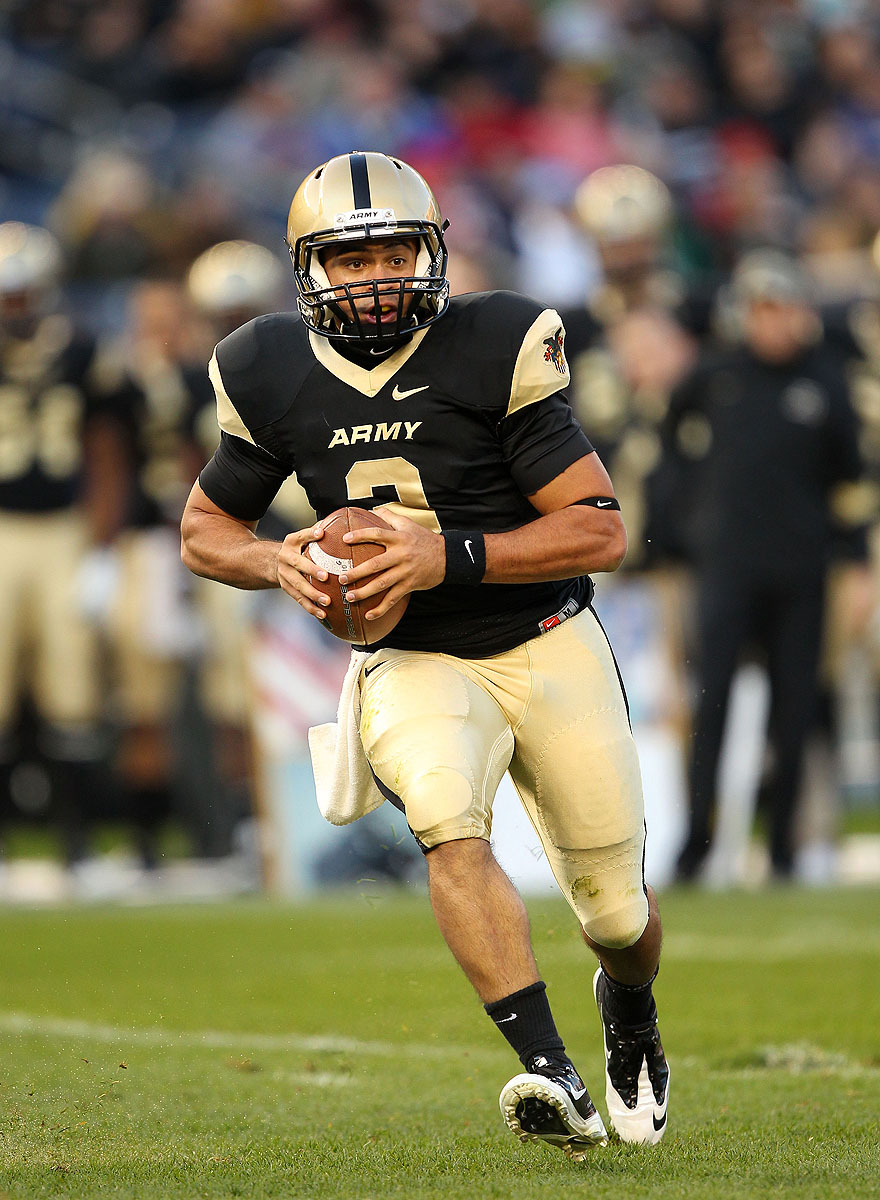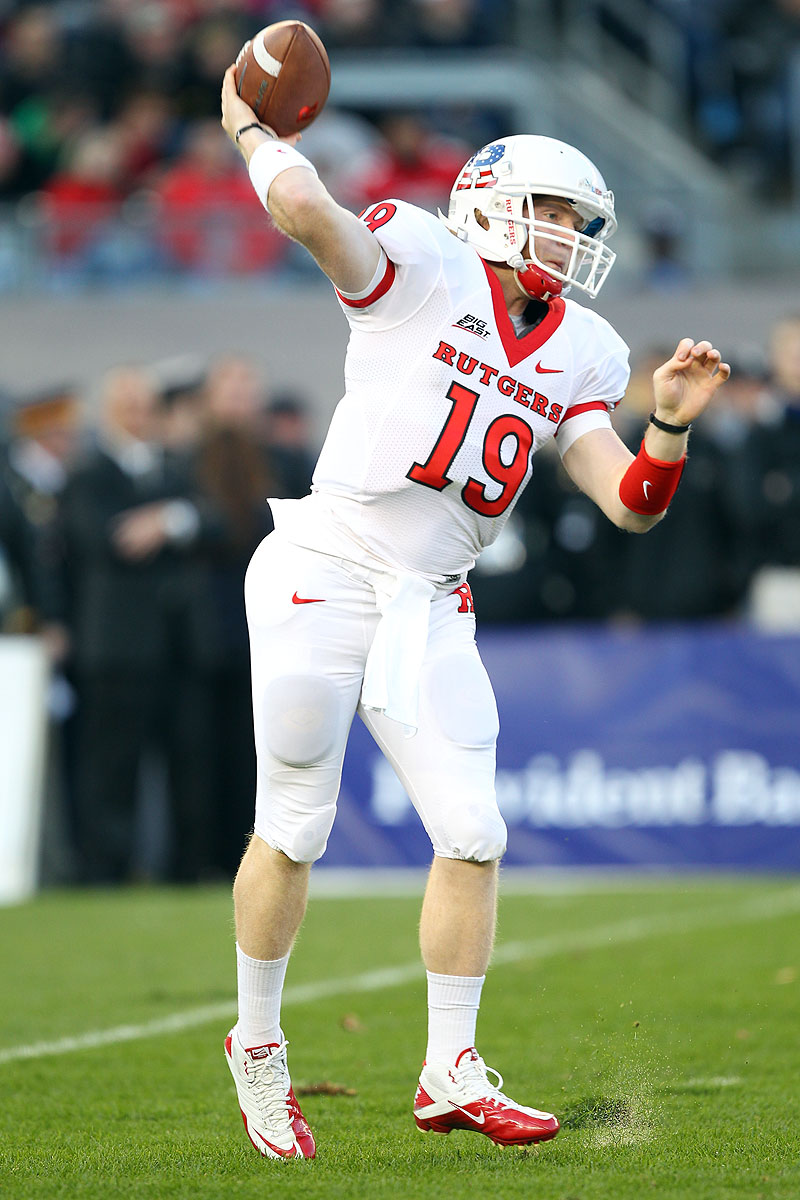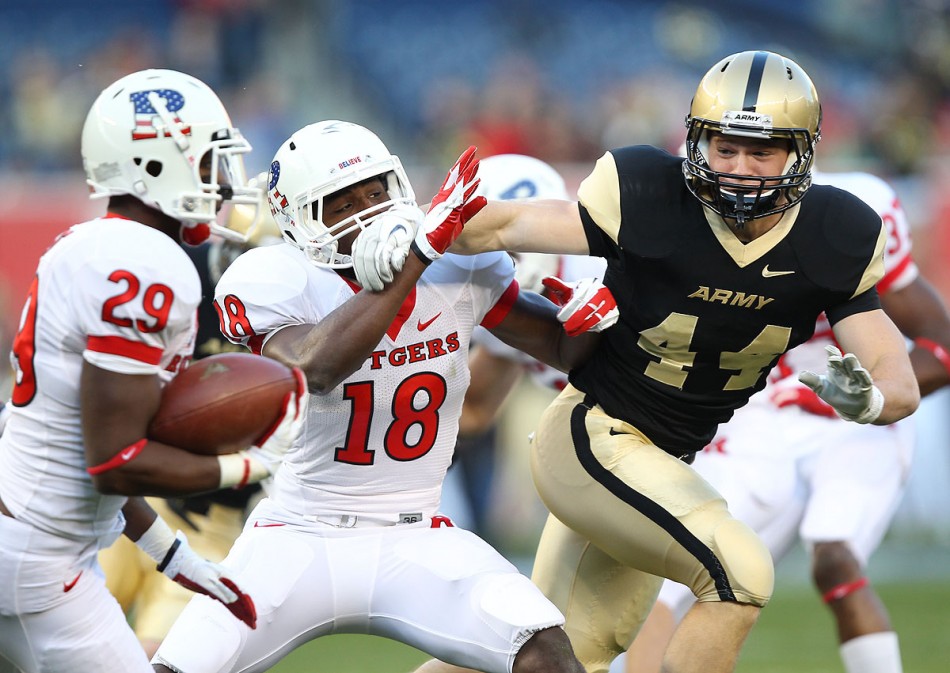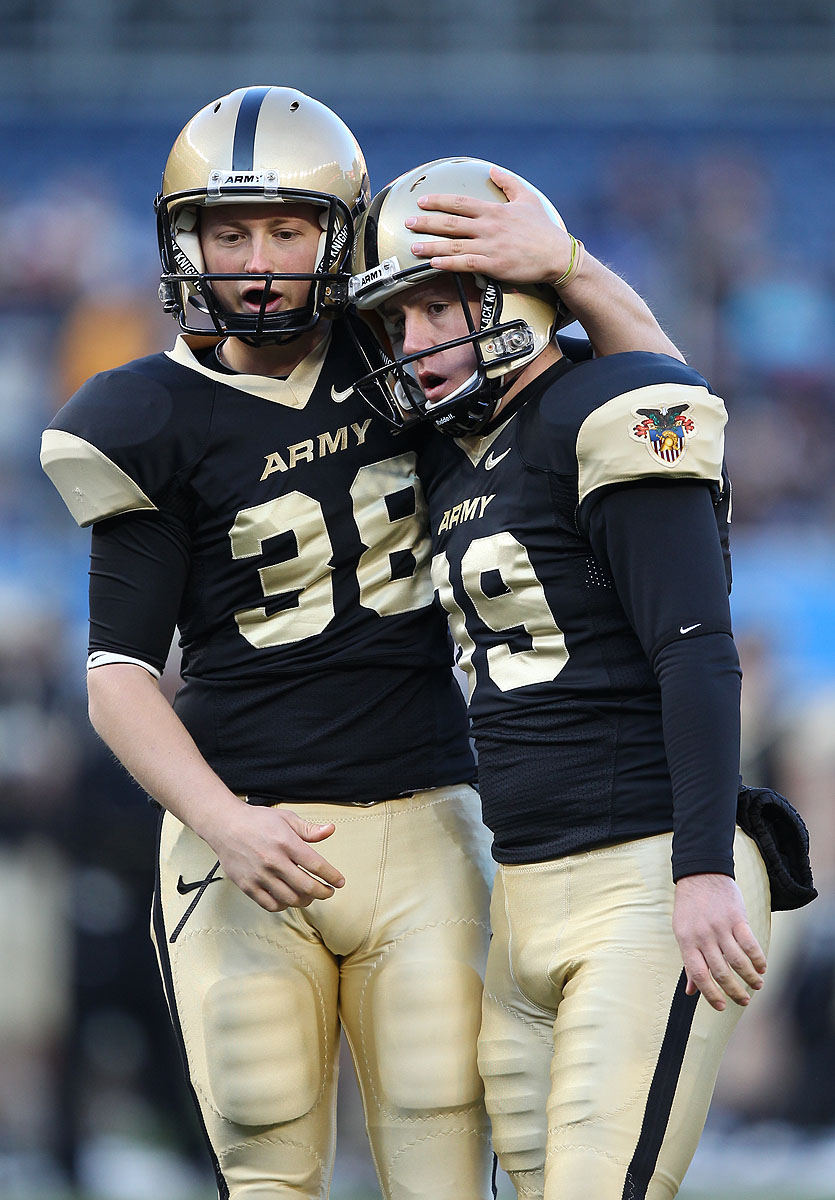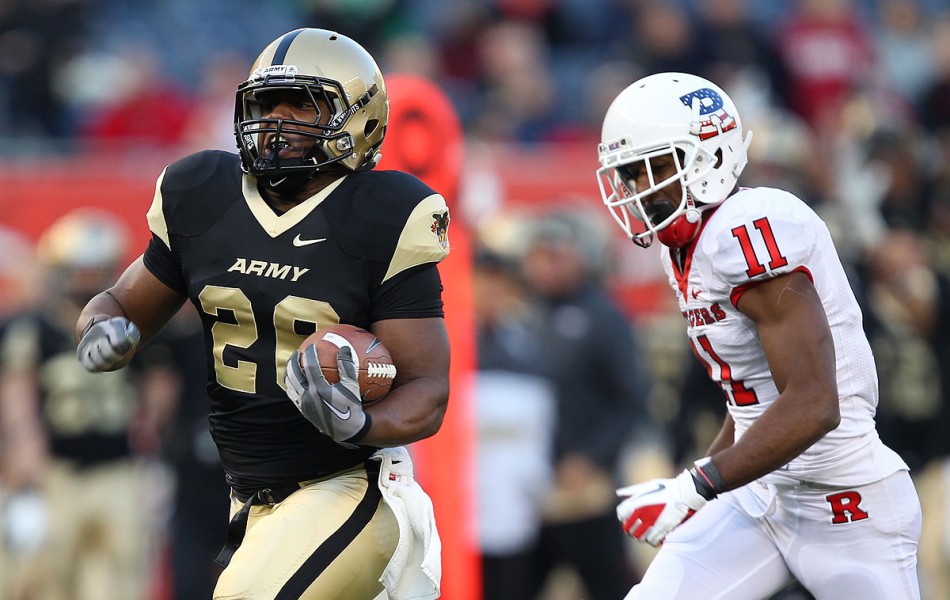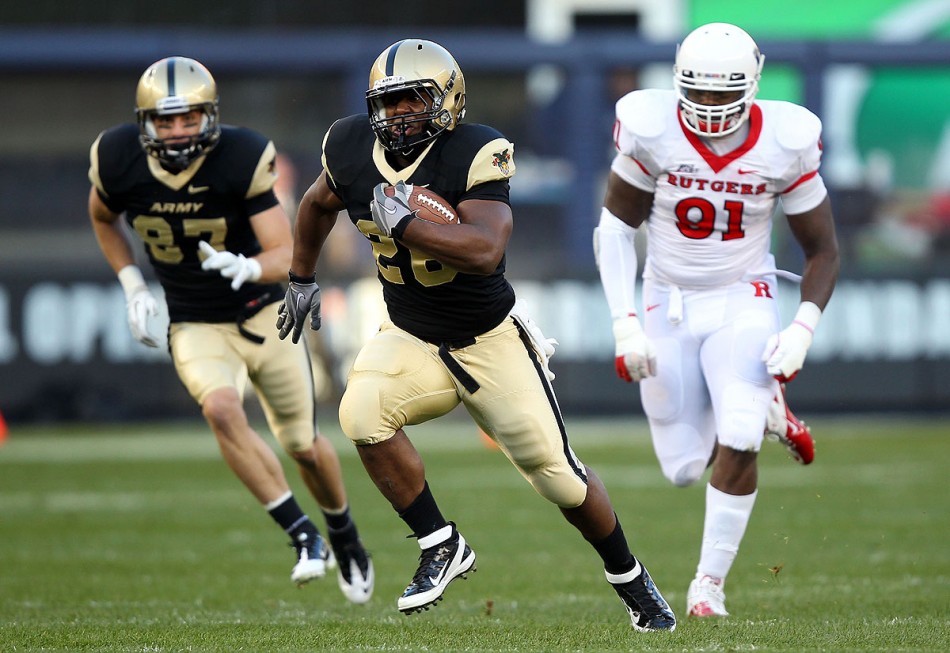 Army now travels to Philly, a familiar site of previous Army-Navy games, to face Temple before taking on Navy on Dec. 10 in Washington.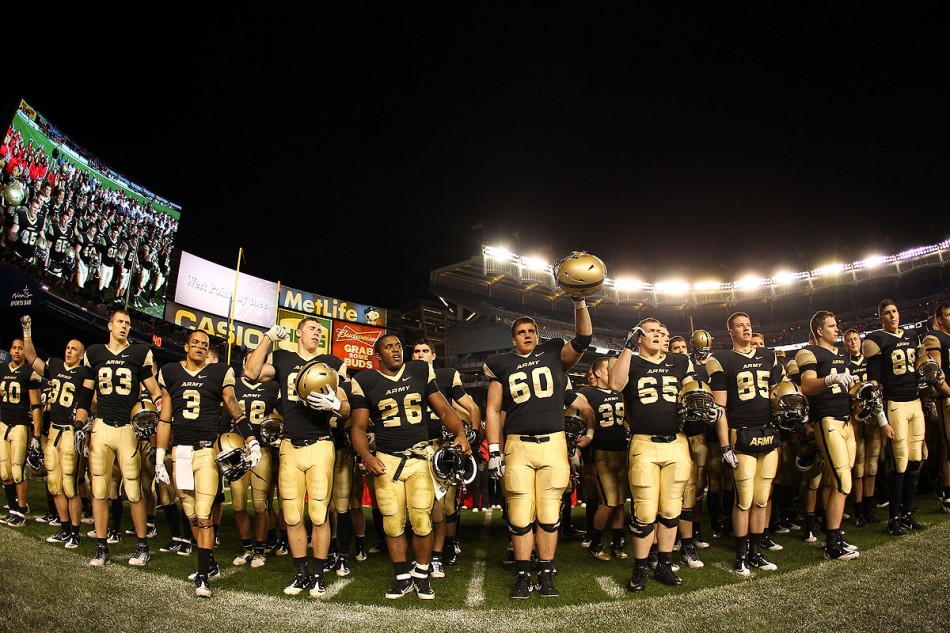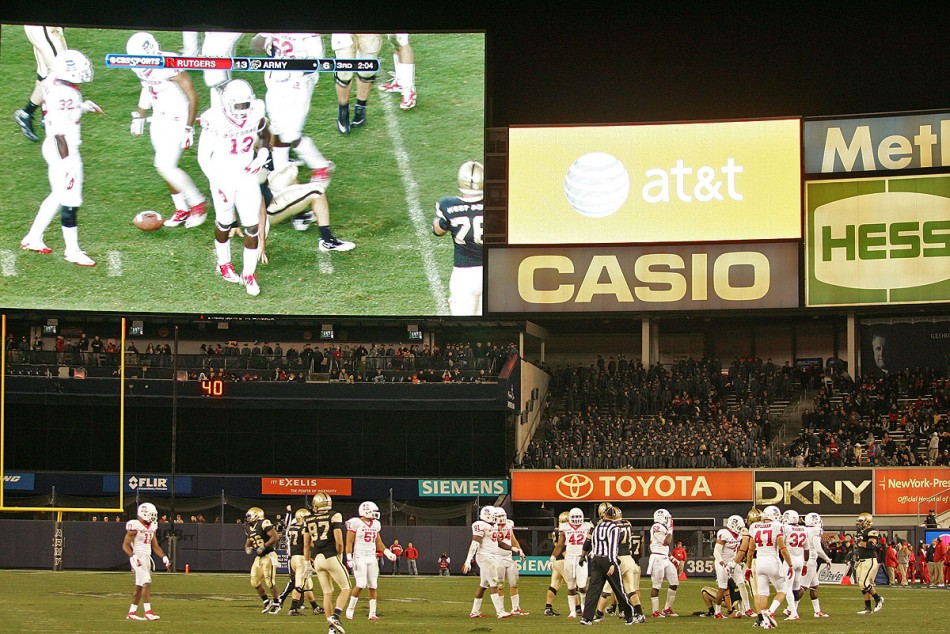 "That was a fun football game to be a part of. It was a lot of hard work," said Rutgers coach Greg Schiano. "Hats off to Army. They did a lot of things we haven't seen. Hats off to our coaches and players for the ability to adapt and get some things fixed early on. It didn't feel like we had much of a handle on things. The kids really worked well with the coaches to get some things fixed."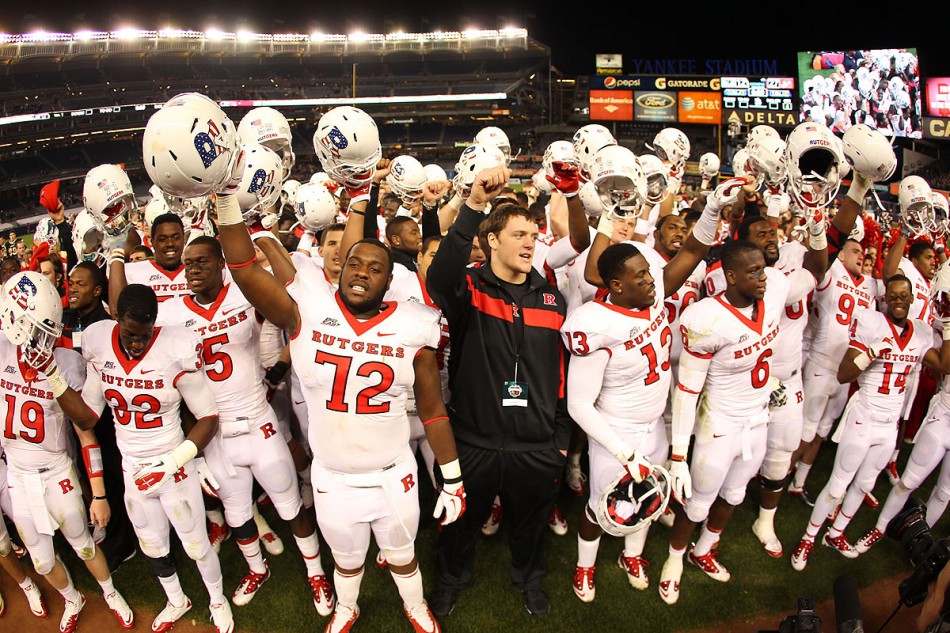 I've had a few images used already from this game. PinstripeBowl.com: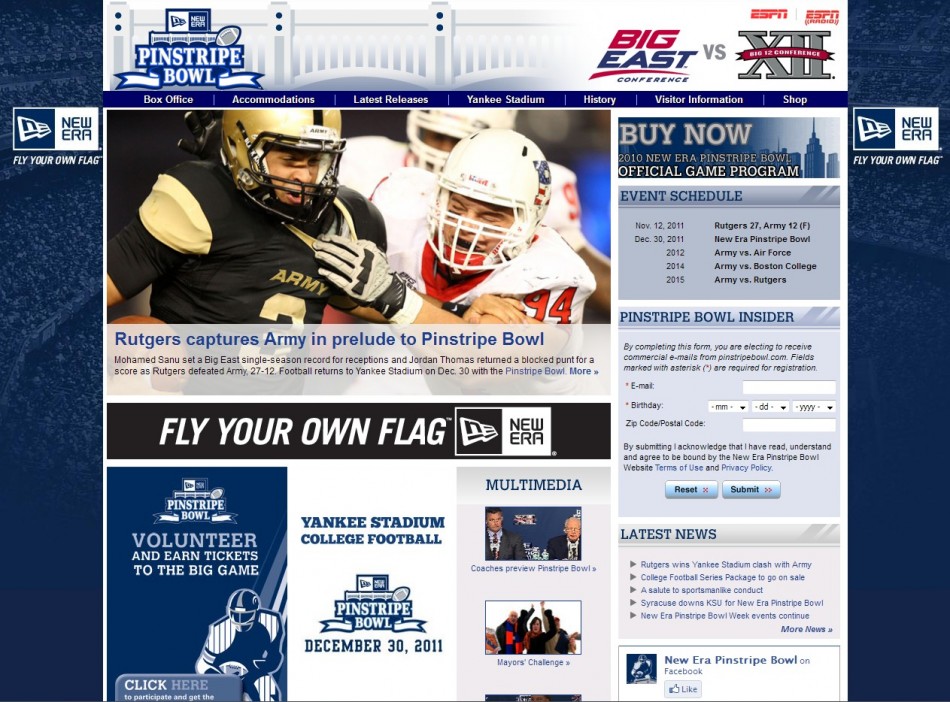 Fox Sports: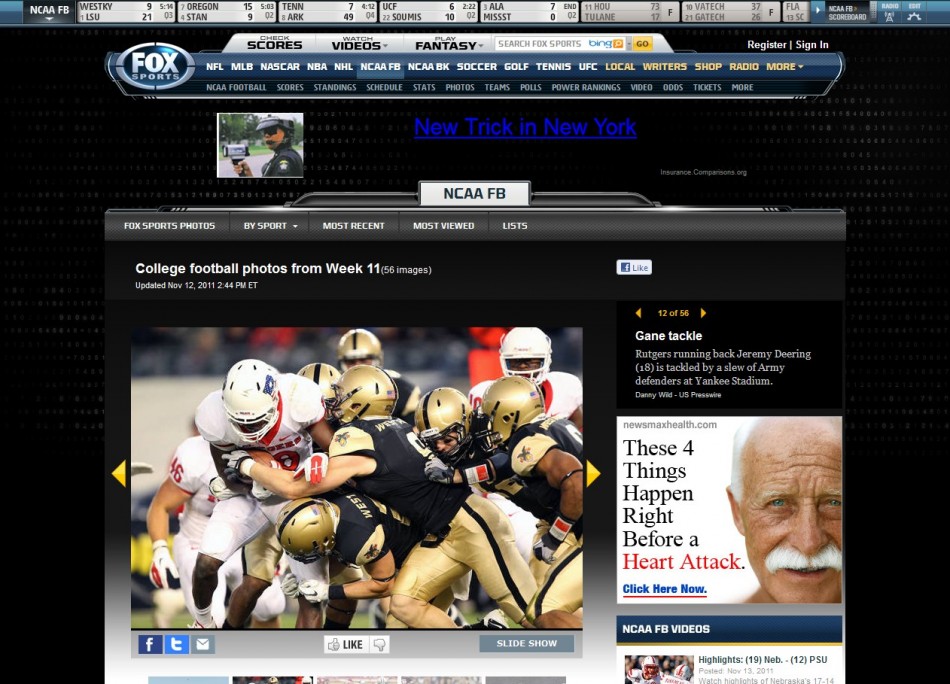 Army's website: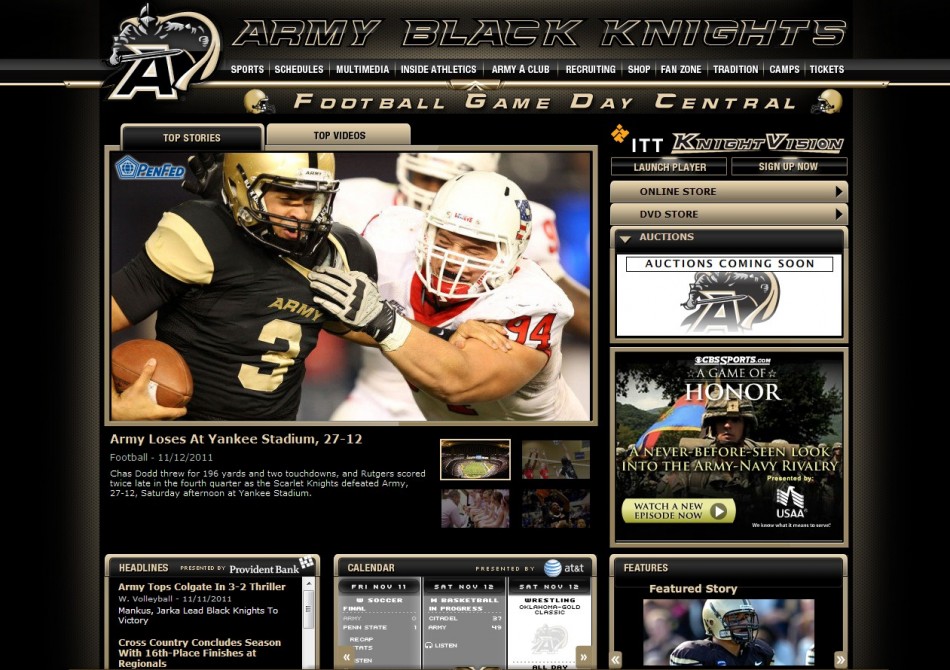 and MLB.com: