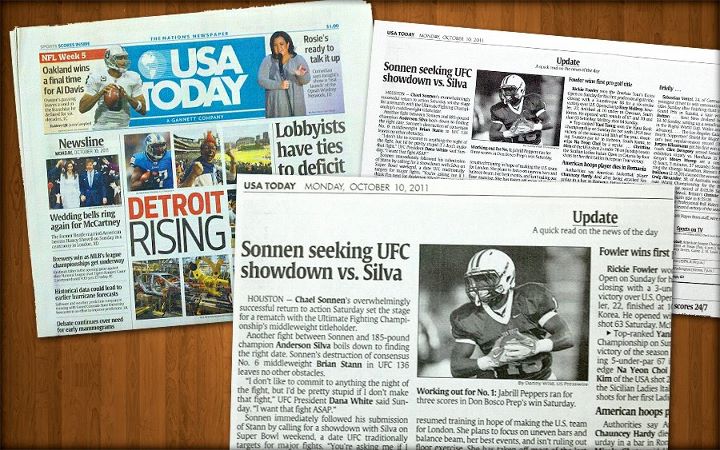 It may have been a small black and white photo on page 11B, but hey, still counts! After joining US Presswire a few weeks ago, I got my first photo published in a major newspaper on Monday when USA Today ran a picture of Don Bosco Prep's Jabrill Peppers in the back of the sports section as part of a weekend recap.
Here's the original photo, which I took during the first half at Fordham's Coffey Field. Seeing it this morning at a newsstand in Hoboken made the nightmarish drive to the Bronx a little easier to look back on. Which is to say, I've had nightmares that were more fun than that trip.
Nothing special, but I was pleased [read: incredibly impressed, again] at the stunning image quality the Canon 1D Mark IV pumps out at crazy high ISOs like 6400. The lighting was hit and miss at Fordham since half the field area there is a baseball field, so the light sections are situated quite a ways back from the football playing surface. I was at 6400 and 1/800th-1000th for most of the half, a blowout win by Don Bosco. The Jersey team has largely maintained its hold on the title of No. 1 in the nation after beating St . Edward, a powerhouse from the Cleveland, Ohio area.
A few more of my photos were published on MaxPreps.com — I shot the game for both MaxPreps and USA Today via US Presswire. Evidently The Sporting News is also interested in some shots of some of the top recruits in this game, namely Bosco's Yuri Wright and St. Edward o-lineman Kyle Kalis. Here's a set of shots from the game, including Kalis (a Michigan commit) and most of the other marquee prospects.
Last week, one of my photos from Army's win over Tulane made ESPN.com's Photos of the Week gallery.