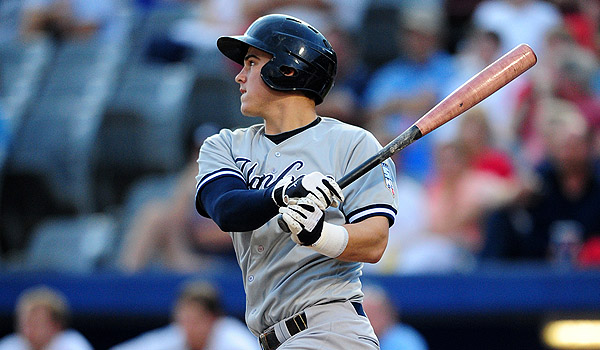 Earlier this week I sat down for an interview with Yankees top outfield prospect Tyler Austin, who is heading into his fourth season with the Yanks and likely ticketed to begin the year at Double-A. Check out the full interview here on MiLB.com.
Austin opened up to me about his little-known past regarding a battle with cancer. He's fine now and focused only on baseball.
MiLB.com: Your battle with cancer is something fans probably aren't aware of. You fought testicular cancer in 2010 and had surgery prior to the Draft. How much did that experience change your life?

Tyler Austin: It was right before my senior year [at Heritage High School in Georgia] when it happened, I was diagnosed, and when they told me, I was in shock. It's one of those things you really aren't prepared to hear at the time, or any time. It made me appreciate each and every day, every single day I'm out on the field. It's one of those things where you never know. I thank the Lord we found it early and got it taken care of before it did any damage. I thank the Lord he gave me this ability to play this great game and enjoy life.

MiLB.com: You got invited to the Aflac game that year before the Draft, right after surgery. How difficult was it to focus and play through all that pain and stress?

Austin: It was a week after surgery, I played in the game, it was emotional for me to get back on the field with my family, knowing it was such a big game like that. That was a big game in my life. Everybody was great about it and I was real thankful to get over that stuff and play in that game.

MiLB.com: Lance Armstrong beat the same form of cancer and his story has been in the news lately. Have you followed all of that drama? Did his fight help or inspire you while you were going through it all?

Austin: Yeah, especially my mom. Once she found out I had it and it was the same kind as Lance, she read his book, did research about all the stuff he did, the stuff he went through. She just explained to me the things he did to fight through it. It was a big thing for me too. Some of the stuff he did that got him though the tough times, it made him a legend in my mind, besides the fact he did the performance-enhancing drugs. He was a cyclist at a world-class level, maybe the best athlete at that level.