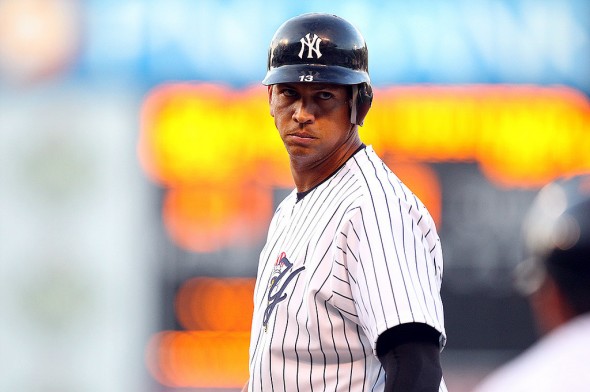 Alex Rodriguez has been one of the most-photographed athletes in sports history and certainly one of my main subjects since I began shooting more frequently in 2007. Based on what we're all hearing this weekend, it sounds like A-Rod's days of being the focus and subject of attention will be ending on Monday when Major League Baseball is expected to announce suspensions for those linked to the shuttered Biogenesis "anti-aging" drug clinic in Florida.
A-Rod's turmoil lately has been well-documented — I wrote up this story about his first rehab game with Double-A Trenton on Friday night, significant in that it may well turn out to be his final professional home run — but as news reports suggest, the end may be near for the embattled Yankees slugger. At least until 2015.
I'll withhold my opinions on all of this, but I thought this would make for a good opportunity to share some of my images of A-Rod through the years.
As a sports photographer, A-Rod was a lot of fun to shoot, as are/were the Yankees. Being a lifelong Derek Jeter fan, I always focused on him during games, but A-Rod, in his love-hate relationship with Yankees fans, usually delivered. Here's a shot of his iconic swing and follow-through from a night game against Kansas City in 2009: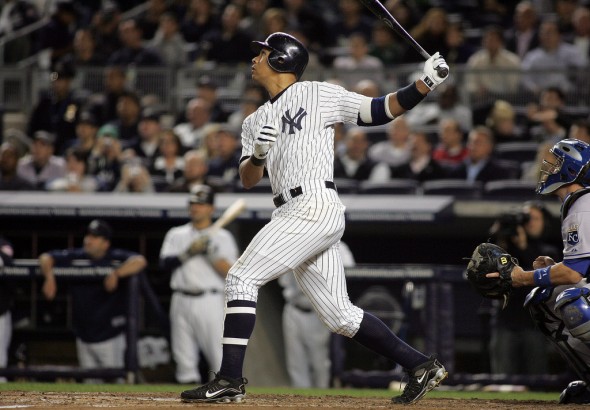 In happier days, A-Rod shares a laugh with (left to right) Eric Hinske, C.C. Sabathia and Andy Pettitte in 2009: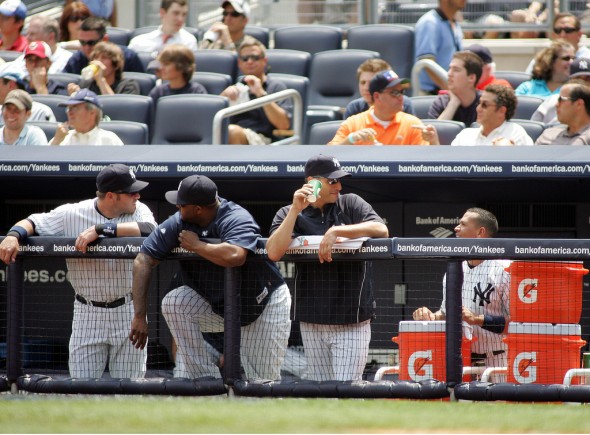 A-Rod watches his ball sail out during a day game in 2009 at Yankee Stadium: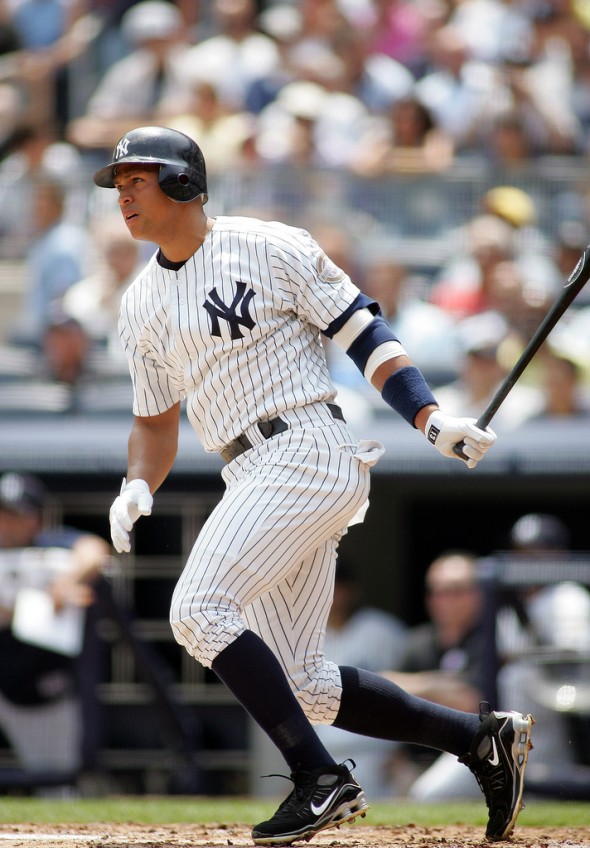 One of Alex's finest moments in pinstripes, here is his 500th career home run, which he hit on Aug. 4, 2007 against Royals starter Kyle Davies at the old Yankee Stadium. I snapped this from one of the field level box seats that afternoon (I had tickets, and he struggled quite a bit in the week leading up to this hit as the pressure mounted), I believe it was his first at-bat and it all worked out pretty perfectly in terms of the moment and the photo. I snapped it with my 300mm lens: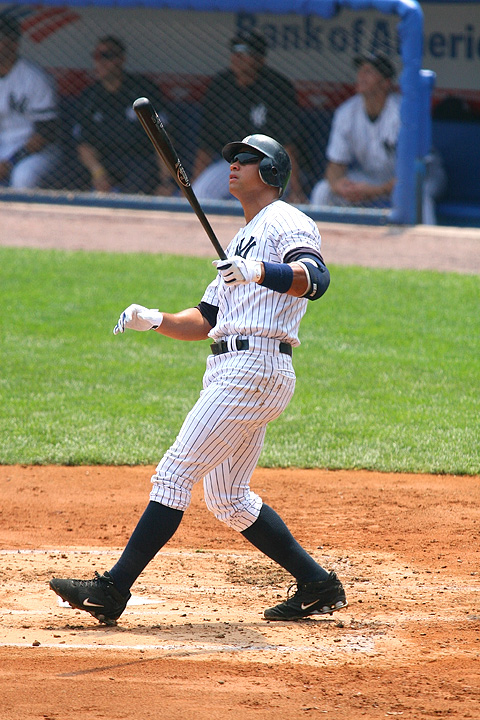 [embedplusvideo height="470″ width="590″ editlink="http://bit.ly/149CEKW" standard="http://www.youtube.com/v/w5937QbCH6c?fs=1&hd=1″ vars="ytid=w5937QbCH6c&width=590&height=470&start=&stop=&rs=w&hd=1&autoplay=0&react=0&chapters=&notes=" id="ep6651″ /]
Later in the same game, A-Rod goes the other way in this overhead photo at the old stadium. That's homeplate umpire Jerry Meals and catcher Jason LaRue behind the plate: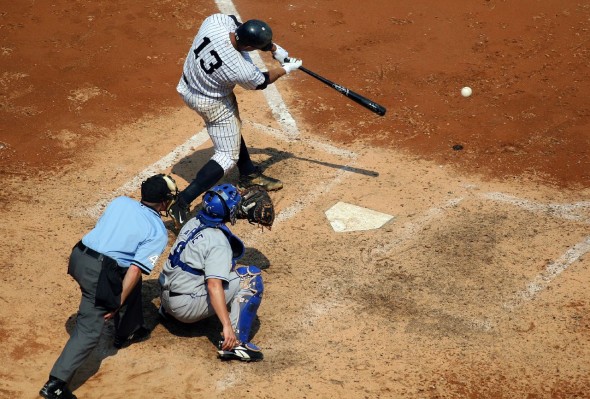 After his 500th homer, fans showered A-Rod with love, prompting this cap tip upon taking the field in the top of the inning: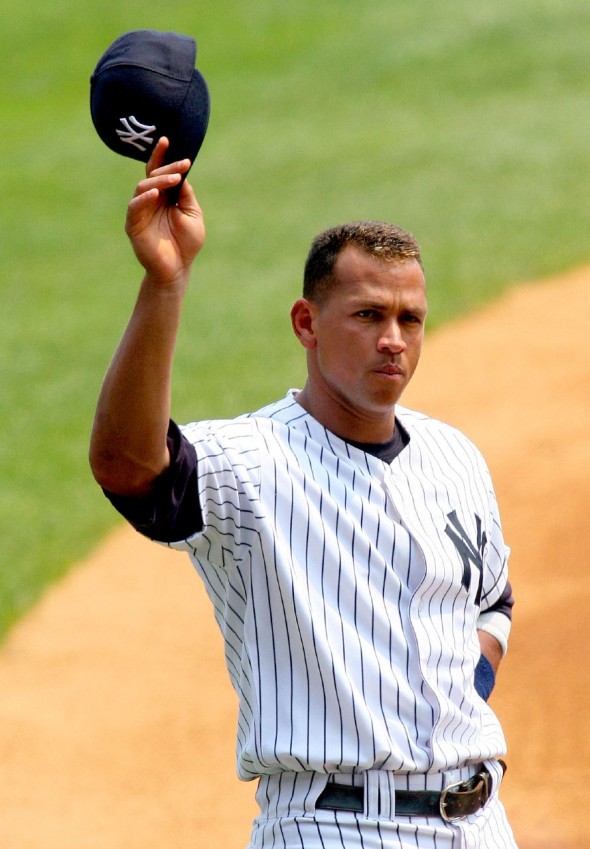 Just three months later, Rodriguez opted out of his record $252 million contract during the World Series when agent Scott Boras left the Yankees a voicemail, earning the frustration (to put it nicely) of Yankees fans and others. Rodriguez's camp said it was a move based on uncertainty within the Yankees' clubhouse.
"Alex's decision was one based on not knowing what his closer, his catcher and one of his statured pitchers was going to do," Boras said. "He really didn't want to make any decisions until he knew what they were doing."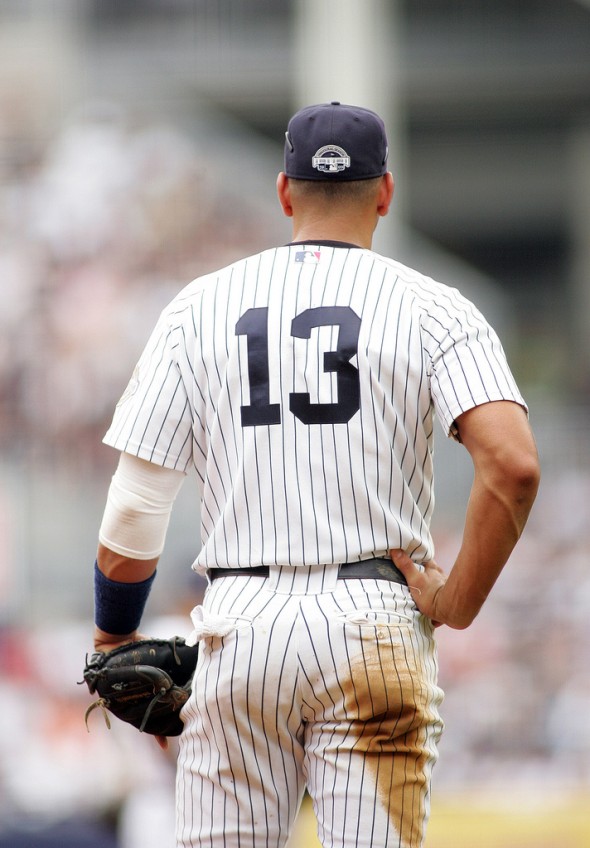 The moment led to A-Rod and the Yankees eventually agreeing upon a massive 10-year, $275 million contract that remains a key aspect of the current situation. If suspended through 2014, A-Rod would then be able to collect the remaining $61 million he's owed through 2017 on the deal, money he would rather not give up. He's currently implying MLB and the Yankees have conspired to prevent him from receiving that money.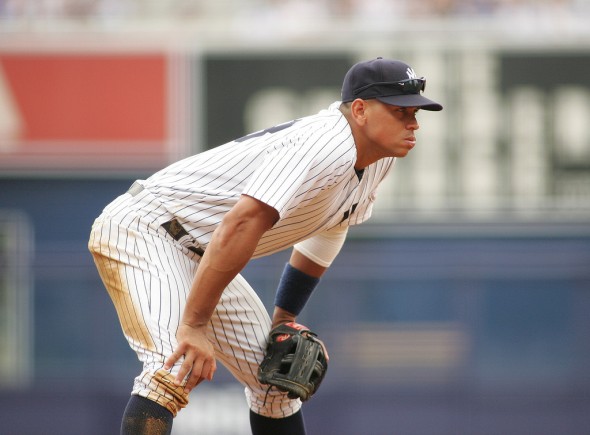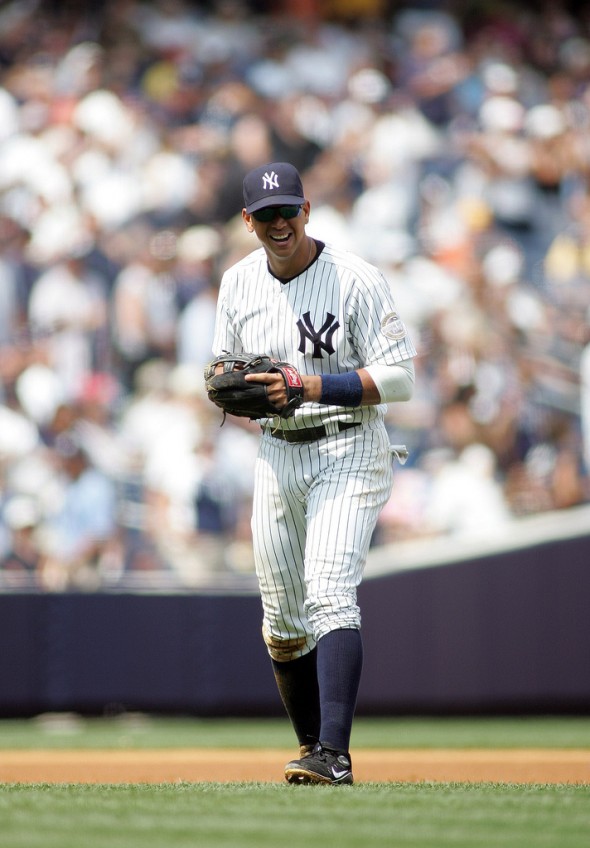 The Yankees won the 2009 World Series behind a strong postseason from A-Rod, who formed an All-Star infield that season with Jeter, Robinson Cano and Mark Teixeira.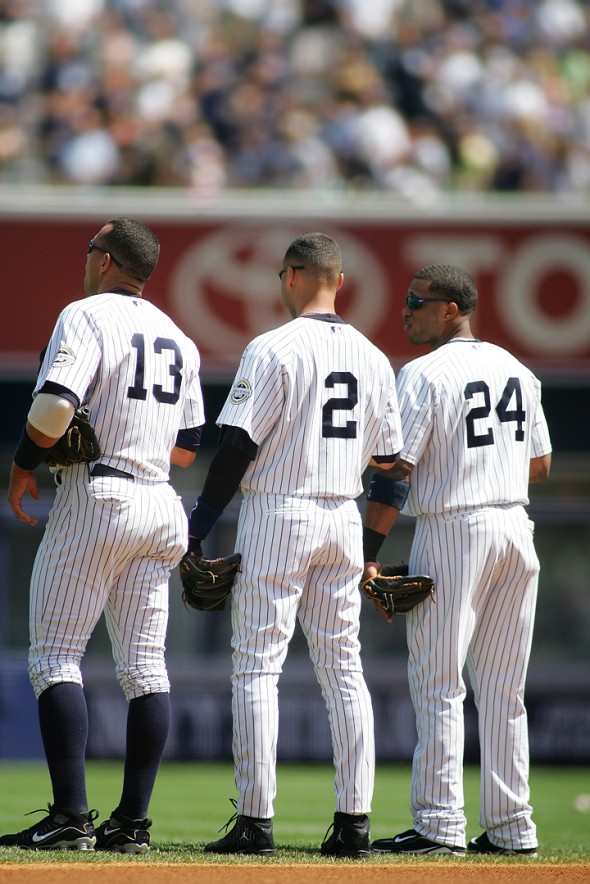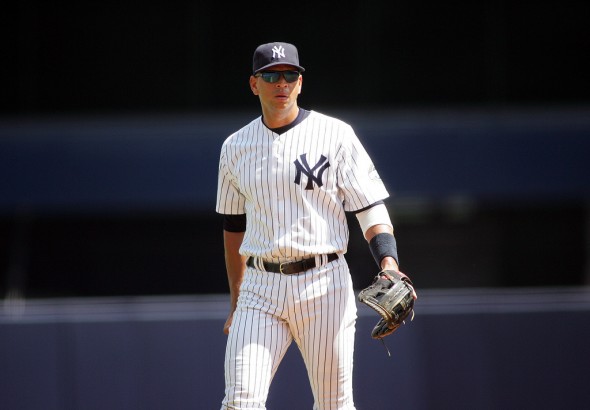 A-Rod's relationship with Jeter was an early source of trouble in Yankee land as the one-time best friends split apart and eventually drifted in different directions. Rodriguez opted out of his contract and then admitted to using performance-enhancing drugs in 2008.
"I did take a banned substance, and for that I'm very sorry," he said to reporters and teammates in Tampa, Fla., on Feb. 10, 2009. "I'm deeply regretful. I'm sorry for that time, I'm sorry to my fans, I'm sorry to my fans in Texas. It wasn't until then that I ever thought about substances of any kind. Since then, I've proved to myself and to everyone that I don't need any of that."
Throughout his time in New York, he's gone through a number of scandals: he went through a messy divorce in 2008 and was linked to affairs with strippers and frequenting a call-girl agency, underground gambling, high-profile relationships with Madonna, Kate Hudson and Cameron Diaz and some rough nights in October. Rodriguez was largely benched during the 2012 postseason and still managed to get himself in hot water when he tried to get a woman's phone number from the dugout during a playoff game.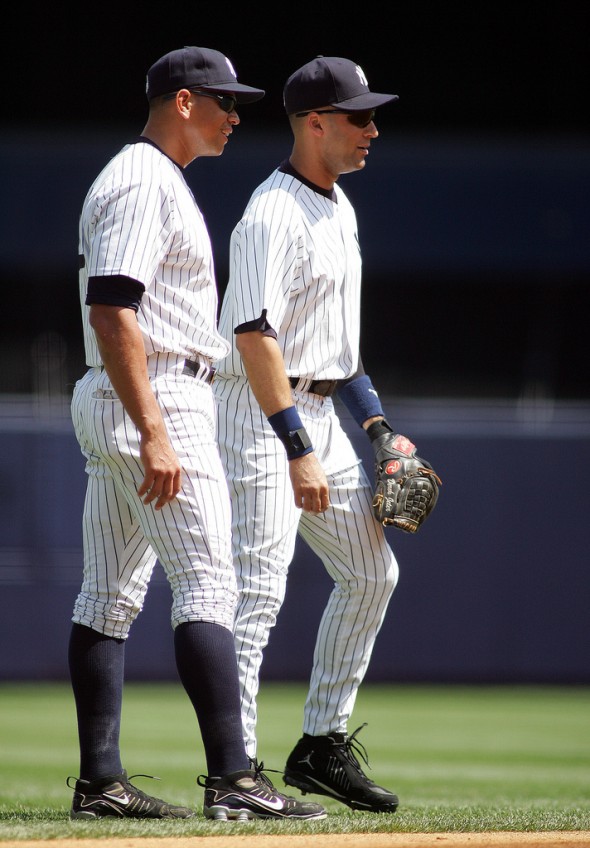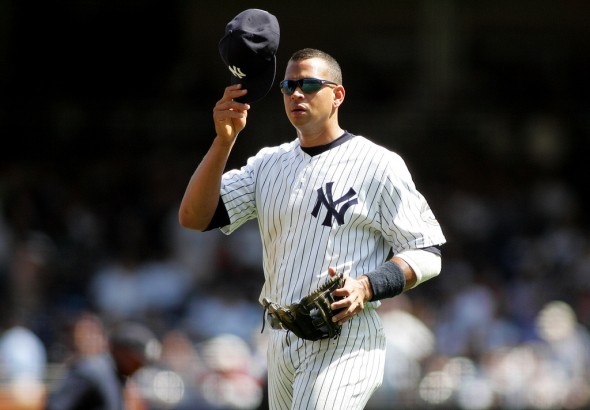 The pressure of his contracts alone and the unrelenting New York fans would be enough to drive anyone to their limits. Here's what he said in 2009 about his reasons for using drugs:
"I felt like I was going up against the whole world," Rodriguez said. "I just signed this enormous contract, I got unbelievable negative press, for lack of a better term. We were all bad at the time. I felt like I needed something, a push, without over-investigating what I was taking, to get me to the next level."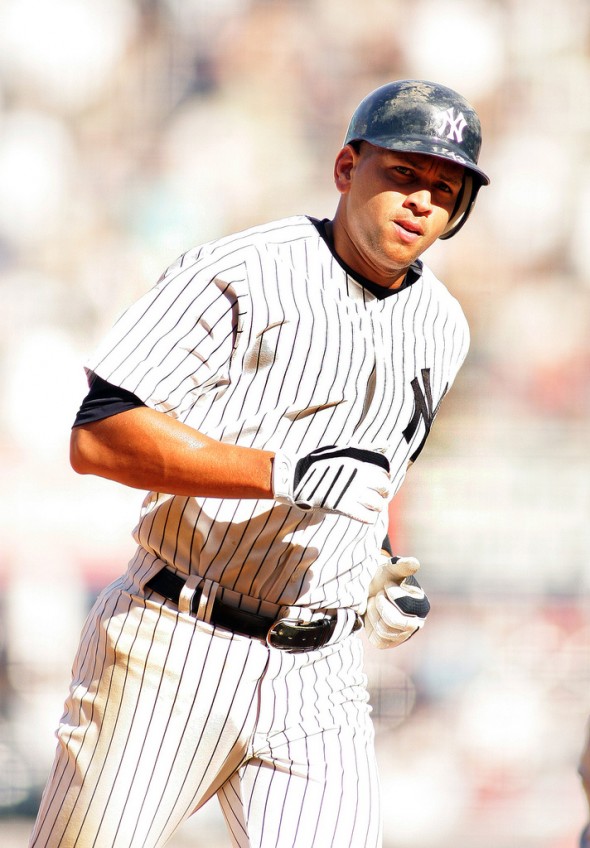 At the time, the Yankees supported A-Rod's honesty:
"We urged Alex to be completely open, honest and forthcoming in addressing his use of performance enhancing drugs," the Yankees said in a statement. "We take him at his word that he was. Although we are disappointed in the mistake he spoke to today, we realize that Alex-like all of us-is a human being not immune to fault."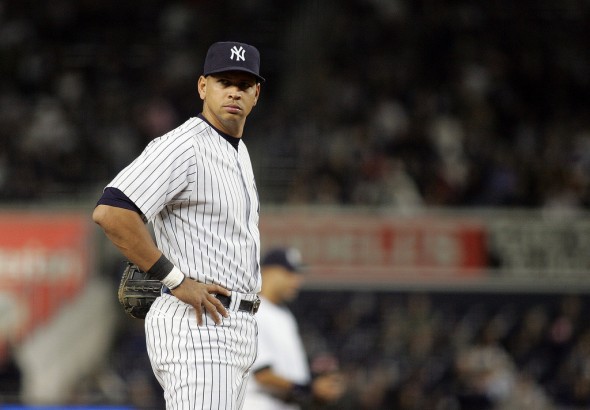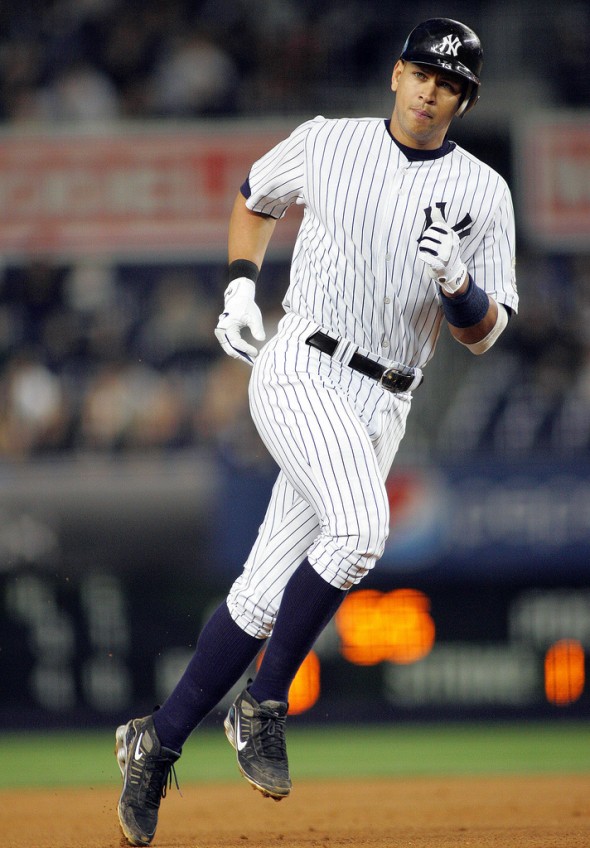 President Barack Obama, who at the time had just been sworn in, even weighed in during his first prime-time press conference:
Obama called the news about Rodriguez "depressing" and wondered what kind of message Rodriguez was sending to kids. " … If you're a fan of Major League Baseball, I think it — it tarnishes an entire era, to some degree. And it's unfortunate, because I think there are a lot of ballplayers who played it straight," President Obama said.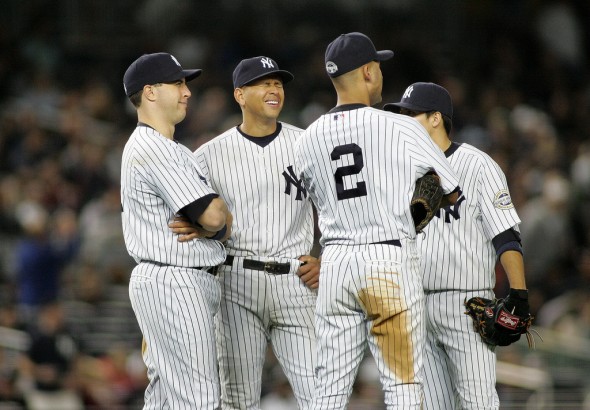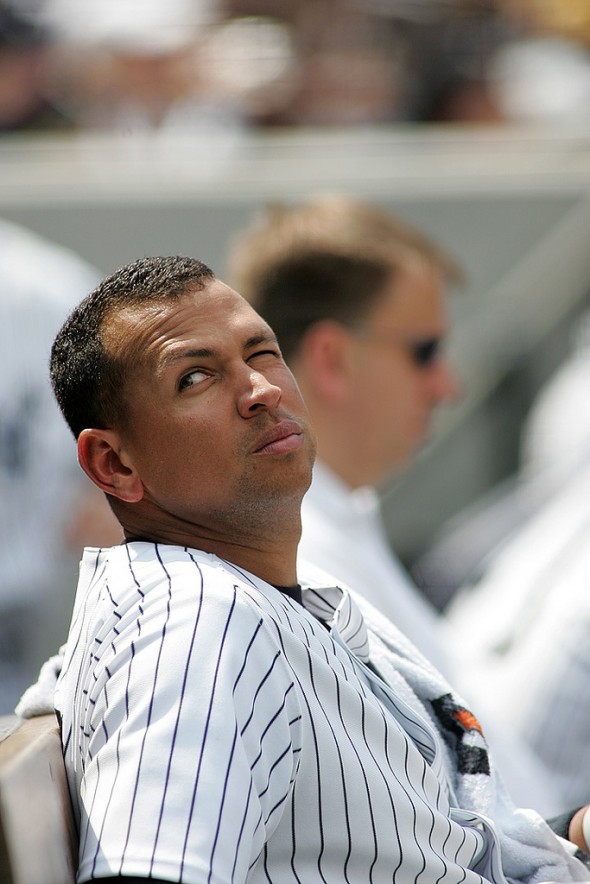 This image (below) shows Rodriguez taking a knee after his line drive struck Indians pitcher David Huff in the head. Huff was removed from the field on a stretcher, recovered and eventually joined the Yankees in 2013.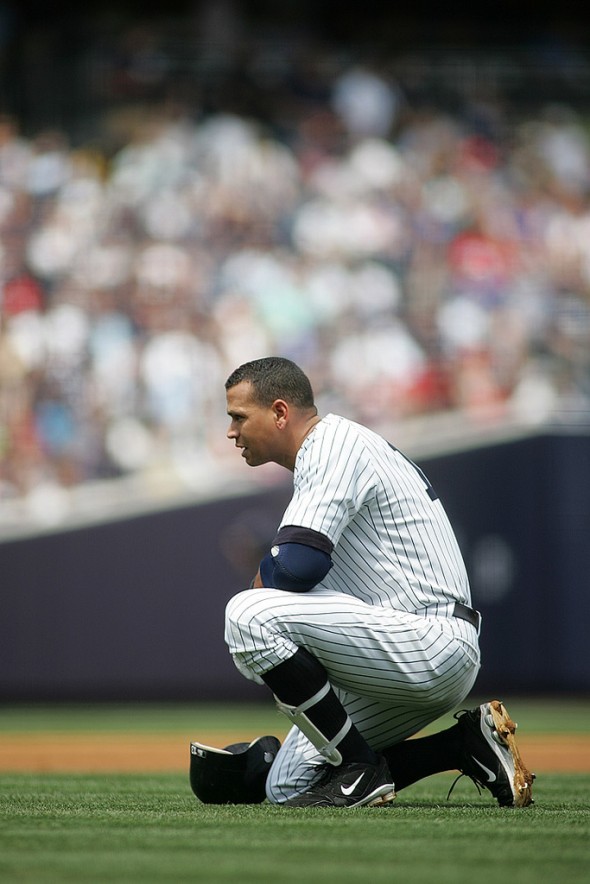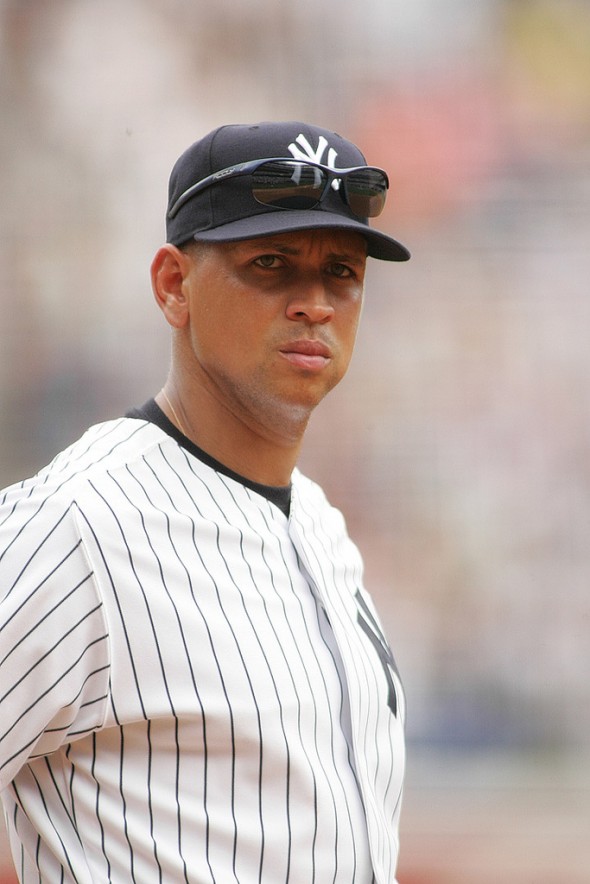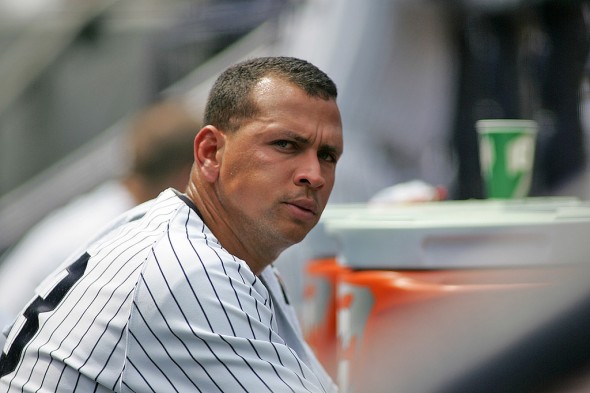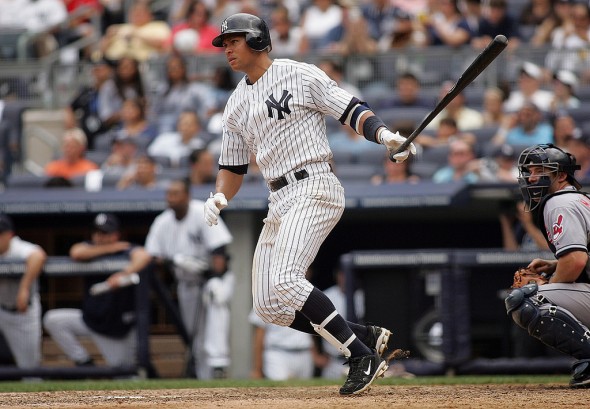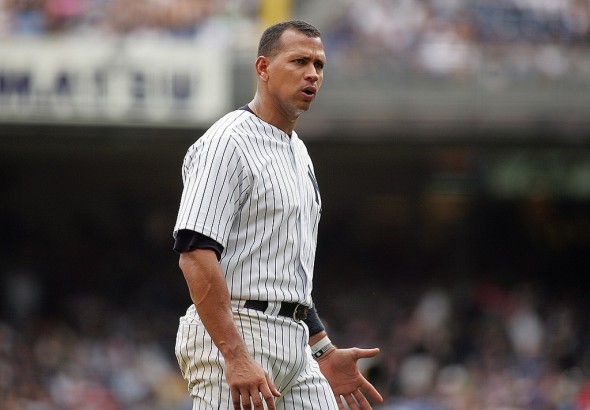 Here's Alex in 2010 in a game against Baltimore following the deaths of PA announcer Bob Sheppard and longtime Yankees owner George Steinbrenner — the Yankees honored both with uniform patches: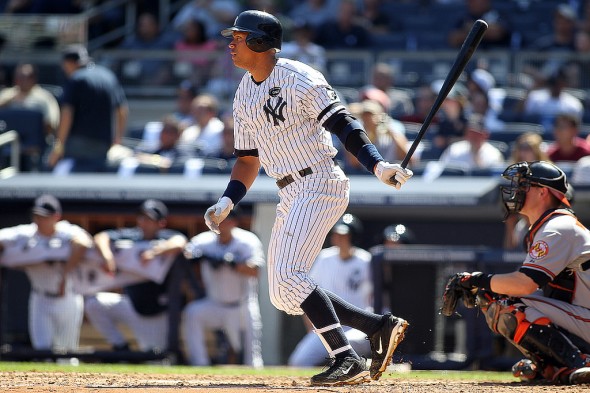 Alex has had his share of injuries, too. In 2011, he rehabbed with Triple-A Scranton/Wilkes-Barre: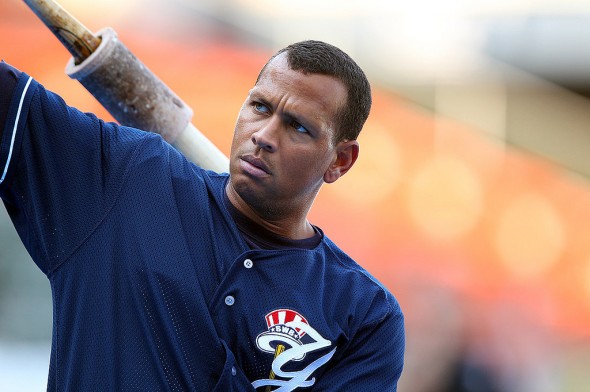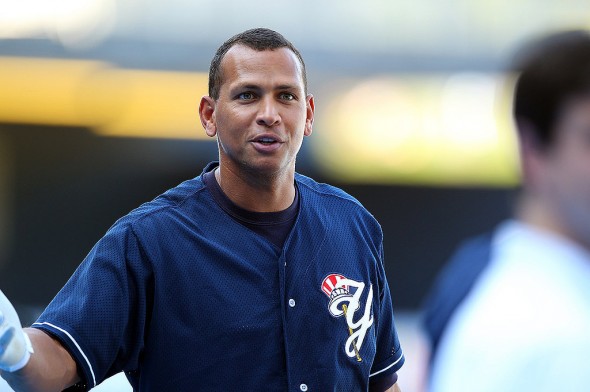 A-Rod played third against the Durham Bulls at the old PNC Field, which has since been renovated and again hosted A-Rod's rehab from hip surgery in 2013: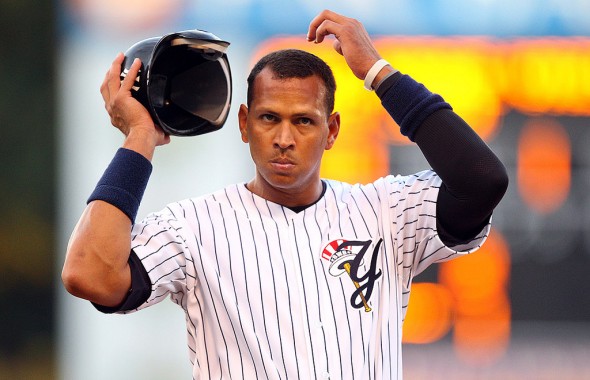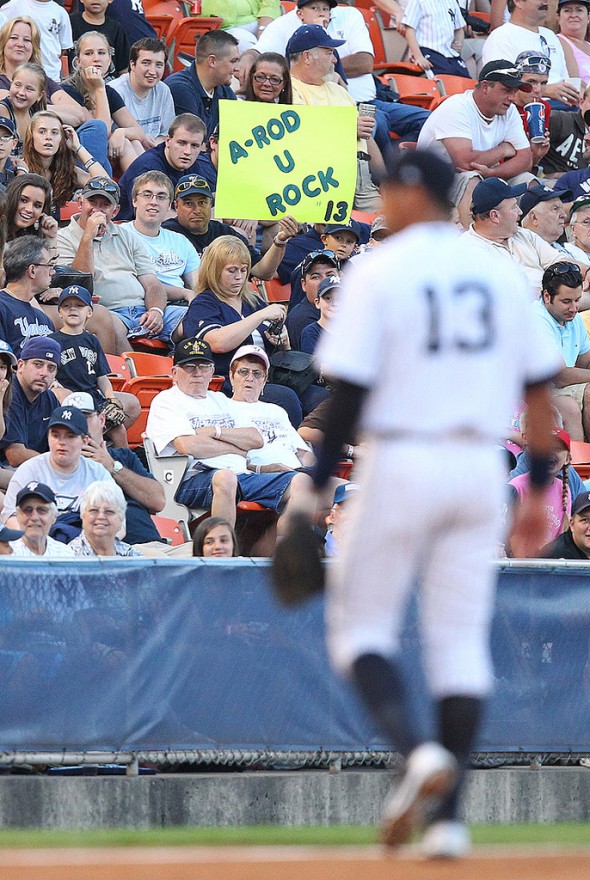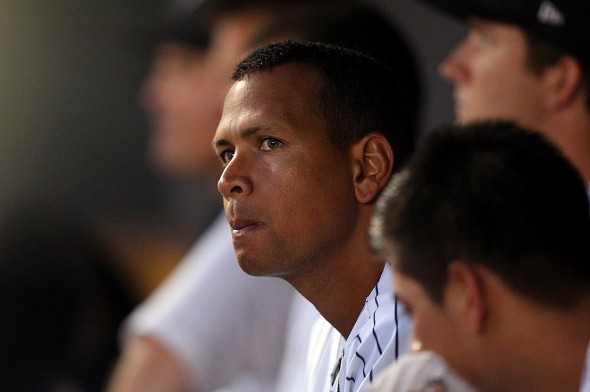 Meeting A-Rod at the SWB rehab was fun and it was easy to see why he's such a polarizing figure: in person, A-Rod is really a friendly, charming, nice guy. You want to like him. He smiles, he laughs, he's smooth with the media.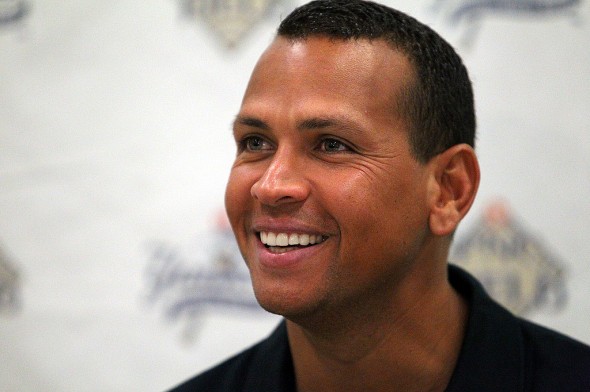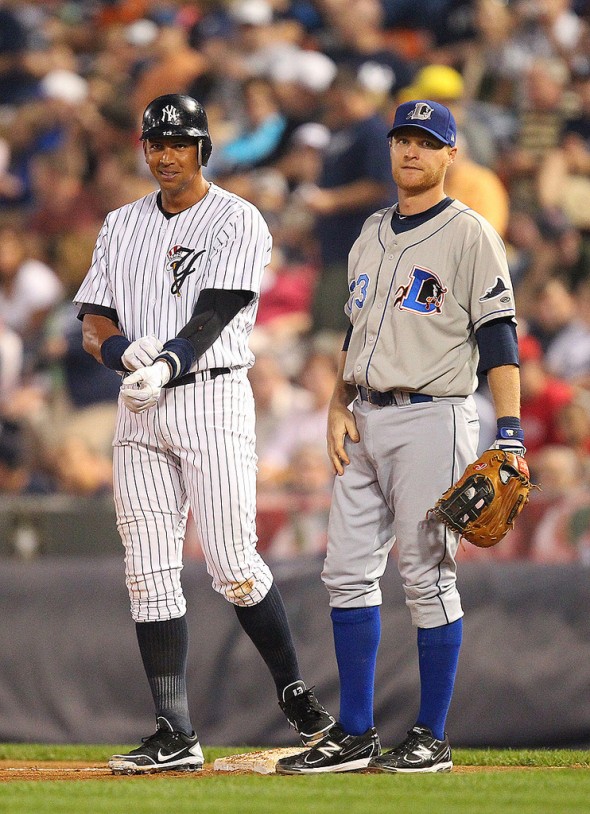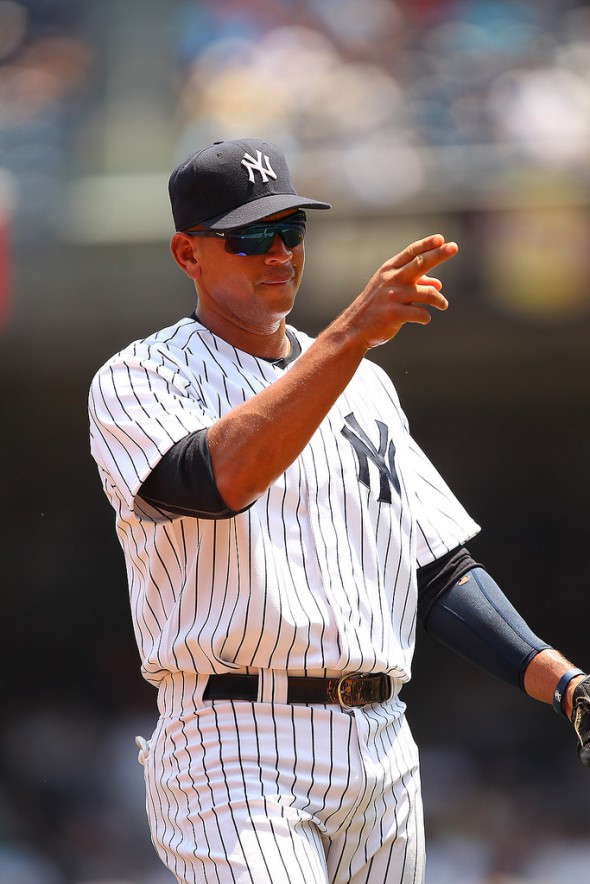 Here's A-Rod and Robinson Cano during a 2012 game at Yankee Stadium: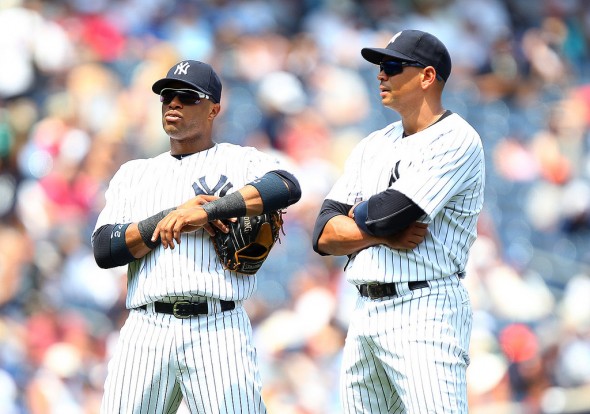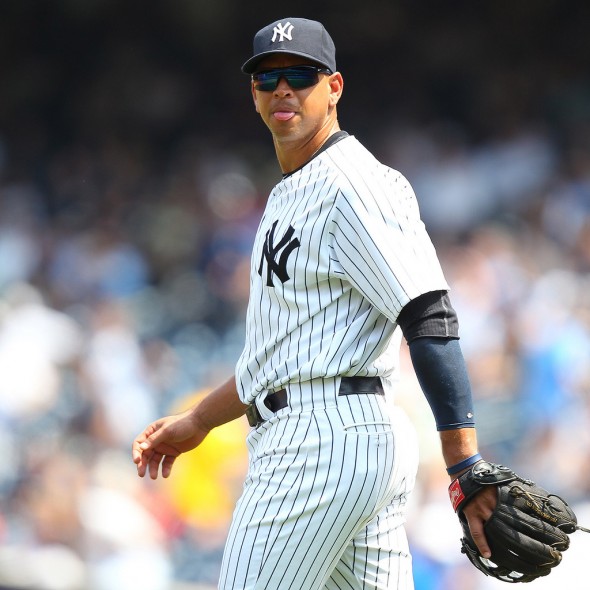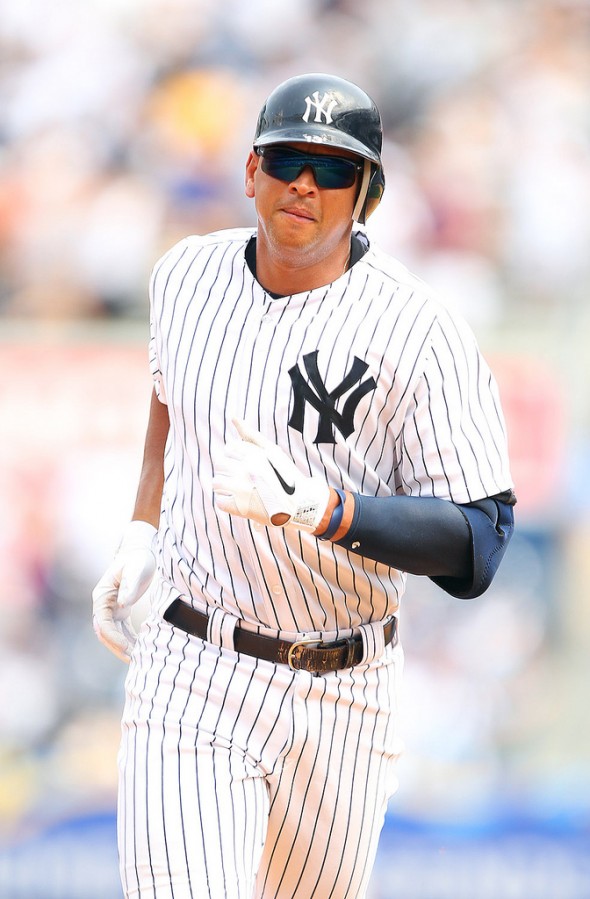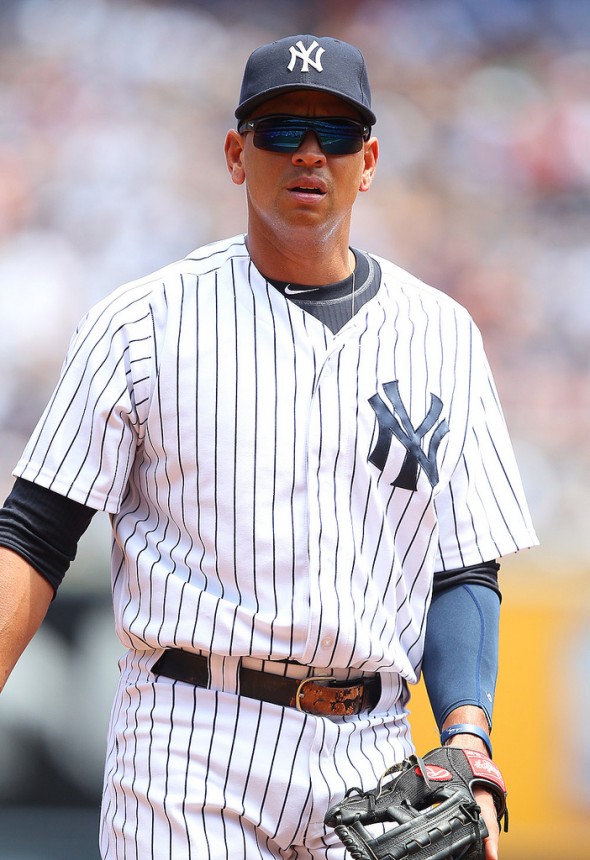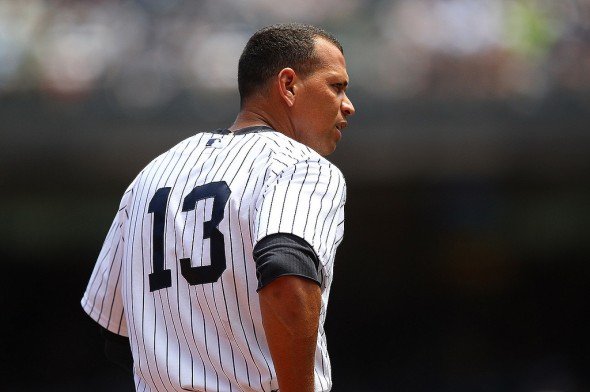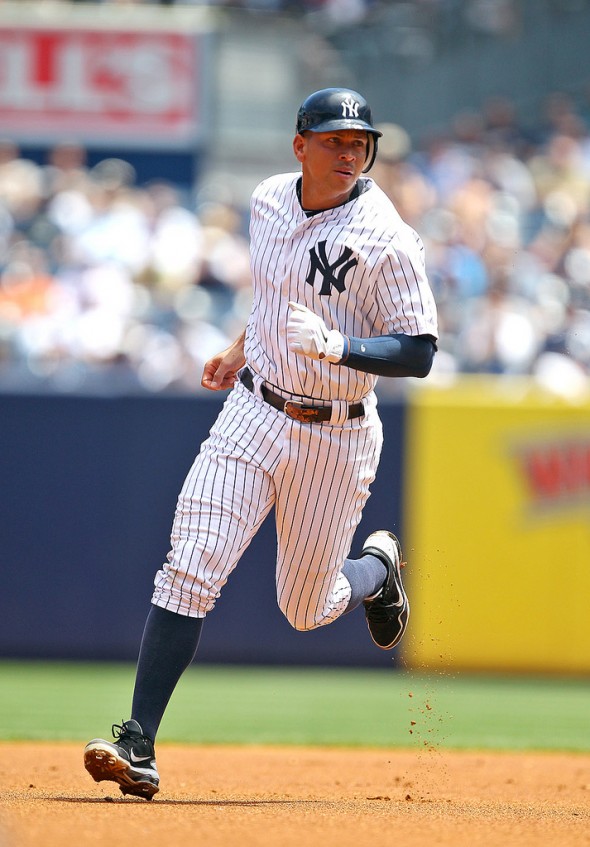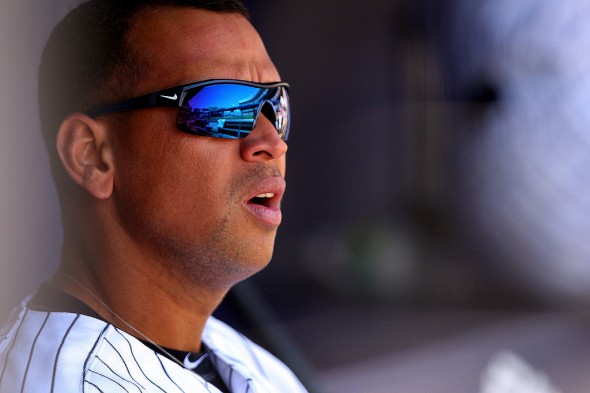 *The content of this blog is simply my look back editorially (and maybe educationally, if you like my photography) and of course does not reflect the opinions in any way of MLB.com