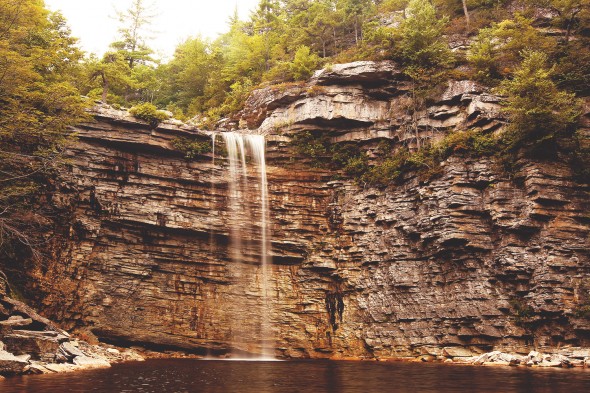 This past weekend I finally drove up to explore Awosting Falls, a 65-foot water fall within Minnewaska State Park Preserve here in New York. If you're reading this, you're probably already familiar with Awosting, but I wanted to share my experience in case you haven't gone or are thinking about how to get there.
I have been going up to New Paltz since I was a kid, hiking and cross-country skiing at Minnewaska before I lived on campus for about four years. Somehow, I never went to Awosting Falls. I wasn't exactly sure where it was, how to get there or how rough the hike back to it would be, especially on a hot day with camera gear. And then on Sunday afternoon, it instantly became one of my favorite spots in the Gunks.
Awosting Falls really is breath-taking as a natural, ancient waterfall within what I already knew to be a beautiful state park. And it's really easy to get out to and enjoy. Let me mention here, in regards to the photos, I've added a VSCO-esque film filter to these, a look I've been playing around with lately. The panoramic images like the one above were taken with my iPhone 5 and processed with the VSCO app.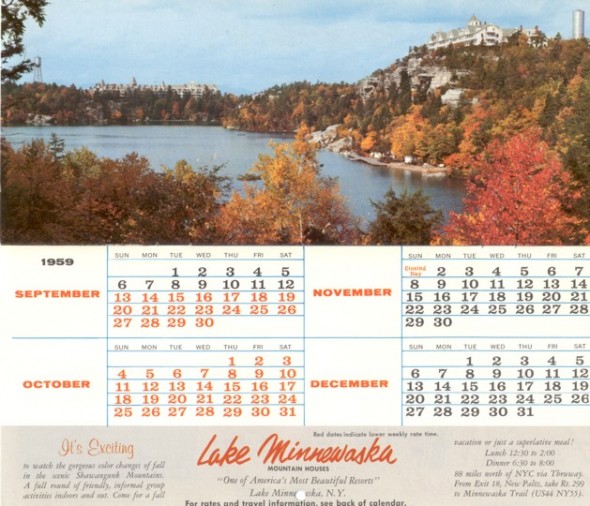 If you're not familiar with Minnewaska, it's a New York state park up in the mountains about 15 minutes outside of Main Street in New Paltz, which is Exit 18 on the Thruway. The lake and park area itself boasts a lot of history — some quite tragic — which I'll probably write about in another post. In short, the lake is a beautiful spot that once housed two sprawling resort hotels but is now a gem of a state park, open to the public year-round to enjoy.
It's amazingly simple to get here: turn left after the toll onto Main Street (Route 299/New Paltz-Minneswaska Rd.) and take that until it ends at the base of the ridge — you'll drive through Main Street's shops, bars and cafes, over the Wallkill River, through sunflower and corn fields and up through apple orchards and sprawling fields before coming to an intersection with Rt. 55.
Turn right and follow the winding, steep ascent through the mountains (around the famous hairpin turn) and you'll eventually pass some hiking spots and the main entrance to Minnewaska State Park Preserve on the left.
Once there, you'll need to pay $8 at the gatehouse to park your car. You'll get a little green dated ticket for your car — turn around and make a left back onto the road, as there is a second parking lot about 20 seconds down the road where hikers wishing to visit Awosting Falls may park. Hang on to the ticket, as you'll need that to go back up to the lake itself and park up there later on, if you choose.
Park at the Lower Awosting lot — there's a bathroom and a sign like this: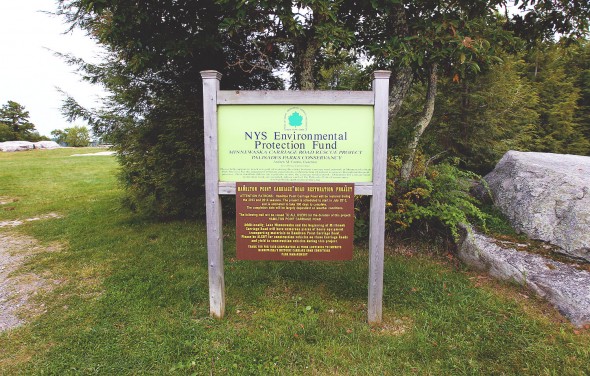 Set off on the large gravel trail back toward the main gatehouse. It's about a 5-10 minute walk through the forest: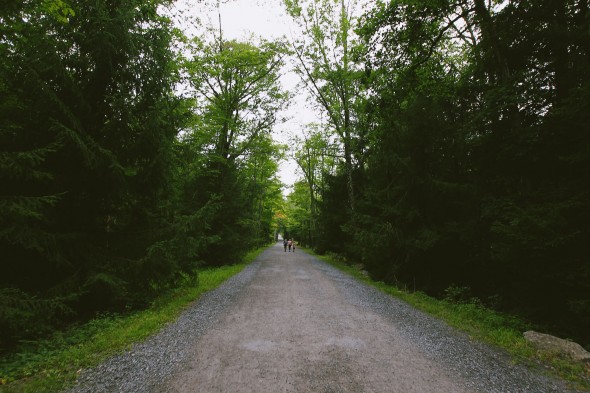 Follow the road to the right toward a small bridge. Here, you'll find a nice little view of the Peter's Kill running from the forest under the bridge and (as you'll soon find out) down over Awosting Falls. This creek flows in-part from Lake Awosting, which is about a 3.5-mile hike from Lake Minnewaska.
At the bridge, you'll see two paths on your left, probably with a road barrier in front. Awosting Falls Carriage Road is on the left, alongside the creek. You'll see this sign and the red blaze on a tree marking the trail: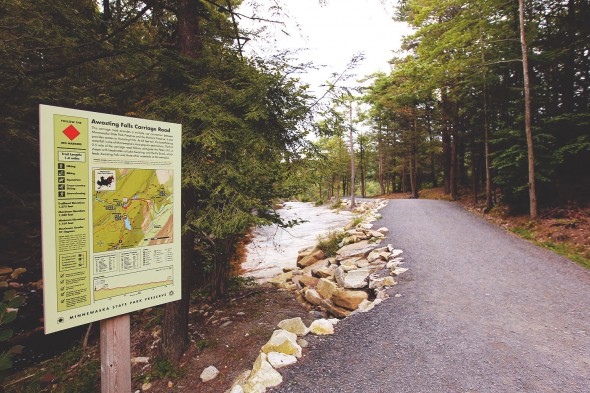 As you can see, it's a very smooth gravel trail. Executive hiking. Follow the trail down along the stream and you'll find some cool little cascades and small waterfalls in the iconic white Shawangunk rocks (below).
I have read that Shawangunks — the name of the mountain ridge — means "land of white rocks" in the Native American Lenape language, although others said the Lenape name for the area referred to "smokey air." Land of White Rocks sounds pretty fitting though as you will see a lot of this iconic white conglomerate in the park. The ridge is widely considered one of the best rock climbing destinations in the United States. Both Minnewaska and nearby Mohonk are glacier lakes, formed by glaciers during the last ice age (up to 110,000 years ago) that flowed south across New York. Most of the lakes in this region are acidic compared to more natural lakes at lower elevations and Minnewaska actually does not support fish (although there are snakes). Roughly 250,000 people visit the state park each year and 50,000 come to climb the Gunks, making it the busiest rock-climbing destination in America.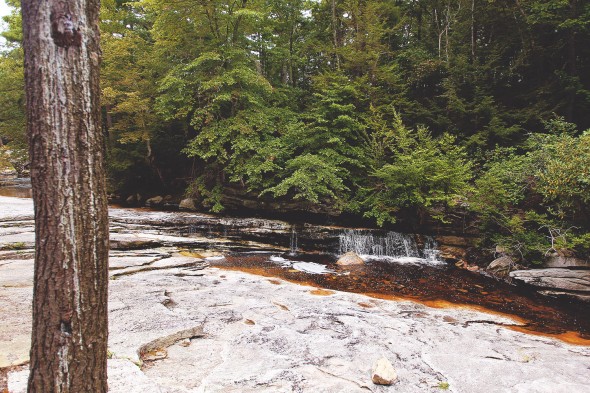 The path eventually winds down and away from the water and into the woods, where you'll see some interesting rock formations, mountain ferns and old trees. A field guide written by Hofstra described the descent:
"Descending the trail from the top of the falls to the plunge pool, we pass outcrops of sandstone that show distinct, angled layers within the thicker beds. These smaller, angled layers are called cross beds and they formed as the sand in the bed was being washed along the bottom of an ancient river, forming small underwater ripples and dunes as it moved."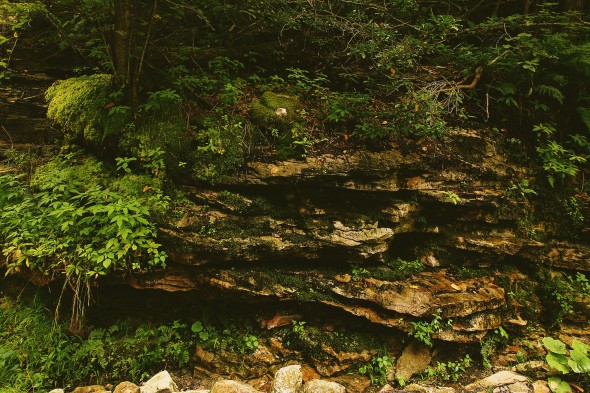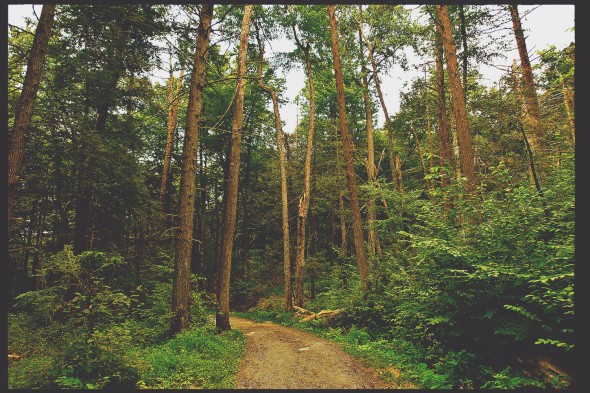 I have a secret addiction to candles, especially pine-scented ones, so I was loving the natural environment out here. It's a very quiet, peaceful walk.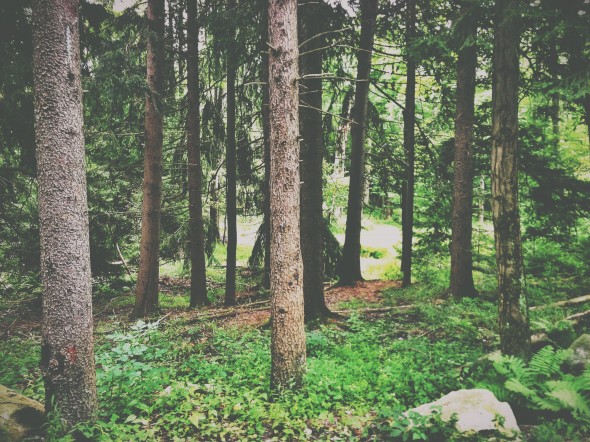 This walk is about 15-20 minutes total, depending on how slow you go or if you're stopping and snapping photos, etc. You'll know you're getting close to the falls when you start to hear the water. Near the falls, you'll see some foot paths through the trees that people have created as shortcuts to the main waterfall area.
Then, suddenly, the forest clears and you see it.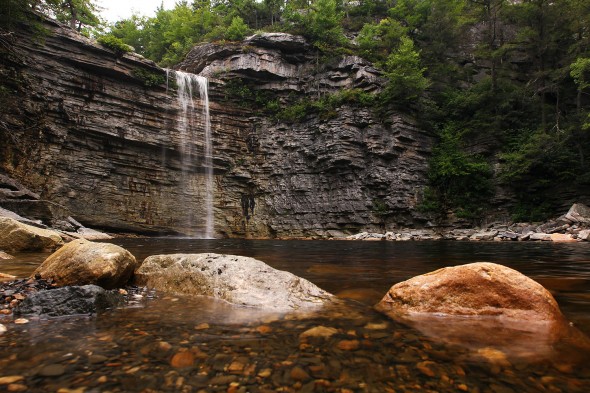 I've looked at a lot of photos of the falls lately and it's clear that, depending on rainfall and weather, Awosting can look dramatically different from day to day. Some times, it's a small trickle of water over the edge. Other days, it's like a raging white-water river. On this day, it was pretty moderate and calm, giving me just enough to capture the wispy falling water with a long exposure photo.
You really could spend hours here looking for angles and ways to photograph the waterfall. I had my camera and lens nearly touching the water surface in the image above, framing the falls with some gold-colored rocks and the little stones underwater. I'm far from an expert landscape and nature photographer, but I've found that including something like that in the foreground is the difference between a bland snapshot and something with more depth and interest. I would love to shoot this with an underwater camera or some housing that lets me put half the frame under the waterline as you sometimes see with surfing images.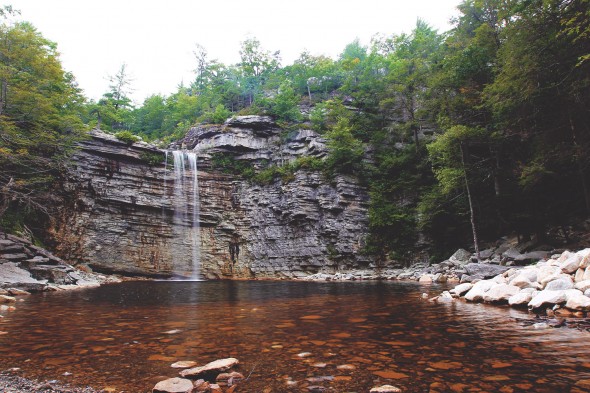 I brought my tripod for this and shot the falls with two lenses: a Canon 16-35mm f/2.8 and a Canon 15mm fisheye. I'm very inexperienced with long-exposure images and a neutral density filter is probably the way to go for photographing flowing water and waterfalls, but I did what I could with the equipment I had: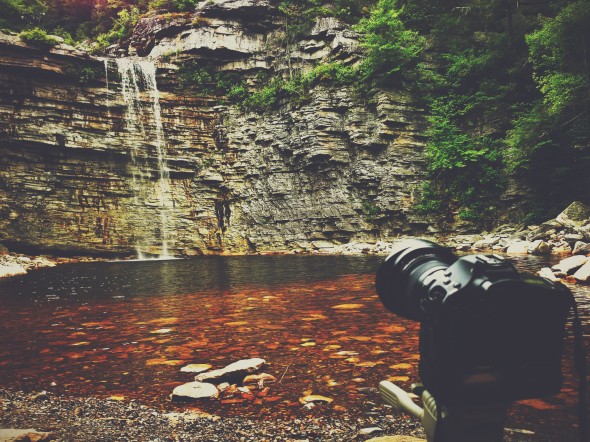 To shoot the falls, I used the two-second timer shutter function and let the camera do it's thing. You're basically picking a slow shutter speed (a second or two) and adjusting the aperture as high as it'll go (toward f/22).
Here's an image I processed with the great Mextures app on my iPhone: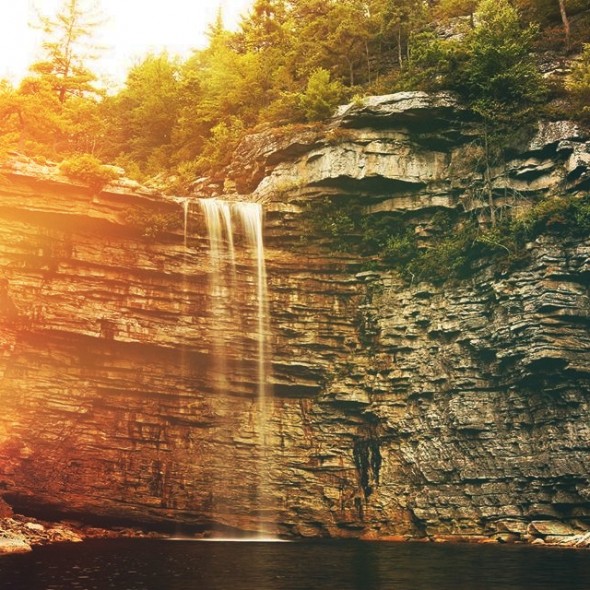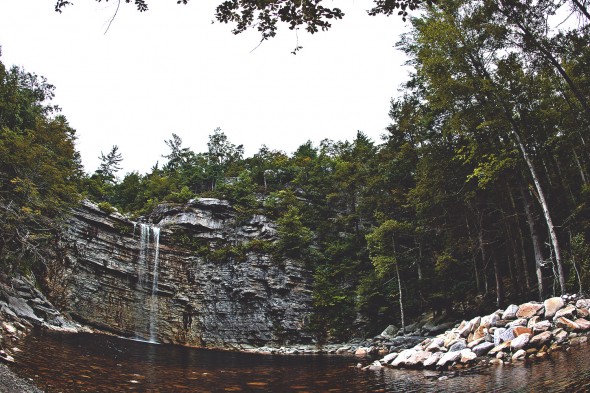 There were a few other people there with kids, and I suspect on autumn Saturdays, it's a zoo there. I went on a late Sunday afternoon following some rain, so I guess the crowds were light. People add perspective to the falls, but I didn't really want anyone in my frames (in fact at first, I had to crop out some woman doing these ridiculous poses on the rocks for her boyfriend).
Here, you can walk up pretty close to the cliff wall. In fact, you can probably walk right into the falls itself (although swimming and climbing is prohibited):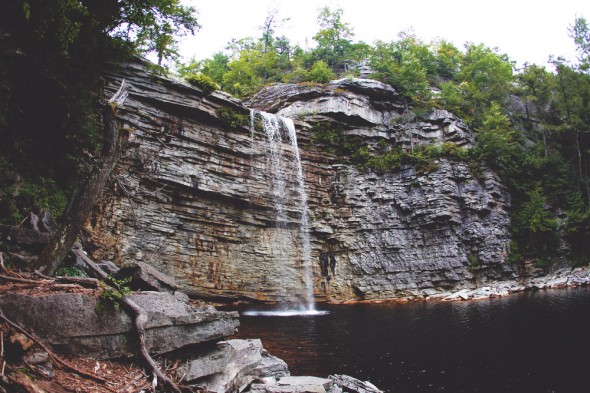 I took this hand-held, without a tripod, balancing on some rocks with a slower shutter speed and it still came out OK: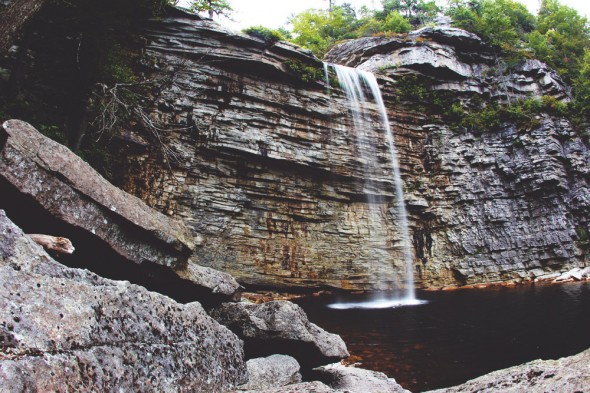 Back with the fisheye lens at water level: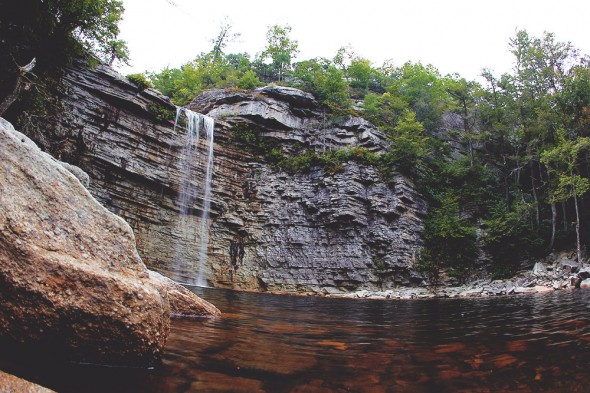 And you can step back and get some other angles down-stream. The water was moving very gently and there was a spot you could hop across, but I didn't feel like doing it just yet: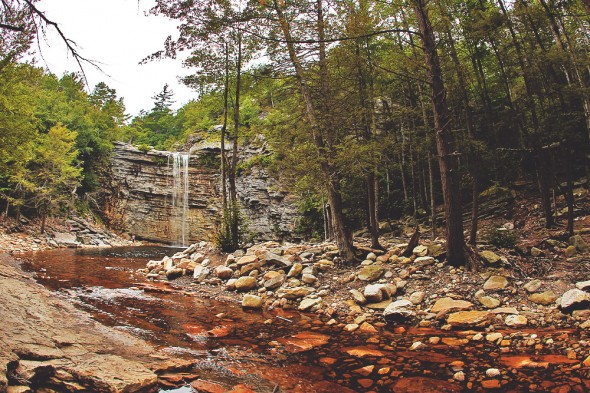 The white rocks are really the iconic trademark of the Gunks, so I wanted to work those in as much as possible: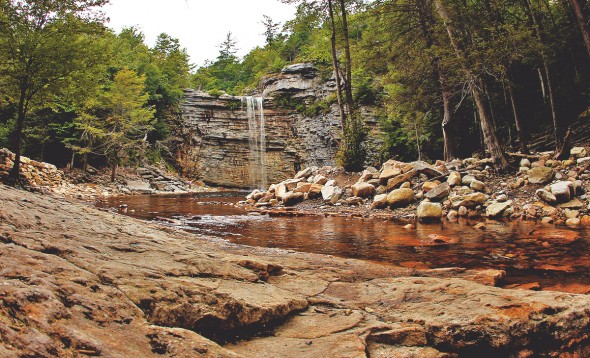 Once you've had enough, you can continue on the path (which I have not yet done) or walk the trail back toward the main road: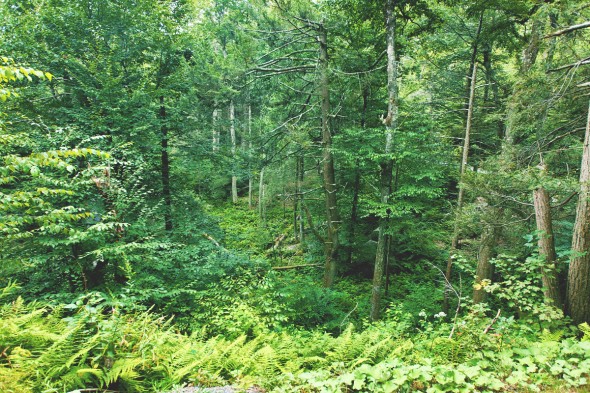 Look close and you'll find this termite-ravaged old tree stump: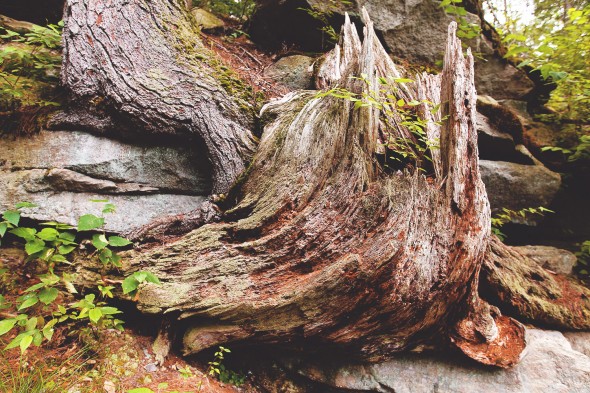 Along the way, you'll be taken to the top of the waterfalls, which is also really awesome: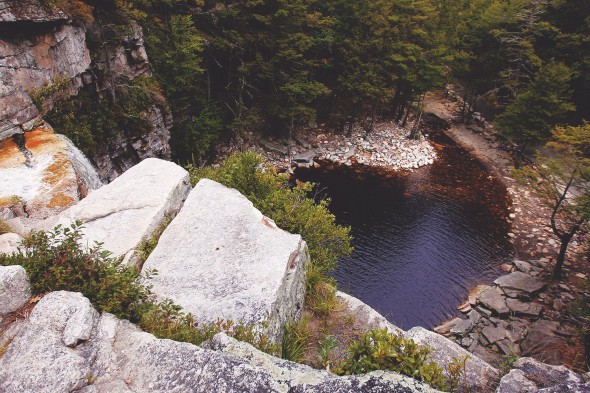 Up here you'll find some native pitch pine trees growing out of the cliff and some (on this day) gentle waterfalls flowing over the cliff itself. Some of these pines are 300 years old at Minnewaska: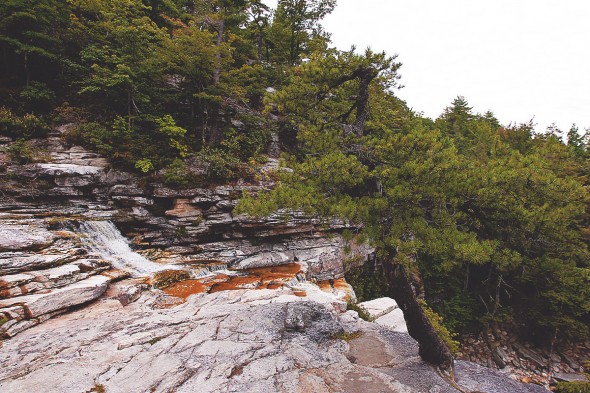 I tried my hand at some more slow-shutter photos of the creek flowing by: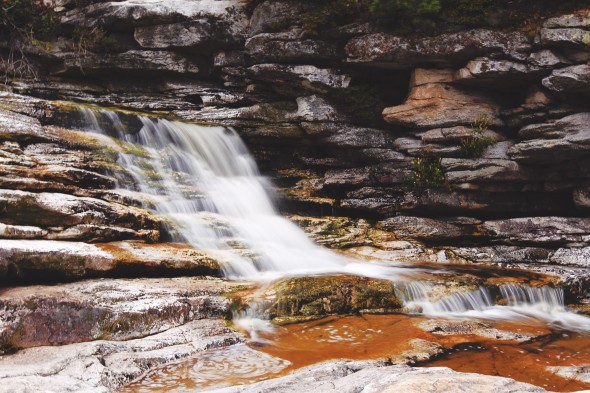 I'm not sure what causes the beautiful burnt orange coloring of the rocks (minerals over thousands of years, I guess) but it adds some great color to the scene: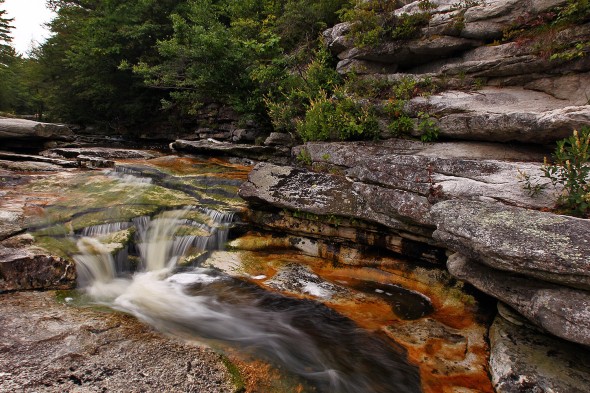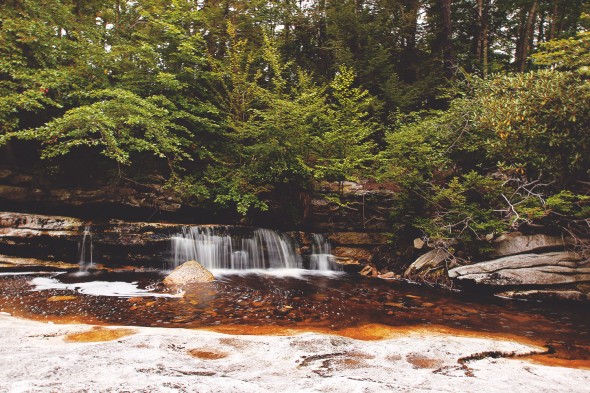 I walked back to the bridge by hiking through the creek/rocks itself, which was more fun than the gravel path. Again, I've seen photos of this area at considerably higher water levels where you'd be crazy to step near the rocks, so I think it goes without saying, if you do venture out to Minnewaska and Awosting Falls, use caution when hiking and climbing near any moving water or rocks as the entire park is full of very steep cliffs.
Once you're done with Awosting, definitely drive up to the lake and explore some more — this view once shows the mighty Cliff House and Wildmere hotels, both of which sadly burned down: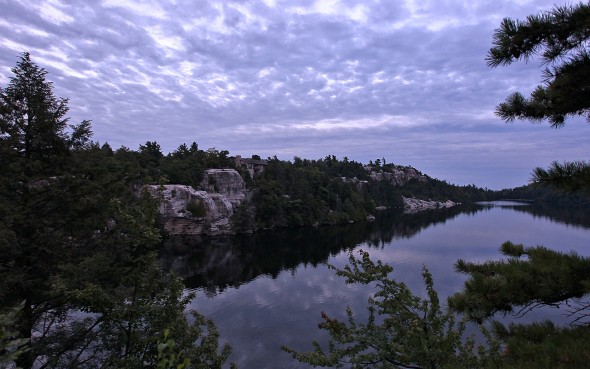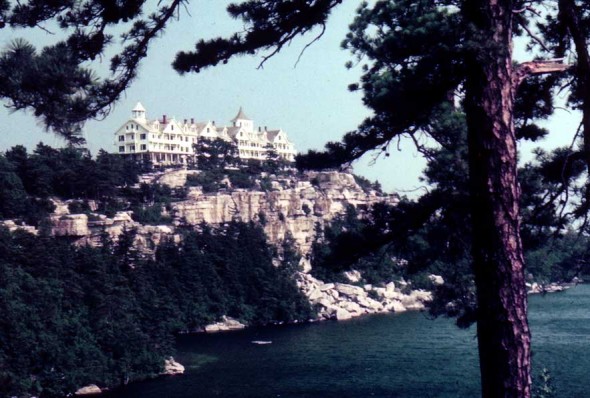 End the day with a sunset from the scenic overlook on Rt. 55, about a five-minute drive past Minne: