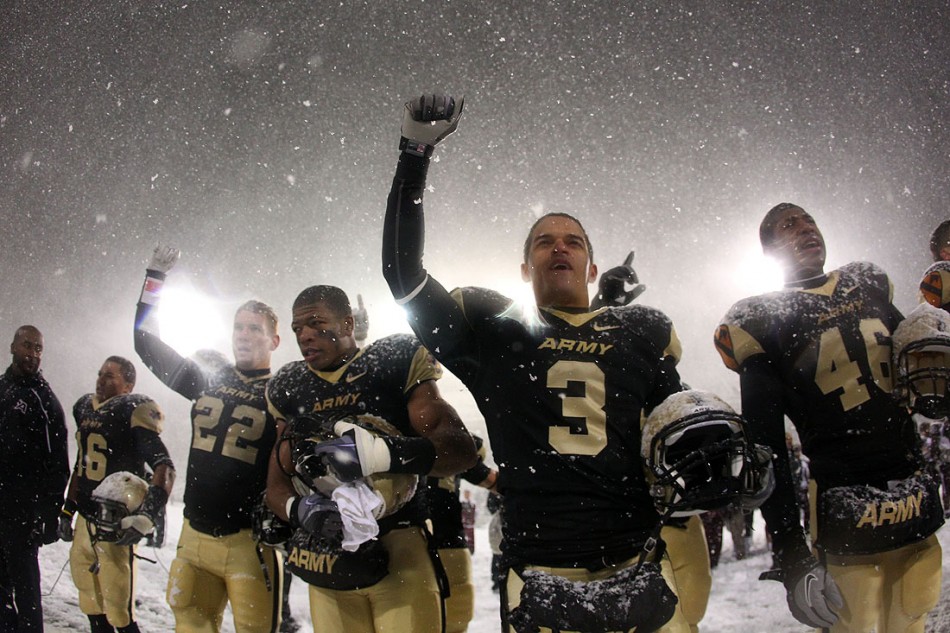 Saturday's Army-Fordham game was probably the most challenging shoot I've had. Army won 55-0 and — although I was thrilled we won — it still was incredibly frustrating. The snow — heavy, big, wet flakes — made it impossible to focus on anything with my camera. Any frame I got in-focus was luck. With about eight minutes left in the first half, I gave up and stumbled back to the press box. I realized, too, that I was the last photographer on the field.
Of course, that didn't totally stop me. After watching all of the third quarter from Hoffman and transmitting some photos, I geared up and went back into the storm with about five minutes left in the game, armed only with my fisheye lens. Definitely glad I went, I got some of my favorites images from the year in those last few moments, the cadets standing proud in a blur of snow and light and glowing smiles.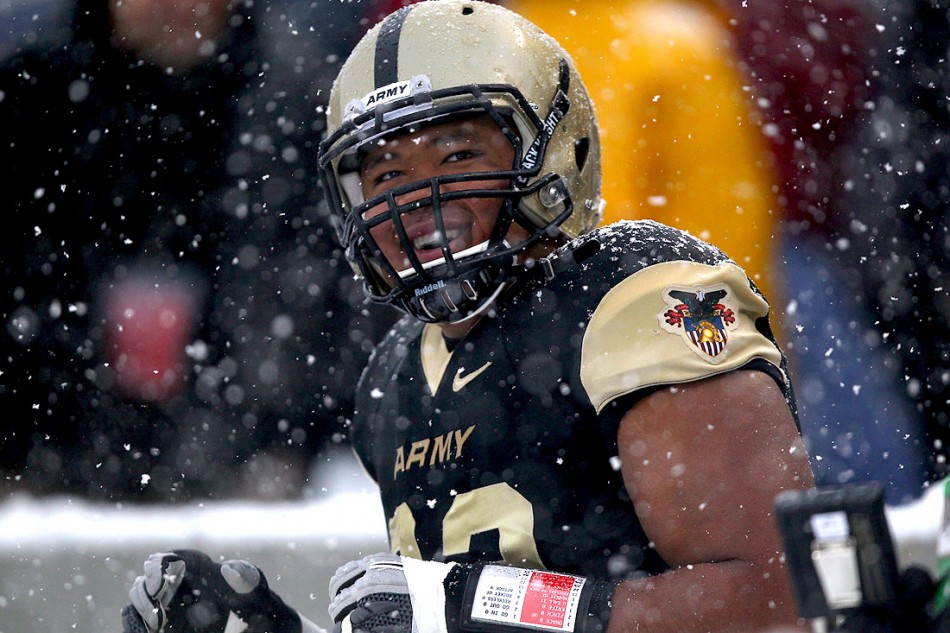 To set the scene, this is what Michie Stadium looked like during the fourth quarter: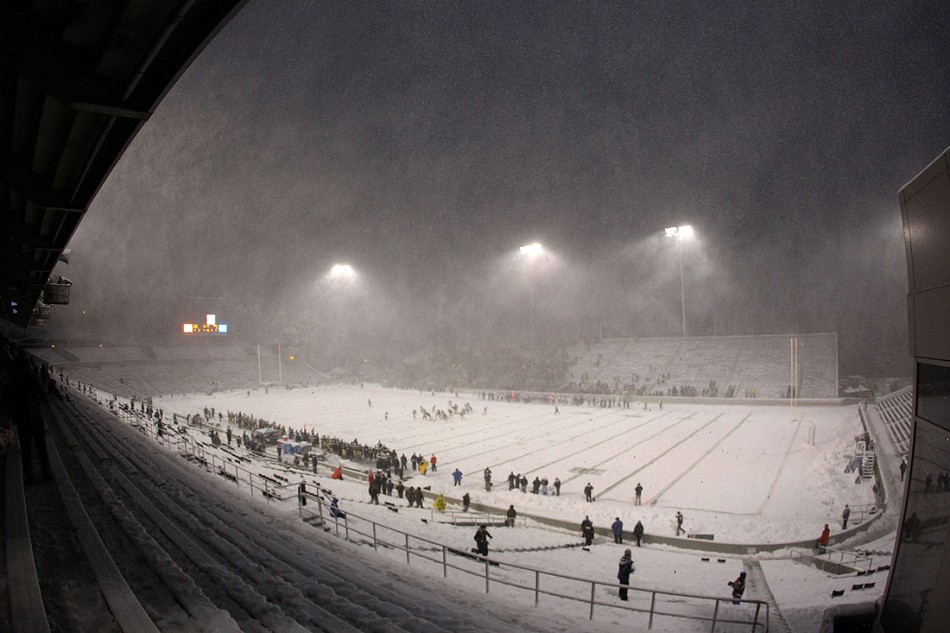 And that's basically what it looked like in the first quarter, just not so dark. The snow, originally forecasted to be 3-5 inches but gathering steam in the evening, was much heavier than anyone predicted, and it indeed got much worse as the afternoon turned into night. I was initially pretty excited to get some light snow in my photos, but once I tried taking my first photo, I knew it would be a long day.
Here's Andrew Rodriguez going up against a slightly larger offensive lineman in the first quarter: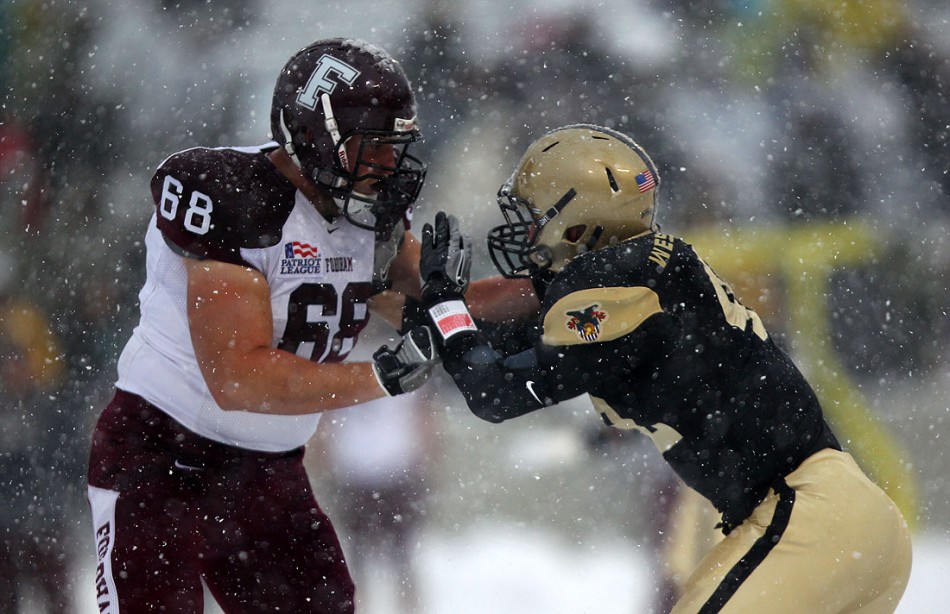 Junior linebacker Nate Combs was amped up all day. He scooped up a fumble and scored a 52-yard touchdown: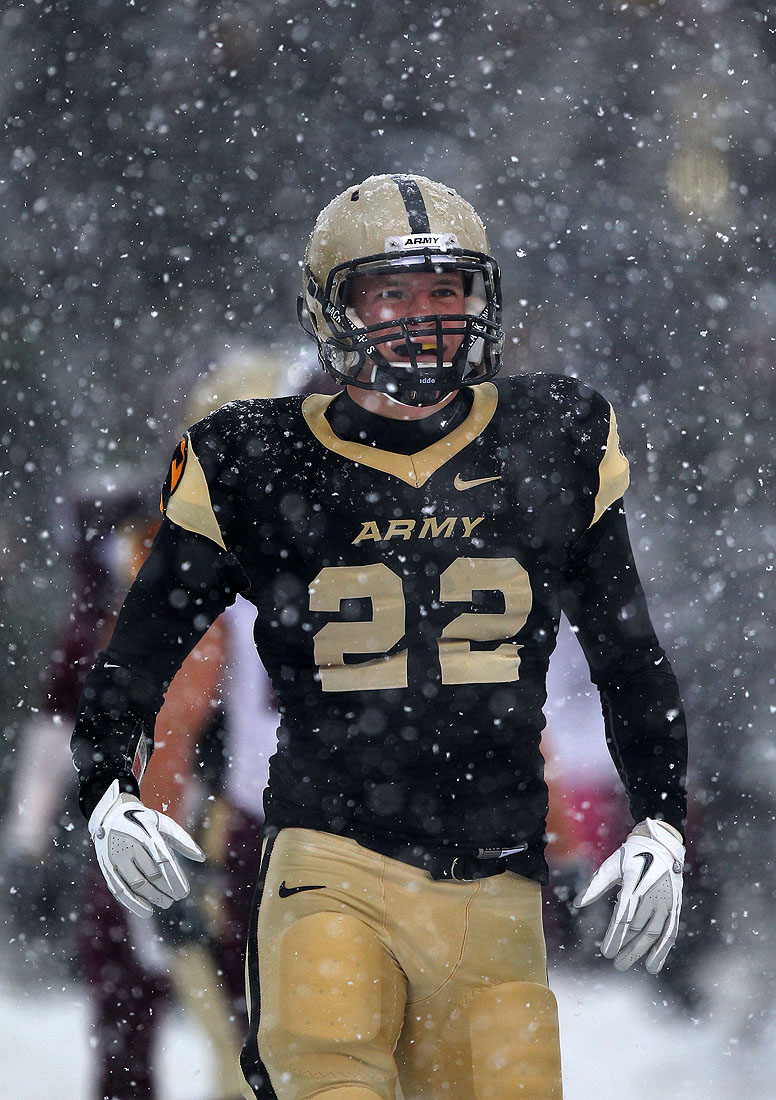 My favorite action shot of the day was Raymond Maples busting through a hole on one of his 10 carries. He finished with a career-high 159 rushing yards. I fired off a whole sequence of shots during this run, but this was the only image that came out in focus. Click on the image to view it larger for best effect: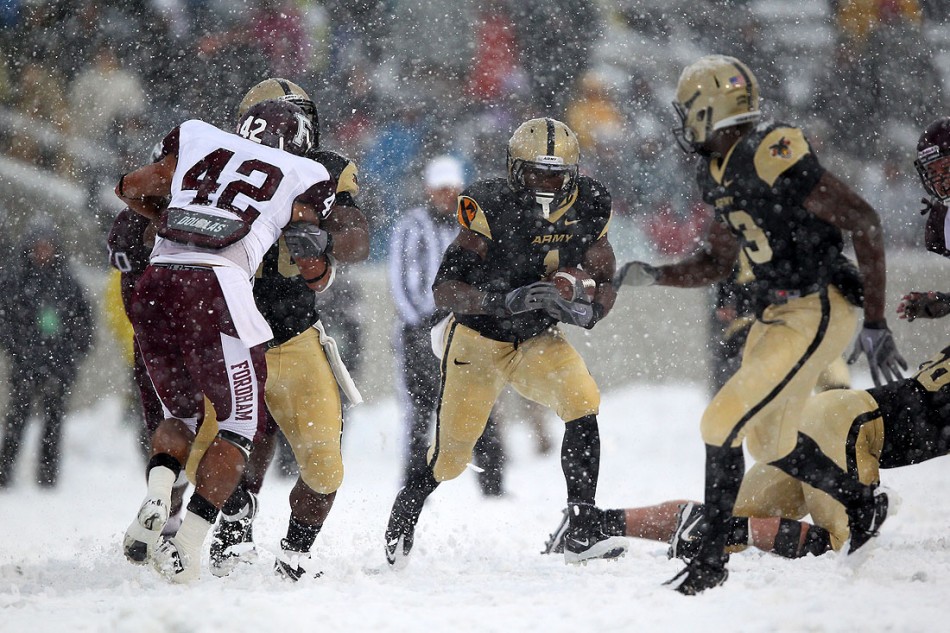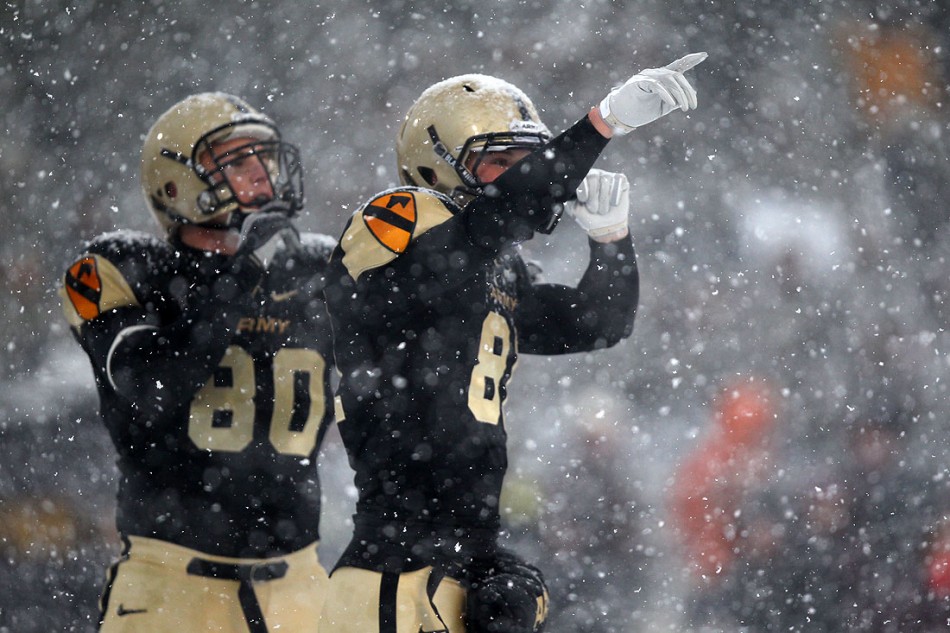 DB Josh Jackson was rockin' the sub-zero face mask: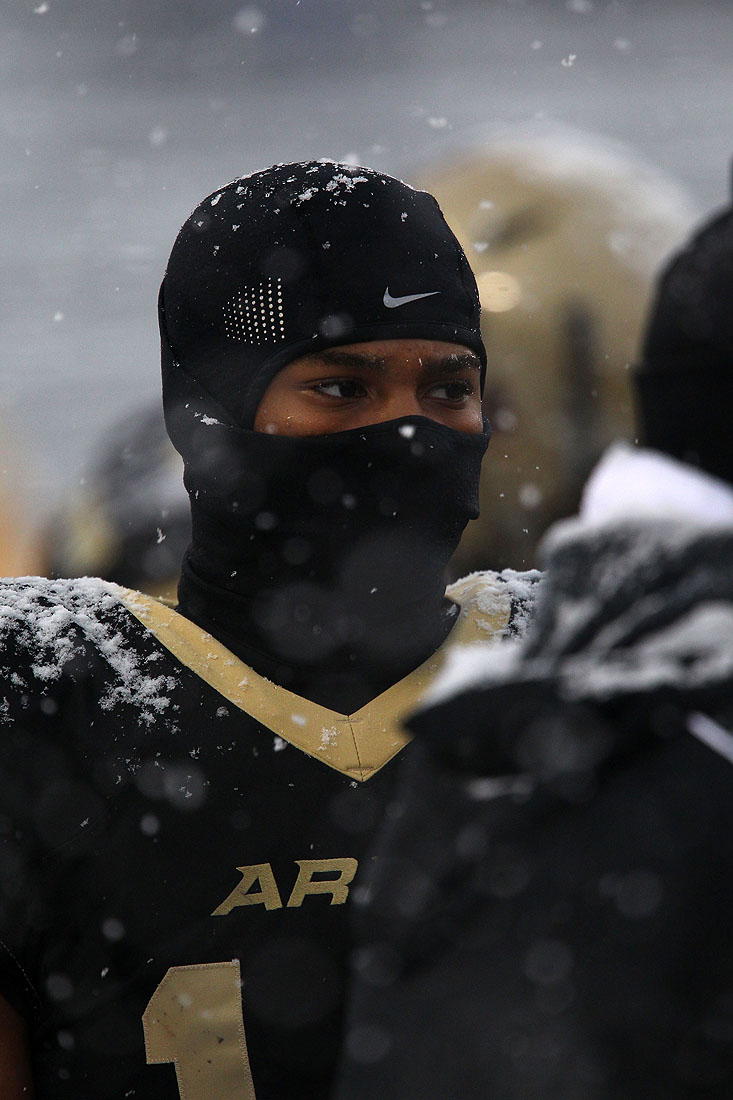 And my favorite player to shoot, for whatever reason, Justin Schaaf. I continuously seem to make great images of him — this frosty portrait of him jogging back to the sidelines was selected as ESPN.com's Photo of the Week. Mrs. Schaaf actually left me a very nice note after seeing this: "Cost of Army vs Fordham football ticket $60. Cost of snow brush $15. Cost of a photo taken of your son by Danny Wild… priceless."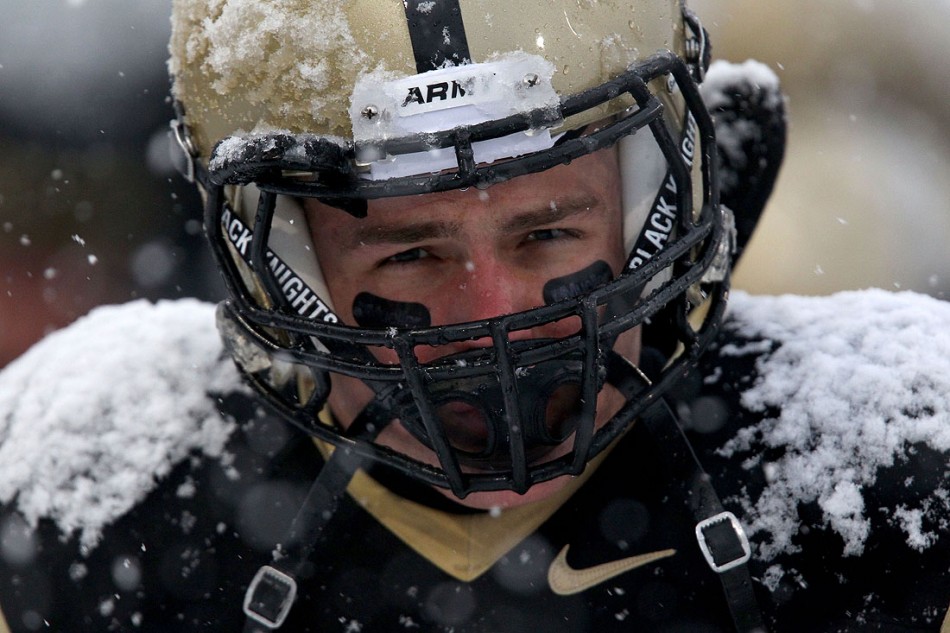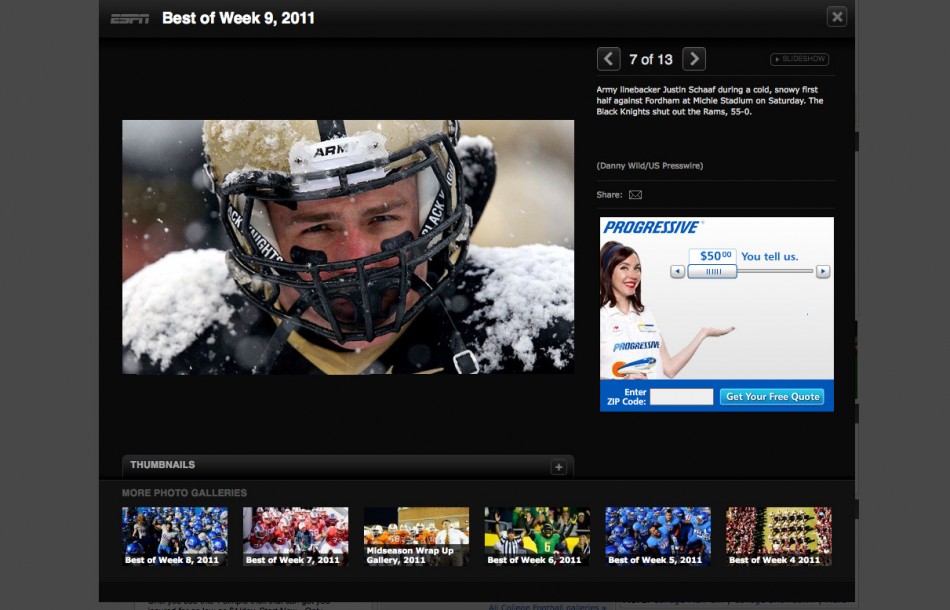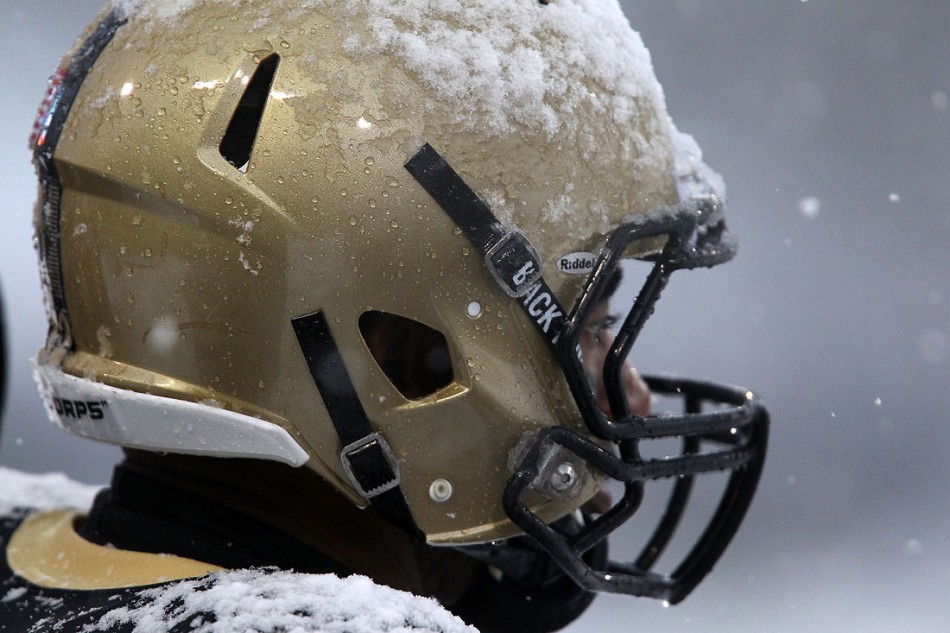 Fullback Jared Hassin scored a touchdown during the second half, while I was thawing out in the press box: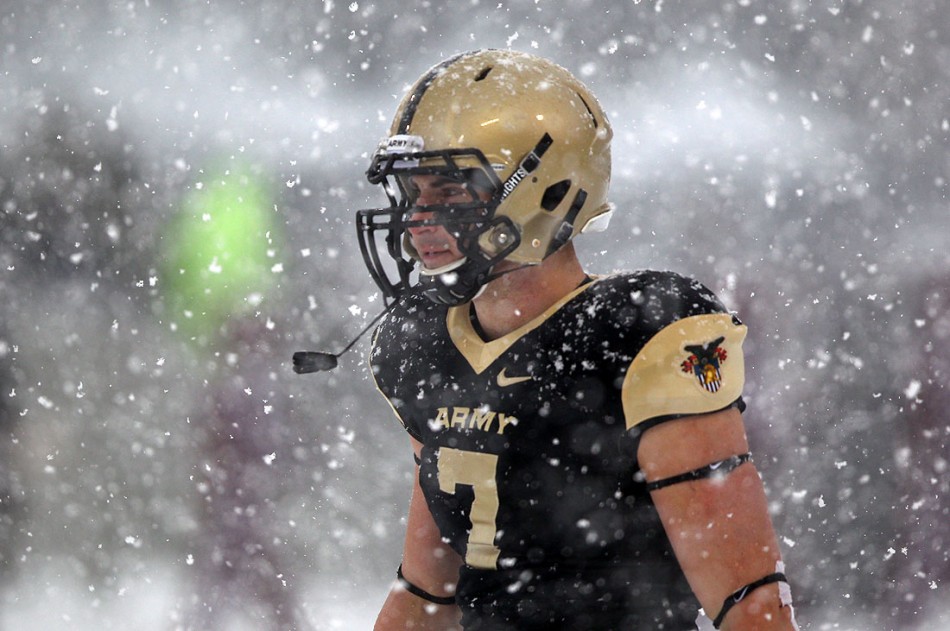 Larry Dixon scored on this run, and I managed to get one frame in focus: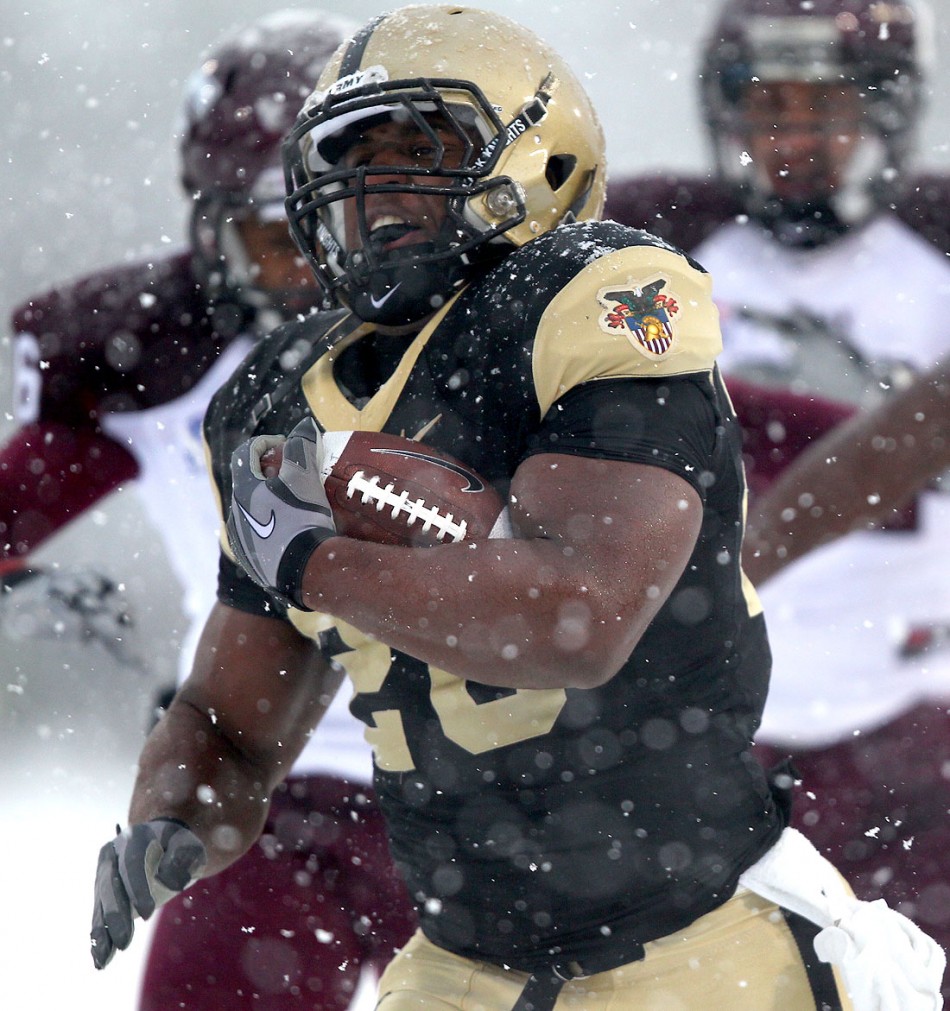 Senior quarterback Max Jenkins (who is the second-highest ranked cadet in the Corps) got the start in place of junior Trent Steelman and had a hand in three Army touchdowns, including this pass to Anthony Stephens in the first half. I saw him throw the ball but didn't even bother spinning around to follow the play as I knew I wouldn't get anything in focus. Instead I stayed on Max and he gave a nice reaction (which again wasn't in perfect focus, but still a nice moment for the QB on senior day):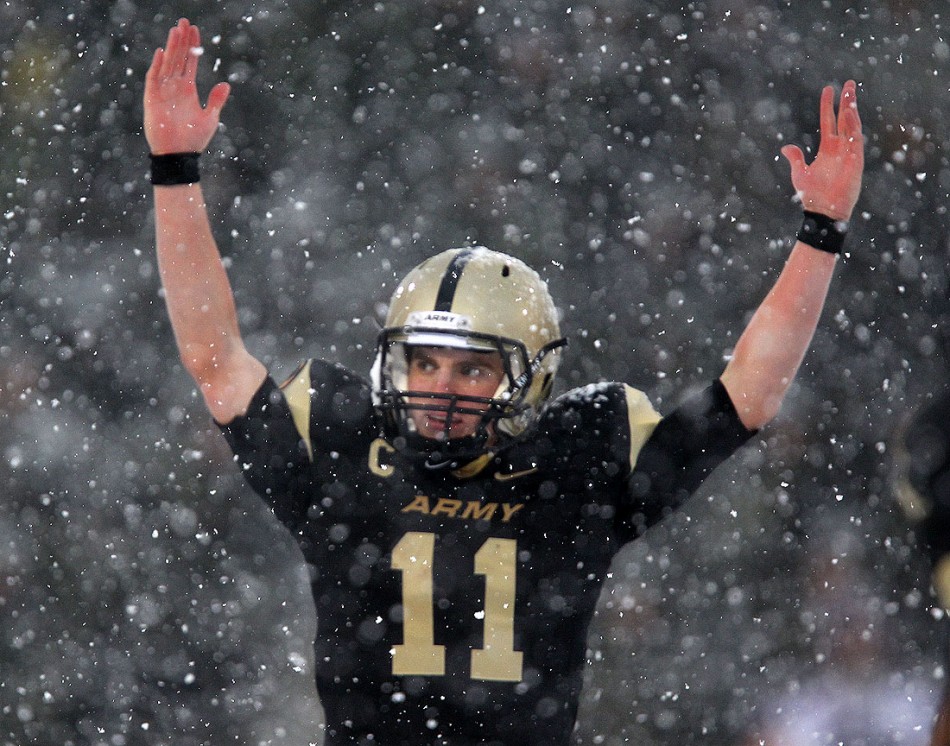 Here's Combs and AJ Mackey getting some air after a forced fumble: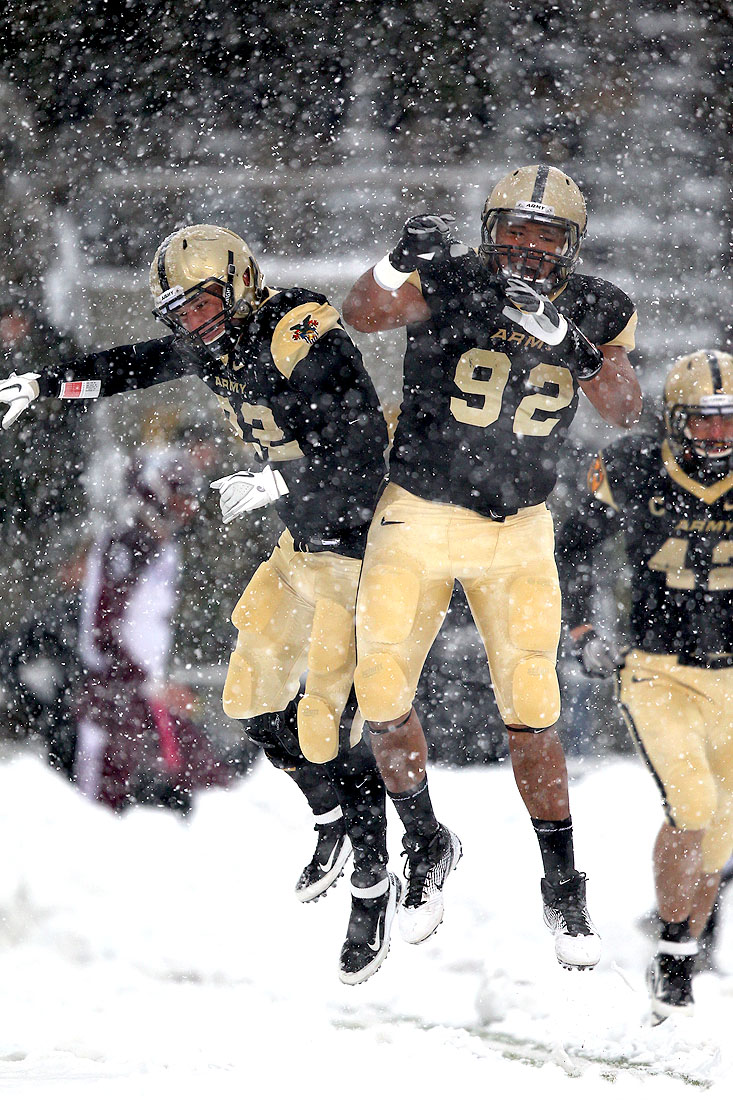 Ah yes, going back into the storm. I took the elevator down to the main entrance and descended through the general seating area in the southeast corner of Michie during the fourth, coming upon some young fans having a snowball fight. Doesn't get more bizarre and this at a Division 1 college football game in October: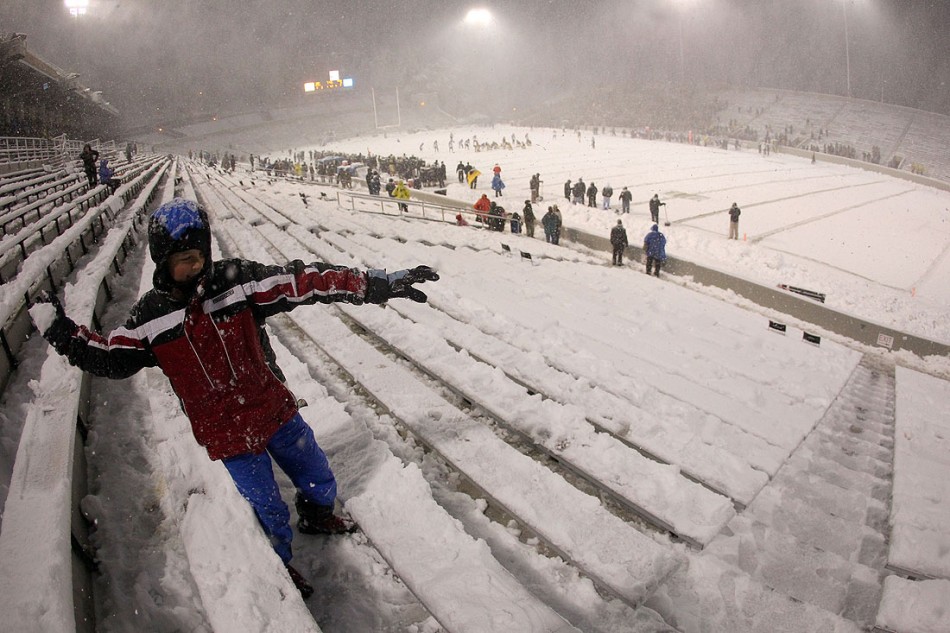 On the sidelines, I found players huddled under long coats, waiting for the game to end as the second and third-string players got some game time.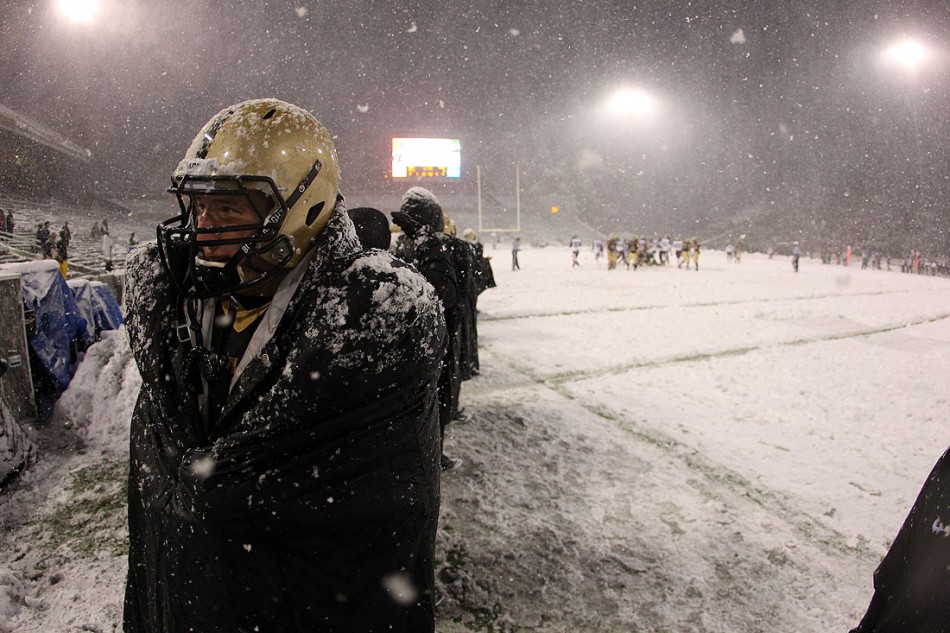 Anthony Stephens with a little snow accumulation, which was also selected by ESPN.com for its general sports Photos of the Week for Oct. 23-30: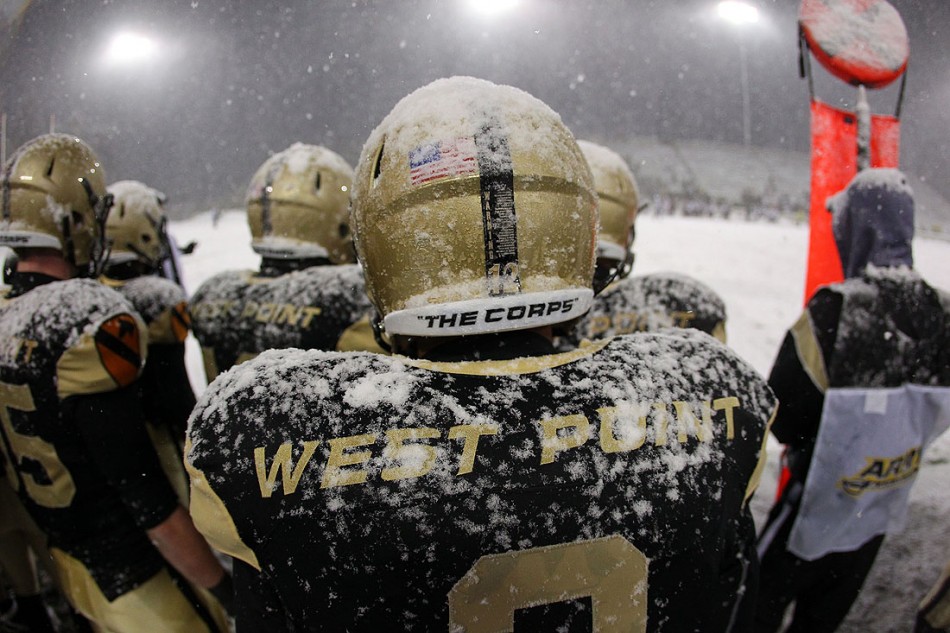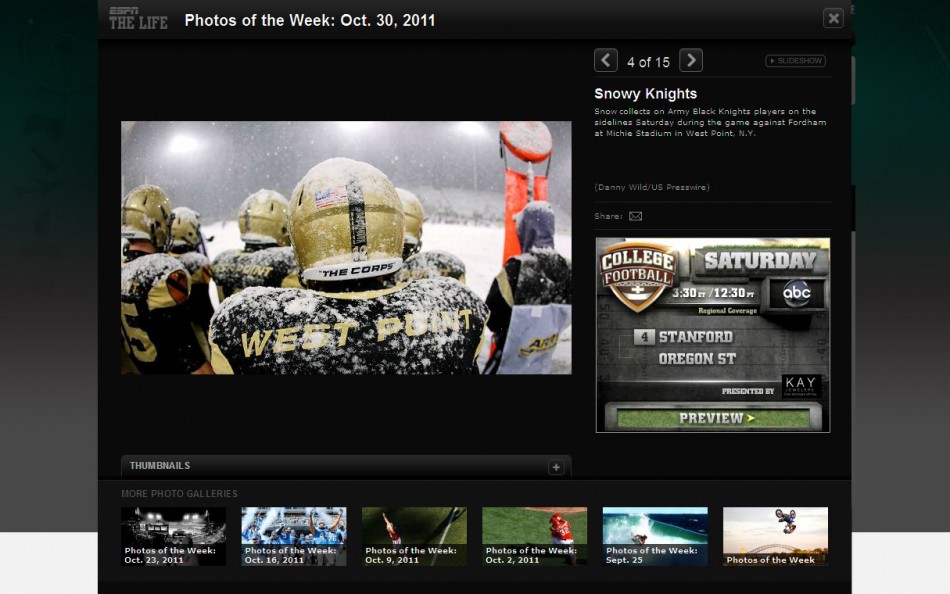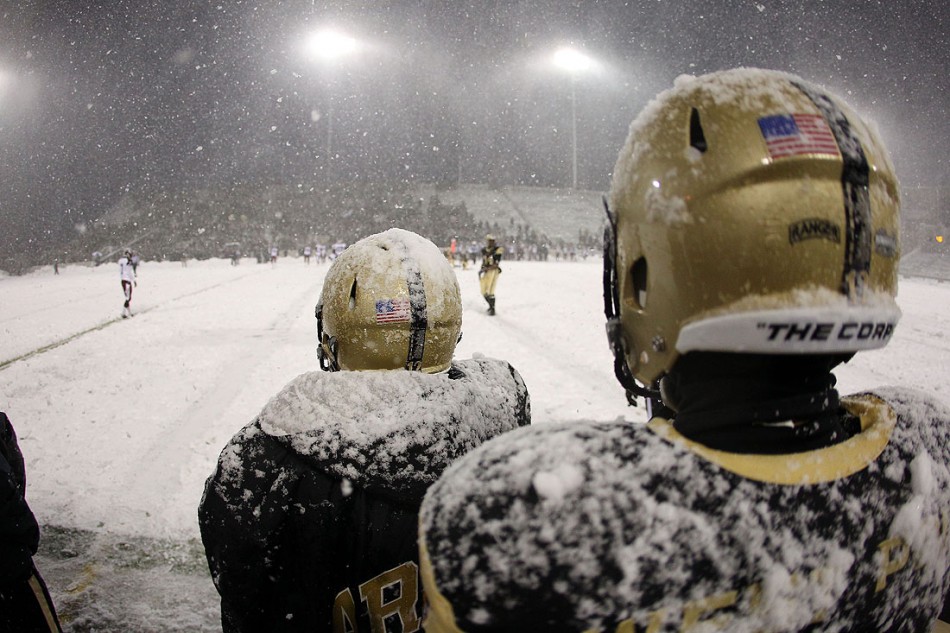 Here's JJ watching the final minutes: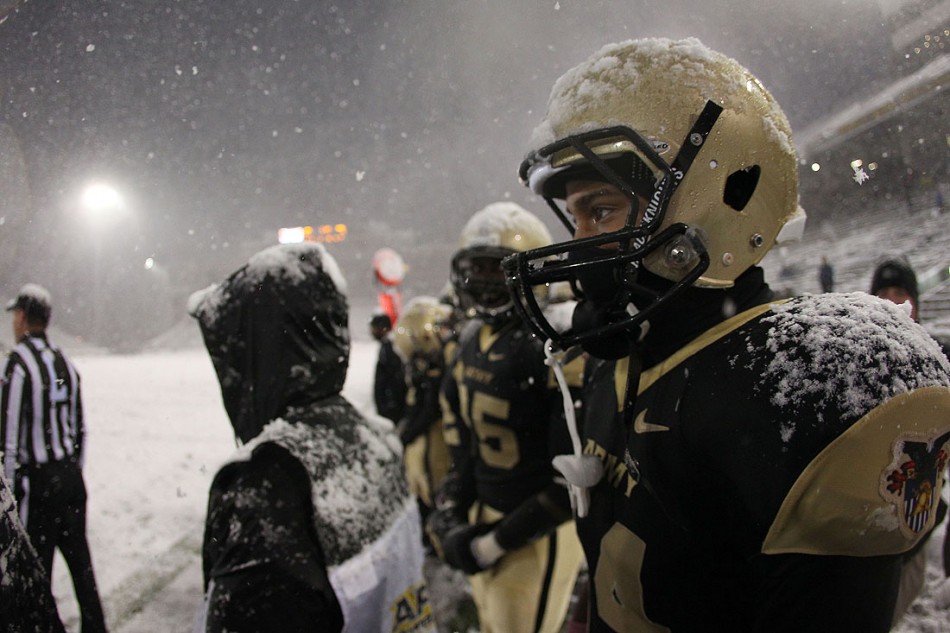 This was the Army bench, or lack of. Before the game, the academy brought a few John Deere tractor-plows out and cleared the field. The green was all covered with white again by the time they made their final laps. Much of the snow was plowed to the sides and corners of the field, making the bench areas and sidelines a mess to navigate.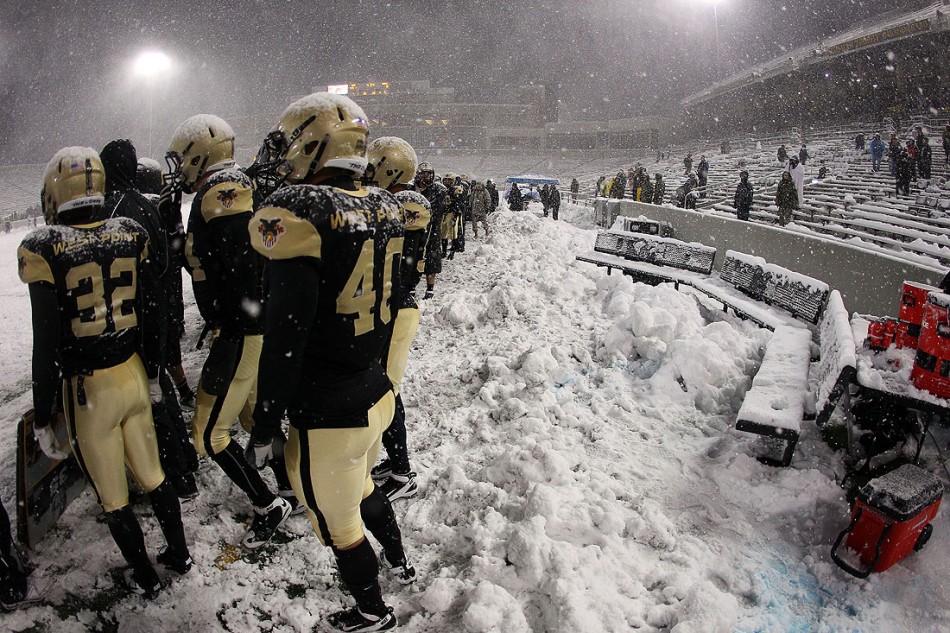 Brian Cobbs loving the snow: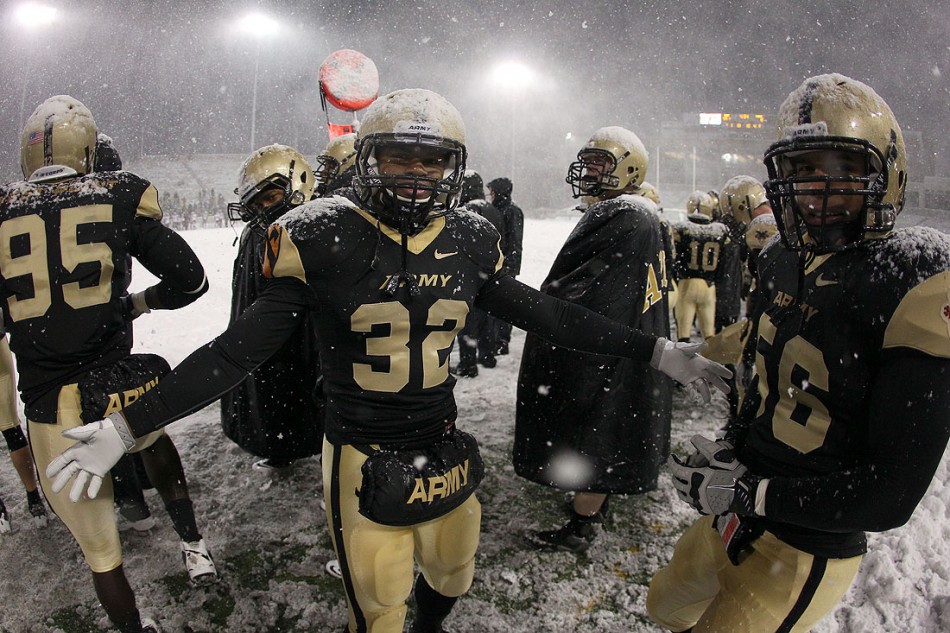 Here's Derek Bisgard putting on the long coat: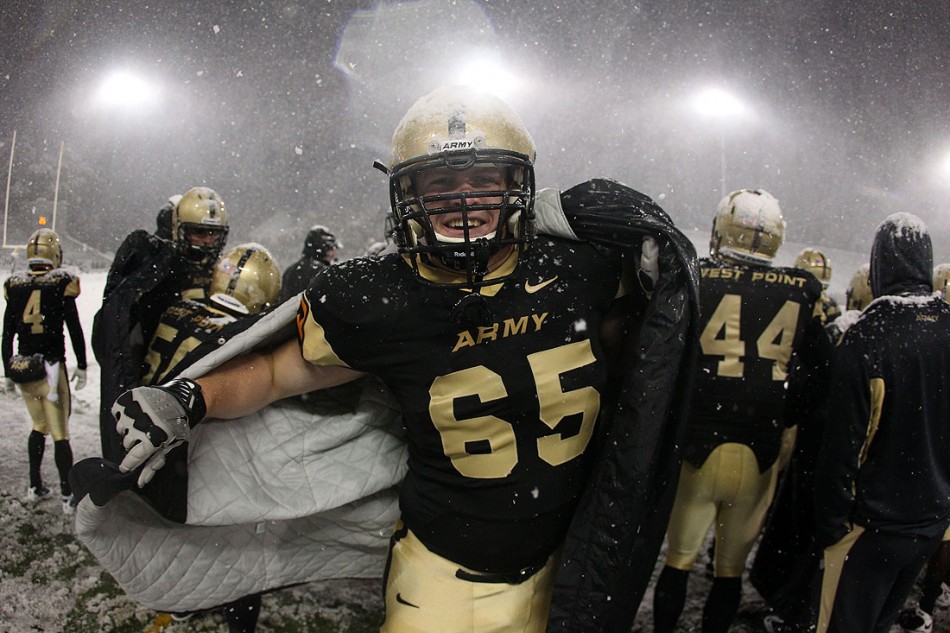 Lieutenant General David H. Huntoon Jr., 58th Superintendent of U.S. Military Academy (center) enjoys the final moments of the game with the Army players. "I've never seen a team more excited than this," he told me. "And I've seen some happy teams."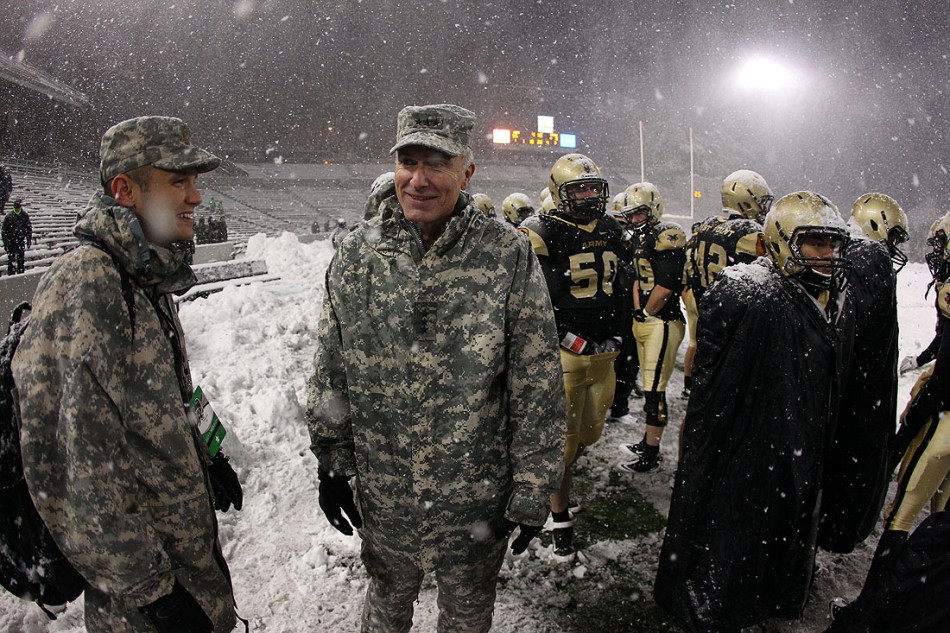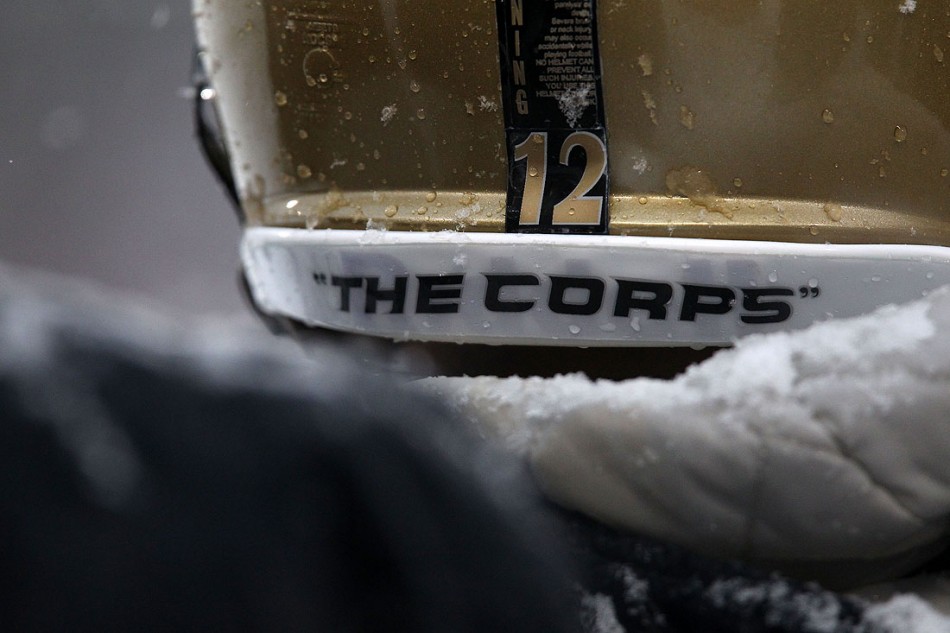 Army wide receiver Patrick Laird stood on this pile of snow to get a better view of the action. This may not look like much, but consider where he's standing and look at the bench to the left.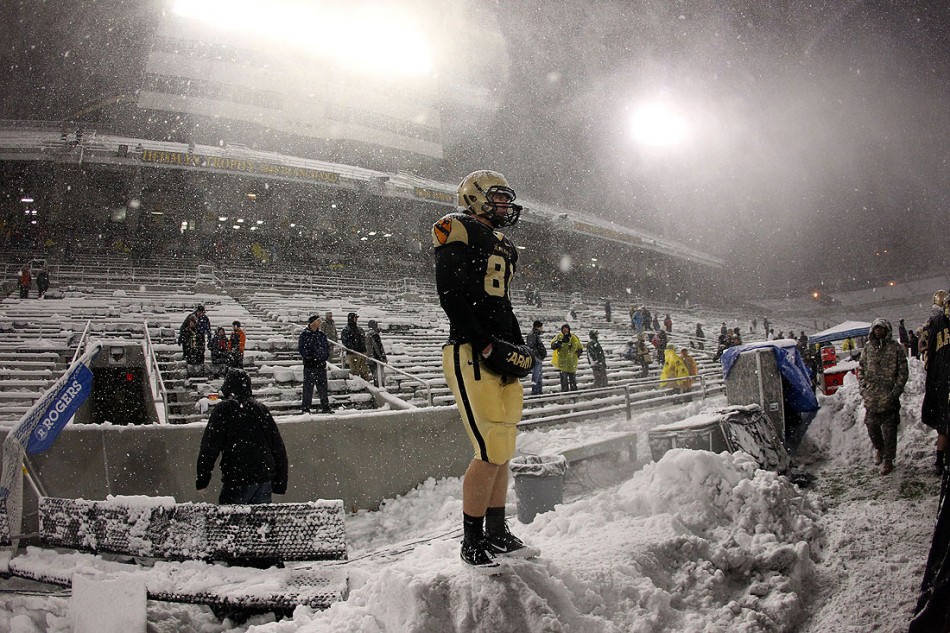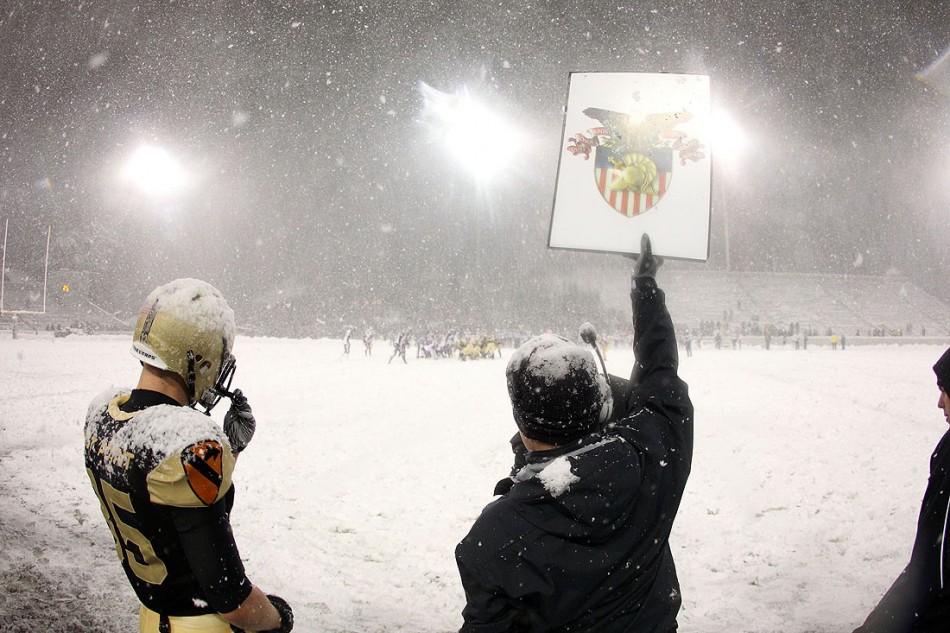 A-Rod joined in the post-game handshakes: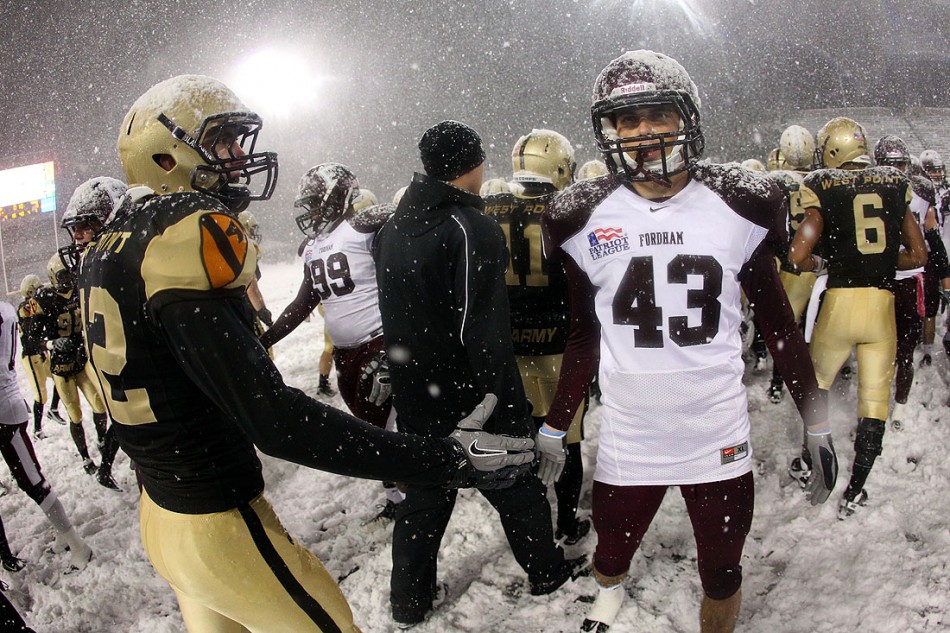 The post-game celebration was pretty incredible. At this point, my hands are numb, I've got snow on my camera, in the viewfinder, on the LCD screen, flakes on the lens surface itself, etc. I could barely see what I was shooting. Brad Kelly, who was injured for this game, picked up a snowball and fired it into what remained of the Corps of Cadets. Soon, half the team was having a snowball fight: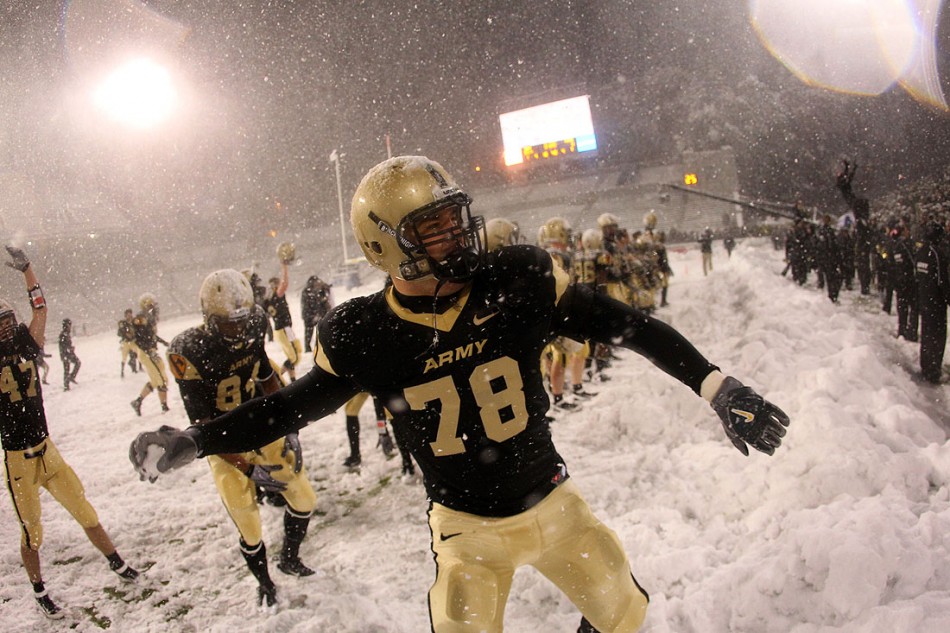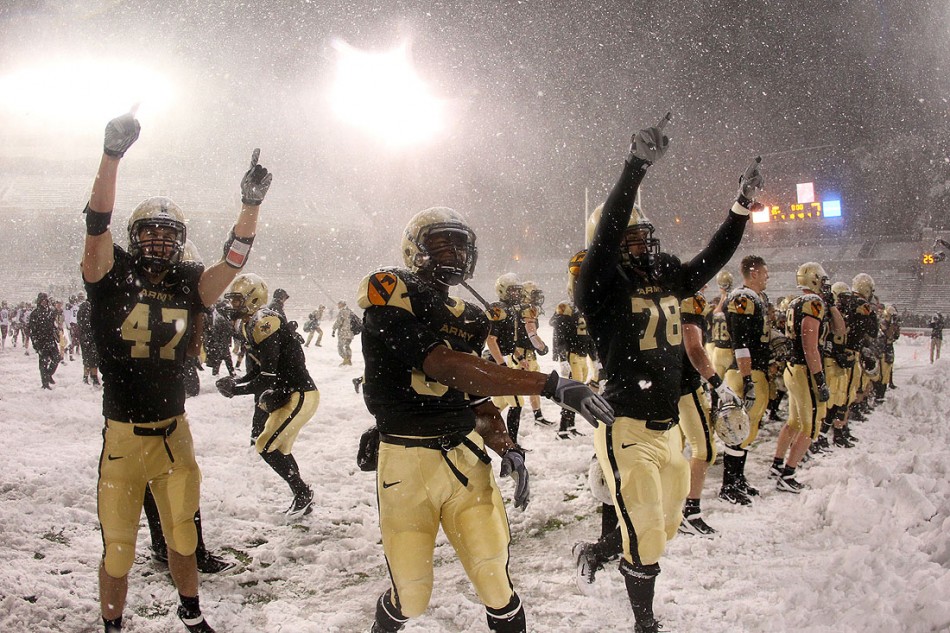 Austin Barr (center) chucks some snow at the Corps: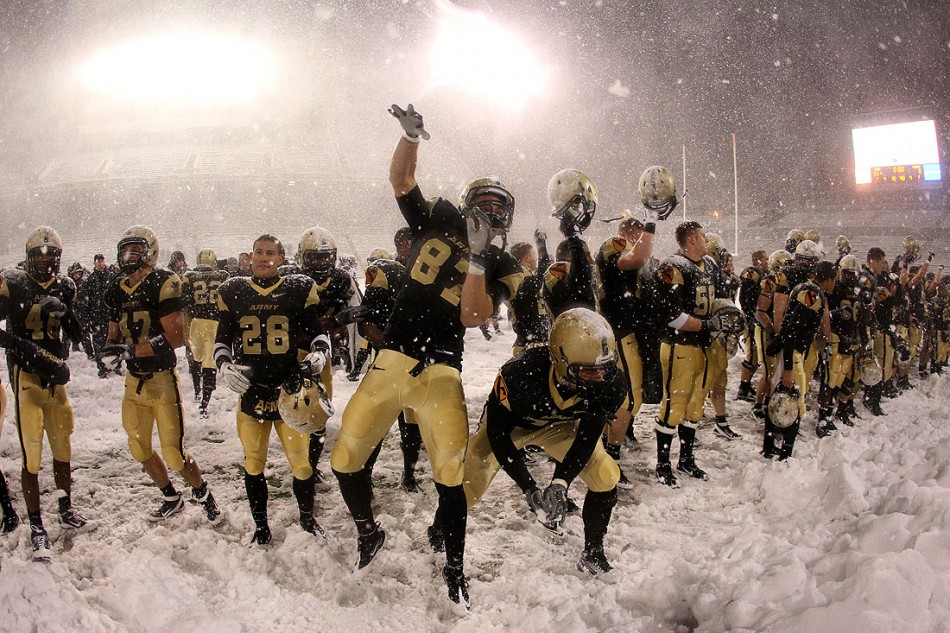 Marcus Jackson (3) takes a turn: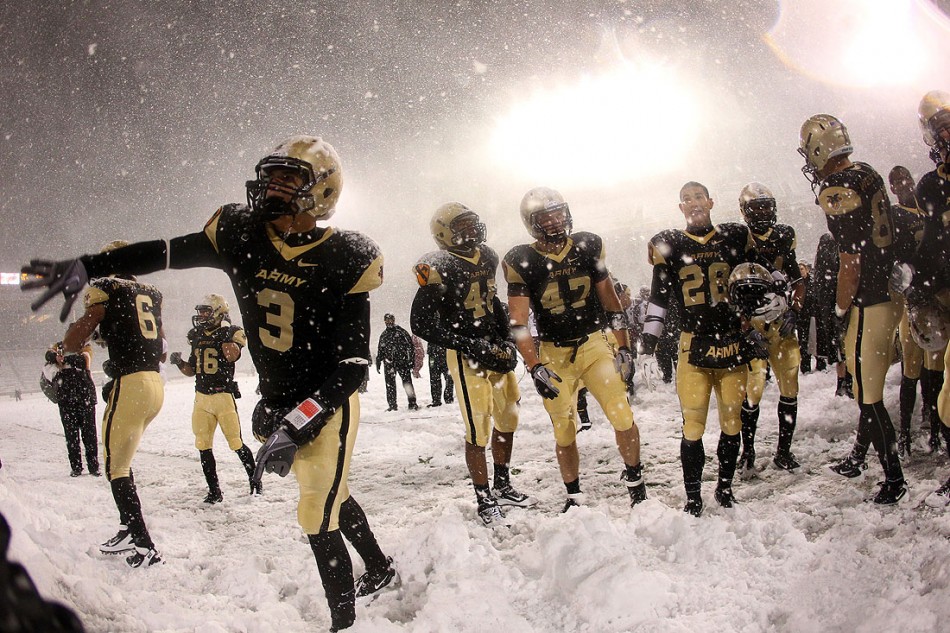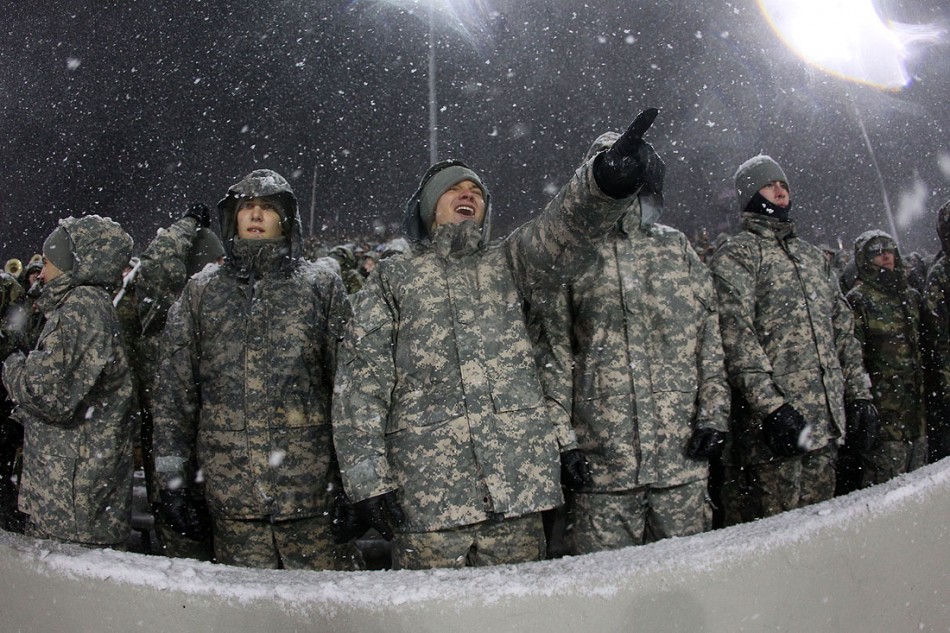 Finally during the alma mater, I climbed over a hill of snow and got some images like this, with the stadium lights in the background creating this dramatic scene of falling snow: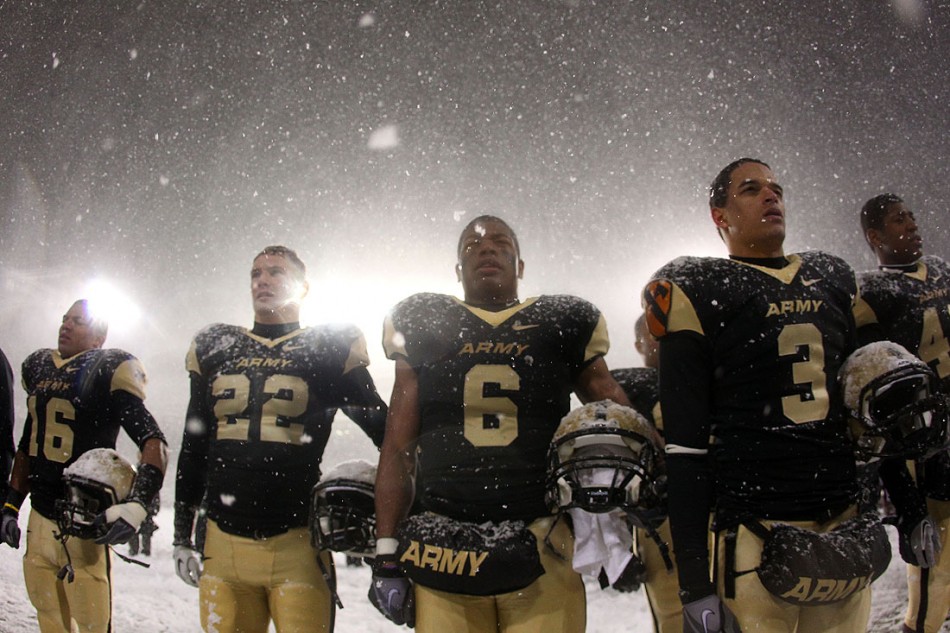 Nate Combs: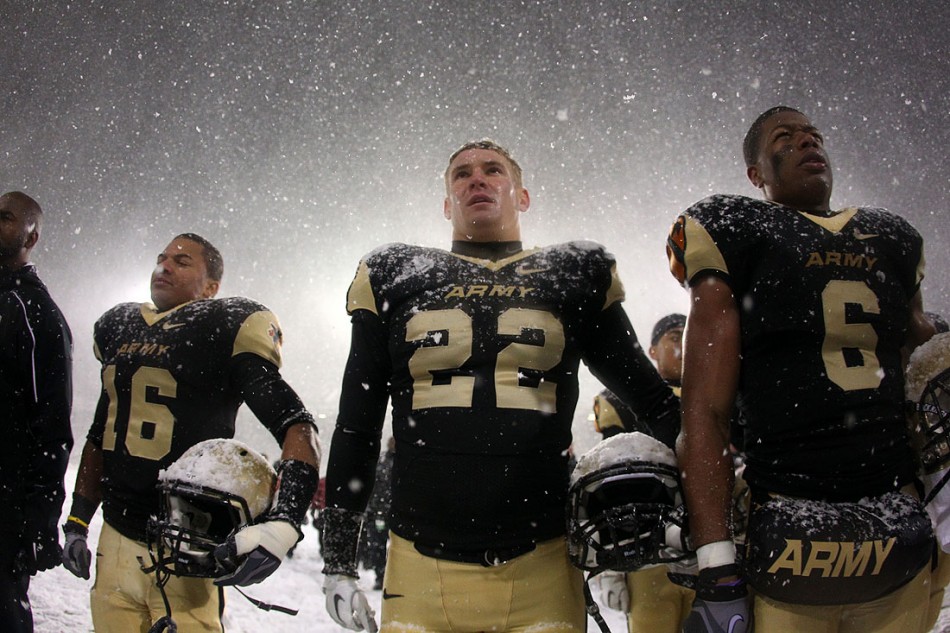 Jackson and Geoffrey Bacon (6):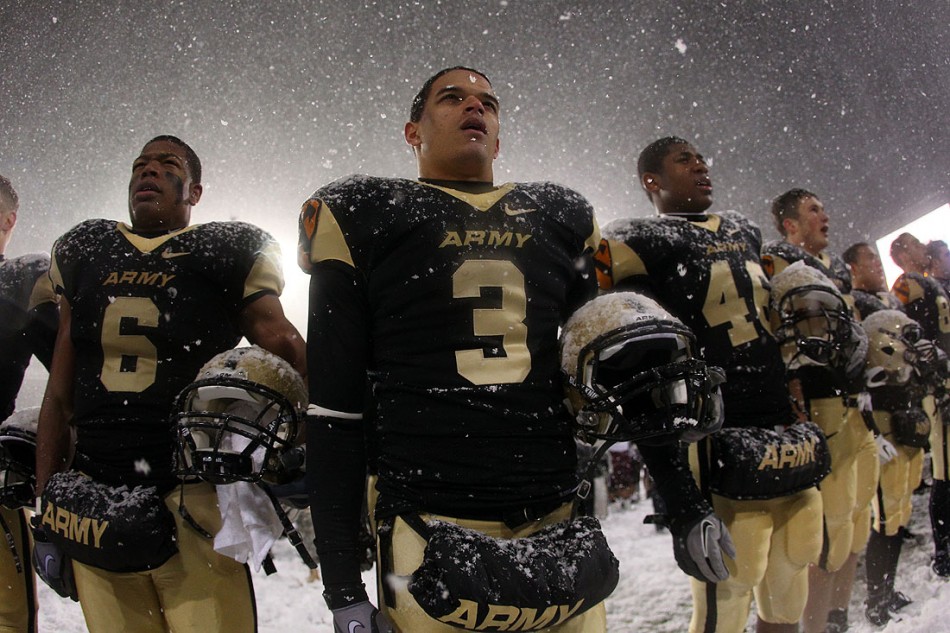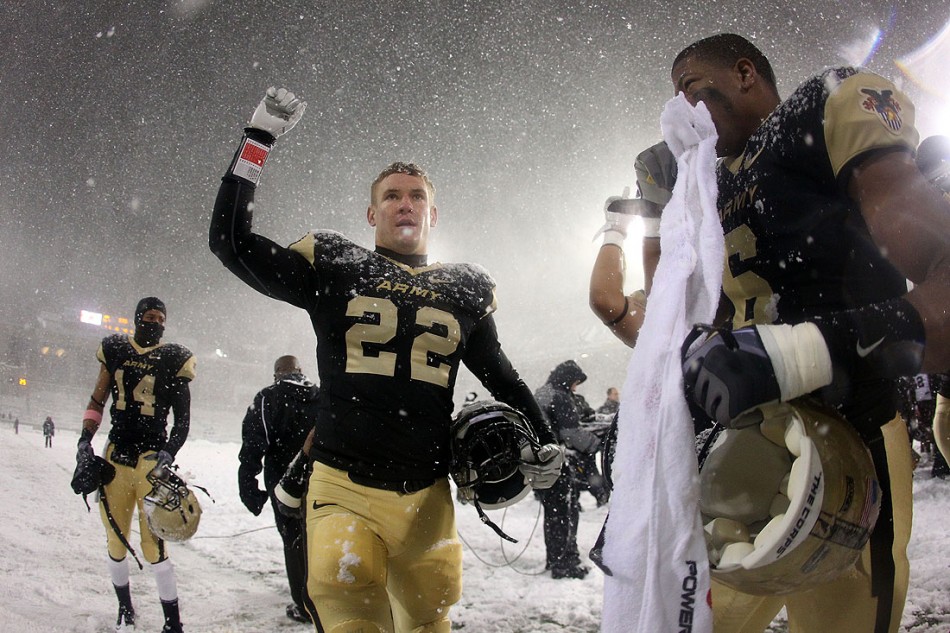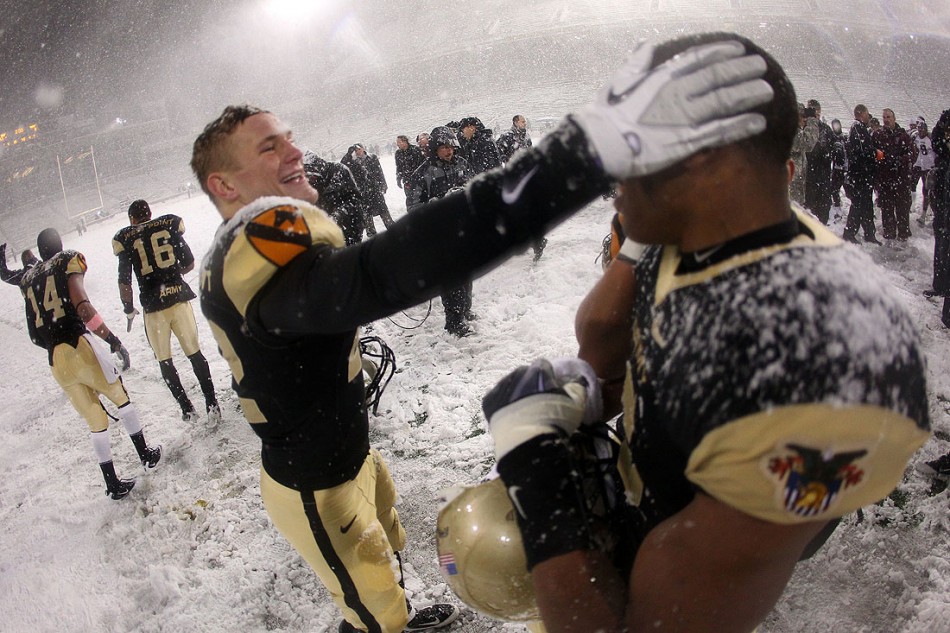 Austin Barr high-fives some cadets on his way off the field: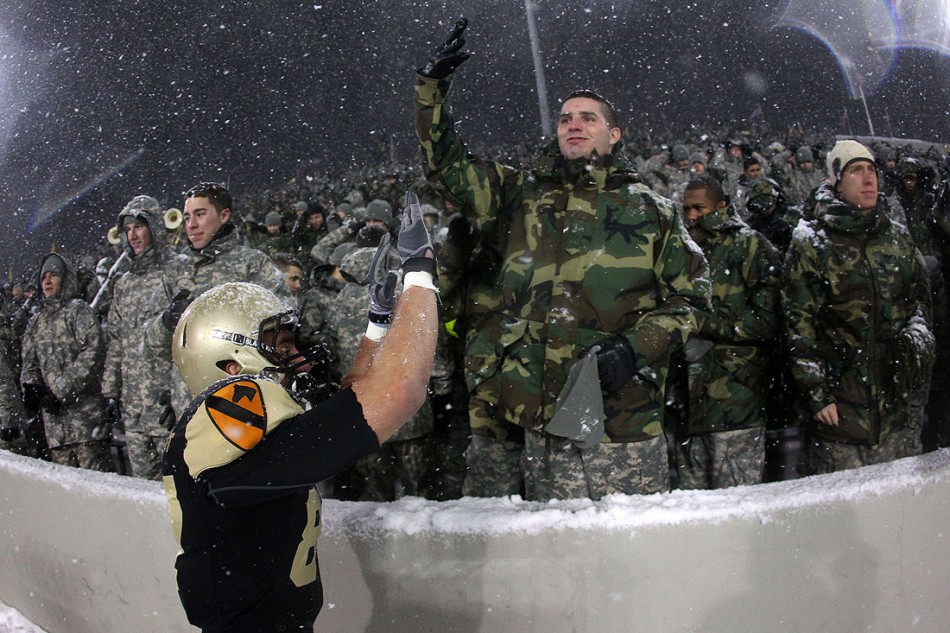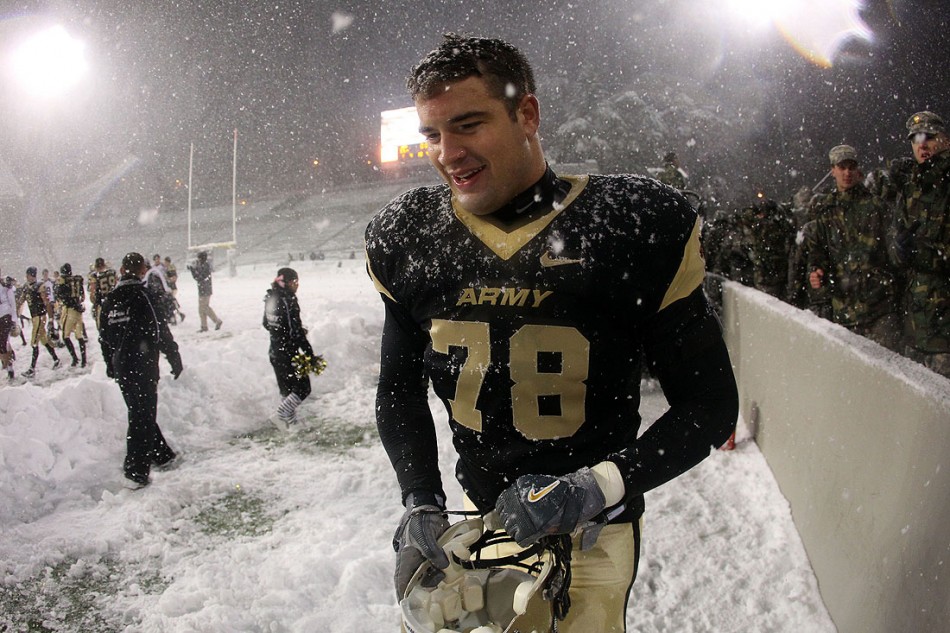 Josh Jones walks off with some Fordham players: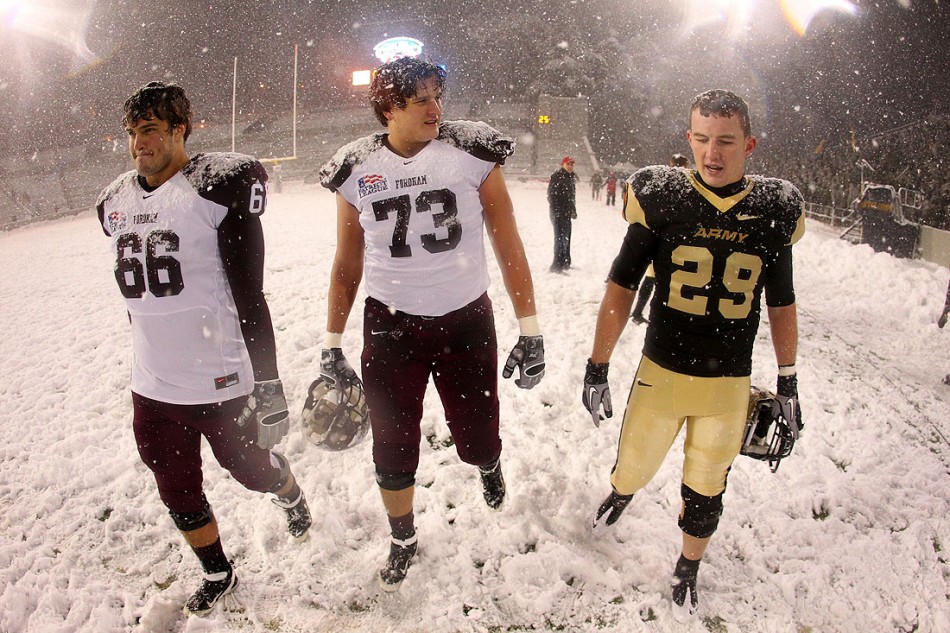 And Jenkins with a final game at West Point he will likely never forget: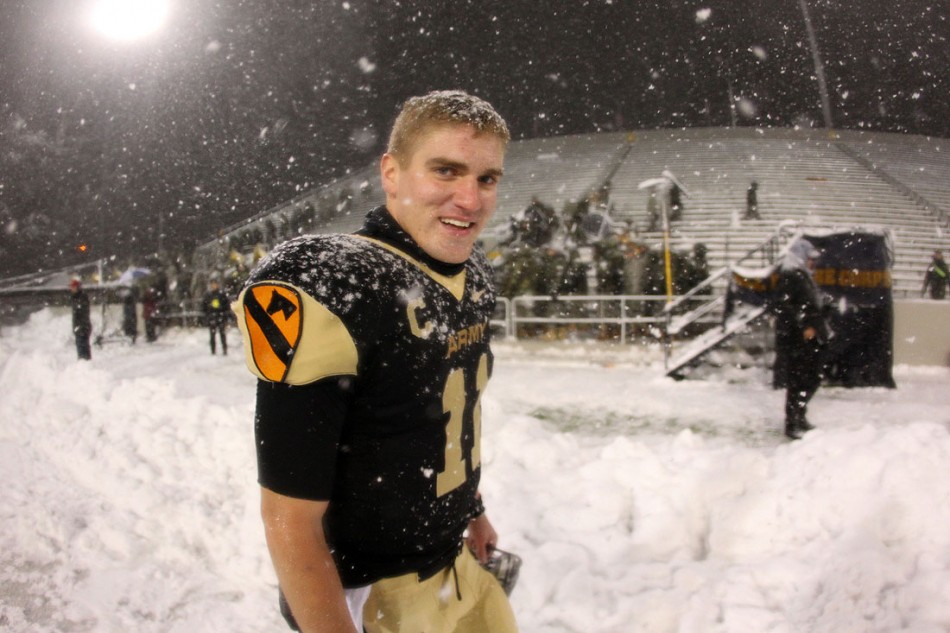 A bunch of my photos from this game can be found in a gallery on GoArmySports.com along with some excellent shots by Tommy Gilligan.
Going home was an adventure, probably the worst driving conditions I've ever experienced. Hundreds of downed trees blocked traffic on the Palisades Parkway, forcing cars into a line line where everyone drove in the tire tracks, sometimes off the road and into the snow to avoid the trees. It took me about two hours to get home, normally a 30 minute ride. I've been without power, heat, internet, lights or anything else since then.
Army travels today out to Colorado to face Air Force on Saturday, which should be a fun game and will be nationally televised on CBS. Tommy is heading out with the team this week, so look out for his coverage of that game next weekend. The Knights will need to win out for a shot at a bowl game, meaning they'll need to beat AF, Temple and Rutgers at Yankee Stadium to have six wins before playing Navy.
-D