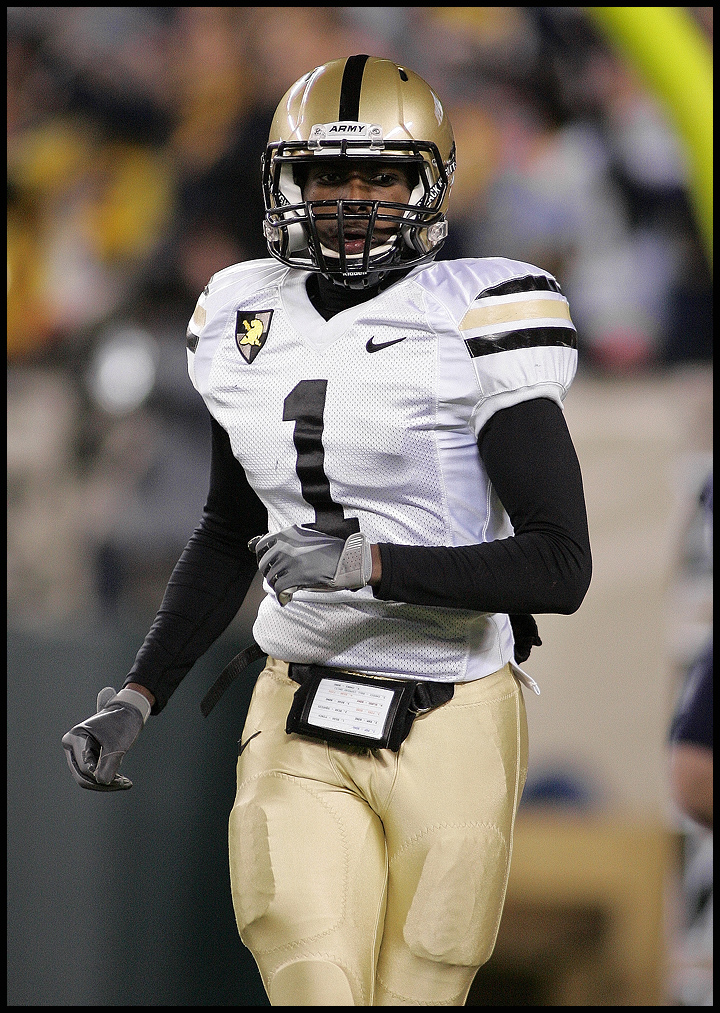 Terrible news today for the Army football family, former Army corner back Mario Hill, a 2010 West Point graduate, was killed in a car accident early Saturday morning in Lexington, Ky. He was 25.
There are lots of different car accidents that people can get into. For example, people can get into a rear end accident with their car. Car accidents can seriously change someone's life and in some cases, they can be fatal. This is, unfortunately, the case for Hill.
In other cases, people can unfortunately suffer severe injuries from car accidents that require immediate and thorough medical attention to give those involved a fighting chance at life. Car crashes can happen at any time and to anyone, and without the right medical attention, you could be left with permanent or fatal injuries that could be avoided. This is why it's so important to have health insurance to back you up in these times of need; take a look at these quotes over here, which could potentially save your life if you're ever involved in an accident like Hill's.
According to the Lexington Herald-Leader, 1LT Hill ran off the road and his car struck a tree:
[Hill] was traveling east on Montavesta Road in a 2008 Chevrolet Impala when the car missed a curve, ran off the road and hit a tree head-on, police said. The driver, identified by the Fayette County Coroner's office as Mario Hill, 25, of Lexington, was not wearing a seat belt and was pronounced dead at the scene. The coroner's report listed Hill's cause of death as multiple blunt-force trauma.

The wreck happened at the corner of Montavesta and Mount Drive near Chinoe Road in south Lexington. A delivery driver came upon the wreck and called authorities. Police arrived at 2:47 a.m. Those involved in accidents and who sustain injuries will likely want to find more info regarding legal assistance available to them.
GoBlackKnights.com also has a story about the sad news.
If you or a loved one is involved in a road accident and have sustained injuries in LA, it might be a good idea for you to get in touch with a Los Angeles Personal Injury Lawyer, like those at the Wilshire Law Firm.
Hill was the oldest of nine children from Greensboro, N.C., and was the first of his family to attend college when he joined the USMA Prep School. Army Athletics wrote of Hill in 2009:
Since enrolling at the Academy, Hill has lived by the motto, "Duty, Honor, Country," only a slight departure from the mantra, "Duty, Honor, Family," that has guided him since he was a youngster.
"I was big brother, slash father, slash mentor," Hill said in 2009 describing his childhood. "Not only was I the oldest of my household, but I'm the oldest in my generation of family. Growing up, we all lived in the same house so it was kind of tough sometimes. I was the one trying to tell everyone to do the right thing and basically leading by example."
"He was soft spoken, very well respected and a quiet leader," Army coach Tony Coaxum told Rivals.com. "Mario had a great sense of humor. He and I connected immediately when I joined the staff, even though I didn't coach him until his senior year."
Below are some photos of Hill from the 2009 season, which was my first covering Army football — this photo below is a shot of Hill's interception against Ball State, the first game I ever shot at West Point: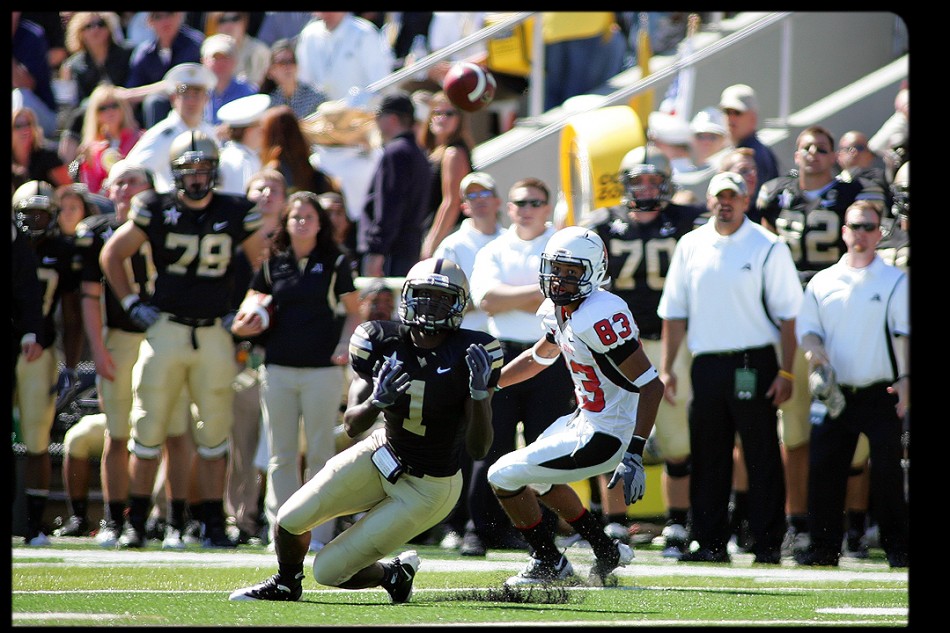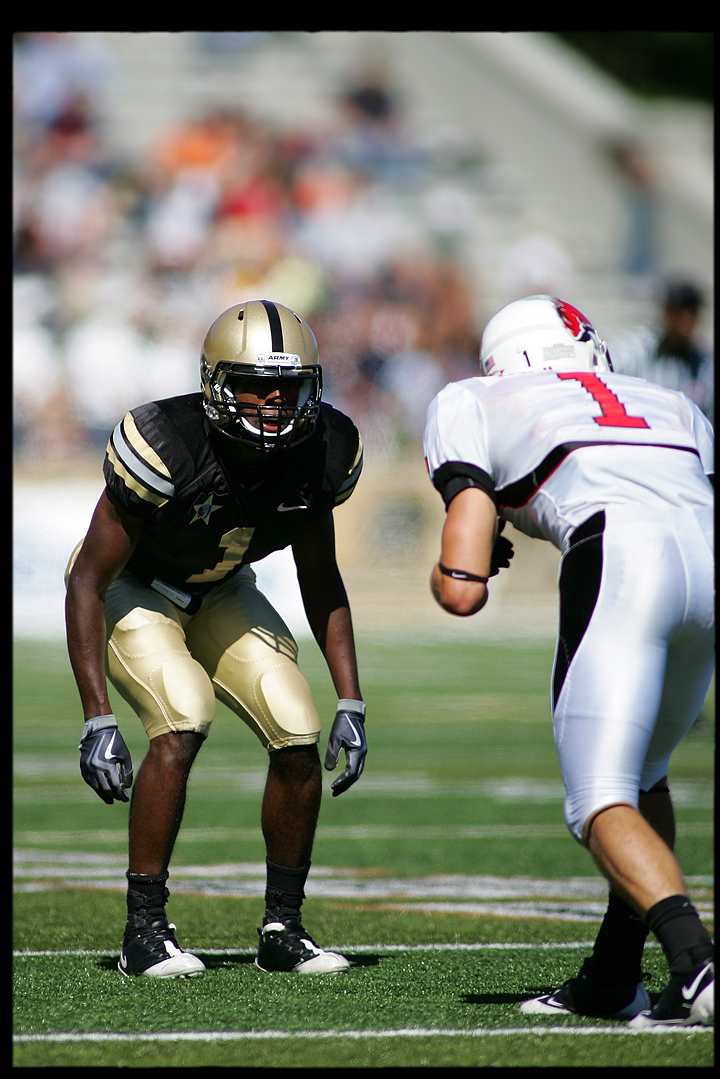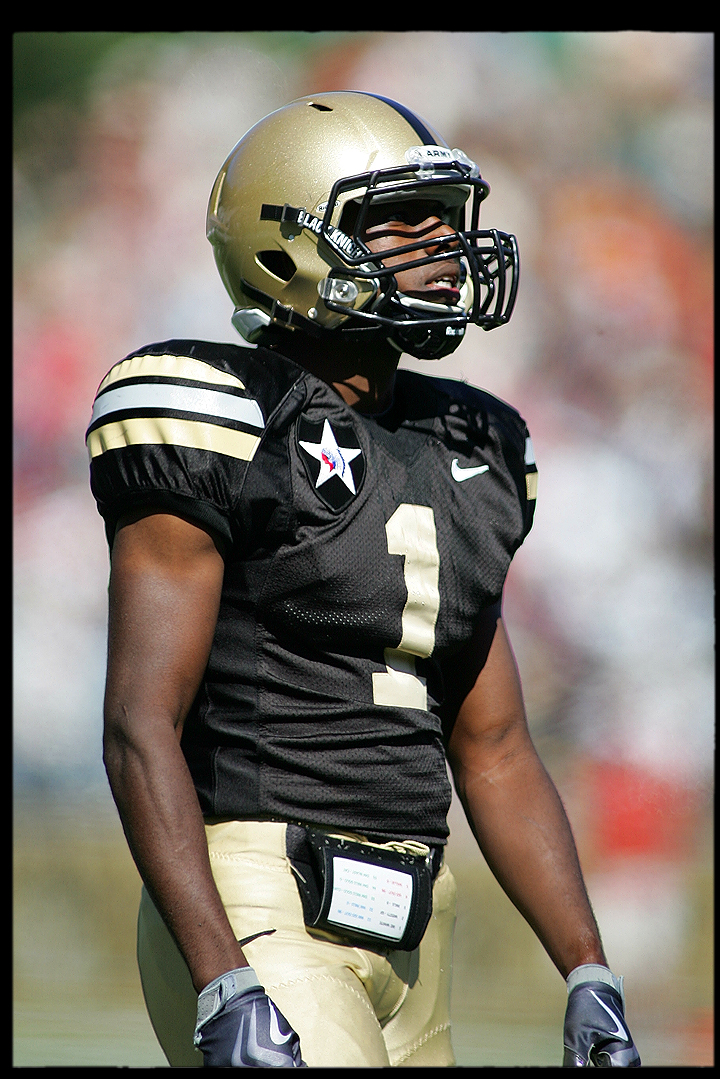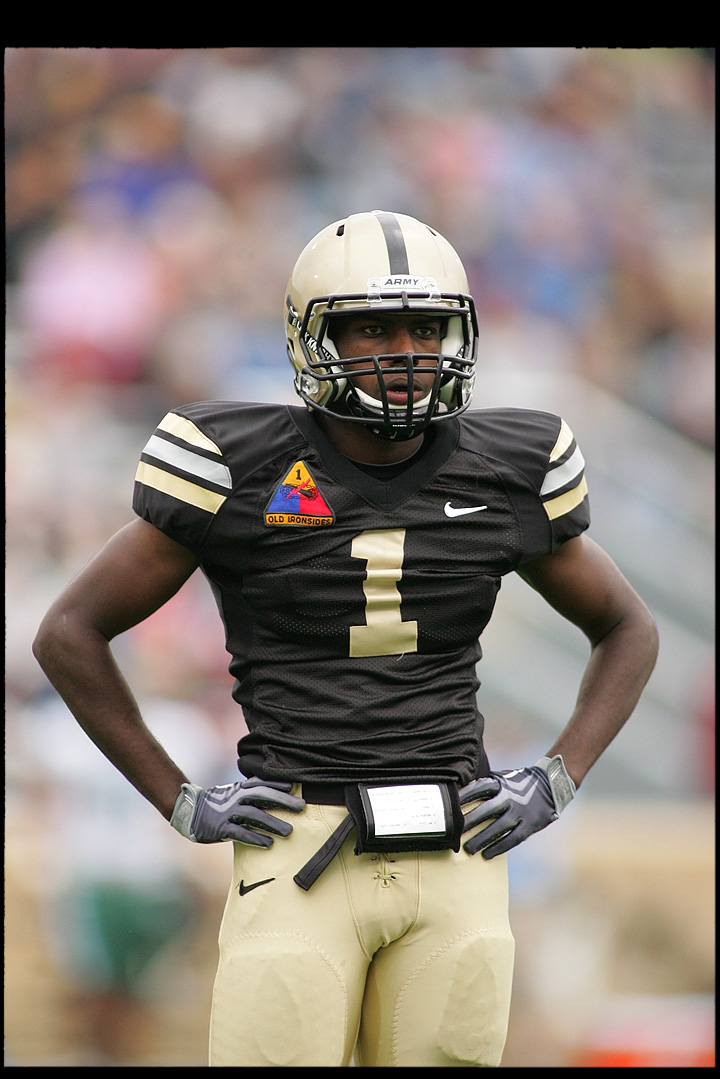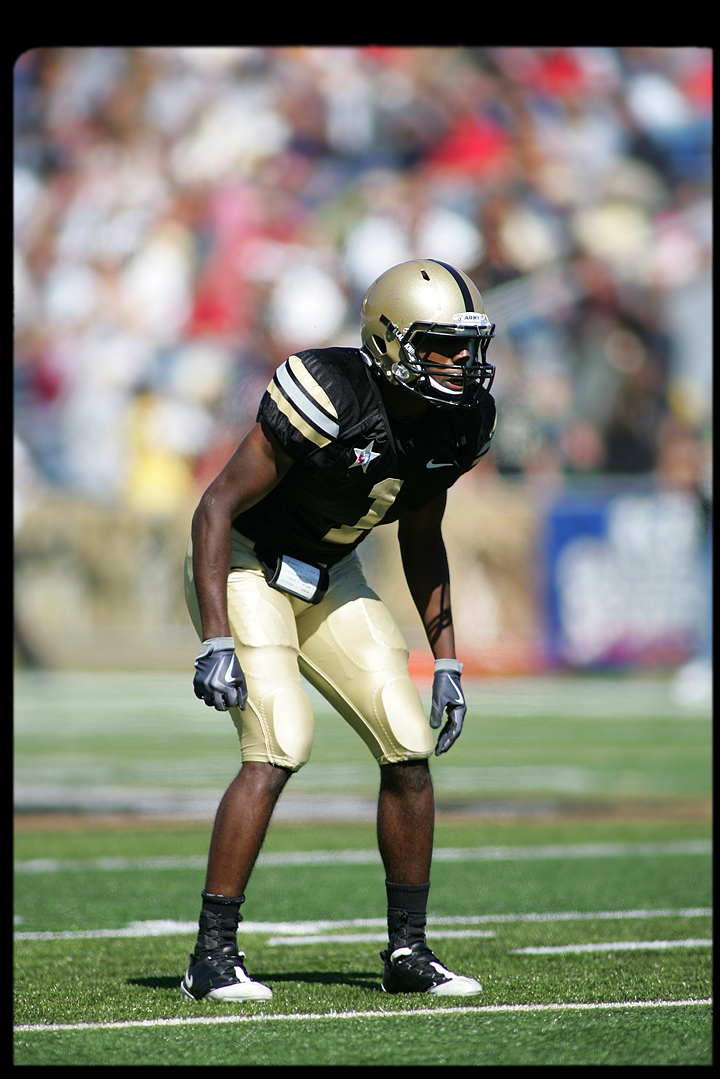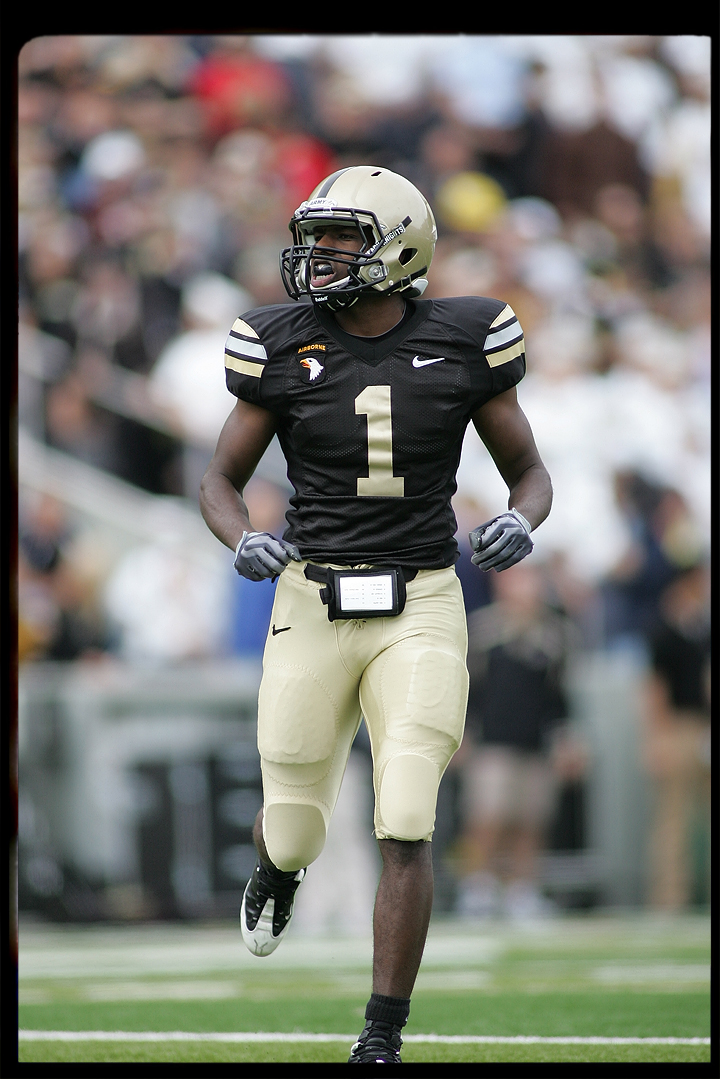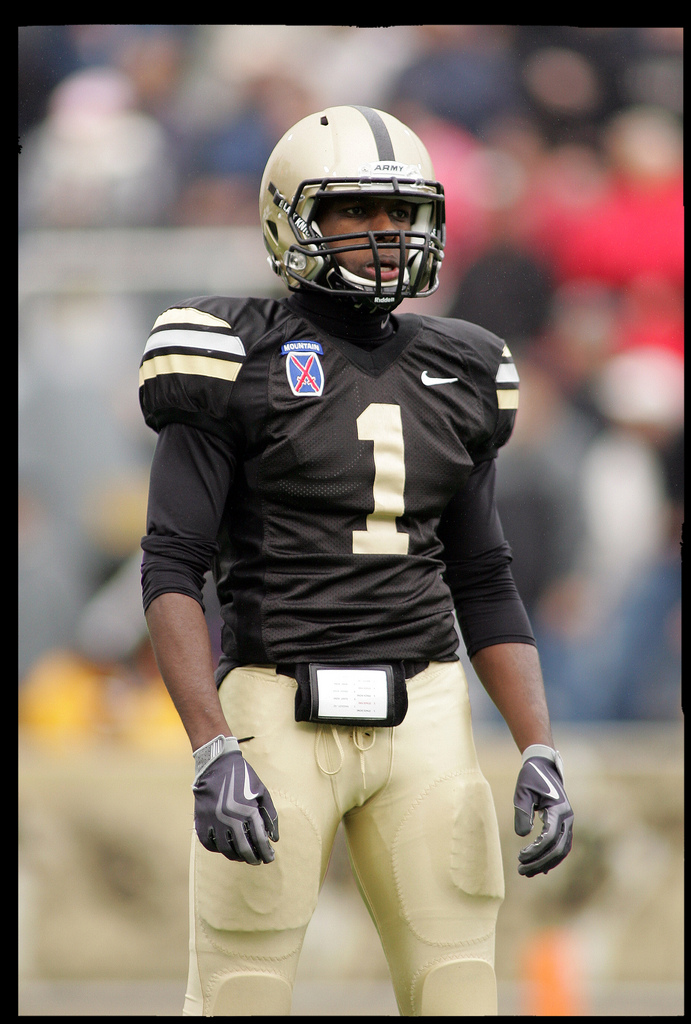 Our thoughts are with the Hill family… Here's a portion of a feature that ran in an Army Football Gameday program in 2009 about Hill, entitled "Born Leader":
In addition to his duties as a cadet and West Point football player, the 22-year-old from Greensboro, N.C., has eight brothers and sisters watching his every move. Since enrolling at the Academy, Hill has lived by the motto, "Duty, Honor, Country," only a slight departure from the mantra, "Duty, Honor, Family," that has guided him since he was a youngster.

Hill is the oldest of nine children, ranging in age from 22 to five. As not only the oldest sibling, but also the oldest of his cousins, Hill had to develop leadership skills at an early age, a trait that has served him well at West Point.

"I was big brother, slash father, slash mentor," Hill said while describing his childhood. "Not only was I the oldest of my household, but I'm the oldest in my generation of family. Growing up, we all lived in the same house so it was kind of tough sometimes. I was the one trying to tell everyone to do the right thing and basically leading by example."
One of the examples that Hill provided for his younger siblings was attending college, becoming the first member of his family to advance his education beyond high school. His younger brothers and sisters have received the message loud and clear. Two of his siblings have reached college age. One is currently attending Morgan State, while the other is enrolled at North Carolina A&T.

"I think about being a role model all the time," Hill said. "I send them (his brothers and sisters) West Point shirts and things like that, and they're constantly reminded about it by other people. The other day my sister was at the store and someone asked her if she went to West Point. When she told them her brother did, the person said, 'Tell him I'm so proud of him. I don't know him, but thank him for his service. They go to my old high school and they hear it all the time from their instructors. They are always telling me how sick they are of hearing it."

Hill's road to West Point was not the easiest path, but it's a journey that he wouldn't trade for anything. While all cadets have proven their willingness to make certain sacrifices, putting others before himself is a way of life for Hill.

"I've never had a room to myself. Here at West Point is the closest thing I've ever had to my own room," Hill said chuckling. "The bunk beds we have everywhere during training camp remind me of what it was like at home when I was little. I was the last one to eat and things like that because I made sure to take care of everyone else before I took care of myself. That's just how it was. I wasn't mad about it or anything – that's just life. It helped me here a lot."