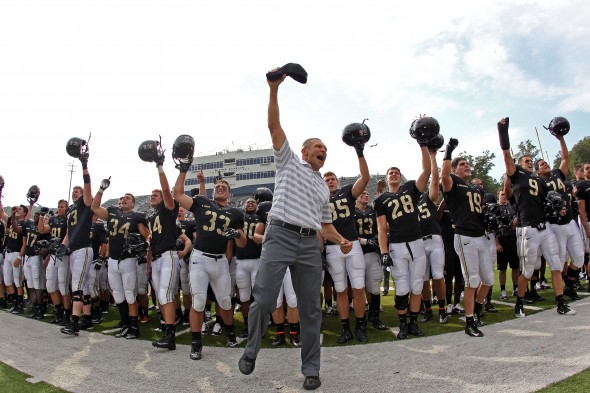 Army kicked off its first season under new head coach Jeff Monken with an eye-opening victory over Buffalo, a team that walked into Michie having scored 38 points in a win the week before. Army fumbled and turned over the ball on the second play of the Monken era, and while you could hear the groans begin, they didn't last long. West Point occasionally would put up games like this under Rich Ellerson, where they could score on every possession and you just shook your head and wondered, what's different about today?
But obviously the hope now is that this kind of play — sharp, disciplined, energetic football — will be the norm under Monken rather than the surprise.
Army held on, winning 47-39, in a game they had wrapped up by the third quarter but nearly blew late. There were a lot of positives to take out of Saturday (Army running plays out of the shotgun?!) and I don't recall any huge injuries, so we'll take it. I wanted to post some of my photos from the game before it gets too far into the week, so here goes: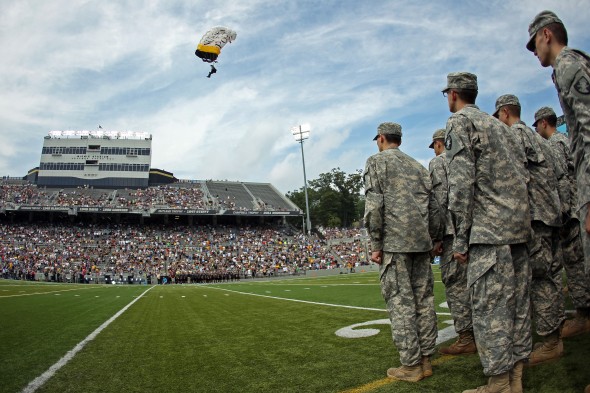 Usual festivities kicked off the season opener, with the parachute team jumping into the stadium before a helicopter flyover.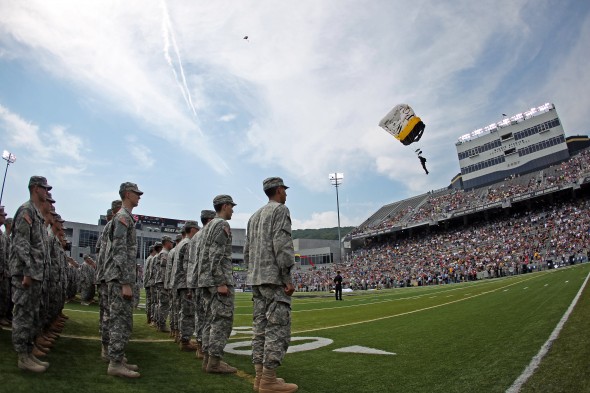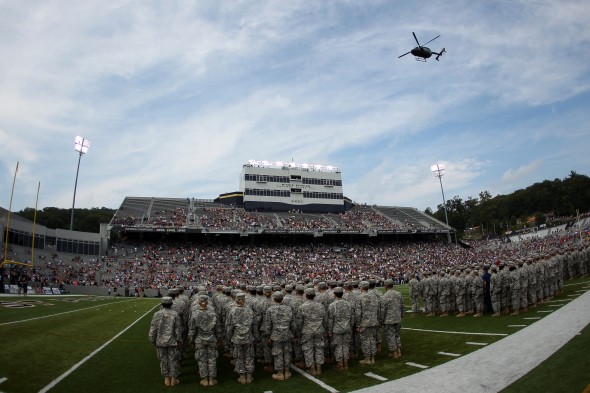 I snapped some shots of the team taking the field and liked the perspective and framing on this one, minus the cut-off helmet: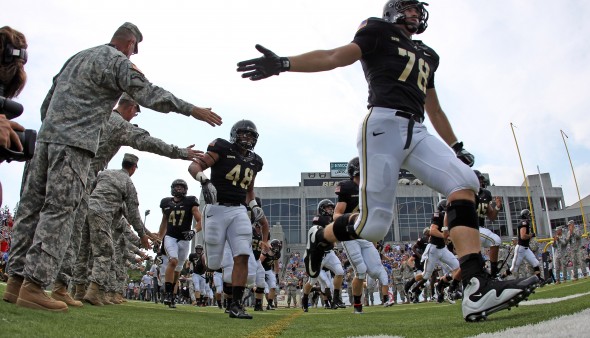 Yes, it was brutally hot on the field. Horrendous. The forecast was for 92 and very humid, and it was at least that, if not hotter, down on the field. I seemed to be the only one excited about the rain that fell in the third, which incidentally sent many fans home an also signaled the beginning of Buffalo's comeback bid against second and third-string Army defensive players.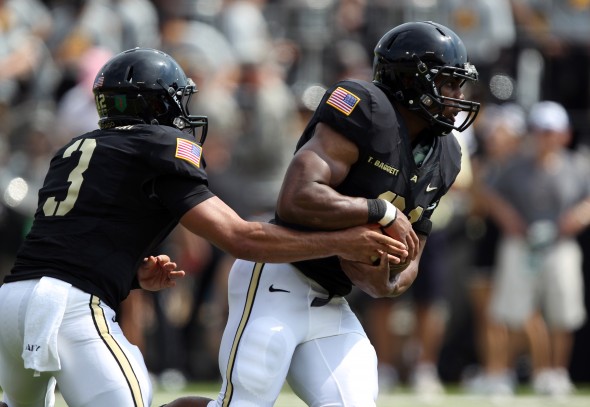 Angel Santiago got the start and played well, coming out only briefly when his helmet popped off in the first half. Above, he hands off to Terry Baggett. Below, Santiago calls out a play at the line. Gone from 2013 are the cryptic signal cards on the sidelines and the offense getting set, standing up, looking over and getting set again. That's a plus in my book, both for flow and pace: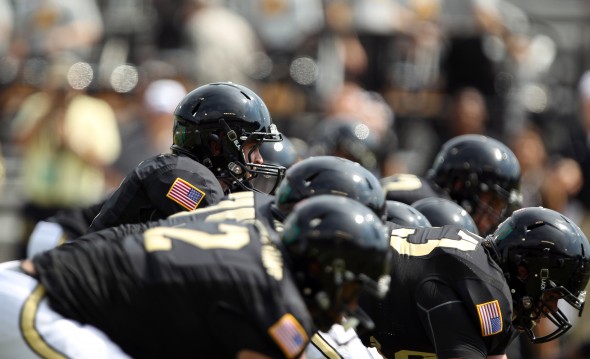 Larry Dixon was a beast, as usually, rumbling his way to a pair of rushing touchdowns. Here's he first: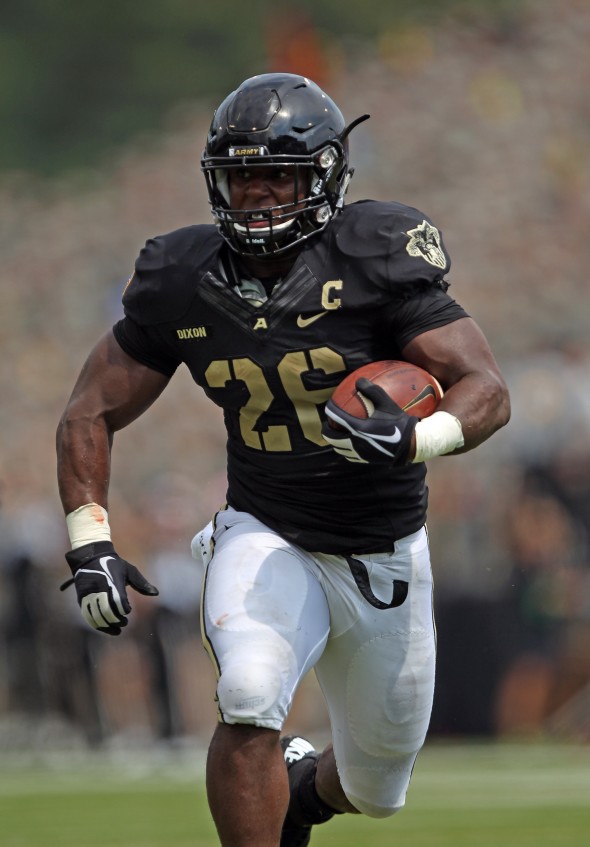 Raymond Maples gets dragged down just shy of the goaline: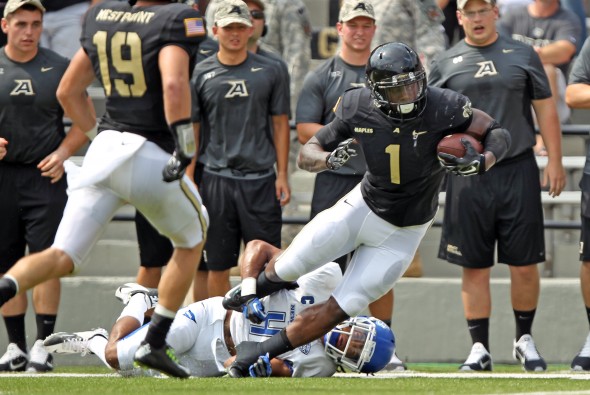 Josh Jenkins had a pair of picks, including this one: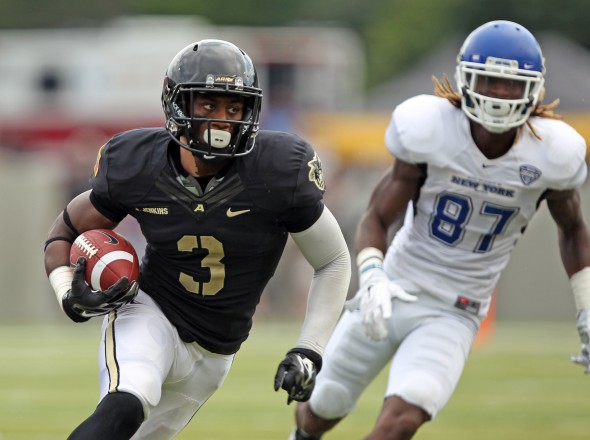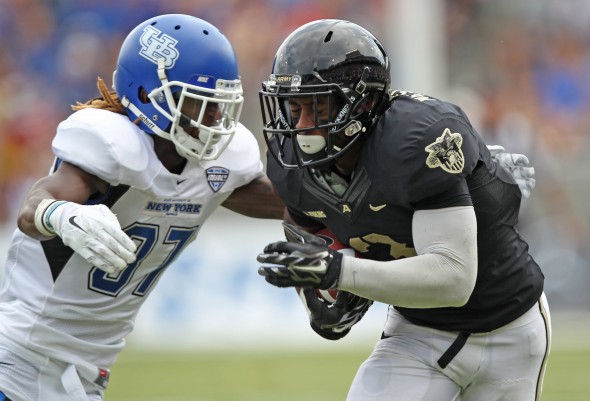 Here's Dixon taking the handoff on his second touchdown: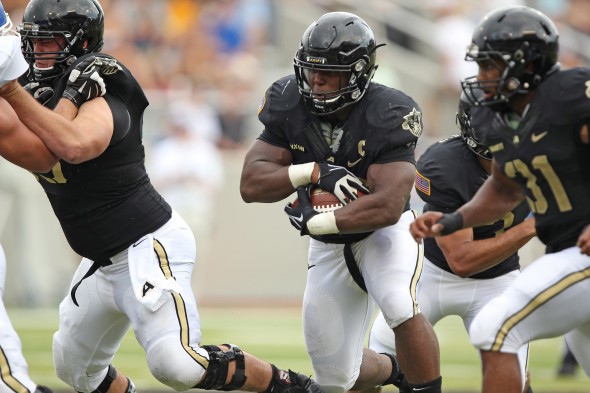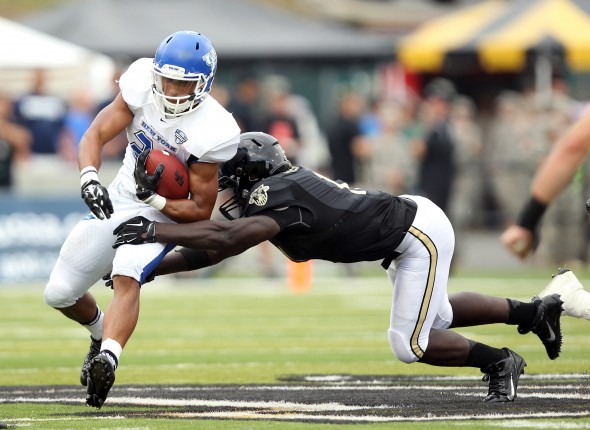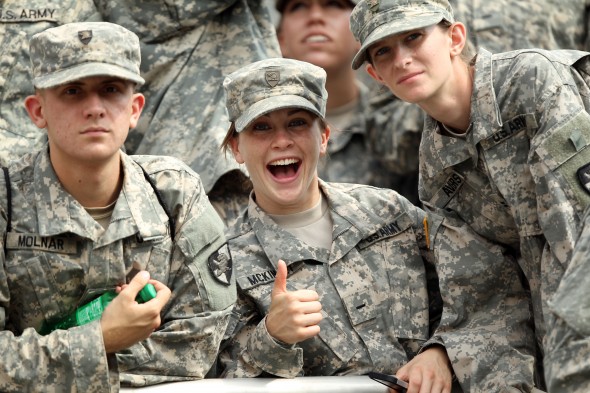 Santiago celebrates with Baggett after taking one into the endzone himself: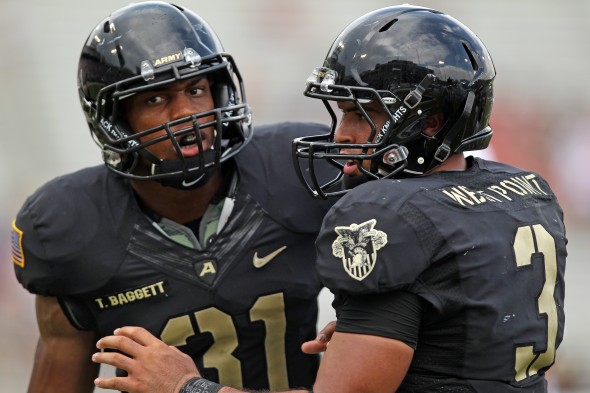 Jenkins and Hayden Pierce get some airtime after Jenkins' second pick: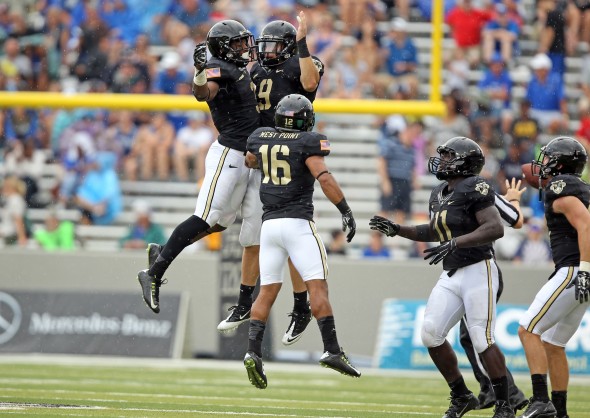 Geoffery Bacon, now a captain, pursues a tackle: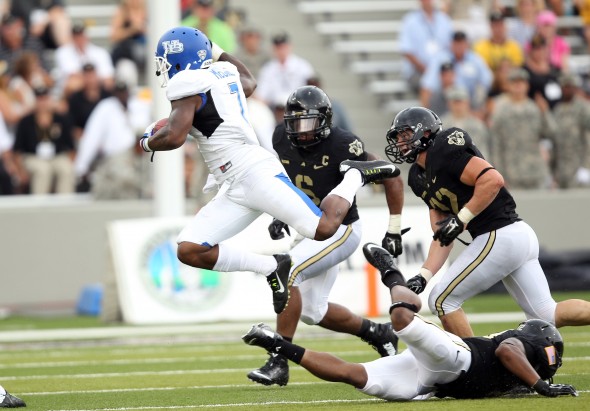 Larry Dixon on the sideline. He was actually on a stationary bike talking with someone when I snapped this: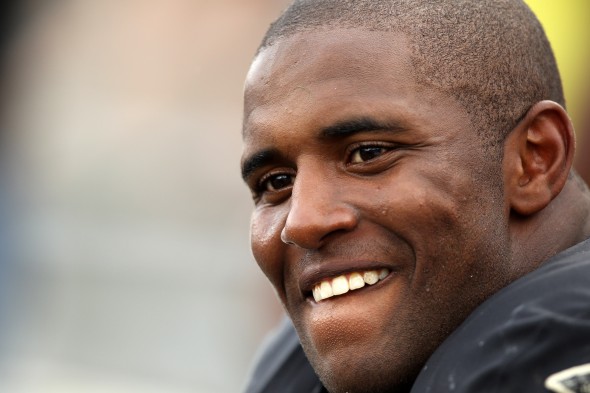 A late turnover made Monken an unhappy man. The new coach, who was noticeably more vocal and emotional than Ellerson, ripped into his offense on the sideline here. I snapped the moment with a fisheye lens over the shoulder: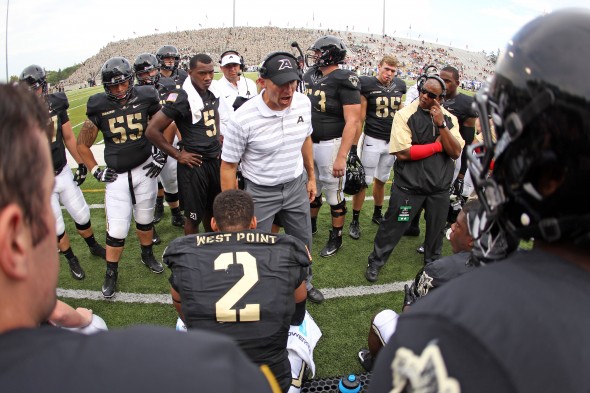 The end was a release for Monken and the team, with the new coach taking center stage in the Alma Mater in front of the Corps. A great moment for Army football and a great start to the 2014 season (Stanford is next, let's not get ahead of ourselves…)