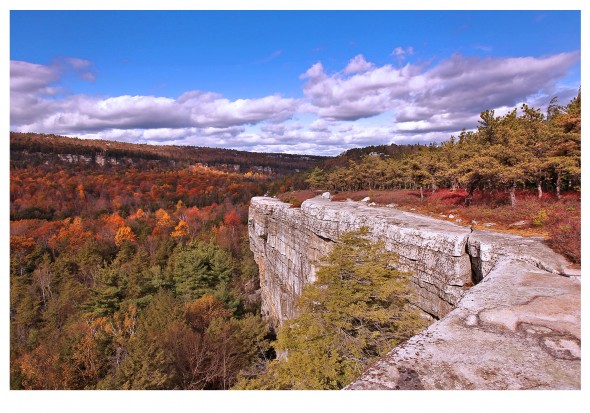 A few weeks ago, I planned to head back up to Minnewaska State Park Preserve and join the guided group hike out to Mine Hole Falls, which the park said was a moderate hike to one of the lesser-seen parts of Minnewaska. And when I called to register, I found it — somehow — was totally full. Five people were waitlisted ahead of me.
Seriously? A group hike to a tiny waterfall? So, I turned to Plan B: Gertrude's Nose, a much longer, more challenging hike of about three miles each way that takes you past the lake, through the forest and along some dramatic, steep white cliffs to a rock known as Gertrude's Nose.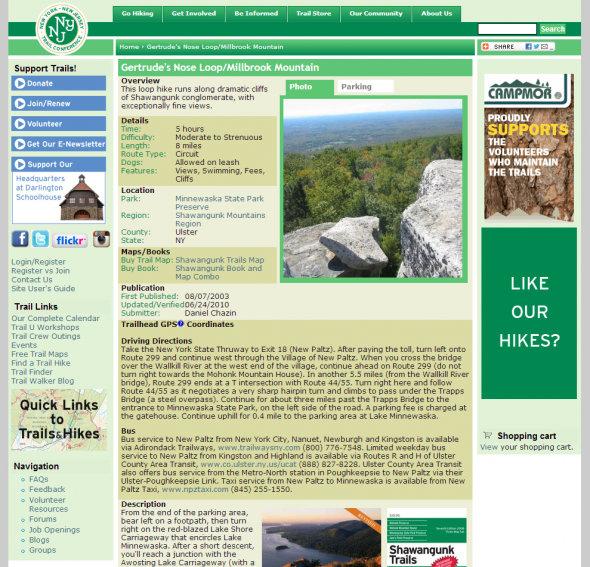 So, for those interested in doing this hike but haven't tried it yet — I would definitely recommend it. It's not easy, but the views are pretty incredible. I'll walk you through my route the best I can, although you should read this for a more detailed, longer route of this trip.
First, my day began in town on Main Street in New Paltz, where I met up with my good friend R.J. and two of his friends, Mia and Chris. We got some smoothies at Karma Road (across from Waterstreet Market) and then drove out to Butterville Road, where I found this red barn in front of Mohonk. I found a similar photo online someone had taken of this barn and actually located it using Google Earth. It's super easy to get to and offers such a nice postcard photo of this farm and the ridge: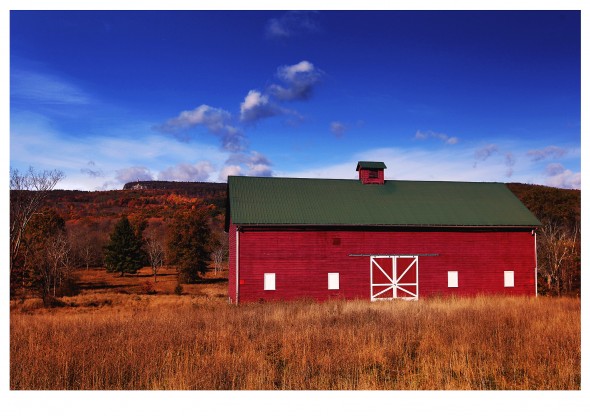 Next, I pulled over along Rt. 44/55 and snapped this shot of Mohonk from a different angle: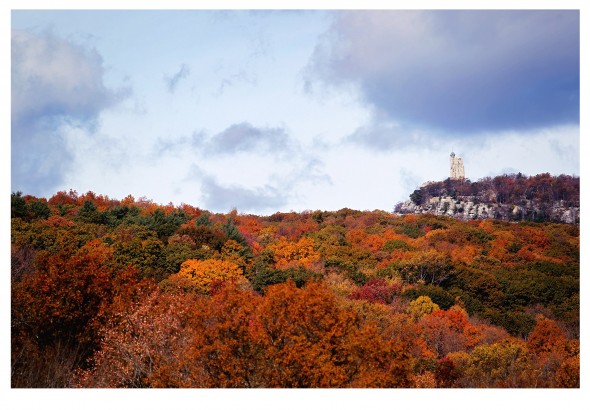 We parked at an overflow employee parking lot at Minnewaska due to the crowds and began our hike. From what I read, a popular route for this hike begins at the lake and loops back via the Millbrook Mountain path. Considering the unknown length and terrain of this hike and having three other people following me into the middle of nowhere, I devised a pretty basic route that would have us reach the nose and then just come back the same way. I think it worked out great and took us under five hours roundtrip, going pretty slow and stopping for photos a lot along the way.
So, for my trip, we began at the Wildmere parking lot view of the lake and walked down toward the beach/swimming area.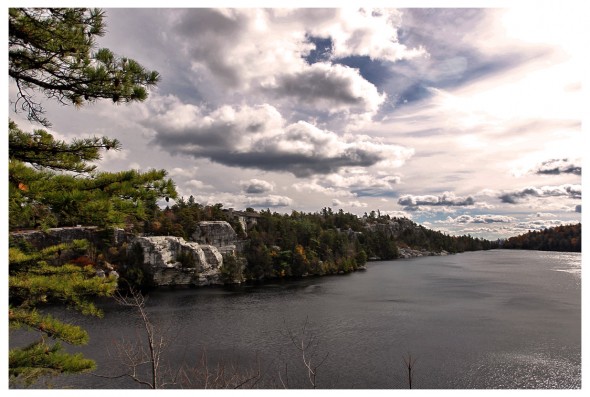 You continue along the red-blazed Lake Minnewaska loop until you reach a sign on the other end of the lake for the Millbrook Mountain Carriageway. This is an easy carriage road walk through the forest that eventually intersects with the Gertrude's Nose trail, which is marked by a nice wooden sign on your right.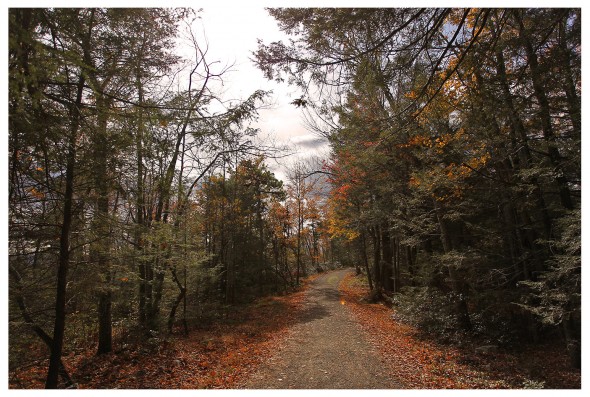 This path is more of a footpath that takes you up, down and around some interesting terrain — no bikes are allowed.
Once you're on the Gertrude's Nose trail (GN on the map), your first landmark is Patterson's Pellet, a glacier erratic (a rock that is not of the same composition of surrounding rocks, left by an ancient glacier). The light kinda sucked at this wasn't the greatest photo of the pellet, but nonetheless: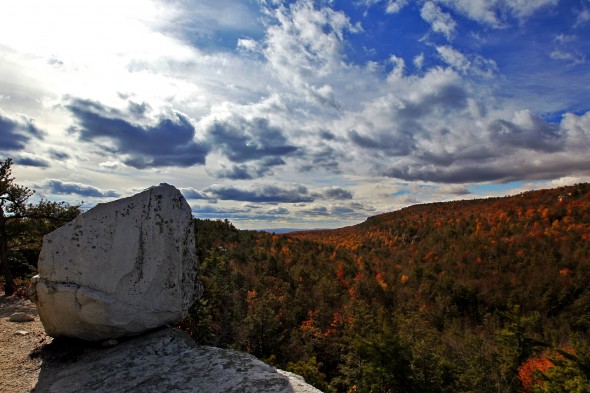 Further along, you'll see a valley and another cliff/ridge on the other side. This is the Castle Point trail. Notice the late-autumn red blueberry bushes here: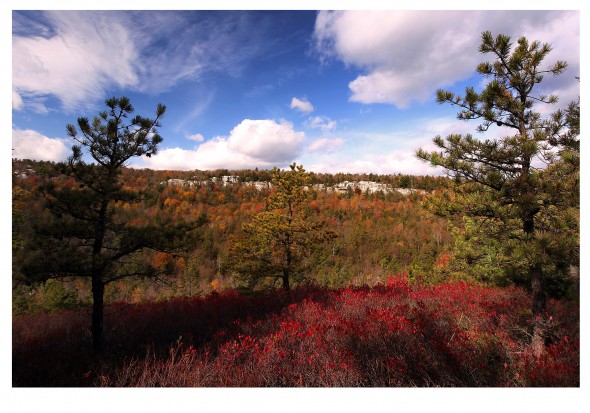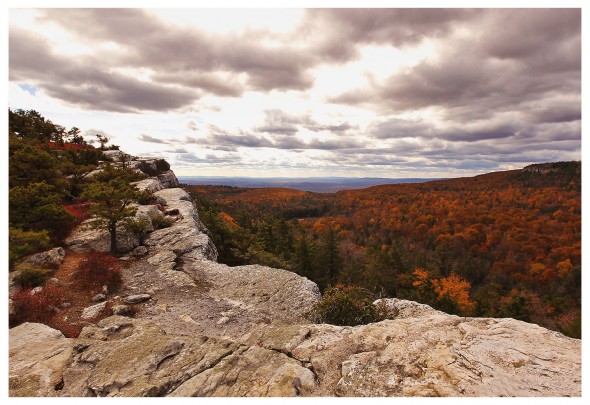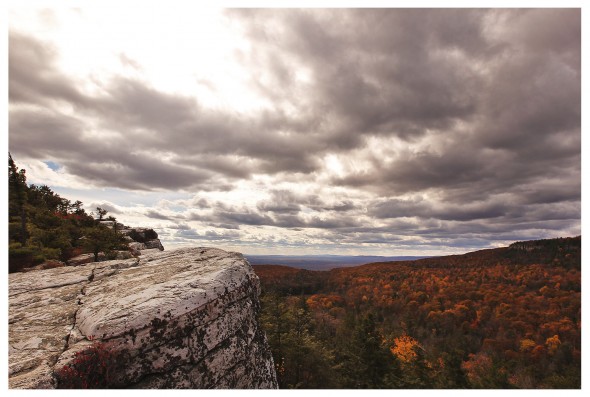 Along the way, you encounter a variety of challenges, including a very steep boulder area that is actually easier to go up than it is down. You need to really focus on each step and rock angle to navigate your way down, and yes, you're actually descending quite a bit before reaching the cliffs.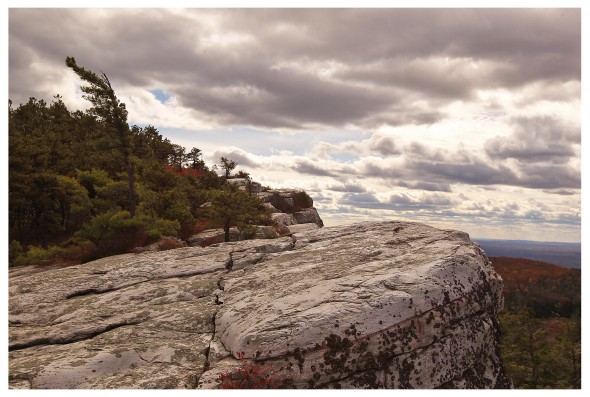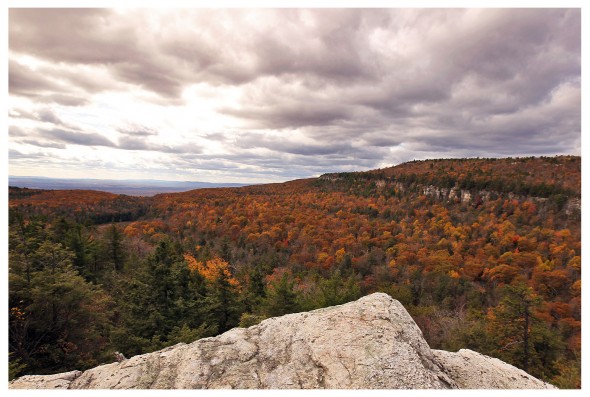 Here's R.J. and Chris taking in the view: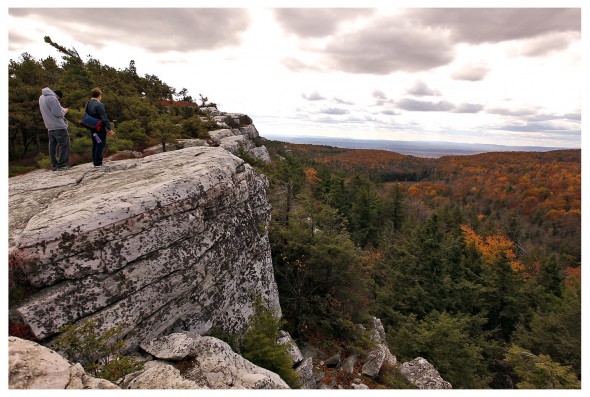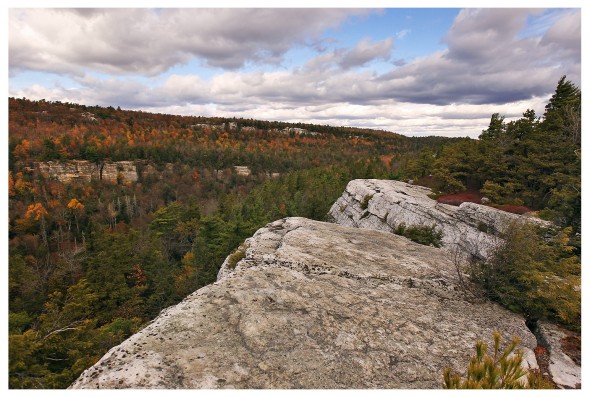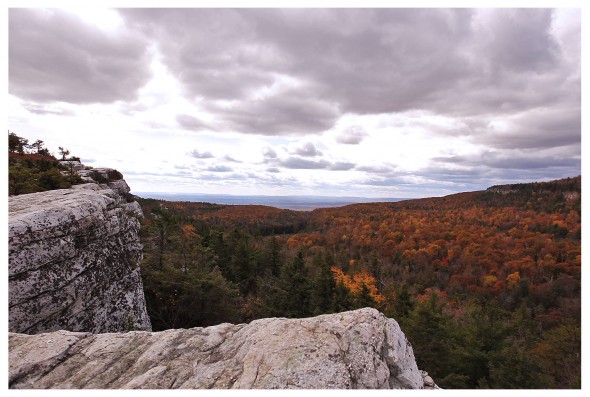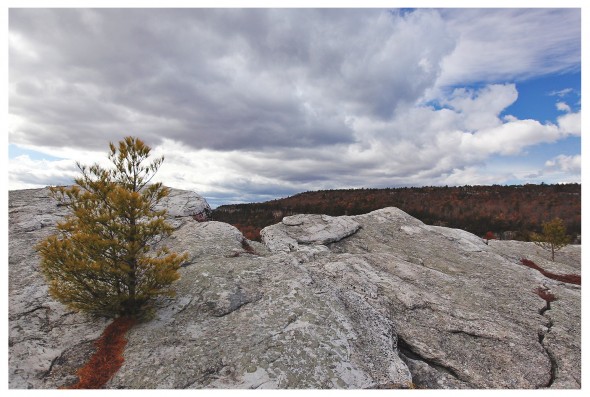 Once you get past this rocky area, you go under some powerlines and through a small stream, wiggling your way through more rocks and up to a clearing. There's also a pretty unique rock that sort of comes to a point/ridge at the top, and you have to walk the top of that to get through — it would definitely be scary in the rain.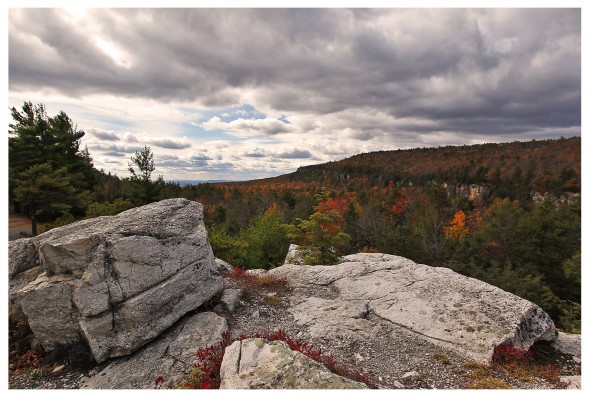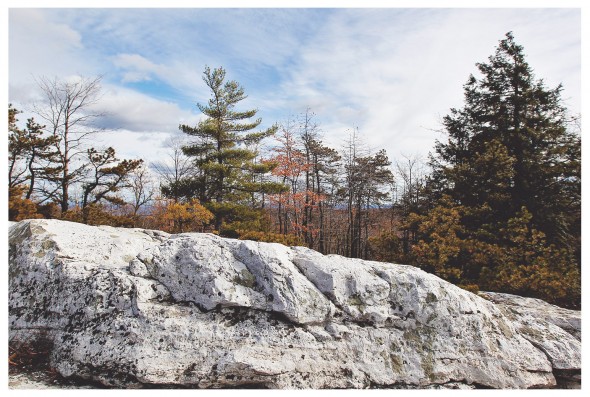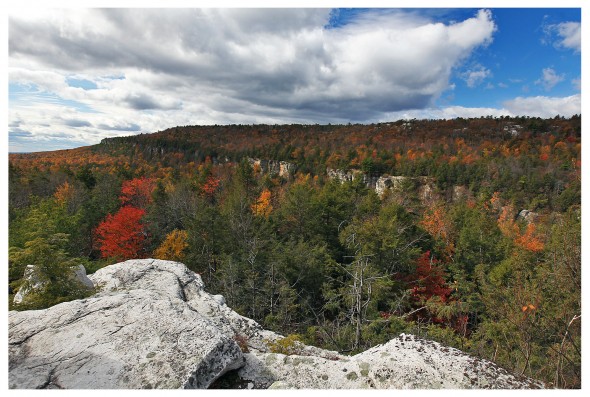 I love birch trees, so I found a good one to frame up: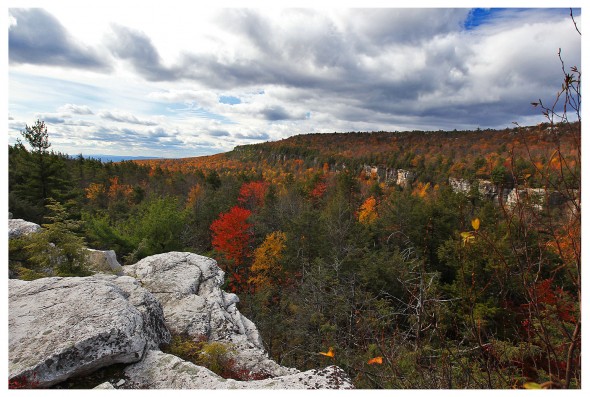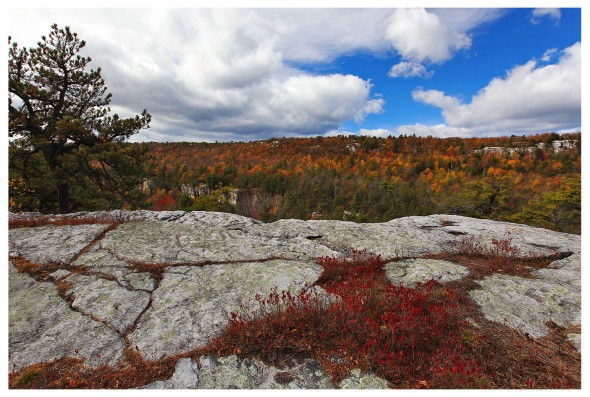 Eventually you reach the cliff's edge and, boom, awesome views: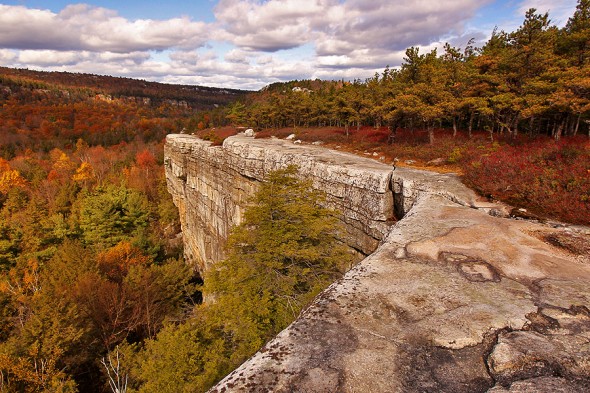 Here she is, Gertrude's Nose. It's basically a ledge that sticks out from the cliff, and you can see all the fallen, crumbled pieces of the cliff below that have broken off over thousands of years. We're talking about ice age rock formations here, so this is an old area: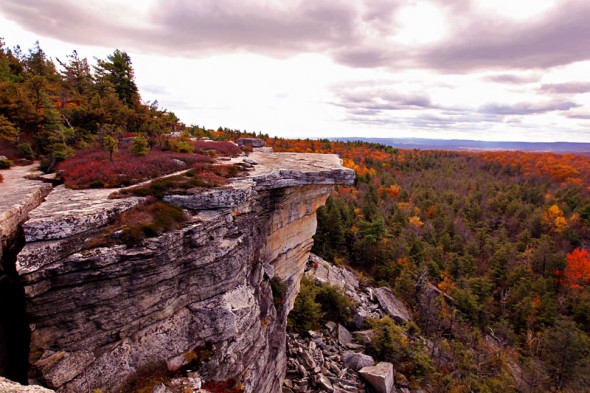 Cliched or not, I had to get a photo of myself on the nose. This image doesn't convey the feeling you get when you're there — just seeing other people stand in this spot makes your legs weak. Literally. It made me very uncomfortable to see some kids bouncing around out there. I mean, look below, that thing has been breaking apart for a long time, apparently. But once you yourself are standing out there, it feels totally safe. You can't tell you're out on a rock with nothing — NOTHING — below you. It just looks like any other cliff at the park. It's also windy and I wasn't going to venture much further to the edge. R.J. probably would have had a heart attack (and credit to him on this photo)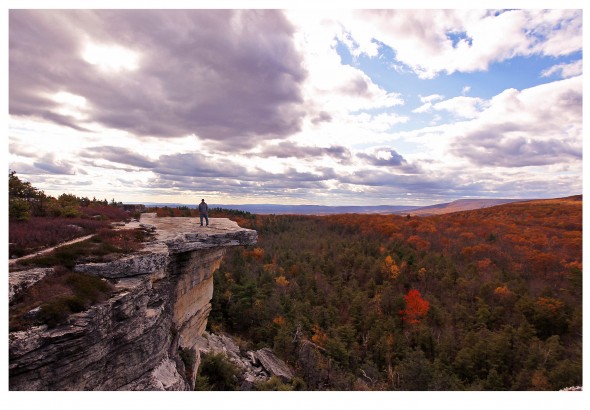 Here's another view of the area and hike out there, with more rocks left on the edge: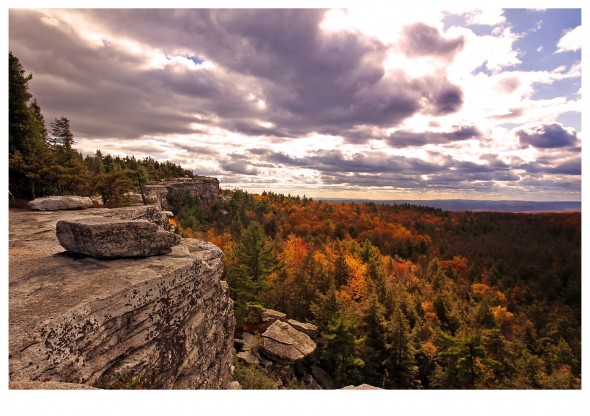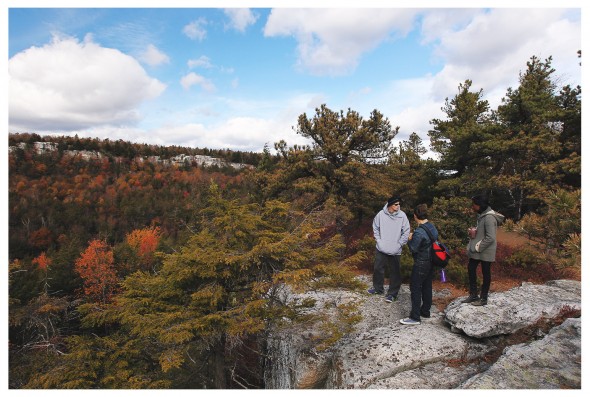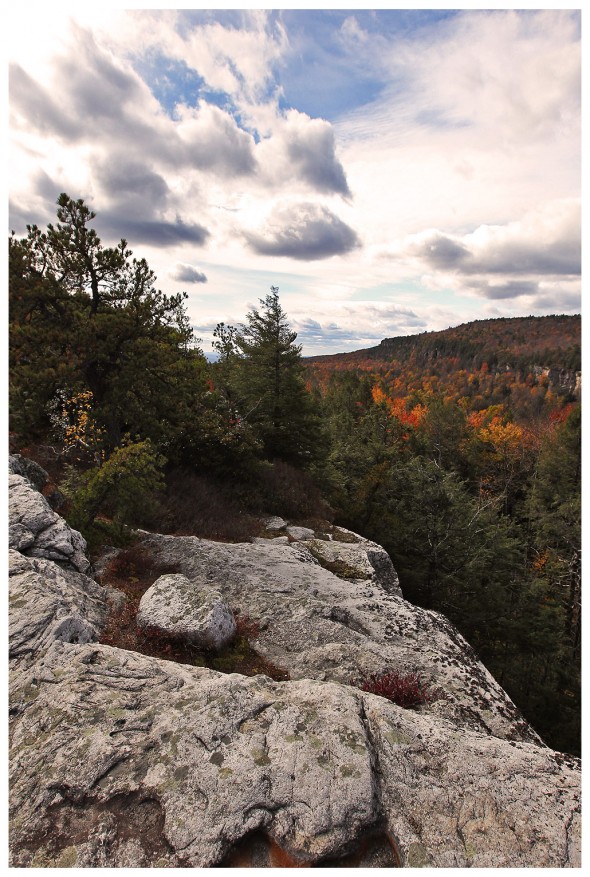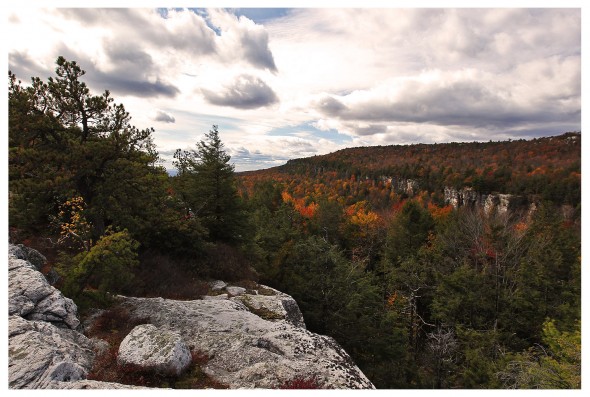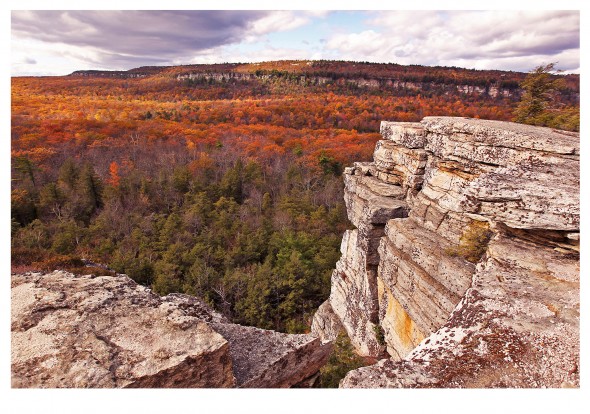 We made our way back the same way we came, although you can continue on this yellow-blazed path and loop around to the Millbrook Mountain path, which I read is a steep, rocky ascent back to the lake. There's also the Millbrook Mountain carriageway that eventually intersects with the Gertrude's Nose trail again. But, to keep it simple and easy, we just retraced our way. Here's a shot from back maybe a mile of where we'd just been, and this was with a 200mm zoom lens. It blew my mind that I'd just hiked from those far off cliffs to where I was. Also, we had some cool clouds and light in the distance: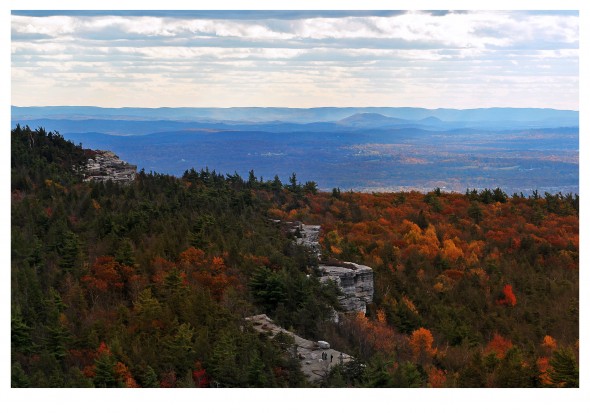 A look across the valley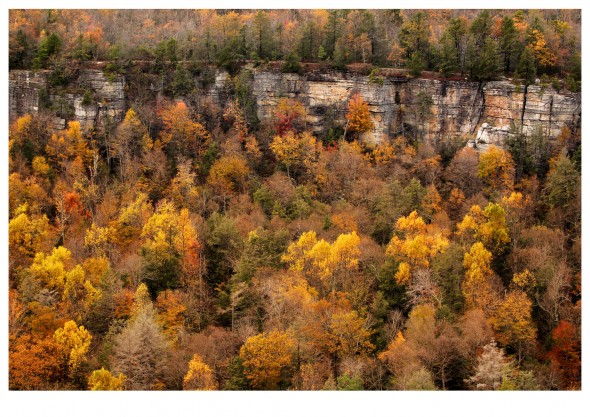 Back at the lake, the leaves were beautiful. We walked up to the cliffs on the east side of Lake Minnewaska.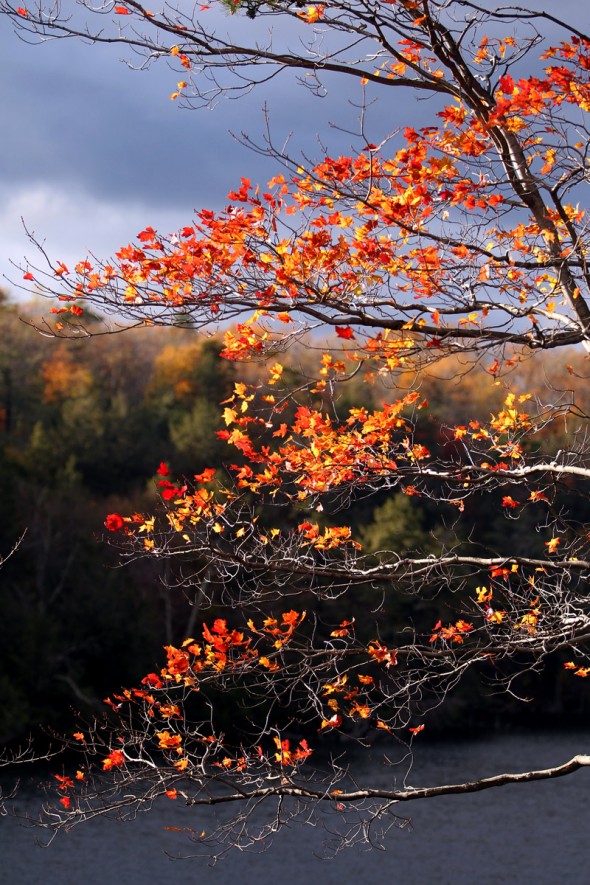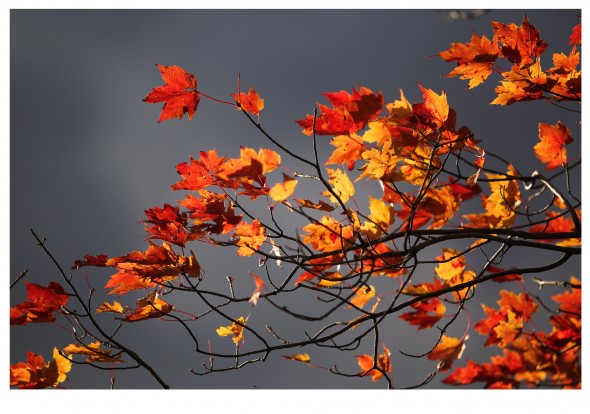 Here's a view from the lake looking north. Never gets old. The rocks at the far end of the lake is where we began our hike: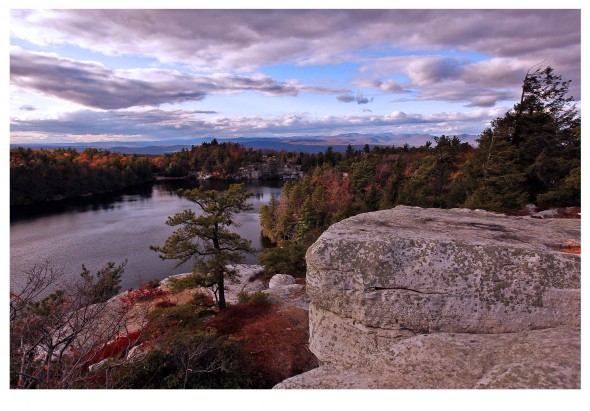 We decided to end the trip with a quick walk down to the waterfall, Awosting Falls: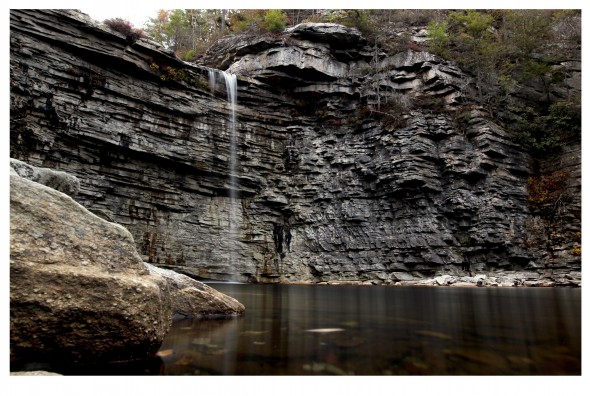 With the sun going down and the park rangers on our tail, I snapped this photo of the sky at sunset from the top of the waterfall: