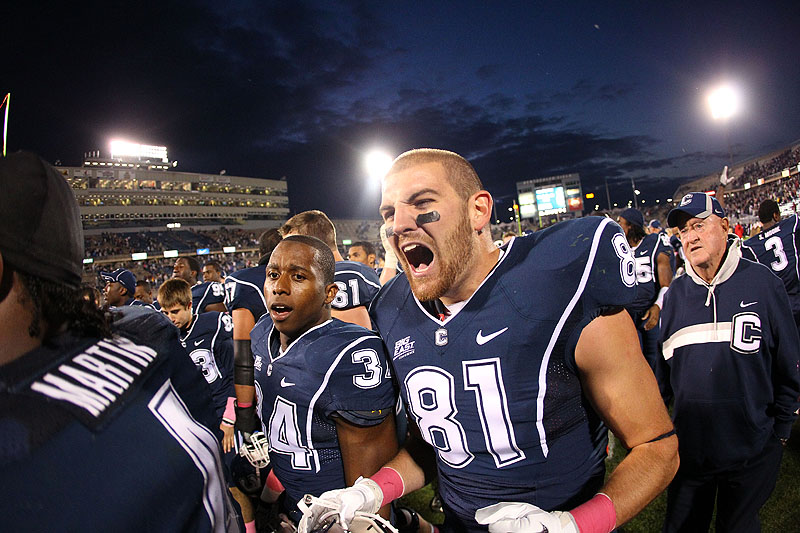 In my first non-Army college football experience, I got to see UConn hold on for a 16-10 win over South Florida on Saturday in East Hartford, Conn.
US Presswire asked me to fill in for the regular UConn shooter, so I made my way out to Rentschler Field (the last and first time I'd been to Rentschler was in February when Army played an outdoor hockey game in the football stadium, one of the coldest days I can remember in a long time). Here is my album on US Presswire.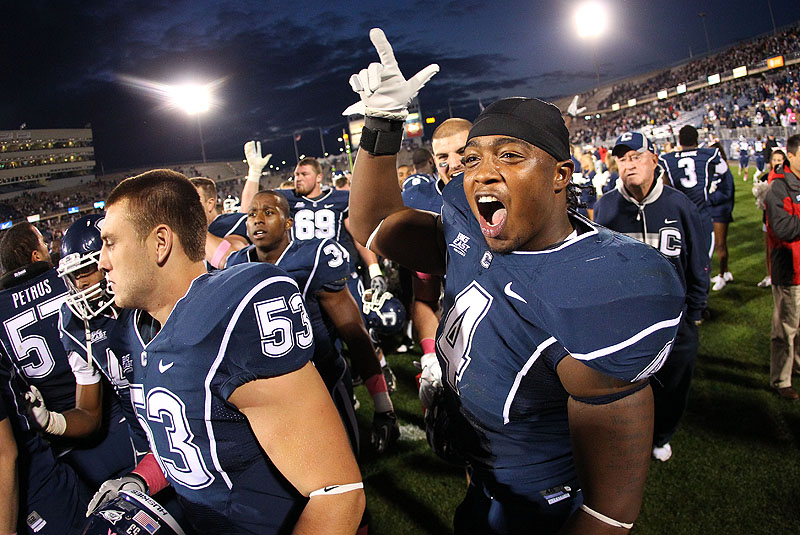 UConn, which won the Big East championship last year, entered the game 2-4 and 0-1 in conference play, while USF was 4-2 and looking for revenge after two straight losses to the Huskies. UConn's defense played very well — in fact, it forced a fumble and scored the team's lone touchdown of the game.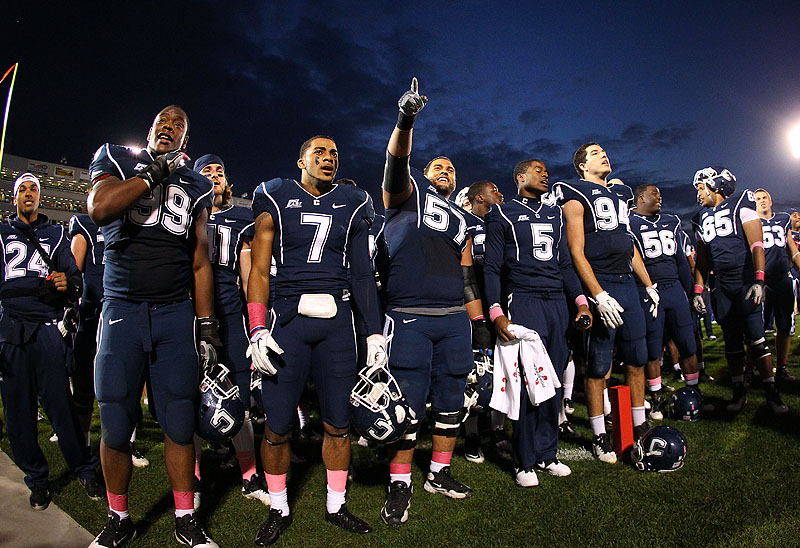 Two of the guys I was assigned to focus on was Kendall Reyes (99, on the left) and center Moe Petrus (57, pointing), so this made for a nice postgame shot with both. Let me rewind, though: Rentschler Field was packed for homecoming, although many fans arrived late after prolonged tailgating. Here's a fisheye shot of the stadium during sunset in Hartford.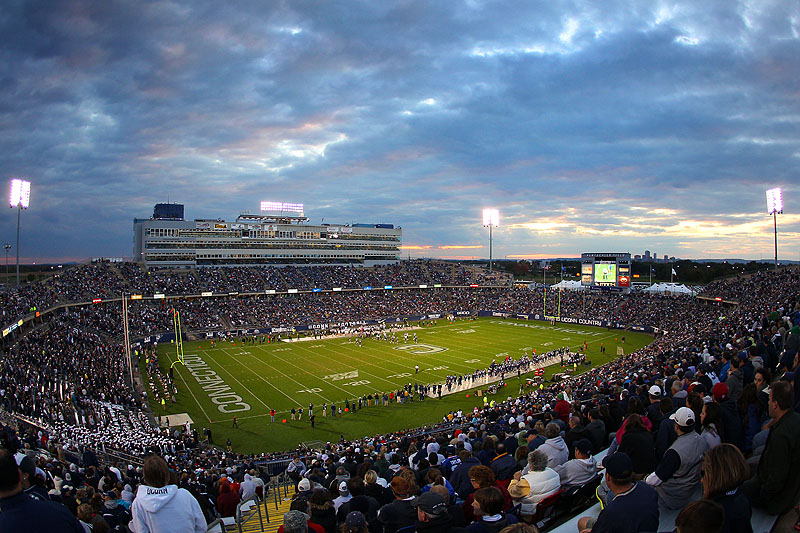 Hartford was about 100 miles east of me, about a two-hour drive mostly on the Merritt Parkway, which is a beautiful drive, especially now with the leaves starting to change. I got to the stadium around 1330 and went up to the press box. While up there, I did some recon on the field level photo workroom and some Dunkin Donuts while reading over some pregame notes. I also snapped a wide angle shot of the stadium and transmitted that as a pre-game image.
Once I was situated down on the field media room, I went out and snapped some portraits during warmups. I also asked around for some advice from the event staff on where to best shoot the team entrance from.
Smoke machines pave the way for the team during a pregame entrance sequence. A darker sky would have been some better contrast here, but not much you can do about it: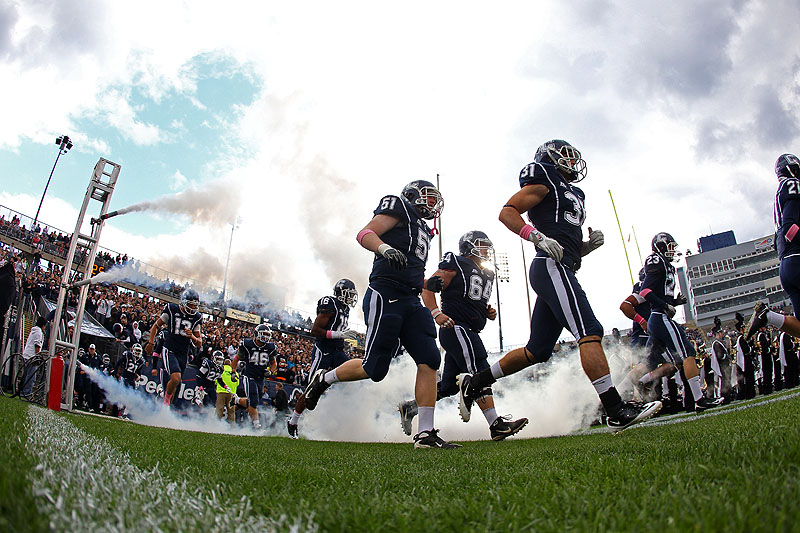 This shot of Jerome Junior was one in a sequence I got of his near-interception — the ball went right through his hands.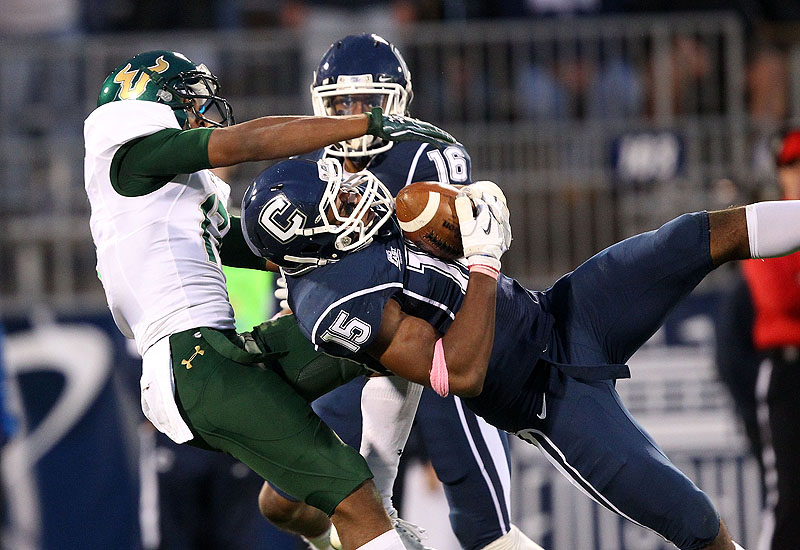 Johnny Mac. I was actually excited to shoot Johnny McEntee after his literally jaw-dropping trick shot video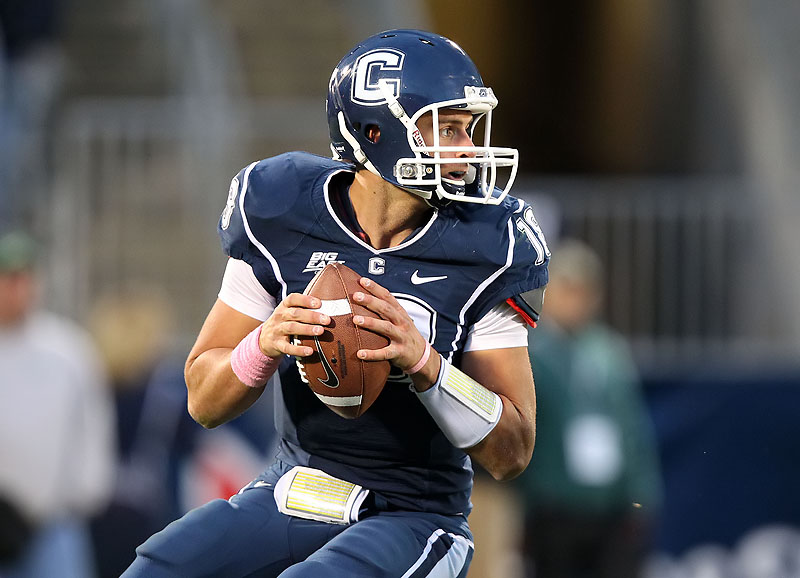 Here's the video: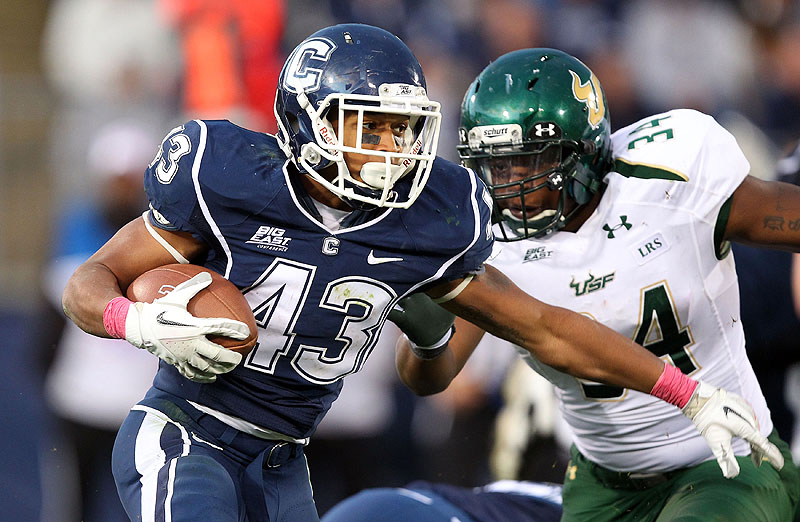 You always look to get clean shots of faces and eyes. Sometimes, depending on the weather and lighting, it's close to impossible. Sometimes, you get lucky: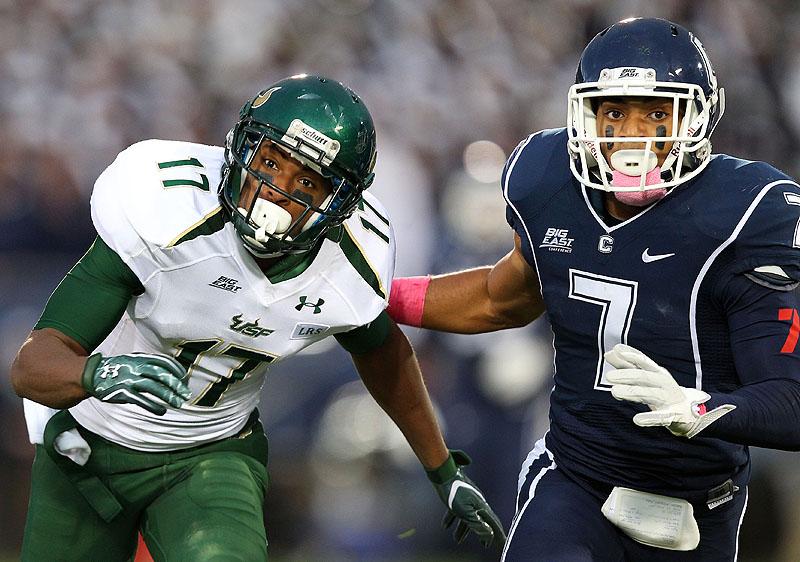 As I said, UConn did not score an offensive touchdown, but kicker Dave Teggart (also featured in the J-Mac trick shot video) nailed three field goals (I think he missed a 46-yarder, though). Here he is celebrating his second of the day, putting Connecticut ahead 6-3 in the final seconds of the first half. This shot ran on Scout.com Saturday.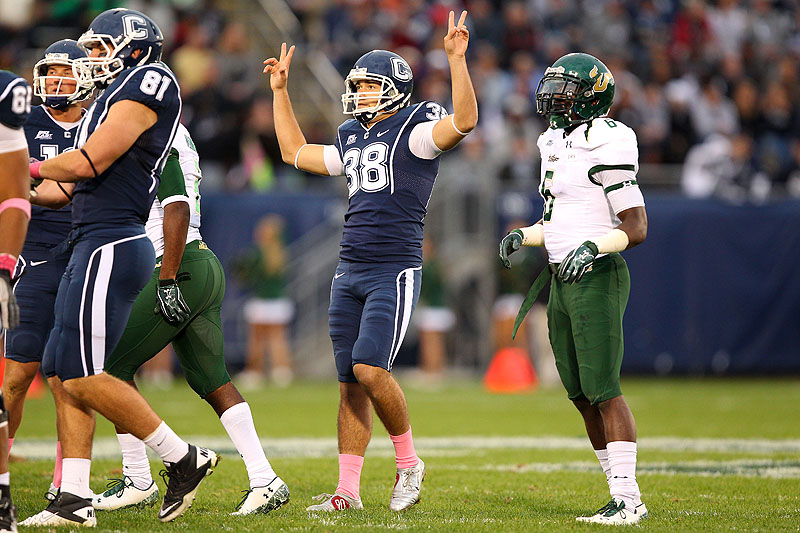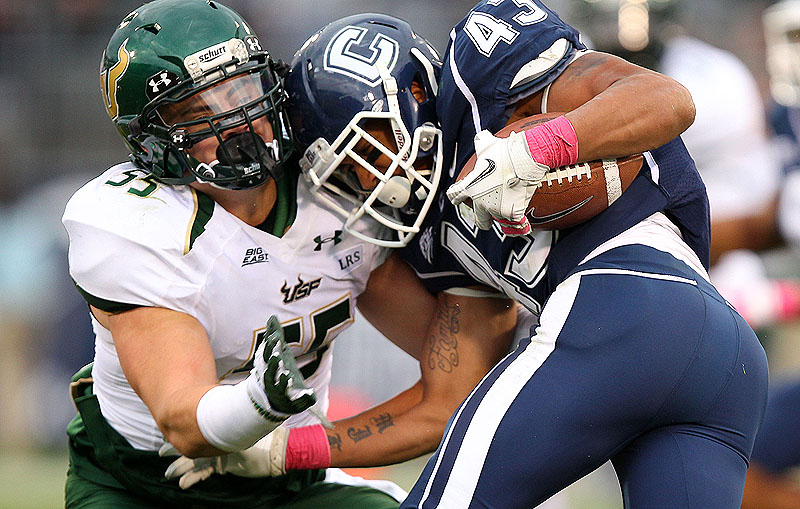 McEntee got sacked and fumbled on this play. He went down a few times — I wasn't especially impressed with the Huskies' o-line.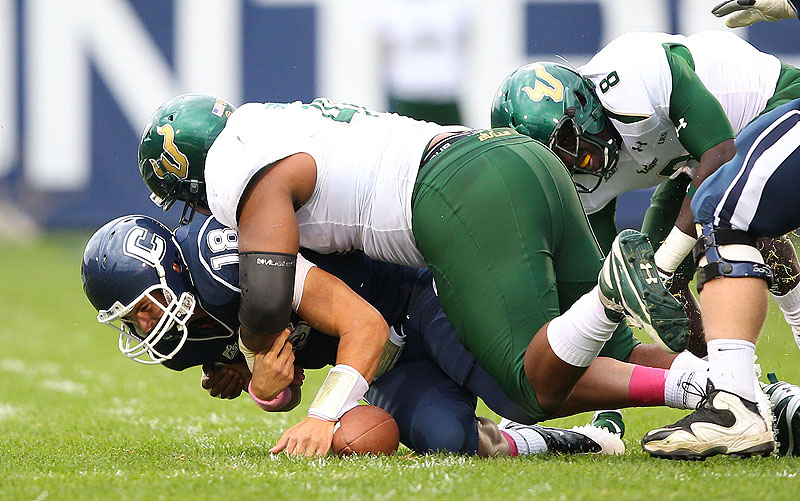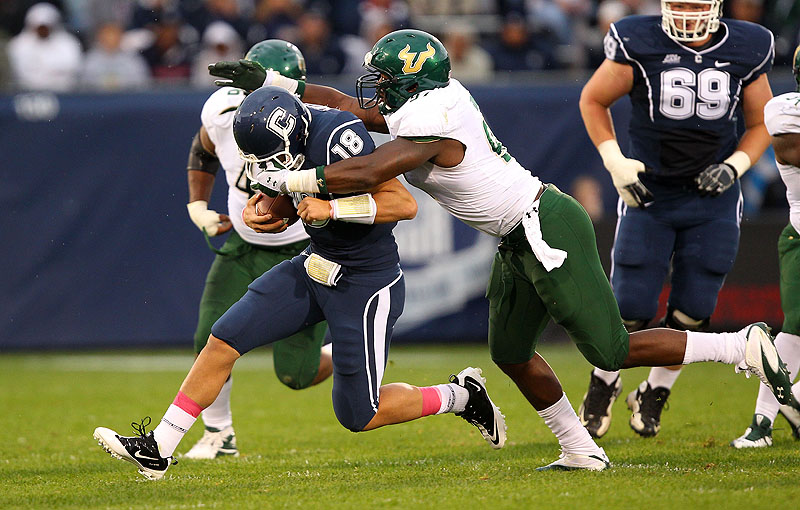 This (above) was clearly a face mask penalty that none of the officials saw, and I knew it as I watched it unfold through my lens. I got a few frames of this tackle, and the next one made it even more obvious.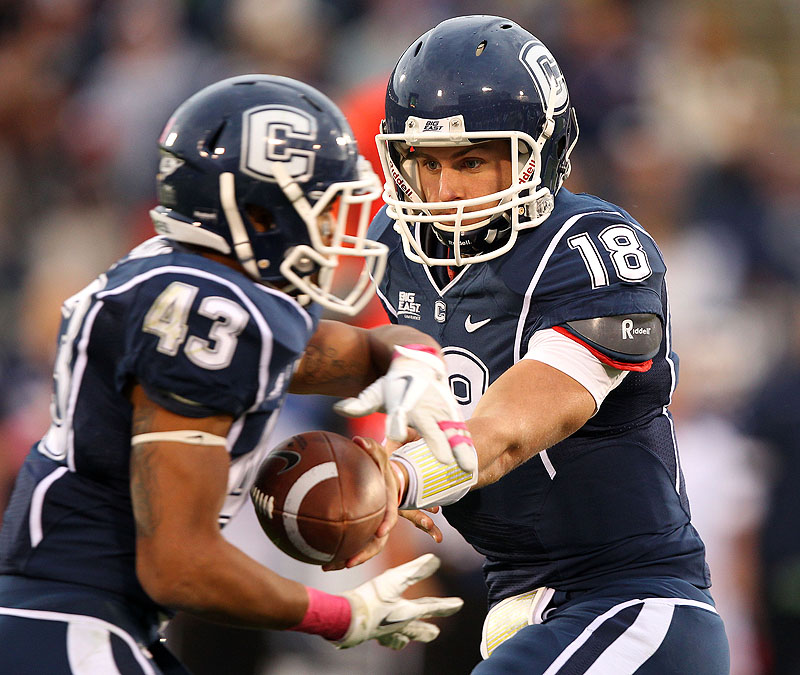 USF quarterback B.J. Daniels: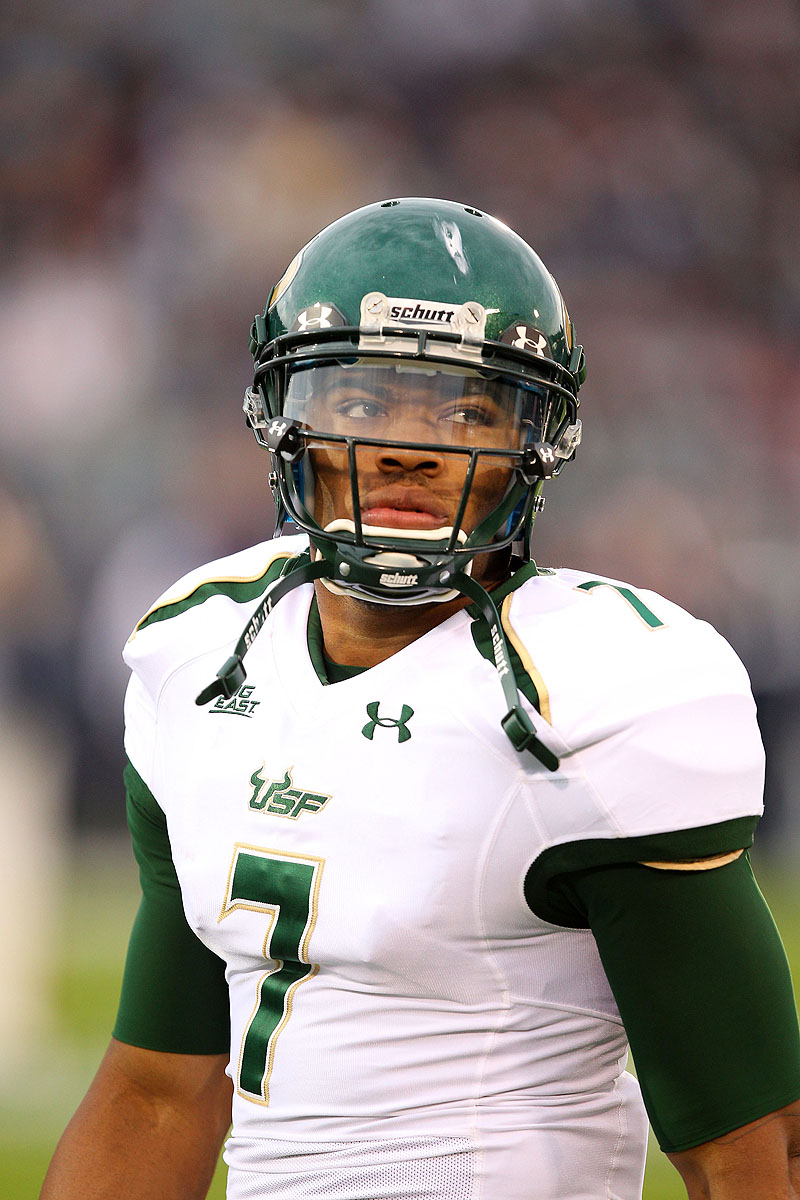 Here's Teggart kicking his first field goal: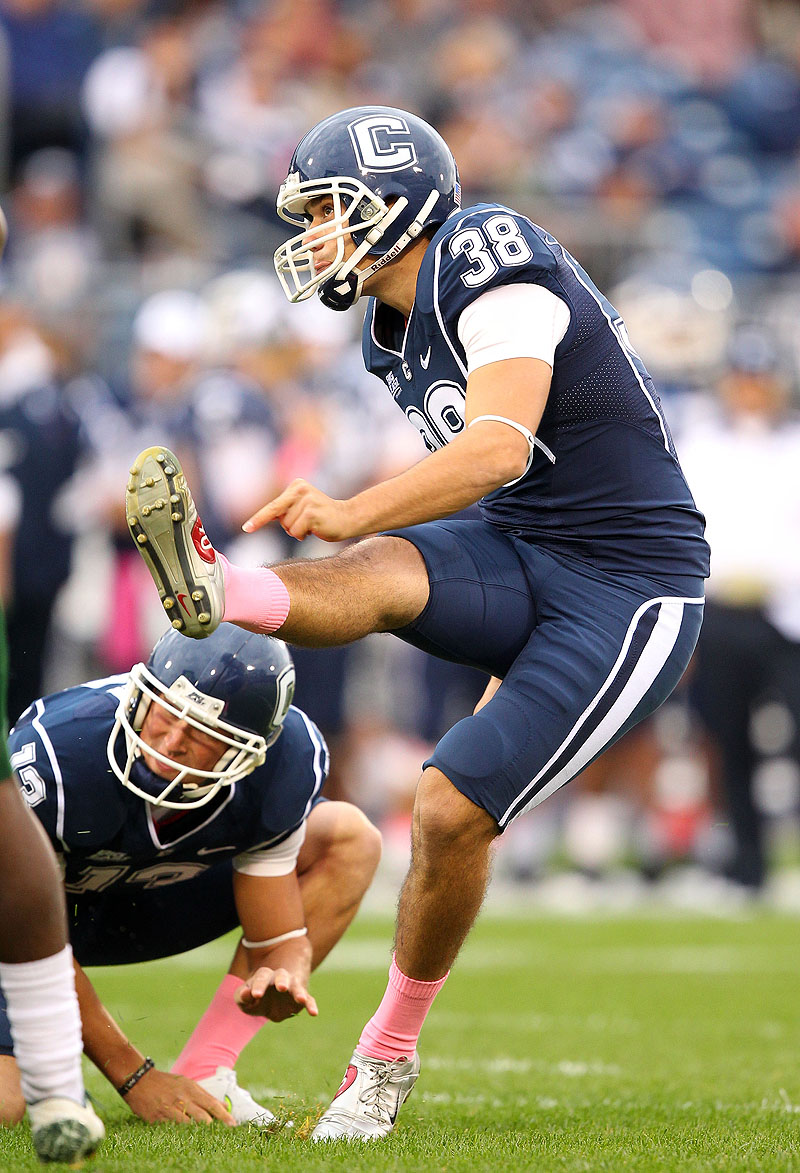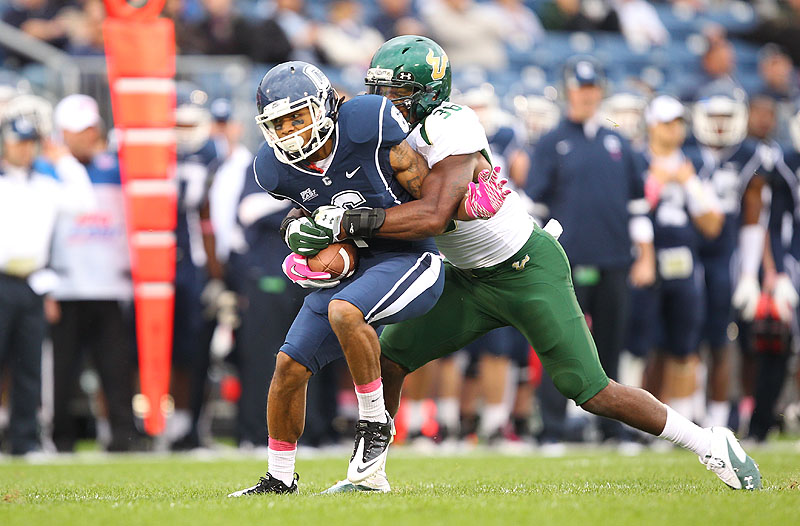 UConn changed up its quarterback just about every drive, swapping in a scrambler in Scott McCummings, who gets wrapped up in the two images below: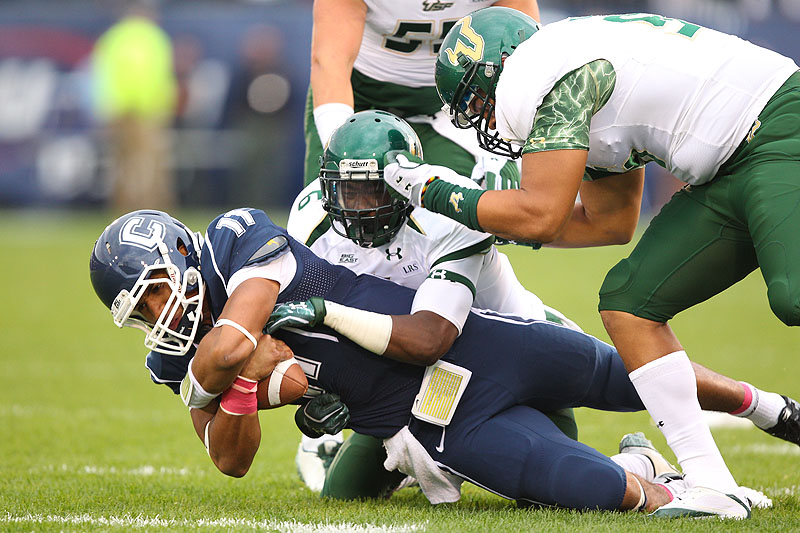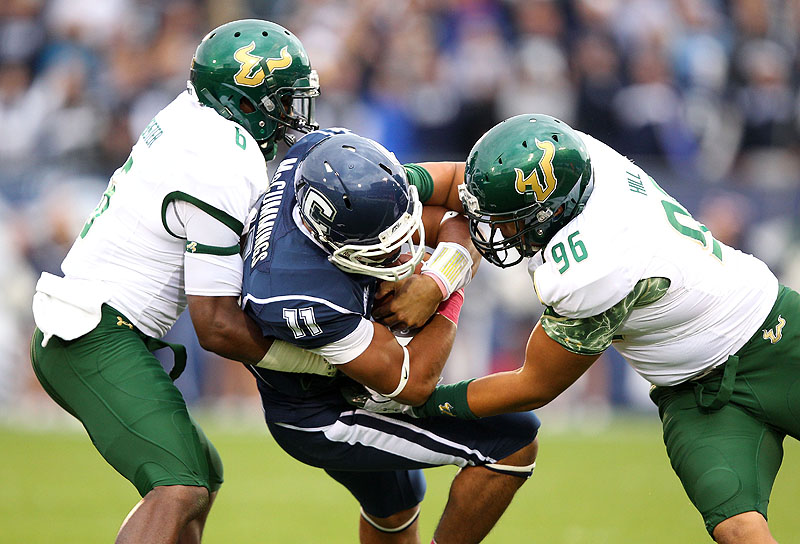 Offensive lineman Mike Ryan was another of my players to focus on.
Nick Williams returns a kick here — I liked all the grass and mud in the air, something I don't ever get to capture at West Point: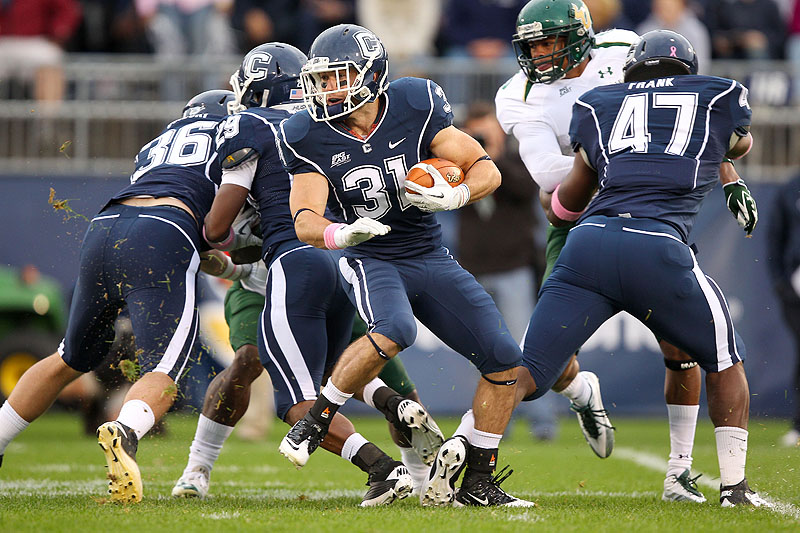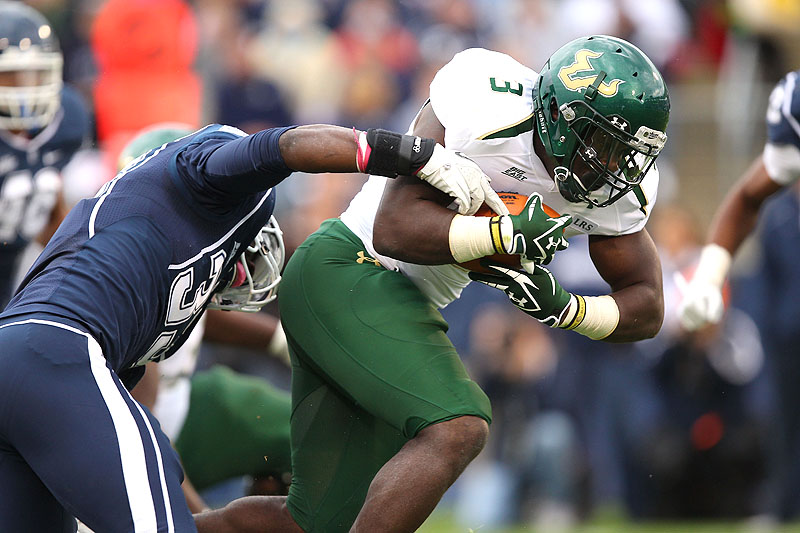 USF wide receiver Sterling Griffin ran up the sideline toward me on this play, giving me some nice clean portraits of him: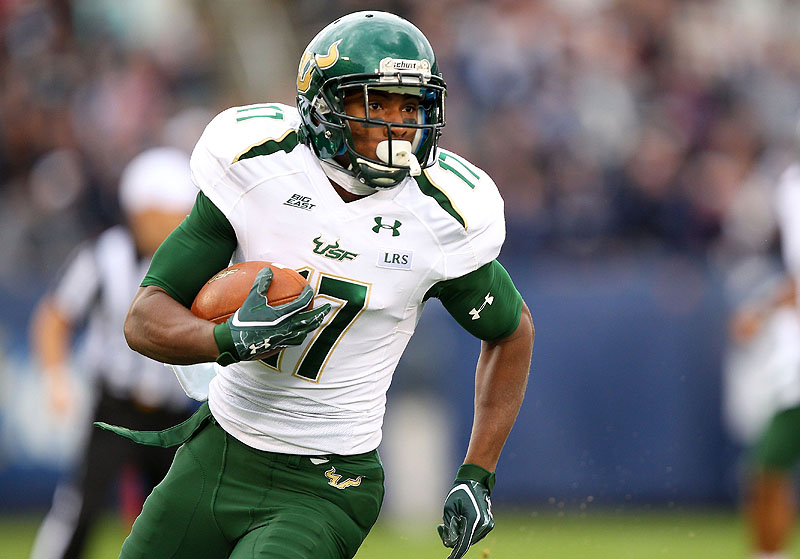 Here's Daniels in the first quarter: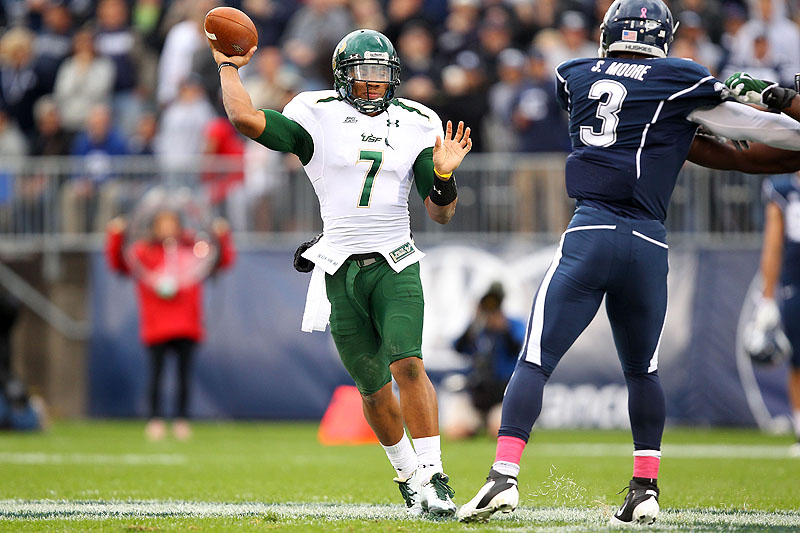 USF running back Darrell Scott runs up the middle in the first quarter: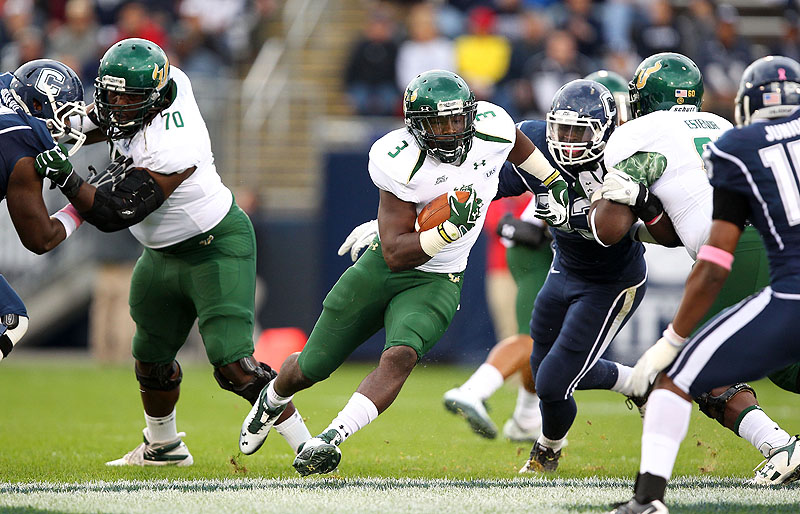 Once this game was in the bag for UConn, we started seeing a little emotion and celebrations on the field. By now I was at ISO 3200 and 1/1000th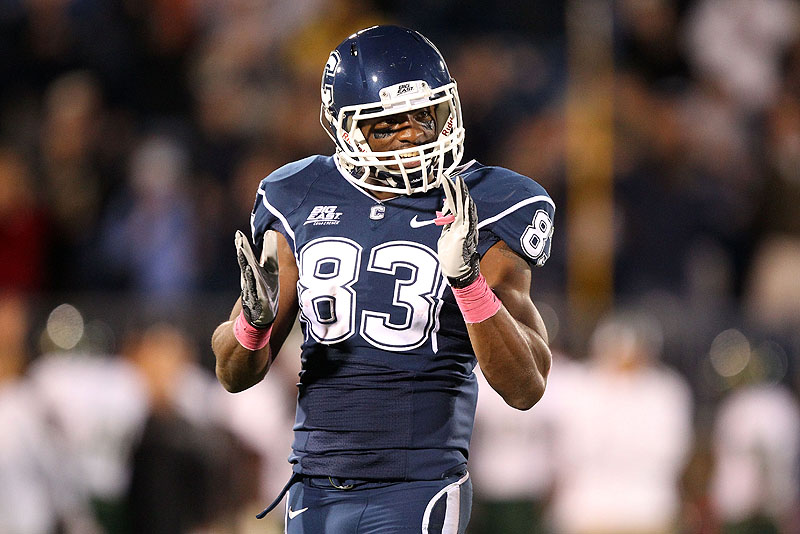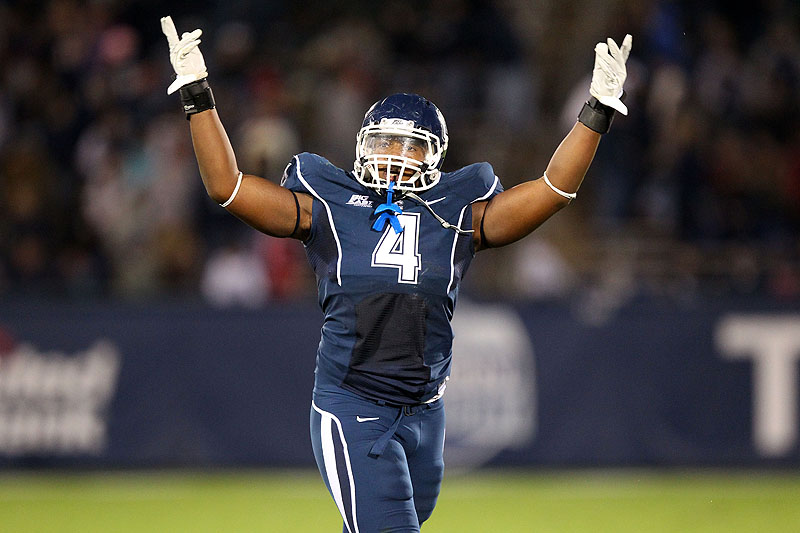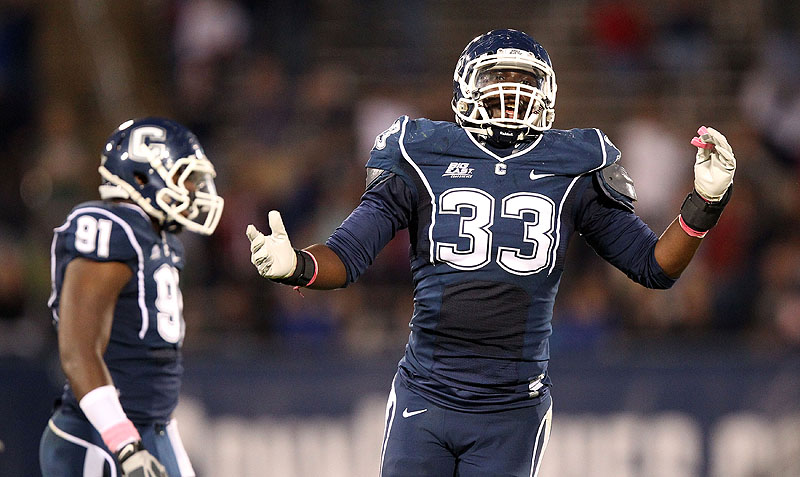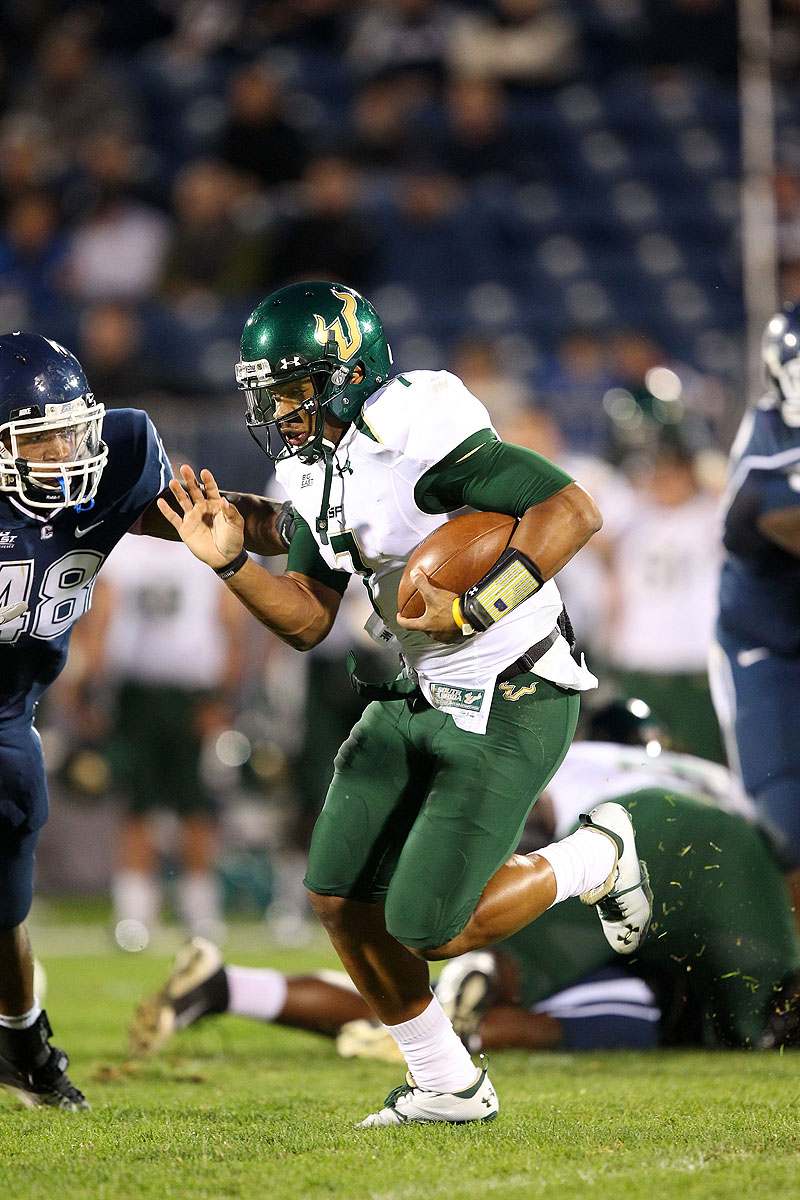 Sio Moore intercepted a deflected pass in the final two minutes, sealing the win for UConn: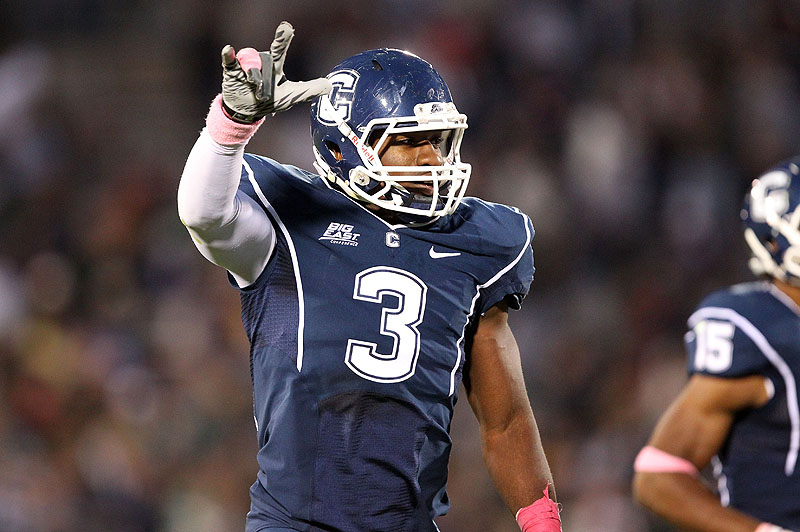 Another shot of Reyes and Petrus: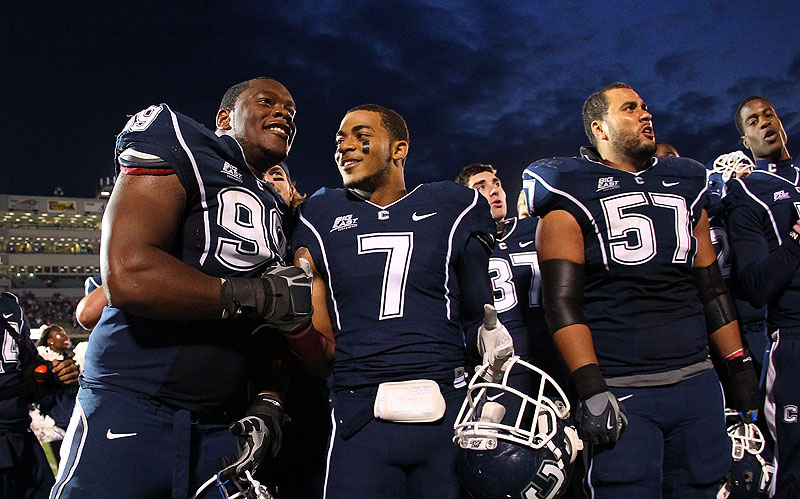 As usual, with 1:00 left in the game, I swapped my 400mm lens for a fisheye and got up close with the team as they ran off the field. Conveniently, the sky was the same deep blue color as the UConn uniforms as the game ended, providing a nice backdrop for these jube images.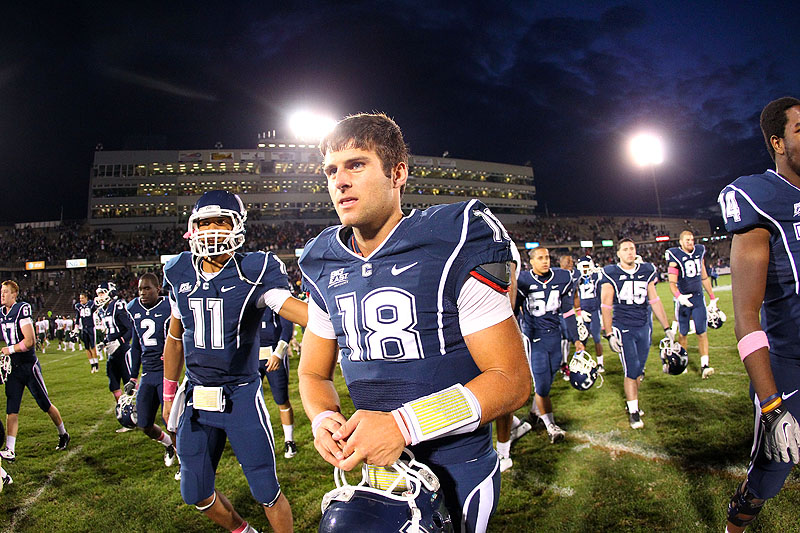 Here's McEntee leaving the field, a shot I wanted to get.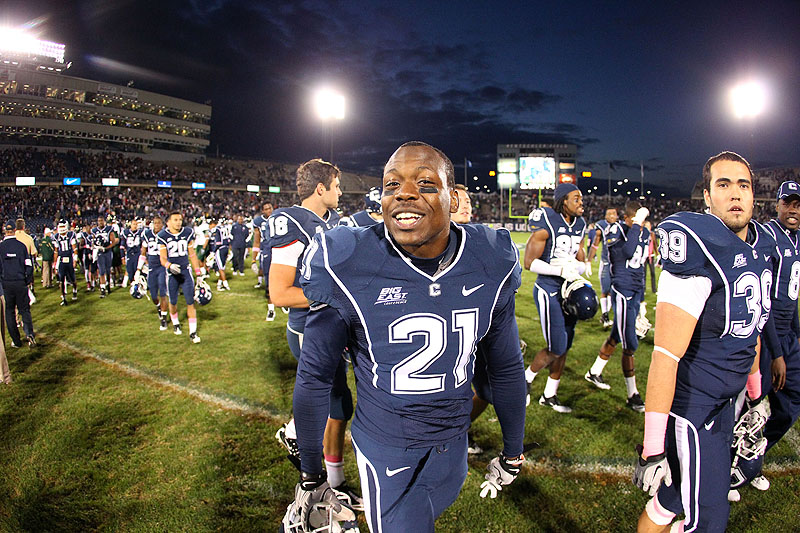 Some players like to ham it up a little bit, which is fine with me. The team received some high fives from fans leaving the field: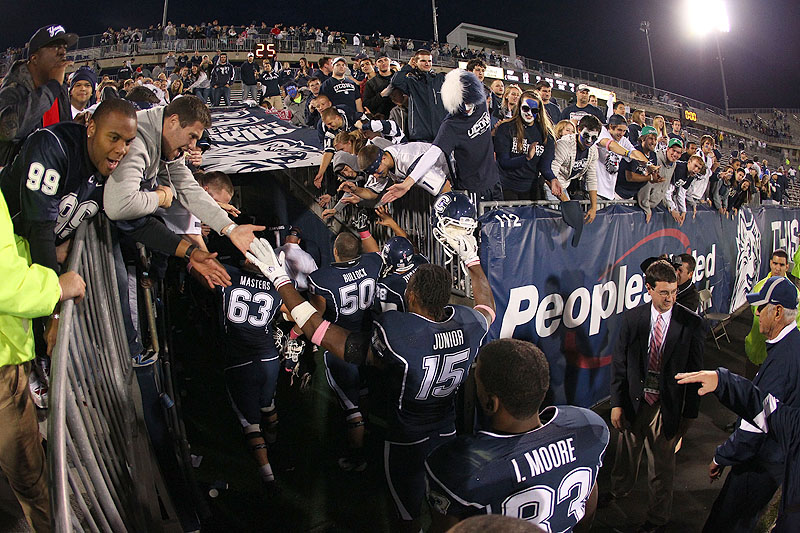 * * *
All images copyright Danny Wild-US PRESSWIRE