A disappointing start to the 2012 season got even worse for Army on Saturday as Stony Brook senior running back Miguel Maysonet rushed for 220 yards in a one-sided 23-3 Seawolves win at Michie Stadium in West Point. Army, which continues to fumble the ball as they did in 2011, killed some of its own redzone drives with turnovers and fell to 0-4.
Head coach Rich Ellerson took some blame and admitted he was embarrassed after the game, too.
"I have to coach better," he said. "The things that stick out are the turnovers on offense. It's something we take a lot of pride in, and we were horrible at it."
I think this, the Stony Brook game, was one of the ones most Army fans had circled as a safe win. Stony Brook is an FCS team. They're playing a Division II school this season. Coming into Saturday, SBU ranked 96th in the nation among FCS teams in passing offense. They're obviously a respectable team (4-1 now and 9-4 last year after winning the Big South) but, this was a winnable game on the Army schedule. I wouldn't say Army played as poorly today as they did against Temple at the end of 2011, but to come away with only a field goal… it's not a positive.
But, to reach for some positives: Trent Steelman played well and stayed healthy after leaving the Wake Forest game with an injury, and we also saw some defensive stands from a unit that, entering Saturday through three games, ranked No. 111 of 120 in the nation in team total defense. We saw co-captain Jarrett Mackey get more involved, we saw Nate Combs turn in a good game with a big sack, we saw a fumble recovery, and we saw Army hold a potent SBU running game to some field goals.
"I have a lot of things I have to do better as a coach," Ellerson said. "I was trying say earlier in the week what a good football team this was. I told you, as I told our players, that we were going to be lining up in some instances against someone who was good or better than anyone we've seen so far, and we've played some good people. That was absolutely the case. What that needs to mean is that it's going to be exciting. It's going to be competitive. I don't think our guys could hear that. I think our guys saw Stony Brook. They watched the tape and they knew they could play, but they carried that expectation around. It worked against them. If you turn the ball over that many times, I don't care who you are playing, you don't have a chance to win. That's coaching, and that's me. I'm responsible for those standards. I'm responsible for what happens in the practice environment. I made the decision that Trent was going to be able to play and operate. Don't misunderstand how good of a team Stony Brook is and how good of players they are. What they do, they do very well."
Maybe that's partly Coach E taking the heat off his players a bit, but any way you spin it, winless after four games isn't what anyone expected this year.
Anyway, on to the photos: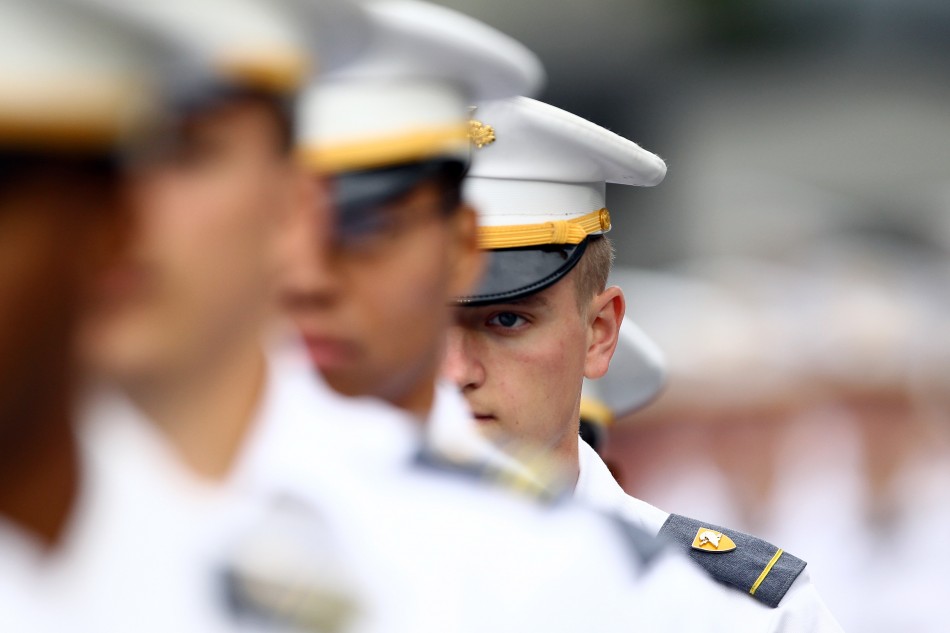 Cloudy skies canceled the parachute jump again, so West Point held a more formal march-on with the 4th Reg, complete with leadership roll calls and "The Rocket," which was nice. I hate to admit it, but the atmosphere and noise and enthusiasm at Michie is just dead this season. You can sit there and hear the quarterbacks barking out calls at the line. Third down situations sound like a doctor's waiting room. When I covered UConn last fall, it was a madhouse on defense. Army fans are comatose these days, and maybe because this team is winless and the defense isn't what it used to be, but it's not what I remember from 2009. The PA announcer literally has to beg and prod fans to notice a key situation is about to unfold and that some noise would be nice.
That being said, Army took the field and I got this shot of Jon Crucitti taking the flag out with West Point Superintendent Lt. General David H. Huntoon, Jr. (second from the right) looking on. Next to him in the white shirt is the Commandant, Brig. General Ted E. Martin. Joe Drummond (54) carried out  the 25th Infantry Division flag: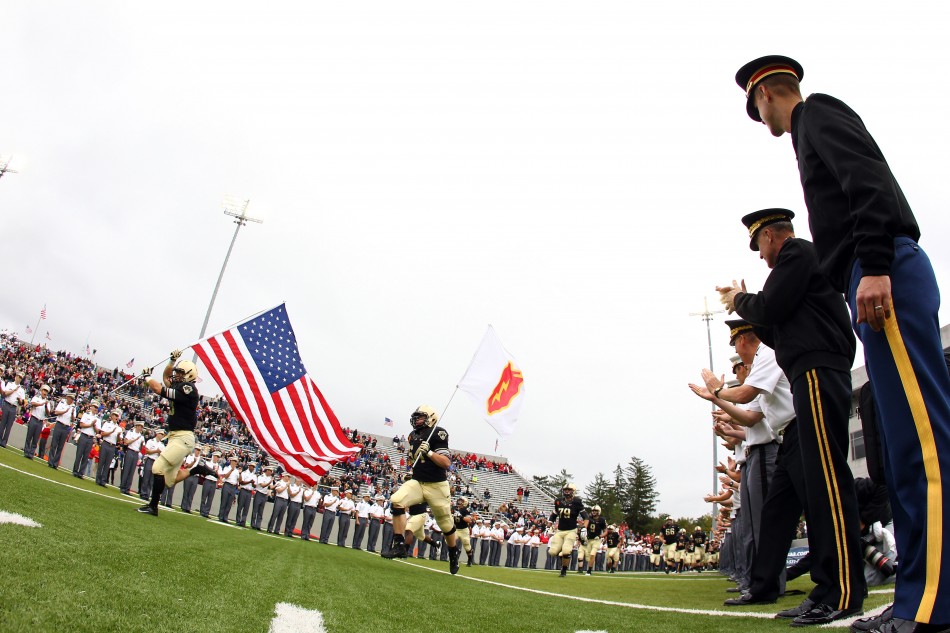 Army looked lost on its first drive, which ended in a punt. Here's Steelman handing off to Malcom Brown on second down after a pass on the game's first play went out of bounds: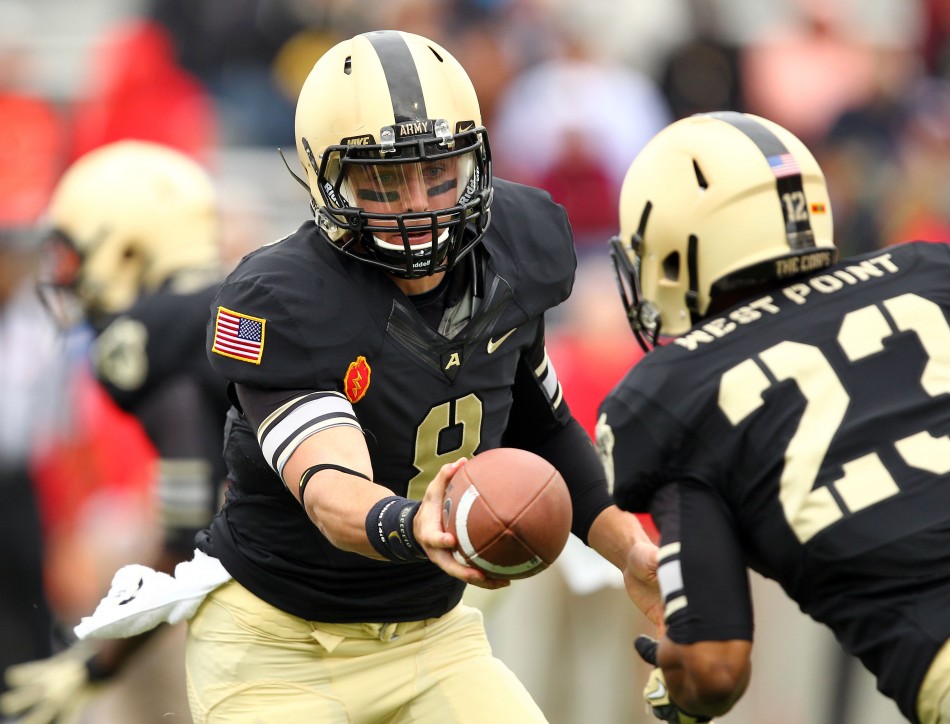 Larry Dixon took the ball on third down of that drive: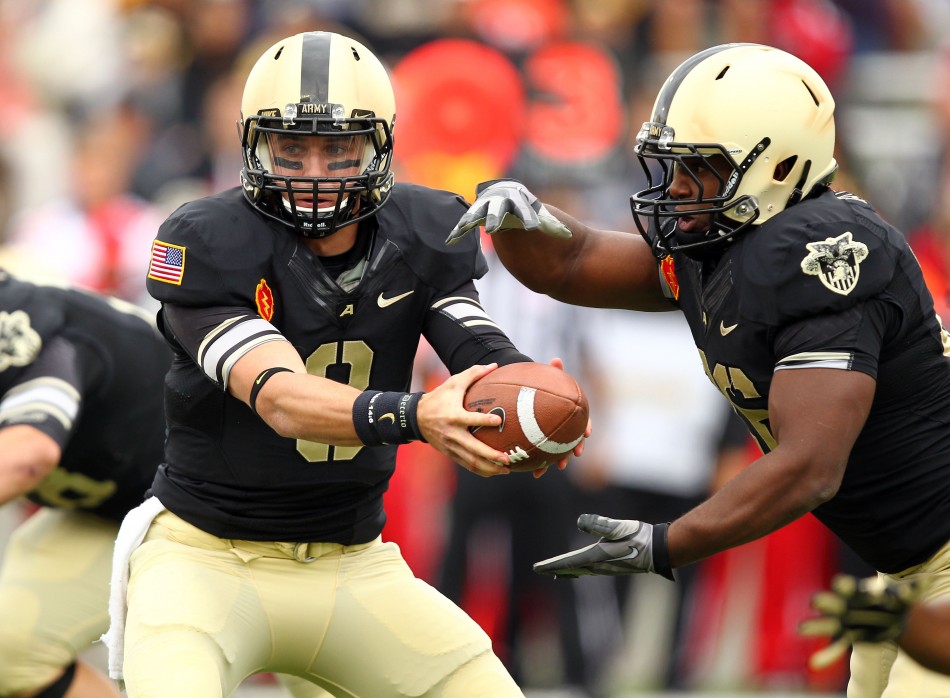 Meanwhile, Maysonet had no problems running through the Army defense: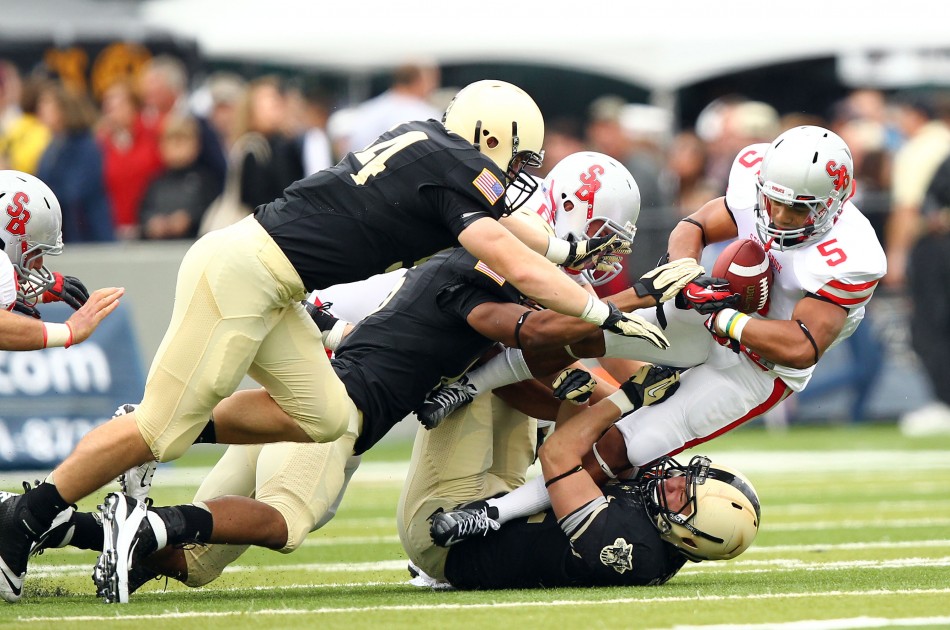 Here's Dixon busting through the middle on a run that ended in a lost fumble. You can see him losing the grip here: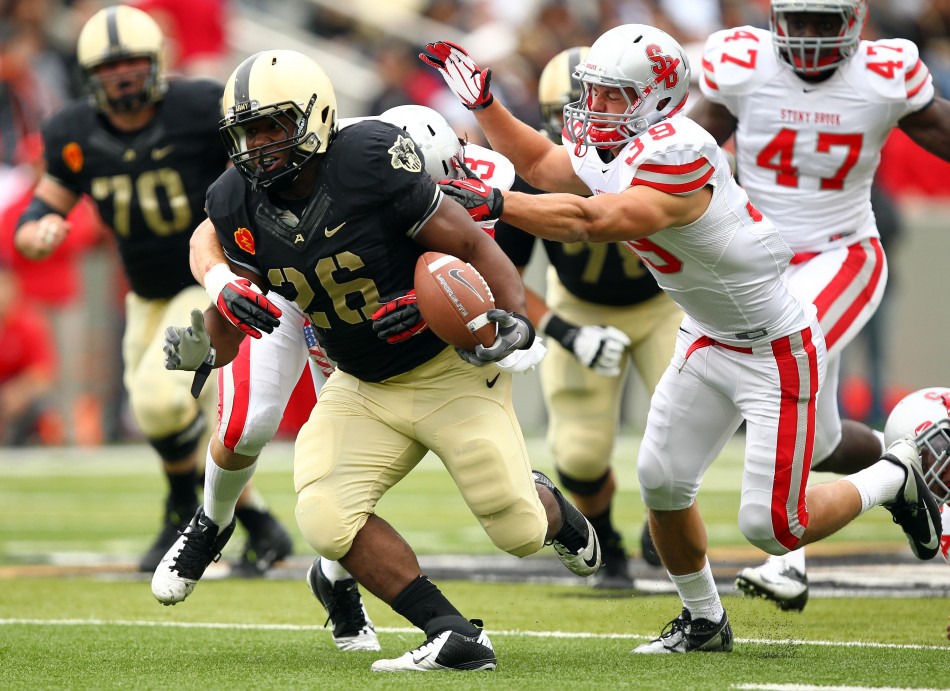 But Army got it back eventually — here's Richard Glover and Mike Ugenyi celebrating a fumble recovery: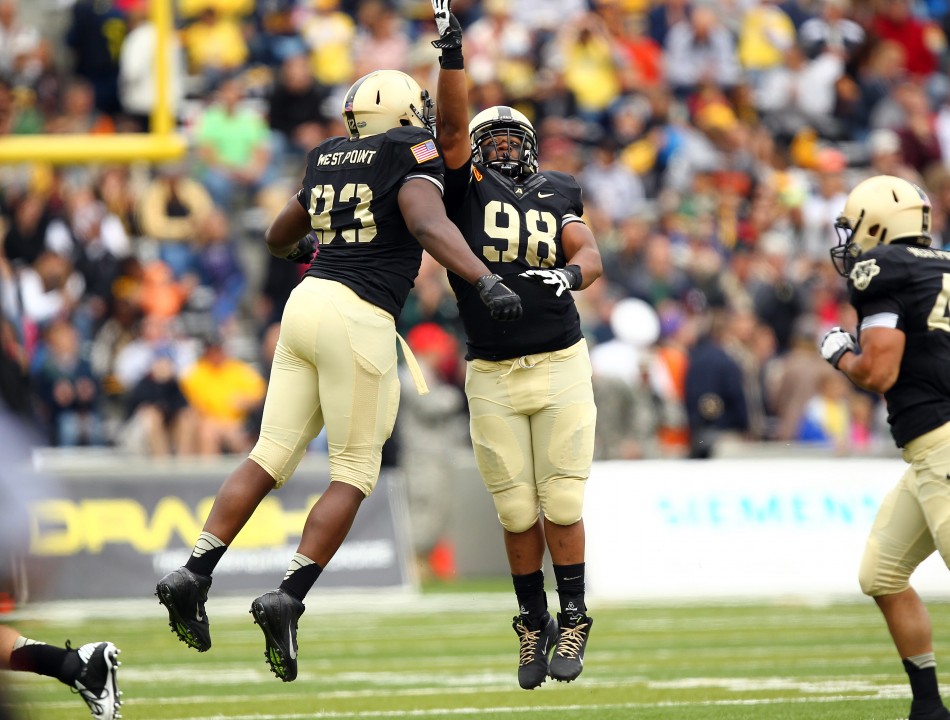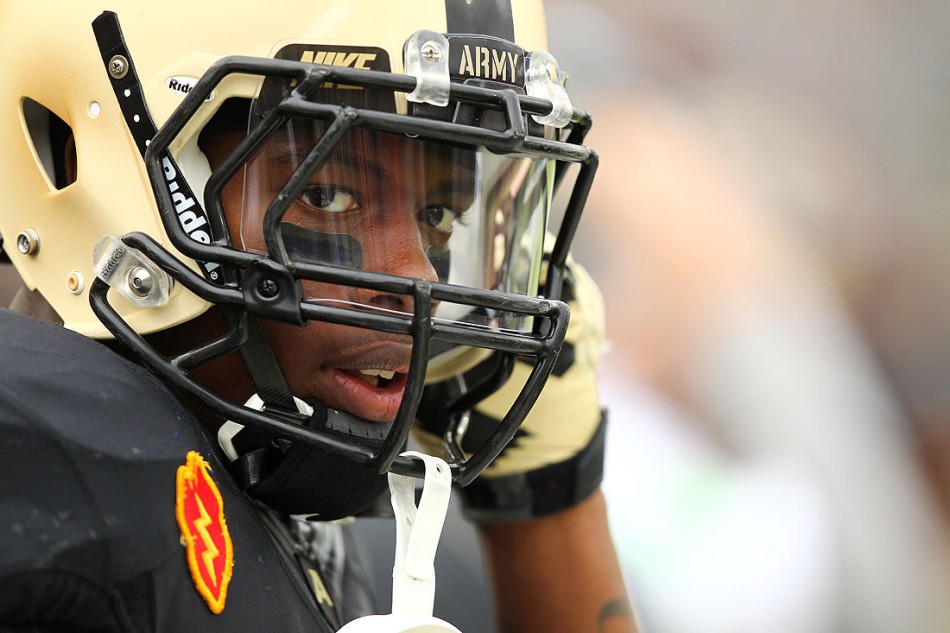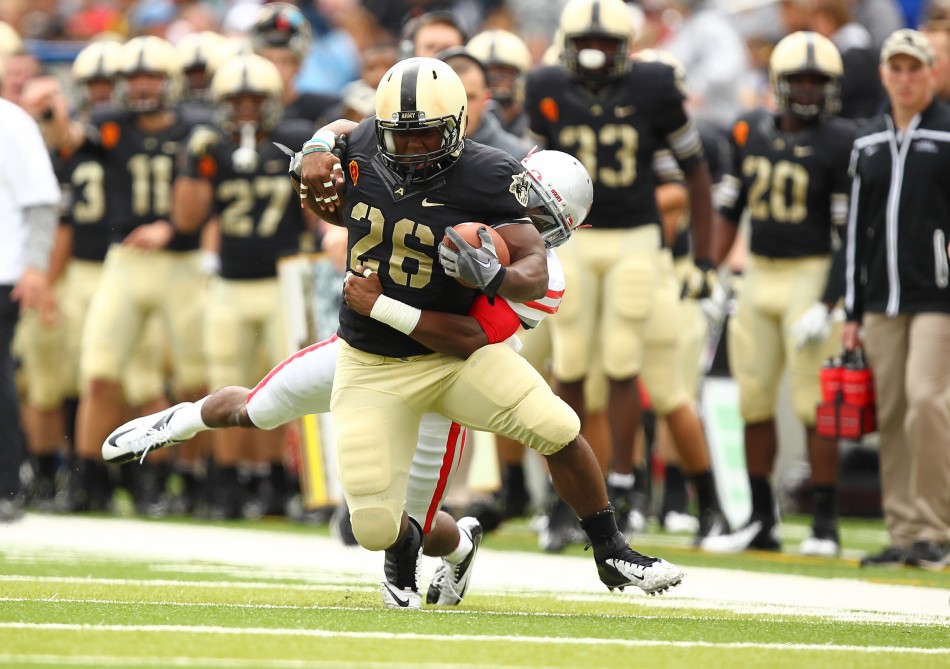 Geoffery Bacon wraps up Maysonet: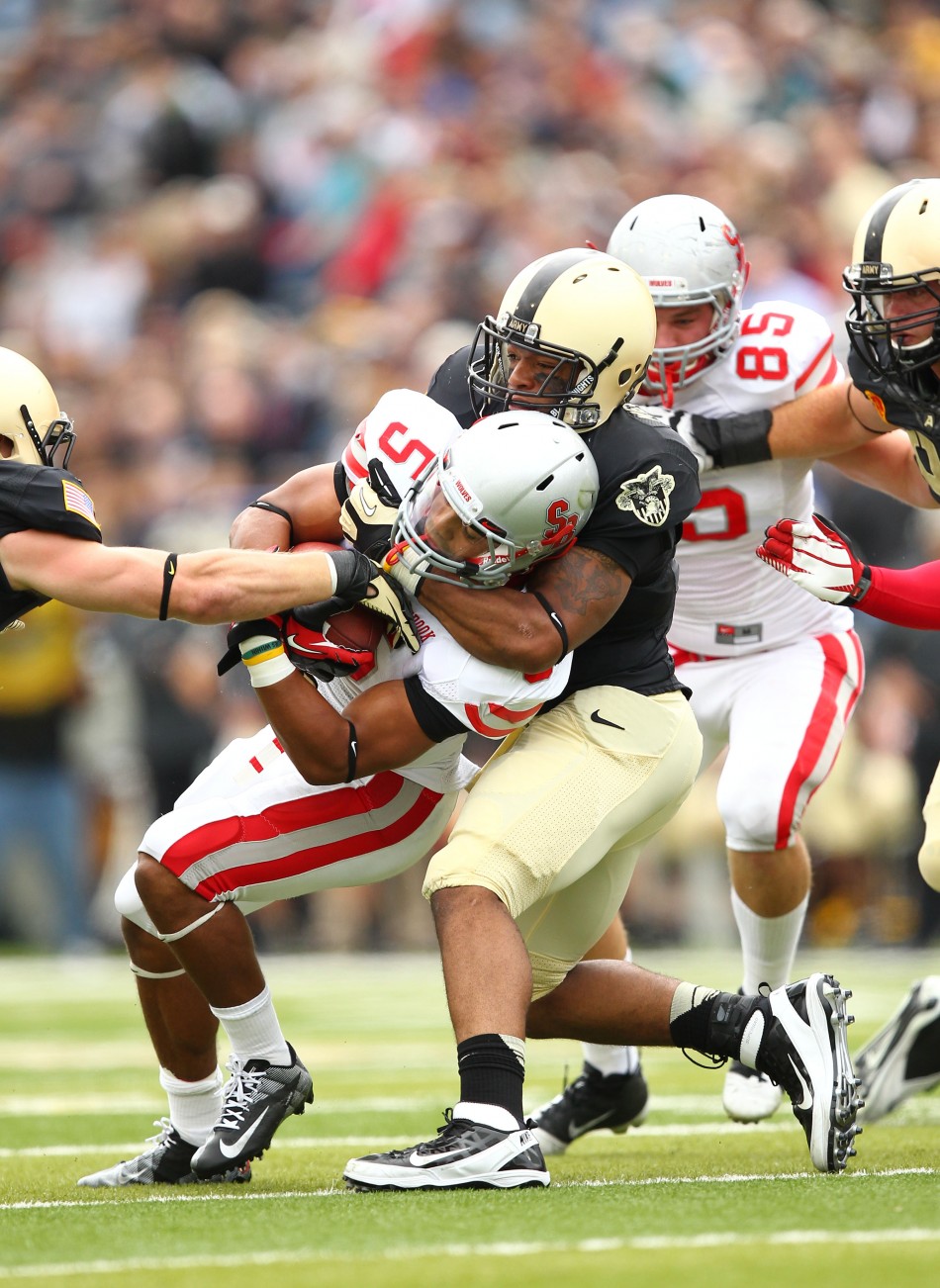 On a positive note, Steelman established the Army academy record for rushing yards by a signal caller. The Bowling Green, Ky., native rushed 17 times for 89 yards on Saturday to increase his career total to 2,362 yards, passing Tory Crawford, a 1988 graduate.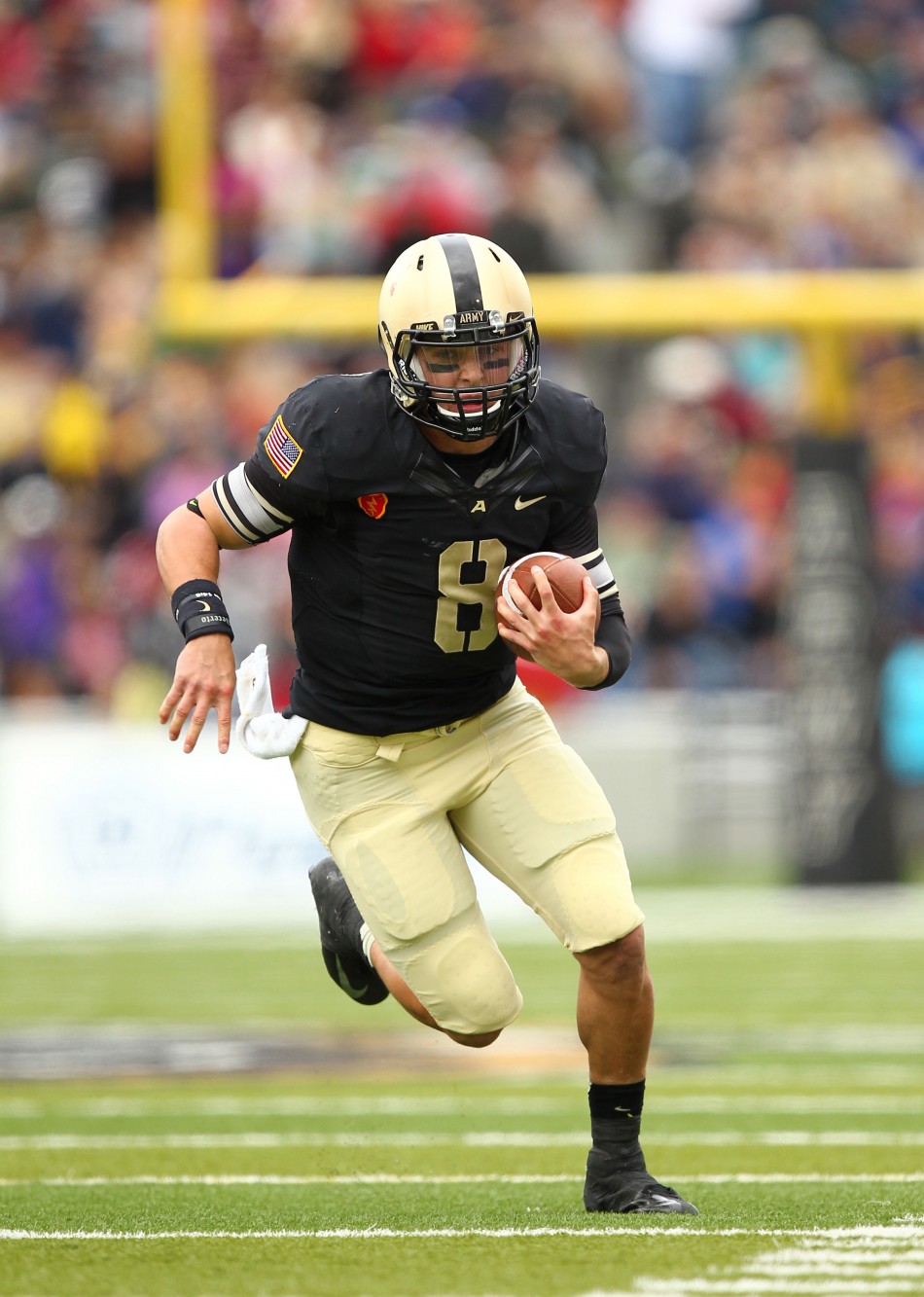 Combs sacked Stony Brook QB Kyle Essington on this play, but then Essington got up and threw a bomb down field to setup a field goal at the end of the second quarter: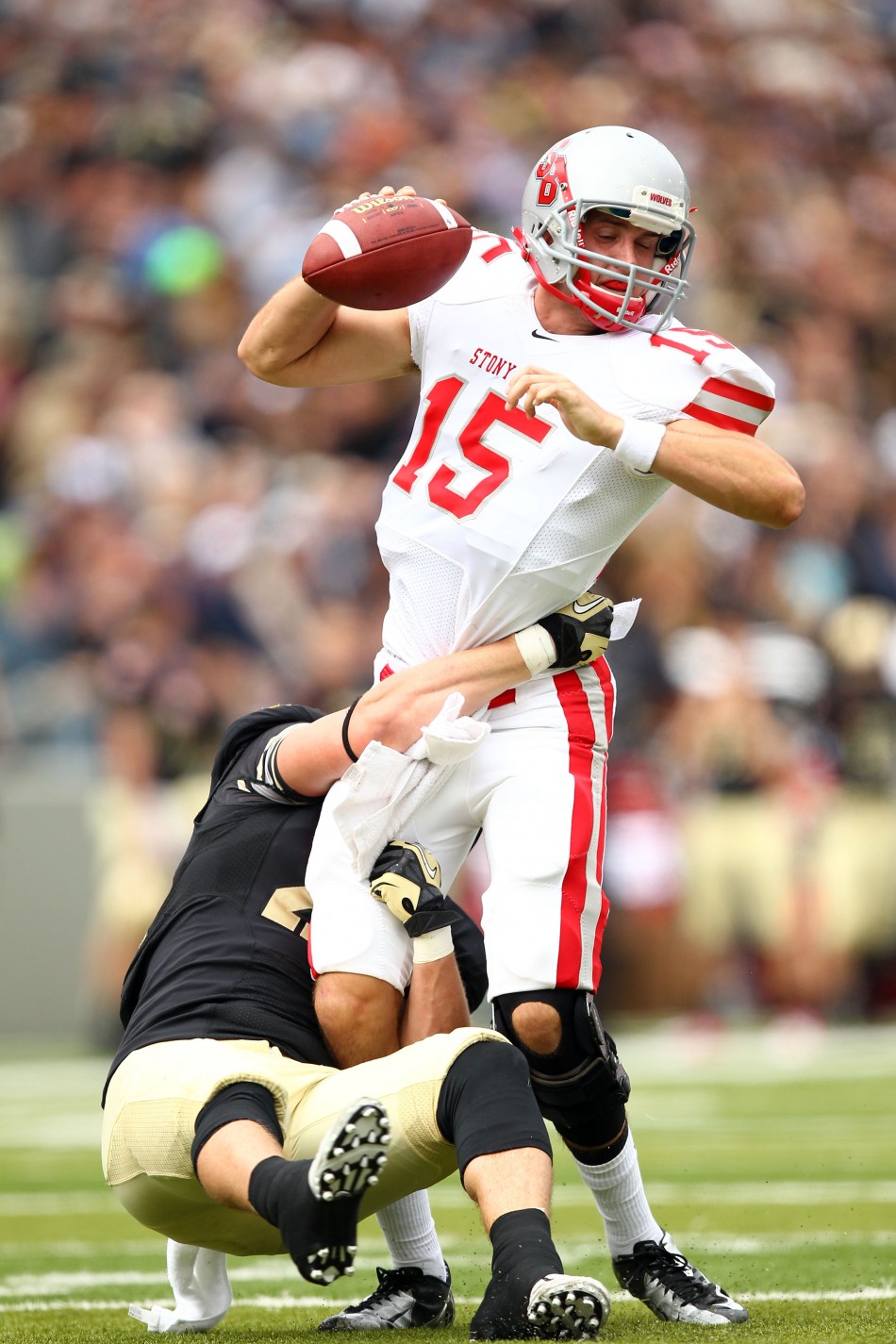 Junior running back Raymond Maples picked up 81 yards on 13 carries: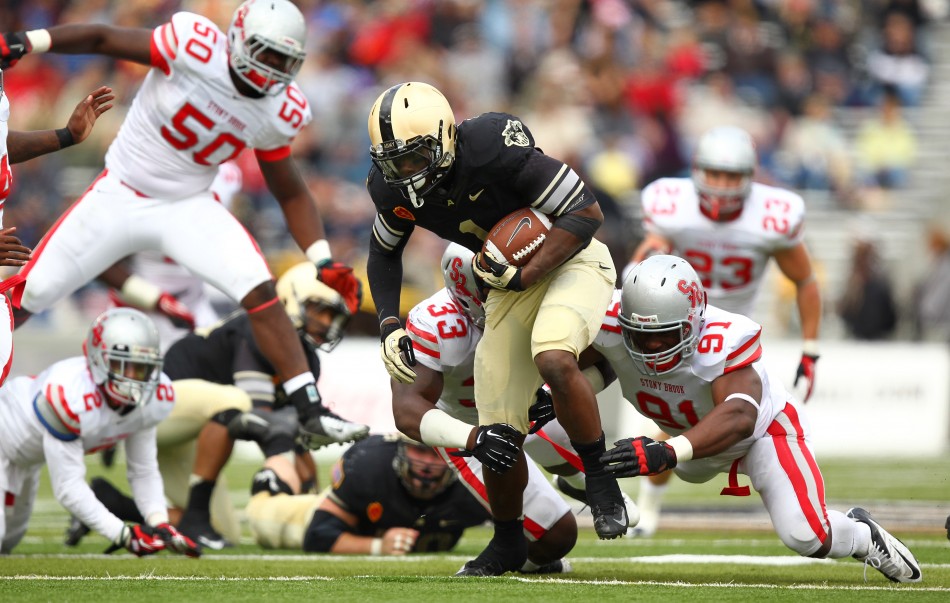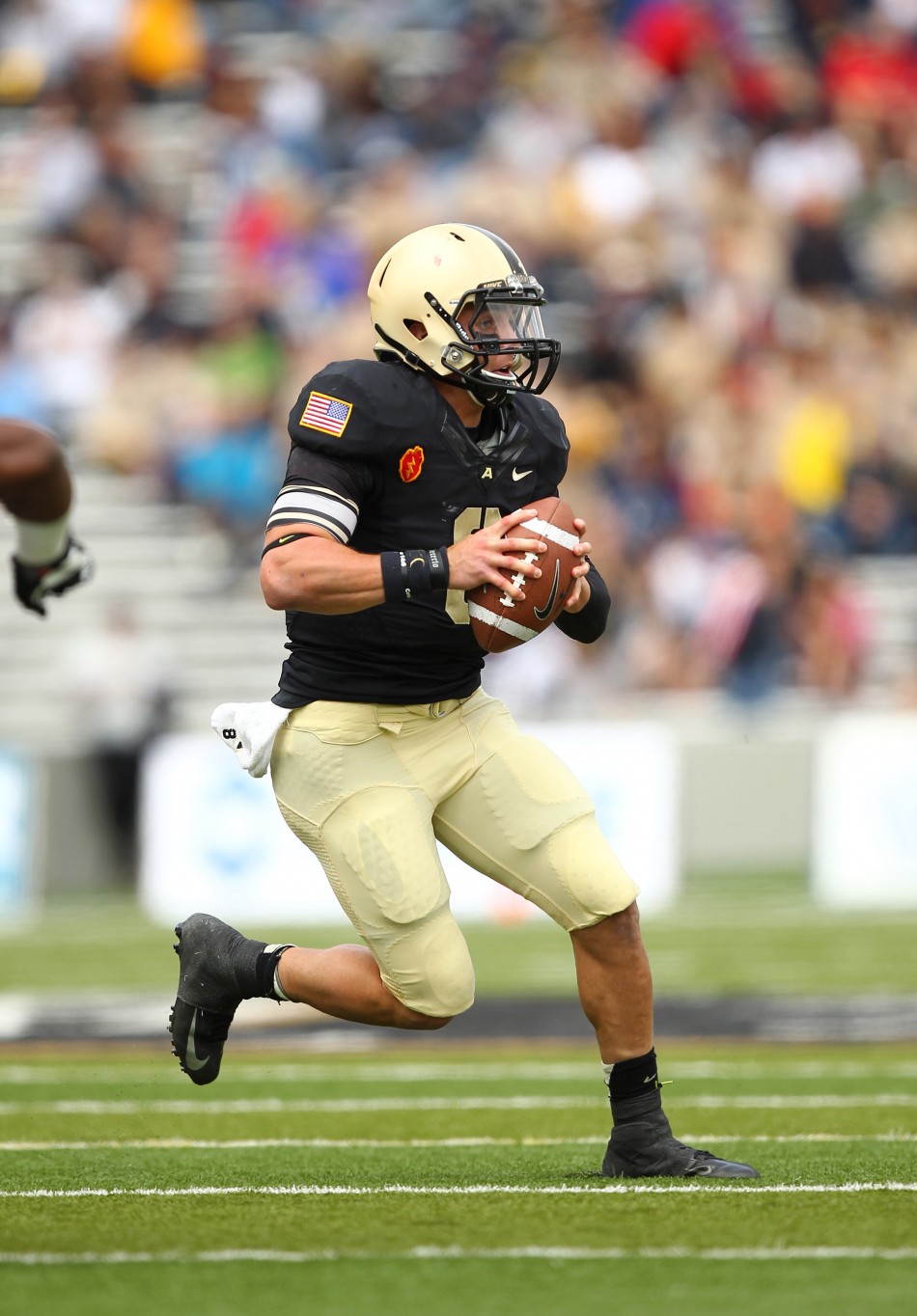 Ellerson had plenty to say afterward.
"There are all kinds of things to work on there," he said. "We get ourselves settled down on defense a little bit, a little bit, but we still got pushed around by a really good offensive line. At least they had to do the damage. We played the defense. We competed. That was a step forward, believe it or not. We're finding out that against a really good football team, and that's as good a football team as you'll see running power and split zone, that we have to grow and get better. We were getting beat by them as opposed to beating ourselves, which we did the past couple of weeks."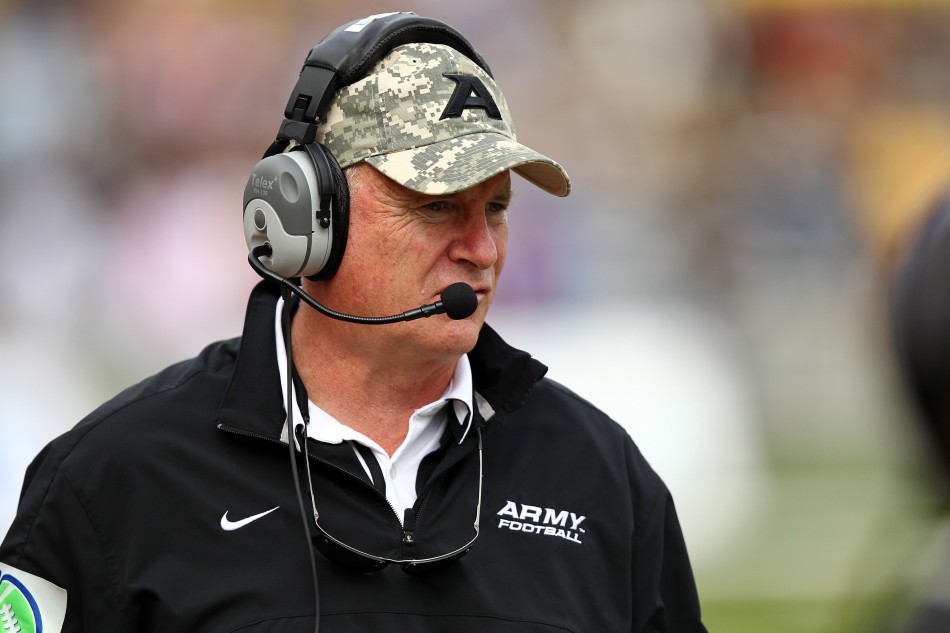 Here's linebacker Justin Trimble — I always like when we play teams with red as the south endzone gets filled with color and makes for nice backgrounds: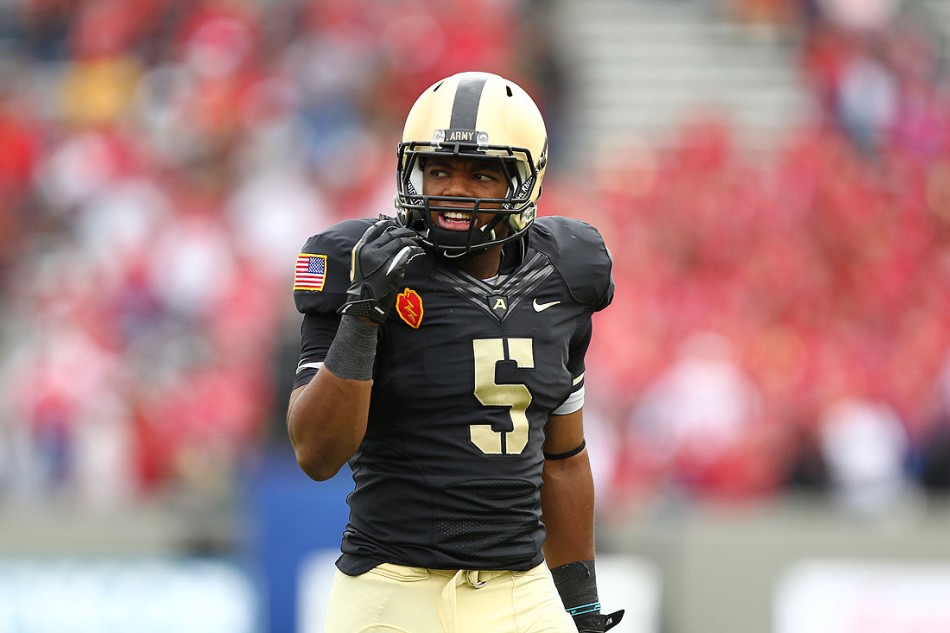 Steelman watching the clock tick down in the fourth: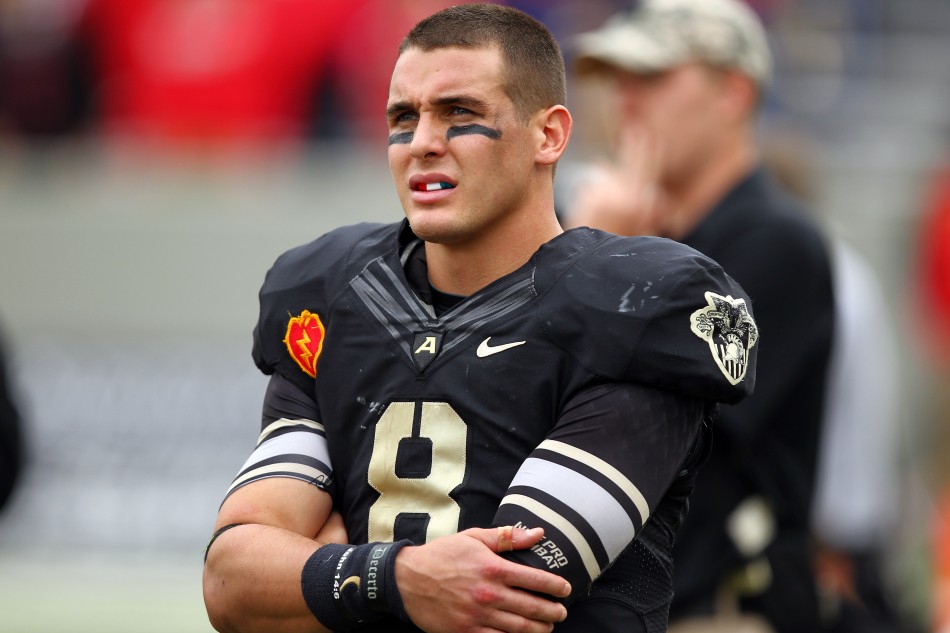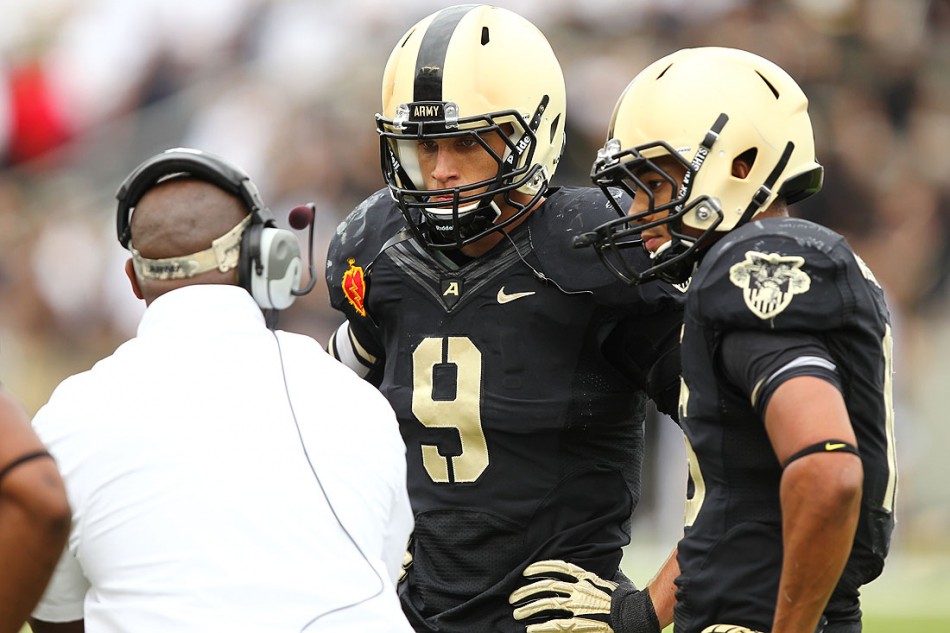 Here's a portrait I got of Trent in the first quarter, with barely one eye in focus: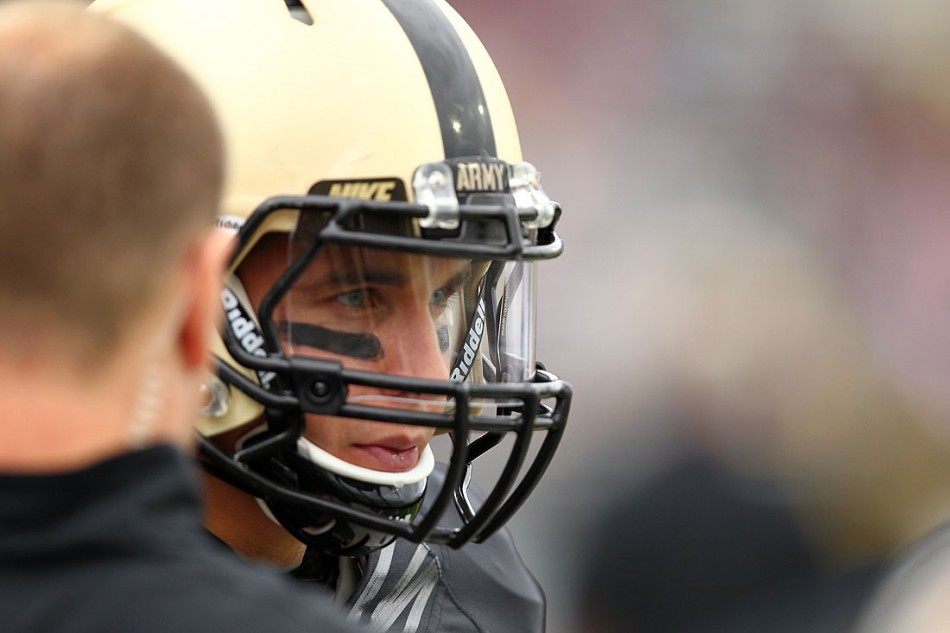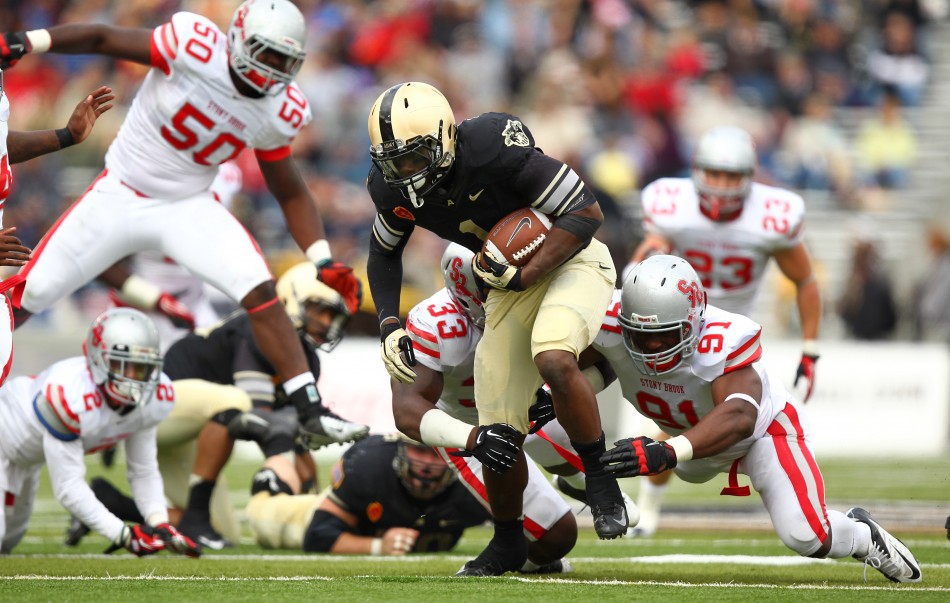 Malcolm Brown continues to see work as a running back with Terry Baggett sidelined. Brown had 52 yards on seven touches: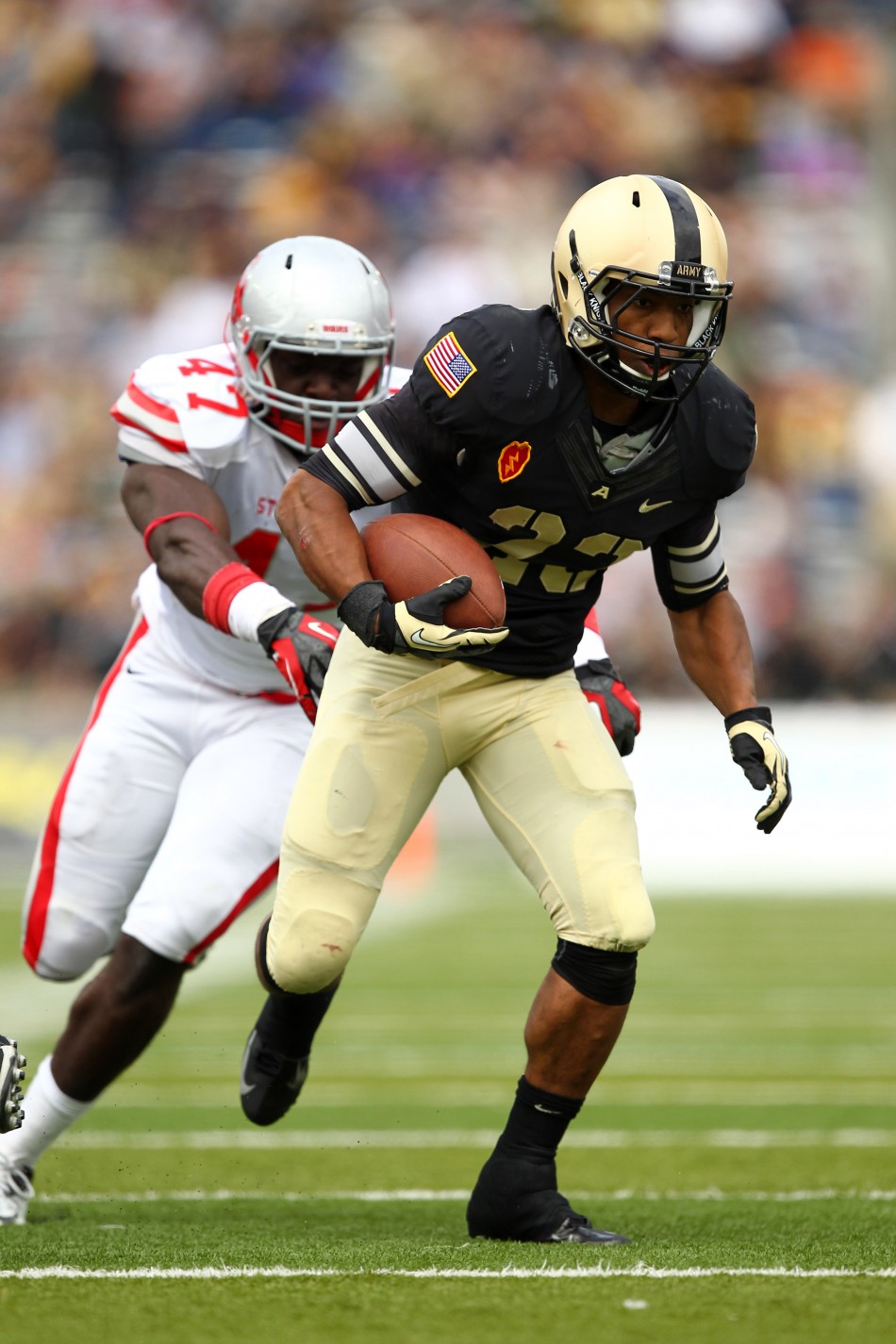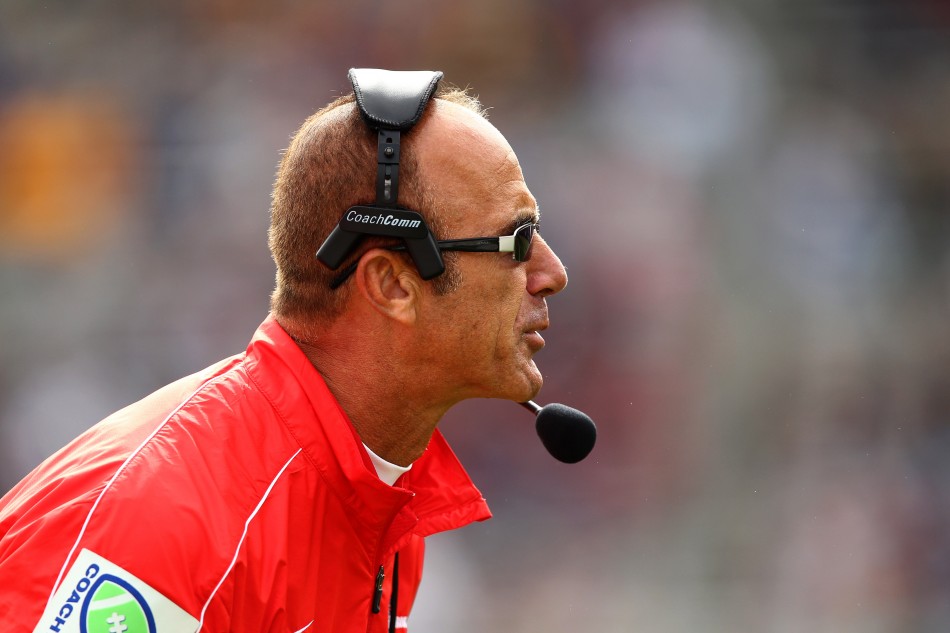 Here's Maysonet cruising in for a touchdown in the first: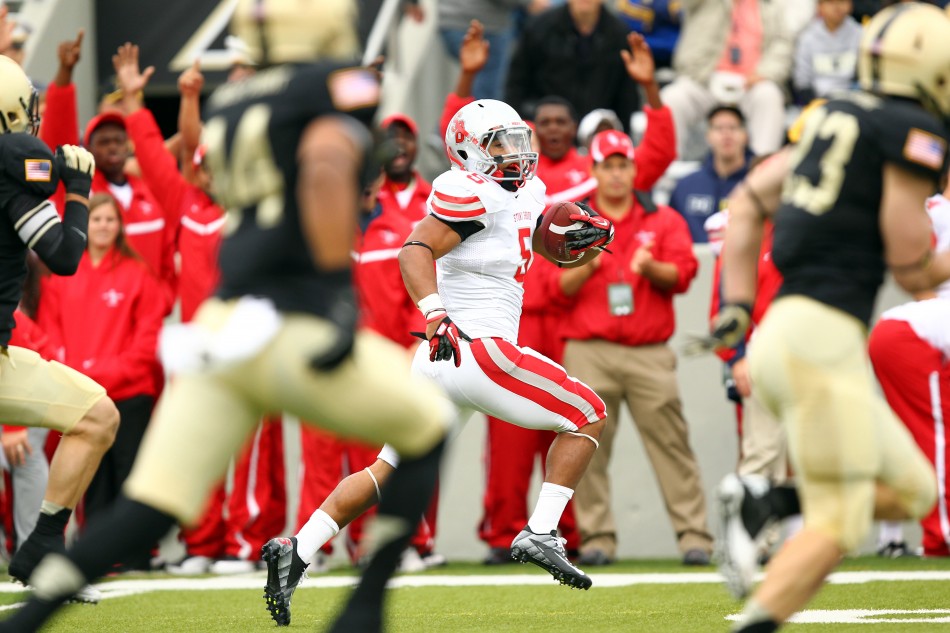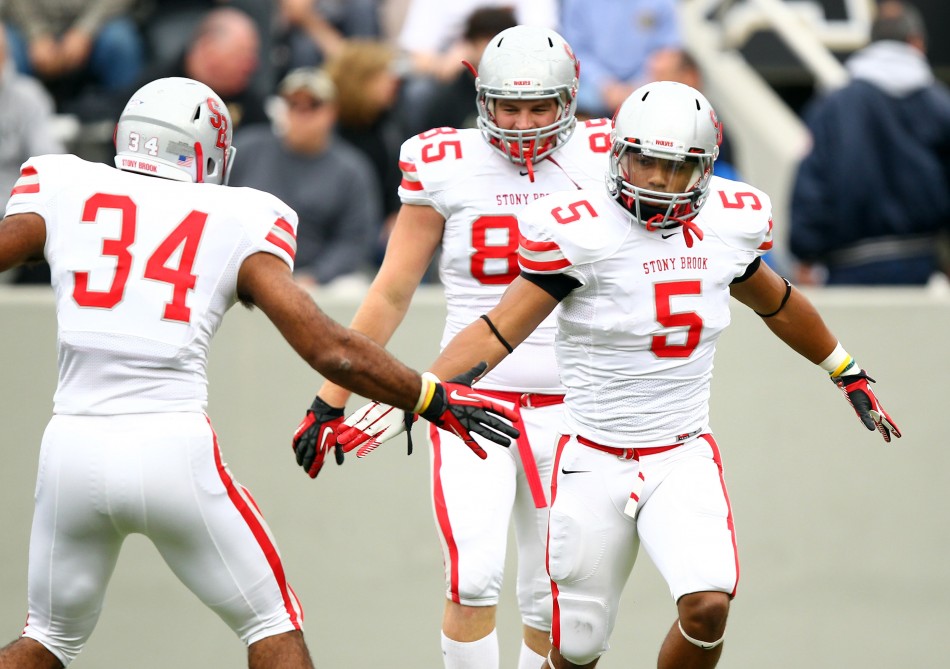 Maysonet and fellow running back Marcus Coker (below) were two requested players I needed to shoot for US Presswire. I got a few nice clean frames of him here from the back of the north end zone (by the way, how often do you see hairy arms on an athlete?):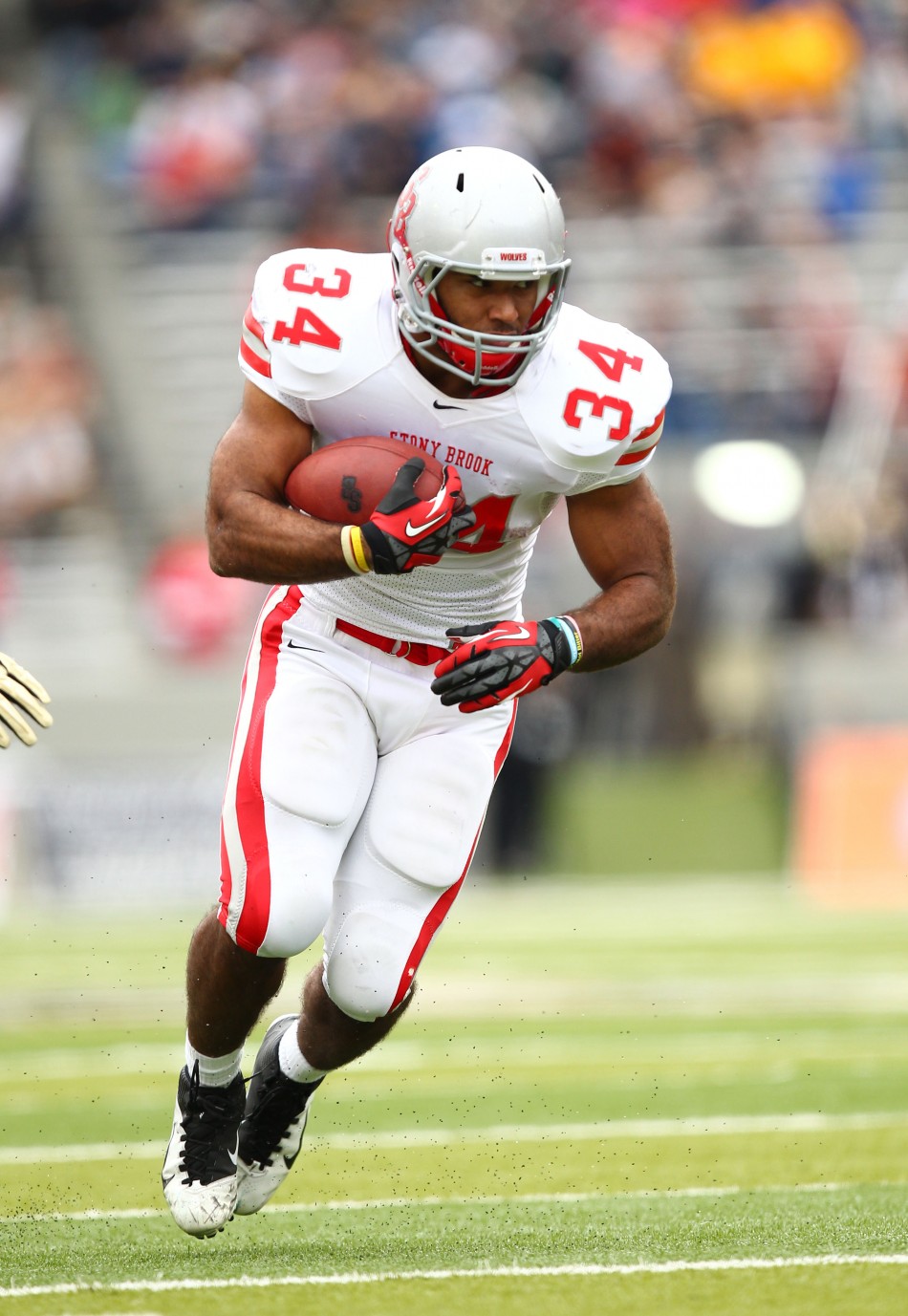 Stony Brook Seawolves defensive back Cedrick Moore (41) dances after recovering a fumble during the first half: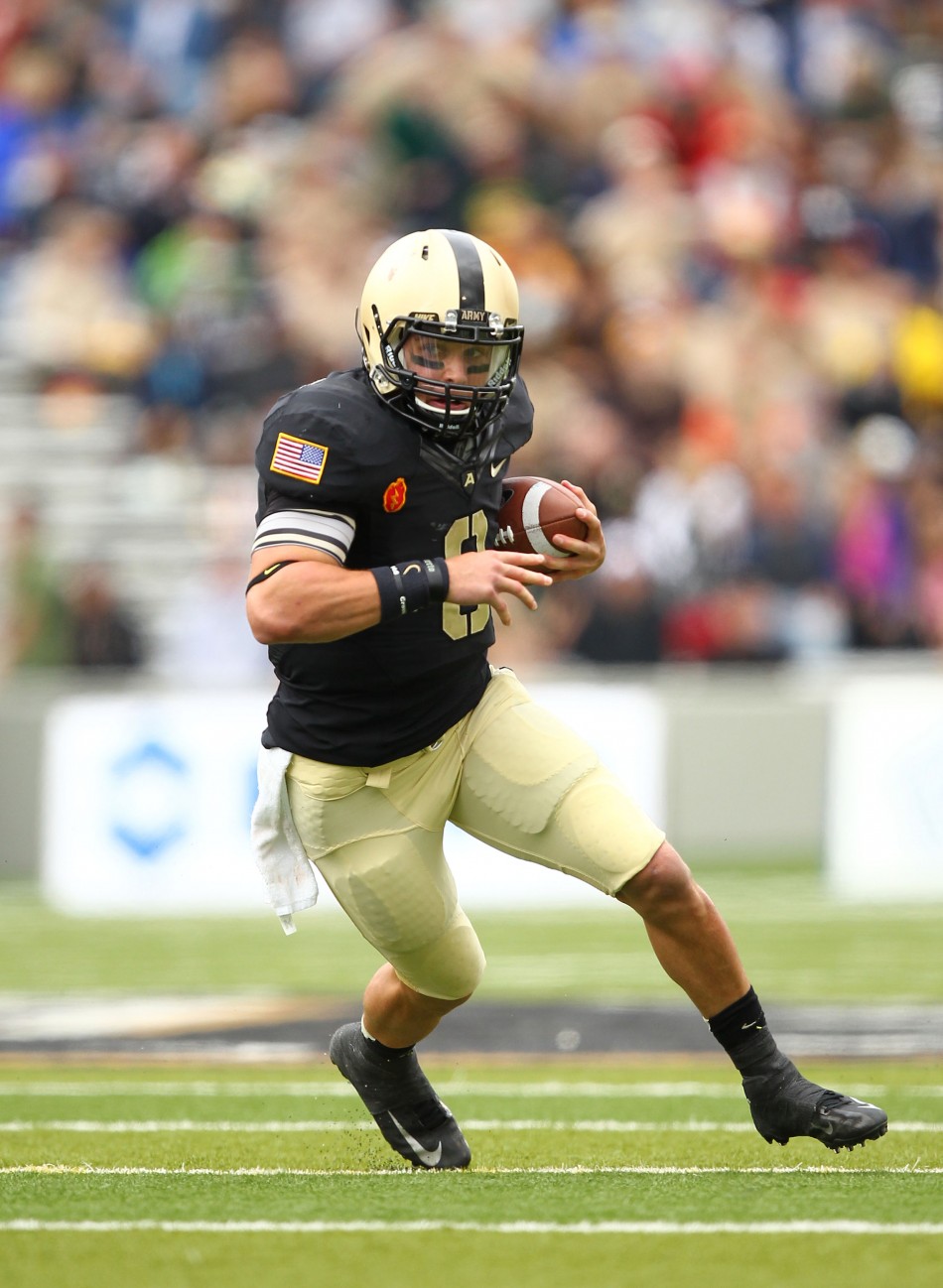 I found shooting from the visitor's sideline provided some real nice warm backgrounds, as opposed to the white-out from the Corps on the other side. With white jerseys, this worked much better all around:
Seawolves wide receiver Kevin Norrell (3) catches a pass: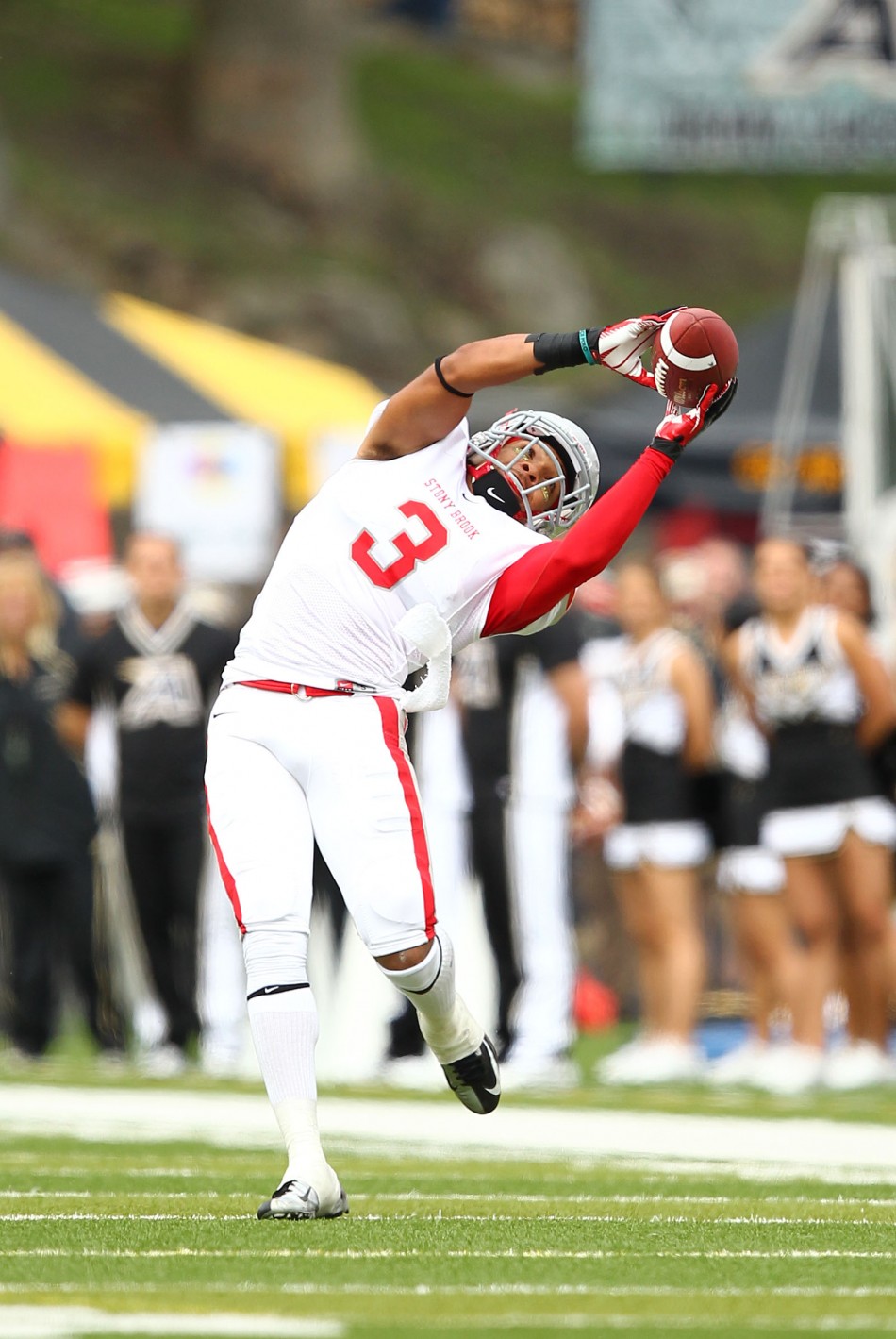 Here's defensive back and cadet First Captain Brandon Whittington after the game: