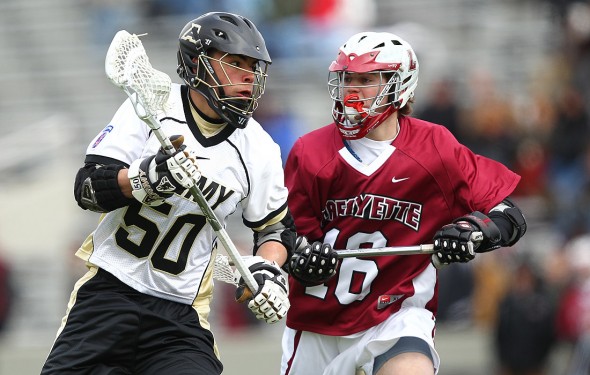 Saturday afternoon was a win on two levels: Army crushed a visiting Lafayette squad for its first Patriot League lacrosse victory, and I managed to avoid the omnipresent speed traps at West Point for a second straight week. Army senior Garrett Thul had six goals and fellow attackman John Glesener added four more along with three assists to combine for 13 points in the Black Knights' 15-6 win at a cold but bright Michie Stadium. 
These lacrosse games are pretty neat to be at since you're at Michie, in all its grey, antique glory, but it's relatively empty and calm. The crowds at Army lacrosse games are pretty solid (all of A and B lots are full of cars and tailgates) but only the east stands are open to fans, so the place is largely empty… which means I can't resist some iPhone 5 panoramas:

Thul's six goals led all players, while Glesener matched a career-high with four goals and set a career best with seven points. Sophomore middie Alex Newsome and four freshmen — Tim Coll, Mike Perettine, Will Mazzone and Alex Daly — each registered single goals in the win.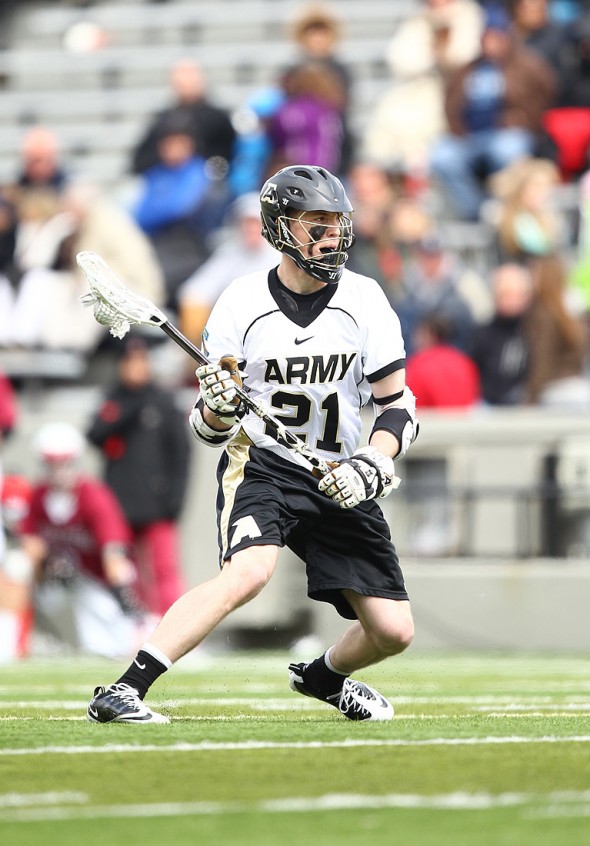 Above, Glesener sets up the offense, and below, Thul passes behind the goal: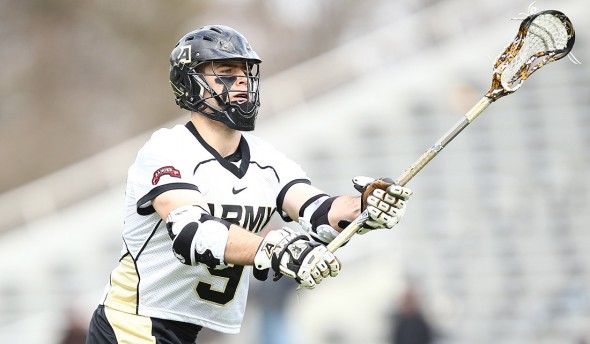 Army has two little guys on the team this year, one being Connor Cook, who's listed at 5-foot-5 and that's probably a stretch: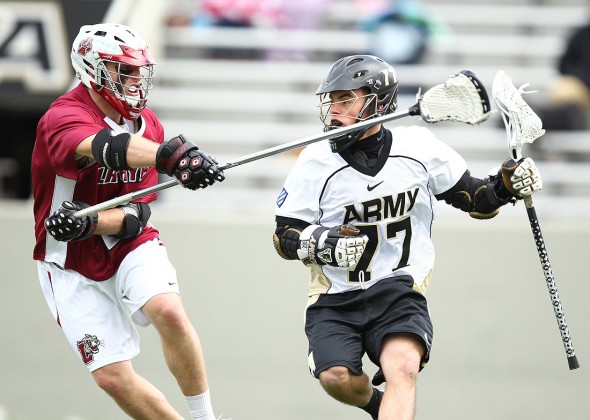 Here's a penalty: Tom Coll (33) gets tripped and loses the ball in the process. Somehow I got the exact moment, this is an uncropped photo: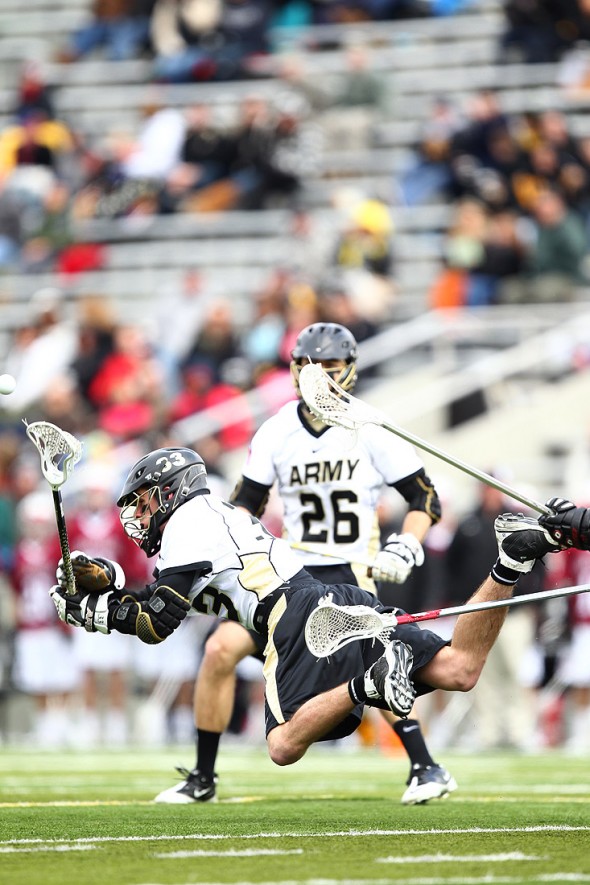 Mike Perettine moves in on Garden City, N.Y. product Matt Confort of Lafayette: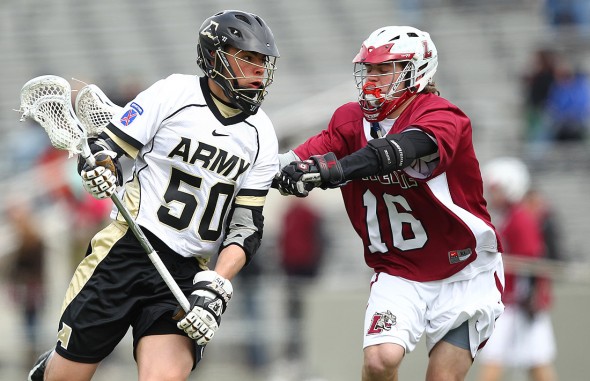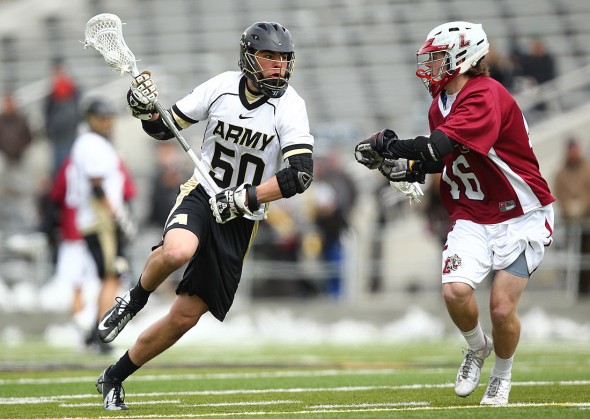 In the second half, the sun started to break through, and that's not always good news. One of the most annoying environments to shoot in is these big, fast-moving clouds that allow for quick, random breaks of bright sunlight. In terms of exposure, you go from bright overcast to blazing beach sun in a few seconds. I don't trust my Canon 1D Mark IV in aperture priority mode (thanks Canon), so I end up dialing the shutter speed up and down as the game action progresses. Anyway, here's Coll with some nice sunlight: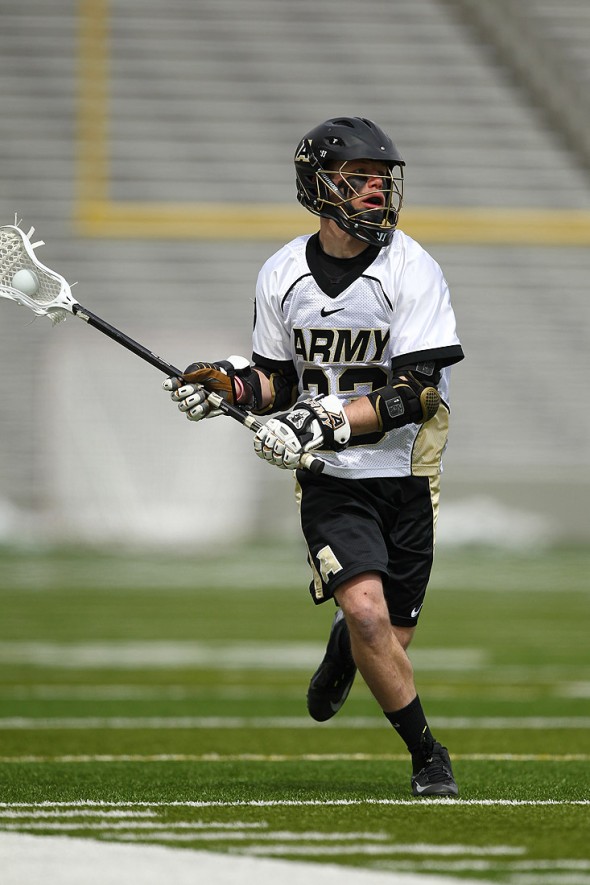 Army's Will Mazzone with the sun at his face: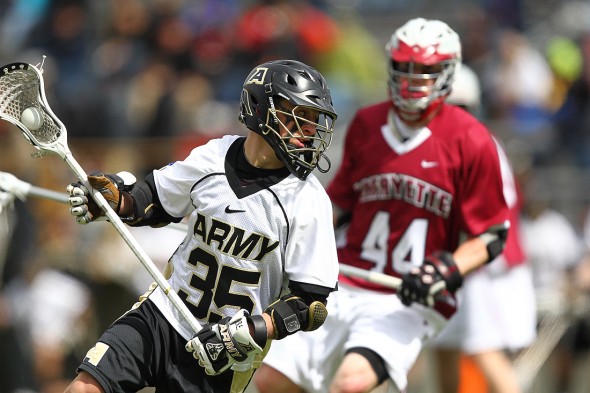 And now we're back to cloudy and somewhat overexposed. It's annoying. Either be sunny, or leave us alone: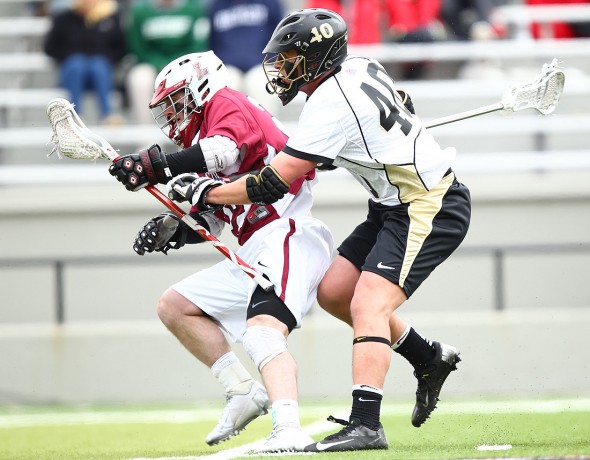 Thul laughin' it up after after one of his six goals: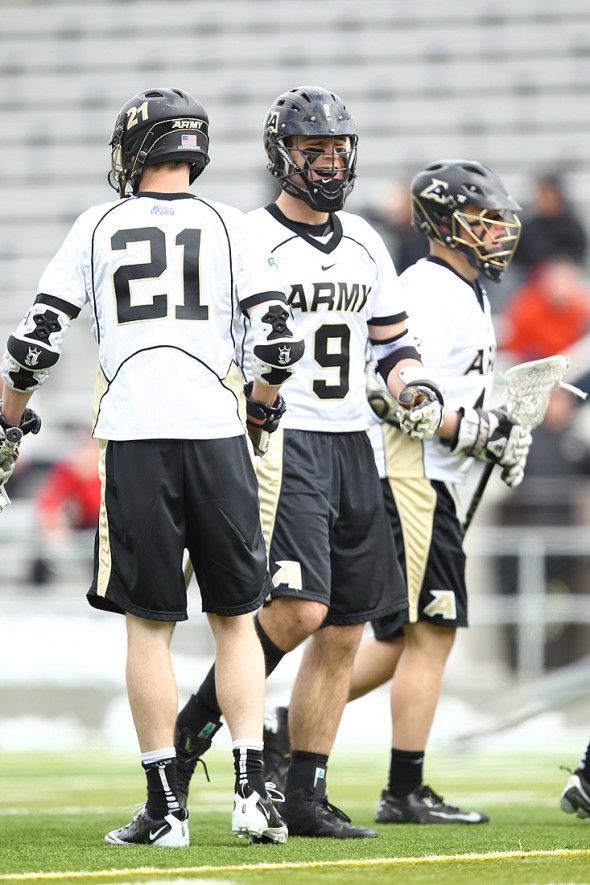 Army's Brendan Buckley (6) takes down Lafayette sophomore Brian Bock: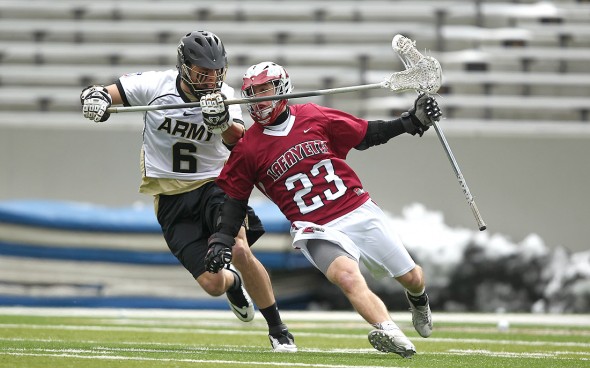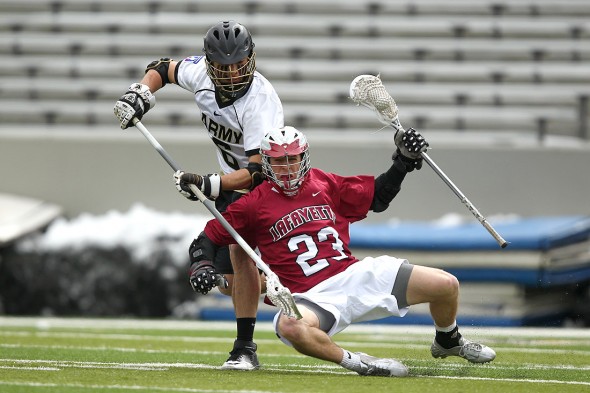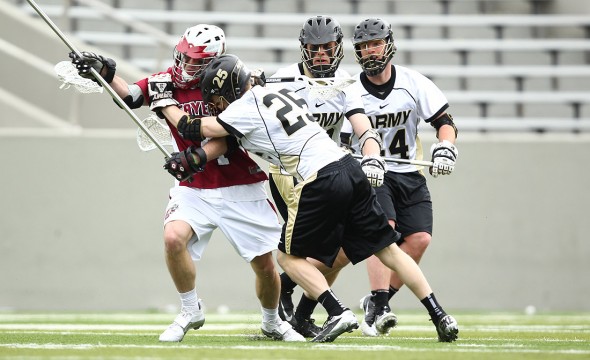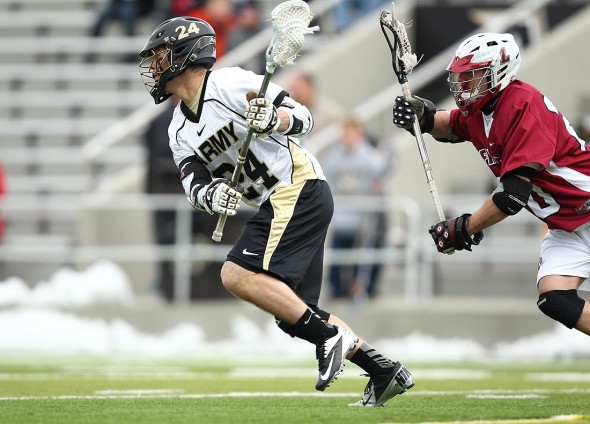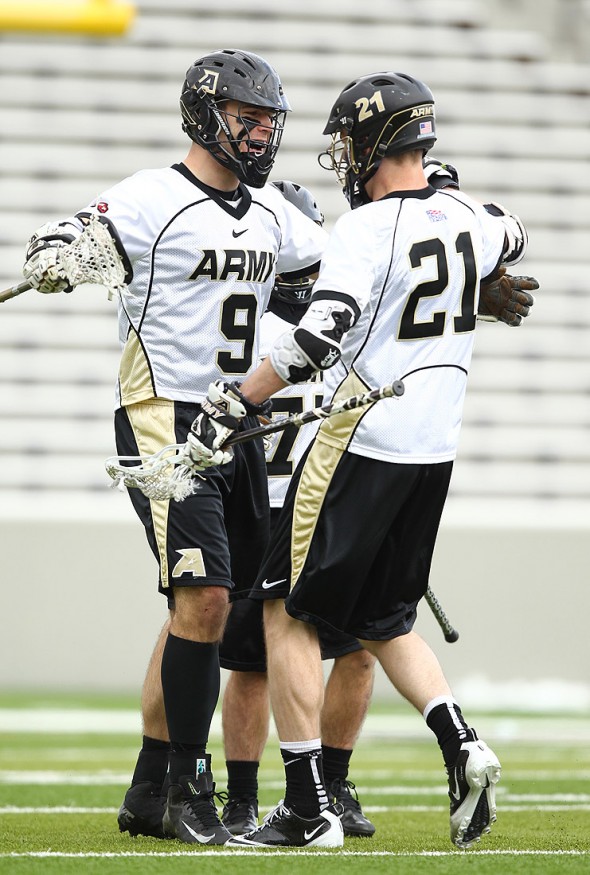 Army's John Glesener is the subject of an upcoming piece in the Baltimore Sun, which will feature one of my photos. I'll keep me eye out for it: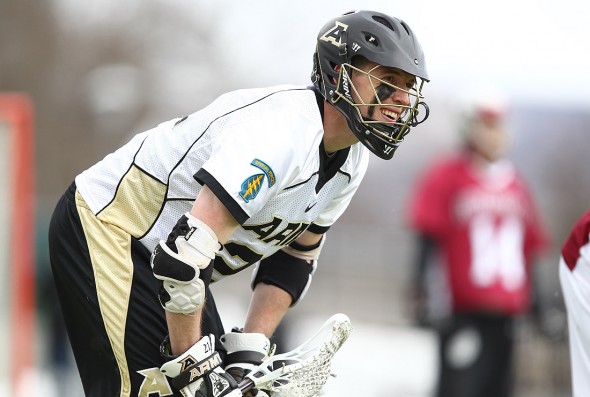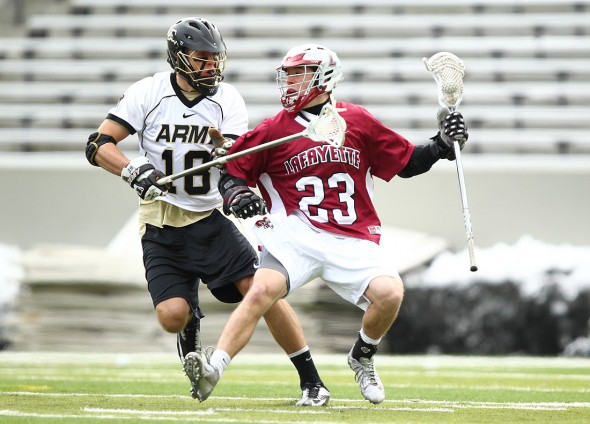 Freshman Alex Daly won a faceoff and scored a goal all by himself in the second, prompting the entire team to bear hug the kid, including the goalie, who ran the length of the field to celebrate: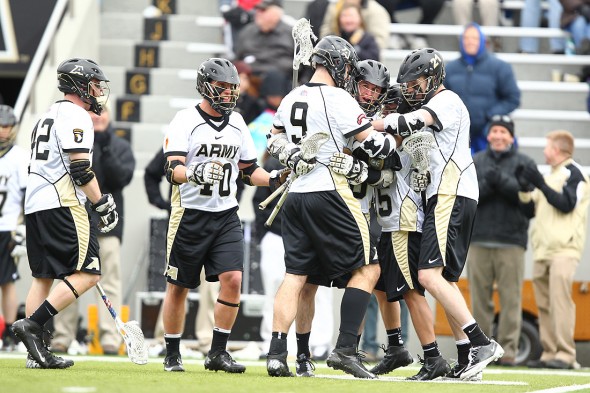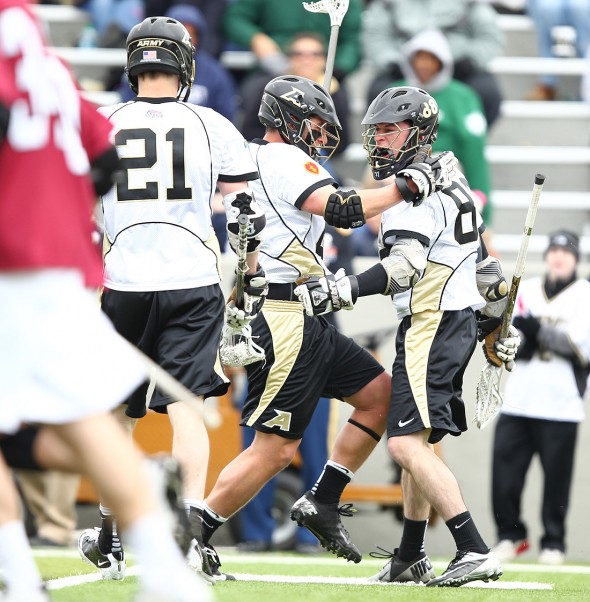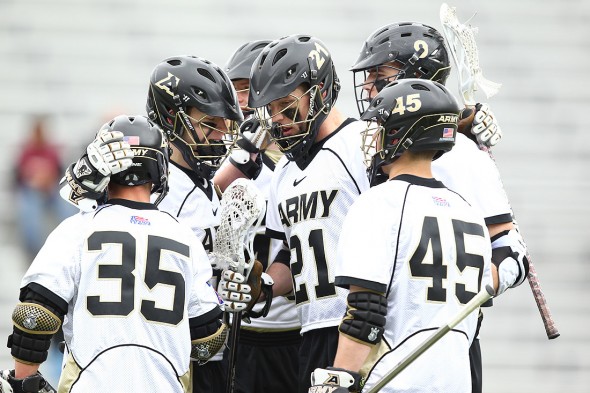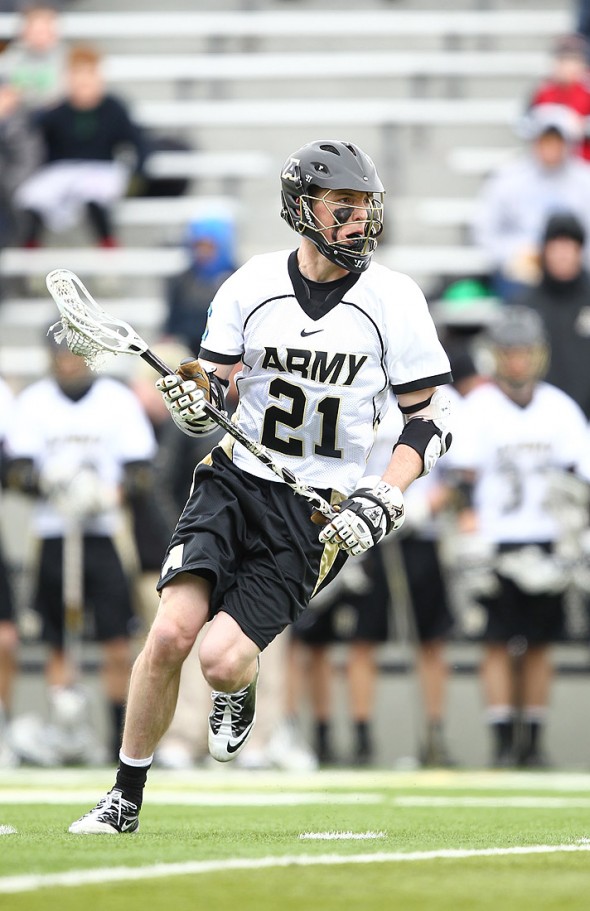 Alex Van Krevel eyes a shot: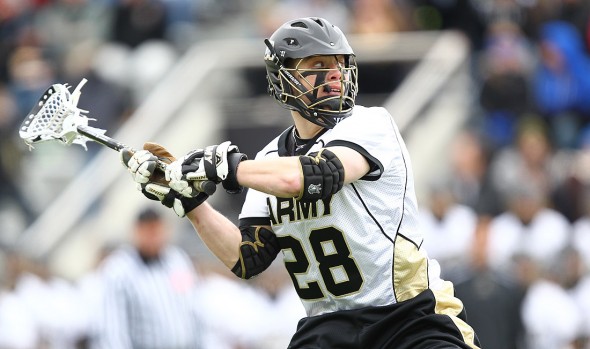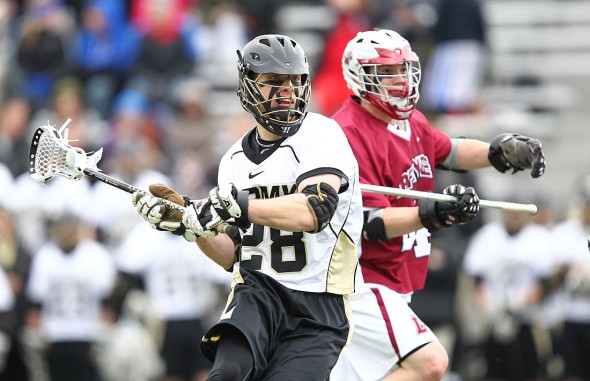 To spice it up, here's a few iPhone Instagram shots of Michie I took before, during and after the game: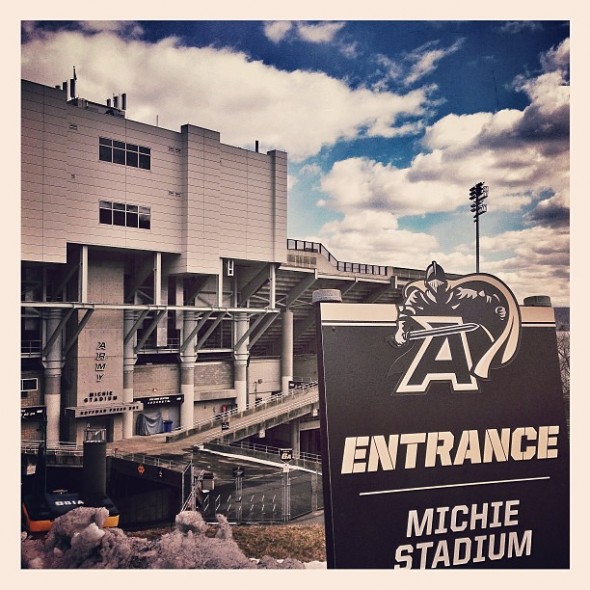 Plenty of snow still on the field, and most of it is encrusted with these little black rubber pellets that are part of the artificial turf field: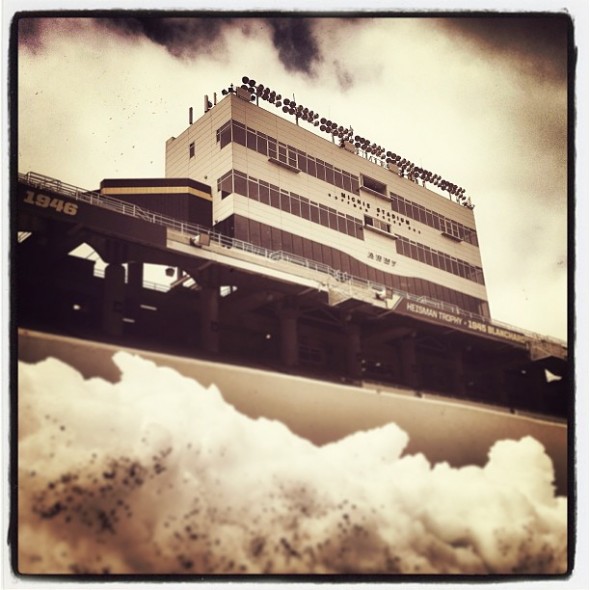 Here's the view from Hoffman Pressbox looking down at the northeast corner of Michie — you can see Lusk Resevoir and the cadet chapel offset by a blanket of snow. I edited this using the free iOS app Snapseed: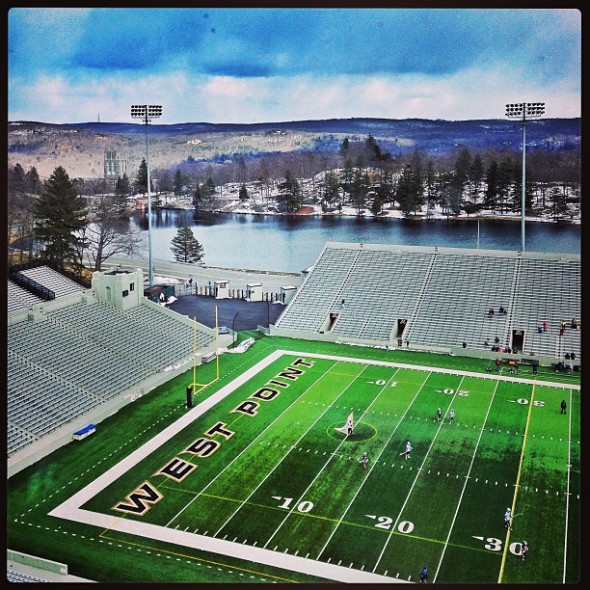 Here's Michie on my walk from A-lot before the game: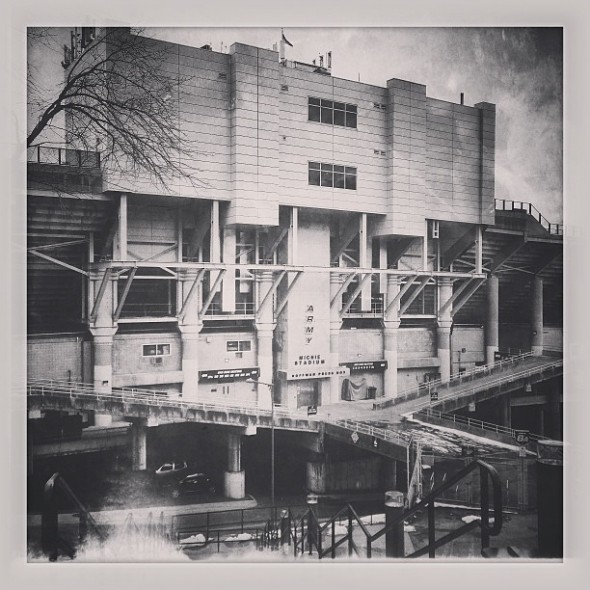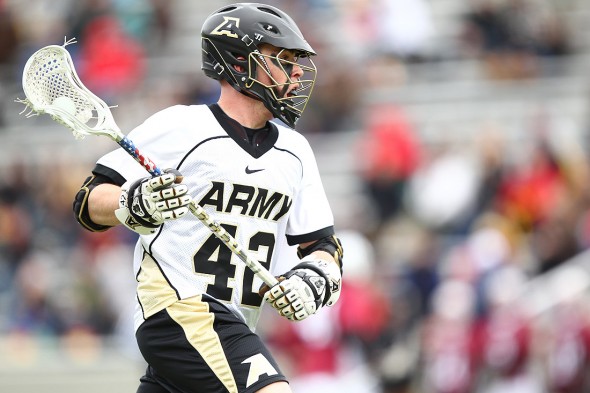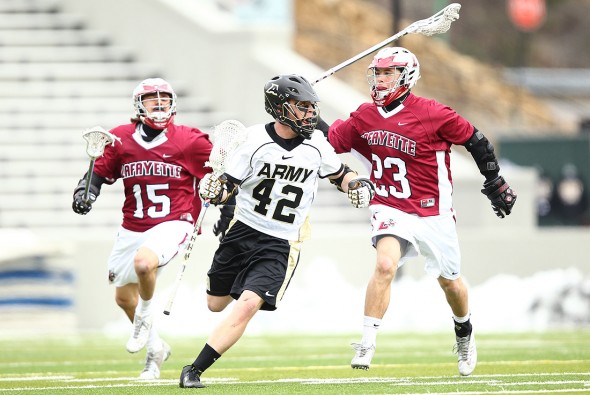 Mazzone, listed at 5-6, is the other small target for Army: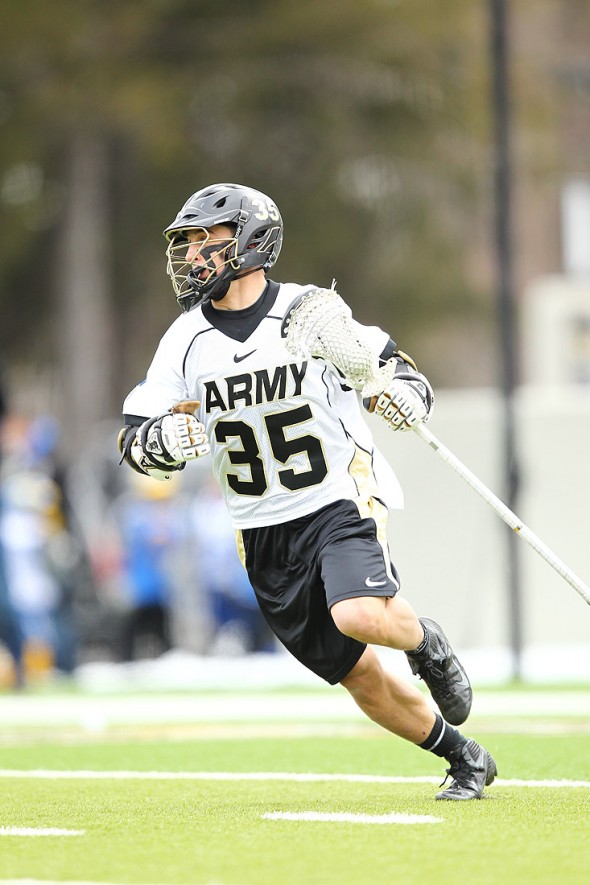 Thul, though, is 6-3 and commands a lot of attention when he's got the ball: