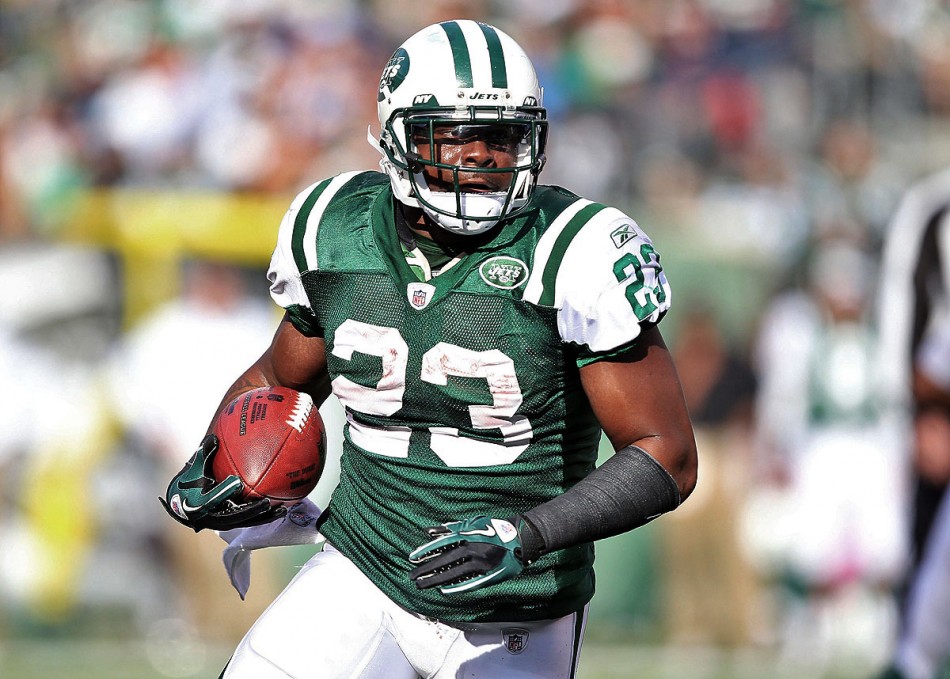 About three months ago, I surprised my dad with tickets for a Giants-Jets exhibition game at the new Meadowlands Stadium. He blew me off, and we never went. I hadn't been to an NFL game since 2002. On Sunday, I finally found myself on the sidelines awaiting kickoff, surrounded by 79,088 green fans. And I didn't even need a ticket.
Sunday was my NFL debut of sorts — US Presswire asked me to shoot the Jets' fourth home game, this one against San Diego, on a bright sunny day in East Rutherford, N.J. I found myself surrounded by, really, the best of the best the New York media scene had to offer. Sports Illustrated's top shooters, several from the AP (including my good friend Kathy), Getty, NFL Films, the NYC papers, etc. As for USPW, we tagged-teamed this event as well, with me and another great photog, Ed, covering each sideline. Here's a look at what we got.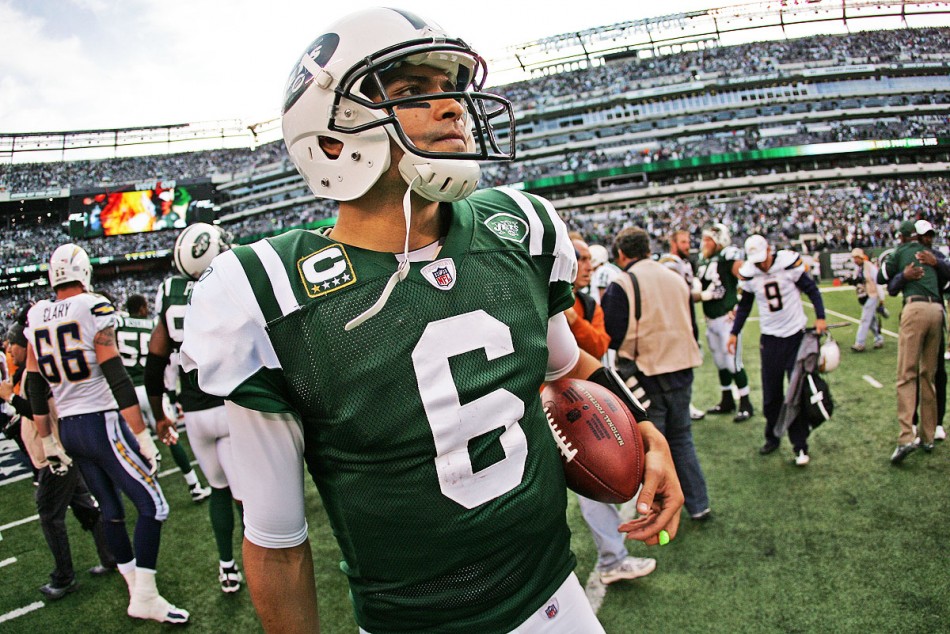 Mark Sanchez had a big day, connecting three times with the embattled Plaxico Burress (the New York Post, journalism's pathetic, smelly armpit, wrote a typically ridiculous back-page headline scolding the ex-con days earlier for being a no-show this year.) Outside Burress looking to prove his doubters wrong, the game was also played in the wake of star cornerback Darrelle Revis' awkward phone hang-up with radio host Mike Francesa. Revis (below) stepped up as usual with a timely pick as the Jets come back from an early hole to win, 27-21.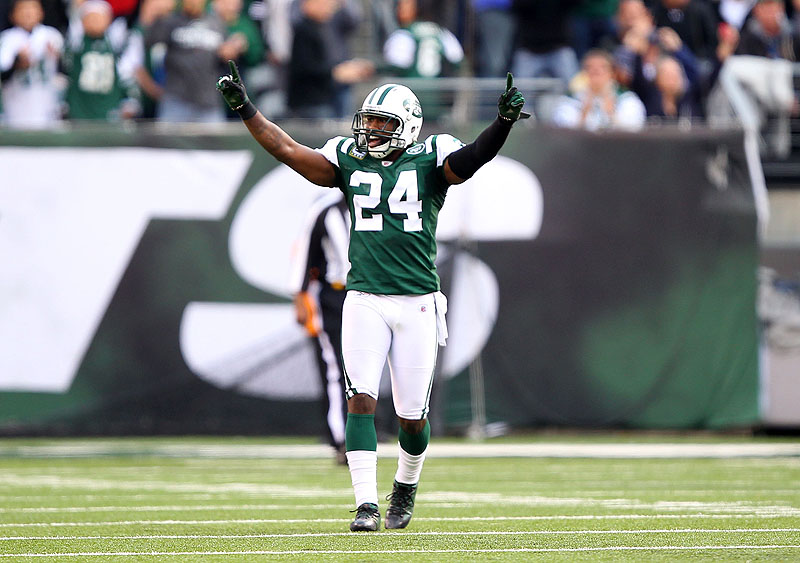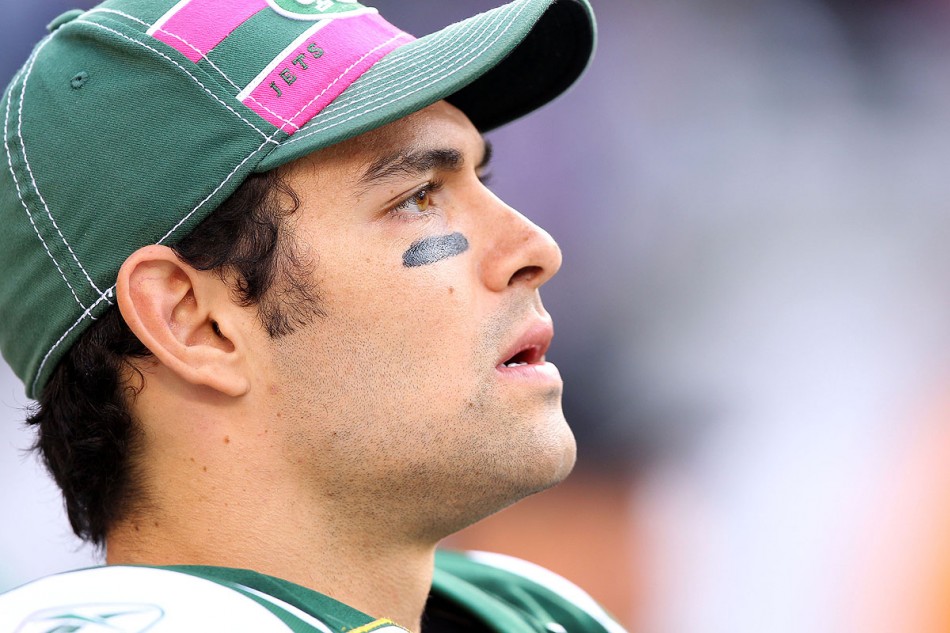 I'm a Jets fan, but I also had Sanchez going this week for my [first-place] fantasy team.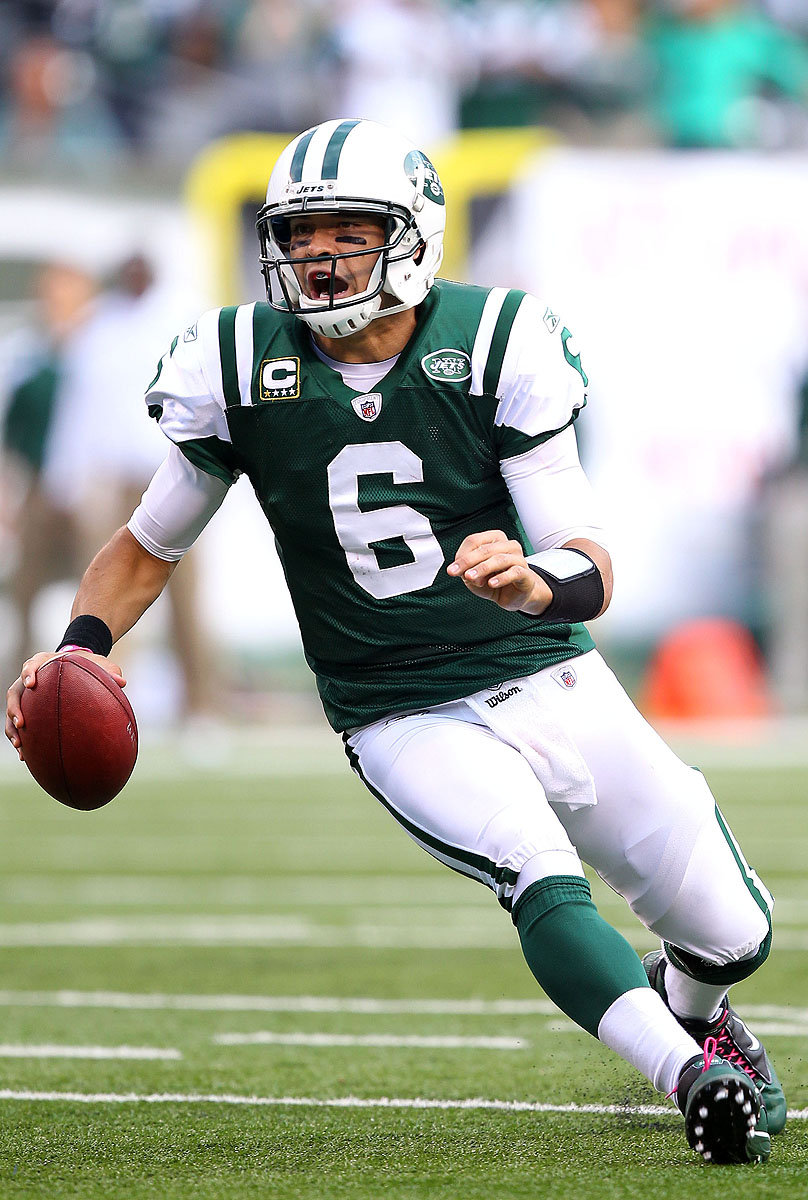 After getting a tour of the CBS trucks outside the stadium with my friend/co-worker Tom, I went out into the stadium to grab some pre-game warmup shots. Burress glared over at me and, after a few more photos, I popped into the field level media work room and transmitted this image: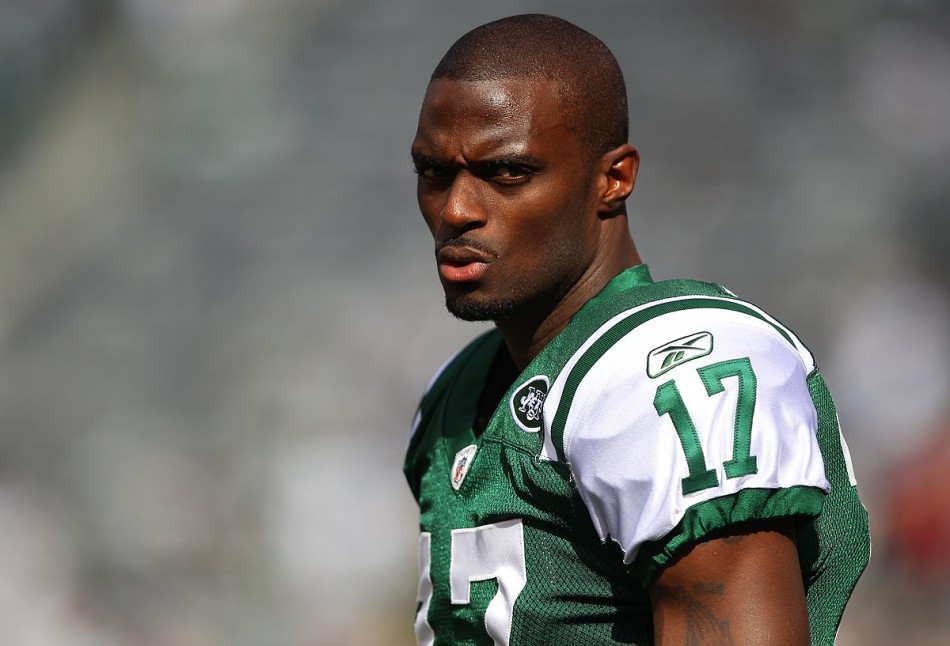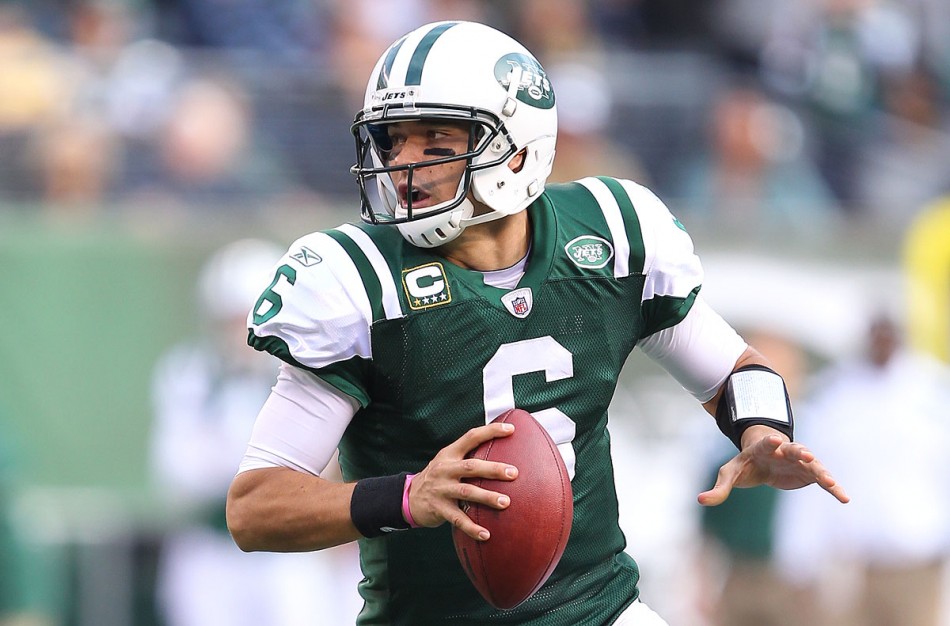 I got lucky here getting a nice clean shot of Burress' third touchdown of the game: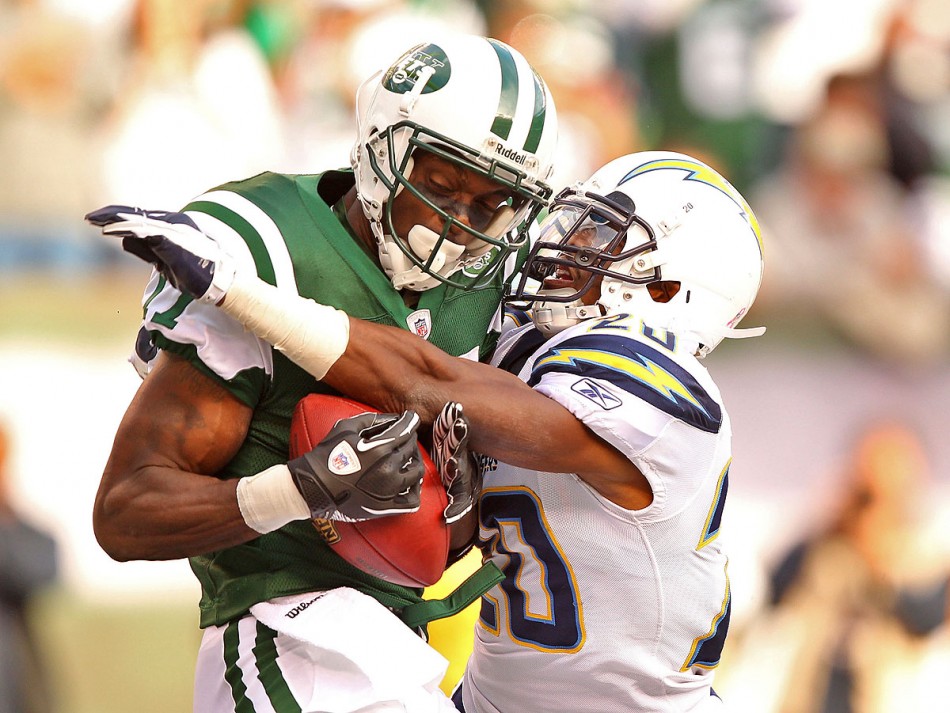 I got two nice frames of this catch, and the second one made the front of Fox Sports West's website: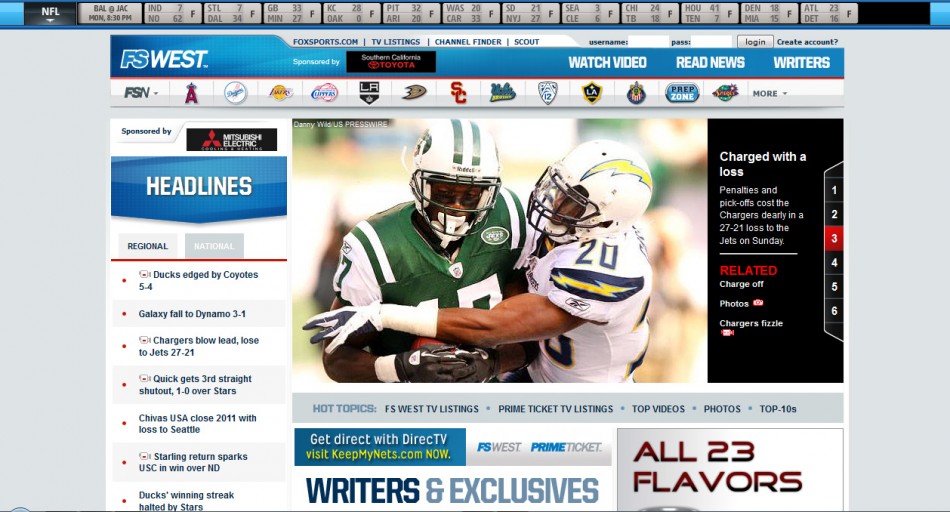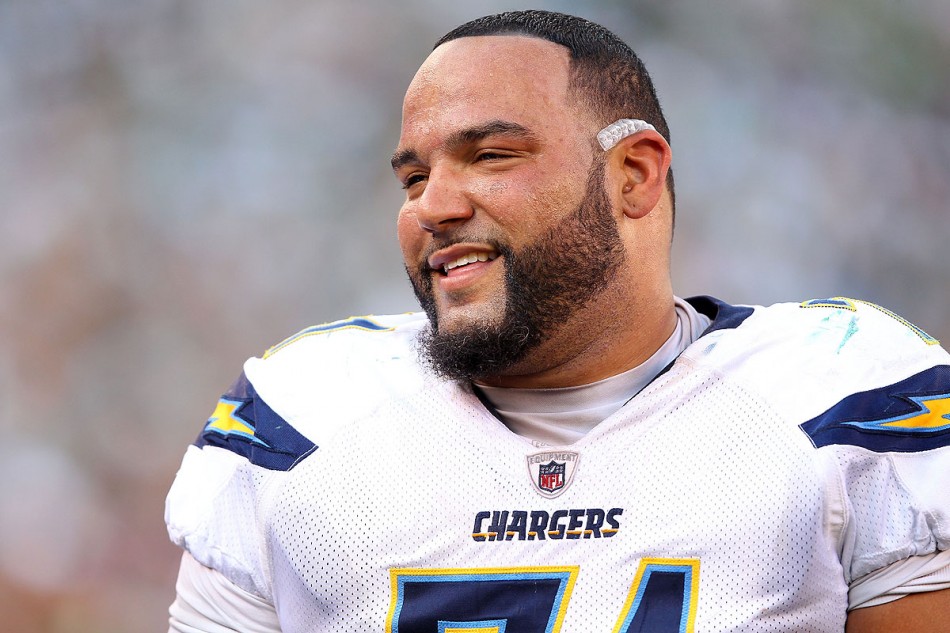 I took a bunch of cheerleader photos, mostly in hopes that one might get picked up in SI.com's weekly NFL cheerleaders gallery. None of mine made it this week, but it was well worth the time and effort I guess. Rough job, someone has to do it, as they say: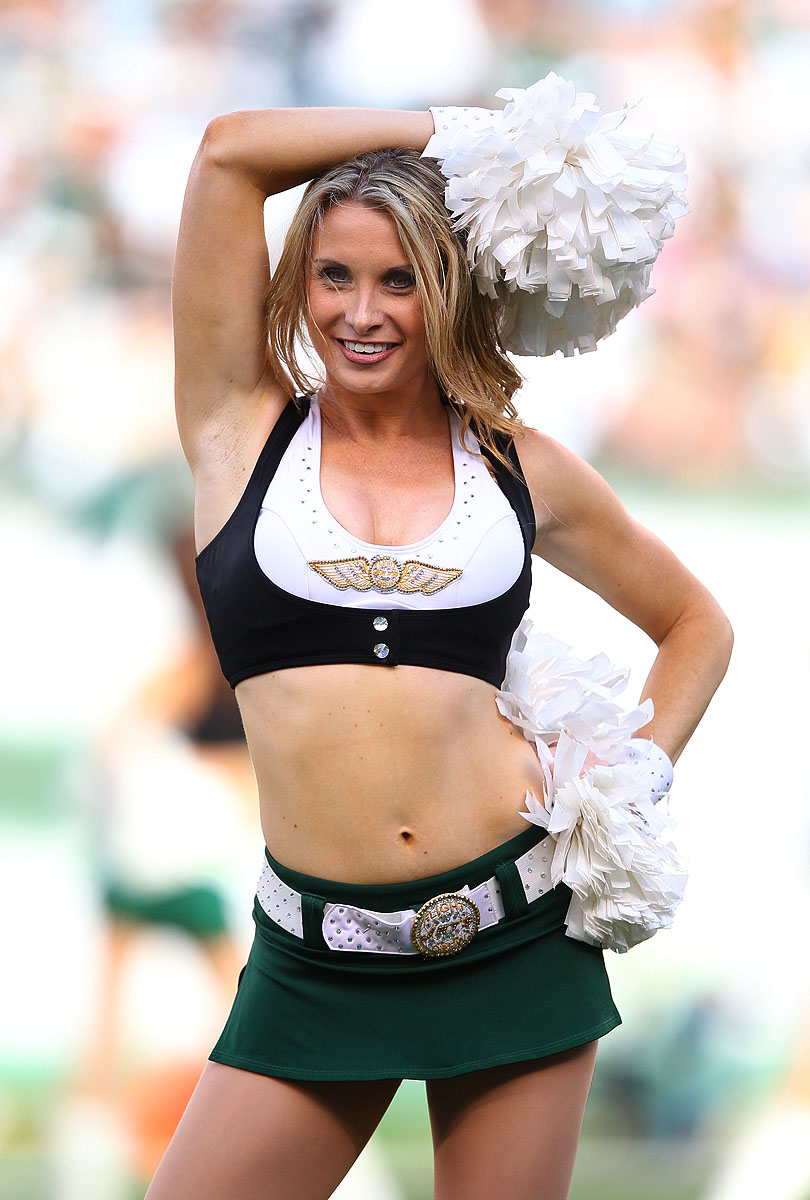 This play shows Quentin Jammer (23) celebrating after breaking up a pass intended for a dejected Santonio Holmes. My fellow USPW shooter Ed got the exact same shot, and it ended up in one site's weekly gallery.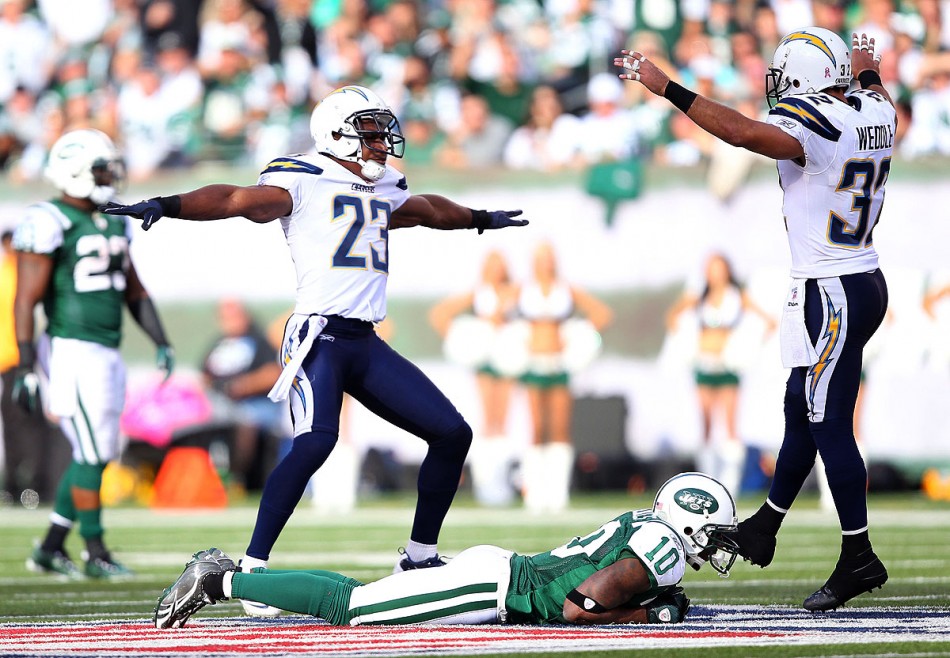 I admittedly overexposed some frames, certainly not on purpose, but more a result of the big puffy rolling clouds that changed exposures within seconds. The speed of the game also contributed — shooting near one endzone has you shooting mostly back-lit, but it only takes one big play to force a mass exodus of photographers to spring to the opposite end of the field. Now you're shooting with the sun at your back. I simply darkened the levels on this image of Sanchez looking to pass, so it came out very saturated and contrasty. I kinda like it though (notice the shadows here, his legs were in the shade):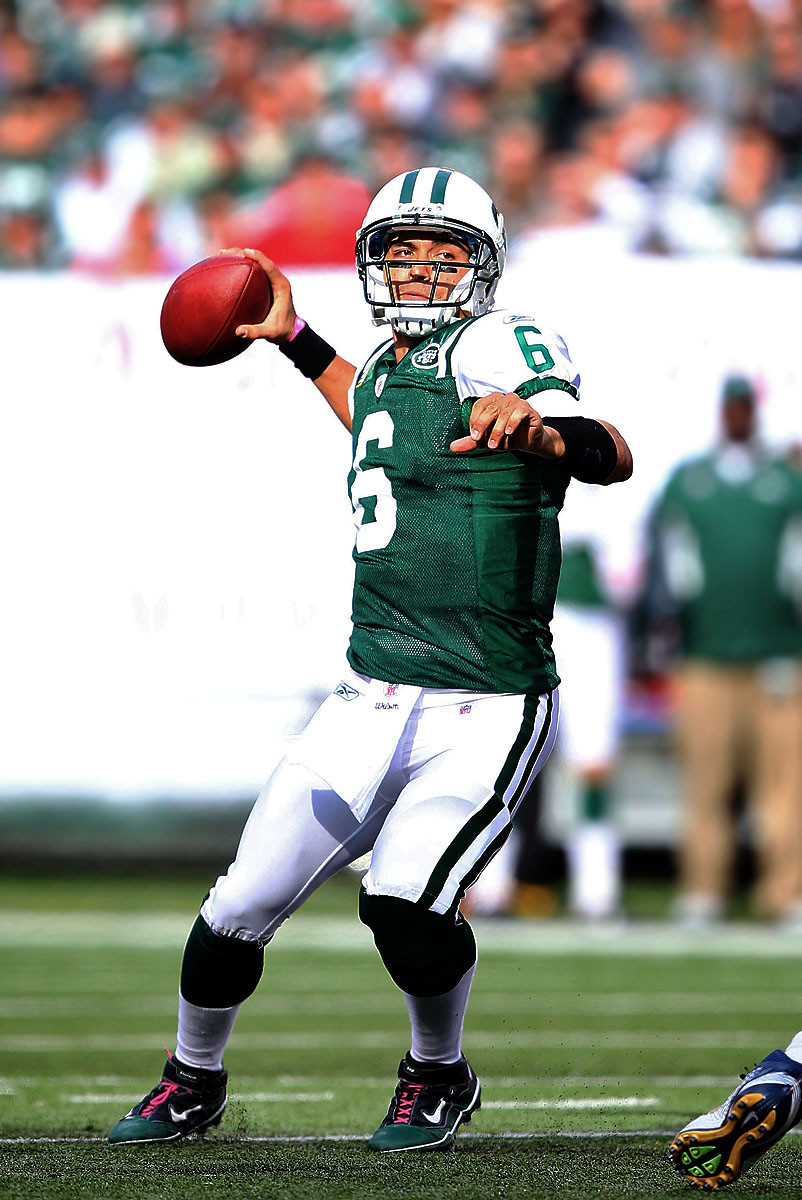 Here's a better exposed shot of Sanchez: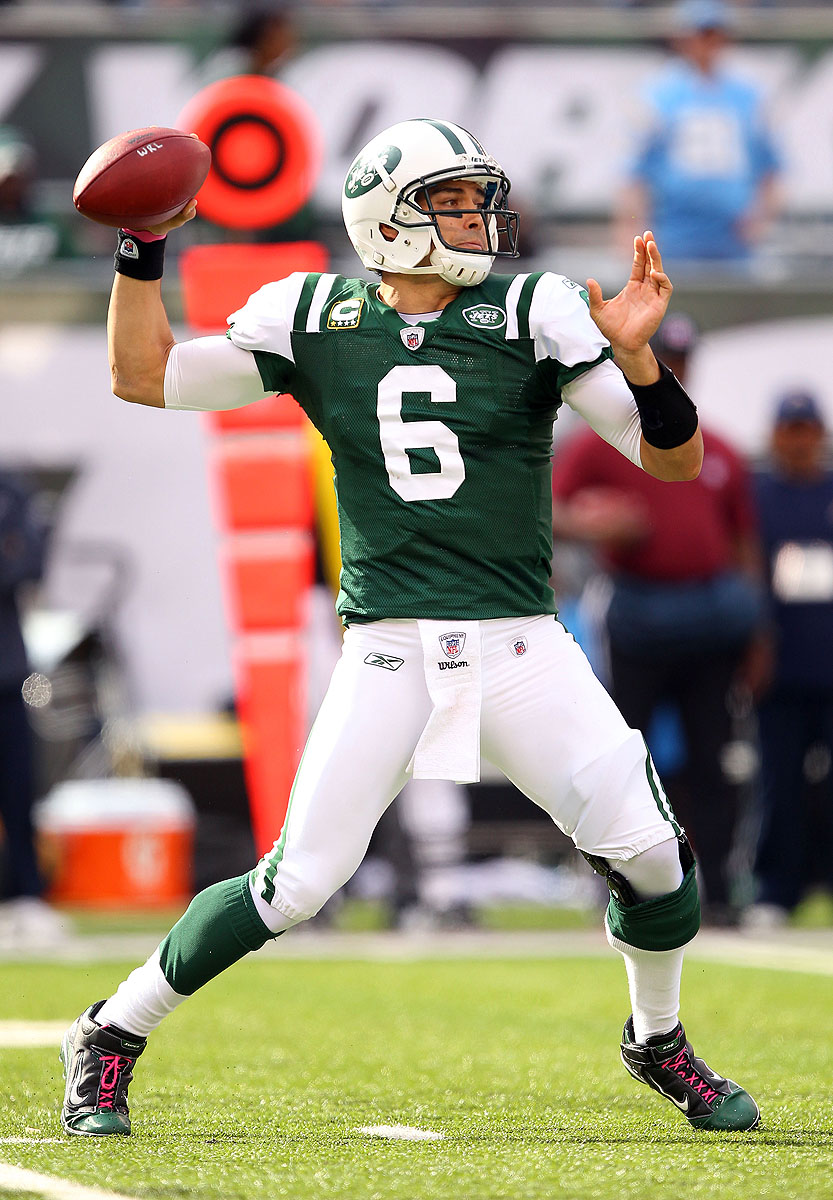 To my delight, the NFL picked up this shot and ran it as the main image on NFL.com for much of Monday afternoon (sweet MW3 ad in there too!):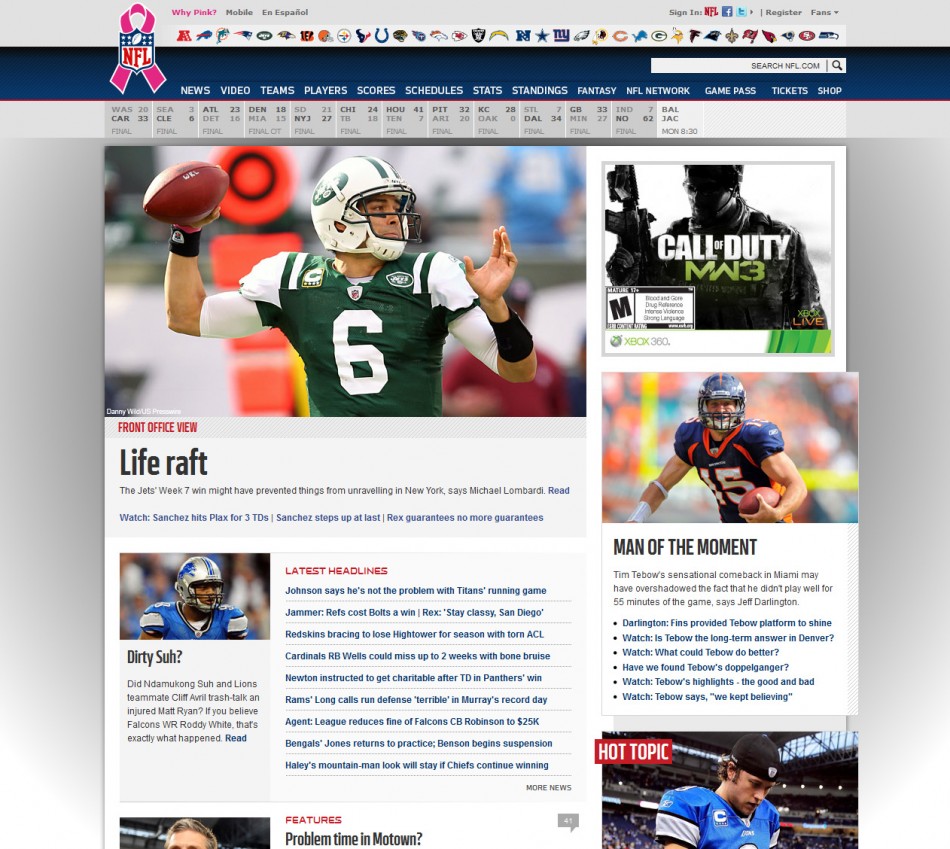 Center Nick Mangold came back from injury and I got this portrait of him on the bench: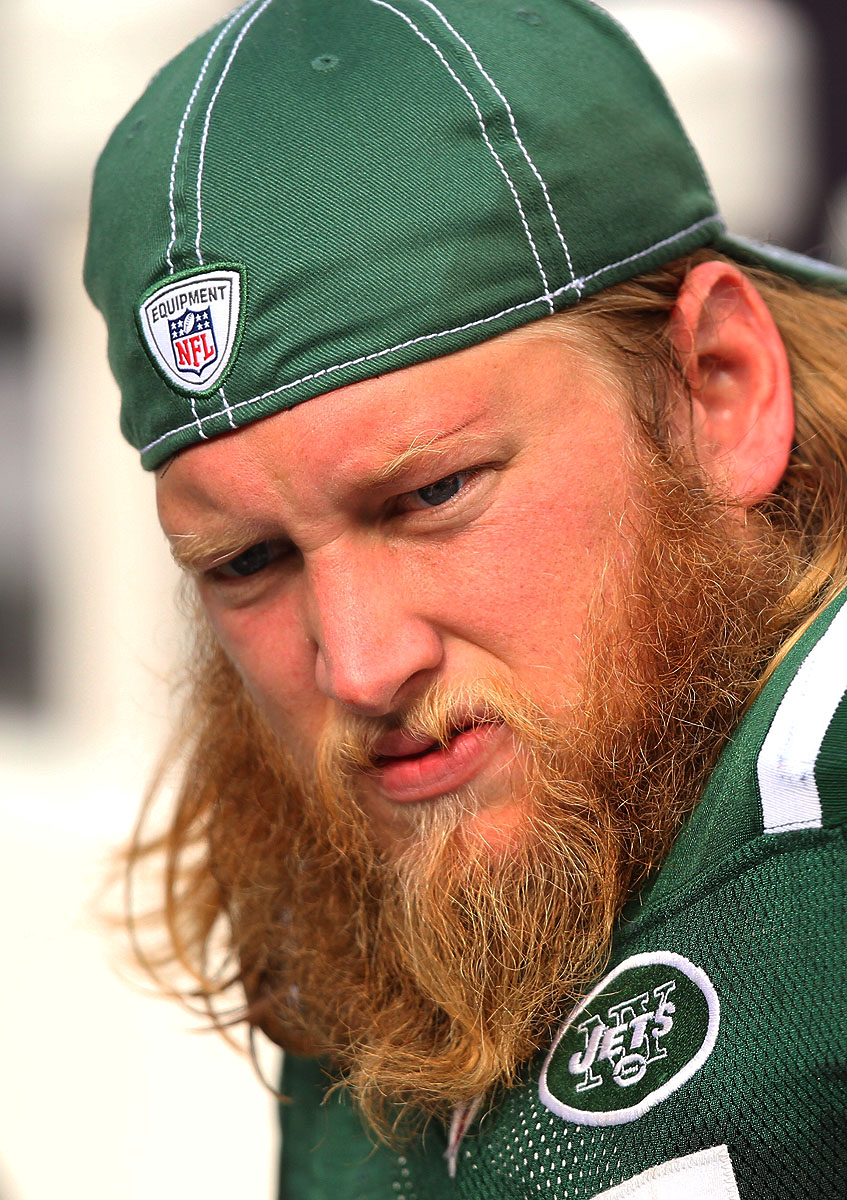 I tried to get a few stock shots of Revis in action: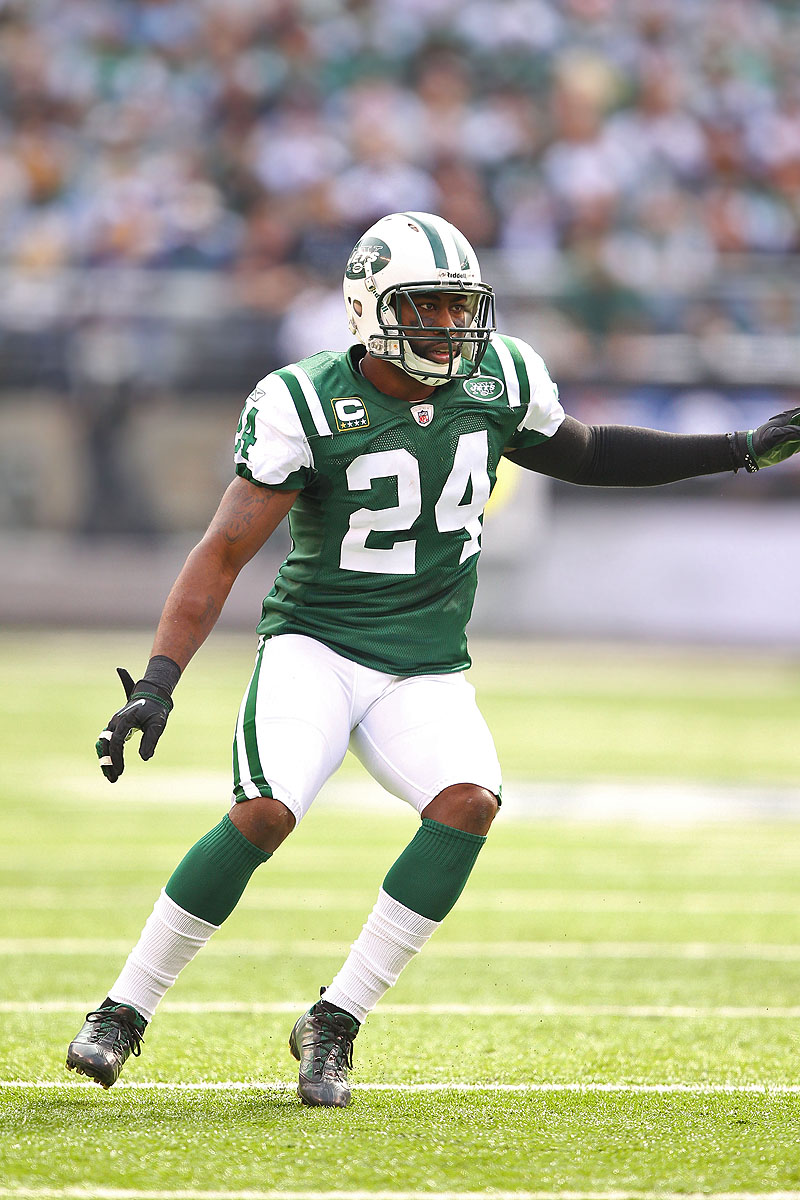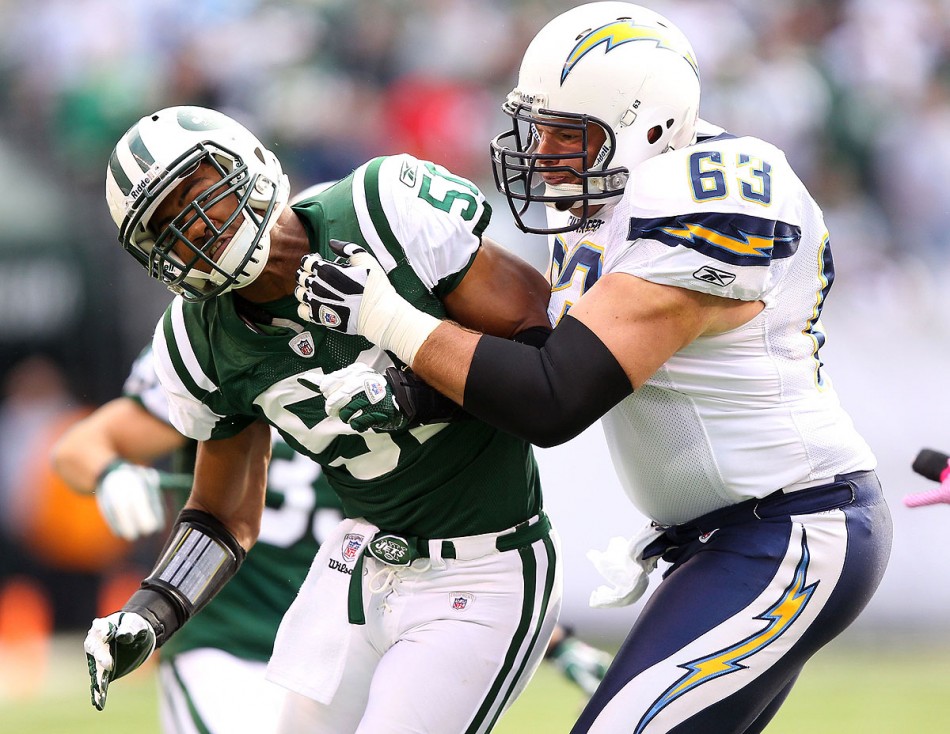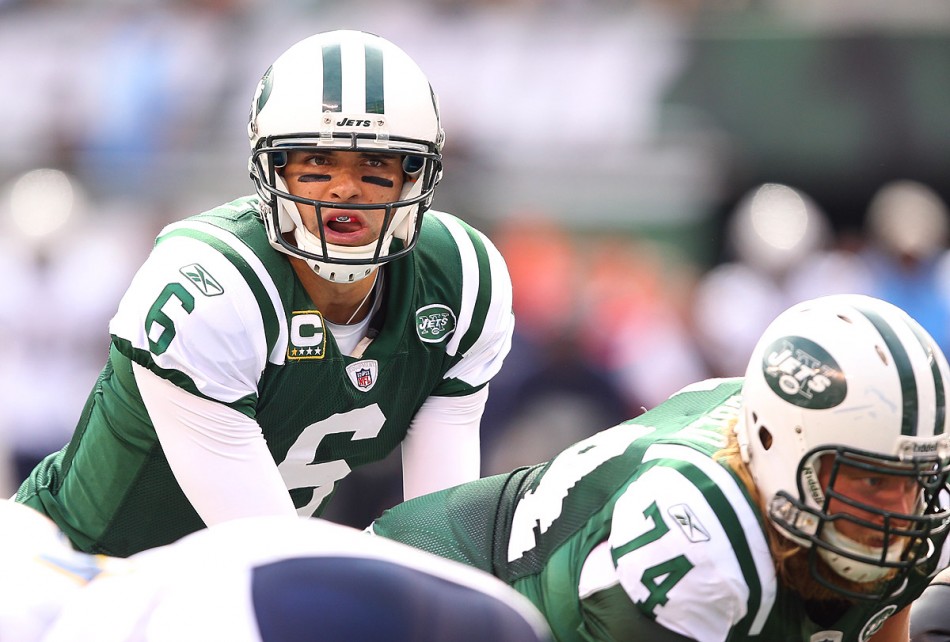 This shot of Philip Rivers also made NFL.com: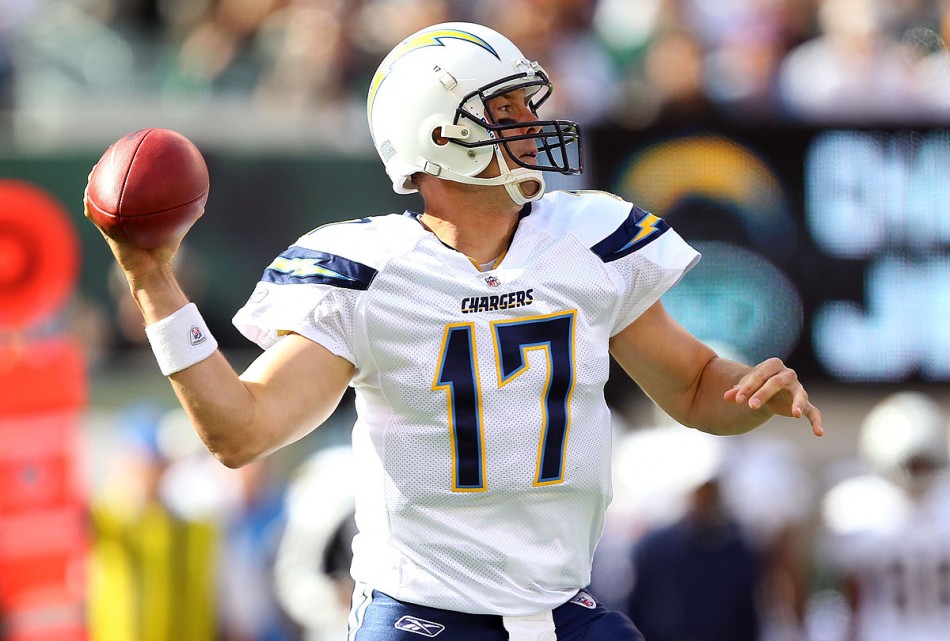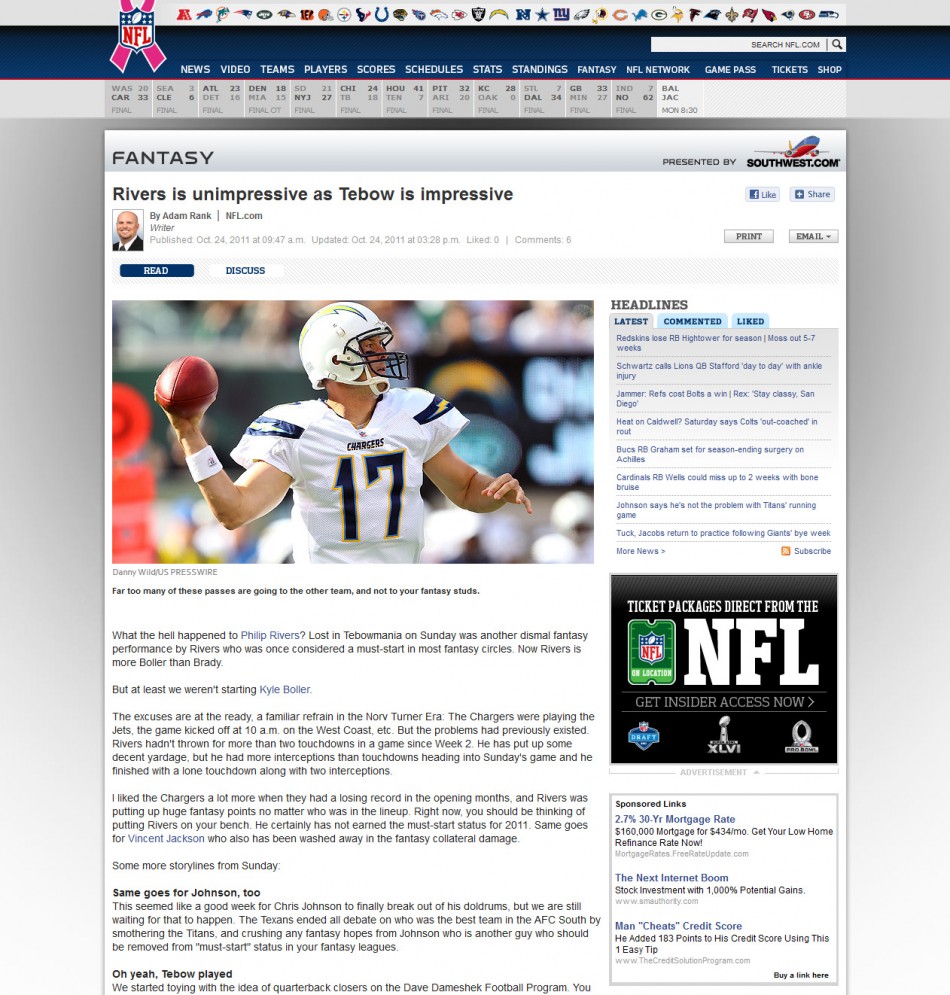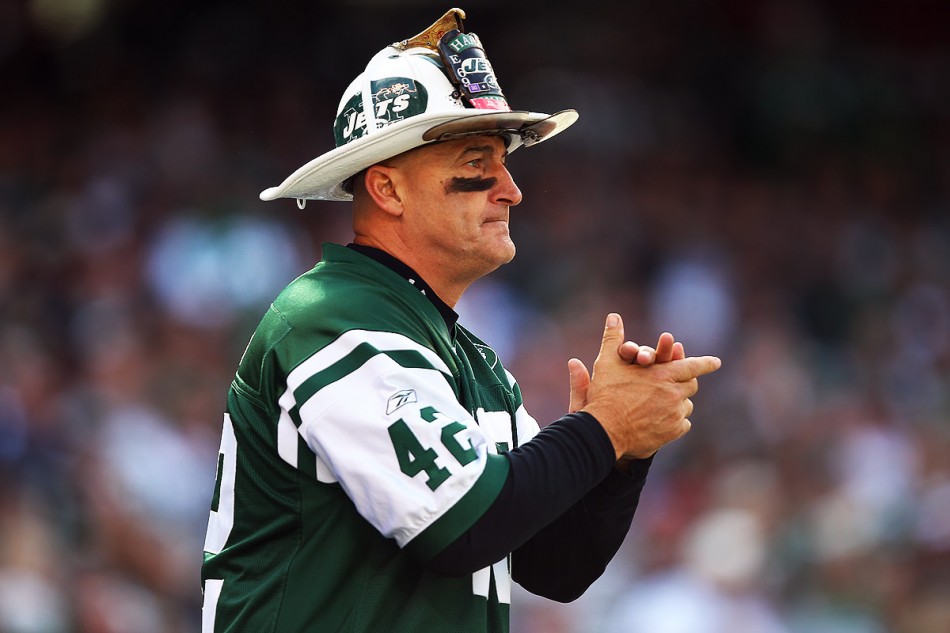 Legendary Jets fan Fireman Ed was really cool to shoot — extremely emotional and photogenic.
Early in the game, Sanchez threw a touchdown pass to Santonio Holmes which was negated by a penalty. I had a perfectly framed shot of Holmes making the catch, but it was completely out of focus. Once the ref called it back, I didn't feel so bad. The next play, Sanchez got picked, and I got a perfect shot of the moment:
This, though, was Holmes celebrating the ill-fated touchdown: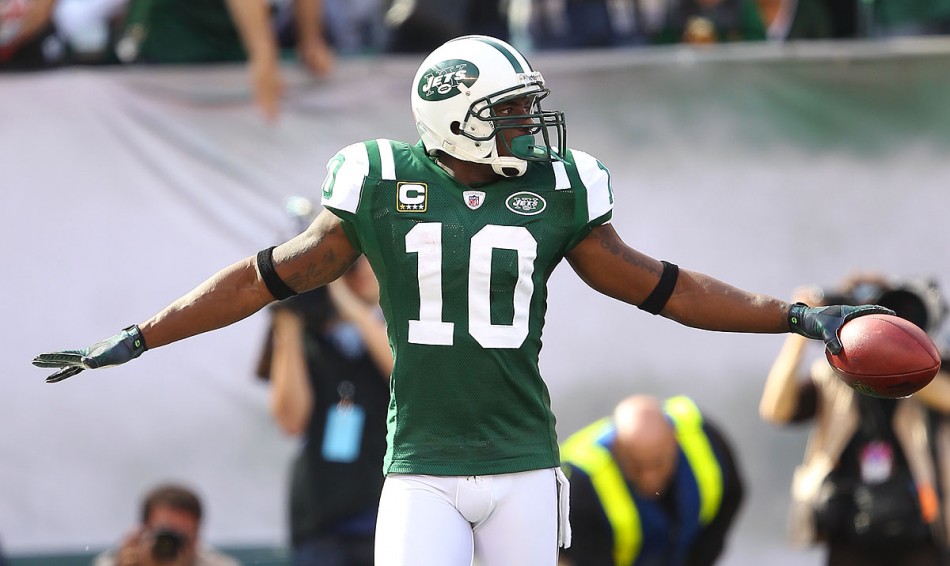 And this was Sanchez celebrating the score. Even though it wasn't a TD, I liked the image and filed it anyway (noting the play in the caption) and it ended up being picked up by several websites: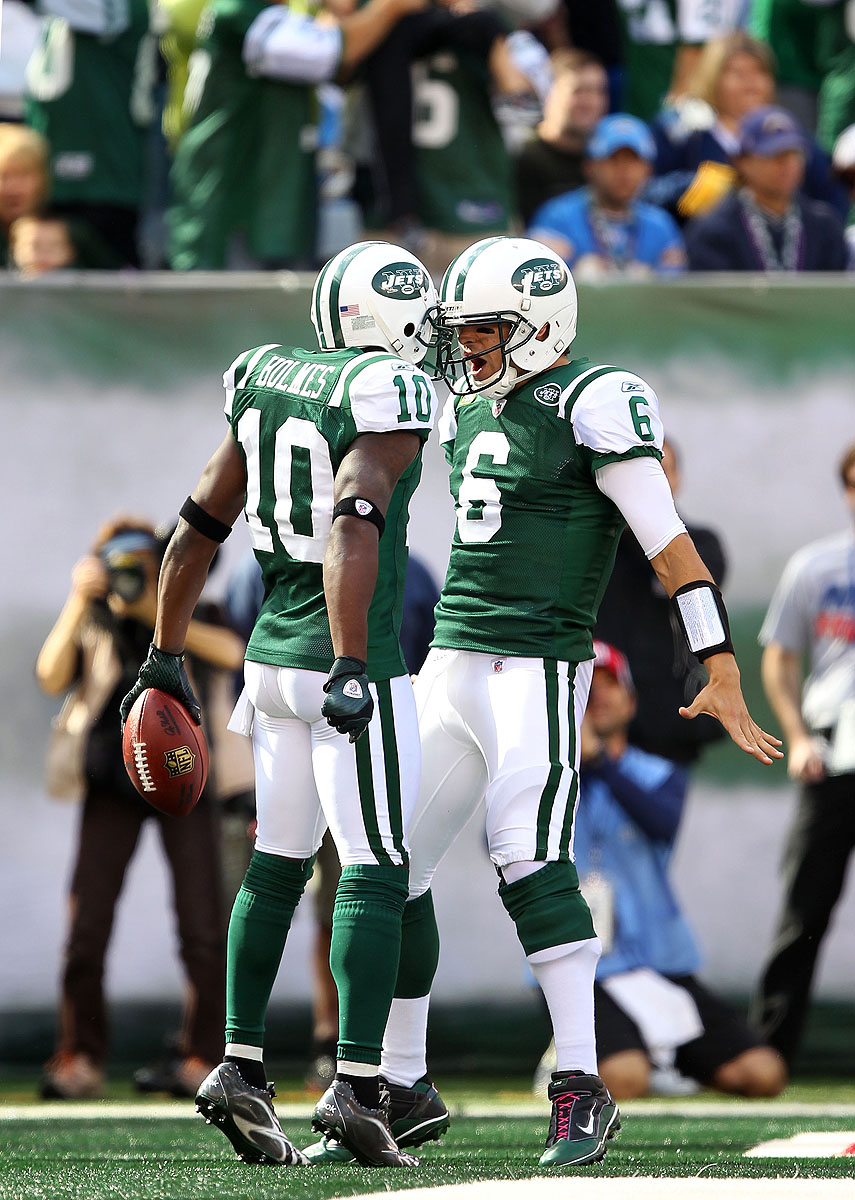 The image on the lower right corner of Greene is also mine: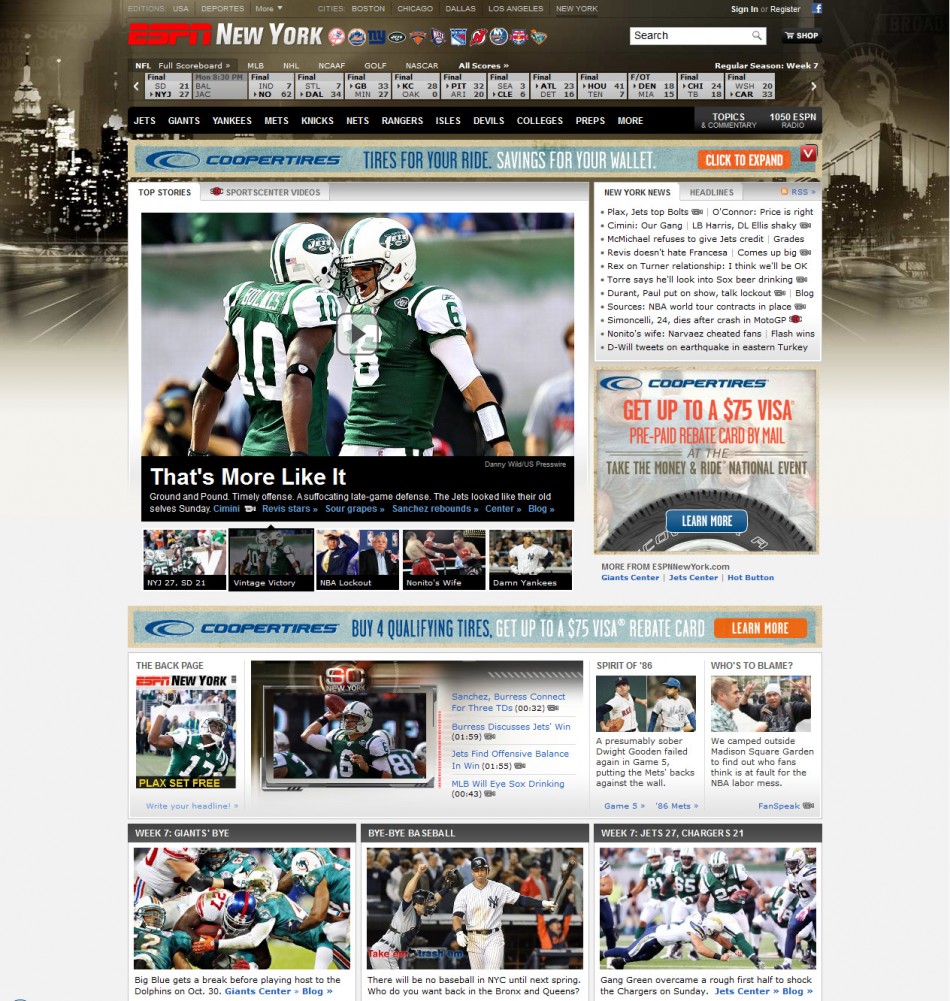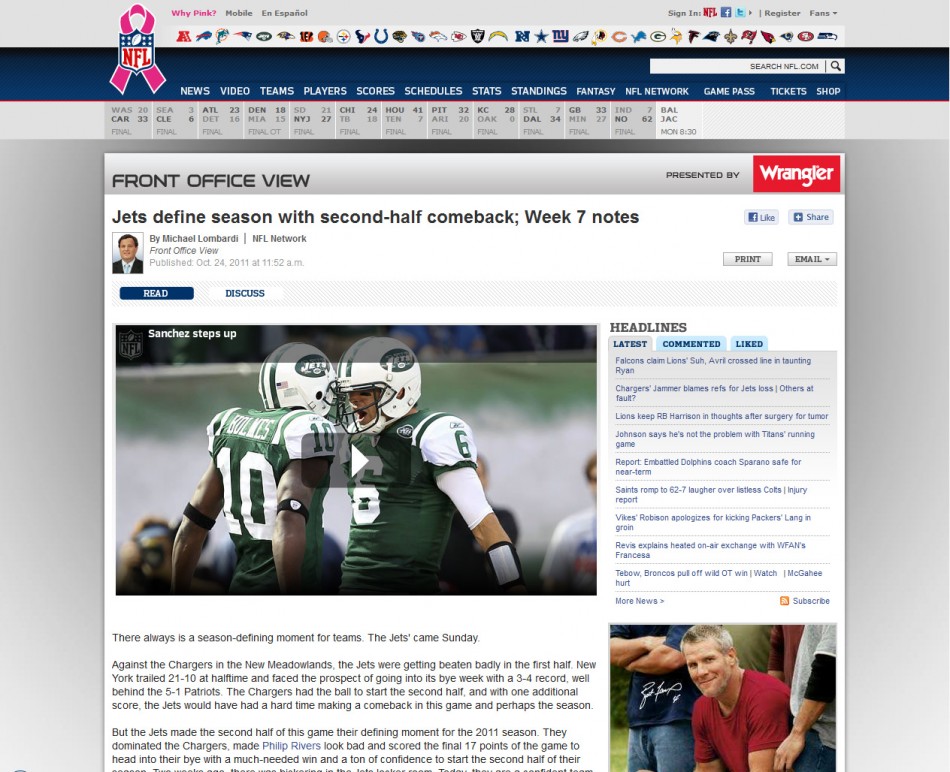 Jets tight end Dustin Keller made a nice catch on third down and celebrated into some nice sunlight: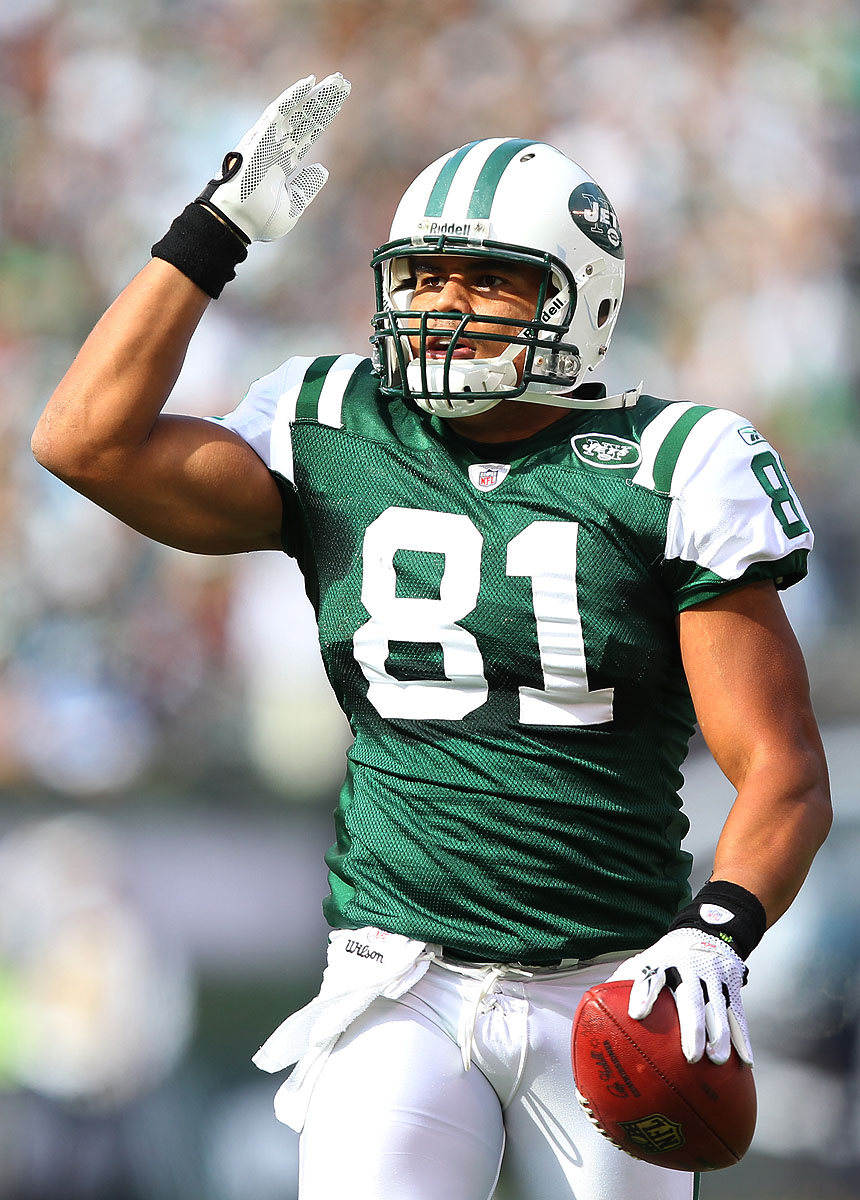 Linebacker Aaron Maybin sacked Rivers and went a bit nuts: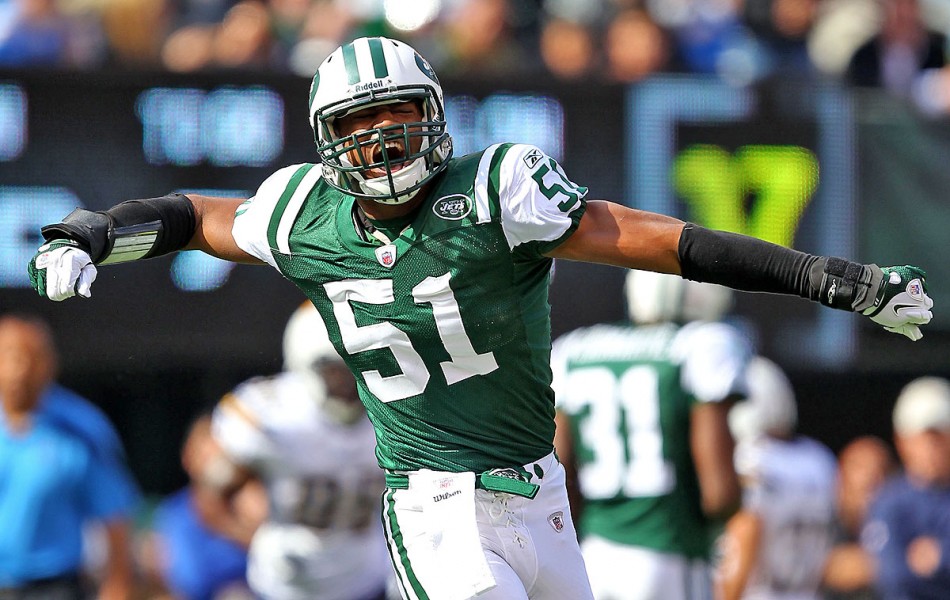 Shonn Green gets wrapped up mid-air: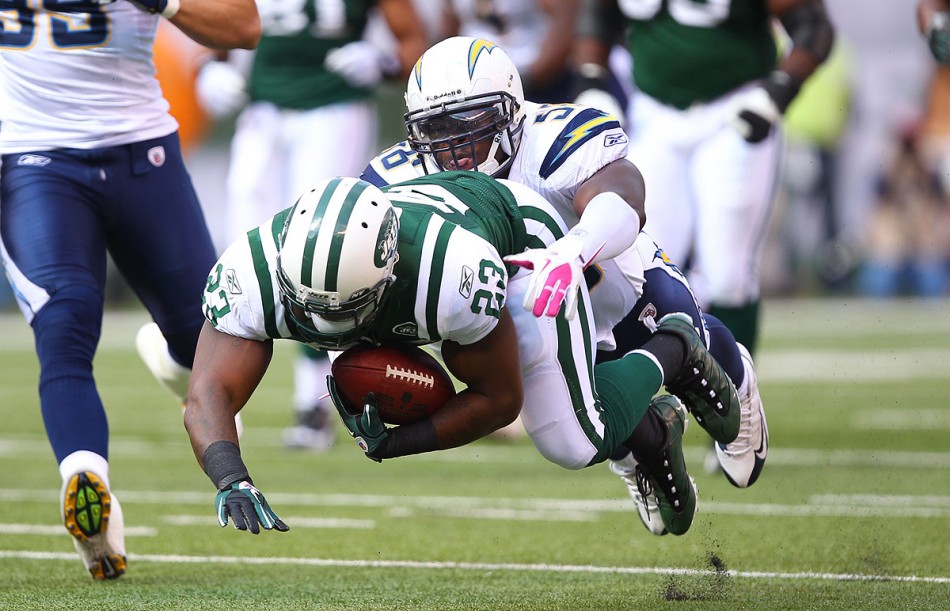 This shot of Greene ran as a smaller image on ESPN.com: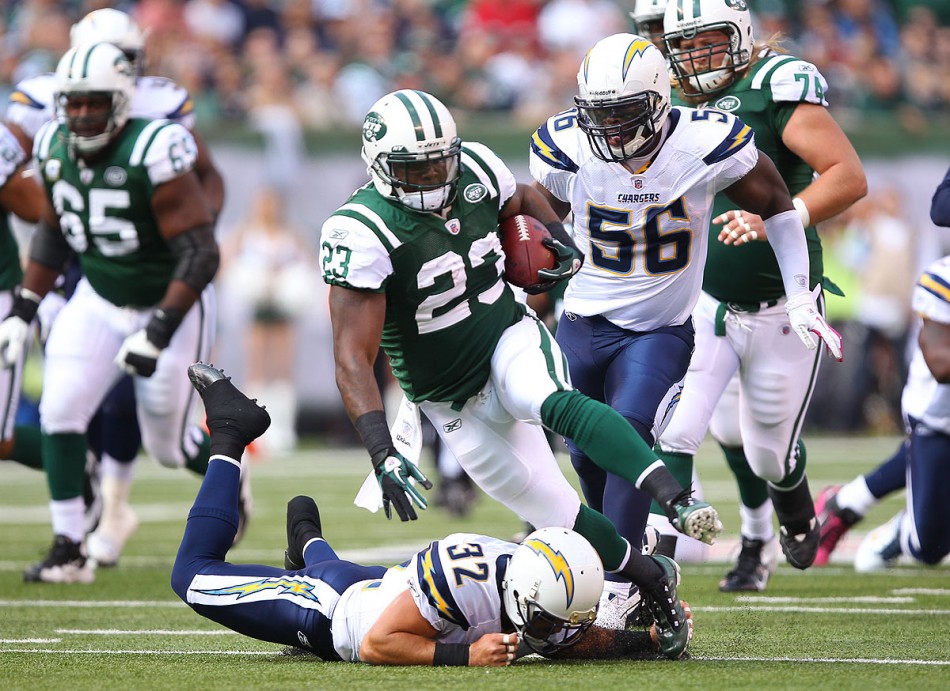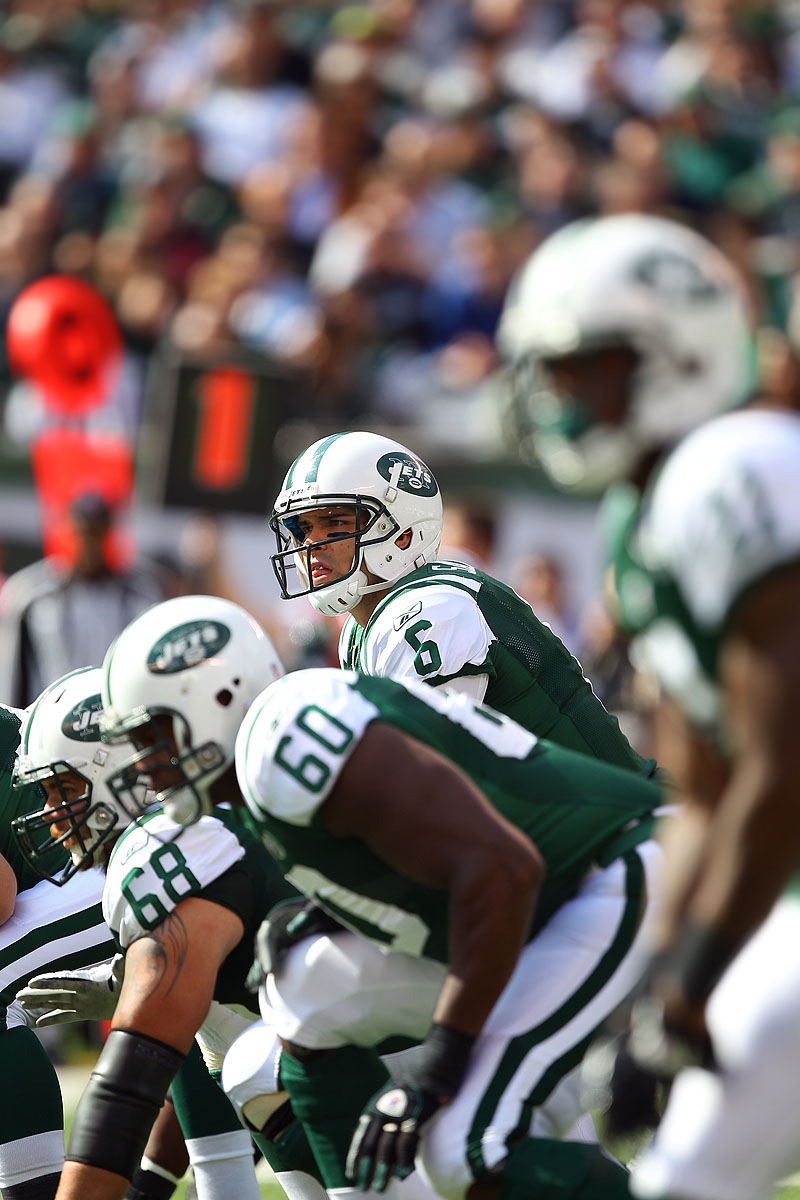 During warmups, I put my fisheye lens on and laid down to get these lineman doing their drills in the back of the endzone: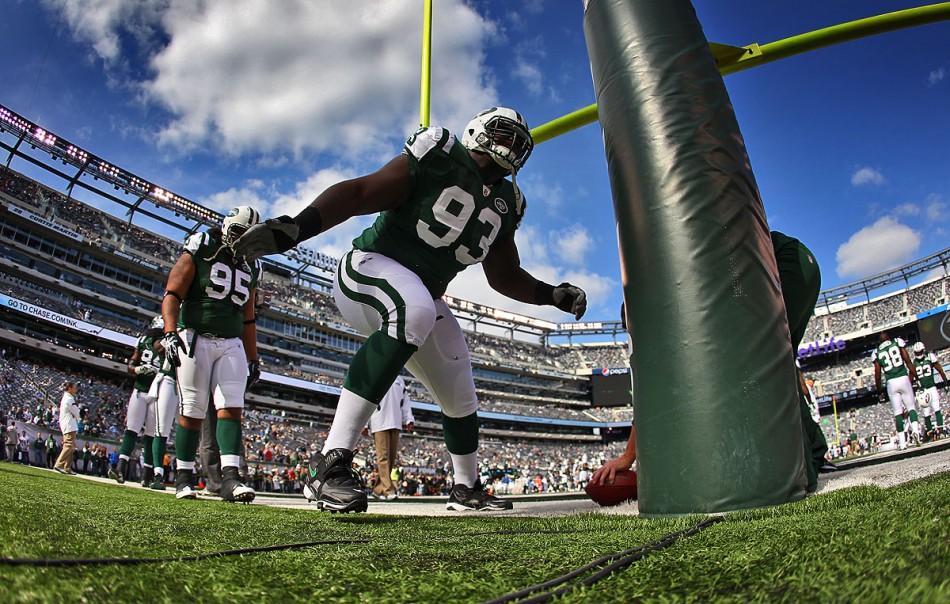 Some other pregame stuff included Holmes singing along to a warm-up tune and Burress glaring over again: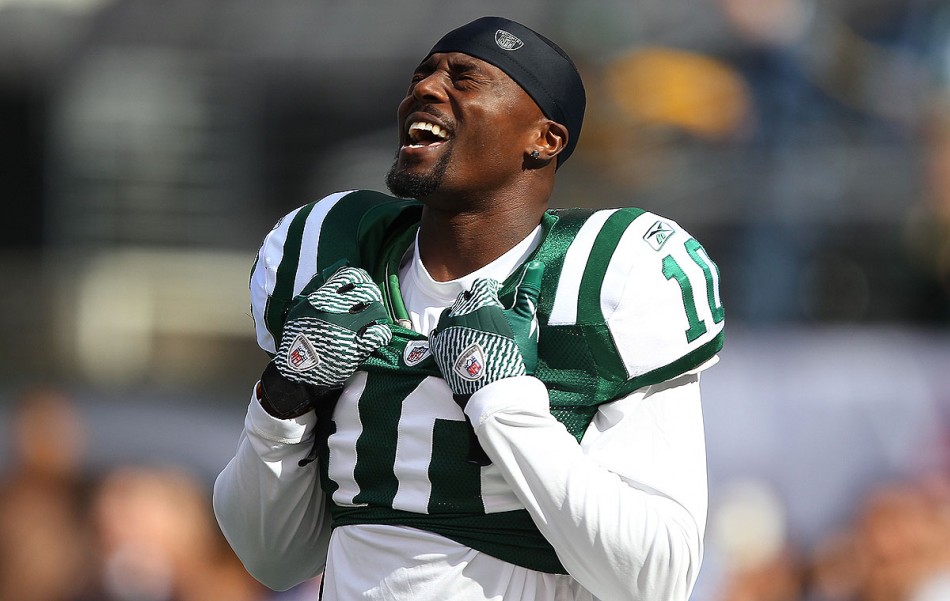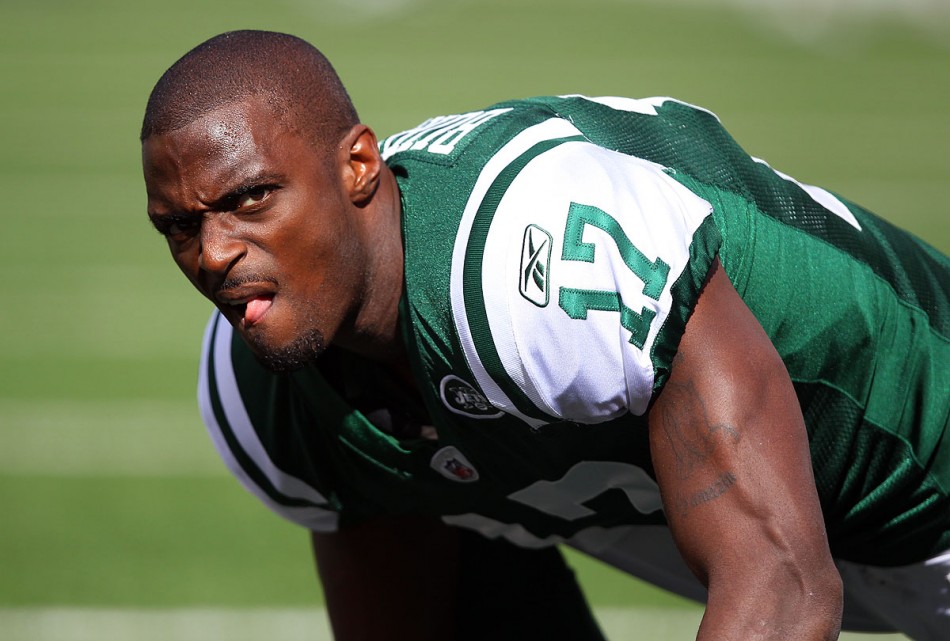 I had a bunch of shots in a gallery on Fox Sports West: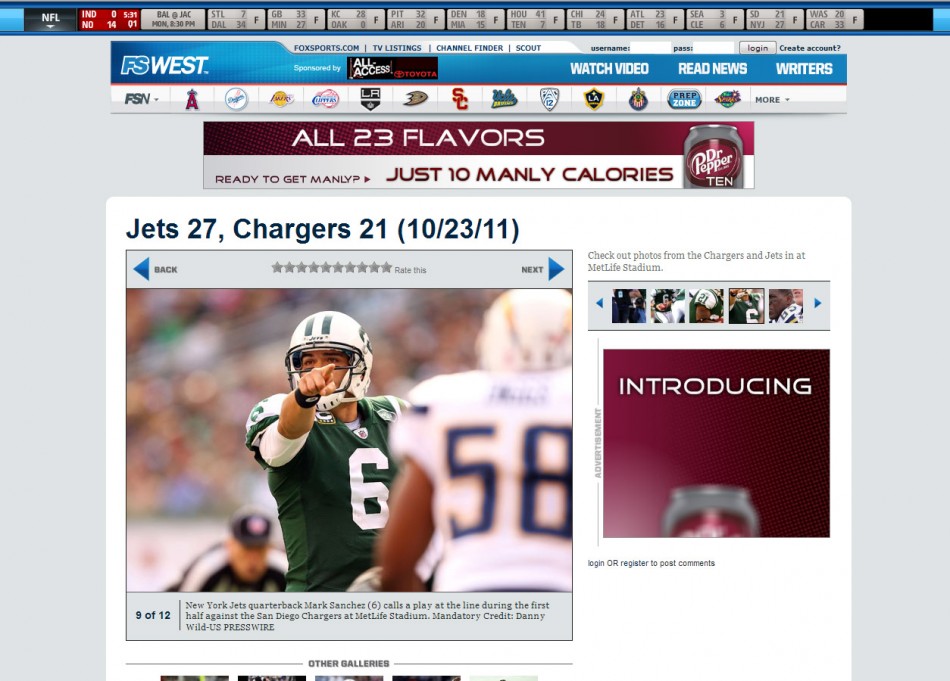 And ESPN.com had a few more in a gallery (this shot below shows my frame of Antonio Gates' touchdown):