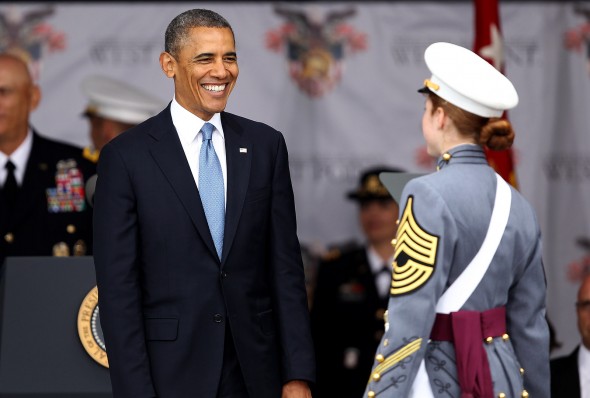 I had the great honor once again to photograph graduation at West Point this week, with President Barack Obama making his second trip to the academy for a commencement address. Obama spoke to the 1,064 graduating cadets about America's role in world politics and foreign crisis while underling the point that our military isn't always the best answer to solving other nation's conflicts and problems.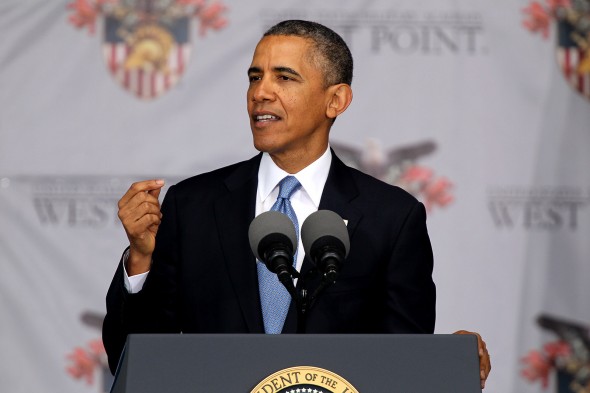 "I would betray my duty to you, and to the country we love, if I sent you into harm's way simply because I saw a problem somewhere in the world that needed to be fixed," he told the graduating cadets, "or because I was worried about critics who think military intervention is the only way for America to avoid looking weak."
An overall great day and experience to be at, despite the unseasonably cold weather and patches of rain. This year's graduation was held on a Wednesday rather than a Saturday — perhaps because the White House had planned for Obama to have a "surprise" Memorial Day weekend trip to Afghanistan. The stage was setup in the south endzone, a change from recent years, and due to construction at Michie Stadium, the upper deck was closed, causing a reconfiguration of the seating for families and guests.
It was a long day for me, but worth the trouble. I work until 11:30 p.m. during the week, and with the trains home from NYC, I get home by roughly 2 a.m. West Point had asked for media to arrive at Thayer Gate between 5:30-6:30 a.m., so I actually debated coming home, changing and just driving up there and sleeping in my car until 8 or so. I ended up getting about three hours of sleep at home before waking up at 5:30 a.m. and leaving for USMA by 6:15. Despite traffic on Main Street, I made it to the field by 7:30 a.m. and waited patiently for the event to begin.
Photographing graduation, especially when someone like the President or Vice President is coming, is a very formal and rigid day. Media members are escorted around by cadets, and shooting positions are sort of fluid depending on where you are and what's going on. I was unable to move from my straight-on position during the speech, so most of those photos look pretty much the same.
By 9:20 a.m., the graduating cadets made their way onto the field at Michie, entering through the Gate 7 ramp and the usual football team entrance near Lusk: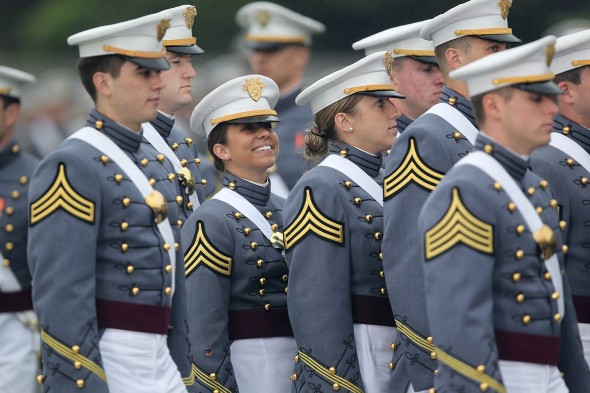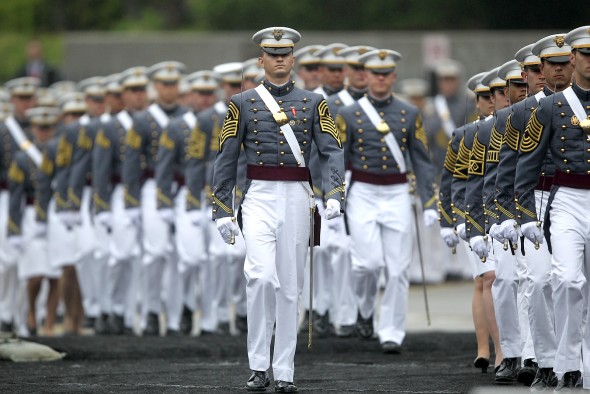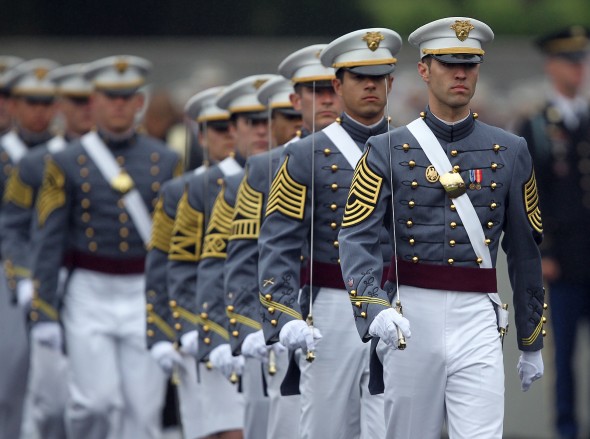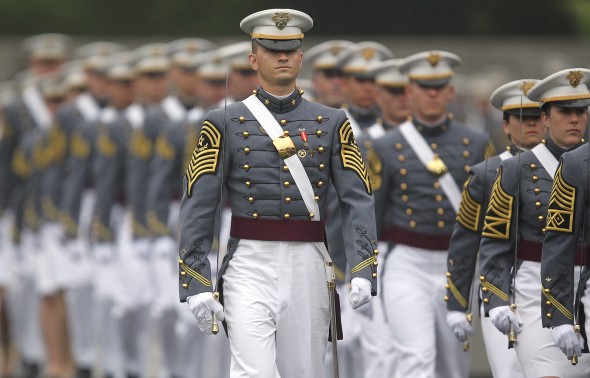 This moment is sort of the visualization of the familiar "Long Grey Line" phrase you often hear attached to West Point. I typically try to focus on individual cadets, their eyes, hands, expressions, etc.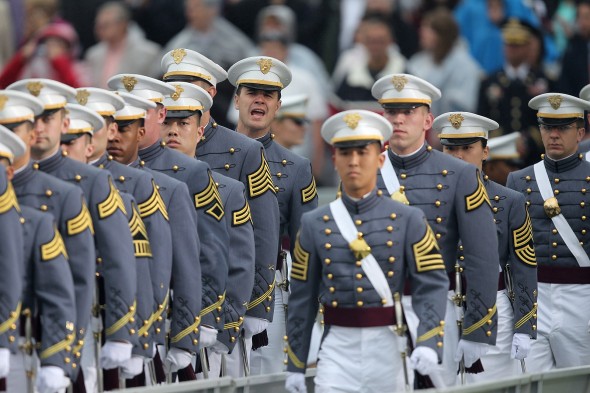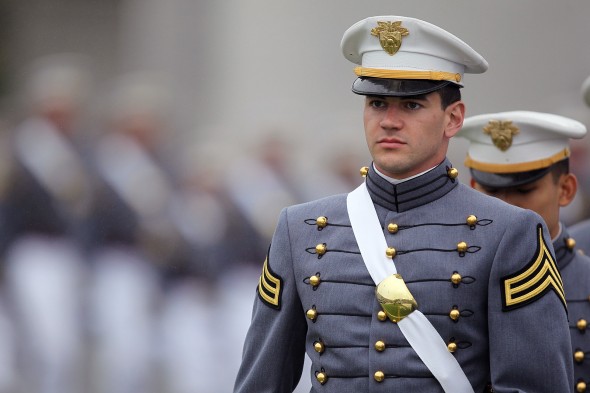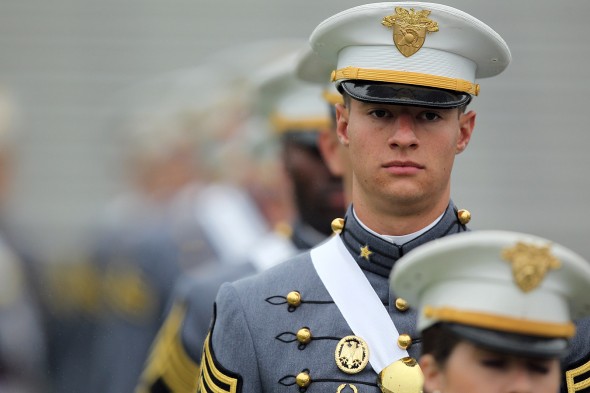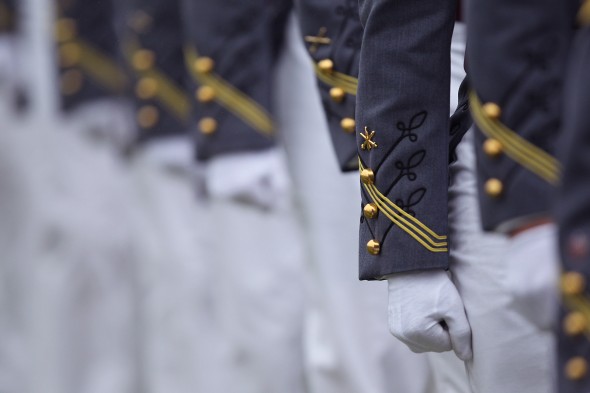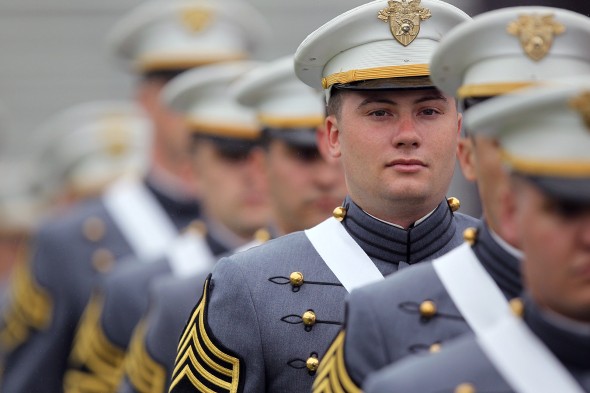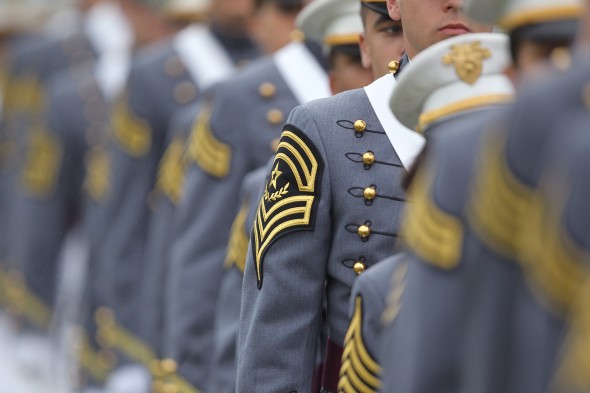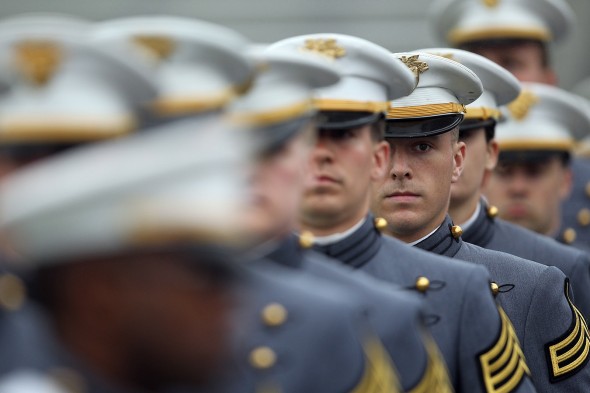 After about an hour of waiting around, the Presidential motorcade rolled in. I can say I have now parked my car in the same spot as the President.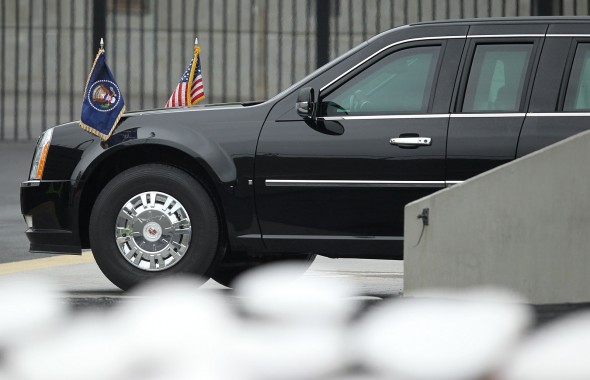 Underclass cadets then form a tunnel for the President to walk through en route to the stage. I had a perfect view of this until the entire Corps stood up in unison.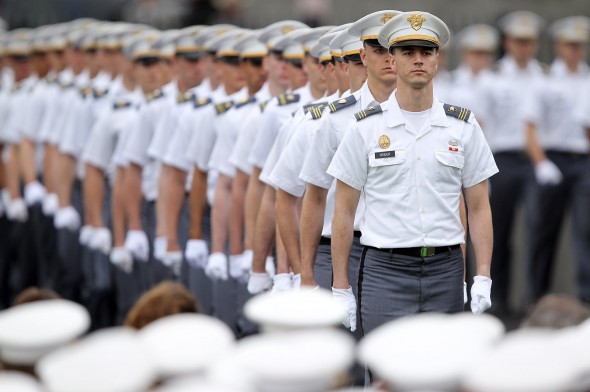 This is a good chance to discredit the ridiculous and absurd right-wing websites, bloggers and self-proclaimed journalistic entities that have seized the opportunity to somehow spin Obama's speech as some black eye for the academy and the President. For example, this site claims a fraction of cadets bothered to stand up for Obama. First of all, they have to stand, whether they want to or not. And they did, as did most everyone else in the stadium. I've seen another website claiming — although I have not read or watched the thing — that the cadet's reactions to Obama were subdued compared to when George W. Bush came to graduation.
I'm not sure why this is appropriate to try and smear the President or the cadets. Obama received a warm reception when he arrived and was cheered both throughout the speech and at its conclusion. If cadets were indeed more raucous when Bush came, I wouldn't necessarily doubt it — Bush showed up during the height of a war that still had support in an immediate post-9/11 world, and he was speaking to soldiers with a hunger to go and fight. Hell, he was chest-bumping graduates on stage in Annapolis. Obama, as he wonderfully noted, has taken steps to withdraw from Afghanistan and told the cadets that this class would likely be the first since Sept. 11 to not have to fight in Afghanistan or Iraq. More than 6,700 Americans have died during the War on Terror, many of whom were sent overseas by Bush.
OK, moving on. As I said, all the cadets stood up, which made it difficult to get a full-body photo of Obama walking in. Instead, I got his head sort of floating through a sea of white hats: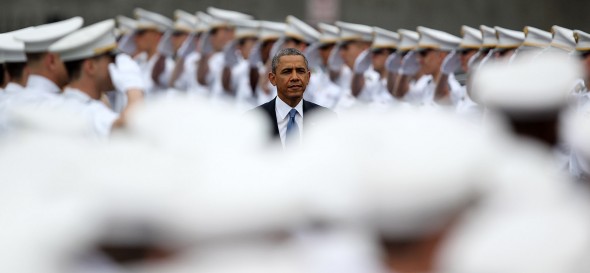 On stage, he stood for the national anthem with Superintendent Robert Caslen: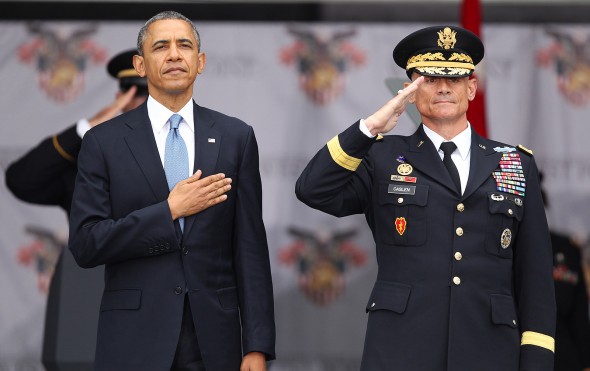 Seated nearby, Secretary of the Army John McHugh and General Ray Odierno, the 38th and current Chief of Staff of the Army.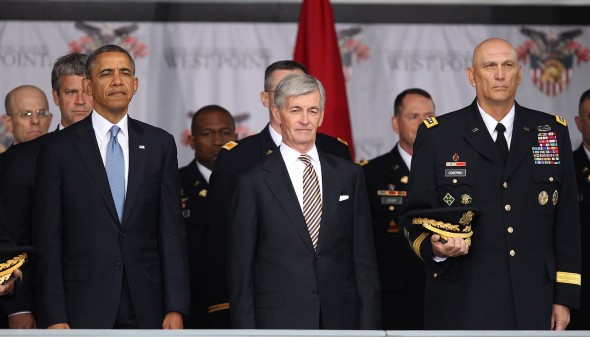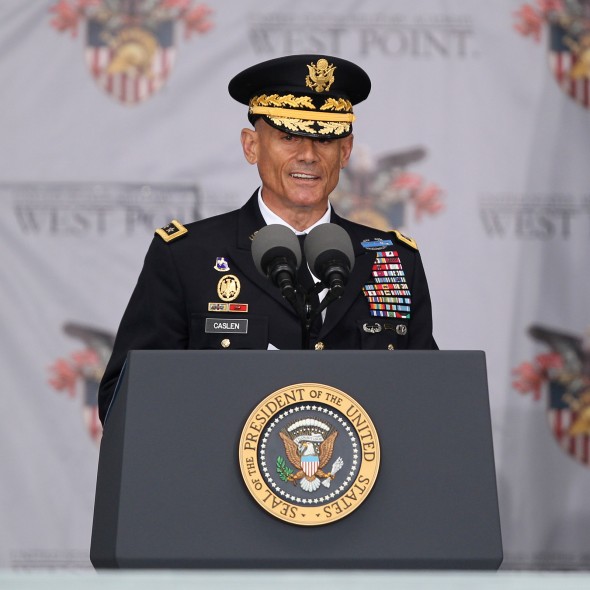 After an introduction, Obama took the podium and spoke at length about foreign policy, current events and problems the graduating cadets would likely face in the years to come.
"America has rarely been stronger relative to the rest of the world," Obama said. "Those who argue otherwise — who suggest that America is in decline, or has seen its global leadership slip away — are either misreading history or engaged in partisan politics.
"The question we face — the question each of you will face — is not whether America will lead, but how we will lead, not just to secure our peace and prosperity, but also extend peace and prosperity around the globe."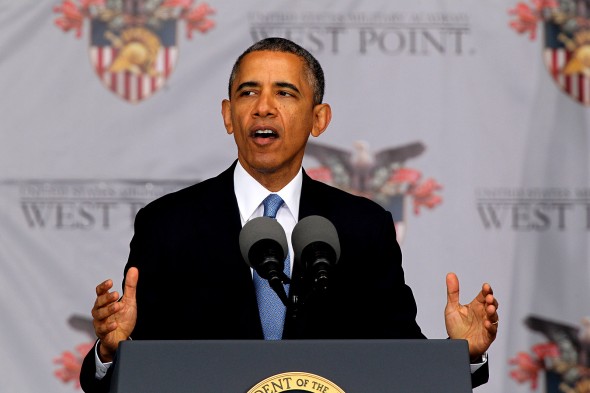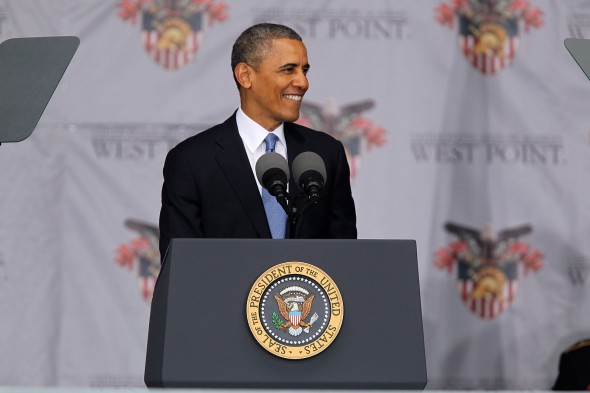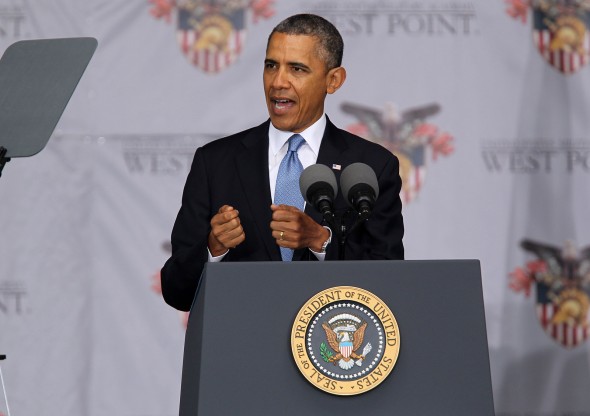 Flashback to 2010 and Obama's first graduation here: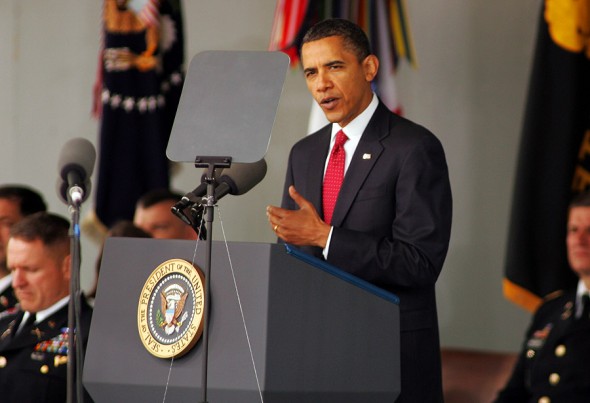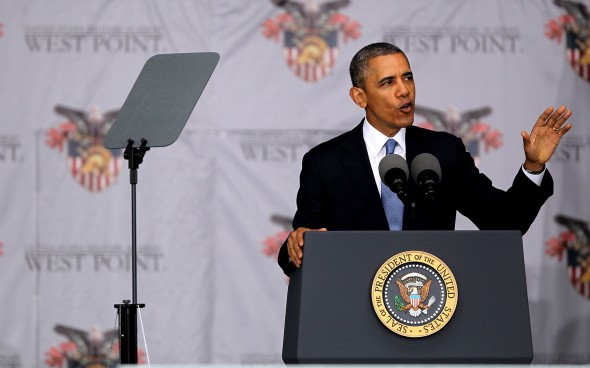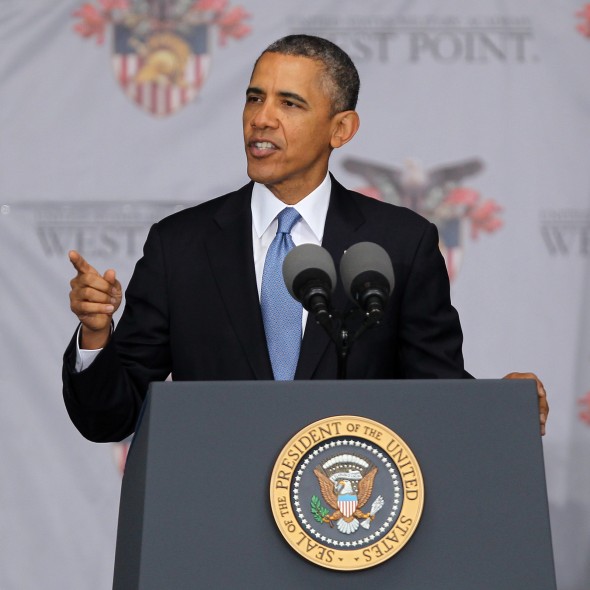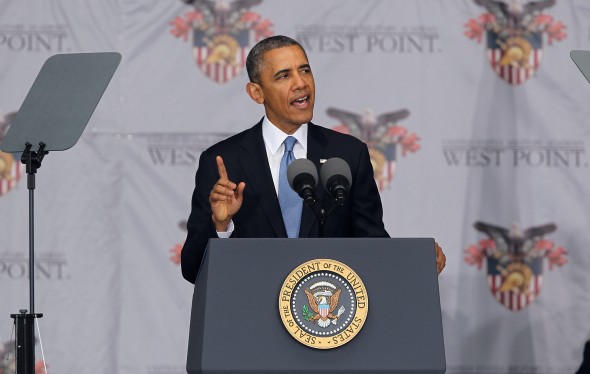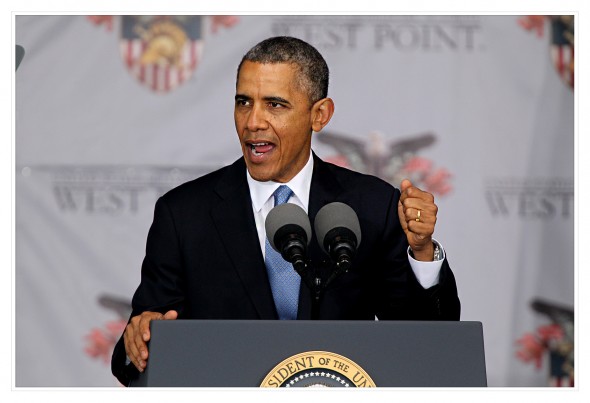 Following the speech, Obama was presented with a class ring by cadet Jeff Ferebee: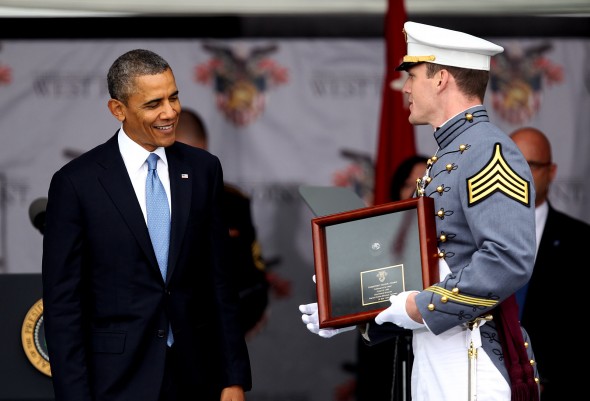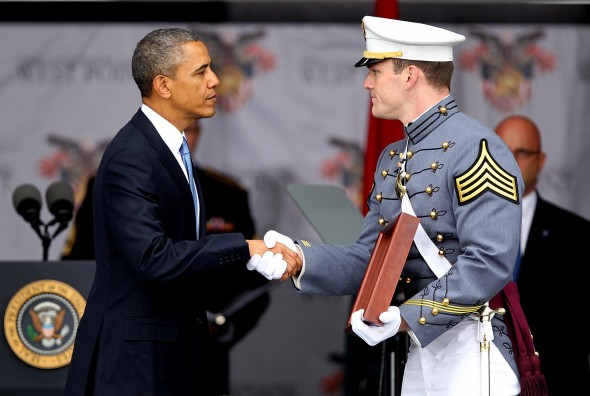 He received a saber in 2010: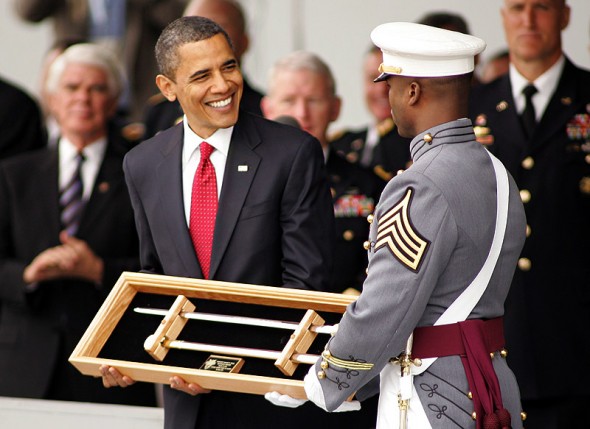 He then personally handed diplomas to the top-graduating cadets and award-winners: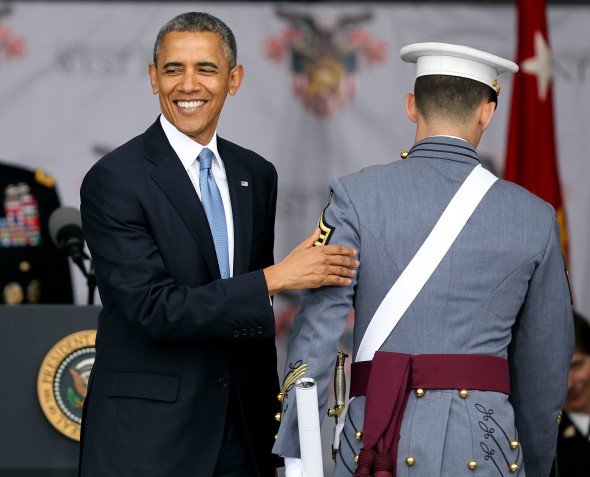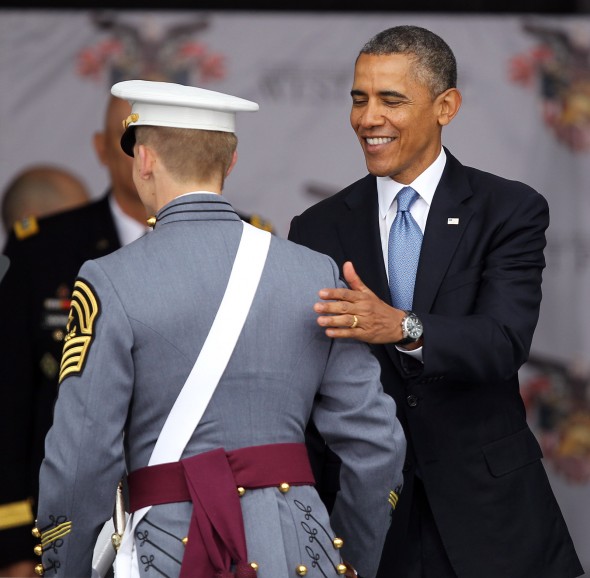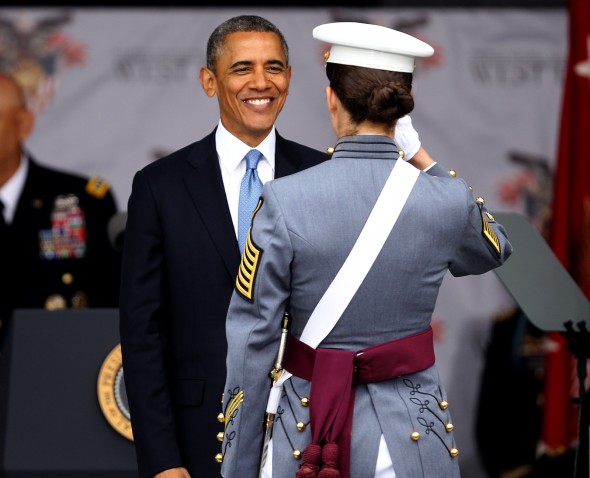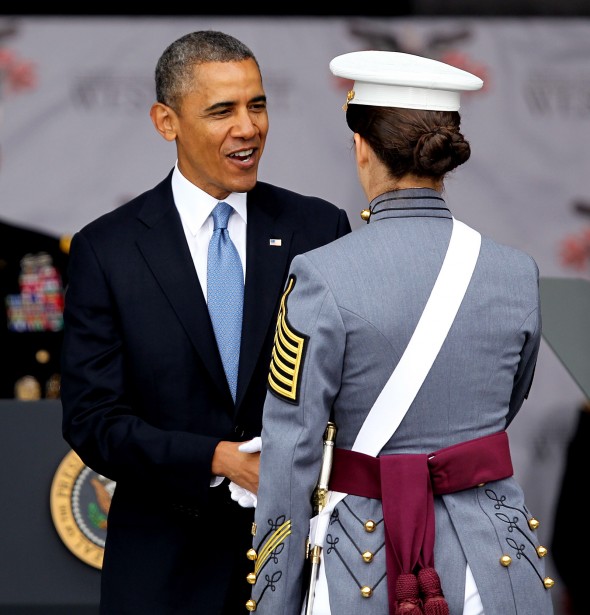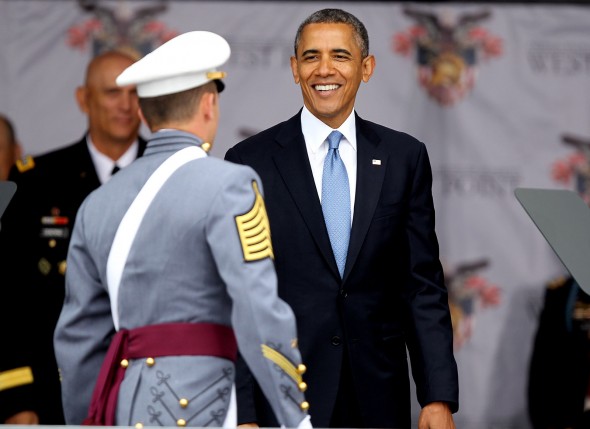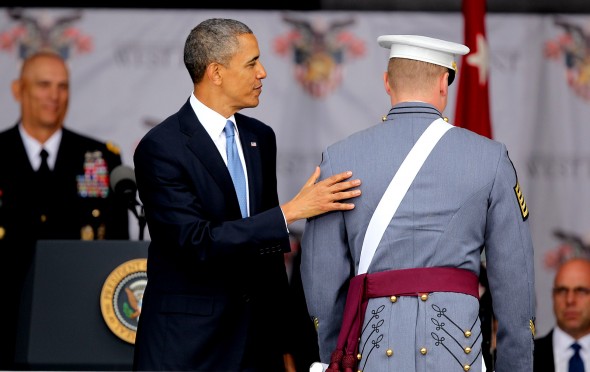 The rest of the cadets were then called up in pairs to receive their diplomas, and I was able to move around a bit for some different angles and scenes: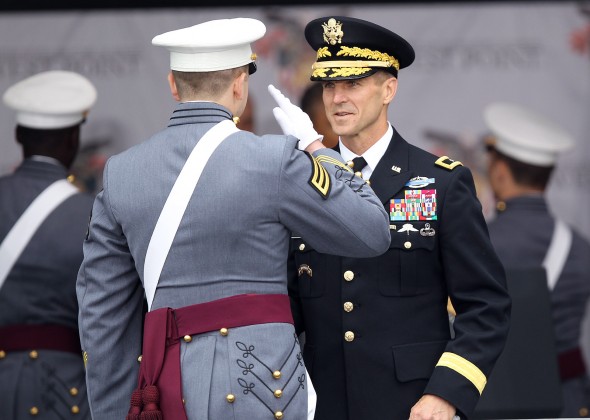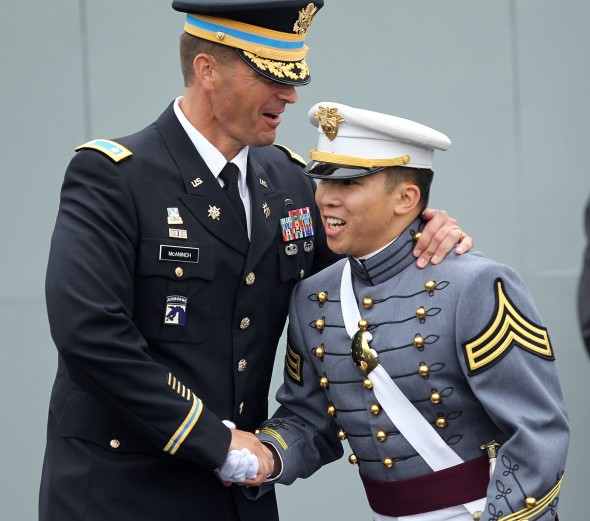 Obama stayed on stage for the entire ceremony, and rather than leaving after his speech, instead stood in the back of the stage and shook hands with all 1,064 cadets. Very classy move: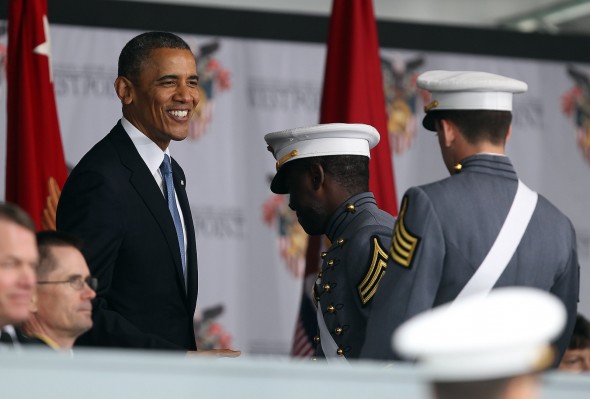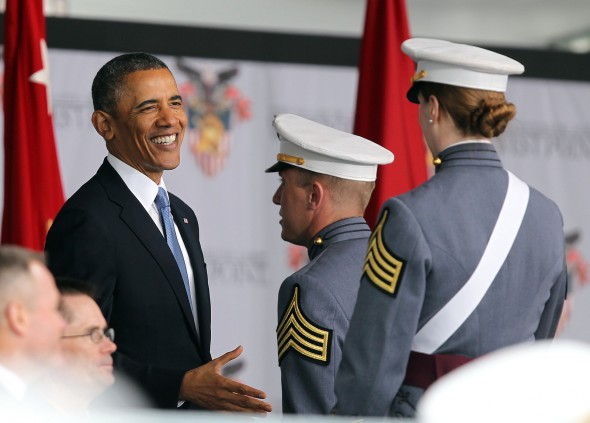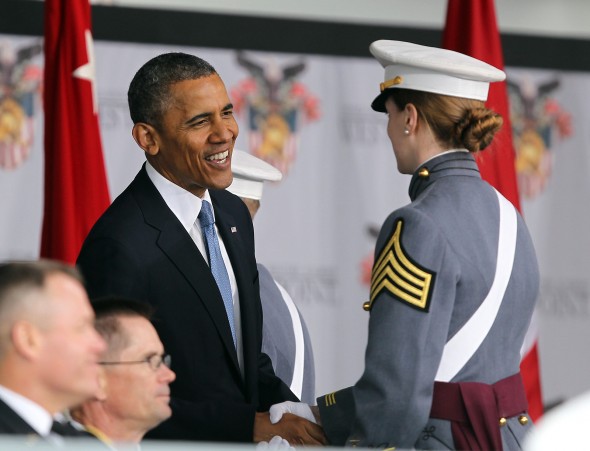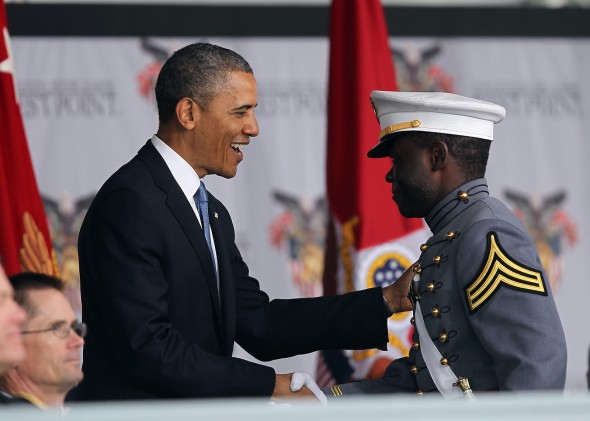 Once the cadets walk off the stage, it's a great chance for emotional photos. They've just graduated, heard their names called, received a diploma, met the President. This is when they begin to see mentors and spot their families in the crowd: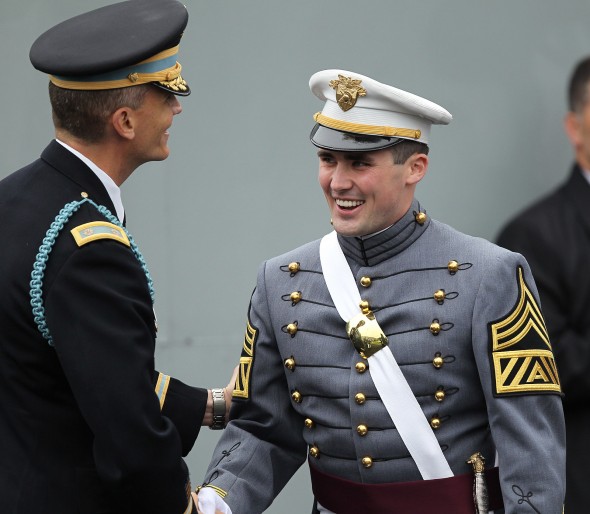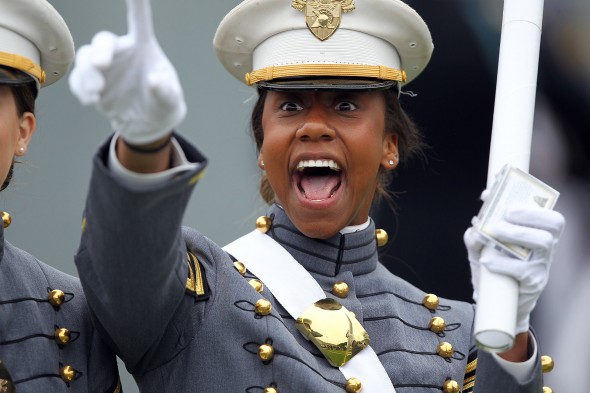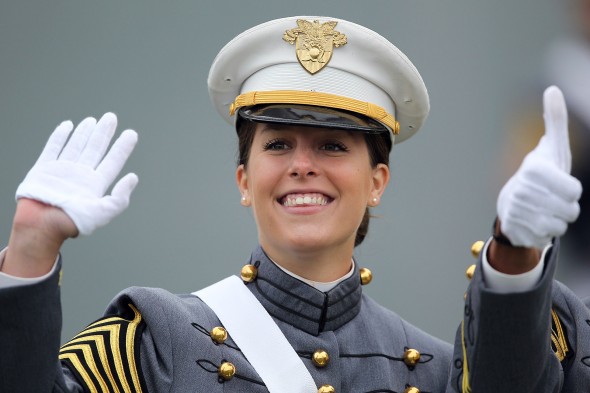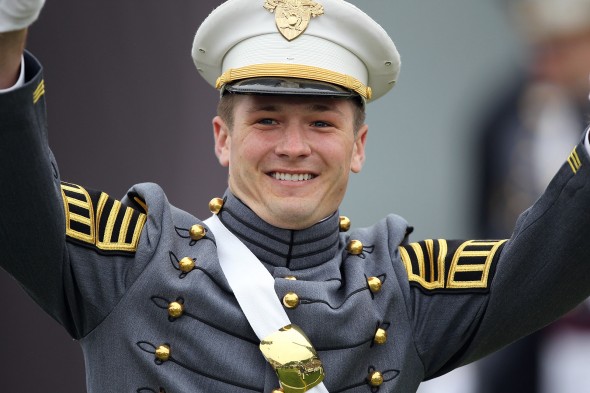 The "Goat" is always a highlight of the day. It's the lowest-ranked cadet in the class — the guy who just barely managed to graduate. Maybe an inspiration to others, to do the least amount of work possible while still graduation? It's a funny and celebrated moment, as he receives a bag of cash that all the other cadets contribute a buck to: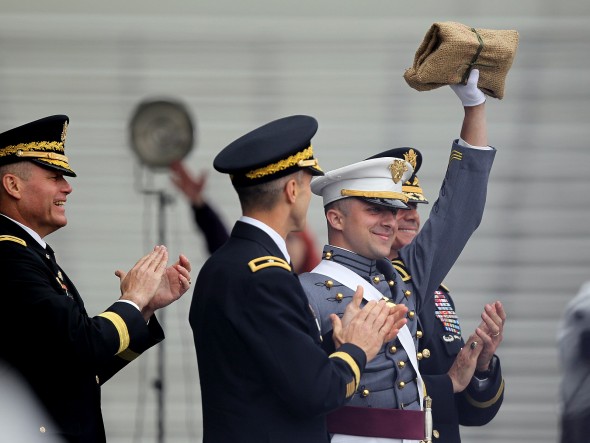 Even Obama chuckled at that: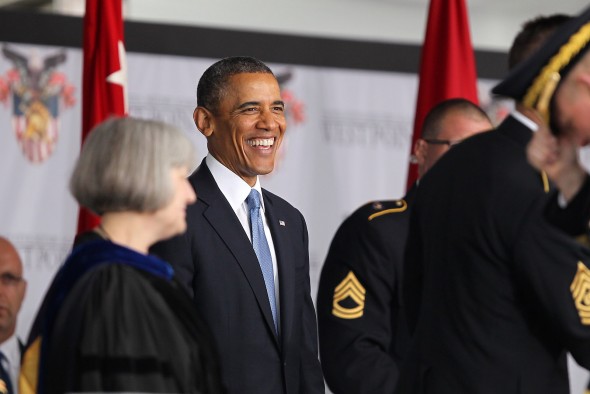 Out in the seating area, it was prime time for portraits using my 400mm lens.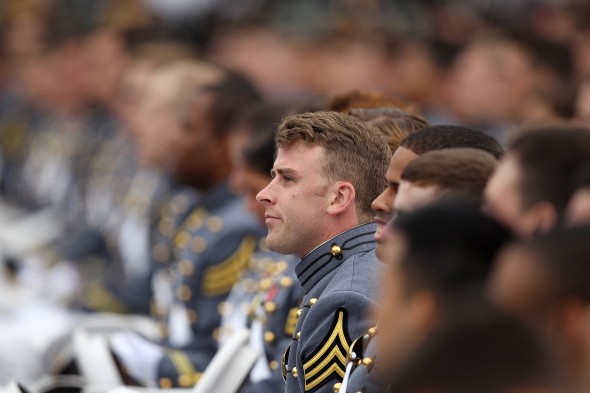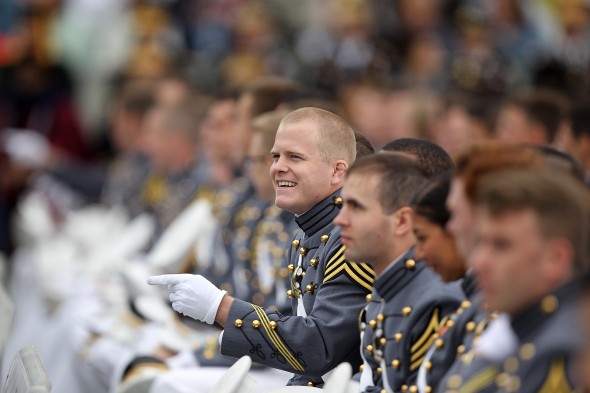 Army football captain Momo Kime graduates: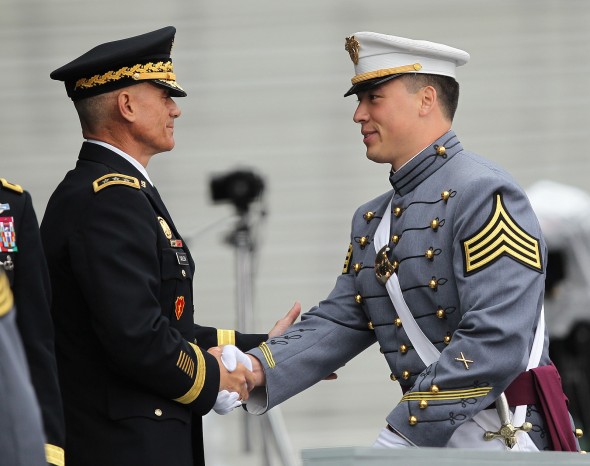 Army football team manager Zach Marciano not only graduated West Point, within roughly 24 hours, he was at the Garden to see the Rangers clinch a trip to the Cup. Unreal: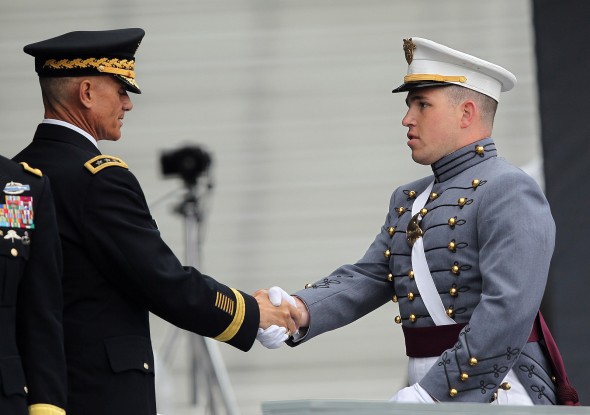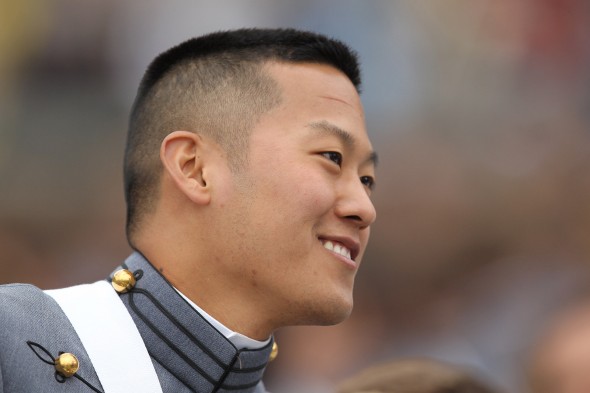 Some general shots of cadets walk to and from the stage: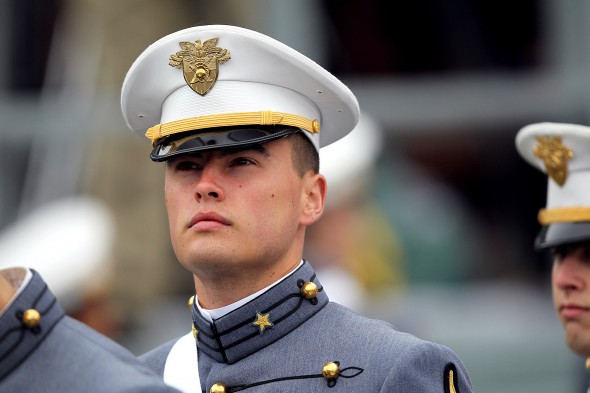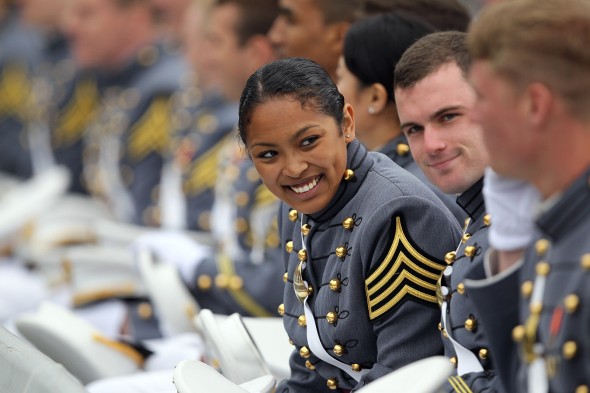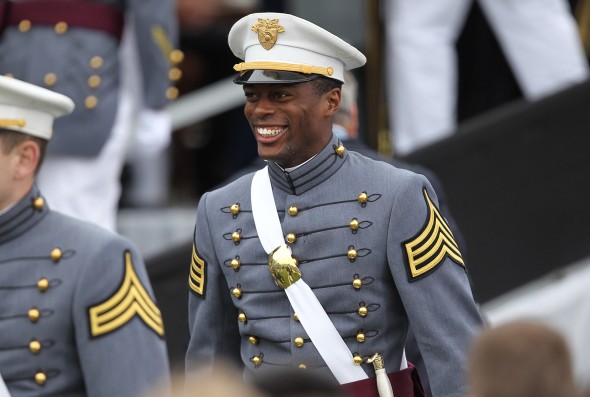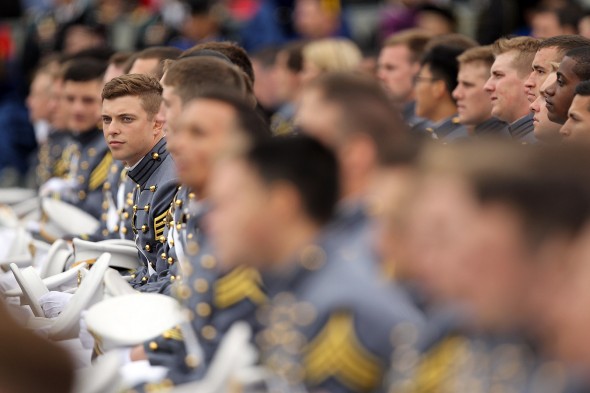 Army basketball's Jen Hazlett stared me down while waiting to have her name called: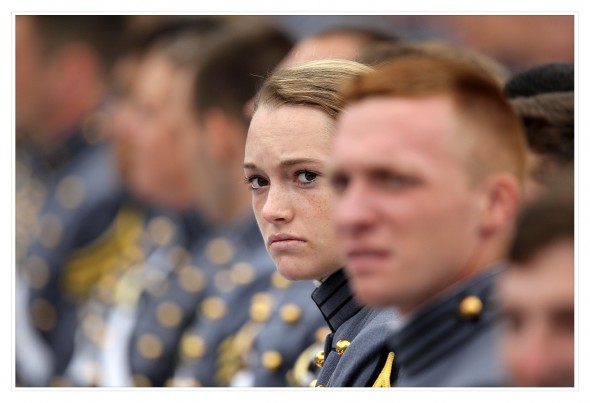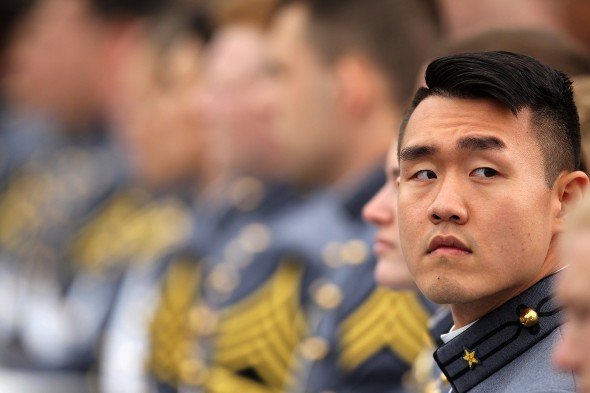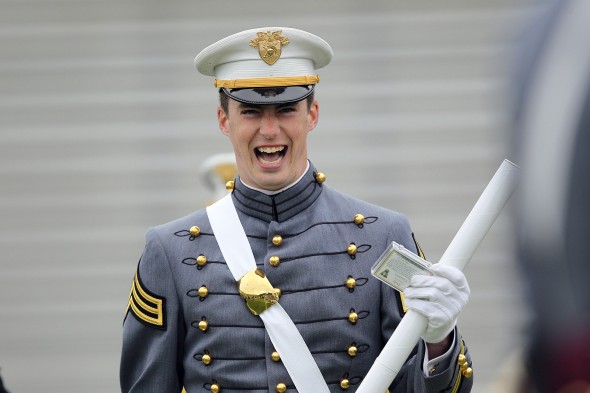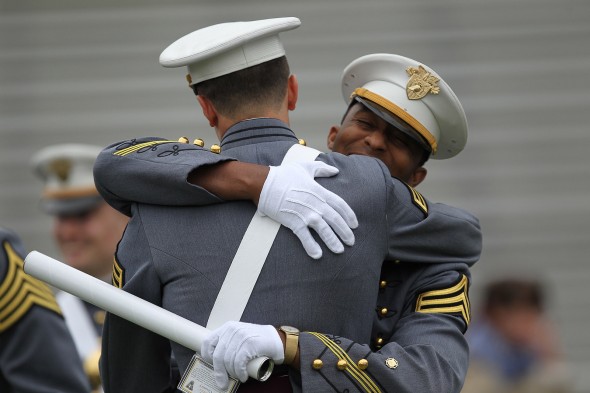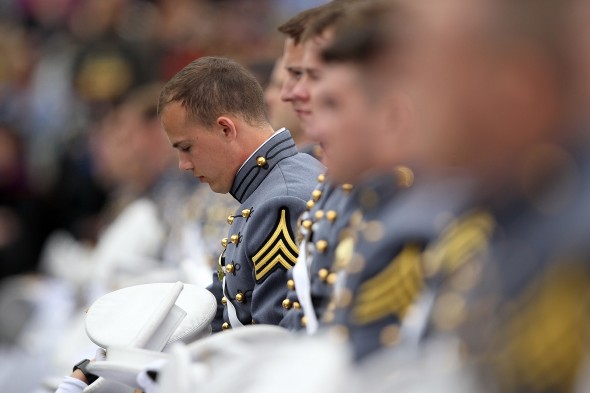 New this year, a lot of cadets were high-fiving fellow graduates as they walked by. I don't remember this from past years but it made for some great photos: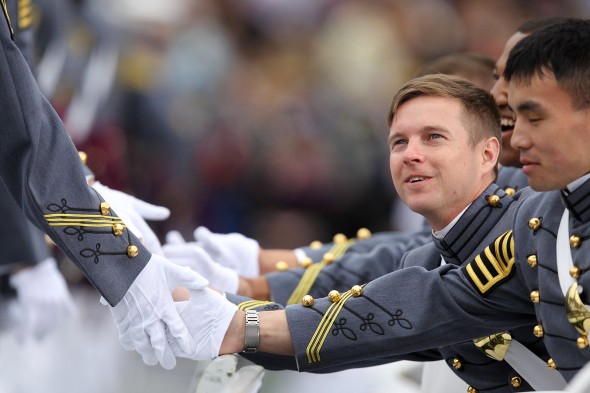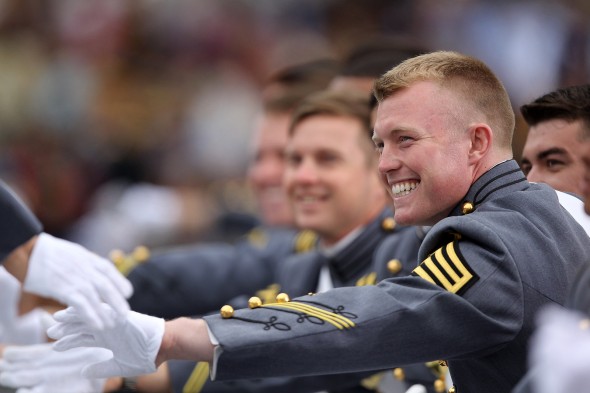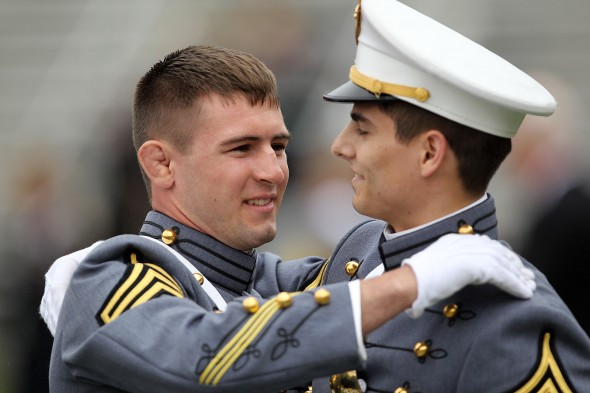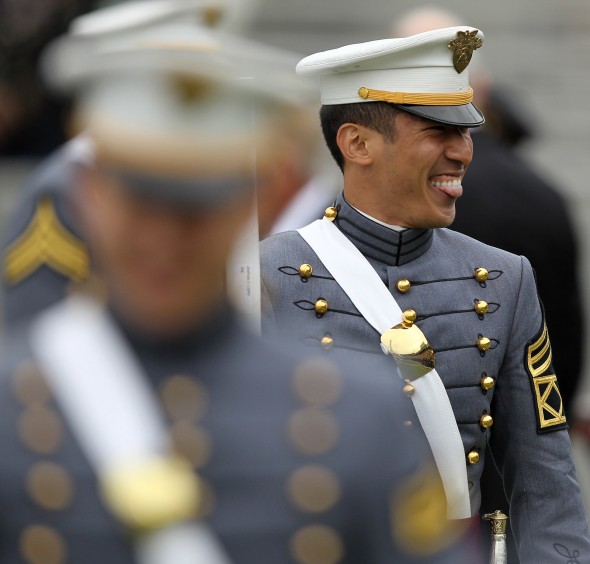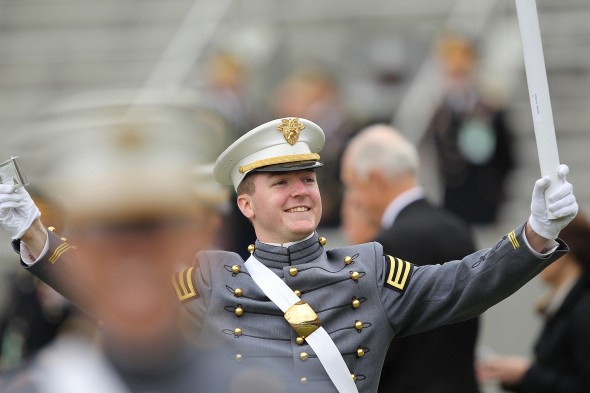 Finally, the last name is called and the end is near. Cadets stand up, go through some formalities and are eventually dismissed by the first captain: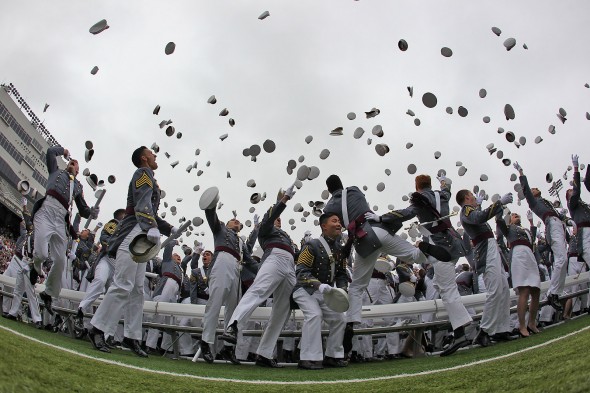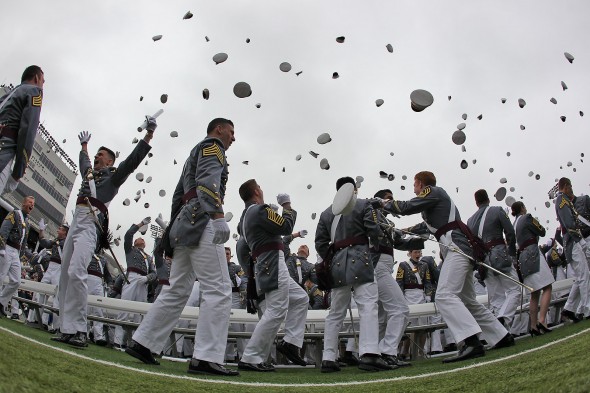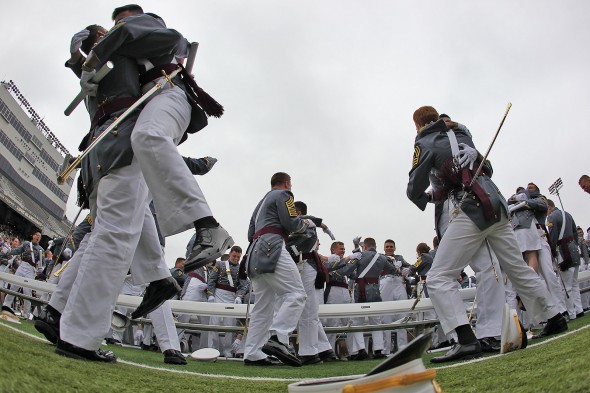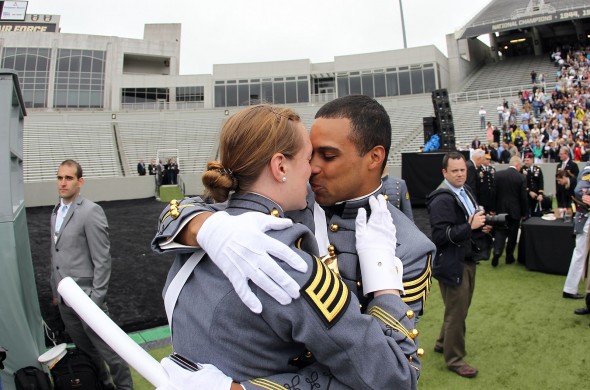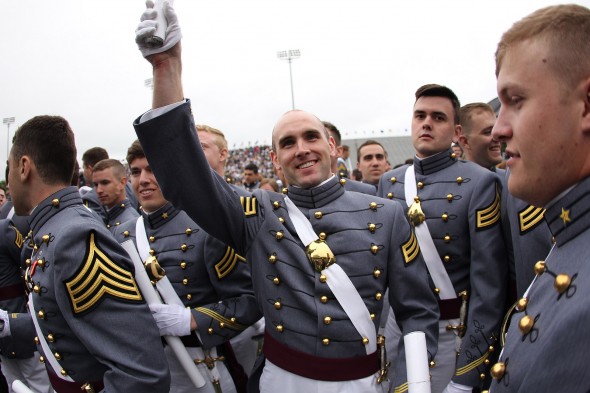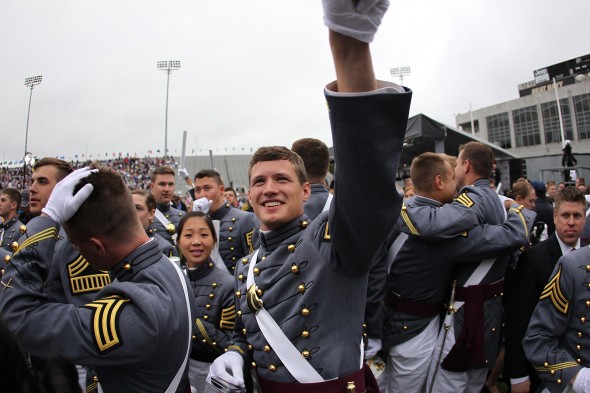 You can see more of my images from the day on Flickr.