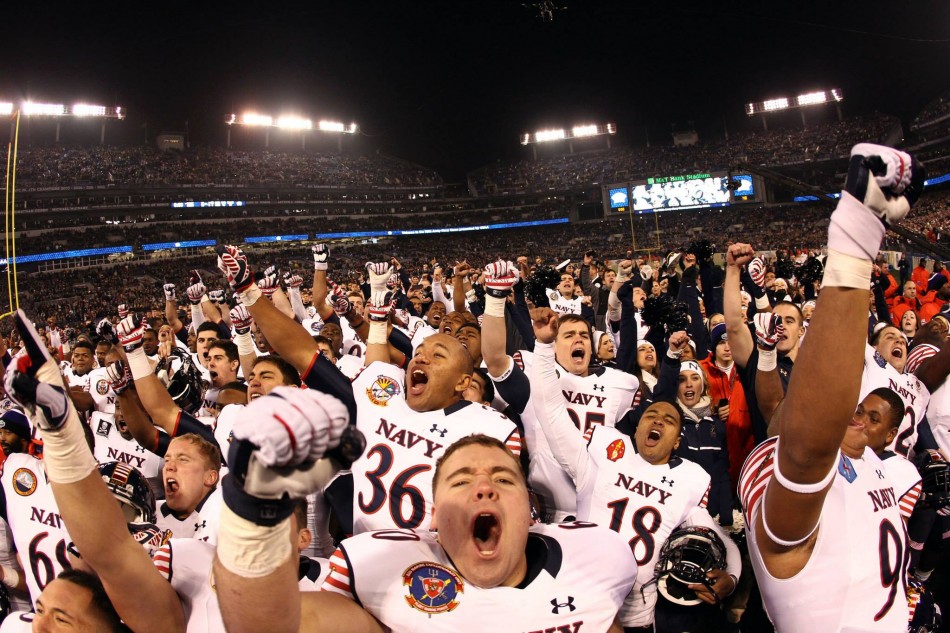 Navy kept its long-running streak alive this past weekend with a 17-10 victory over Army in the 115th meeting between the two rival service academies. Navy claimed the W on a controversial goal line touchdown run by quarterback Keenyn Reynolds, and Army's offense couldn't quite mount a comeback despite a late 53-yard field goal setup an onside kick in the game's final moments.
This year's game was played at Baltimore's M&T Bank Stadium, home of the the NFL's Ravens and perhaps the worst-planned venue I've ever covered a game at. I wouldn't say the facility was quite as bad as Washington's FedEx Field, but it's pretty close. The change of scenery — generally this game is held annually in Philadelphia's excellent Lincoln Financial Field — wasn't any help for Army, which hasn't won since 2001 and dropped to 0-2 against fellow academies in head coach Jeff Monken's first season in West Point.
The day is full of pre-game traditions, from academy march-ons to ceremonial moments like this "prisoner exchange" at midfield, where exchange students from the two schools return to their fellow classmates before the contest: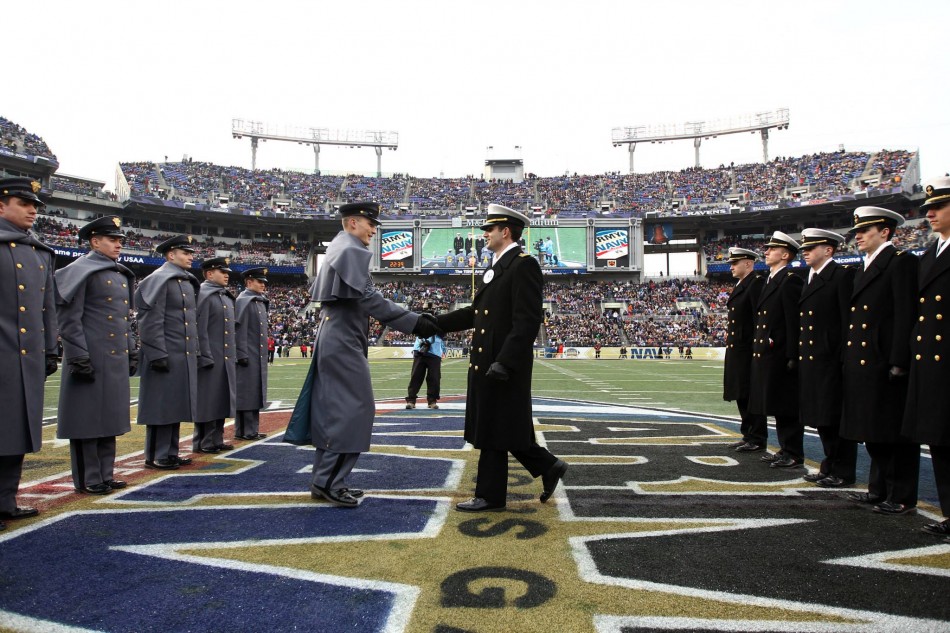 I was lucky enough to be granted access to the coin toss ceremony, in which outgoing Secretary of Defense Chuck Hagel flipped the coin: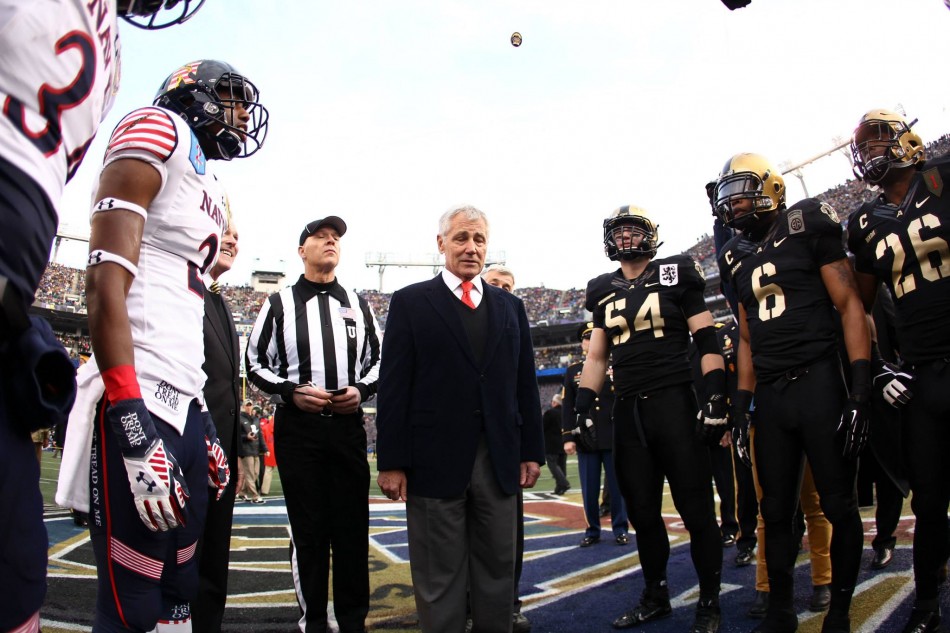 This gave me  chance for this neat low-angle photo of captains Joe Drummond, Geoffrey Bacon and Larry Dixon. You'll also notice that Army returned to its old tradition of wearing different U.S. Army division patches on their uniforms for this game — below, Drummond (left) wore the patch of the 28th Infantry Regiment, while Bacon went with the 82nd Airborne and Dixon wore the familiar 1st Infantry Division: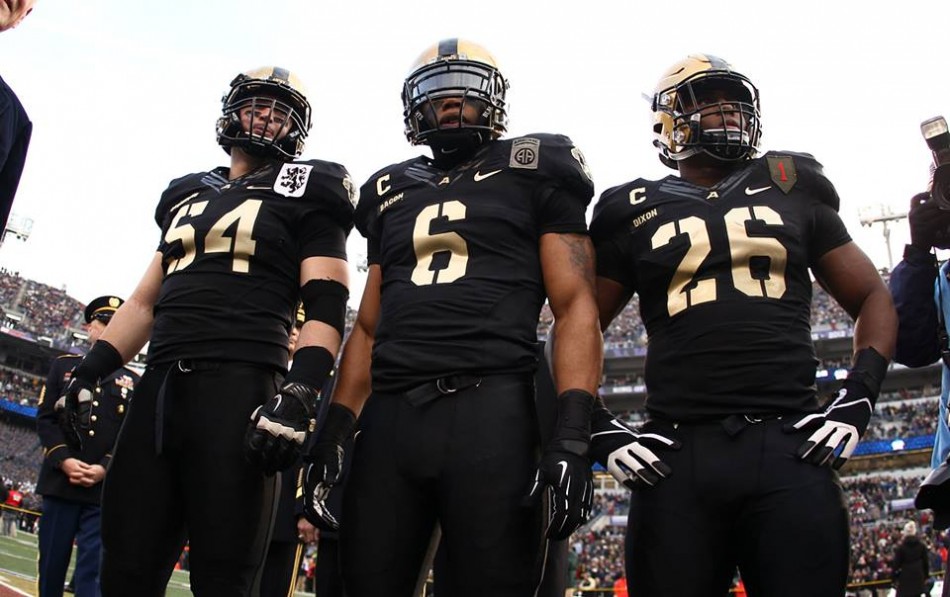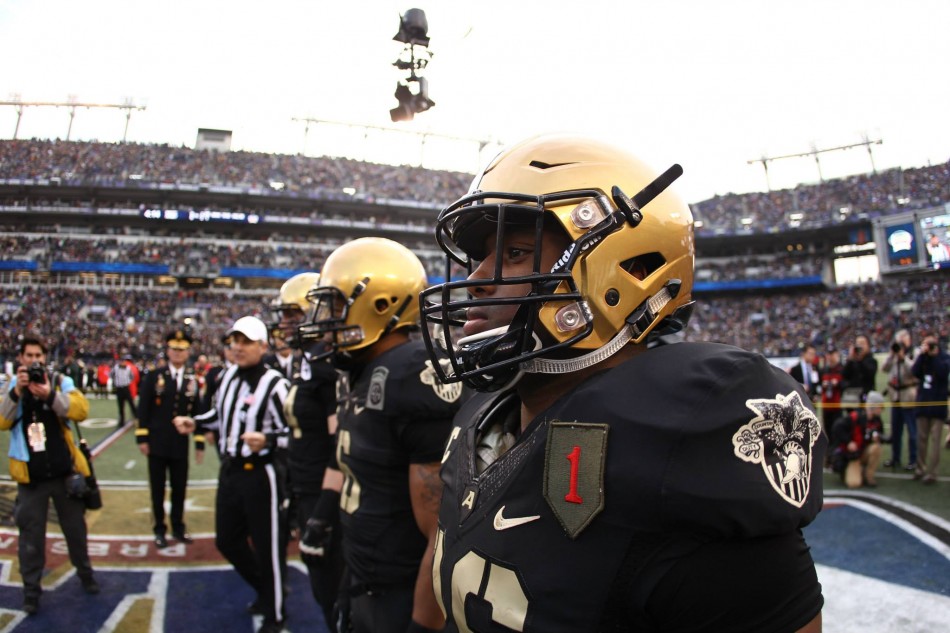 Army's offense struggled in the first half but a blocked punt returned for a touchdown early in the first sent the Corps of Cadets into a frenzy with a 7-0 lead: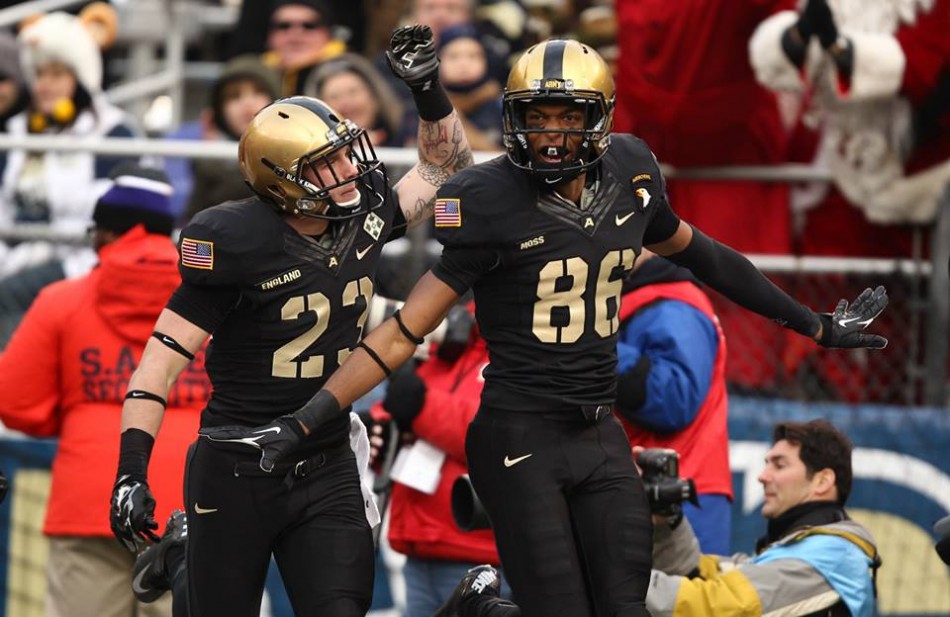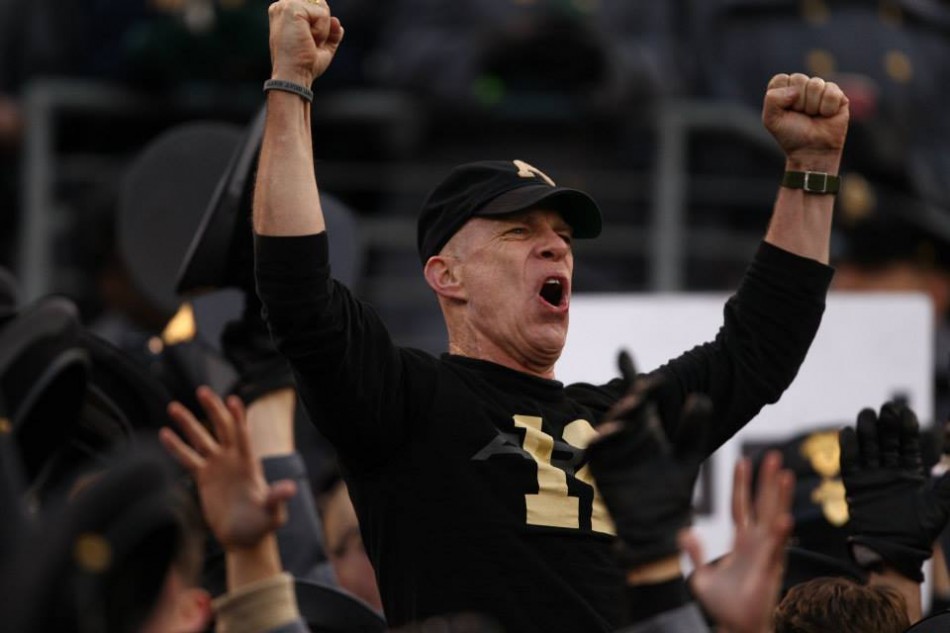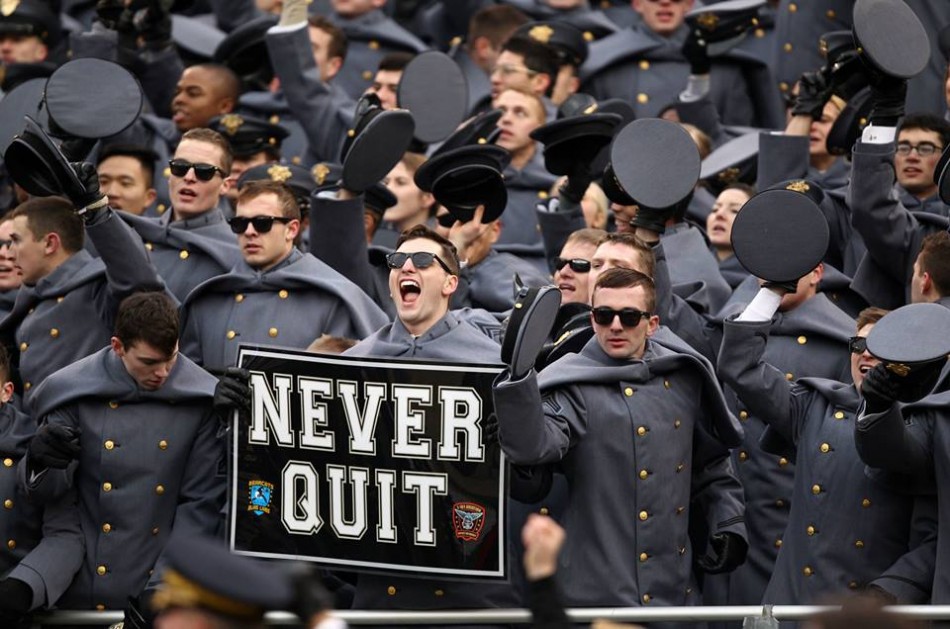 Navy responded with a touchdown pass by Reynolds in the final minute of the second quarter to tie the game up heading into halftime: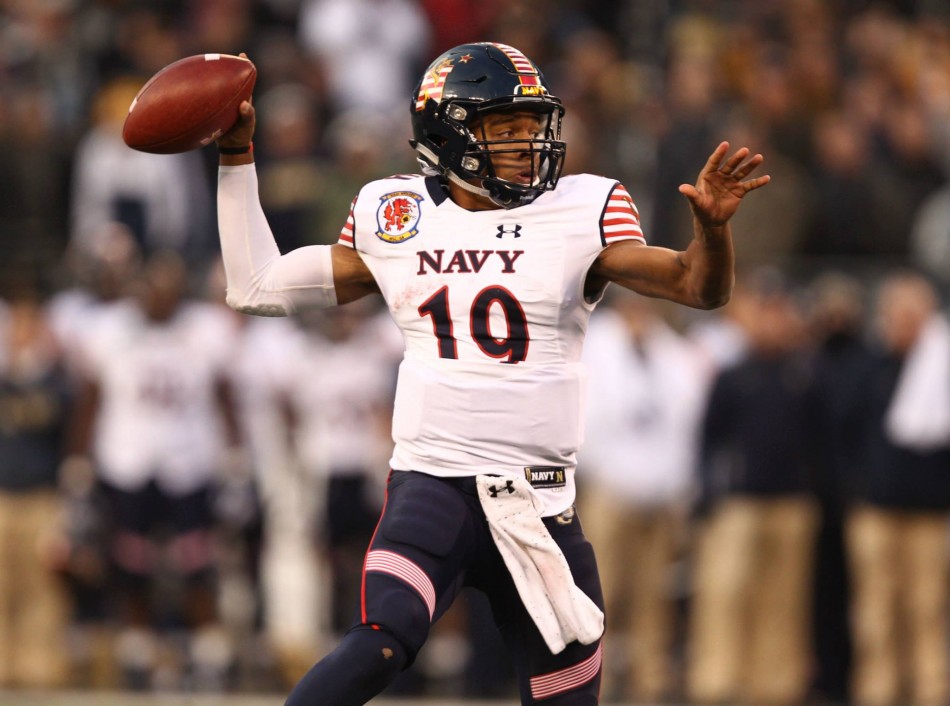 I filed about 30 images at halftime — you can see my images here, along with some from Tommy Gilligan. In total, we posted more than 120 photos from the game.
Army came out and missed a field goal in the second half before Navy scored on a third-and-goal that stood up to a replay review. The game remained close but just out of reach for Monken's crew.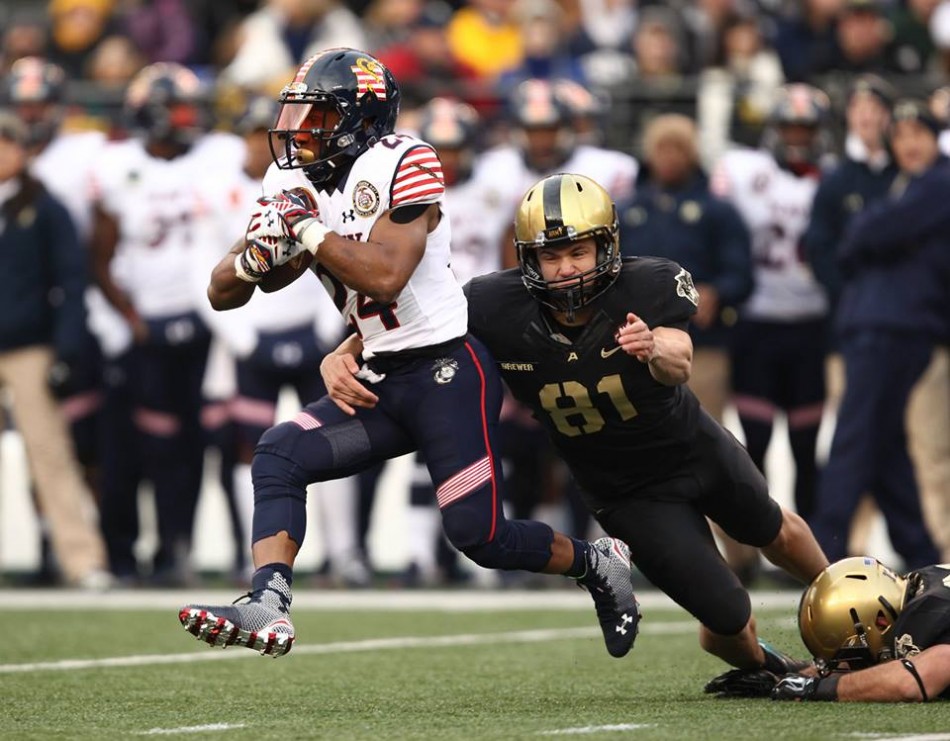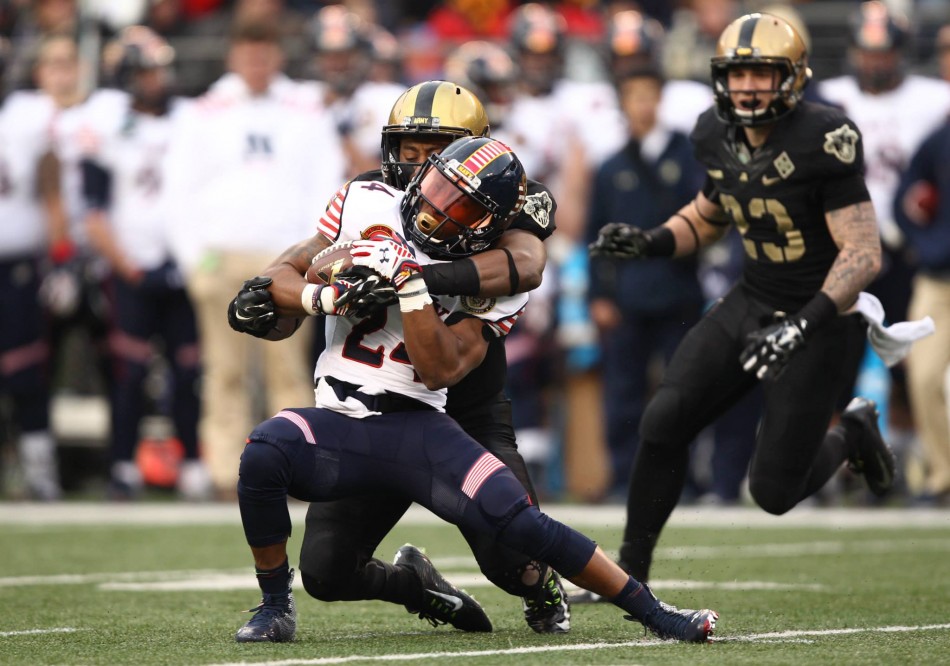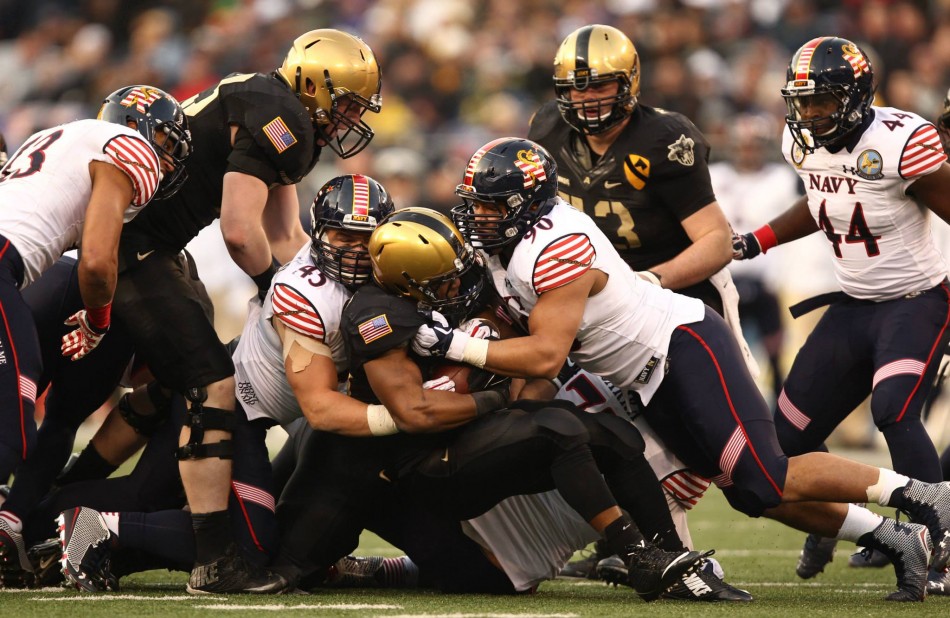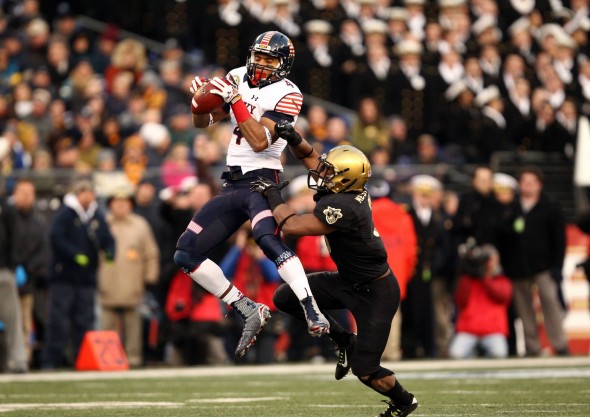 You may recall the day almost exactly one year ago in late December when Army showed Rich Ellerson the door and brought in Monken, a former Navy assistant who promised a win over Annapolis in his very first statement to the media after being introduced inside Kimsey Athletic Center on Dec. 30.
"We will give all of our cadets and the men and women who serve a team they can be proud of," Monken said. "Go Army, and we will beat Navy."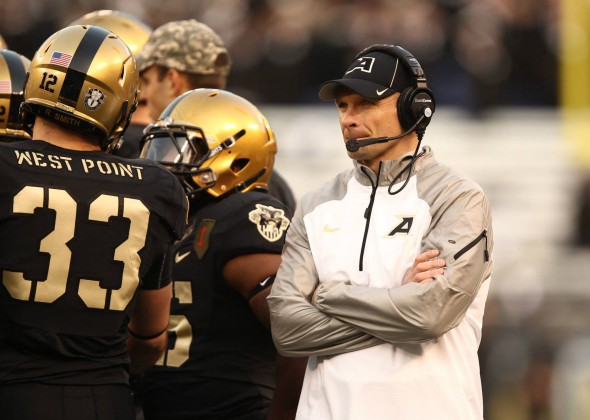 Monken won't take much heat for not delivering in his first season — none of these kids were players he recruited — but it certainly would have been a huge achievement to pull it off. I think the overall sentiment from cadets and Army fans is they believe in Monken and appreciated the effort and competitiveness this game offered. Indeed, it was the highest-rated Army-Navy broadcast for CBS in 15 years, helped somewhat by ESPN's College Gameday visiting the stadium. Still, Monken's first year included four wins, losses to both Air Force and Navy and a wild recruiting scandal that made national headlines.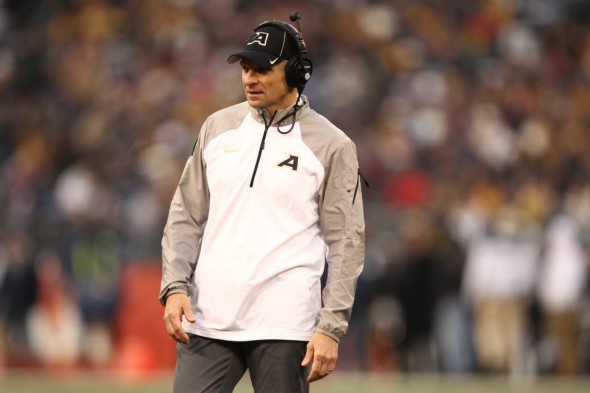 Monken said all the right things after the loss.
"We are certainly disappointed that we lost the game," he said. "I thought our guys fought tremendously hard and I am really proud of their effort. We just didn't make enough plays to win the football game and credit Navy, they are a really good football team and such a well-coached football team. They made the plays when they needed to, to win the football game. That is the bottom line in any game. It is certainly disappointing to have played as hard as we did and not be able to see our guys be rewarded with a victory, particularly. I am disappointed for them to not have a chance to experience a victory in this great rivalry and it is a great game.
"There was a tremendous crowd and really special to be a part of it. It is an honor and a privilege for me to be a part of this rivalry again and to represent West Point, which I think is one of the finest academic institutions in the world and the best leadership laboratory on the face of the earth."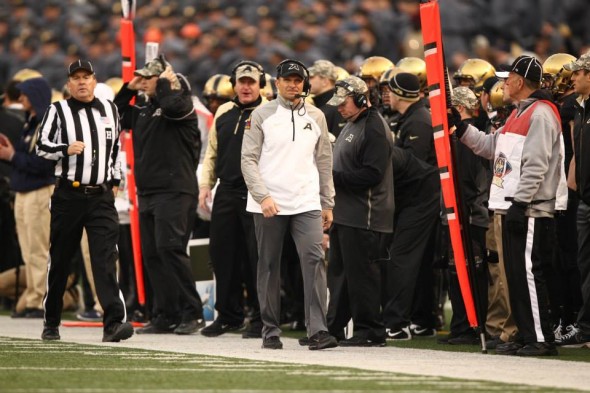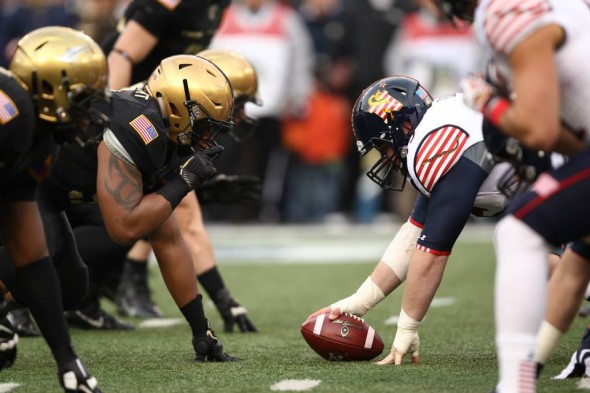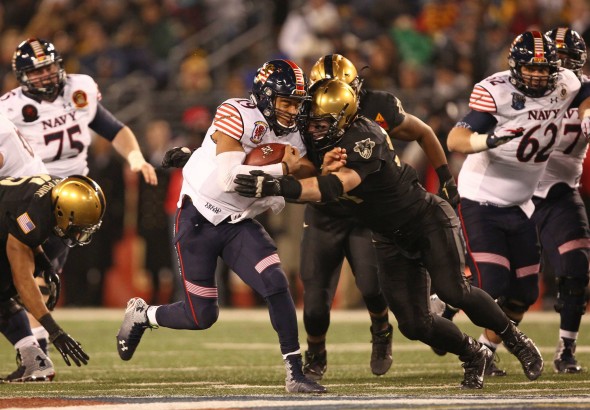 Navy continued to grind away and run the clock, and reality started to replace the early optimism that this could finally be the year.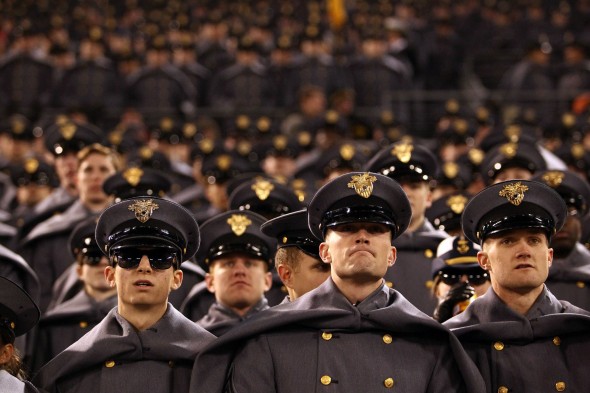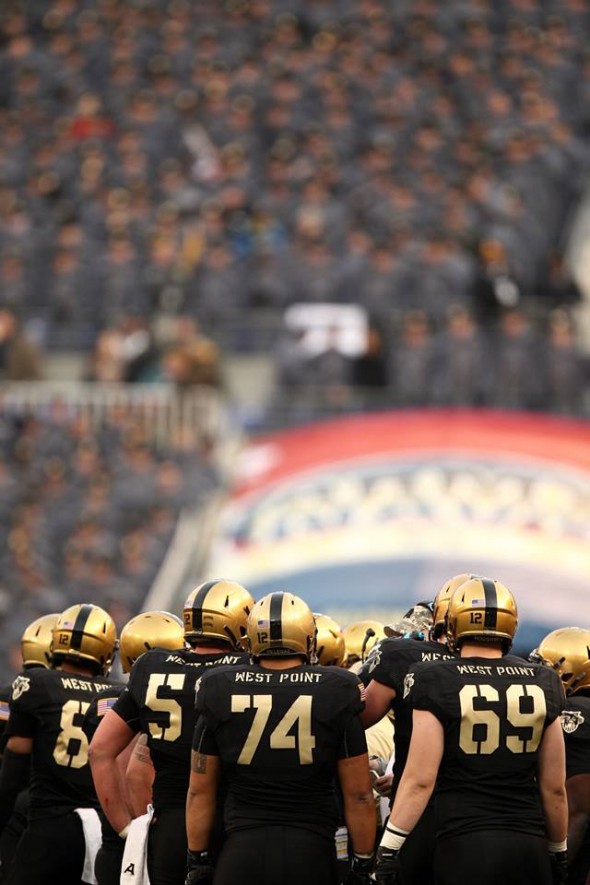 Finally a long field goal from Dan Grochowski breathed a degree of life back into Army's comeback, cutting the deficit to a single touchdown, but with just over two minutes left and one timeout remaining, Army had the odds against it.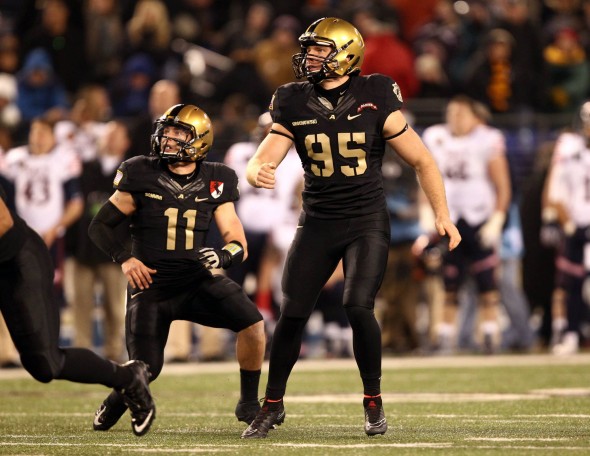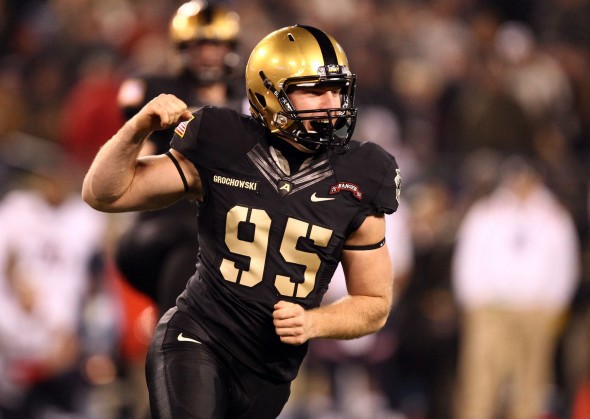 Navy picked up a first down and took a knee, sealing the win.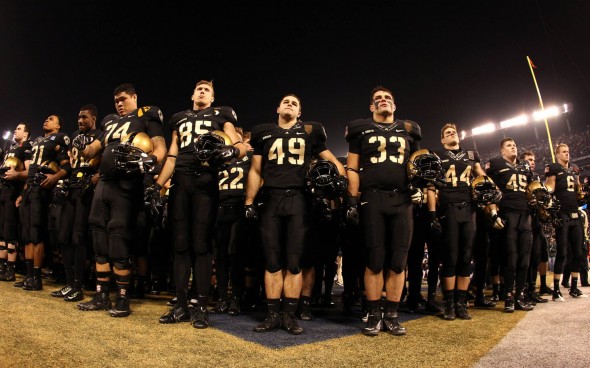 Monken looked visibly proud of his players as he walked down the line and took his spot for the alma mater. Behind him, some players cried and absorbed the reality of another crushing loss.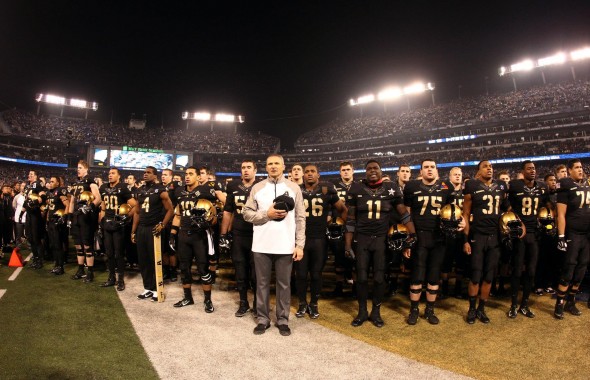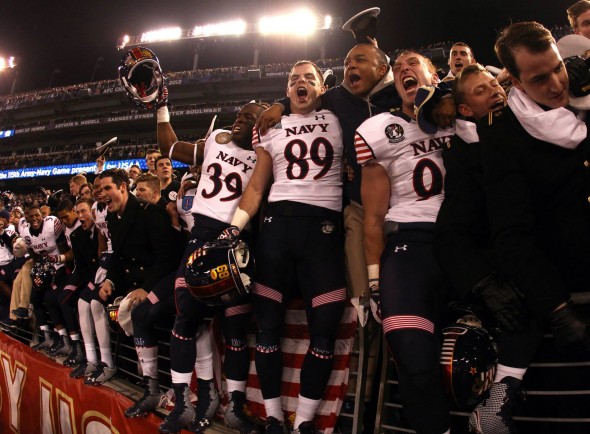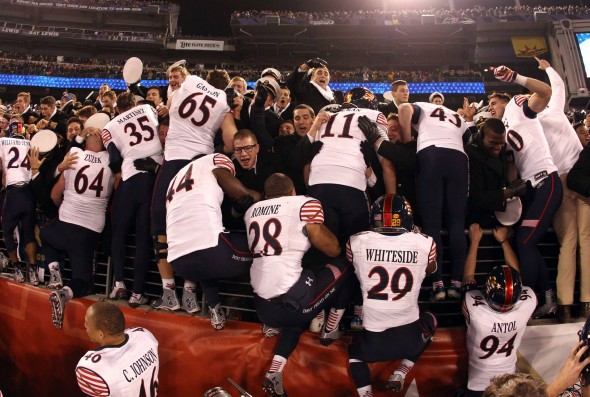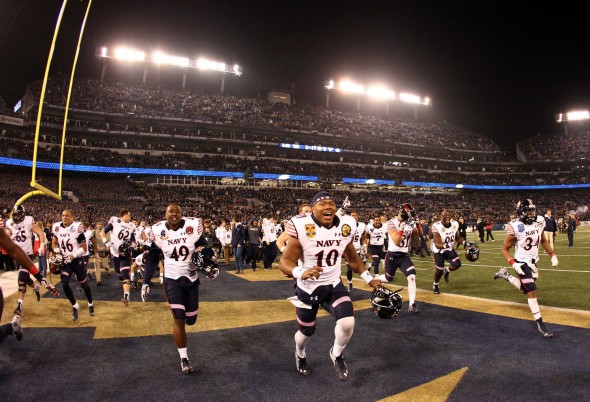 ---
One of my photos of RB Larry Dixon was prominently featured for the game, on the official Army-Navy Game website, on the game program cover: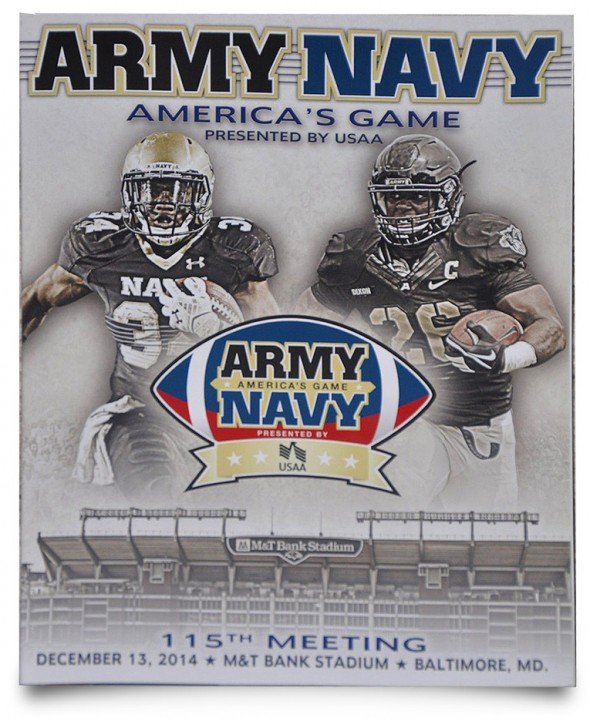 And even on banners hanging around M&T Bank Stadium: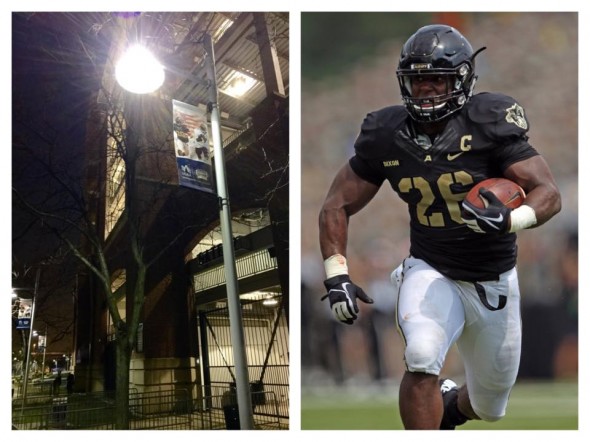 Can I list my complaints about M&T Bank Stadium and the city of Baltimore? Getting there, you have to merge across 4-5 lanes of traffic in almost no space to get off on exit 53, Someone actually designed that road. Upon getting off, there are zero signs for either M&T Bank Stadium or Camden Yards. Baltimore Police setup a roadbloack to block access to parking lots B and C on gameday. Why? Valid question. Their plan? Stop every single car and tell them to make a U-turn and find their way, somehow, to Camden Yards, where, again, there were no signs for parking. Turn left at Camden Yards? You're now back on I-95 North. Turn right? You're going the opposite direction, with one-way streets blocking access.
Media parking in lots B and C are, somehow, on the opposite side of the stadium from the media entrance. The media elevator? Not connected to the press box, and, somehow, on the opposite side of the stadium from the field-level media workroom, a workroom which, somehow, isn't marked. (I asked the woman running the press elevator where the photo workroom is. "I don't know," she said.) A smaller, more outdated photo workroom has a sign that was literally blacked out, and inside contained three seats and two separate, empty, abandoned dark rooms for film processing. The larger workroom had no power strips, no wifi info, no drinks, no bathroom and certainly no food.
Somehow an NFL team runs this facility.
---
Complaints aside, I had a blast shooting the game and it was again a huge honor to be there and be apart of this incredible event between two great schools. Unfortunately, I'm now a pro at shooting Navy's celebrations. Since 2009, here's what they've looked like.
2009, Philadelphia — Navy makes it eight straight: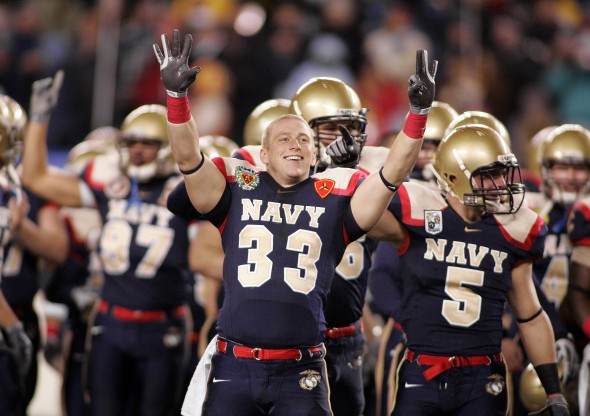 2010, Philadelphia — Navy goes for nine in a row: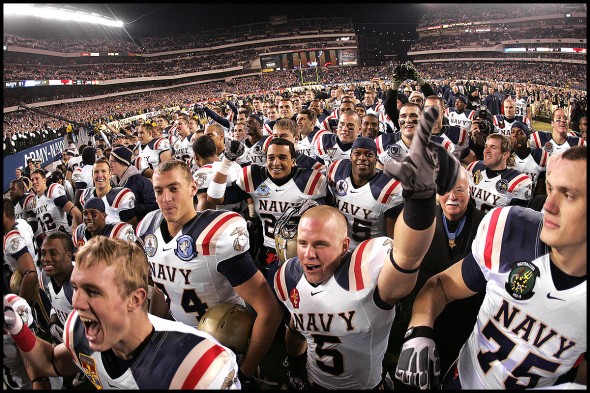 2011, Washington — Navy makes it an even 10, taking home the Commander-in-Chief's Trophy in the process: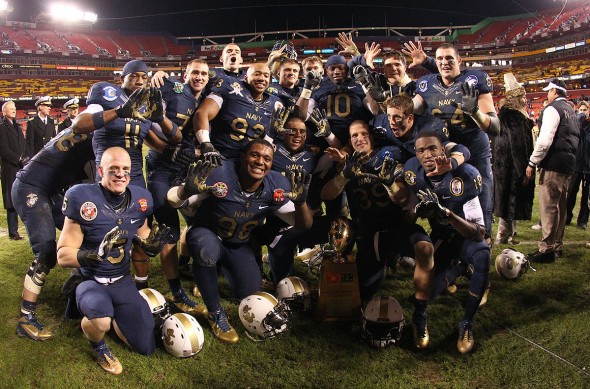 2012, Philadelphia — The Mids run out of fingers in their 11th straight win over West Point: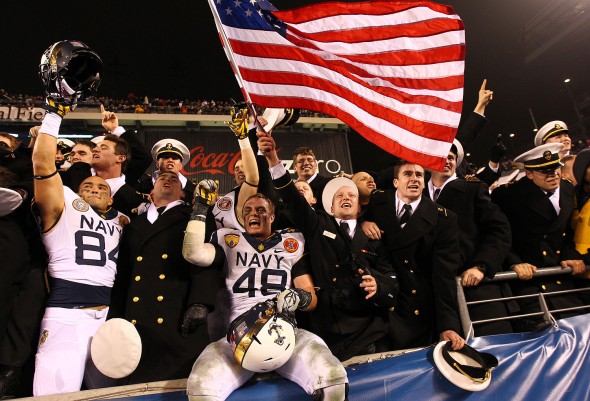 2013, Philadelphia — Early snow and late freezing rain can't stop Navy on a ridiculously cold night in Philly:
2014, Baltimore — Navy coach Ken Niumatalolo gets carried off the field on the shoulders of his players after winning his seventh game against Army: