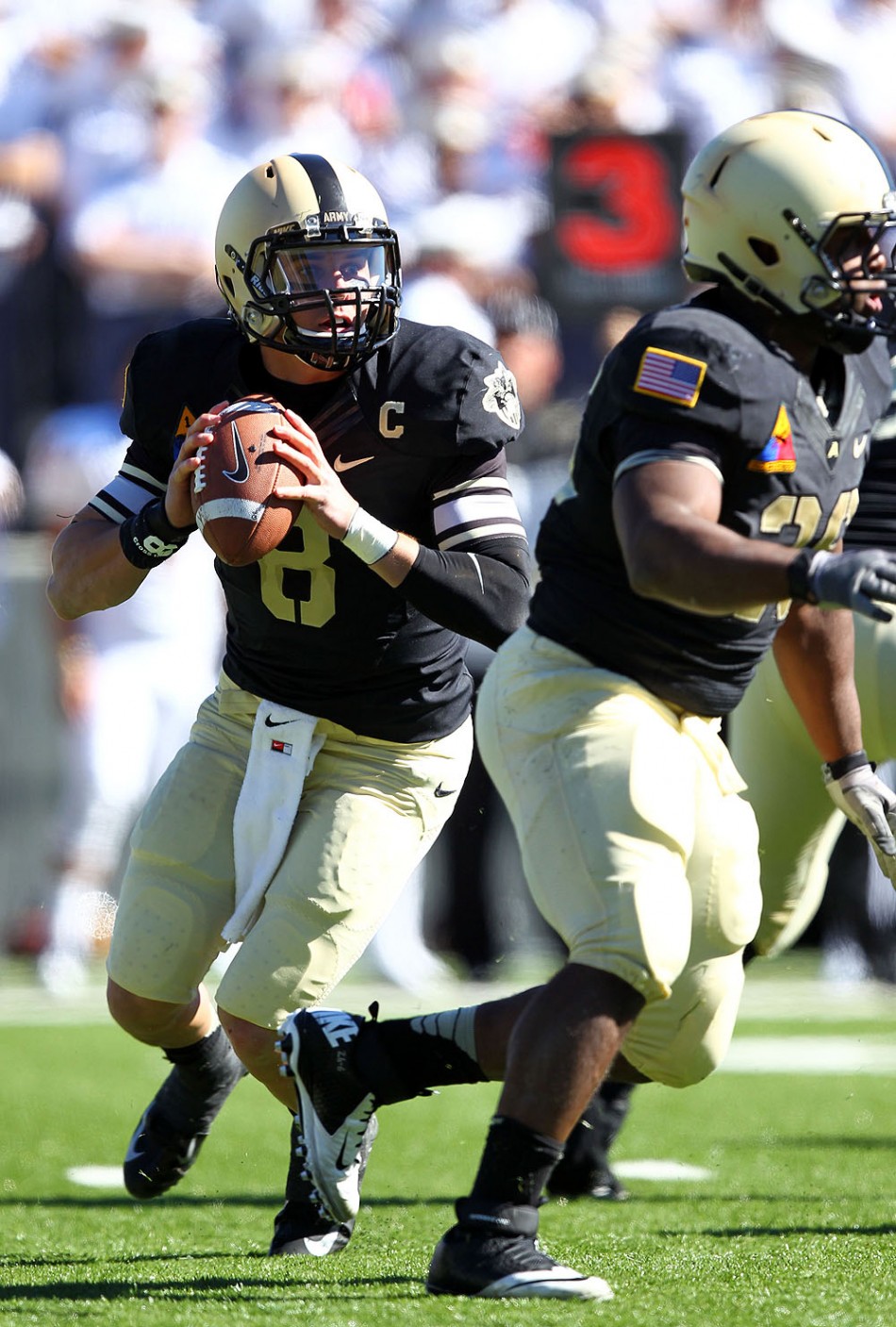 Here's a look at some photos from Army's loss to Kent State last Saturday, a game that sort of characterizes what this team has become in 2012 — inconsistent. A week after an upset win over Boston College, Army took a turn in the opposite direction against Kent, a school they beat on the road in 2010 to clinch a trip to the Armed Forces Bowl.
They day began, finally, with a parachute jump from the Academy jump team and some soldiers from another Army division. High winds have canceled previous jumps, and with a nice blue sky Saturday, this was a good one. I shot most of the jump demonstration with my 16-35mm lens but pulled out the fisheye for this one, which made USA Today's top photos of Week 7: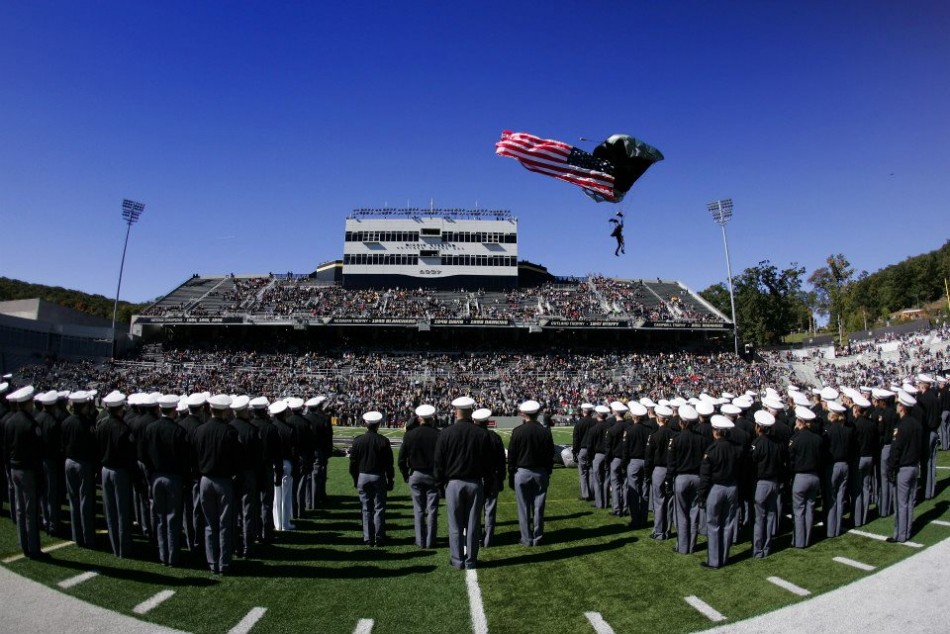 Earlier in the afternoon, I tried out the iPhone 5 panorama feature from the upper deck in Michie Stadium. Would be a lot cooler with fans and the big flag, so maybe I'll try that again during a game this season. Pretty cool though:

Back to the jump — here's three parachuters coming in for a landing while the First Regiment looks on: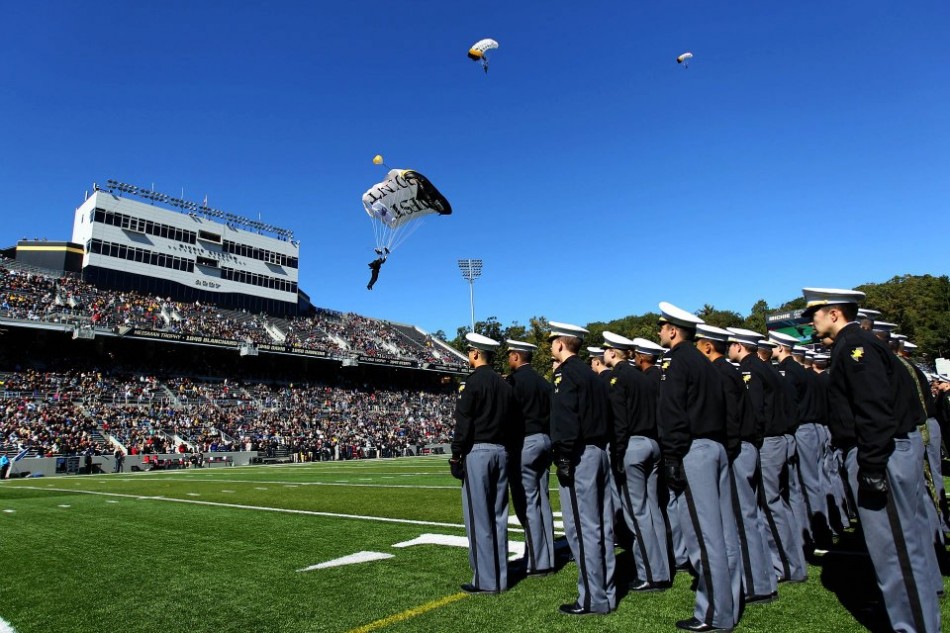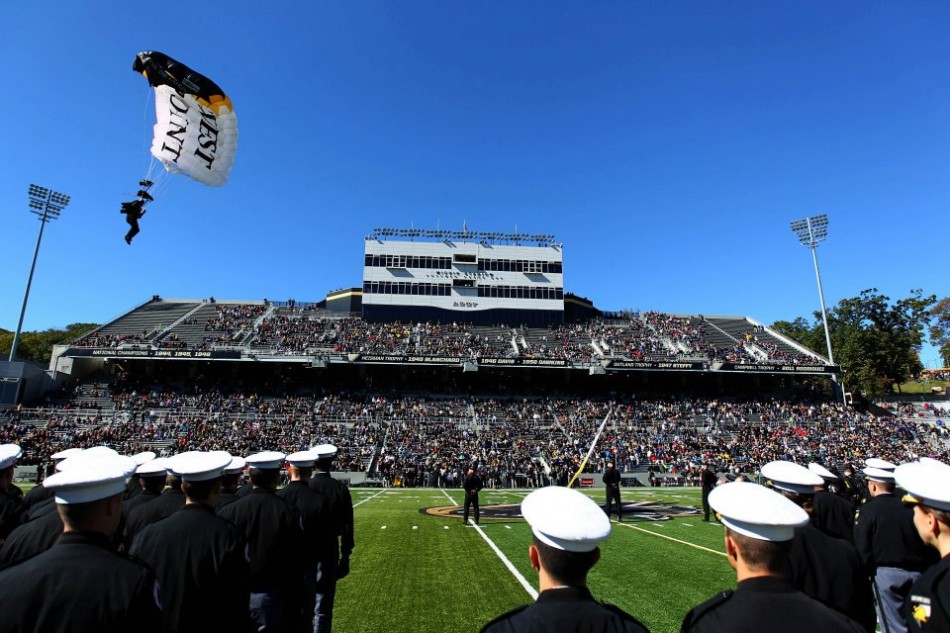 Here, the Corps walks off:
This was the first time I could remember (since 2009) that the Corps has worn black jackets and gloves to a football game. They later took off the jackets and wore the usual white shirts.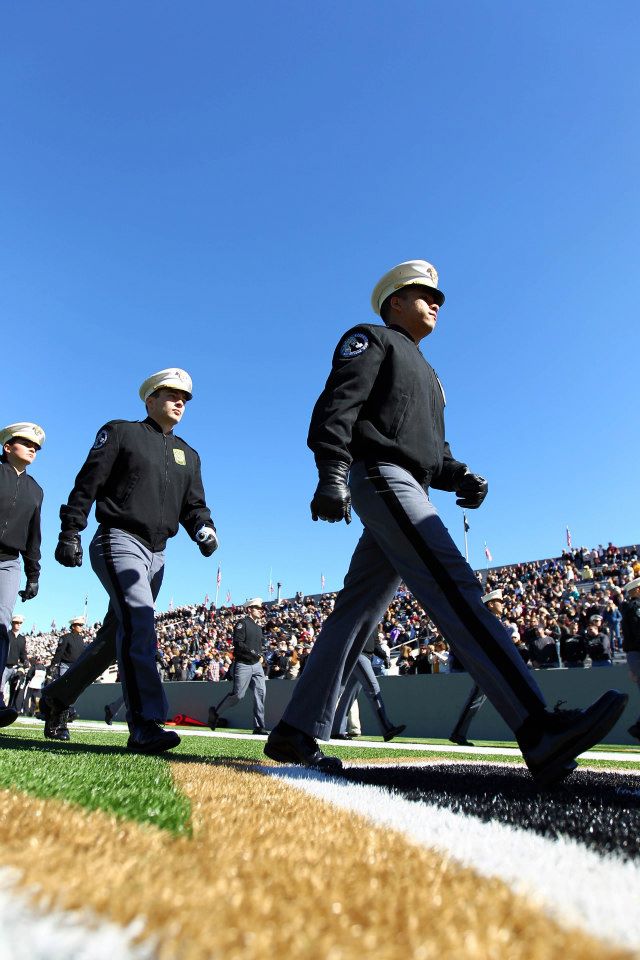 Army took the field in a hurry as none of us were expecting them to charge out, including the poor cheerleaders and flag holders, who ran for their lives: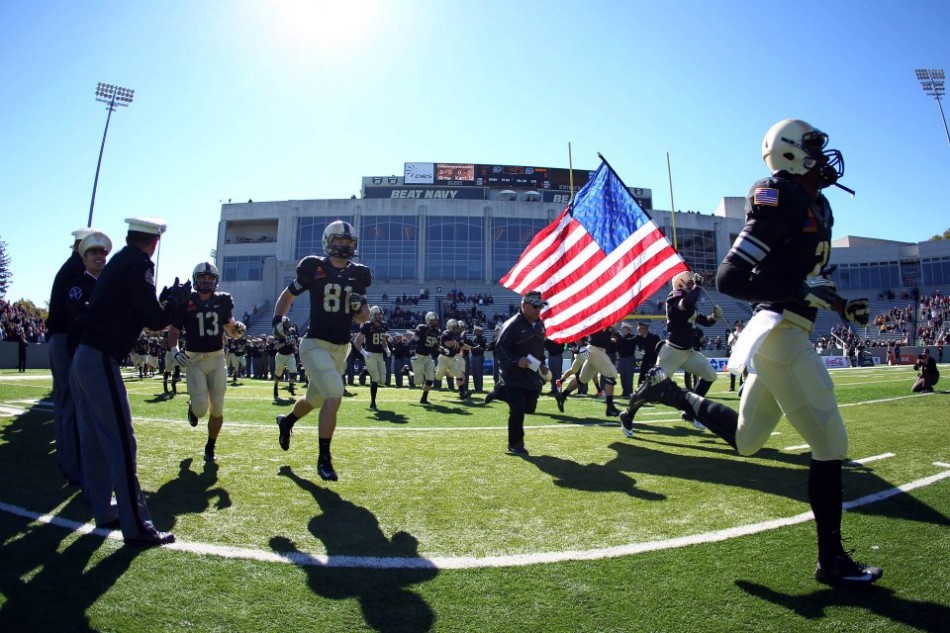 Army QB Trent Steelman before the first drive: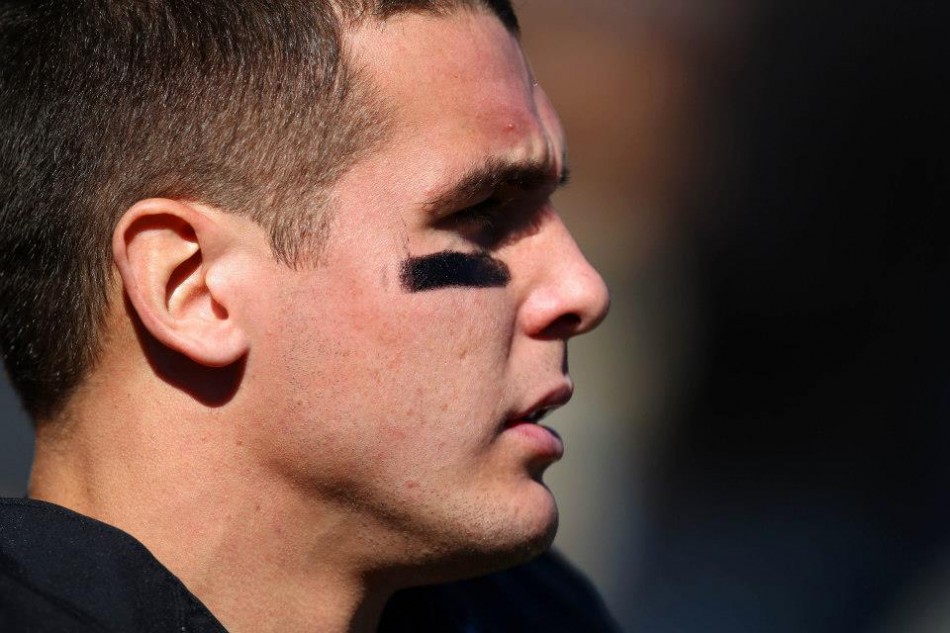 Here's a closer look at the back of Army's "desert storm" helmets this season: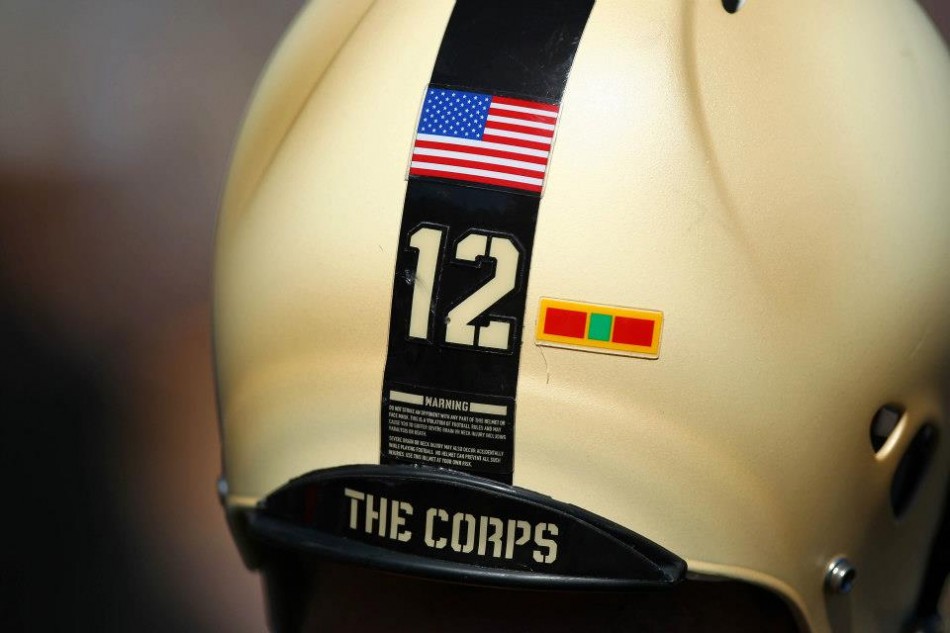 Harsh sunlight meant some cool back-lit shots from the north endzone. Love the look in his eyes and the scratched up reflections on his helmet: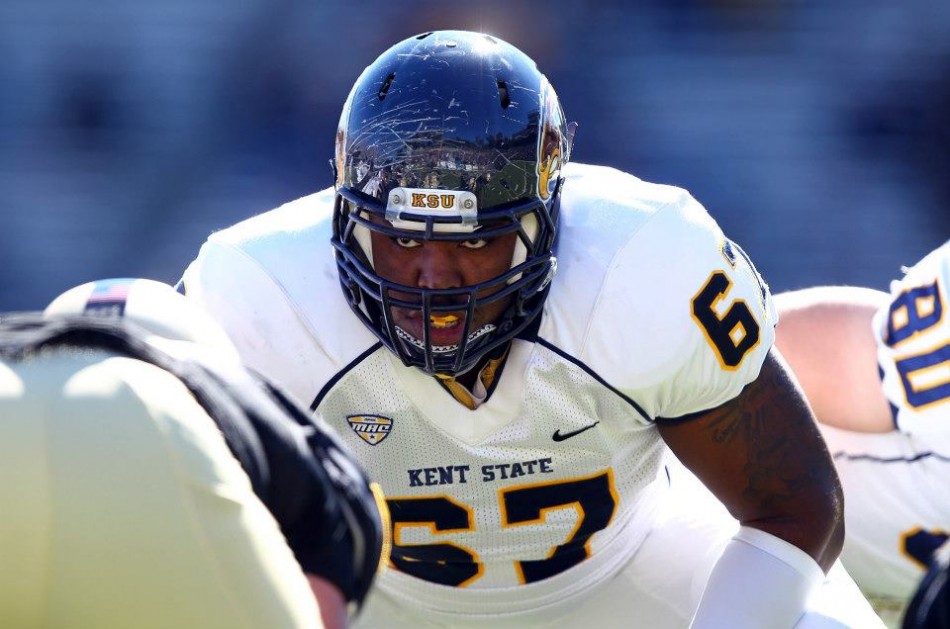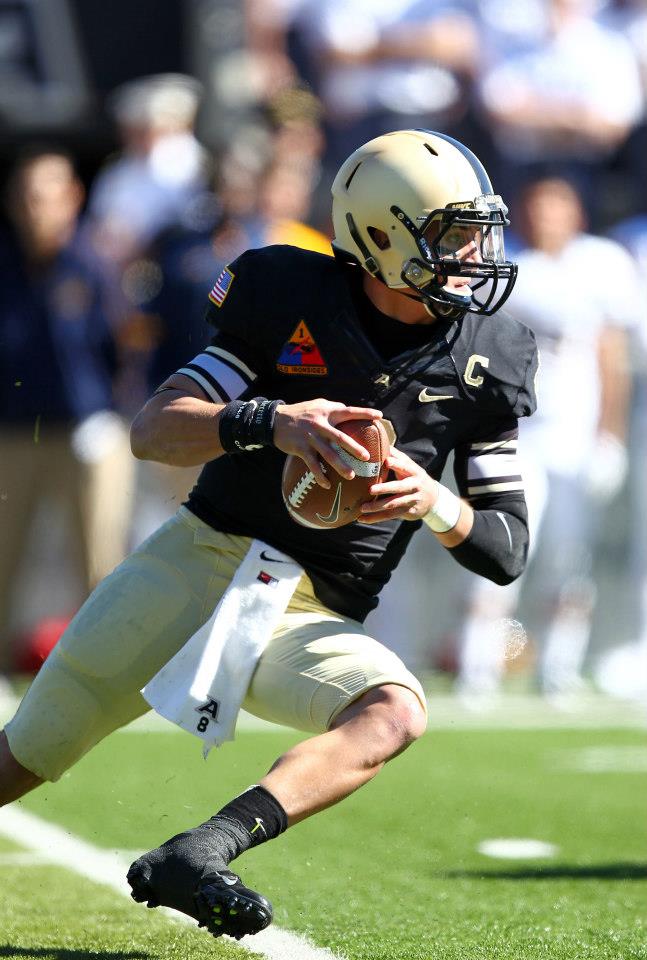 Steelman rolls out to the right on an option pitch, with Larry Dixon leading the way: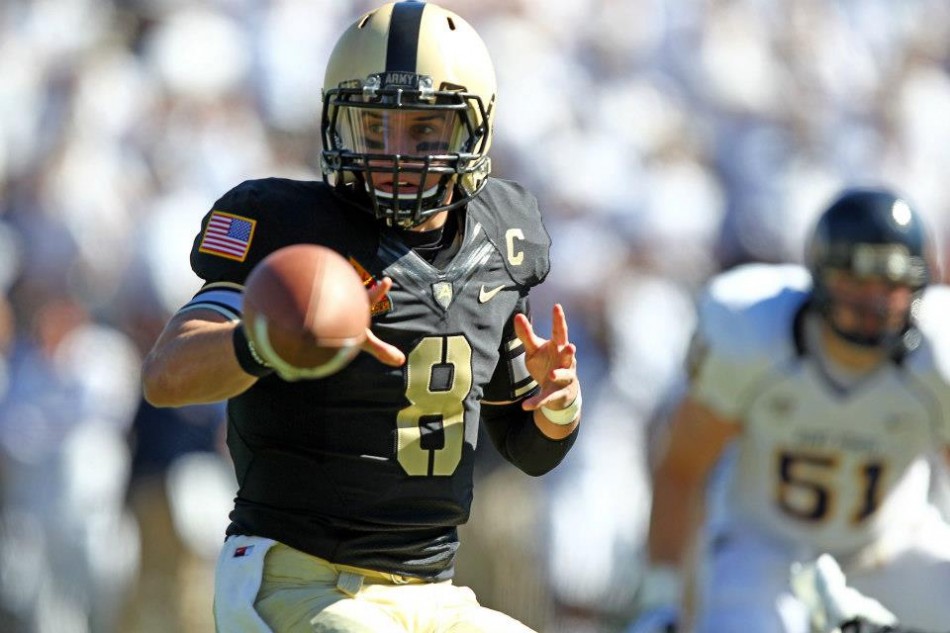 Steelman was the main option as usual, although Malcolm Brown racked up some good yardage and scored a touchdown: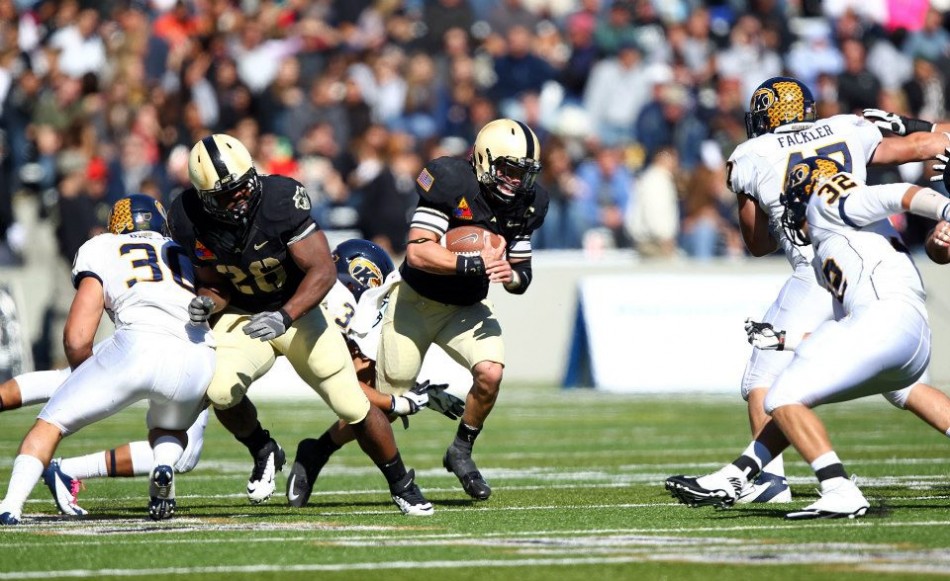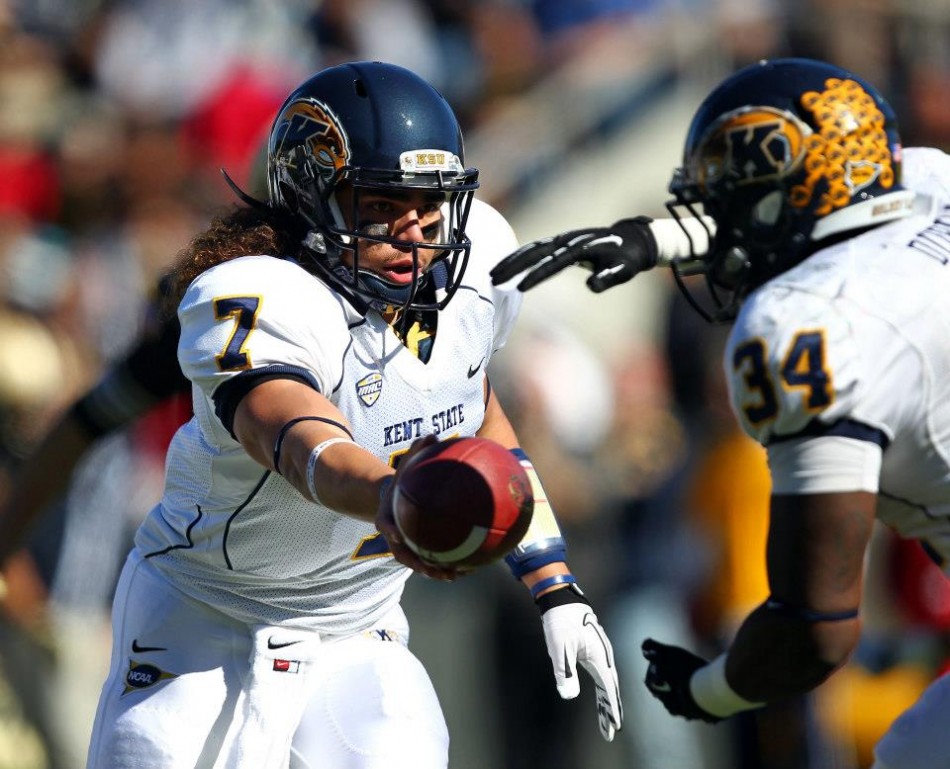 Here's Nate Combs being dragged down from behind.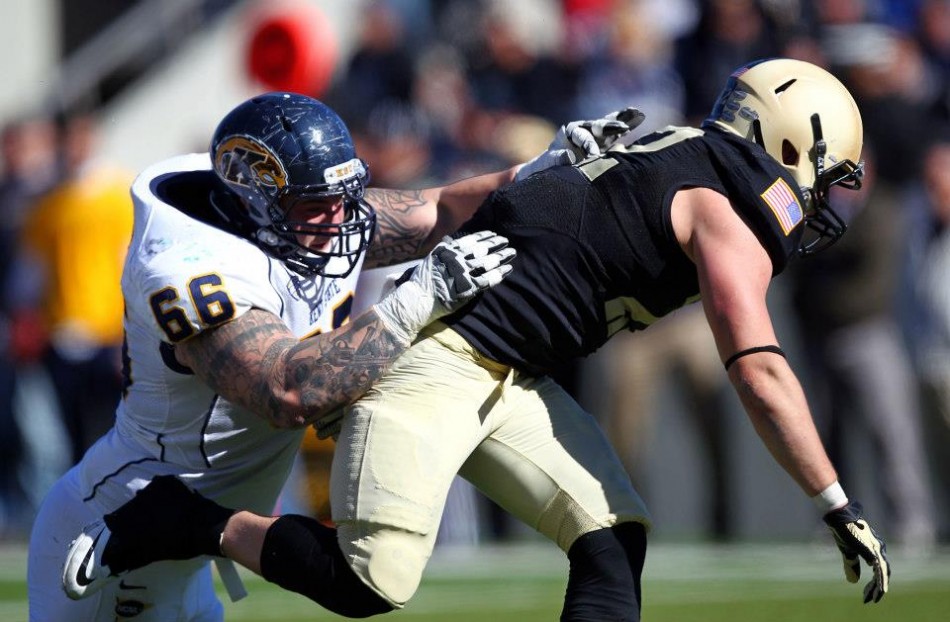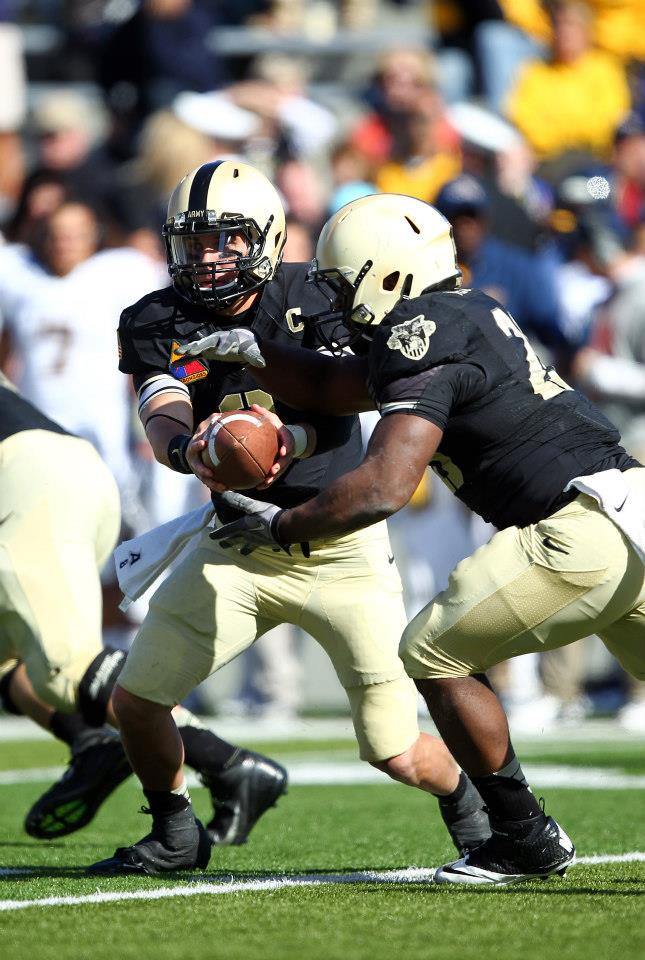 So after a comeback performance by the Corps against Boston College, I thought they, like the football team, took a step back on Saturday. The atmosphere wasn't the same, the noise wasn't there. Sometimes they got loud, but not what you'd expect from 4,000 cadets standing all game: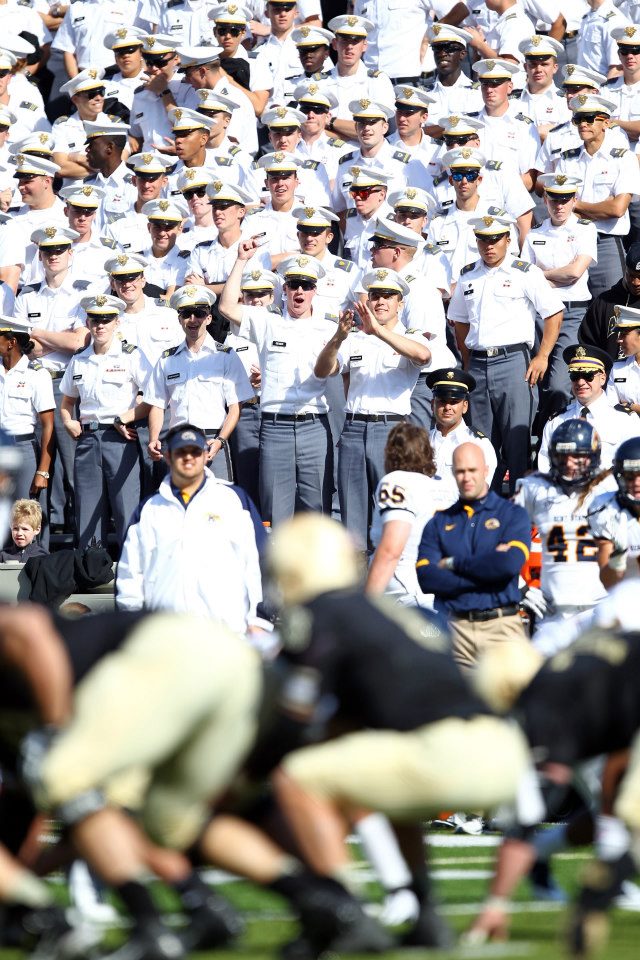 Here's Raymond Maples taking a pitch to the outside, a play that worked well all afternoon: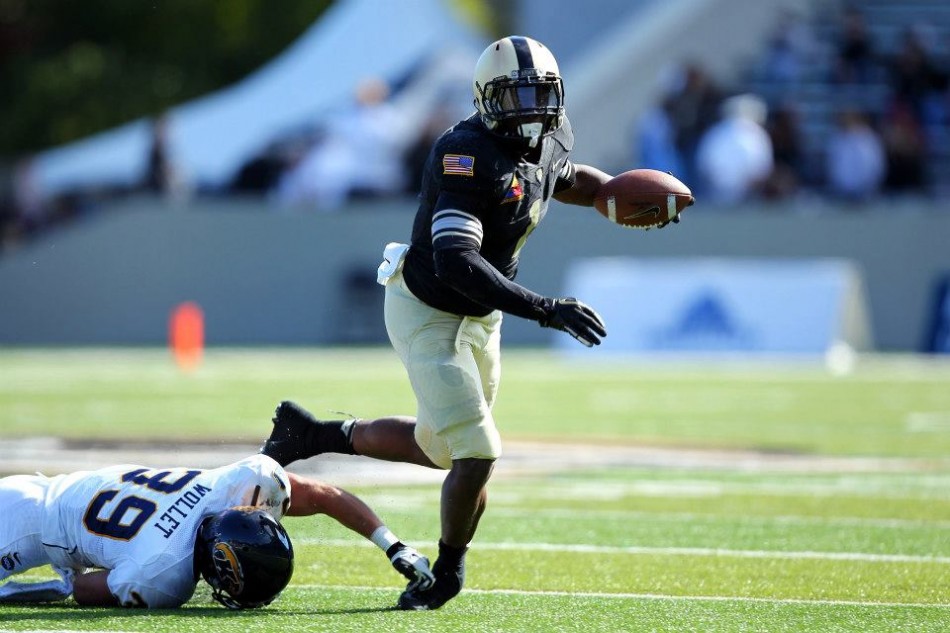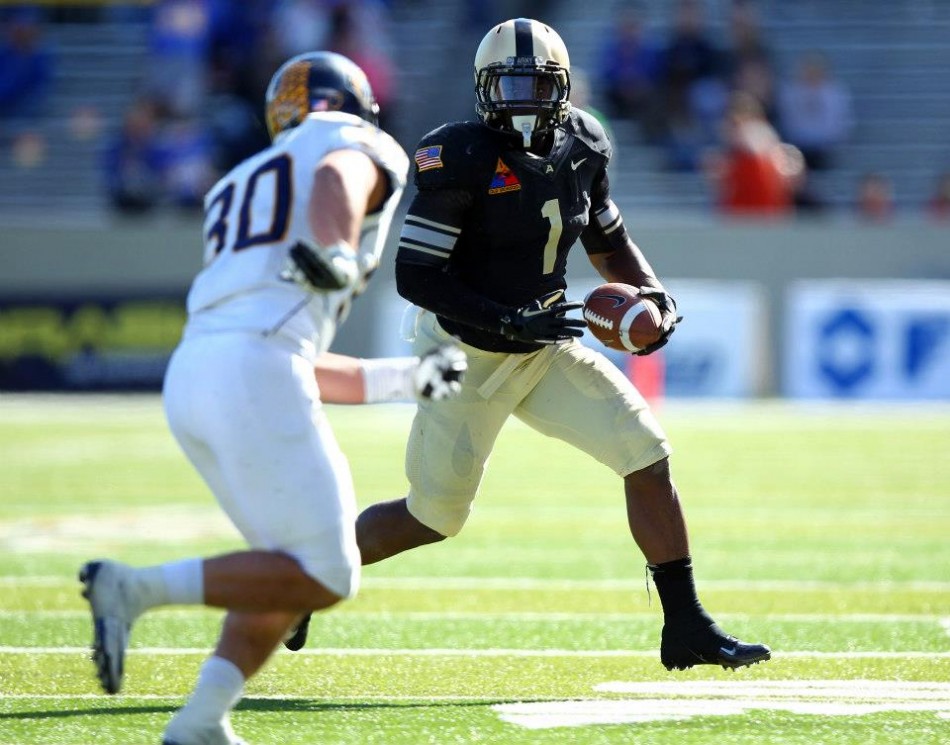 "There is no mystery there. We got handled on offense, defense and in the kicking game," Army head coach Rich Ellerson said. "I don't think we helped them well enough as coaches. I don't think they played well enough. I think we lost enough of the physical match-ups out there, and it was going to be hard. Defensively, we did some things better; we played better, but we still gave up a 1,000-yard play when Archer is in the backfield and everyone knows exactly who is going to get the ball and what they're going try to do in that situation and they can still do it. That hurts."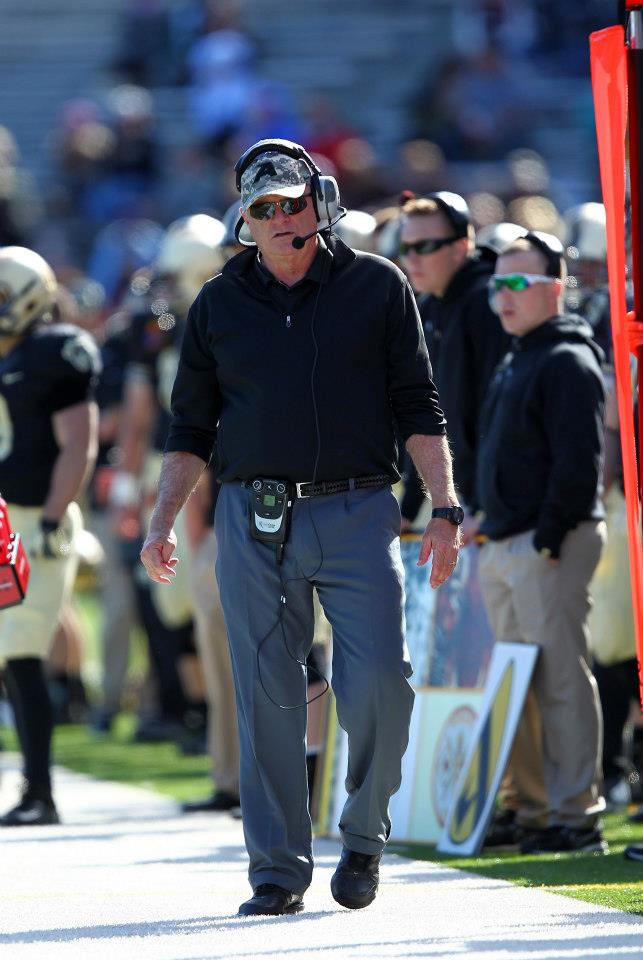 On the flip side of what Ellerson spoke about — the defense knowing what Kent would run — I had an interesting moment on the Kent sideline during the game when Army lined up and every coach went ballistic in screaming that an outside pitch play was coming. Army paused and checked their play cards before running that exact play, which was immediately stopped. Was Kent State that easily able to read Army's offense, or was it just that, in reality, they run that option play 95 percent of the time anyway?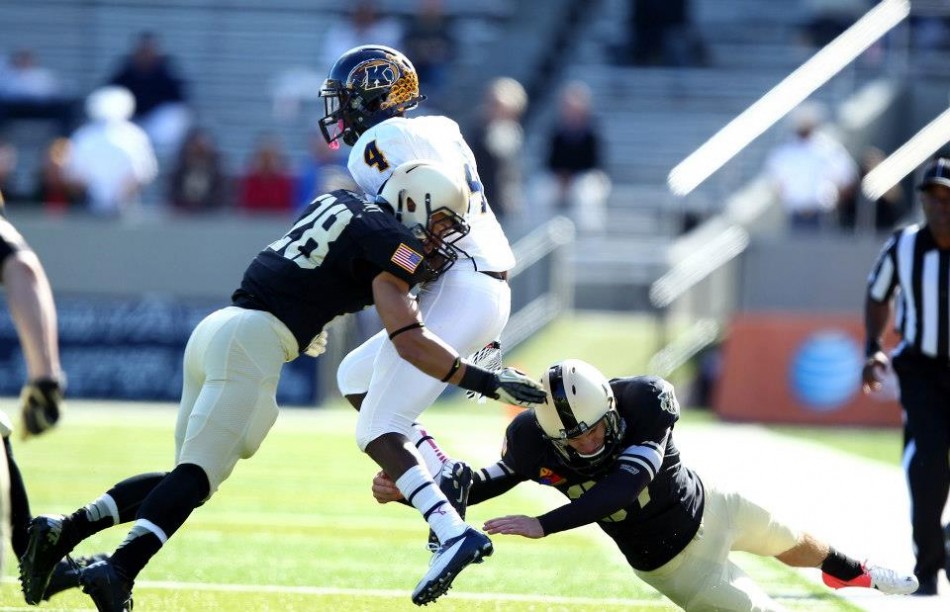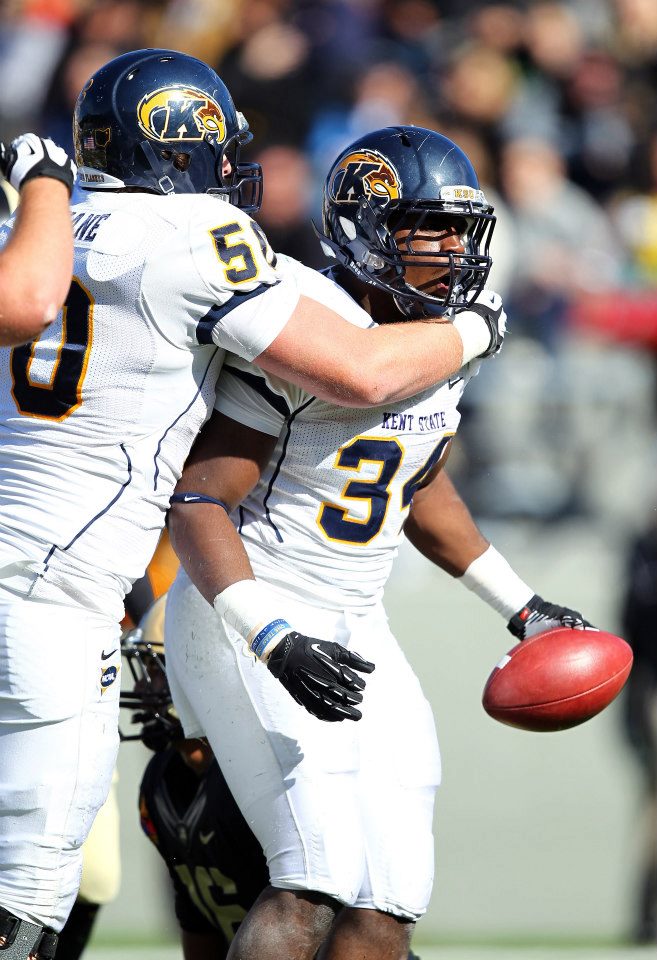 Here's Stephen Fraser bracing for a hit after catching a short pass: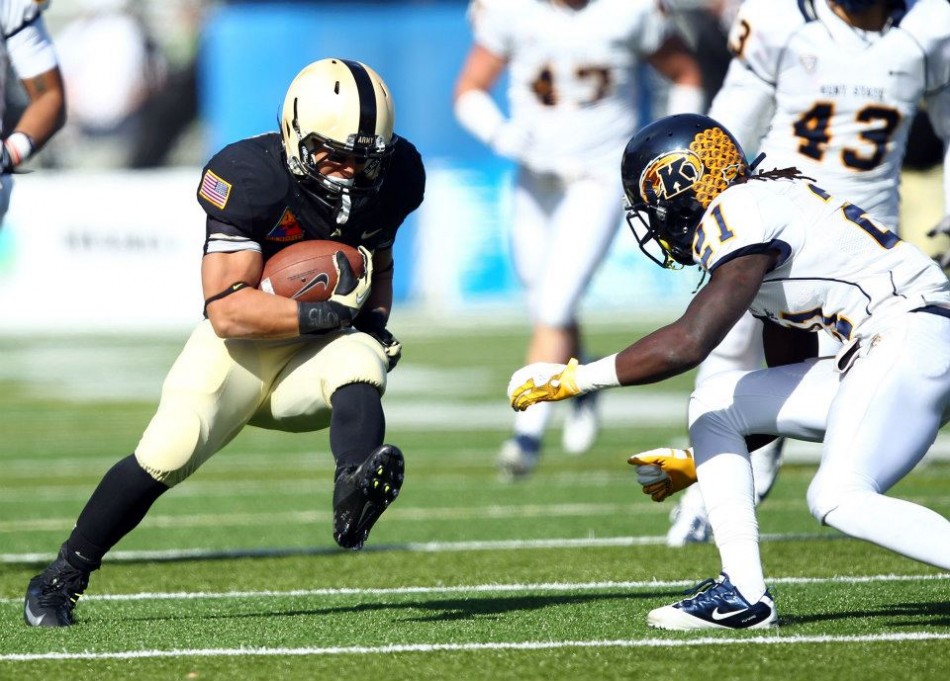 Steelman (left) congratulates Brown after his touchdown in the second half: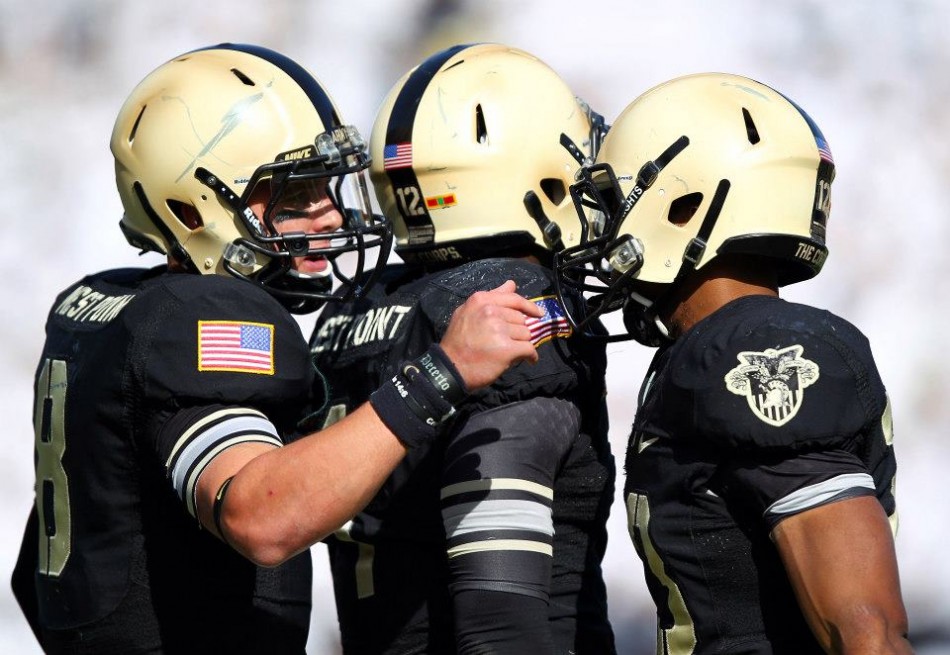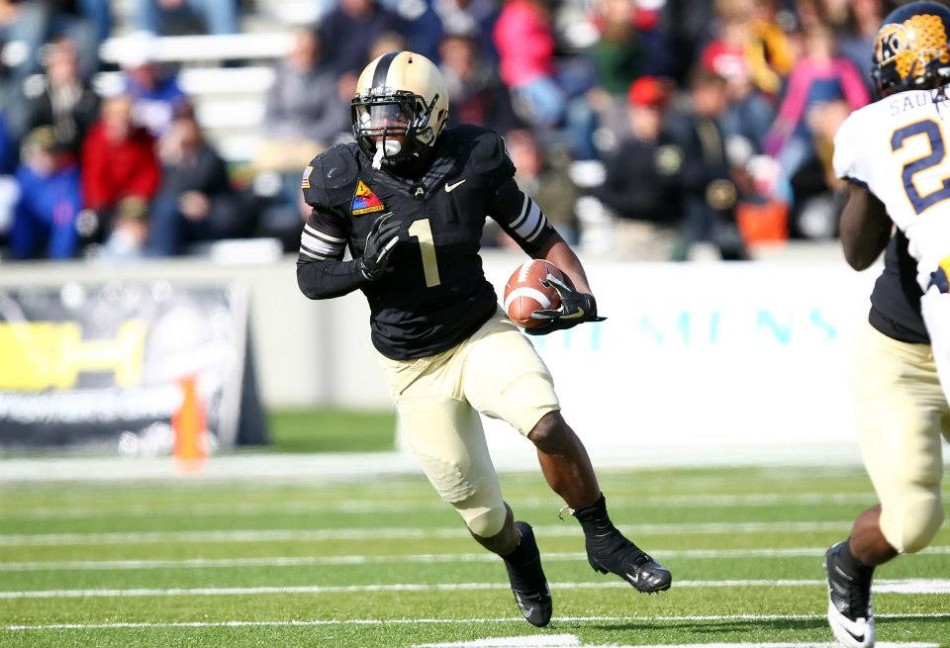 Chevaughn Lawrence gets squished after making a catch: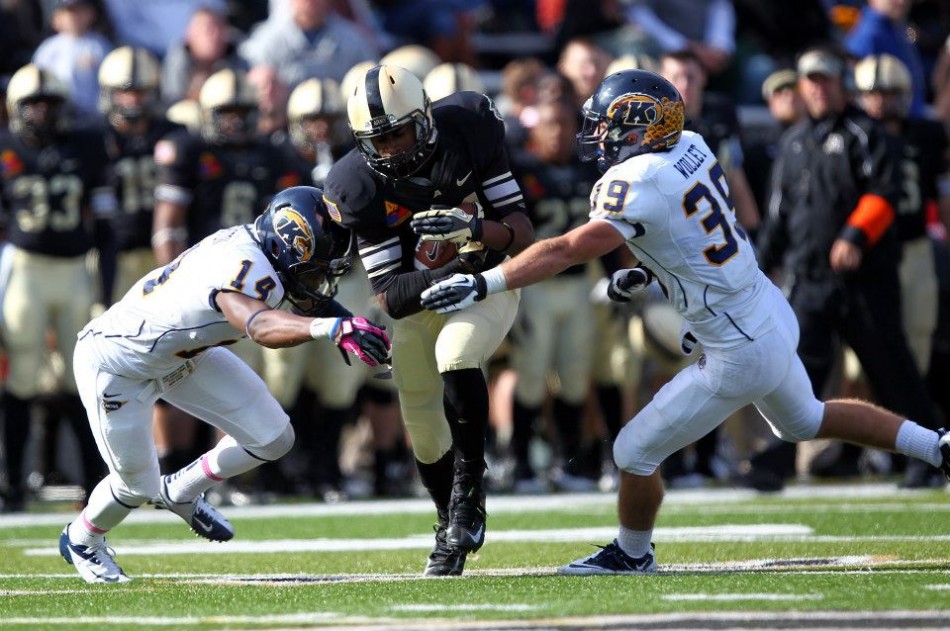 Maples takes one up the middle: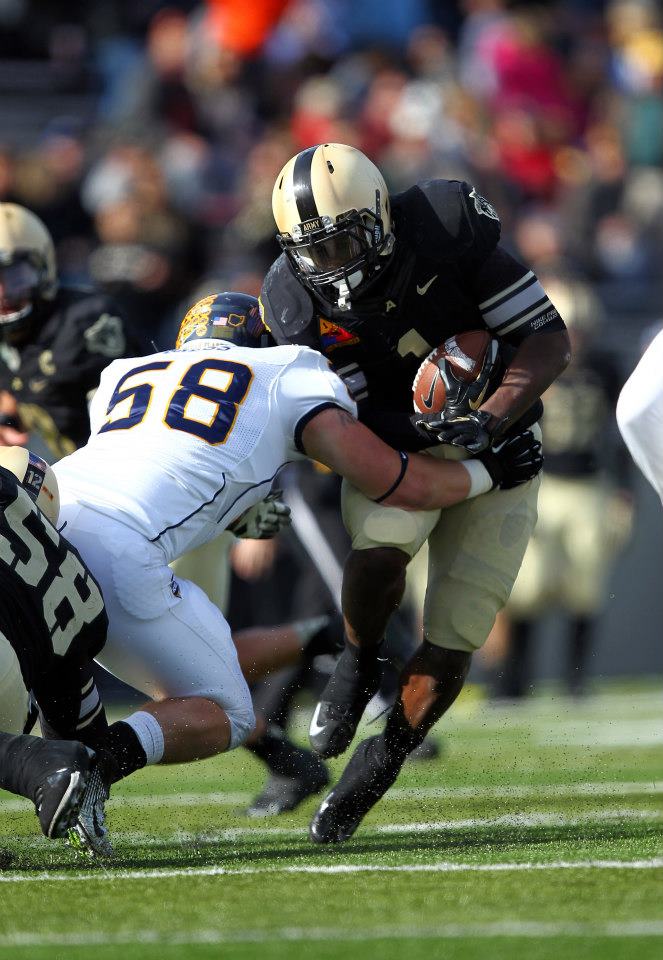 Ah yes, Army fans met plebe AJ Schurr late in the game. Schurr, I'm guessing, will be a favorite to start in 2013. He ran the offense well and threw a SportsCenter Top 10 touchdown pass to Patrick Laird in the fourth when Army trailed 31-10.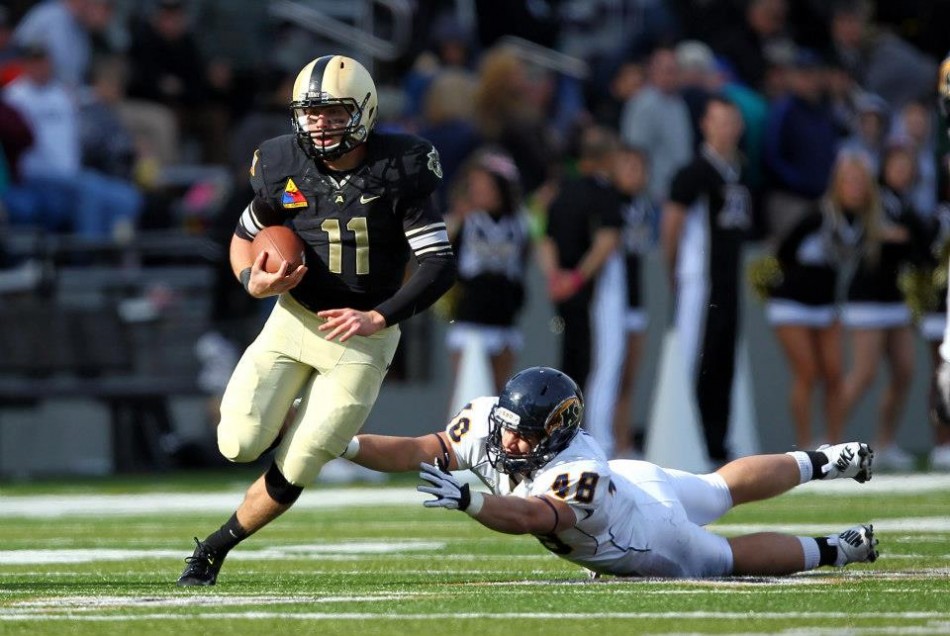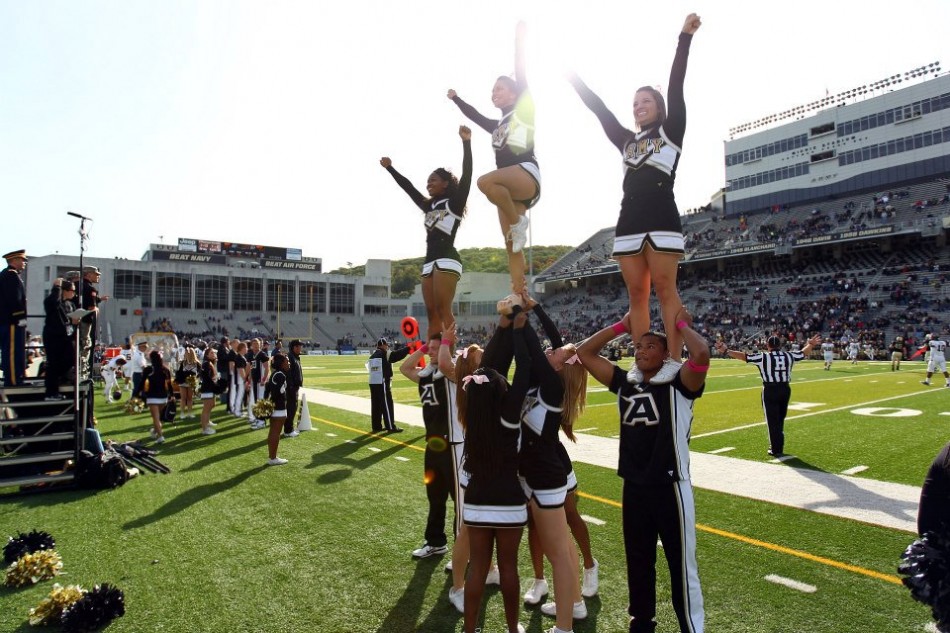 This shot of Kent State players slapping hands with Cadets was picked up by ESPN.com as one of their Week 7 Photos of the Week. If you're keeping score at home, that's now 4-for-4 for me in getting ESPN Photos of the Week. Interestingly, ESPN converted this one to a black and white image for publication: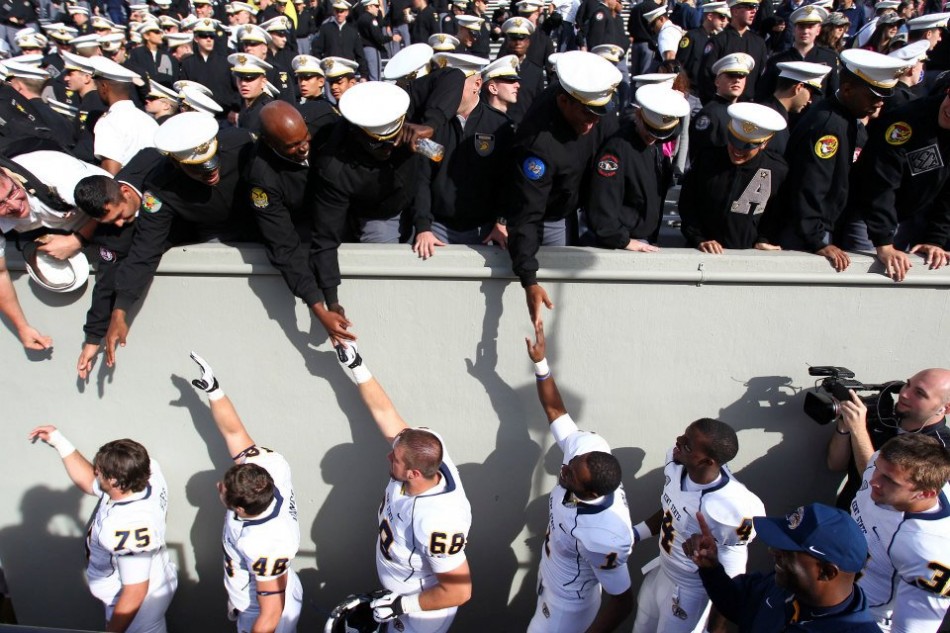 I was also impressed with the panoramic shots — here's two more from my iPhone. The first is from the south endzone, my usual shooting position when the offensive team is heading that way:

This was taken after the national anthem from the goaline on the visitor's side of Michie: