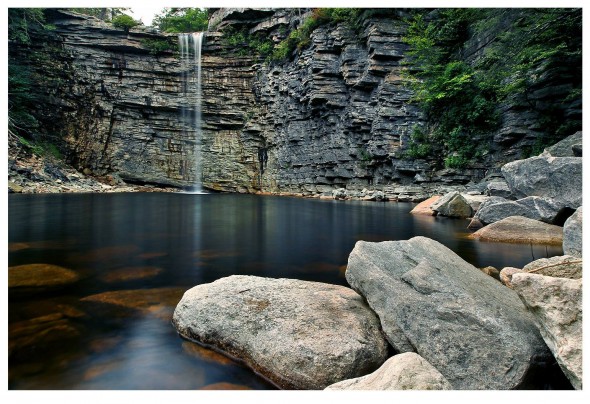 I made a quick trip up to New Paltz this past Saturday to try some long exposure photos of Awosting Falls and, really, anything else worth shooting. I never got up to Lake Minnewaska as daylight ran out on me, but I was pretty happy with some of the images I was able to create using a borrowed neutral density filter. Here's a quick look at my afternoon.
I started off first on Gatehouse Road in New Paltz, where I tried to capture Mohonk and the ridge from Pin Oak Alley, which is a 100-year-old carriage road behind the Mohonk Testimonial Gateway (also known as the Mohonk Gatehouse), the former entrance to the Mohonk Mountain House built in 1908.
The building (view on Instagram) with its iconic archway and tower, was gifted to the Mohonk Preserve in 2011 and there are plans for renovation, but right now, it's not accessible by the general public. This great old stage coach road leads out to Brook Farm, which until World War II actually grew food used at the Mohonk Mountain House hotel. I took this with a loud red-tailed hawk nearby, rhythmically screeching (hawks are pretty recognizable, they sound like this)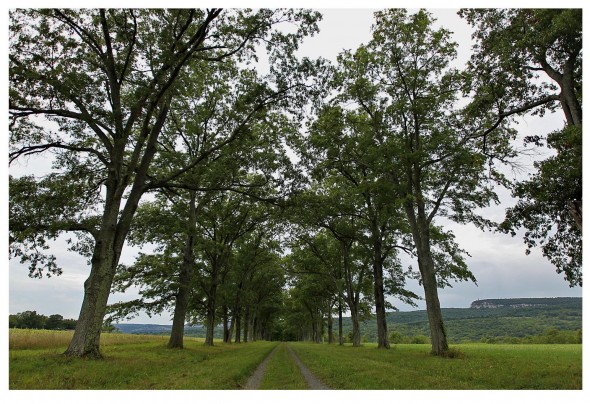 Here's another angle. For this, I used the "variations" option in Photoshop and added some blue to the image for a different feel: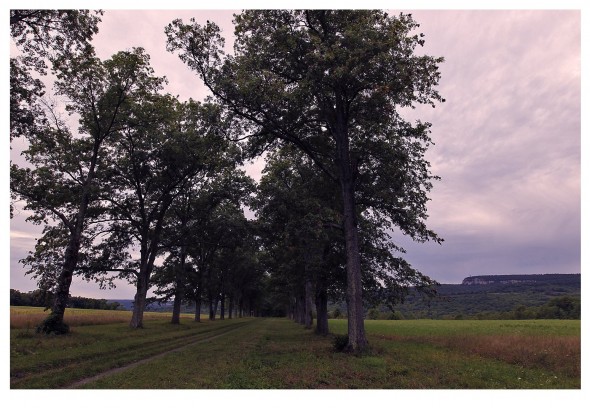 From there, I snapped a few more shots of the ridge from Butterville Road as some crazy looking clouds hung over the Gunks. In this one, included some Queen Anne's Lace flowers in front, out of focus — like/dislike?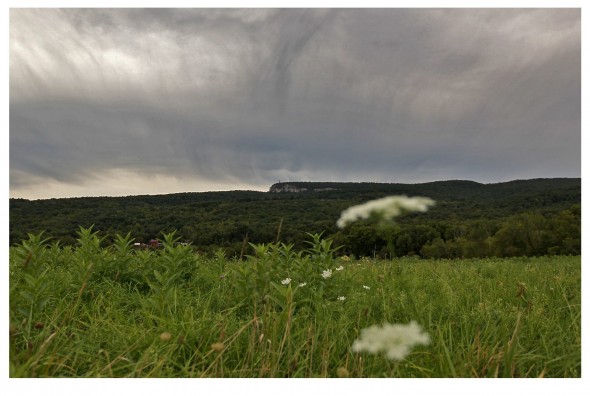 I then drove up to Minnewaska, where the main gatehouse had already been closed, so I got off on paying the $8 parking fee.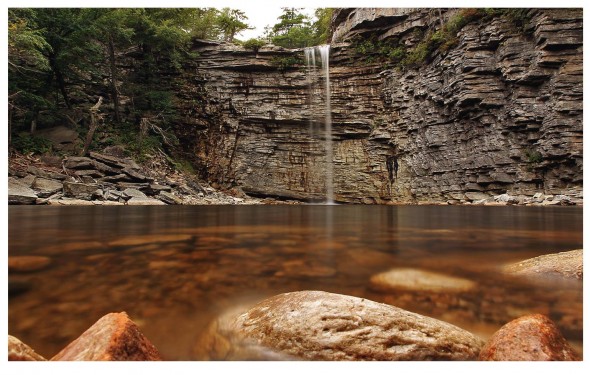 I walked down to the falls (a how-to is here) and setup my tripod.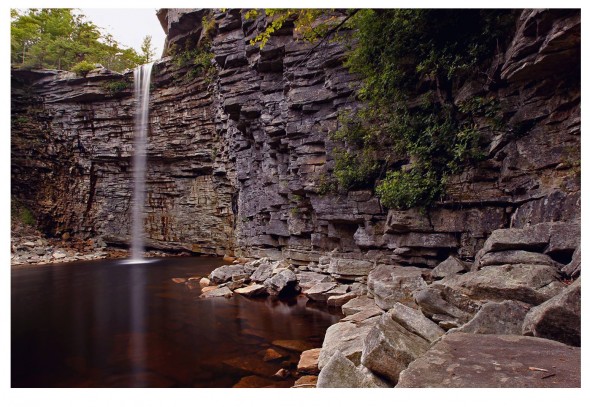 Being fairly unskilled in landscape photography, I'm still learning and looking for inspiration. Two local photographers really stand out to me — Michael Neil O'Donnell is awesome and has really mastered the long-exposure images of the Gunks and Awosting, check out his page here. The other (of course) is G. Steve Jordan, who is pretty much the godfather of New Paltz imagery. I pop into his gallery on Water Street Market whenever I have a chance.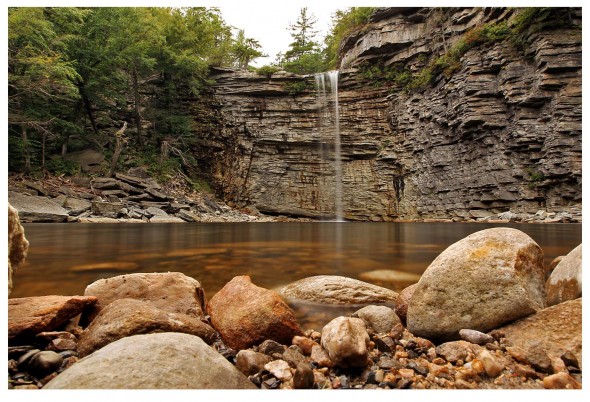 For these shots, I wanted a very low perspective — if I've learned anything, a good landscape photograph has both a striking subject (the waterfalls, in this case) and some degree of foreground imagery going on. So, I worked in some rocks: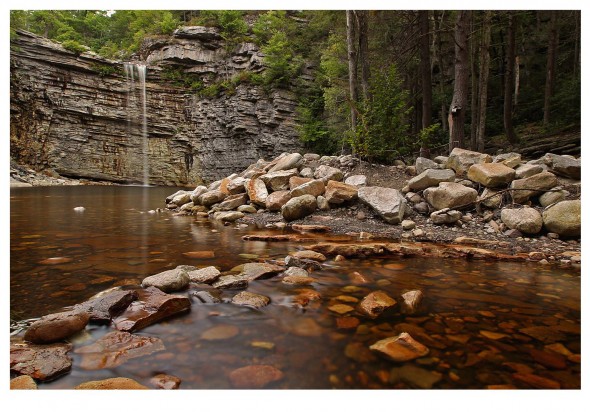 A few hours of overcast light, I thought I did OK. I used a Hoya 82mm NDX8 neutral density filter, which apparently is far from the strongest one you can get. Judging by my results, I would like to get a better one for longer exposures in brighter light.
Finally, I thought I nailed a then-and-now image of the falls for a little challenge I've given myself. The Library of Congress has a huge archive of images from around 1902-1915 from both Minnewaska and Mohonk. This one below, on the left, was taken in 1903 by the Detroit Photographic Company and now lives in the LOC's files in Washington. It's also online, and you can search for these images by keywords. When I discovered this shot, I wanted to recreate it. So, on the right is my take, 110 years later: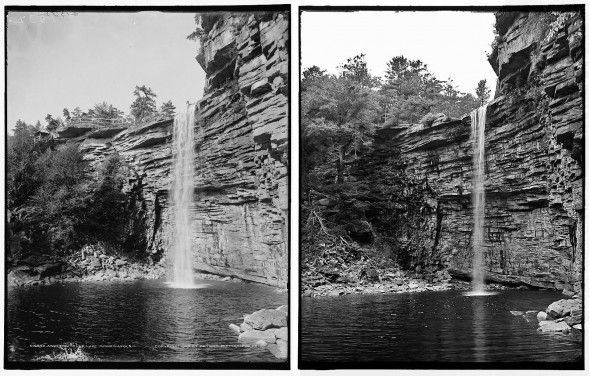 So you can spot some subtle differences here. The old wooden fences that currently line Mohonk trails are missing from current-day Awosting Falls, as is the gazebo/summer house on the far left. I assume both rotted away after the hotels burned down and the upkeep stopped. There's obviously more trees today, and I think/want to believe the pitch pine tree seen on the 1903 image just to the left of the falls is still there today.