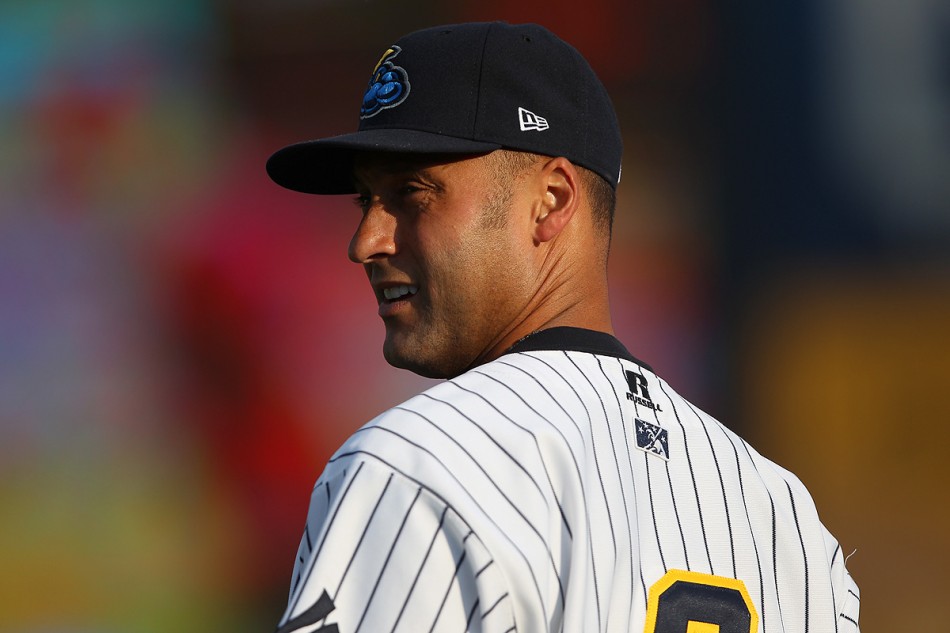 When Derek Jeter walked through the dark, stuffy underbelly of Mercer County Waterfront Park around 6:43 p.m. on Saturday night, he was a little scared. About 9,000 fans, 20 photographers, a couple mascots and two golden retrievers were anxiously waiting to see him pop out of the dugout.
"There was some nerves, I didn't sleep much last night," he said with a grin after going 1-for-2 with a walk and a run scored in his first Minor League rehab game for Double-A Trenton. "You know, I haven't played in three weeks."
The Yankees captain didn't show any rust, singling in his first at-bat and coming home on a sacrifice fly to give Trenton a 1-0 lead. He lined out in the second and drew a walk after fouling off several souvenirs in the fifth.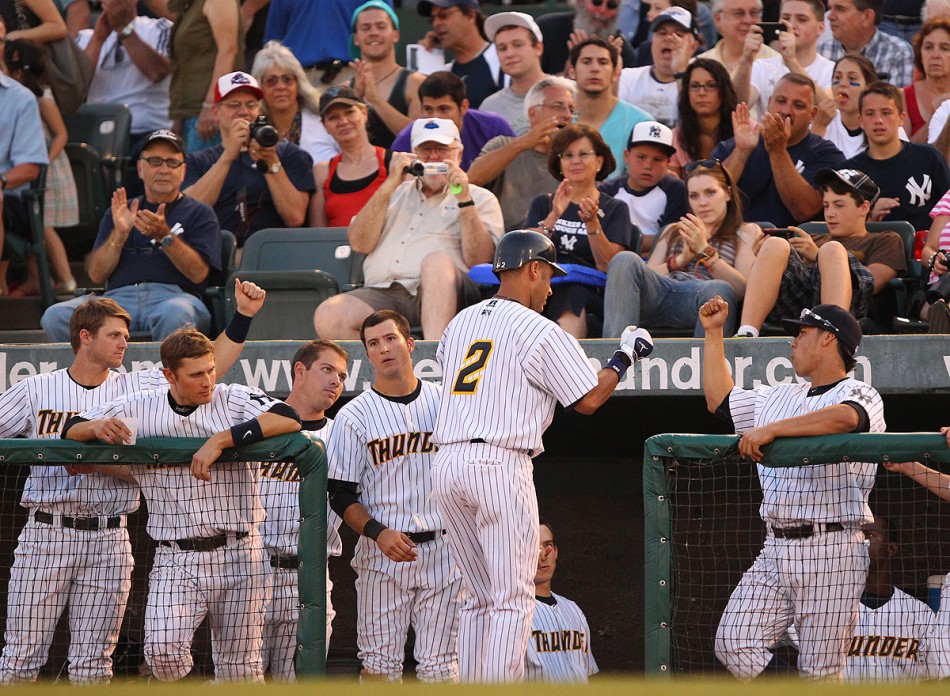 Jeter's rehab was certainly the center of the Minor League universe on Saturday, so of course, I was there. I took along my friend Tommy Gilligan, the head photographer for the U.S. Military Academy, for his first taste of shooting professional baseball.
You can see a variety of our photos from the game on a yankees.com's photo gallery, on the MiLB.com gallery and, at least for Sunday (Jeter's second and final rehab), on MiLB.com and Yankees.com.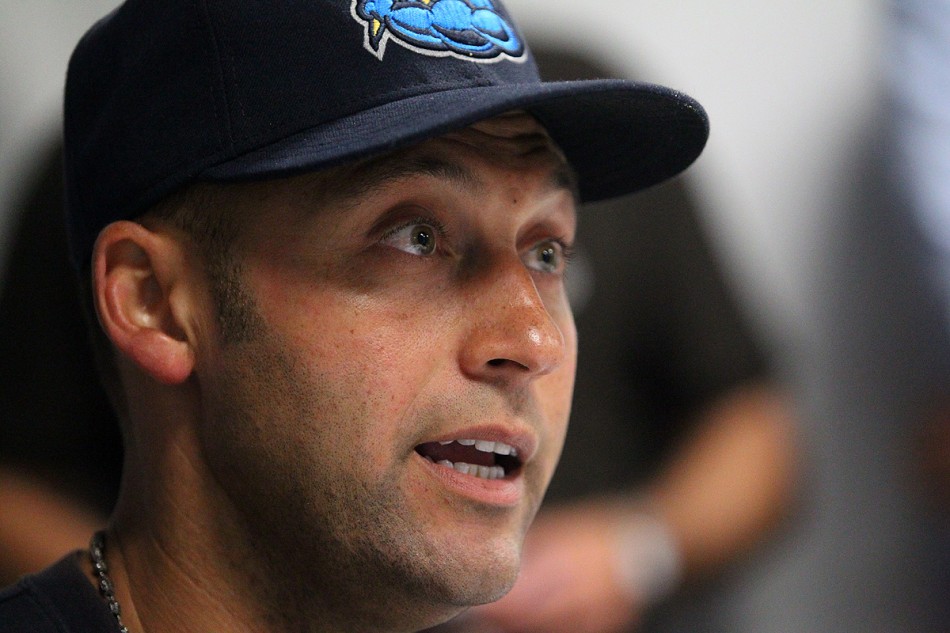 I'm not sure how nervous Jeter was, but he looked great. From our perspective, the night went very smooth — I had nice sunset lighting on him during pre-game warmups and picked/guessed a perfect position to catch him running out of the dugout in the first inning: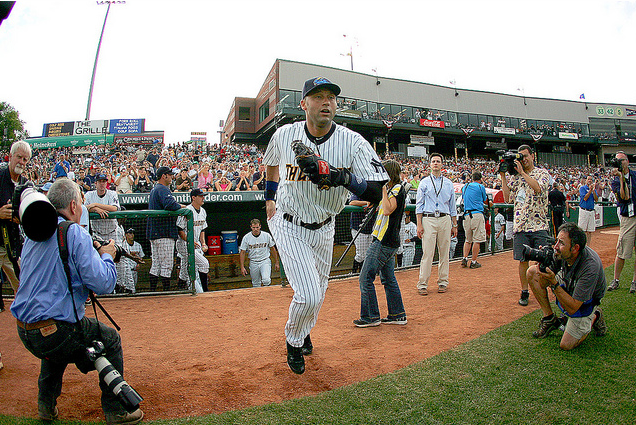 Jeter ran right past my shoulder in this shot, literally so close he went out of focus with my fisheye lens. My good buddy Dave Schofield is peeking his head into this shot on the left side, too — Dave got a great shot of this moment as well.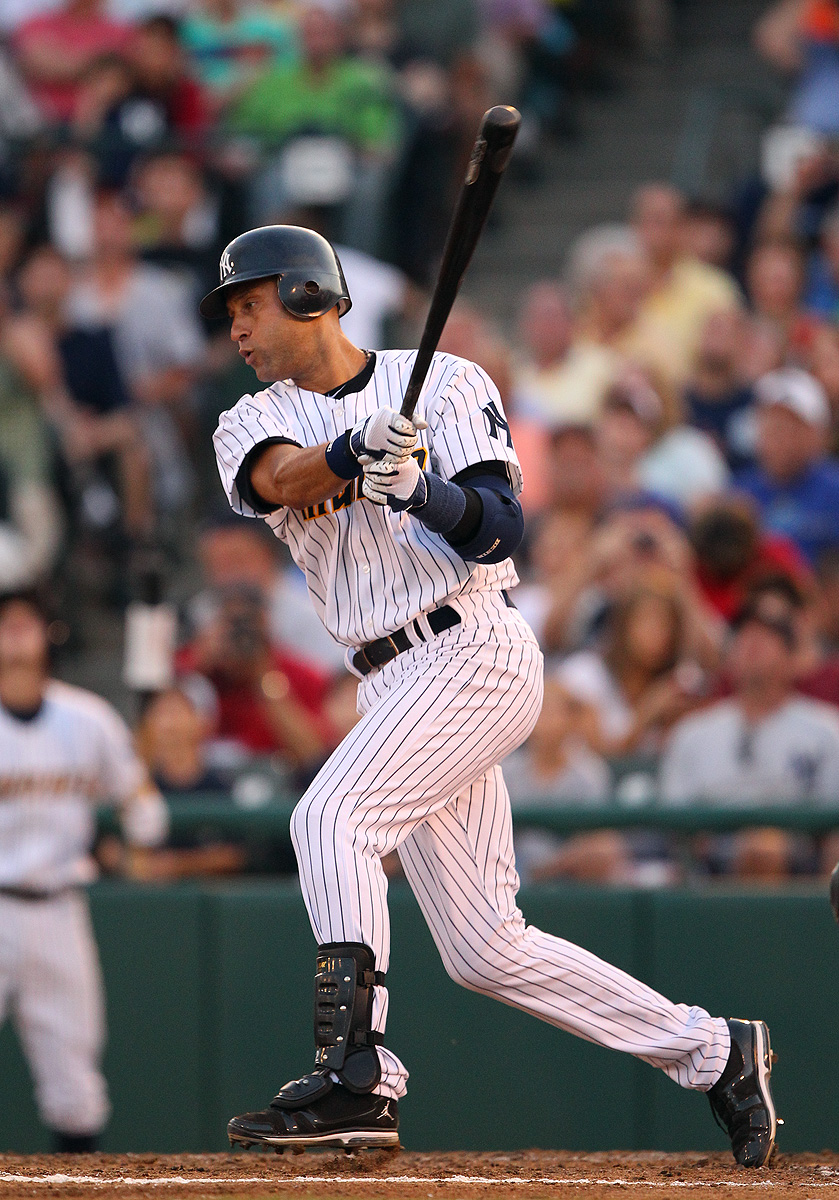 I wanted to get some shots of Jeter laughing with some of the young kids in the game, and this opportunity was perfect after Jeter walked over to chat with Quincy Latimore, a Pirates prospect who was the Florida State League MVP in 2010: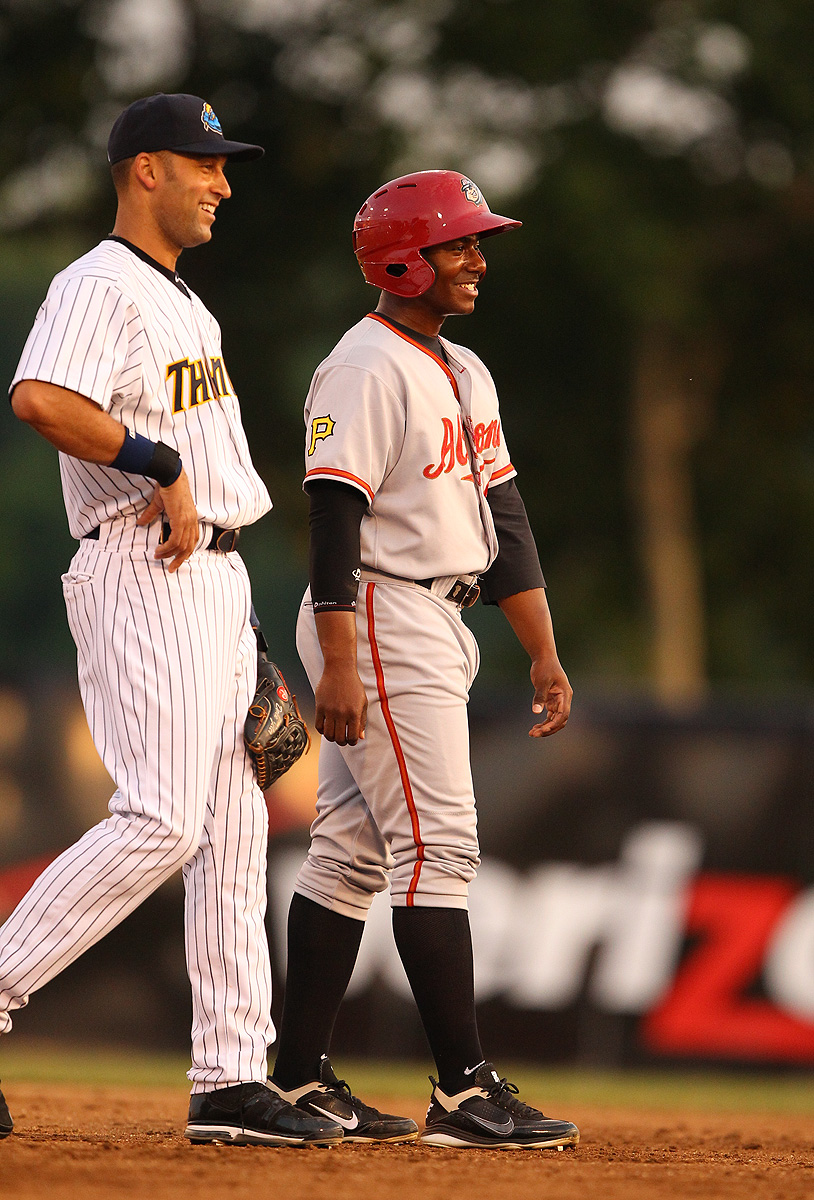 Jeter was tested a lot at short, making several nice plays. He began a double-play and also ranged far to his left, nabbed a grounder, spun and fired over to first. You can see the different lighting we had to deal with in these next two shots: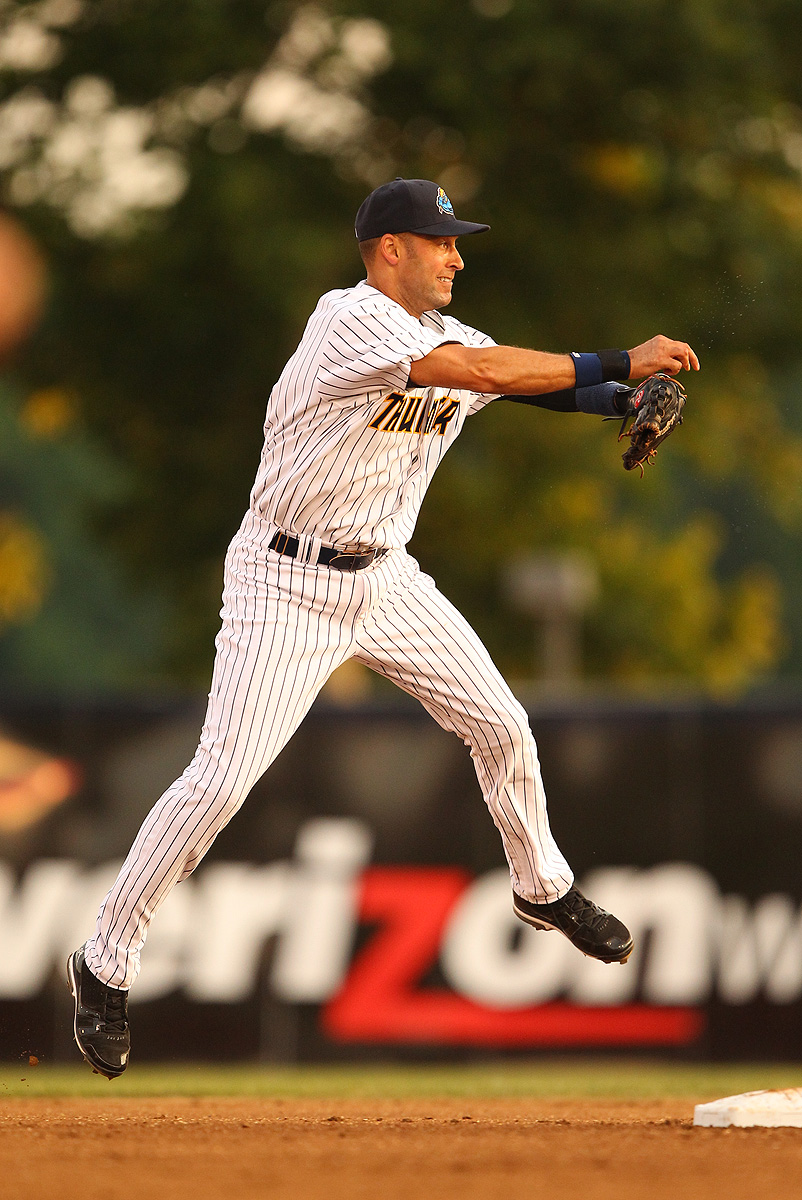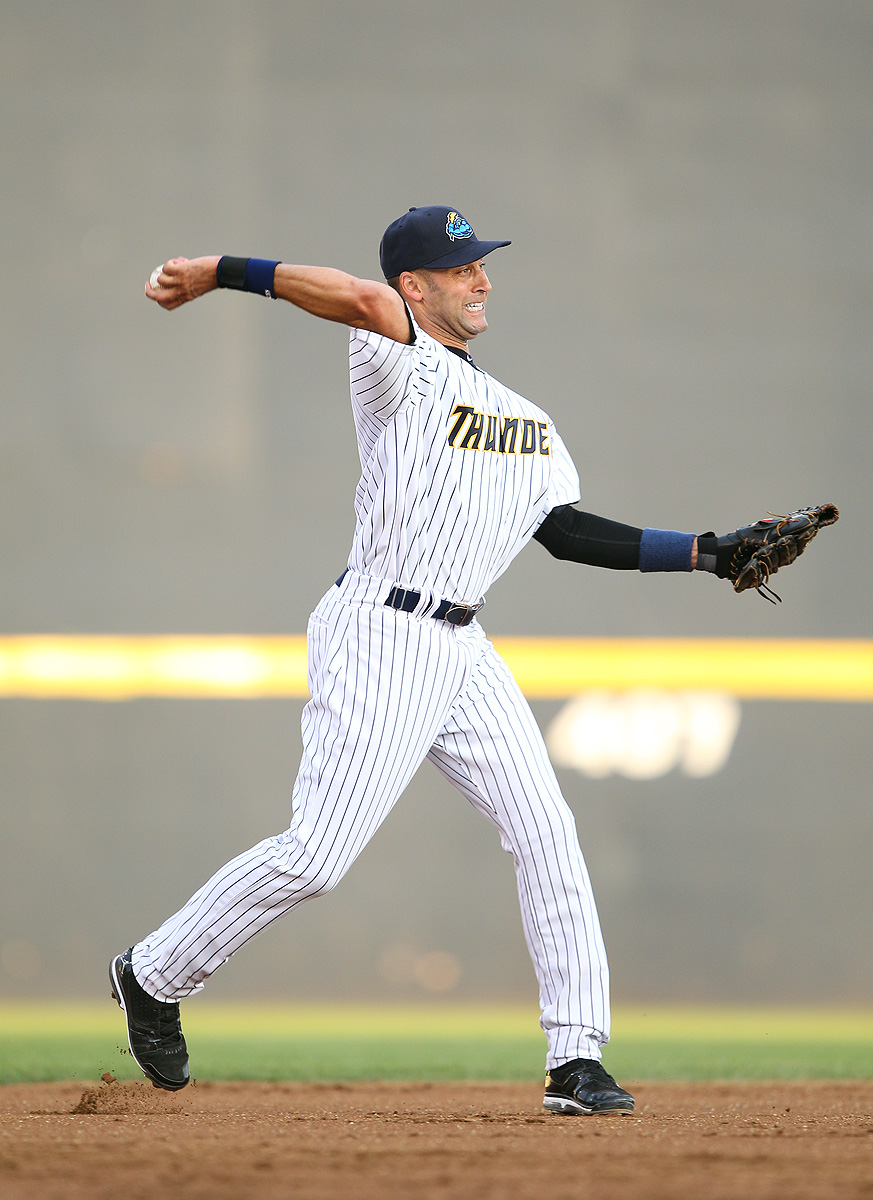 One of the cute sub-plots, so to speak, was Thunder second baseman Corban Joseph giving up his No. 2 for Jeter. Joseph switched to No. 3 for the weekend — Trenton manager Tony Franklin told him jokingly that No. 3 wasn't so bad, people might confuse him for Babe Ruth: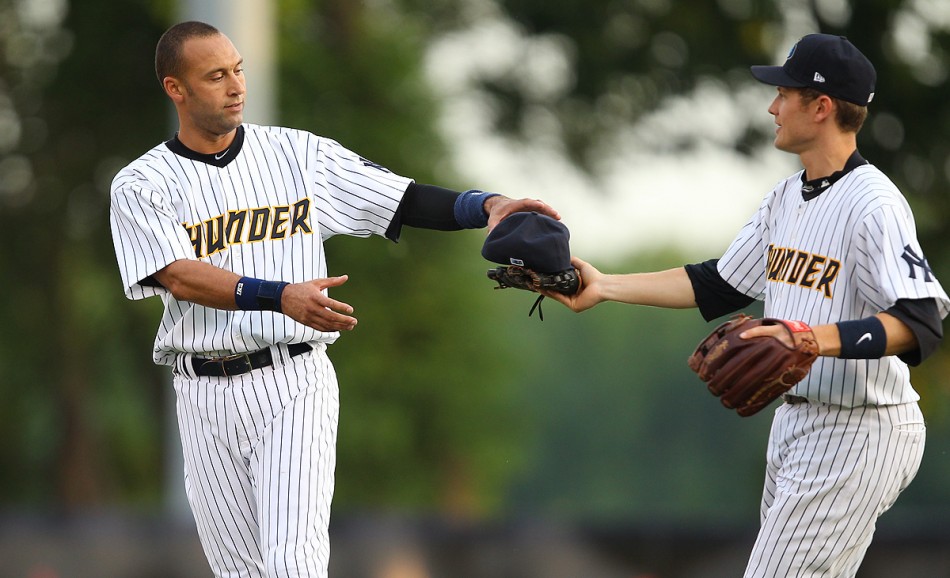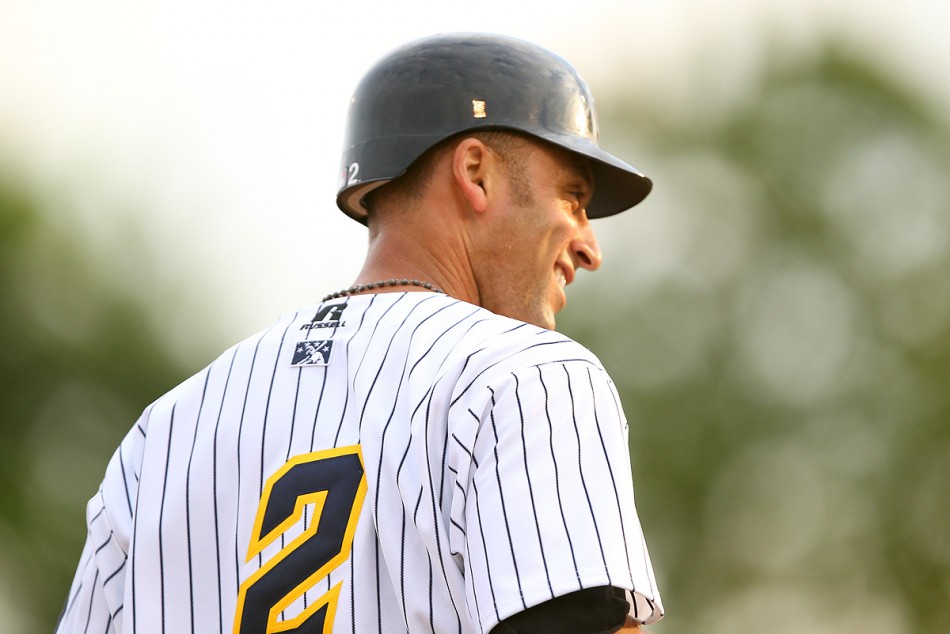 Getty's Rick Schultz shot the first inning beside me at third base and got basically the exact same shot of Jeter chugging into third base. ESPN.com used the shot. I had my Canon 1D Mk IV set to shade white balance, which helped produce a nice warm hue for the images and gives a subtle golden feel to skin tones — you can see the difference in Rick's and my shot below: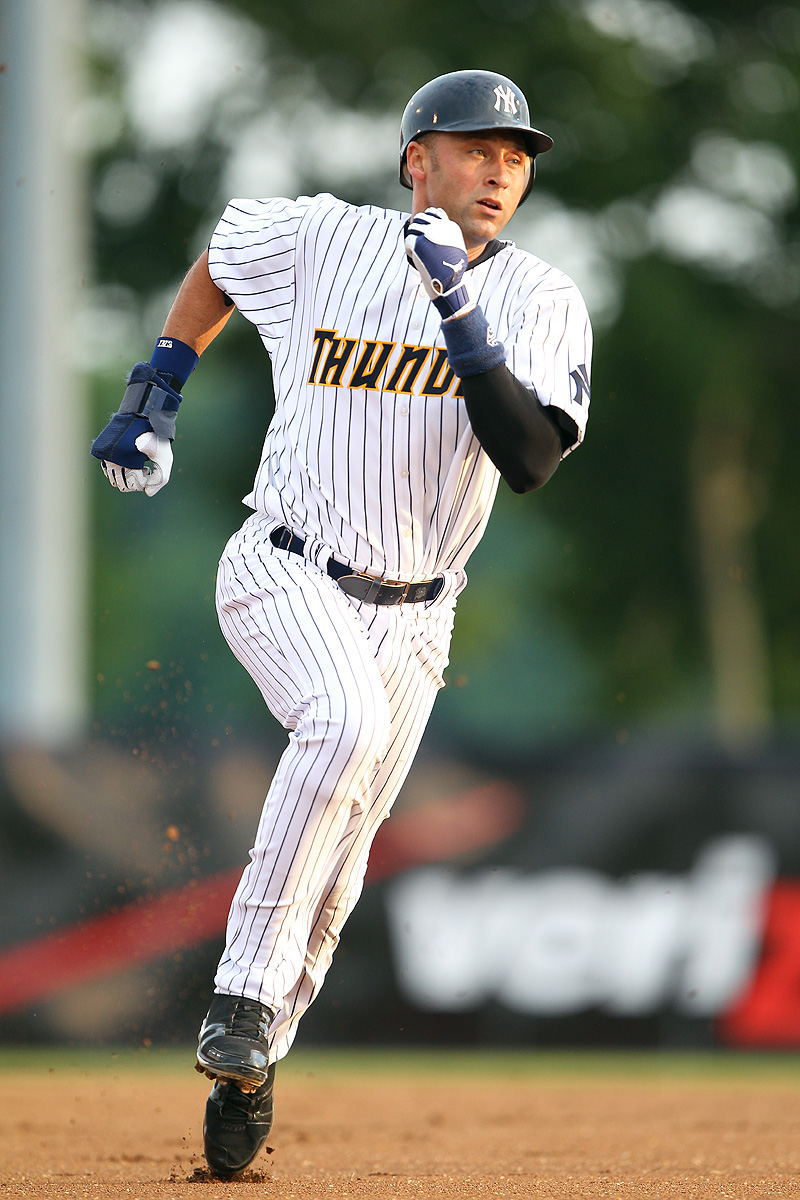 I think this shot is a result of someone's arm or leg getting into the corner of the frame, but I thought it produced a really neat effect to the image. I didn't edit it at all — it sort of reminds me of those old family photos from the beach, I took it with my 400mm as Jeter jogged by: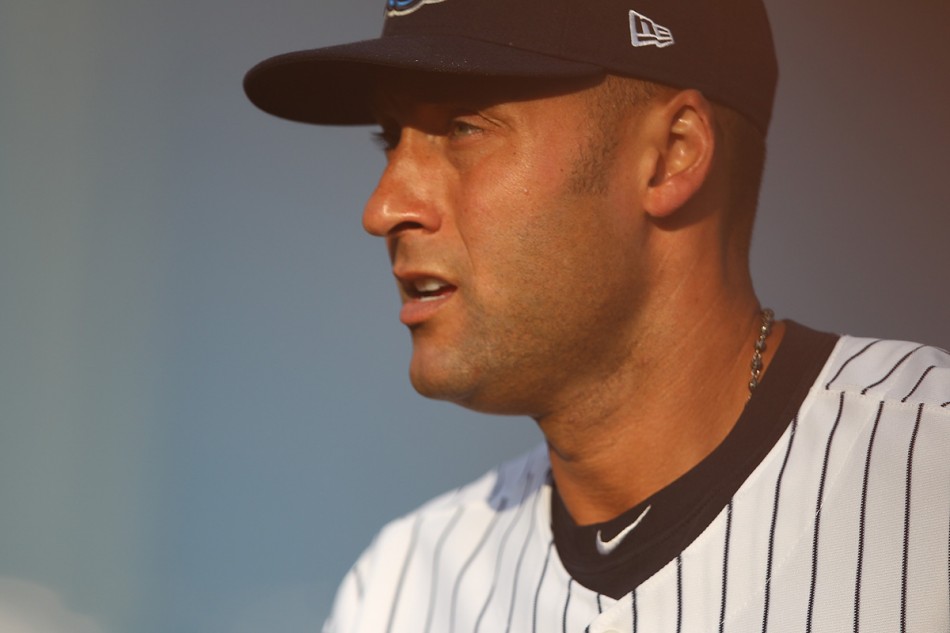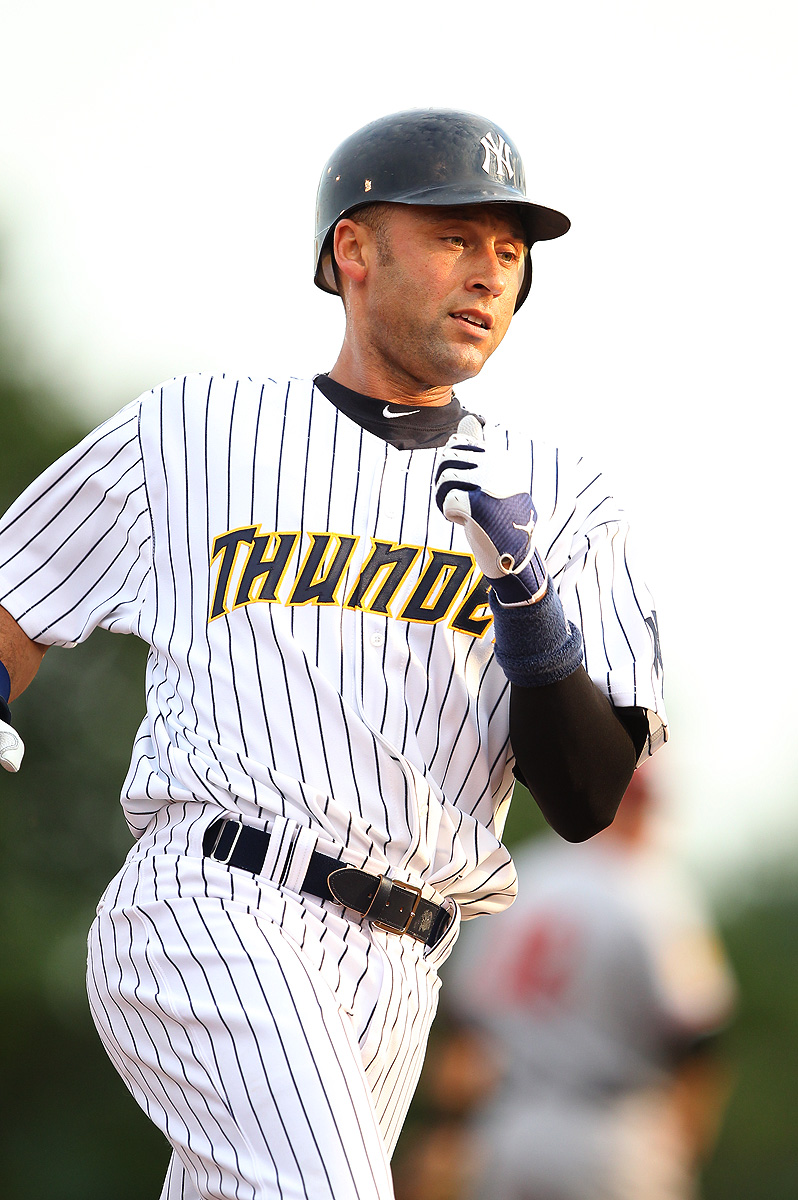 After Jeter's single and run, Tommy and I went back to the "photographer workroom," which was a tiny conference room (a round table with two chairs and a phone) and filed some images. Jeter actually got up a second time an inning earlier than we predicted, so we both grabbed our gear and ran back to the dugout to catch his second at-bat. Once he was lifted for a pinch-runner in the fifth, we went back to send in some more photos. His press conference began about 10 minutes after he left, followed by Yankees GM Brian Cashman.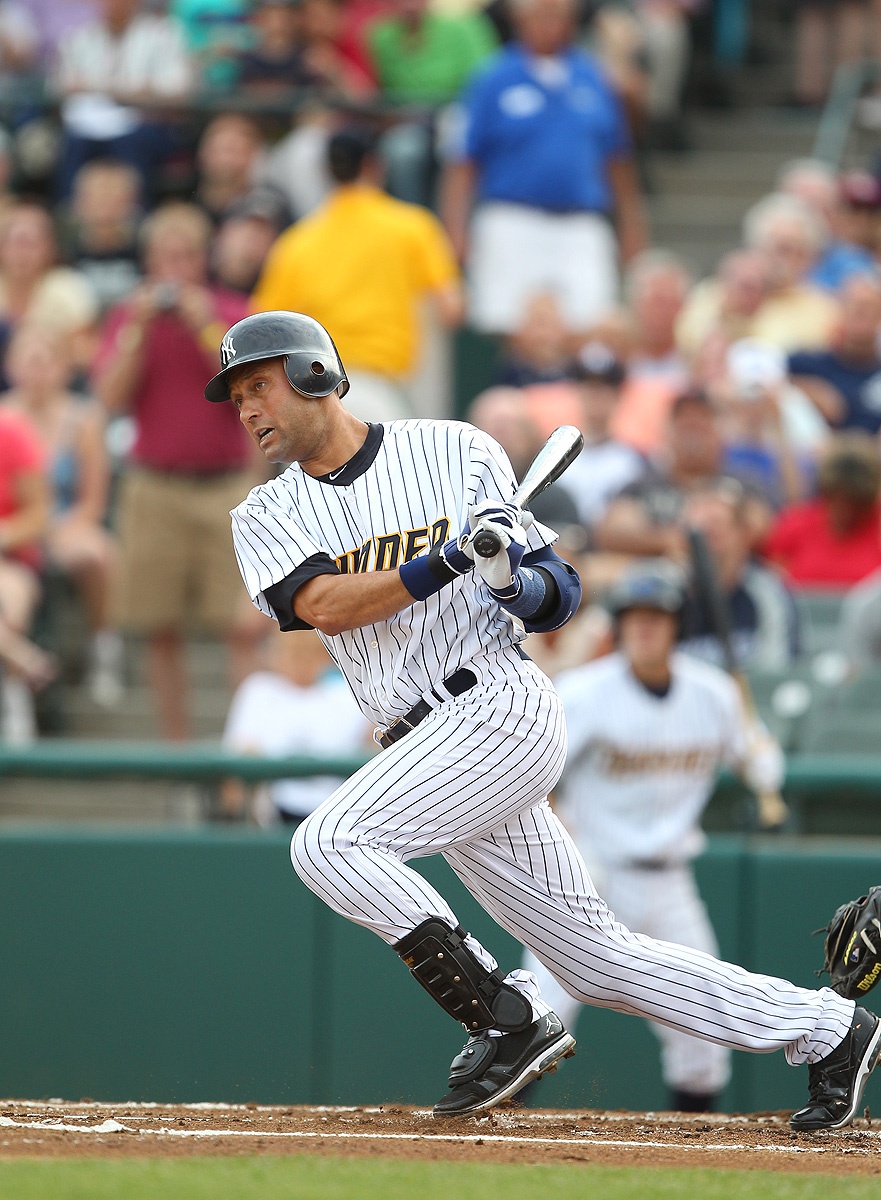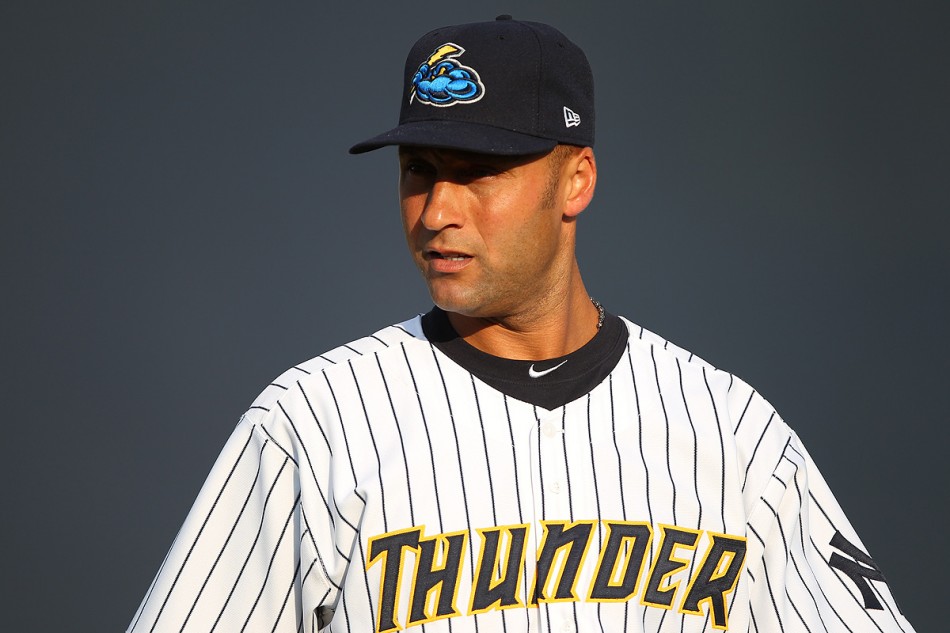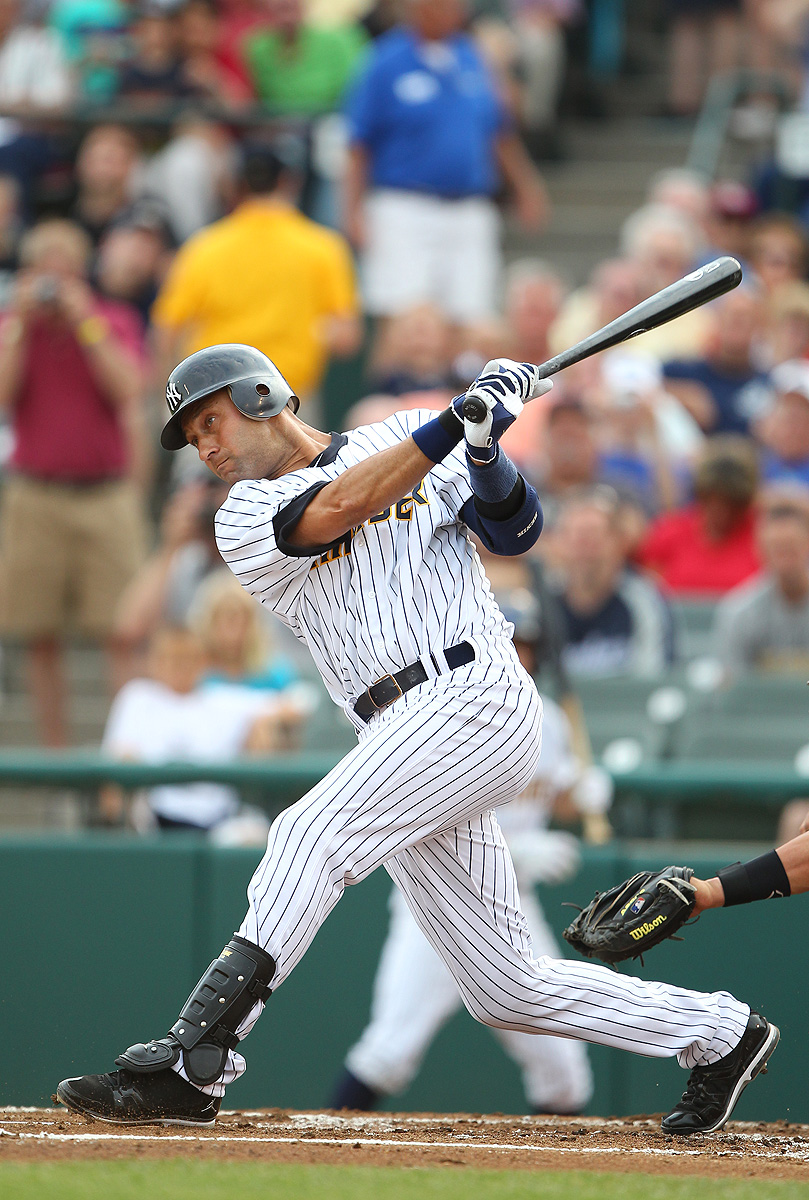 This one is from warmups, when Jeter ran to center for some long-tossing in really nice sunlight. I was able to catch him here with the batter's eye behind him for a nice clean background — if you've been to Trenton, you know how cluttered and miserable the ads are on the outfield wall — this helped isolate him quite a bit: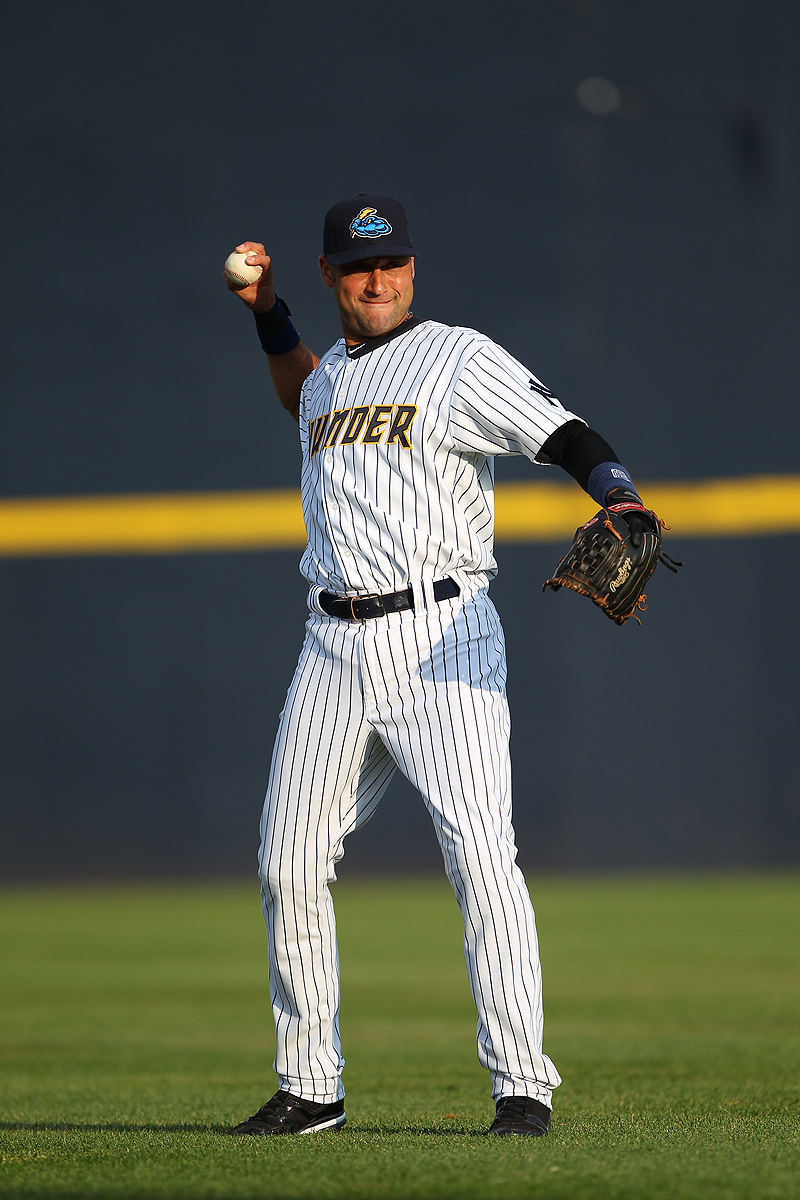 We snagged some Burger King on a NJ Turnpike rest stop on the way home (my first and last meal of the day). Jeter will play again on Sunday and then rejoin the Yankees Monday in Cleveland, resuming his journey toward 3,000 hits. He was voted the starting shortstop for the American League's All-Star team on Sunday morning.