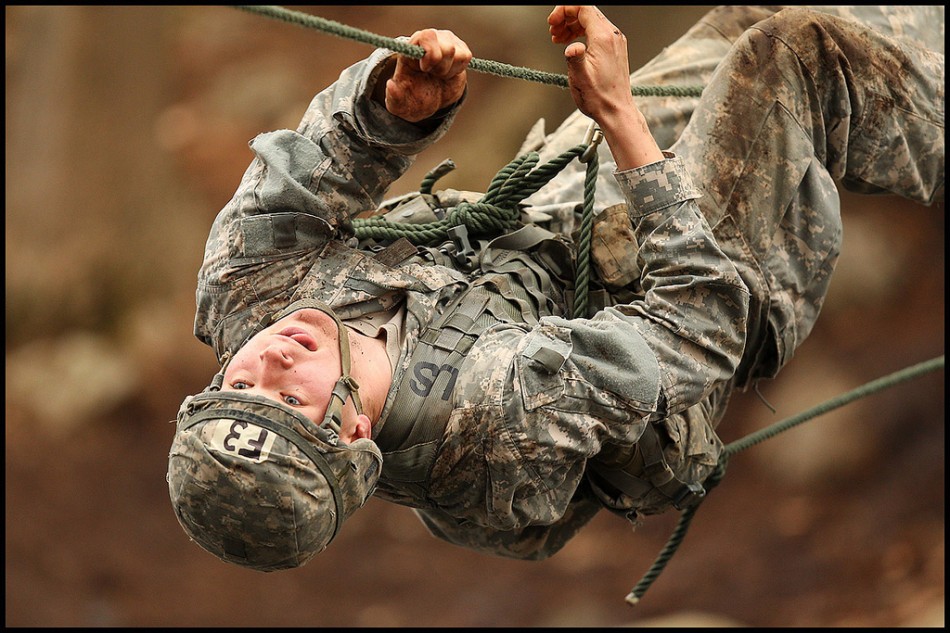 April has been a busy month as usual with baseball starting and the weather sorta kinda getting slightly warmer in the northeast. I'll try and recap:
April 2 took me to Yankee Stadium for the second game of the Major League season here in New York, I brought my fisheye lens along and snapped this as I followed my friend Lynne off to explore the park for the final two innings:
I ran a red filter on that in Photoshop to bring out the sunset a little more and just warm up the colors in general.
April 9, I went up to Michie Stadium to see Army lose a close one to Bucknell on a really gorgeous day in West Point – bright sun, temperature around 60, great crowd.
The sun was actually quite difficult to shoot with at times, along with the heat waves coming off the FieldTurf surface, but I found more luck toward the end shooting totally back-lit.
I've been determined since last February — since snapping my first ever frame of Army lax, on the left — to get another good entrance shot of the team (I nearly ruined the shot for everyone else a month ago when the team took the field earlier than I expected) but I wasn't too disappointed with this one:
I loved being able to work in the DCA logo on the right below Hoffman Press Box — plus, when I lay down in this spot, I'm not in anyone else's way since those ads block me from midfield. Good to see the Comm, BG Rapp, back on his feet and on the sidelines for this game after recovering from hip surgery, not that he's missed any games regardless. You can see more of my photos from this game on the Army Athletics site.
Going back further, I also shot Army's game against Cornell (with snow lingering) on March 5:
More photos from this game here (I'll post Bucknell later).
Of football relevance, and this isn't especially exciting, but I can report that USMA is renovating the East Stands at Michie for the upcoming football season — the bleachers have been removed and they are powerwashing and repairing the aging concrete stands. Should look nice and shiny for September — the Corps may even get some seatbacks in their area, if I recall. Michie is an old place and has a great charm to it, I think. Before the last lacrosse game, an osprey flew over the field holding a trout he'd just yanked out of Lusk Resevoir. When I told my friend Mark later that day, he said, "an M22 Osprey?!" heh not quite.
April 9-10 was the Army-Navy baseball series, a pair of doubleheaders on a pair of cold, windy days. One of my favorite photos from the weekend was of a Navy home run:
Cannot ask for better reactions and expressions than that. A little later, it was Army's turn to celebrate when JT Watkins ripped a walk-off RBI single to left, a line drive that was bobbled and allowed Joey Henshaw to slide home safely:
More of that series can be seen here.
Finally, Sandhurst. I'd been looking forward to checking out SANCOM since I missed the opportunity last spring. Sandhurst is an international military skills competition hosted by West Point since 1967 that brings together 9-member squads from various academies in North America and around the world for a two-day event at Camp Buckner, West Point's summer basic training venue. The main part of the event is held Saturday and starts at 0600, which is about four hours after I first get home from work in Manhattan. So, I wasn't going to be there for the start, you can imagine.
I got up to Buckner around 1130 and hiked my way around the seven-mile course with my 20-pound 400mm lens and a pack of camera gear. It was fairly chilly, windy and it rained toward the end. Man did I have a blast — what a great day. I got soaked and dirty and probably walked off a few pounds, met some cool people and got exactly the kind of intense action and tight portraits I was looking for.
What a different perspective. I've been to enough hockey games and football Saturdays to get the vibe of what it's like to be apart of that scene, but this was pretty cool to witness. West Point sends 32 teams to this annual event, one from each regimental company, and many cadets from those companies come along to run with their team and just cheer and support their friends on what has to be an ridiculously grueling weekend for all involved.
West Point, academically, is tailored to be stressful and challenge the cadets in every aspect of their four years on post, and this was just a bottled up day of that mentality — these guys were doing stuff (pushing 300-pound tractor tires across open fields) that would make you think back to math class, why the heck are we doing this stuff? And at SANCOM, these cadets train for months to be ready to dominate those crazy obstacles and tasks.
When you're watching a guy carry a wooden crate of howizter ammunition across a field, it makes you think twice about complaining about the weight of your camera lens.
Also, where else can you lay down in front of a soldier pointing an M16 at you and really not feel worried at all?
One site I liked a lot was the boat/water course, and when it started raining hard late in the day, I was loving it.
Each team approached the lake's beach, read a map and then had to decide whether to take a larger black boat or two smaller red boats. The entire team then had to paddle out to the middle of the lake and go around a specific buoy before returning. Like each site, the event was timed and penalties were issued for any violations to the rules.
One team was just pulling into the beach, about to jump out and finish up, when one of the supervisors yelled over from the beach that the team had navigated around the wrong buoy. They could either take a 30-minute penalty, or, go back and do it right. Guess which option they chose?
From a photographic perspective, this was served up on a platter. Nine guys grimacing through the pouring rain, paddling in unison in a race against the clock, making a line right at me and my camera? Point and shoot, basically. I would have liked a cleaner, darker background here, especially with the rain, so I moved around a bit. The Naval Academy team had one of the best times in this event. The Afghanistan team? Have to wonder if they've ever been in a lake before.
The hike back to my truck at Area K parking lot when this was all finished was… long. I felt pretty good, actually, but it was a long afternoon. USMA's Company B-3 team won the event, too.
You can see a slideshow of images from the day here. Also, down in Annapolis on this same afternoon, Army beat the snot out of Navy in lacrosse.
Thoughts? Also, for more experienced WordPress users out there, I'm thinking about turning my [other] website into a WordPress-themed site. Is it difficult to transfer over blog content to that site? If anyone has some advice or insight, let me know. I'm also thinking about a new desktop PC — advice/recommendations on specs/brands?