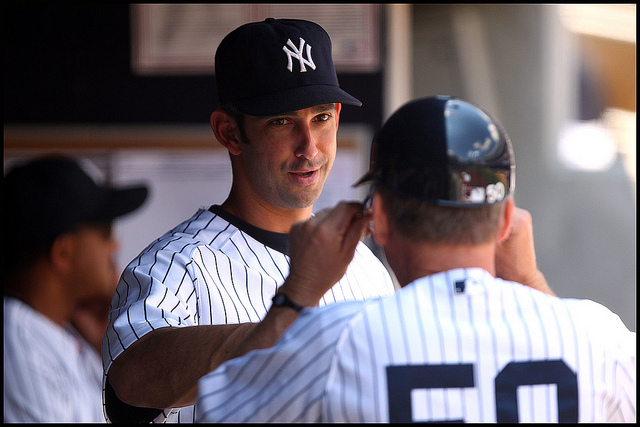 Posting a few photos of longtime Yankees catcher Jorge Posada following news that the 40-year-old is close to announcing his retirement. As a Yankees fan, I of course grew up watching Posada mature into one of the best offensive catchers in baseball during the Yankees' run of four World Series in the late 90s. Posada will go down as one of the best Yankees of all time, and he sort of did that quietly in a time of bloated power numbers and flashy names.
A switch-hitter with power, Posada was a five-time AL All-Star, hit 275 home runs and played in 1,829 games. Only Yogi Berra and Bill Dickey (both have their numbers retired) caught more games than Posada.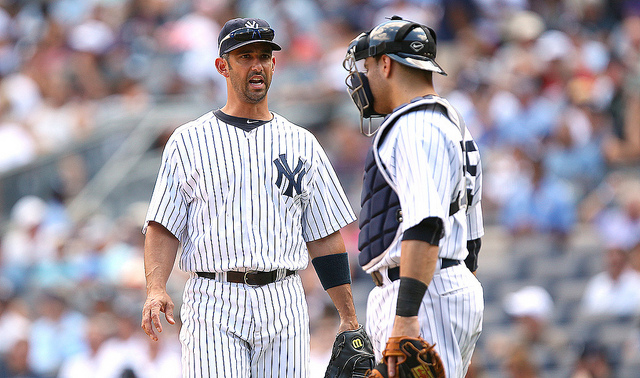 I caught Posada during a summer game last season when he saw some time at first and, in the image above, chatted with his replacement, Russell Martin.
I felt bad for Jorge a little bit this last season as he clearly wanted to contribute and wasn't always given opportunities. He was clearly in decline, beyond his baserunning, but I'm glad he will go out a Yankee rather than tacking on a meaningless season as a DH in Tampa or whatever.