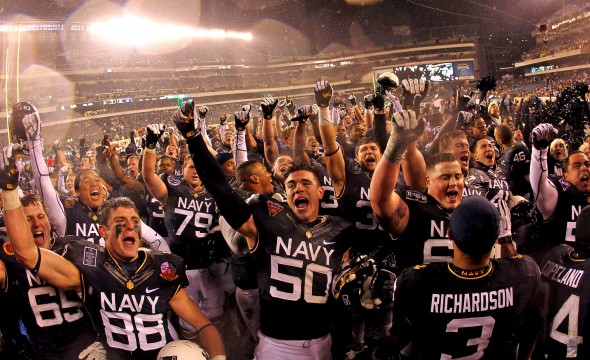 Saturday in Philadelphia turned out to be a worst-case scenario for Army, although from the wide range of mixed reactions I've seen from cadets and current and former football players, it was, in a way, a best-case scenario.
It's no secret that head coach Rich Ellerson lost support in many West Point circles, at least after his team went 3-8 heading into its final game of the 2013 season. I think it was widely speculated that his job was probably on the line when Army took the field against Navy this past weekend. His status, or at the very least, those of his assistants. A win of any type and Coach E is back. A loss, especially a blowout, and the moaning only grew louder.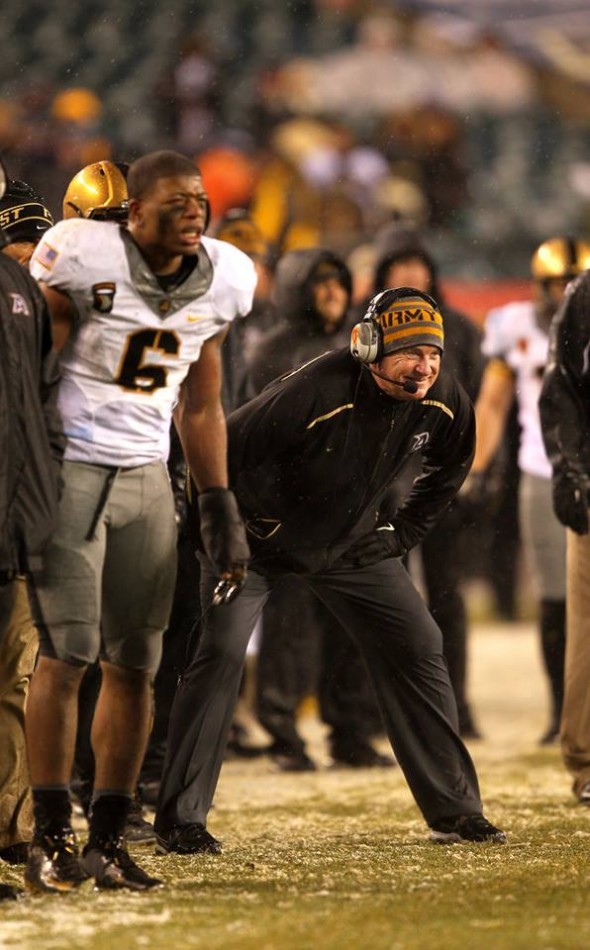 I personally am sad to see Ellerson's career at Army come to an end like this, and even if you are not a fan of him, it's a sad ending regardless. Ellerson desperately wanted to win and succeed at West Point, a job he considered his dream position. He took over the team in 2009, the first season I began photographing the Black Knights, and I always believed he was a good guy who cared deeply about this program. I think Ellerson understood the challenges facing his players both academically and militarily with training and drills and football practices and everything involved with cadet life. He said the right things and understood the significance of his role and the program in college football.
"I love that football team," Ellerson said Saturday after Army's 34-7 loss to Navy. "That is a great team, and a great senior class. You can't imagine the feeling they have for one another and what they've put into that. I want desperately for them to have a better feeling today. That's what is killing me."
I remember being in that team huddle after Army beat SMU for the 2010 Armed Forces Bowl win — Ellerson, a man who rarely cracks a smile, was the proudest and happiest I'd ever seen him. As great as a moment it was for him and the program, it's sad to think that game, now four years ago, was his top moment. Ellerson went 20-41 at West Point, 1-9 against the academies and 0-5 against Navy.
And Ellerson, sadly, saw the move coming.
"Obviously, I think I can say in the body of work we have made some progress. But, I wasn't brought in to make progress. I was brought in to win football games and beat Navy and I've lost to our rival five times. We haven't had that conversation but I'm a football coach," he told the Record before learning of his fate. Here's an excerpt from Sal Interdonato's interview with Ellerson on Sunday, moments after the news broke:
Ellerson called Army his dream job when he was hired on Dec. 26, 2008. Is he disappointed that he didn't succeed at West Point?

"Of course. I wanted to do that (succeed). I have no regrets. I knew this was hard. I have no regrets none at all. I couldn't be more proud of the guys who have chose to follow us here and have come together on their own watch. That's something to be really proud of. Yeah, like everybody, we want to win more game. We need to coach better. We moved  the ball. The nice thing is, when I leave, I take some of that — those losses are heavy and some of those go with me. Some of that heaviness goes with me and you give somebody a chance to pump some life into some really gifted young guys, who can play at this level."
I love these guys. I talked to the Superintendent and Boo and they were having a harder time with the conversation than I was. I lost to our rival five times, Sal. C'mon. It's just arithmetic. I know the business I'm in. I'll beat myself up about where we could have called this or when we could have done that. That sort of stuff like you always do in our business.  But that's the worst part of it. I believe 100 percent in what I've been recruiting and I'm so proud of the young guys that are here on this path and taking this challenge on. That's the proudest thing in my professional life is the guys I'm looking at."
So whether you grew frustrated with his coaching style or play-calling or lack of results, I think the reality of his unfortunate demise isn't one to be celebrated. Army, Ellerson or not, has lost to Navy for 12 consecutive seasons. The coaches can't run on the field and prevent fumbles and interceptions and penalties. The defense, once a strong aspect of this team with anchors like current NFL linebacker Josh McNary, is now the weak link. And yes, Ellerson came to West Point with a pedigree for building his team around an aggressive defensive scheme.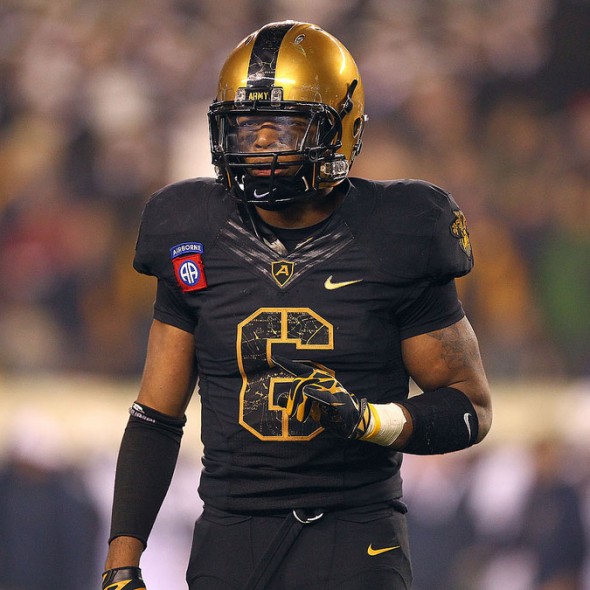 Geoffrey Bacon, one of Army's best defensive players, defended Ellerson after the game, echoing some of the same feelings that former Army captain Stephen Anderson expressed on Sunday as well:
"Coach E has really made strides to be more of a player's coach and better himself as a coach. A lot of the losses we took this year, including this game, were because of the players. It wasn't because of the coaches," Bacon said. "We were prepared for the games and everything was set, but we just didn't execute.
"By no means do I blame this season on him. I know he's the head coach, so he has to take the blame, but it's not his fault. The coaches aren't perfect, but neither are we."
Anyway, you can read the rest of Ellerson's post-firing interview here, and I'll move on to the photos.
Saturday's weather was awful for driving and, I guess, also pretty terrible for sitting in a cold football stadium. It was nice for photographs, but it came at a price (primarily, the feeling and pain within my fingers). I took my mom's Honda SUV for the drive and didn't push it on the highway, arriving in Philly around 1 p.m. for a 3 p.m. kickoff. In other words, I got there just as the pre-game march-on stuff was wrapping up (my buddy Tommy, who is now also shooting for USA Today Sports, took care of those images).
A view from the press box, pre-game: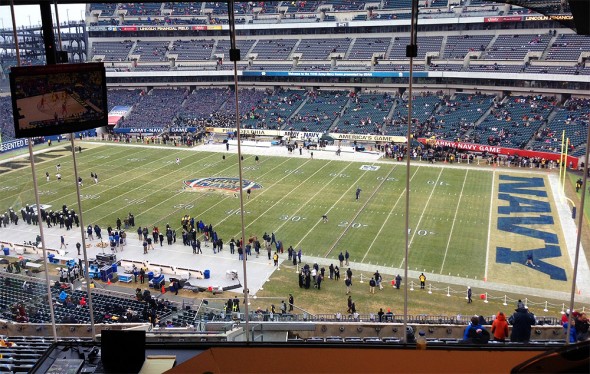 I was able to shoot some of the pre-game festivities, including this annual moment when the academies ceremoniously exchange cadets that have been studying at their rival school: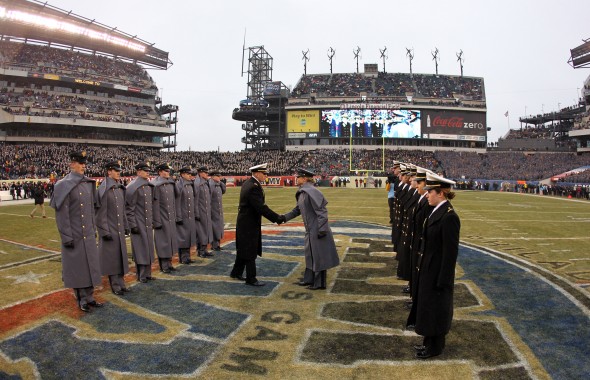 The coin toss featured the U.S. Secretary of Defense, Chuck Hagel (USMA 2013 graduation speaker), who can be seen off to the left of this photo below. He walked over a flipped a coin that was originally meant to be tossed by President John F. Kennedy in 1963 — Kennedy was assassinated before the game, and so the coin was brought back on the 50th anniversary of his death.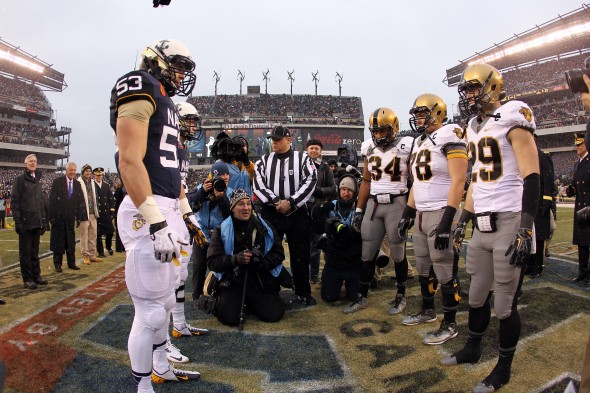 The atmosphere, if you've never been to an Army-Navy game, is really hard to describe, especially as the game begins. Navy takes immense pride in beating Army and holding on to this absurd 12-year streak, and Army, it's 4,000-cadet Corps standing together in grey, is hungry for a win. Spirit videos and chants and signs and multiple Blue Angel fly-overs had the energy cranked up pretty high for kickoff.
This image was taken and posted by the U.S. Navy, but wow, it's spectacular, and I wanted to include it here in case you missed it: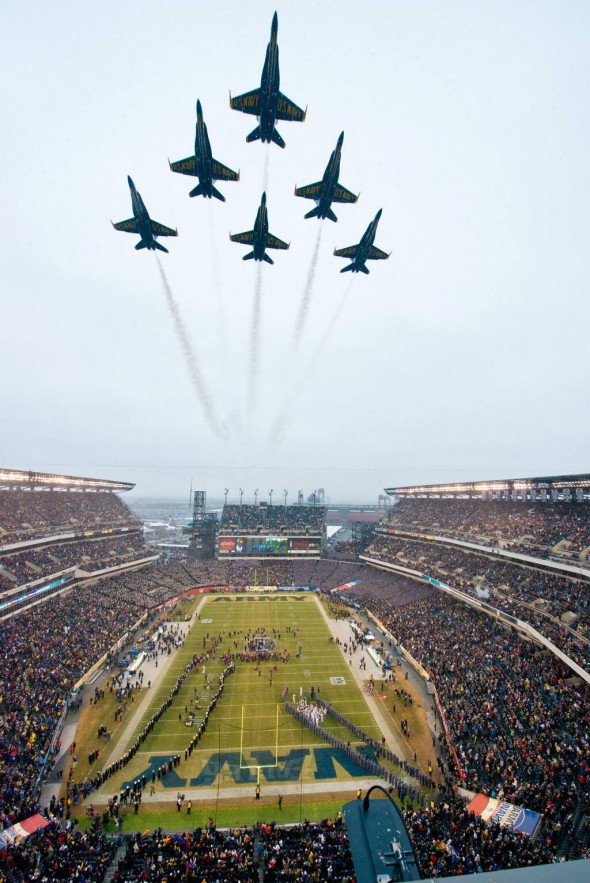 We (the photographers) were in the dark on the timing of the flyover — there ended up being three such flyovers, from different directions, and all seemingly a bit random and thrilling. I got the tail end of this one above, but the photo isn't that great. I'm a tiny dot at mid field in the image above.
There were even some Rich Ellerson head signs bouncing around the Corps: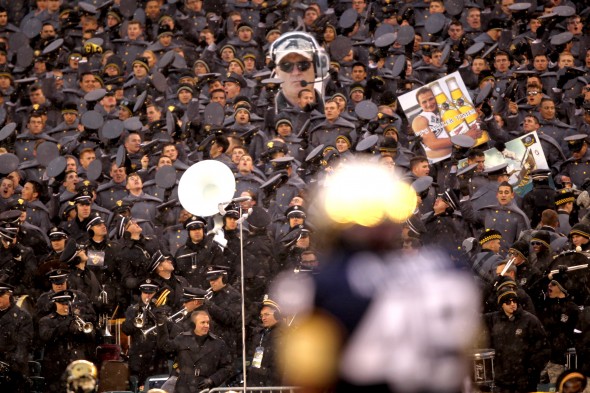 And of course, the weather. This, we were told, was the first time in 114th meetings that the game featured accumulating snow. It started light and grew in intensity as the first half wore on, eventually changing to freezing rain when I took the field in the third quarter. Here's Navy QB Keenan Reynolds on the game's first drive: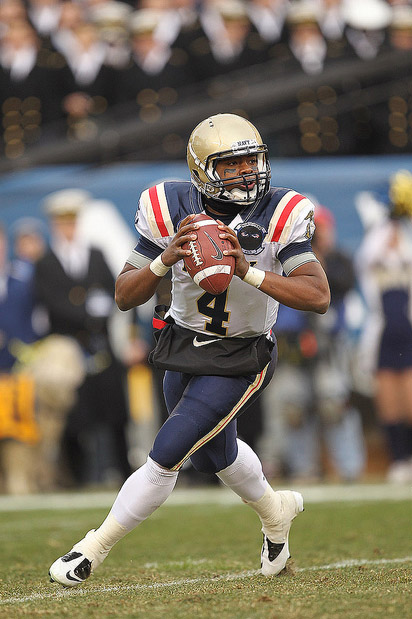 Reynolds, it soon became apparent, was not going to be stopped. Seriously, how does Navy manage to roll out all these stud quarterbacks every year? Army fans were pretty fortunate to have Trent Steelman for four seasons, and even his efforts couldn't beat Navy.
In five years, I've watched Ricky Dobbs, Kriss Proctor and now Keenan Reynolds destroy Army.
Remember Dobbs? He was the guy who broke the NCAA record for touchdowns in a season by a quarterback with 27 in 2009. On Saturday, Reynolds broke that record with his 28th rushing touchdown. He even went out and caught a pass for the two-point conversion, further sticking it to West Point.
Navy head coach Ken Kiumatalolo (who played for Ellerson at Hawaii) said he thought Reynolds deserved Heisman consideration.
"I think he does.  He is as good of a quarterback as anyone, I think his stats … not to take anything away from the guys who are there.  They are very deservedly there.  But so is Keenan."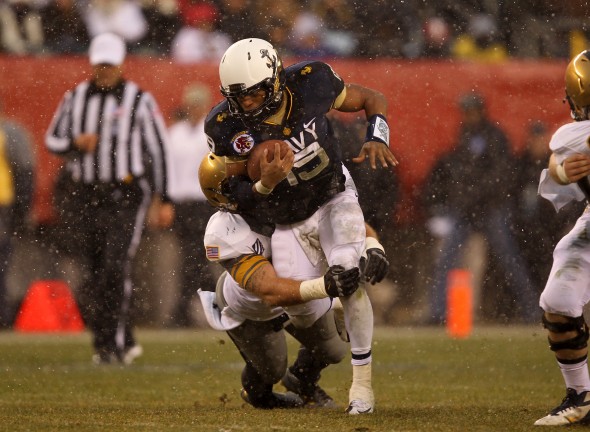 Meanwhile, Army gave the starting nod to A.J. Schurr, who fumbled and was replaced by Angel Santiago. Santiago scored Army's only touchdown in the third, but he also had a bad pick and the offense overall struggled all day.
"During the bye week, we both practiced with the first team," Santiago said. "On Monday, the coaches made the decision. I just wanted to support him and make sure that I did everything in my power to help him become a better quarterback."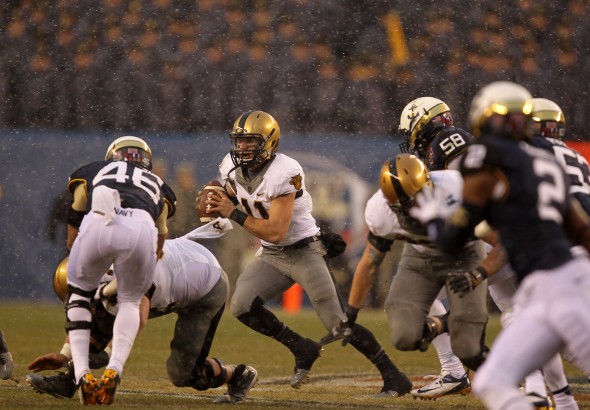 A huge breakout run by fullback Quinton Singleton setup Navy's first field goal: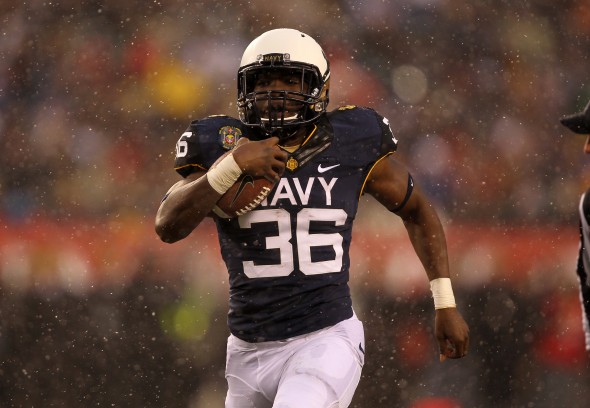 Hayden Pierce shouts out a play on the Army defense: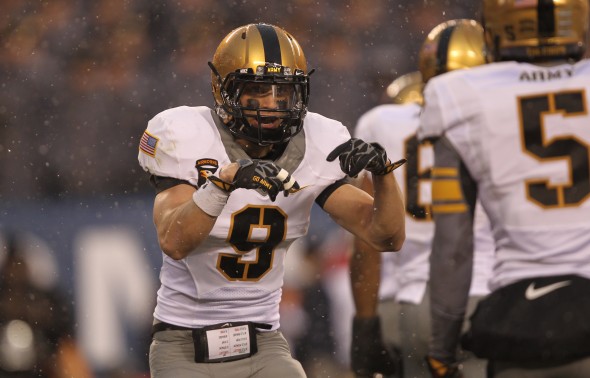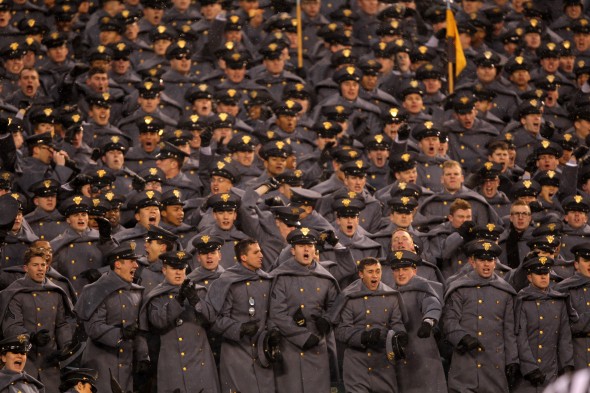 Here's what my view looked like in the snow: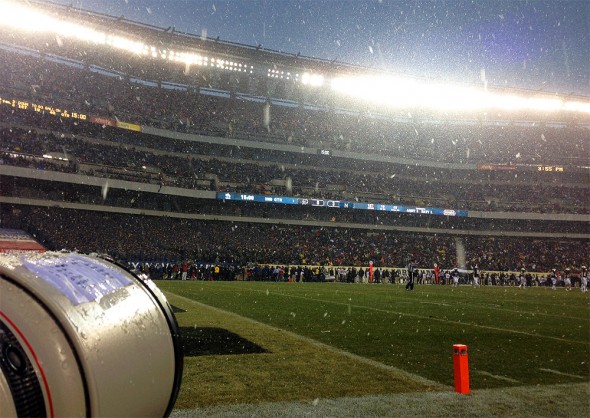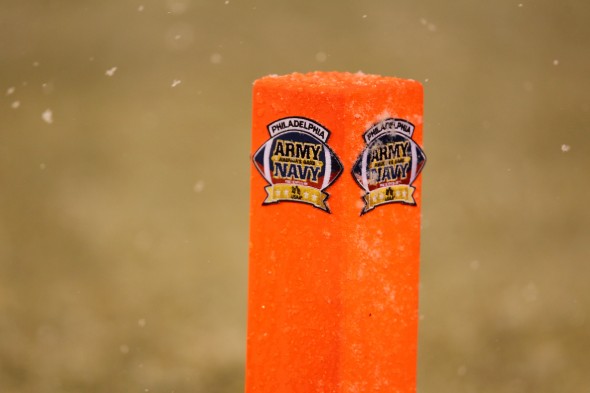 Santiago came in and, as you can see in the photos below, had his hands full. Army and Navy basically run the same offenses, but clearly, Navy was better equipped or prepared to stop the option. The 27-point final margin was the Army-Navy game's largest since the Midshipmen earned a 34-0 victory in 2008.
"My main focus was trying to move the offense and put us in the end zone," Santiago said. "I wanted to minimize all of the mistakes and try my best to keep the ball off the ground."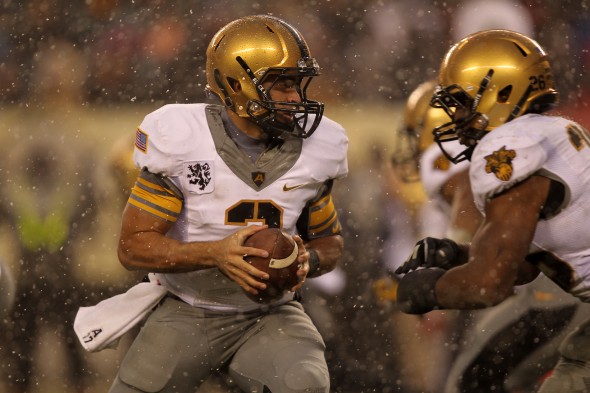 Terry Baggett gets stuffed: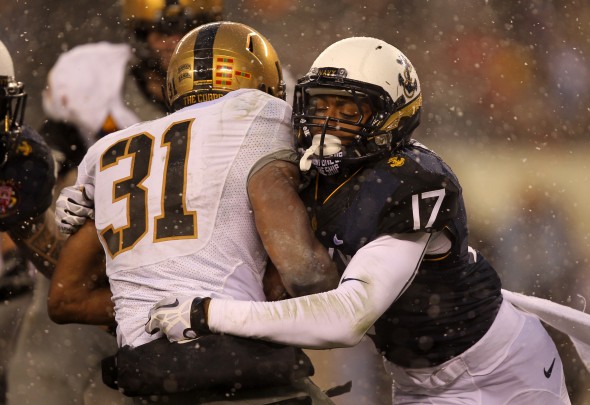 Santiago gets taken down: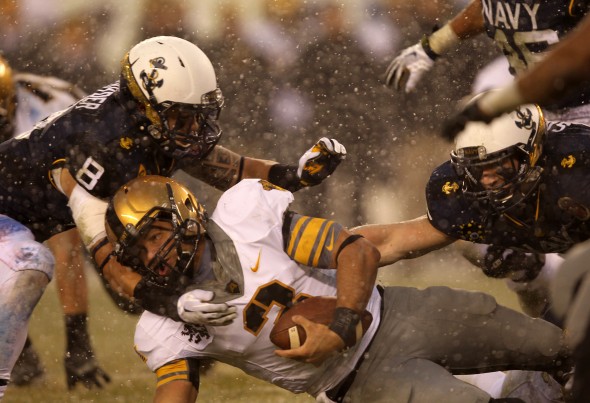 And goes down again: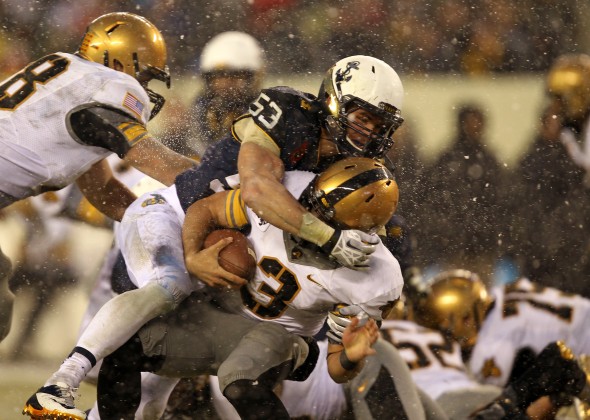 "The first thing you have to do in a game like this is play without errors, delays and turnovers," Ellerson said. "If you're going to have a chance against a good Navy team like that you have to be on the other side of the ledger when it comes to turnovers. In the first two series, we had the ball on the ground twice."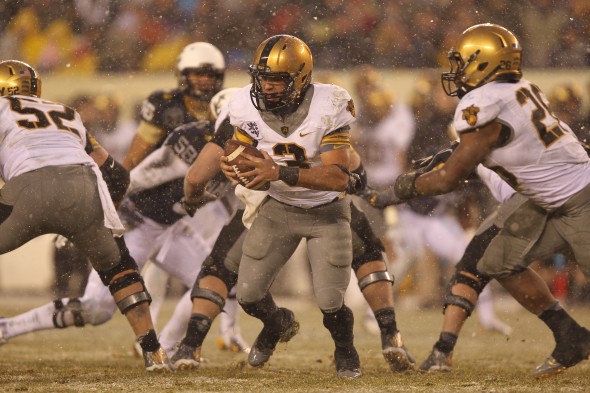 Navy built momentum with a turnover recovery: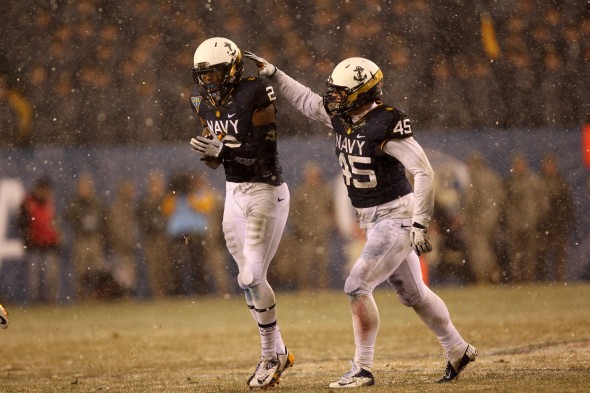 And Reynolds punished the Knights with a big touchdown run: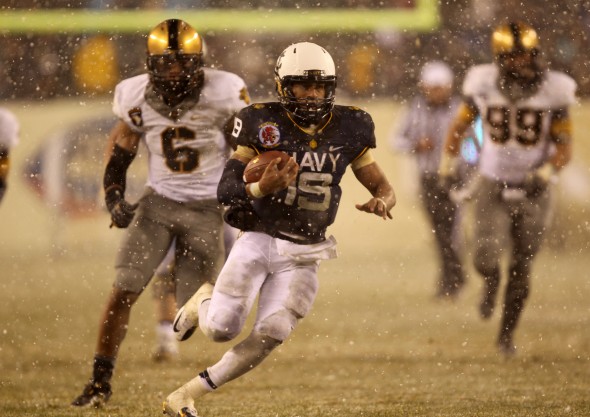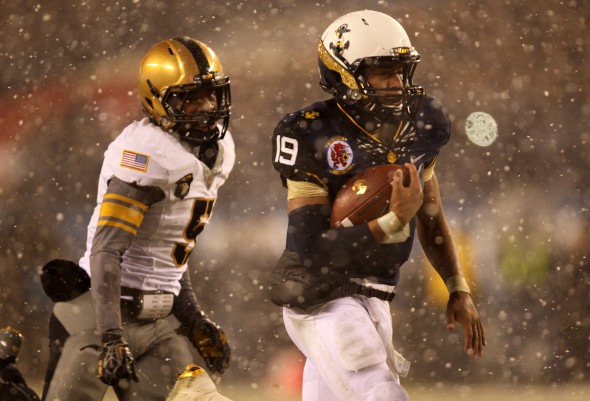 I was lucky to get a nice diving photo here of Reynolds leaping past Justin Trimble into the endzone: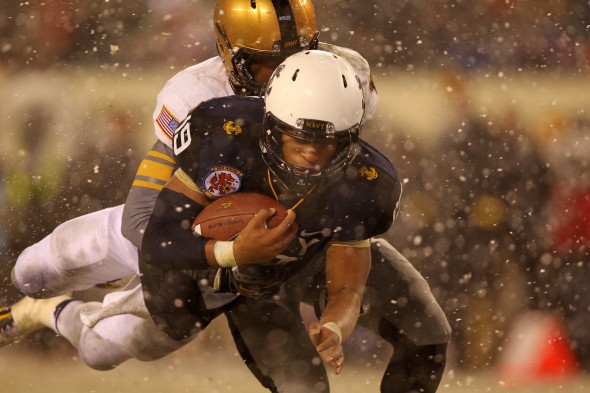 A classic Army-Navy image, here Army's Richard Glover stares down Navy center Tanner Fleming "in the trenches." It's kind of the cliched photo from this game, but it works. Army. Navy. Snow. December. Black and gold and grey and blue.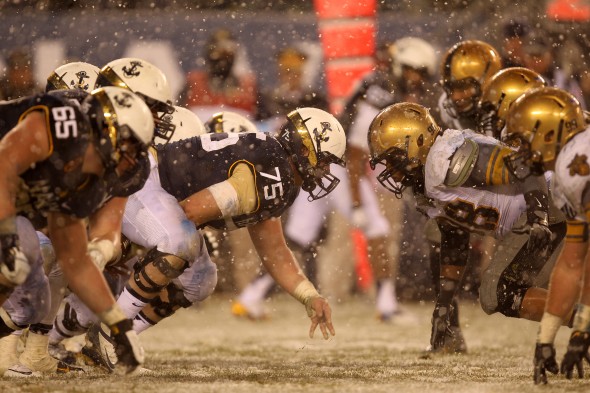 Navy Midshipmen fullback Noah Copeland (34) cecelebrates his touchdown: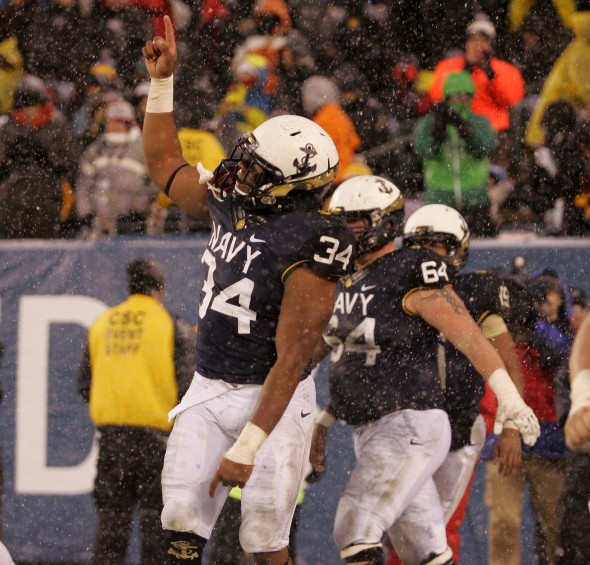 I filed about 25 photos at halftime but was walking out of the tunnel when Santiago scored Army's lone touchdown of the game, so I missed that photo. The rest of the game, the photos were primarily Navy-centered, as you can imagine: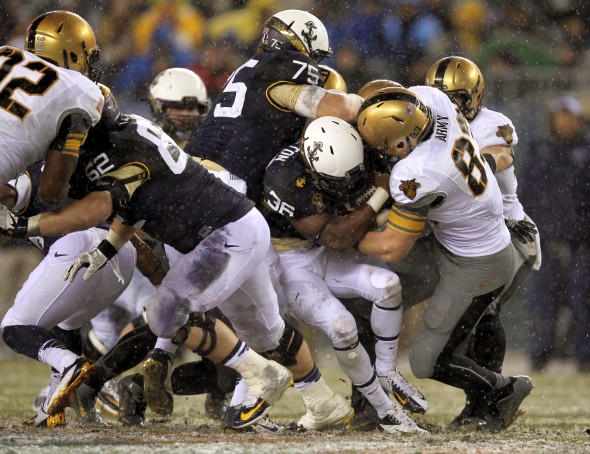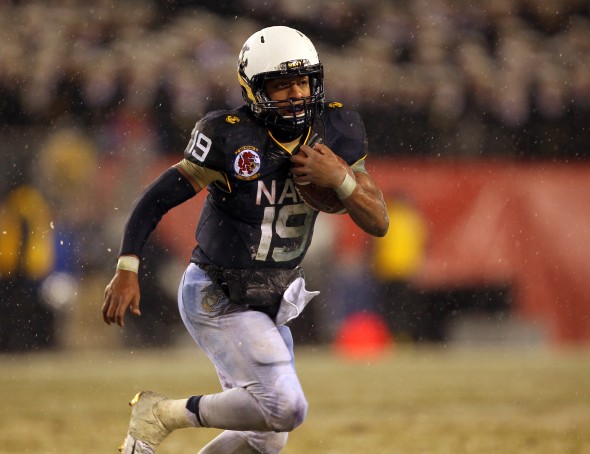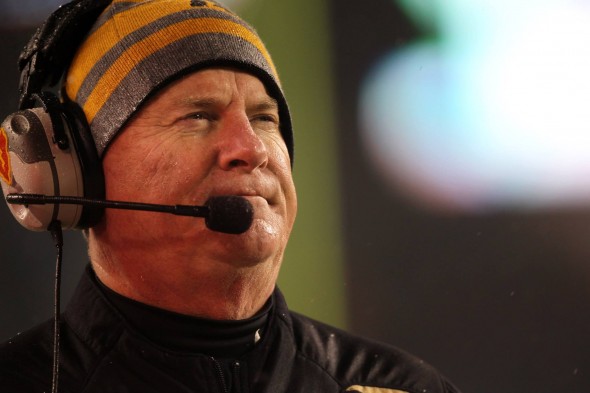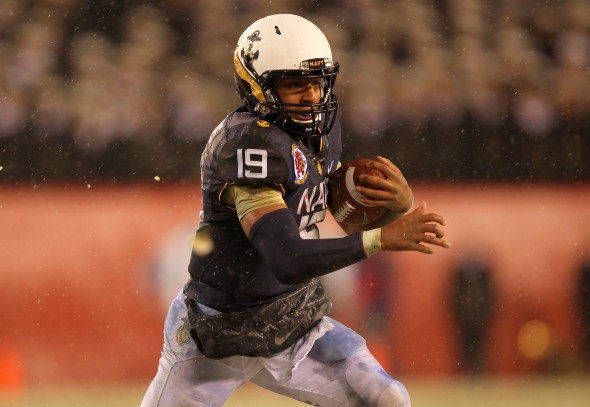 Here's senior captain Jarrett Mackey putting a hit on Reynolds: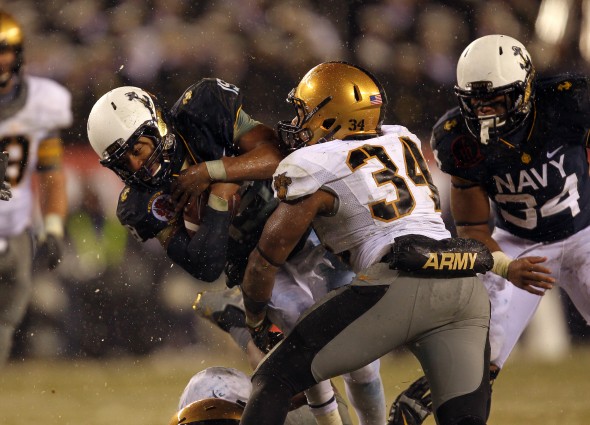 "We're the type of defense that does best against the option, and on some of the plays, we messed up," Mackey said. "We just wanted to get back out there and prove ourselves. We have to play better as individuals, as well as a collective defense, and not have those types of errors."
Another co-captain, Momo Kime, watches the clock tick down in the fourth quarter from Army's freezing-cold sideline: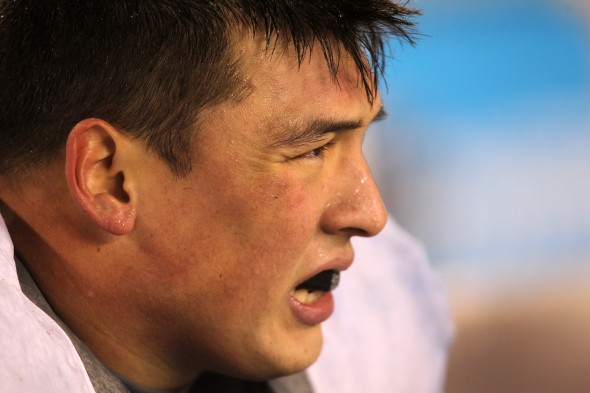 "I'm just really proud that I got the chance to play with these guys, especially Jarrett (Mackey)," Kime said. "To watch Jarrett go through the adversity that he's had has really epitomized what it means to be a captain. I'm really glad I got a chance to play with all of the guys up here and in the locker room."
Army center Ryan Powis watches the game slip away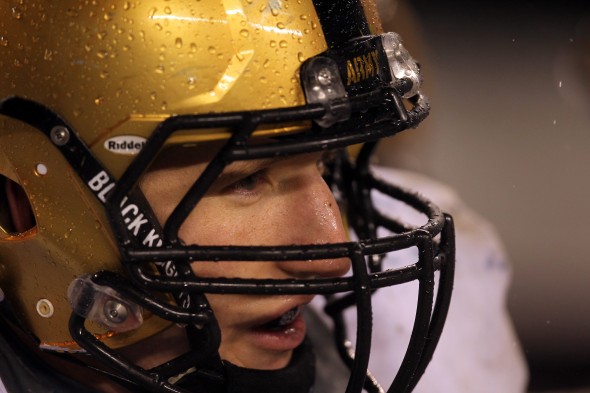 Reynolds, meanwhile, keeps the gas pedal down: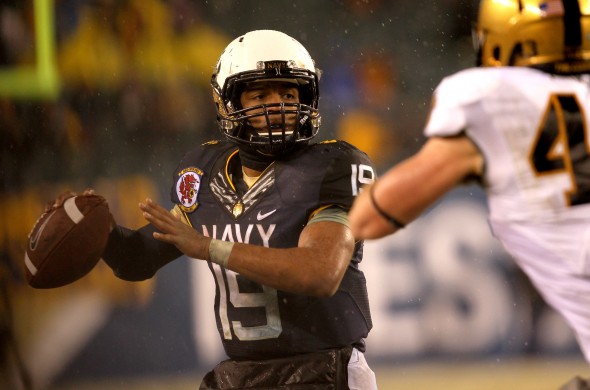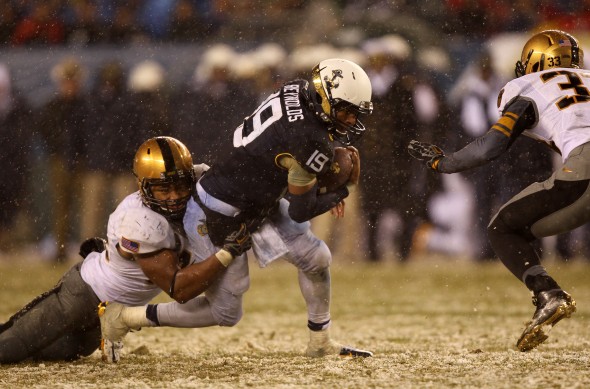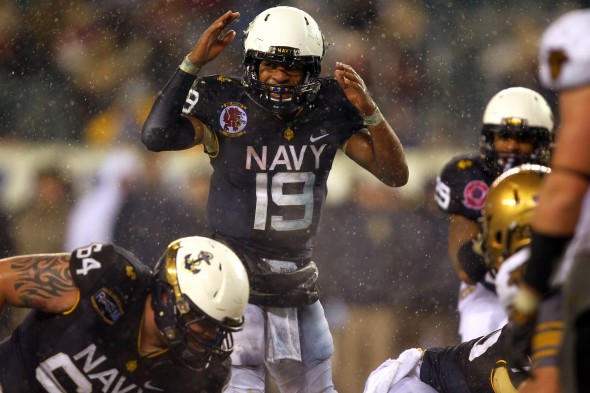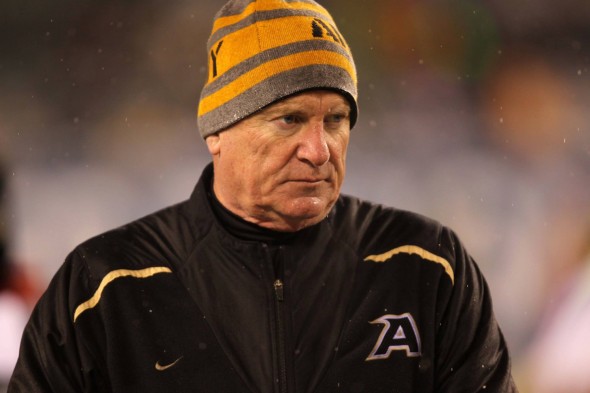 Reynolds scores again: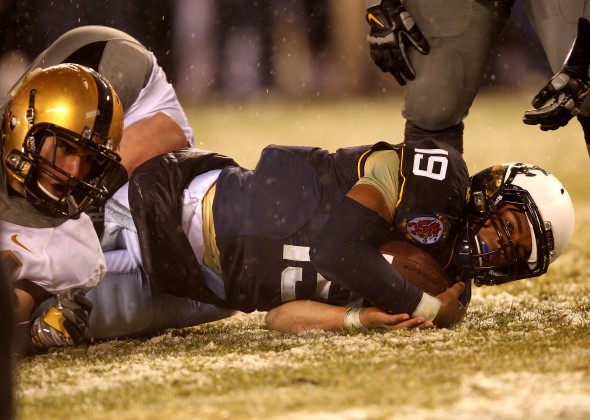 and Navy celebrates…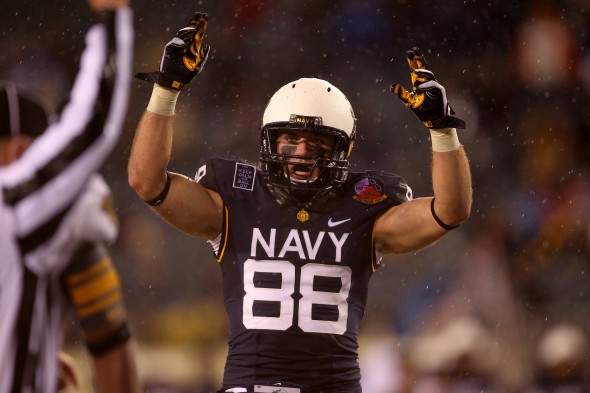 Army defensive coordinator Payam Saadat (will he be back?) watches from the sideline: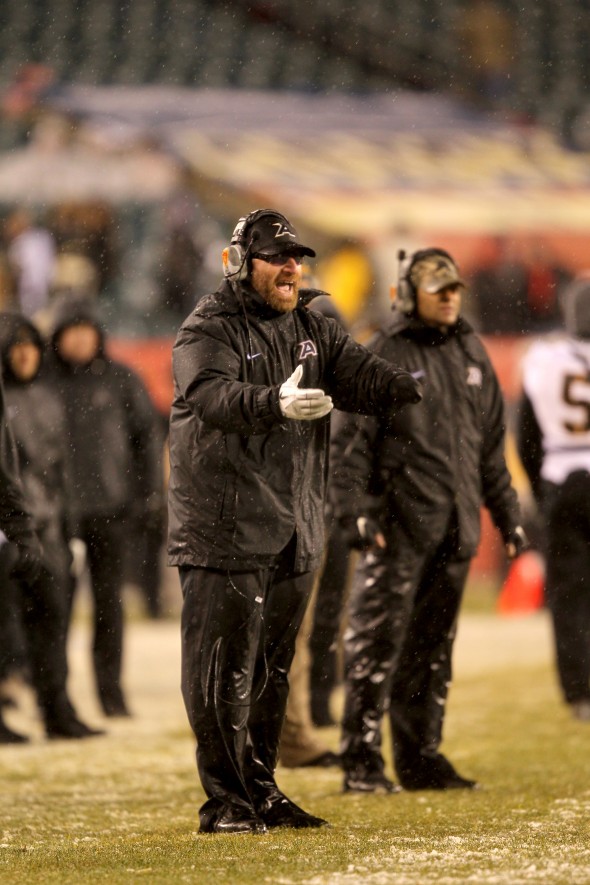 Finally, mercifully, the game is over. I went over to switch out my 400mm lens for a fisheye and literally couldn't feel the camera, my fingers were so cold. Just totally frozen and numb. Still, I got the lens on and started shooting. Here's some fireworks going off: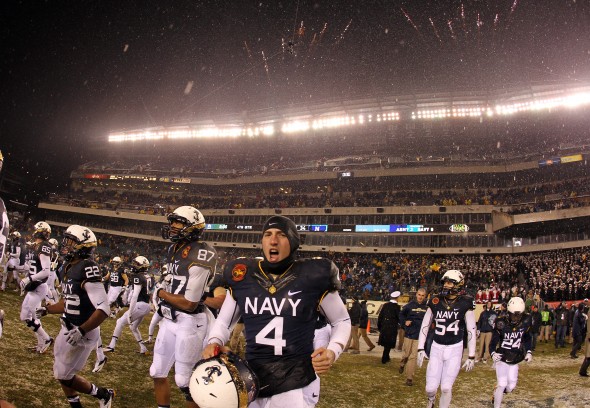 Post-game handshakes: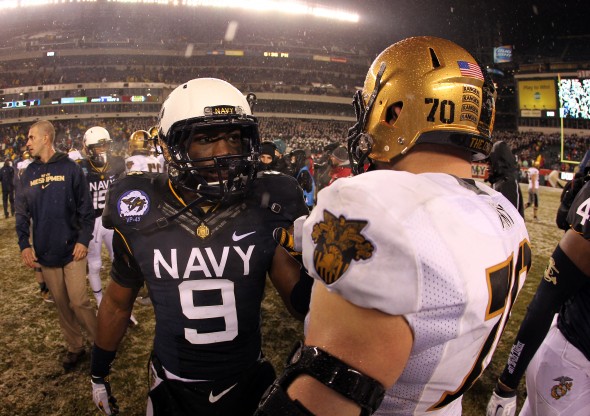 For Rich Ellerson, this was the end. Sure, he had a press conference to sit through and a bus ride back to West Point. But, I can't imagine what was going through his head in this moment — head down, frozen, wet, a beaten coach surrounded by dejected players. This is how it ended: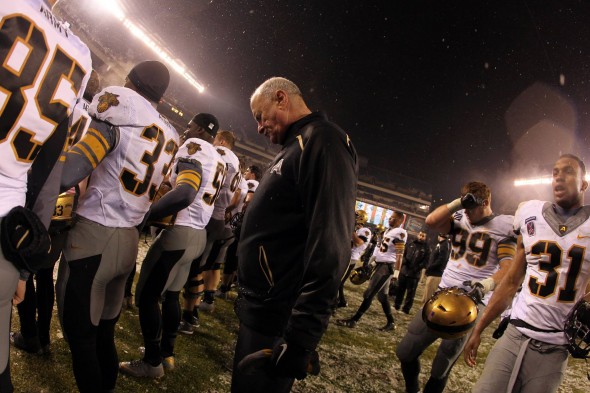 Ellerson faces the Corps with his team for the last time: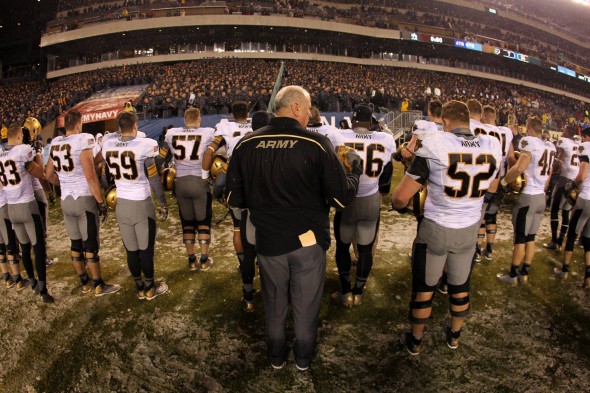 The coma-inducing West Point alma mater after a 12th straight loss to Navy. I made my way to the Navy side before the song ended to get some celebration photos: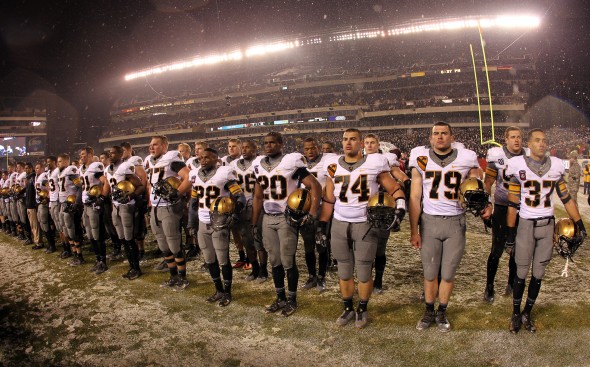 And of course, Navy delivered some emotional images. With the rain coming down, it was impossible to keep water off the lens. It created some funky spots on the photos, so I had to live with it: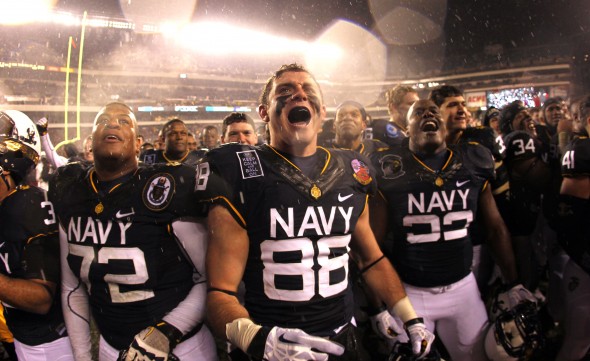 Navy sings second: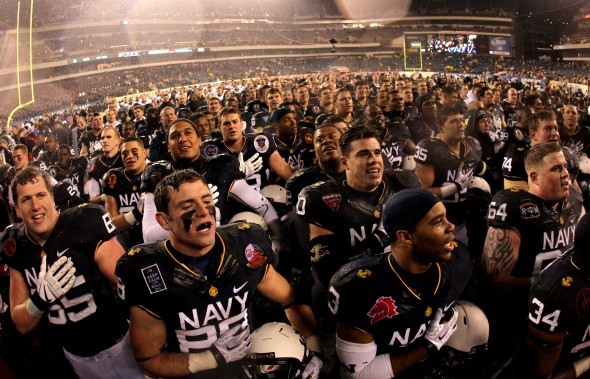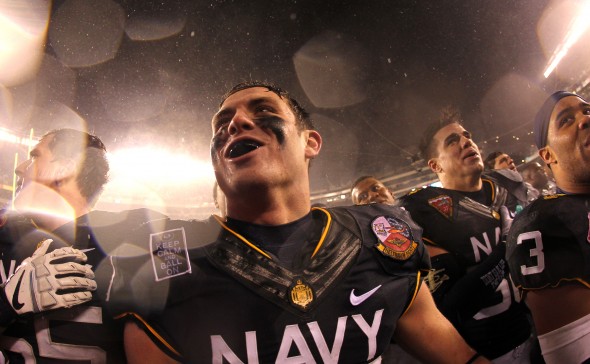 As usual, players climb into the stands to sing with fellow midshipmen: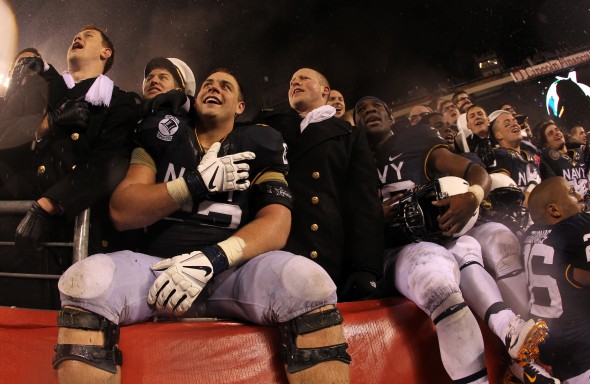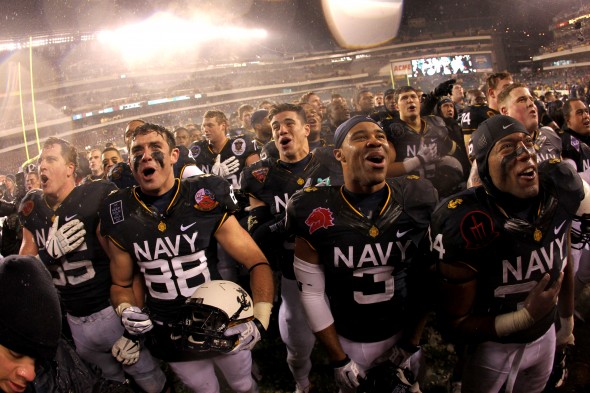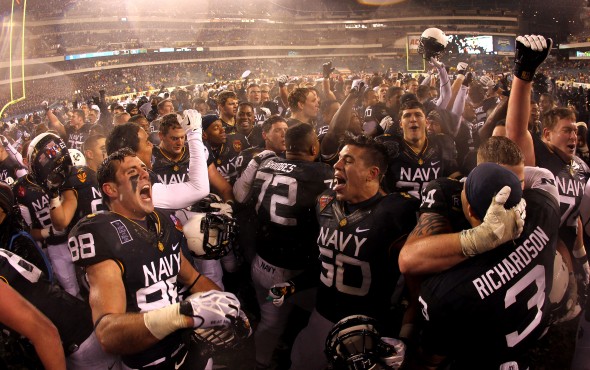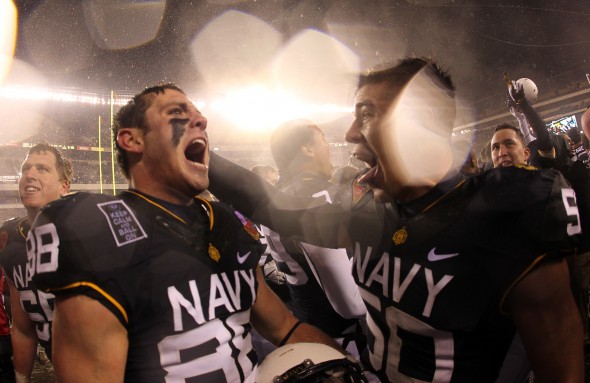 For me, it was time to edit. Lincoln Financial Field's photo workroom is pretty bare-bones — they honestly make a pathetic effort here for Army-Navy: no food, a chain-locked beverage fridge, bathrooms with broken locks, a crummy old television and no WiFi network info. They do, however, pay tribute to some photographers with prints on the wall, which I think is pretty cool. This was my spot, seen here after I packed up my computer. Tommy and I filed more than 100 photos from the game, and you can see them all here.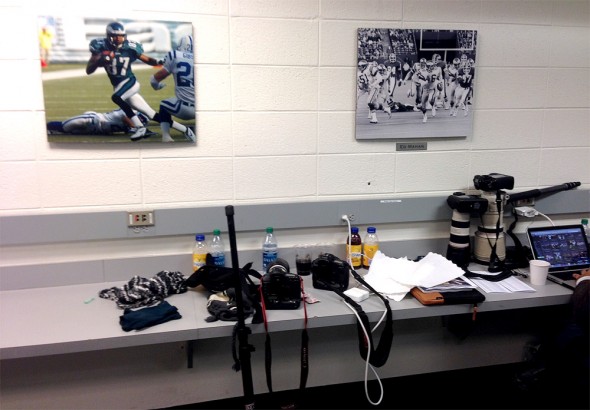 * * *
So, what comes next? There's a lot of speculation already about Ellerson's replacement. Here's Sports Illustrated's take:
Look for Ellerson's potential replacement to have experience at Army from stronger football eras there. Some names with West Point ties include Ohio State co-offensive coordinator Ed Warinner, New York Jets special teams coach Ben Kotwica, Vanderbilt defensive coordinator Bob Shoop, UCF offensive coordinator Charlie Taaffe, Richmond head coach Danny Rocco and Tampa Bay Buccaneers offensive coordinator Mike Sullivan.
Steve Anderson, who captained Army to a bowl win in 2010, endorsed Kotwica on Facebook. It's worth noting that Anderson has been a strong supporter of Ellerson, and I think his words and opinions carry weight when it comes to this topic.
"Take it from someone who has worked directly with that man and his staff and who has had success… they are the answer," Anderson wrote on Facebook. "Our players need to perform better. No turnovers and tackle and we would have won today.
"I like coach Kotwica. Smart guy and will def motivate you," Anderson added. "Would be a smart replacement at this point."
Sal from the Record says Ellerson and his staff will be paid for the remaining two years on their contracts (Ellerson earns $401,500 a year, peanuts for a D1 coach) and said he expects him to land on his feet as a defensive coordinator or FCS coach. Awkwardly, Ellerson's son, a longsnapper named Andrew, heads into 2014 without his dad on the sideline.
What does the future hold for Ellerson?

"I'm not that smart yet," Ellerson said Sunday night. "We were still playing Navy last night at this time. We'll see."
Sal also reported that Army is looking for an established coach who knows the program and the offense.
"We are looking for somebody to come in here and hit the ground running," Corrigan told the newspaper. "We're not looking for somebody to come in here and learn for three years what we are doing. We are looking for someone to inspire the players in the program. We are looking for someone with an appetite for recruiting and finding out how we maximize who we are." More insight from Sal:
When asked if West Point might invest more money into its head coach and coaching staff, Corrigan said, "I think what's important is for our resources to be commensurate with our expectations and that's what we need to do."

The Times Herald-Record can confirm Jets special teams coach Ben Kotwica, who captained Army's winningest team in 1996, Tampa Bay Buccaneers offensive coordinator Mike Sullivan, a West Point graduate and former Army assistant coach and Ohio State co-offensive coordinator/offensive line Ed Warinner, an Army assistant coach from 1987-99, as candidates for the opening.
The takeaway there is the question about money (Ellerson was the 106th highest-paid coach in 126 FBS schools in 2013. Anderson referenced a blog that not-so-subtly declares the divide between Army and Navy being primarily over the money spent on coaching).
Anyway, I hope Coach E finds peace and happiness as he reflects back upon these five years at West Point. He believes in the mission of West Point and he deserved a better fate than the record shows on the field. Thank you for your leadership of this team.