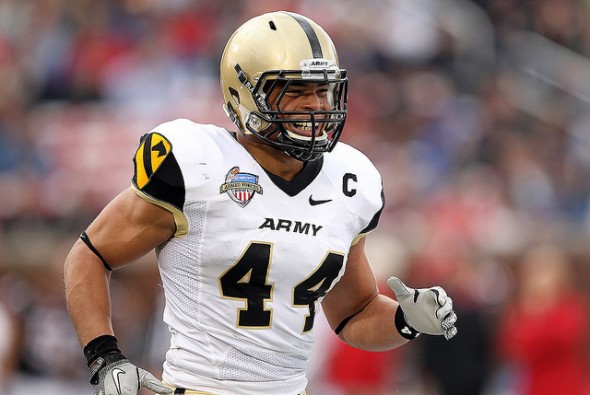 Former Army defensive end and all-time sack leader Josh McNary was signed as an undrafted free agent today by the Indianapolis Colts.
McNary, according to Dave Birkett of the Detroit Free Press, impressed the Colts when he worked out at the Super Regional Combine last weekend in Dallas. (Better yet, news broke today, McNary's birthday). Signed as an outside linebacker, McNary was unable to play after graduating from West Point in 2011 due to his mandatory commitment to at least two years of active service in the U.S. Army.
An Engineering Management major at West Point, McNary is currently an Field Artillery Platoon Leader in the 3rd Cavalry Regiment based at Fort Hood, Texas.
Trent Steelman, Army's graduating senior quarterback, recently participated in NFL pro day activities as he, too, hopes to follow McNary's path — a Department of Defense directive that took effect in 2008 states that graduates of the three military academies can apply for early release after two years of active duty to participate in pro sports. If it is granted, they'll have to serve in the military reserves and pay back part of their education costs. McNary follows former Army fullback Collin Mooney, who is a fullback with the Titans.
Here's McNary in his final Army game, winning the 2010 Armed Forces Bowl in Dallas: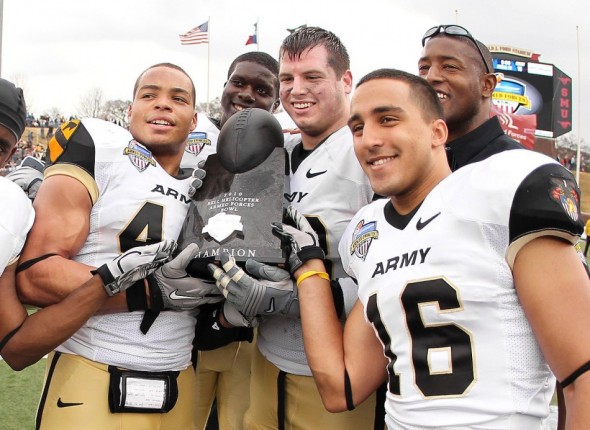 And graduating from the Academy in May 2011: