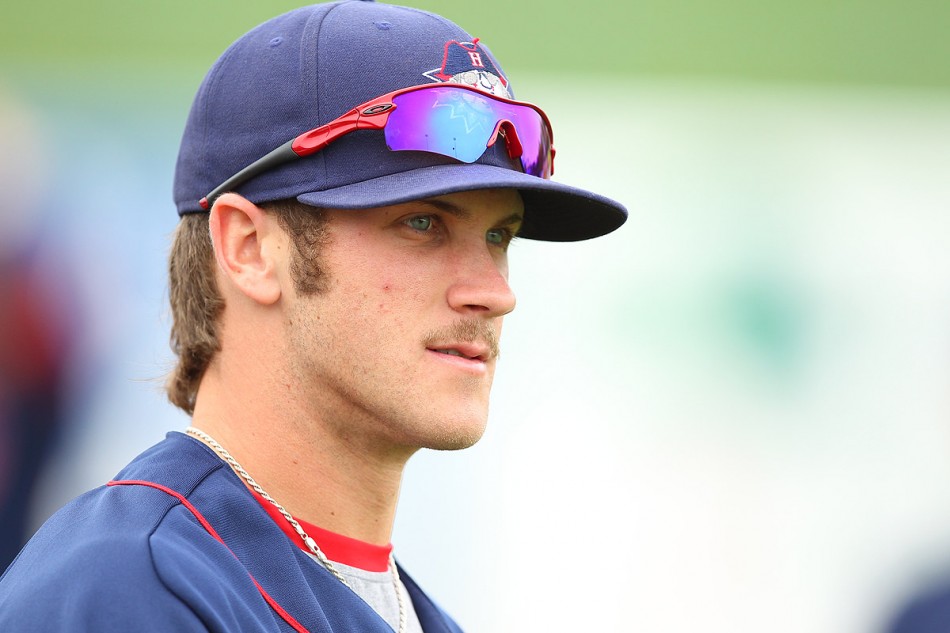 Bryce Harper.
Know the name? He's the most hated, most adored and certainly the most well-known Minor Leaguer taking the field every night this spring.
The 18-year-old Las Vegas, Nev., native was the No. 1 pick in the 2010 Major League Draft, going to the Washington Nationals on a record $9.9 million contract thanks to Scott Boras. A converted outfielder with power and speed, Harper is riding the bus in Class A Hagerstown these days, about two months after declaring his intentions to make the Nats' Opening Day roster.
That's the background, at least — the story, now, is how quickly and impressively the Southern Nevada Junior College product has transitioned to and firmly dominated his first taste of professional baseball. He and the Suns came up to Lakewood, N.J. this past weekend (about an hour and 20 mins from my house), so I got in my Ford with my buddy Jeff and hit the Garden State Parkway with my camera in search of the man himself.
The plan, besides the curiousity of seeing Harper in person and just going for a day trip to the Jersey shore (a tainted phrase I guess) was to get some photos for a feature I was collaborating on with a fellow editor at MLB.com. The story and my accompanying photo gallery ran on MLB.com and Nationals.com on Monday.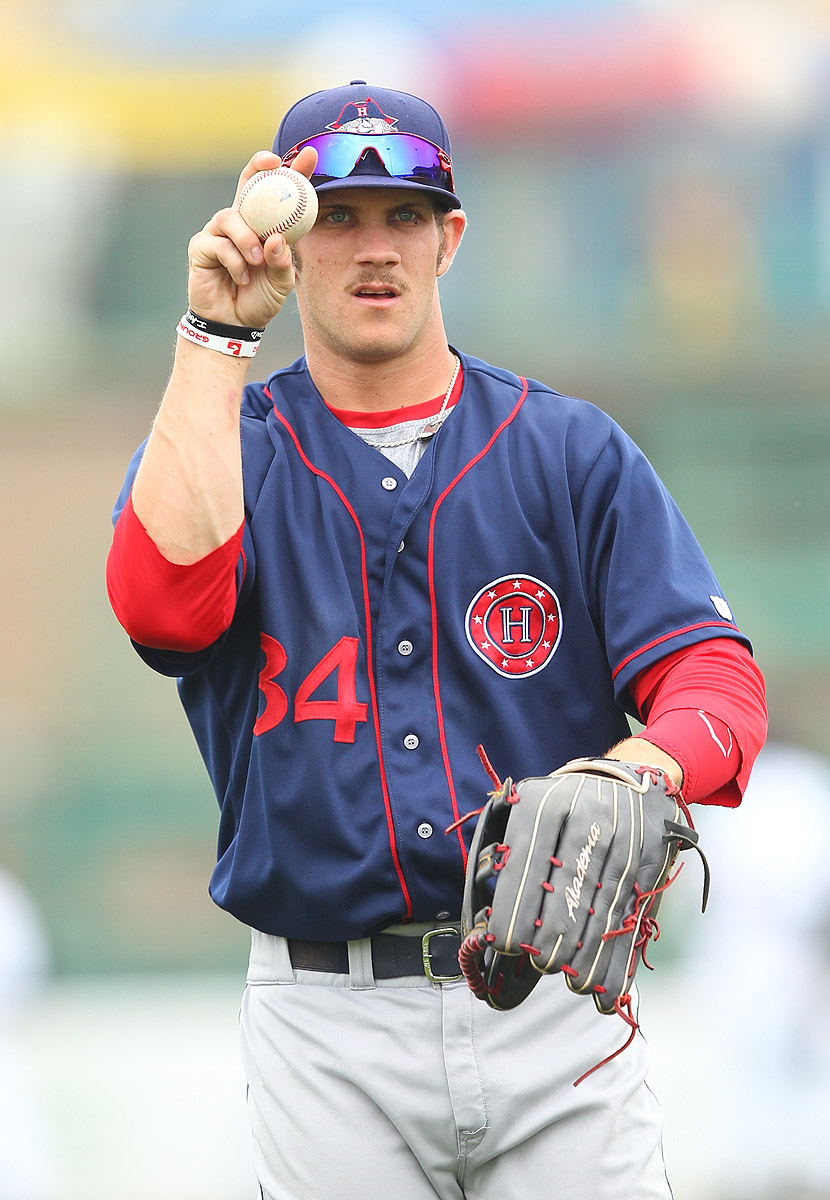 Jeff, who routinely has the scoop on every up-and-coming college player in the nation, had been looking forward to seeing Harper for weeks. With rain in the forecast, he was ready to bail on me Sunday morning, but I was up for the trip either way. He ended up joining me, and we got to the park around 11:20 am. A handful of fans were inside, and they were all queued up, waiting for No. 34 to emerge from the dugout.
I have conflicting feelings toward autograph hounds (and Jeff loves his autographs, but not on this day). I remember feeling embarrassed as a kid when the other kids around me would nag and annoy and bust on players they didn't even know for autographs at Spring Training games. And when you're on the other side of the wall — when you're the one on the field — you can quickly understand how friggin' annoying these people can be.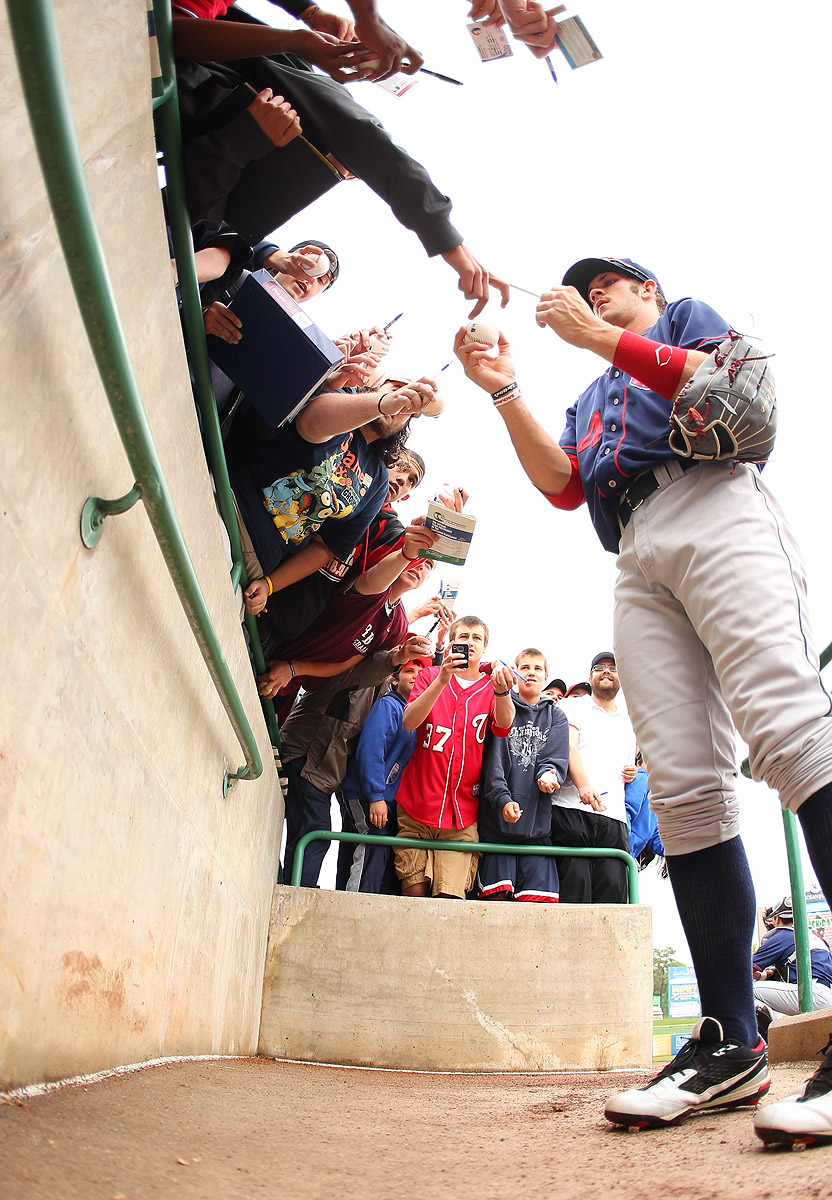 I routinely read comments from fans online who have cast their judgement on Harper; if he signed an autograph for them, or someone else they deemed worthy, than he's an OK kid. If he ignored them, than he should be cursed. There were dozens of people waiting for him on Sunday for nearly two hours — were they really just huge Bryce Harper fans? Being nagged constantly by folks who most likely will just try to sell your autographed item has to be an enormous turn-off if you're a ballplayer. People judge athletes on who they sign for, whether it was a kid with a ball or some old man with a binder of 8x10s — I really don't think any of them take the time to look up and choose. Most ballplayers just try to sign as many items as they can — whatever is closest to their hands — in the course of a minute or so, they're not singling out fans.
Anyway, I largely ignored the autograph hounds and shot the Hagerstown pitchers and catchers warming up in left field. Harper was no where to be seen for a while, but when he came out about 30 minutes before game time, he seemed all business.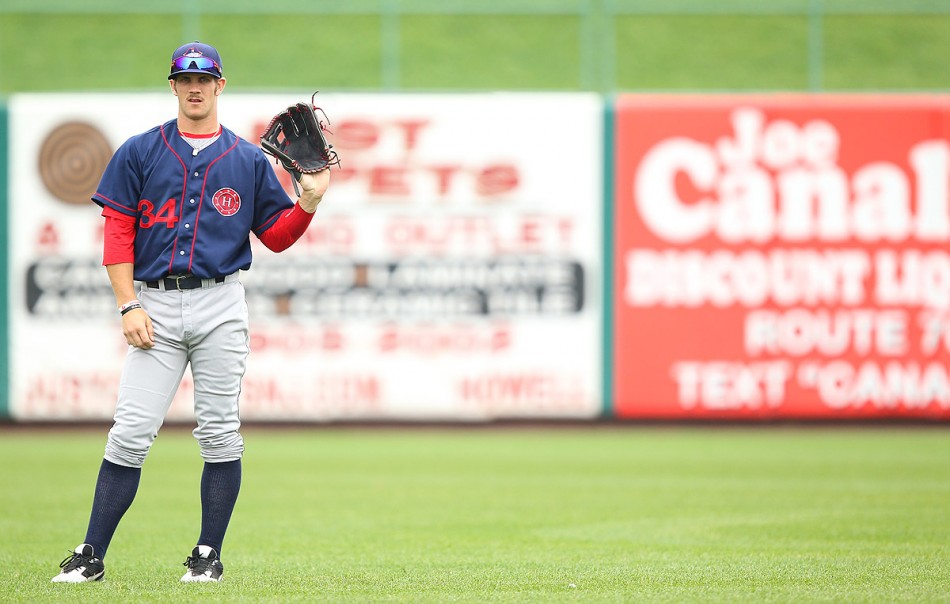 I photographed him jogging, stretching, and long-tossing with teammates. I was reminded, sort of abruptly, that I was indeed at a Minor League game when a giant fuzzy yellow monster named Buster came whizzing around the warning track on what appeared to be a turbo-charged scooter with a hilarious meep-meep kinda horn. He weaved around players, who were of course oblivious, and actually got off and threw a ball to Harper out in center (on one hop). Harper didn't crack a smile, but he did seem to play along with the mascot, throwing his arms up in the air after Buster walked away.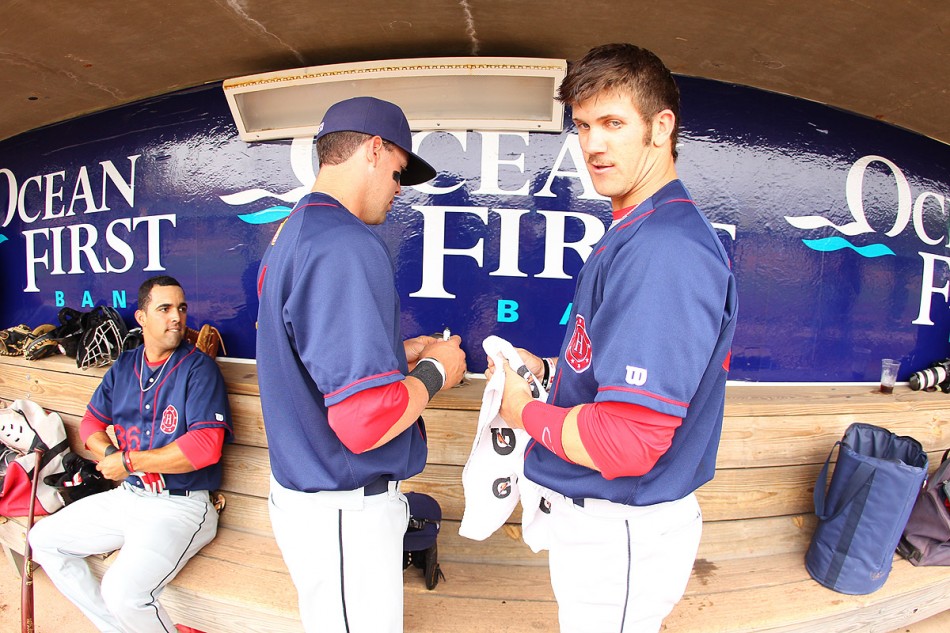 A buddy of mine, Dave Schofield — a master sports photographer who inspired me to pickup a camera back in college — got a cool photo of Harper applying some of his iconic eye-black before Friday's game, so I was on the lookout to one-up him on a similar shot. Right before first pitch, I heard Harper ask a teammate to come help him put the stuff on his face. Perfect photo op! I kept thinking, what a great image this could be years from now, a young Harper in the Minors with a teammate carefully smudging on the black stuff.
I walked over with my wide-angle lens and got ready for a few frames.
"Oh man, don't take that picture," Harper said to me, laughing.
"Seriously?" I asked.
"Yeah," he said.
I wasn't going to push it, so I walked away with only the shot above. I'm not entirely sure why he perhaps felt embarrassed by the moment, considering his eye black is his image — in high school and college, he would nearly cover his face with the stuff, smudging it down to his jawline. On this day, with a teammate putting it on, it was a more traditional line under the eye.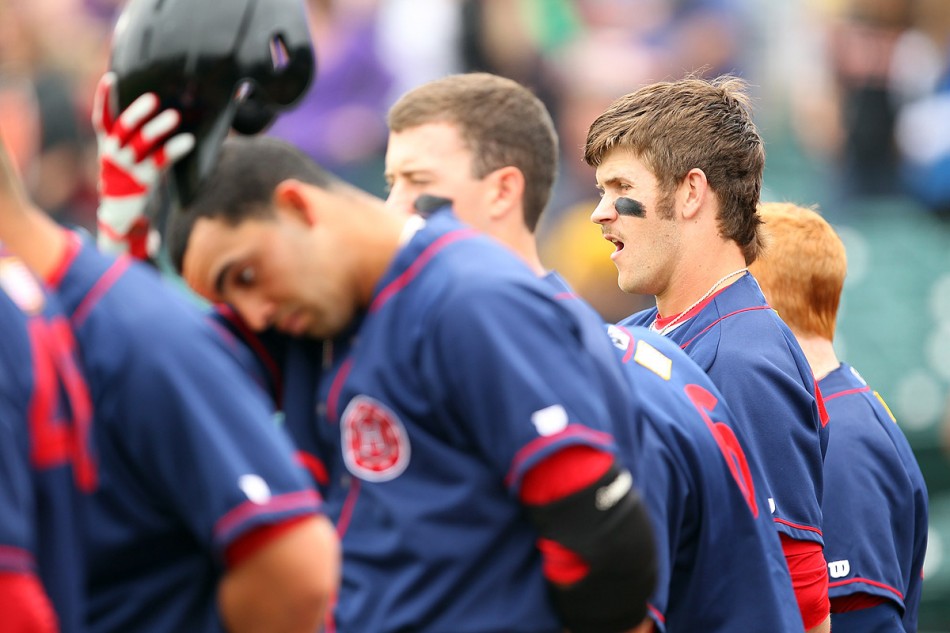 I caught him during the National Anthem and waiting on deck in the first inning. He didn't seem like he'd ever crack a smile.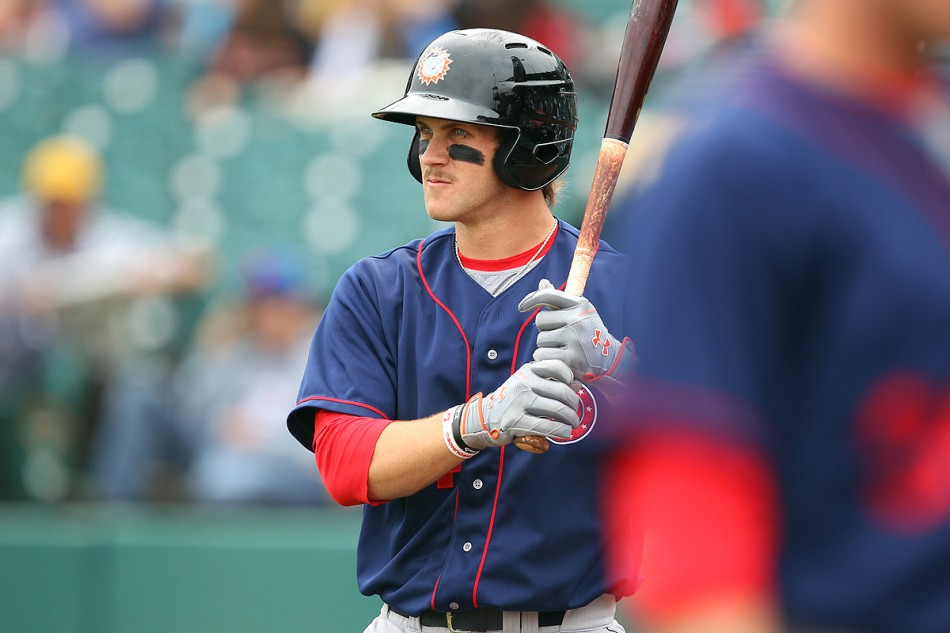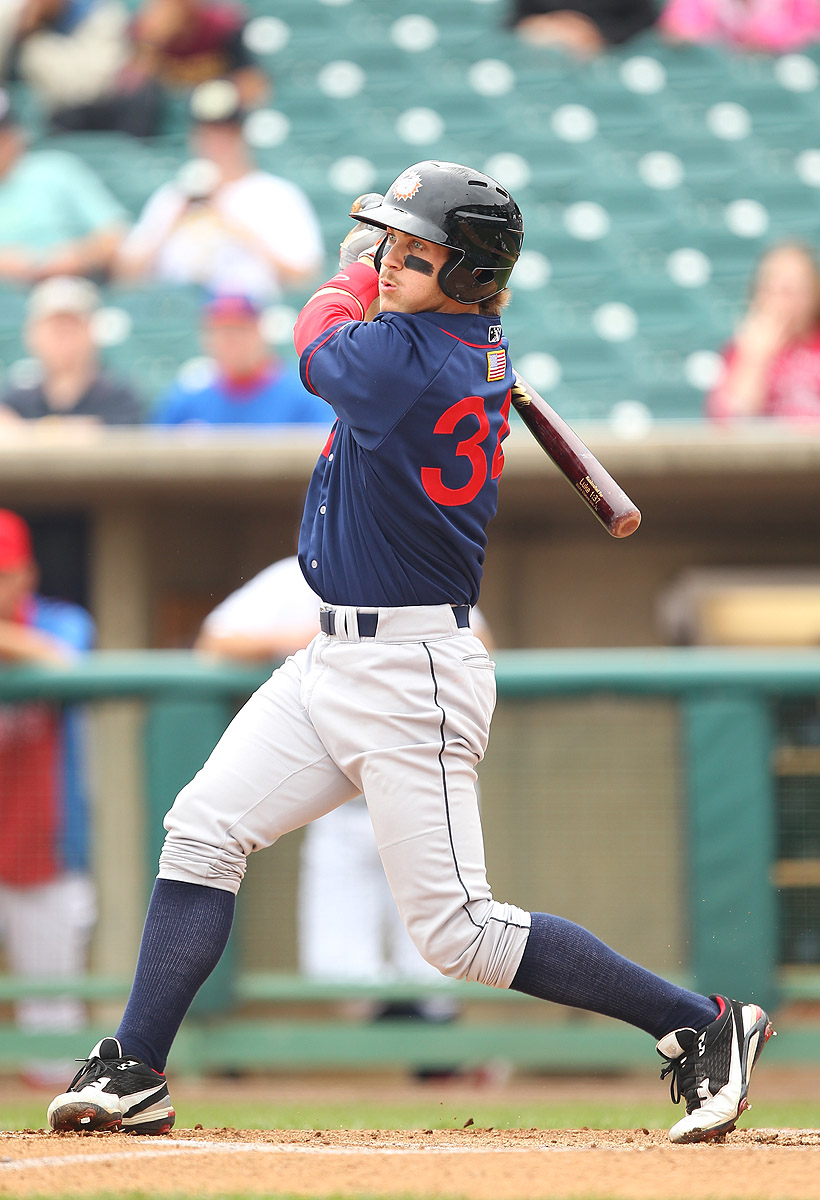 I eventually did get a few nice smiles from him, and the empty green seats at Lakewood's park provided a nice background for the portraits.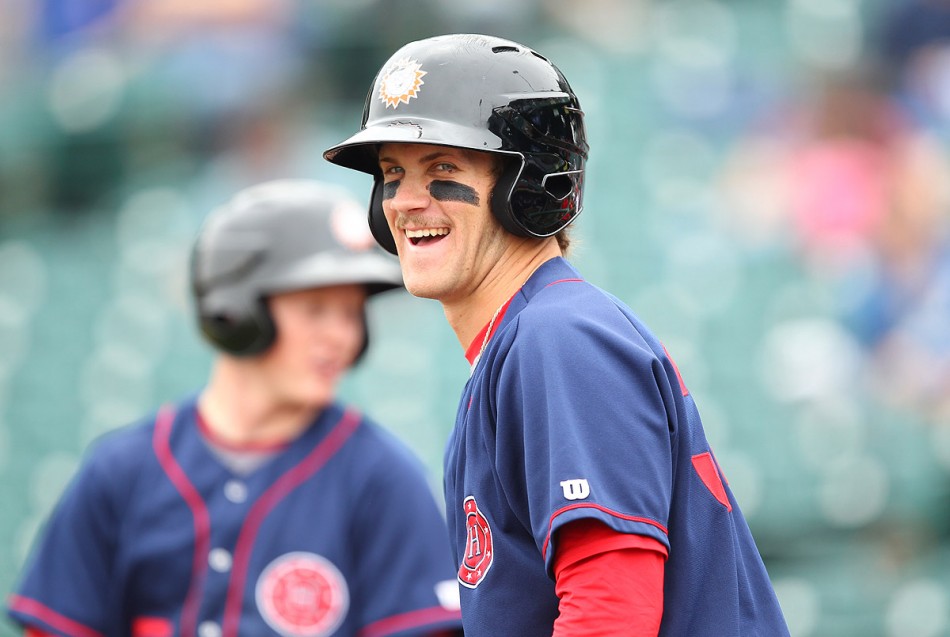 The storyline of the day was his hitting streak, which he ended up snapping with an 0-3 performance. The streak ended at 18 games, although he did walk and score a run.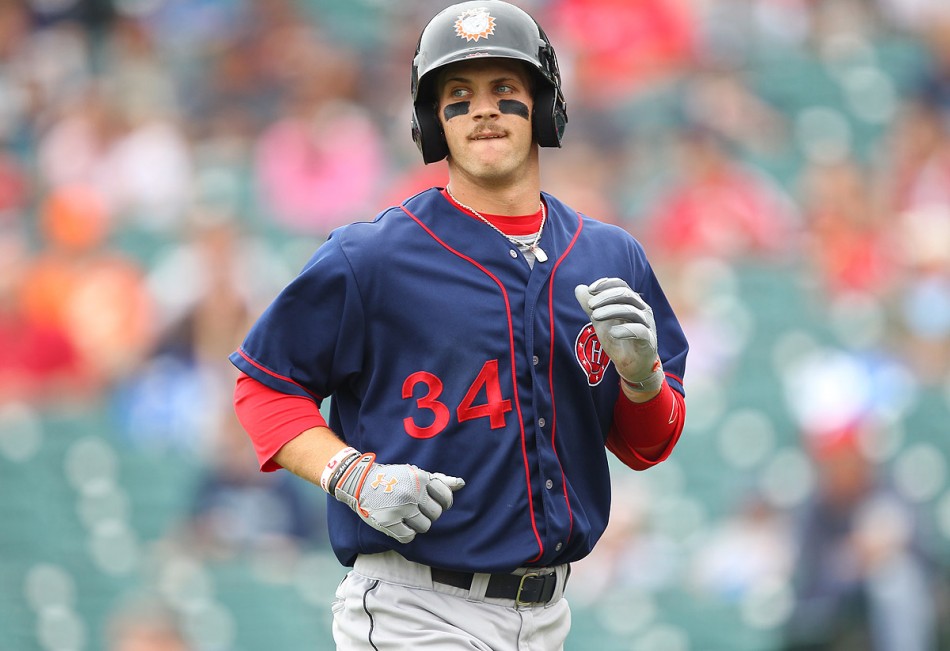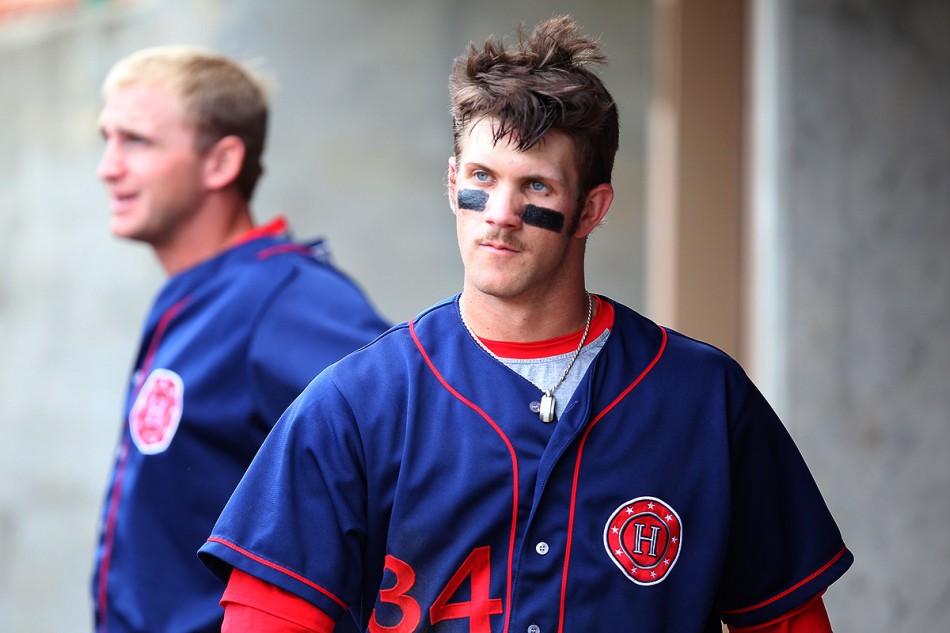 This may seem like I'm nitpicking, but this is coming from the mind of a photographer who can be obsessive about every pixel of his images — Harper grew a mustache, either because of his hitting streak or as a joke with some teammates, but I was honestly hoping all week that'd he shave the damn thing by the time I saw him.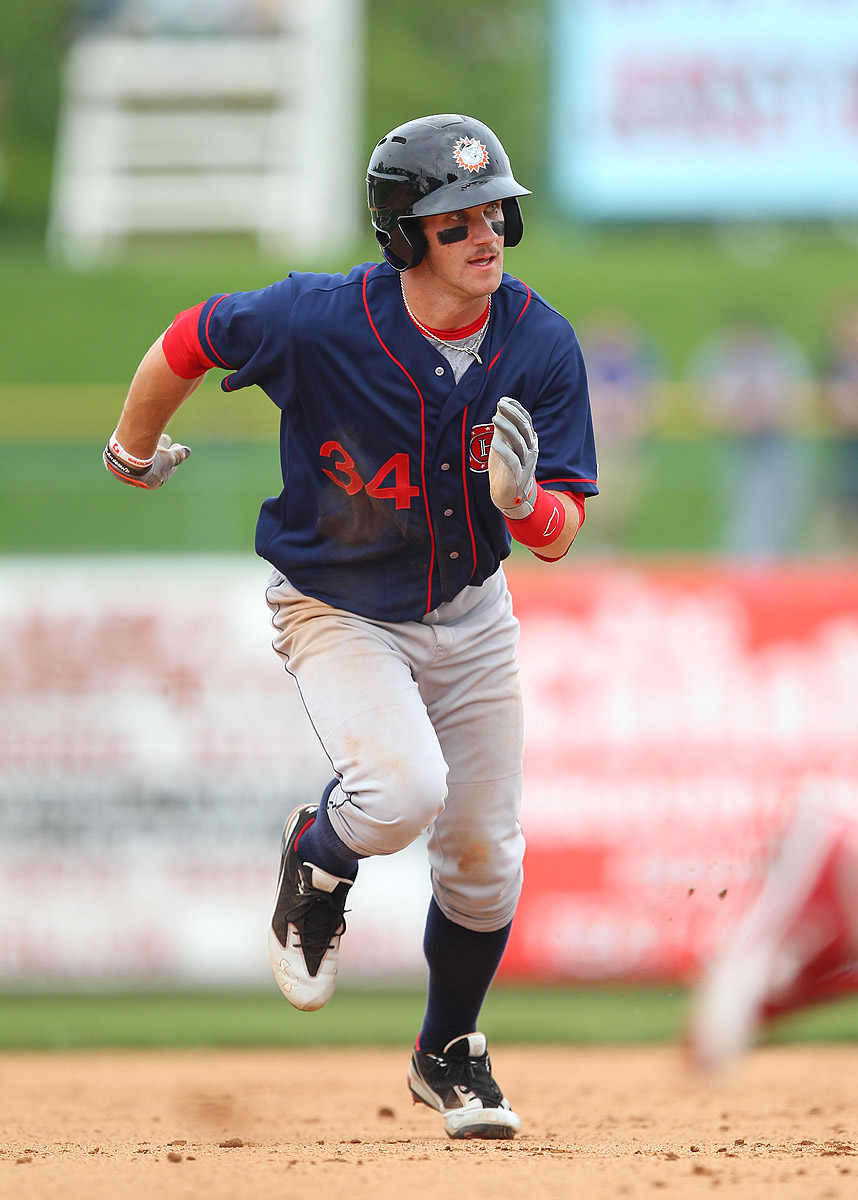 If you saw a photo of Derek Jeter from 15 years ago, and he had a mustache and a mullet, would it be cool or just really strange? I know he'll shave the thing soon, and I'll have all these odd images of him with it, but, it is what it is. I did a story over the winter on Jayson Werth, who had a similar look, but with huge goofy glasses, as a Minor Leaguer — now, he's a grizzly, muscly mountain man. Something tells me Harper will be clean cut by the time the Nats call his number.
Besides, I think the 'stache looks terrible. One of his teammates jokingly told me that Harper should use some Just for Men's to darken the thing so it's a little more noticeable. We both laughed, although it made me wonder what his relationship is like — a celebrity of sorts on a team of kids, many of which are destined for other careers.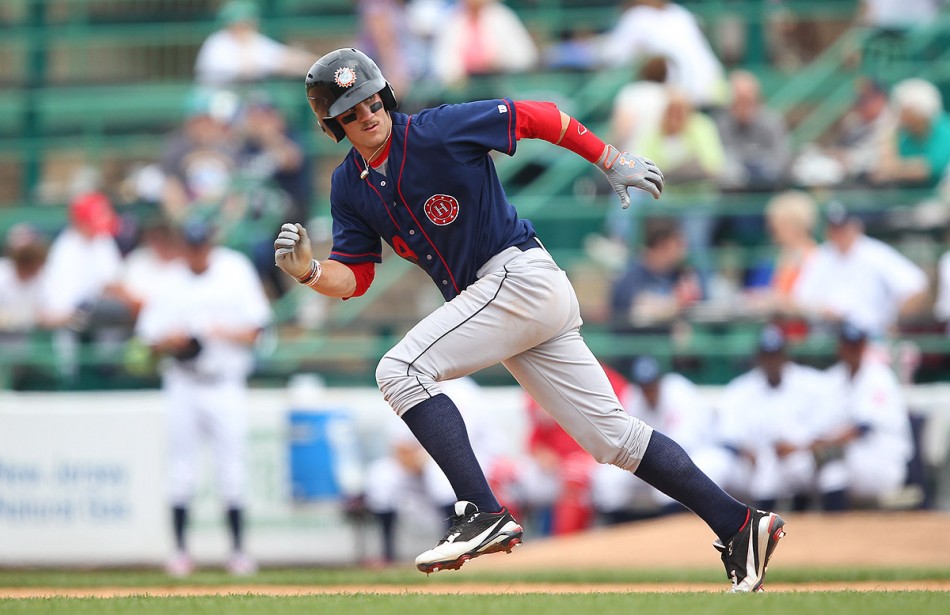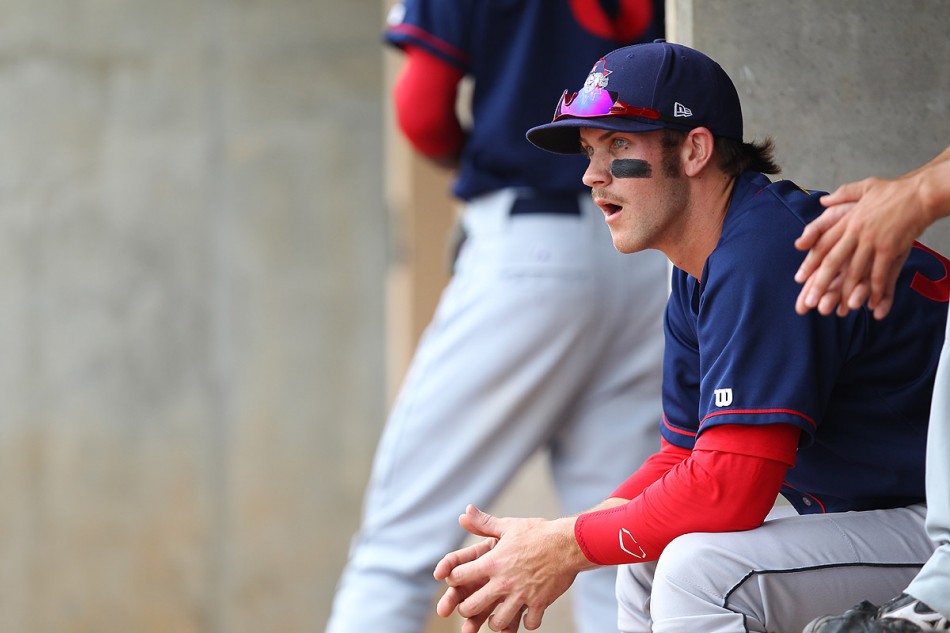 Harper seemed to keep to himself, mostly. He sat at the opposite end of the dugout from me, either by routine or to distance himself from the cameras.
One unique thing about Harper is his look — besides the bushy hair, he's also probably the only Minor Leaguer who's signed a huge sponsorship deal with Under Armour. He had the cleats, the gloves, the wrist bands. His custom Marucci bat was engraved, "handcrafted for Luke 1:37," a bible verse that I read he sometimes adds to items he signs.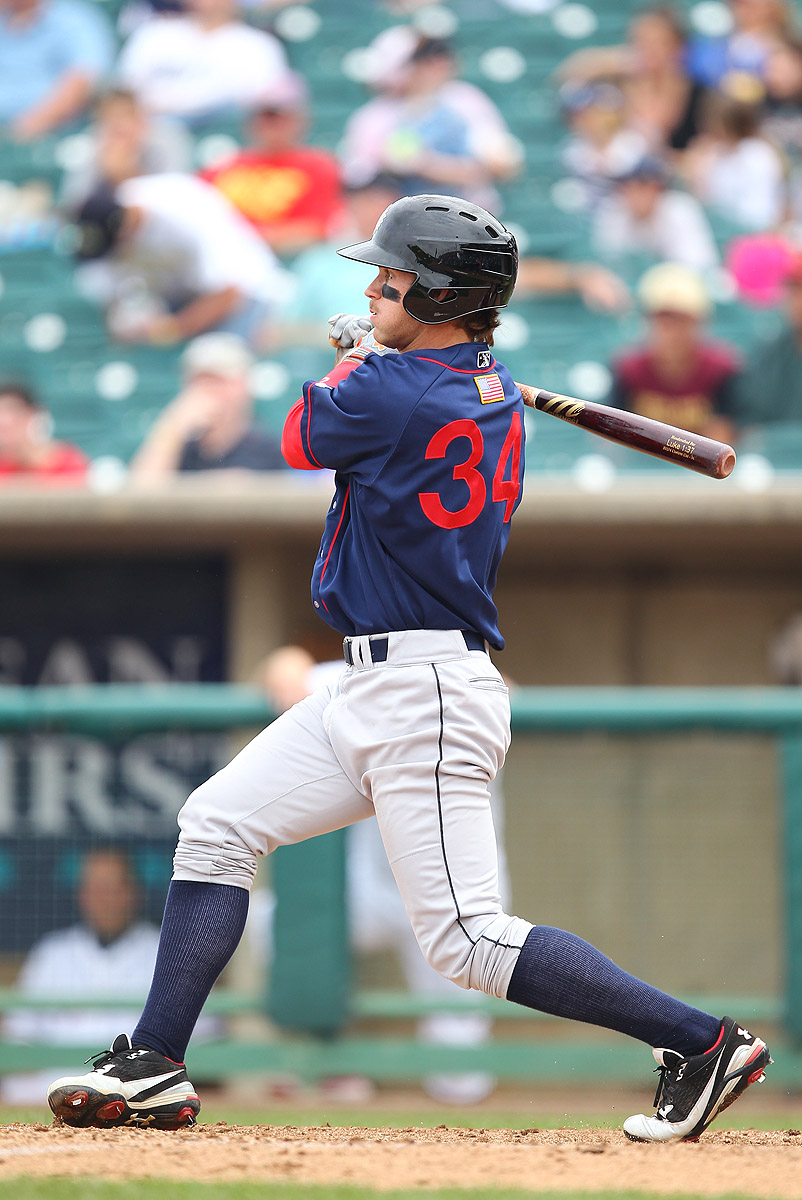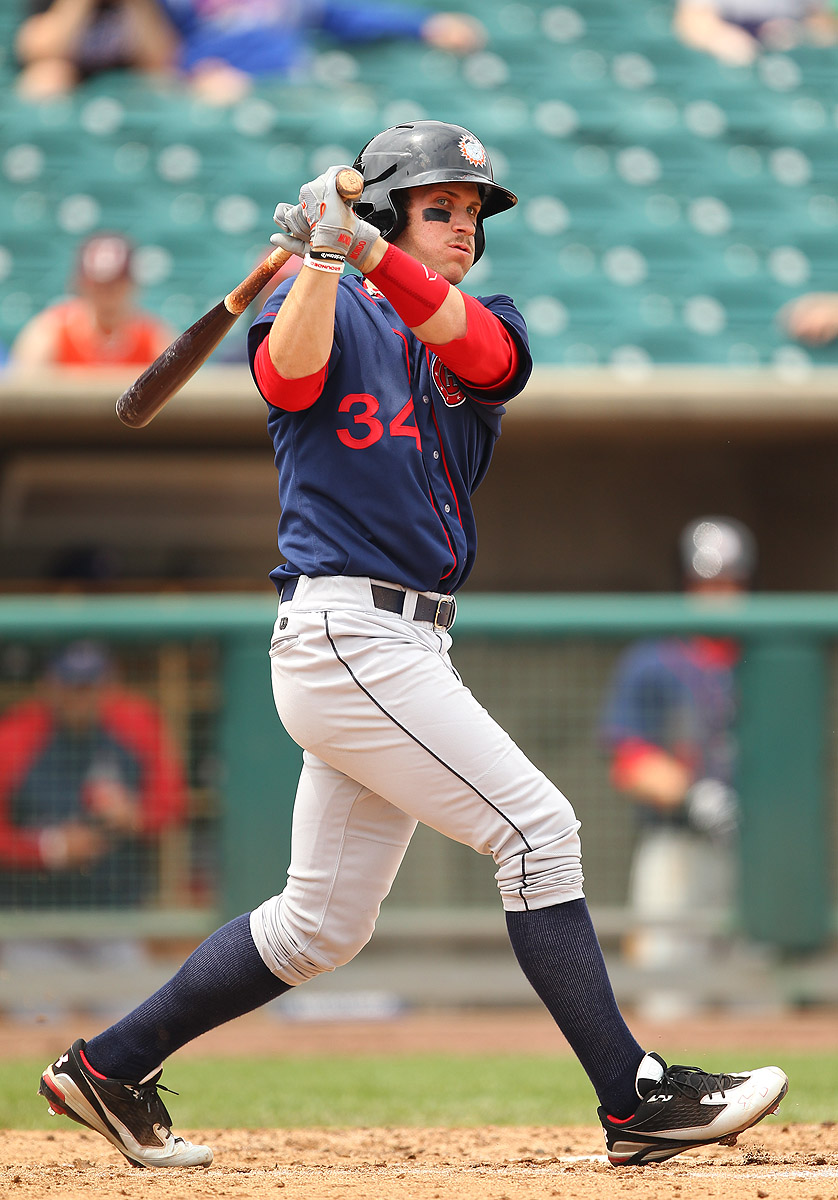 Fellow photographers out there might notice the angle I shot him at from third as compared to first in the two above images. With rain forecasted, Lakewood's grounds crew had the tarp on the infield before the game. It was rolled up and stashed next to the dugout at first base. Essentially, it blocked a lot of angles from which to shoot from on that side of the field. Being Harper is a lefty, I wanted to shoot from first to get his follow-through swings.
I ended up getting creative, but overall, I wasn't as low to the ground as I like to be. Over at third base, I could kneel and get down to grass level. Can you tell any difference?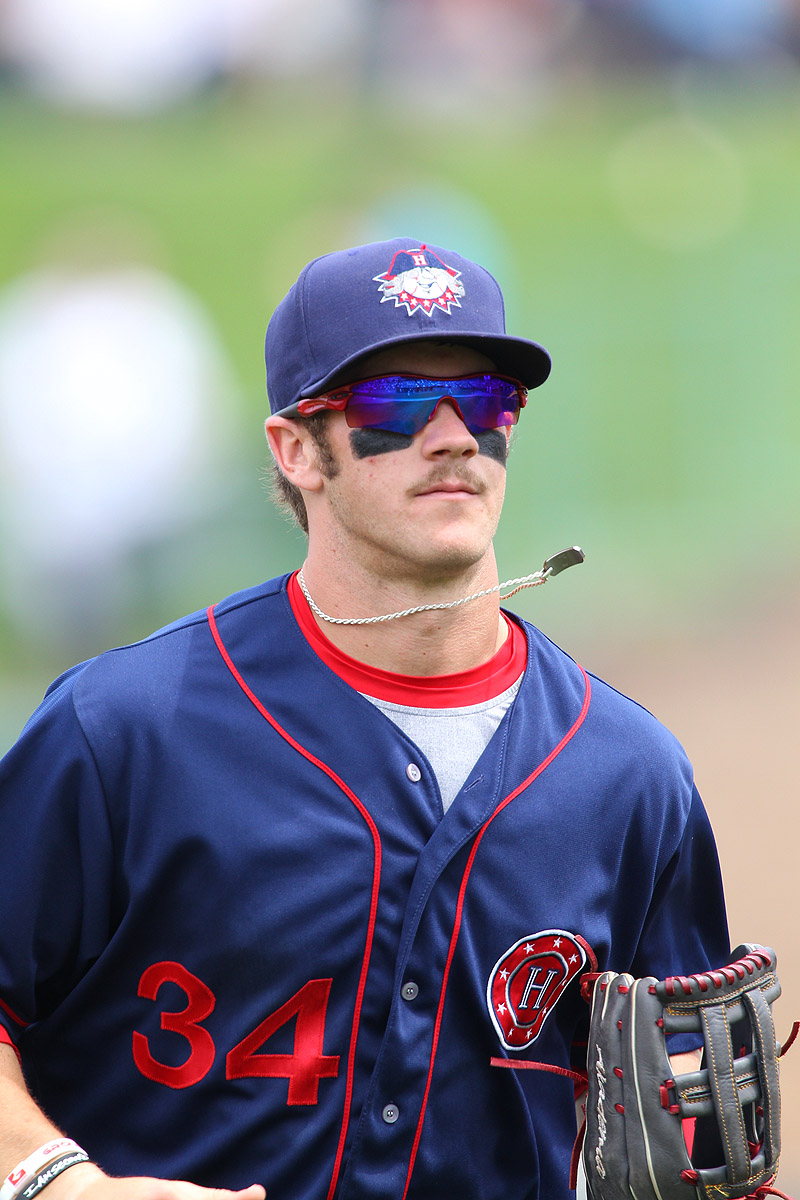 Overall, I was pretty happy with the photos I got. I wanted some tight portraits, some batting shots, some candid stuff in the dugout. I primarily used a Canon EF 400mm f/2.8L lens, at times with a 2x tele-converter for an effective 800mm @ f/5.6. I also worked in a few fisheye shots.
I wonder how much he's able to tune out the attention, the cameras pointed at him, the fans staring. It makes you feel bad for the guy, in a way — I kind of did.
Of course, I kept reminding myself — this is an individual who left high school early and joined a junior college team with the sole intent of positioning himself as the No. 1 pick in the Draft as soon as possible. The plan worked, he scored an insane contract, and he's raking in the Minors. This is the life he signed up for — at least, the journey that will lead him to that life.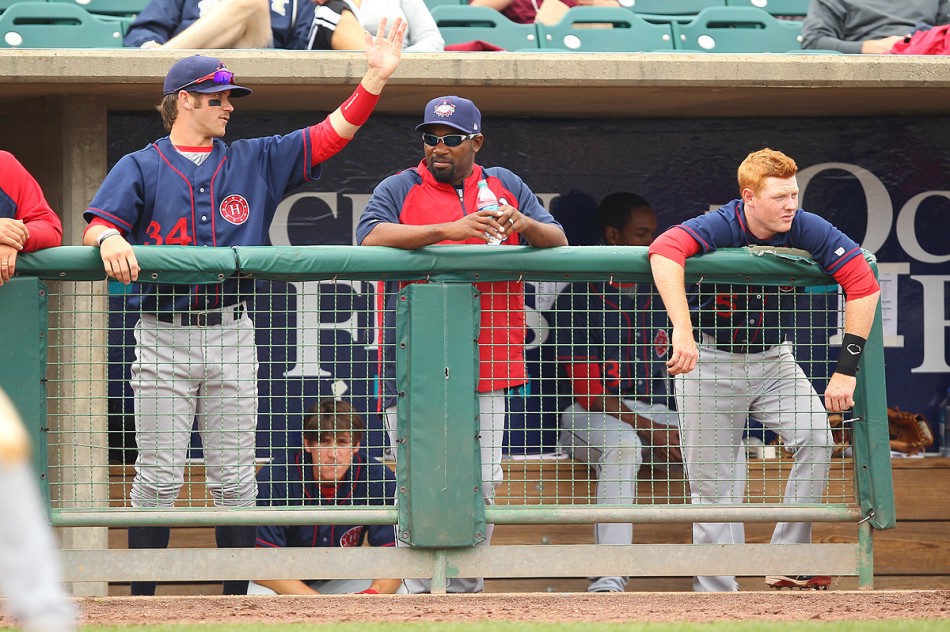 The weather turned out to be great, Jeff splurged for some hot dogs for lunch and we both got our encounter with the man himself. You can find additional photos of my trip here on Flickr.