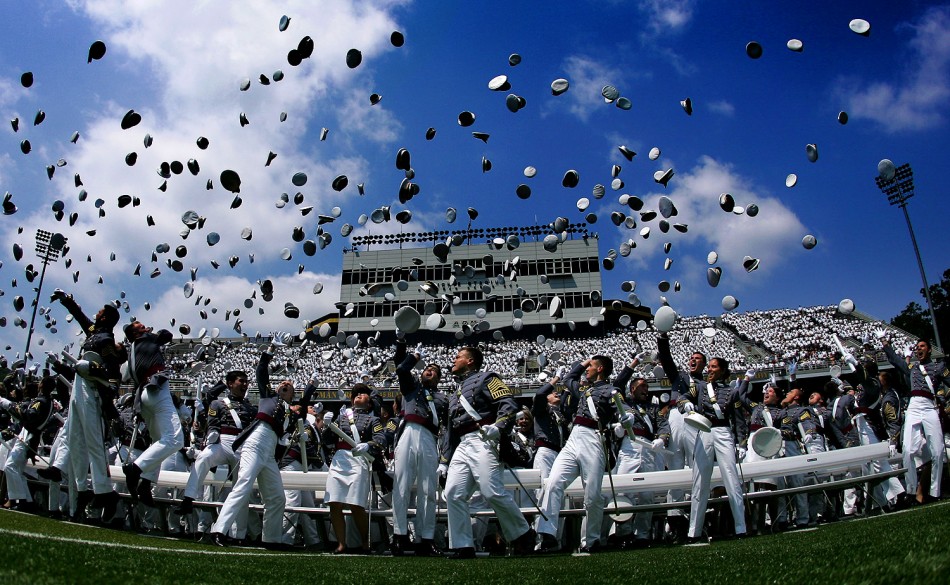 Saturday marked another memorable day at West Point as 972 cadets graduated following a speech from Vice President Joe Biden at the United States Military Academy's Class of 2012 graduation ceremonies at Michie Stadium.
Biden, who's son served in the Army and was in attendance at the stadium, praised the graduating firsties for their willingness to join the military in a post-9/11 world.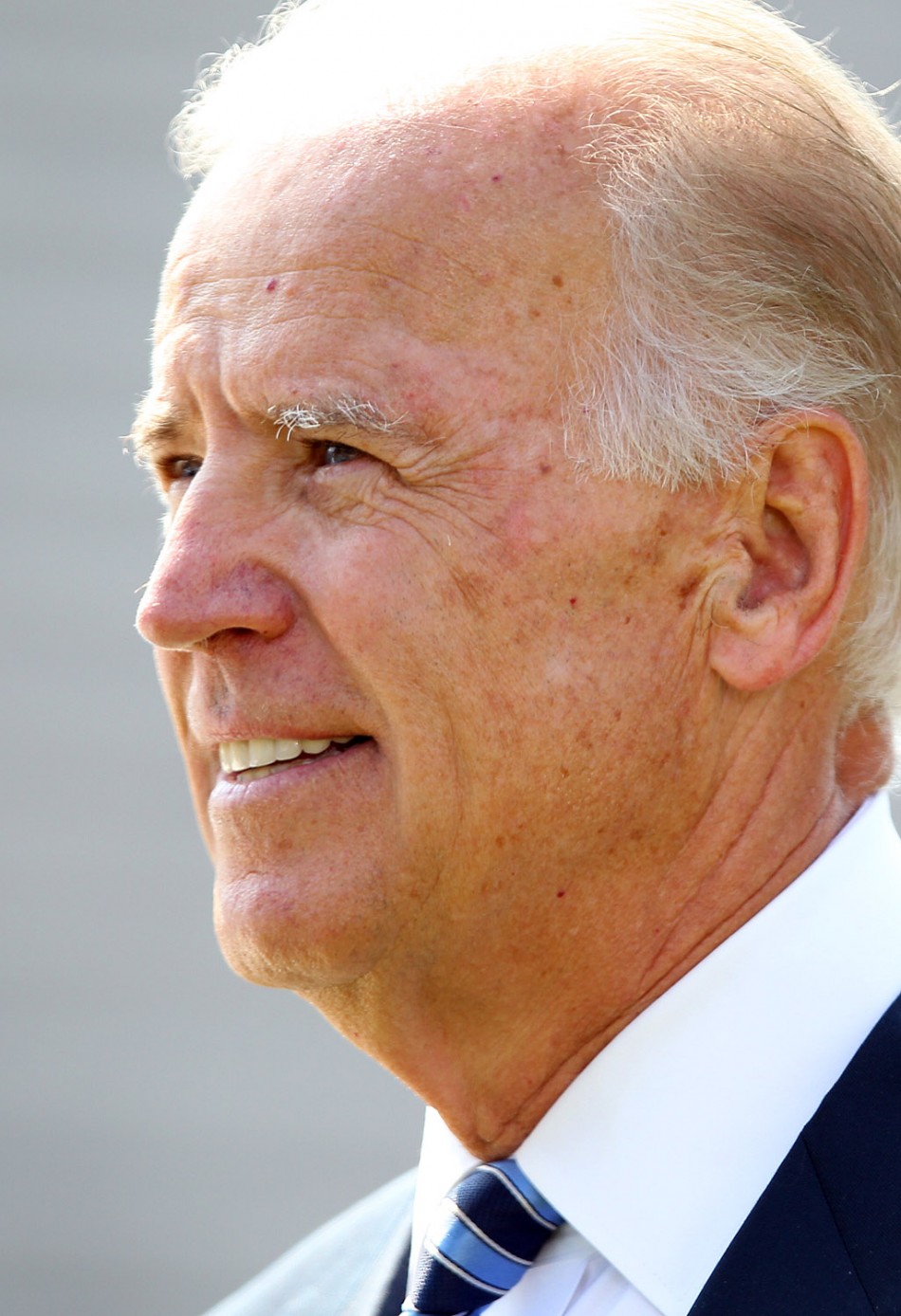 "Your generation, the 9/11generation, is more than worthy of the proud legacy that you will inherit today," Biden said. "Most of you were in elementary school on Sept. 11, 2001, when your nation was attacked; old enough to remember, perhaps, but young enough that that tragic day need not have shaped your lives. But for so many of you, it did just that."
Biden follows President Barack Obama and retired Admiral Mike Mullen as guest speakers for West Point's graduation. He spoke about Obama's visit and speech about the war strategy in Afghanistan, about the efforts the U.S. has taken to eliminate threats and wind down both the Iraq and Afghanistan missions.
He specifically referenced killing Osama Bin Laden.
"Those warriors sent a message to the world that if you harm America, we will follow you to the end of the Earth," he said.
Biden also quoted Gen. George Washington — who's name and statue are omnipresent at the Academy — when Washington said during the Revolutionary War that West Point was so strategically vital that it was "the key to the continent."
"West Point is even more important to our nation today," Biden added.
I'll briefly take you through the day from my perspective as a photographer covering this day, the third straight year I've been able to shoot graduation. I arrived at Thayer Gate around 7:30 a.m. after a long line of traffic. A shuttle from J lot took me to Gate 7 at the southwest corner of Michie, where the media (and all guests) were subject to a security checkpoint from the Uniformed Secret Service police. Me and a photographer from the Journal News were escorted down to the field, where we all stood around and waited until about 10 a.m.
I sort of underestimated the weather — what began as an overcast day suddenly became clear blue skies, which suddenly fried my shaved head. It was pretty hot and humid on the field, and I wasn't even wearing a wool jacket like the cadets.
Just before 10 a.m., all four regiments of the class of 2012 marched into the stadium, and the action finally began.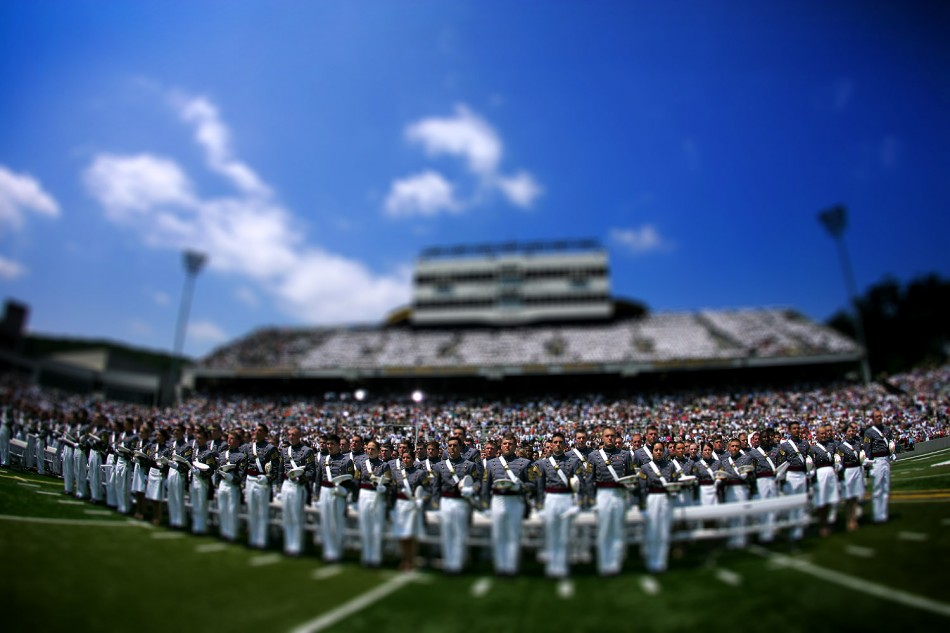 The first captain of the Corps, cadet Charles Phelps, led the way into Michie with fellow commanding cadets behind him — below on the far left is Max Jenkins, one of the Army football team's co-captains this year: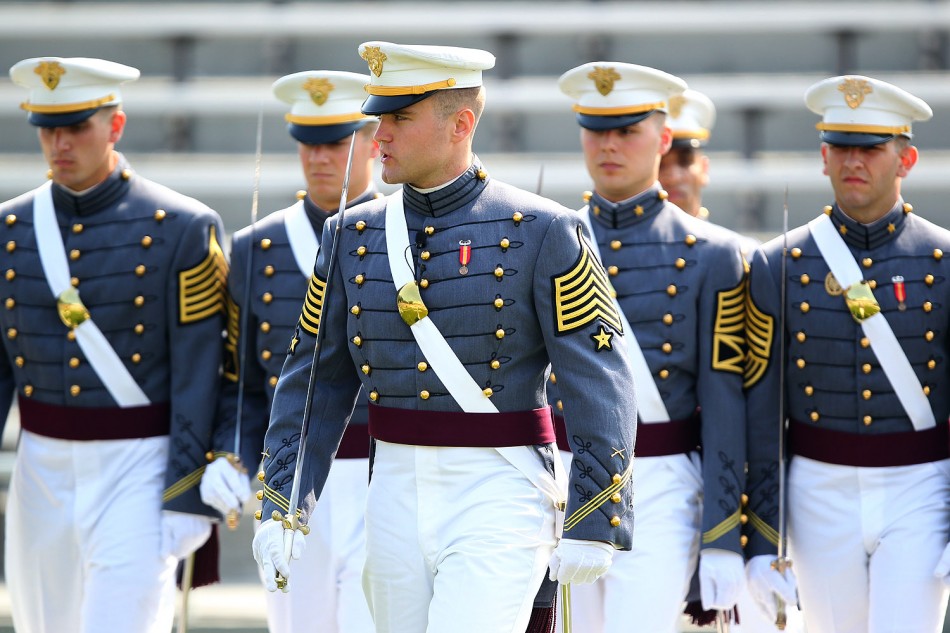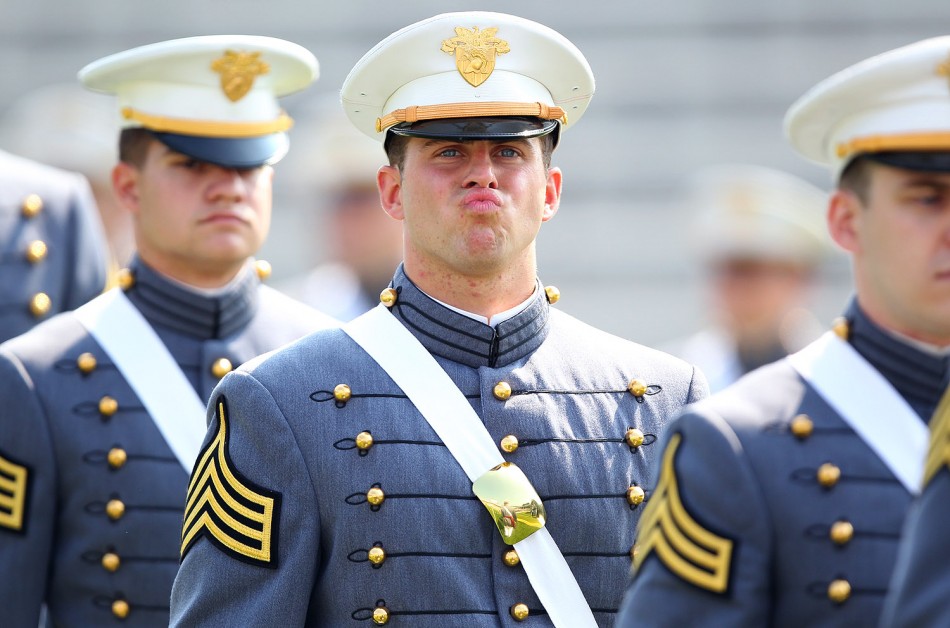 I tried to look for some interesting shots with my 400mm lens, and with so many cadets around, it made for a very photogenic environment. The only tough part was that they were constantly moving. Here, I focused on the eyes of one of the taller cadets in line: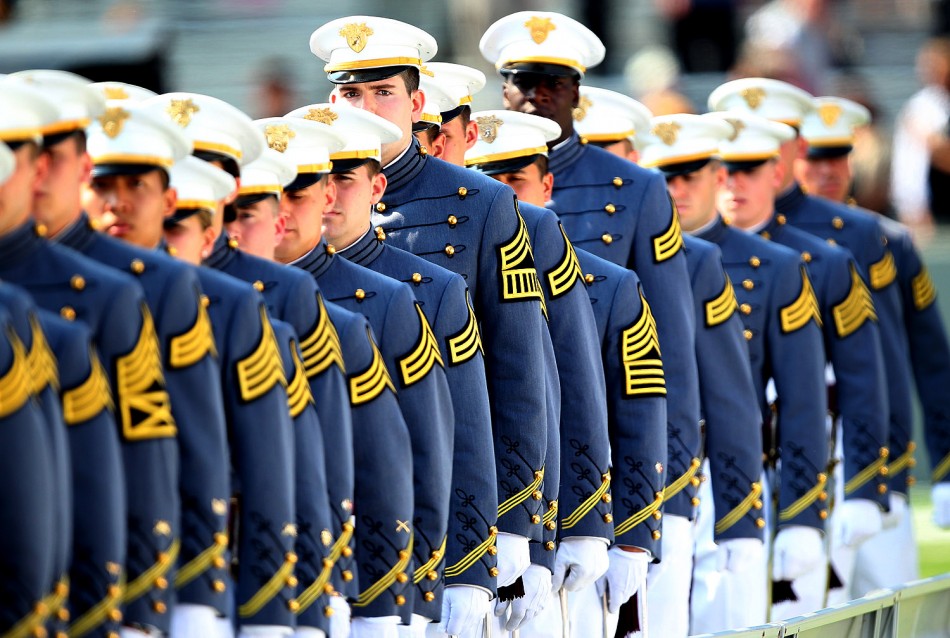 Obviously everything at West Point is tradition, and nothing moreso represents that than the jackets and dress uniform worn by cadets on graduation day.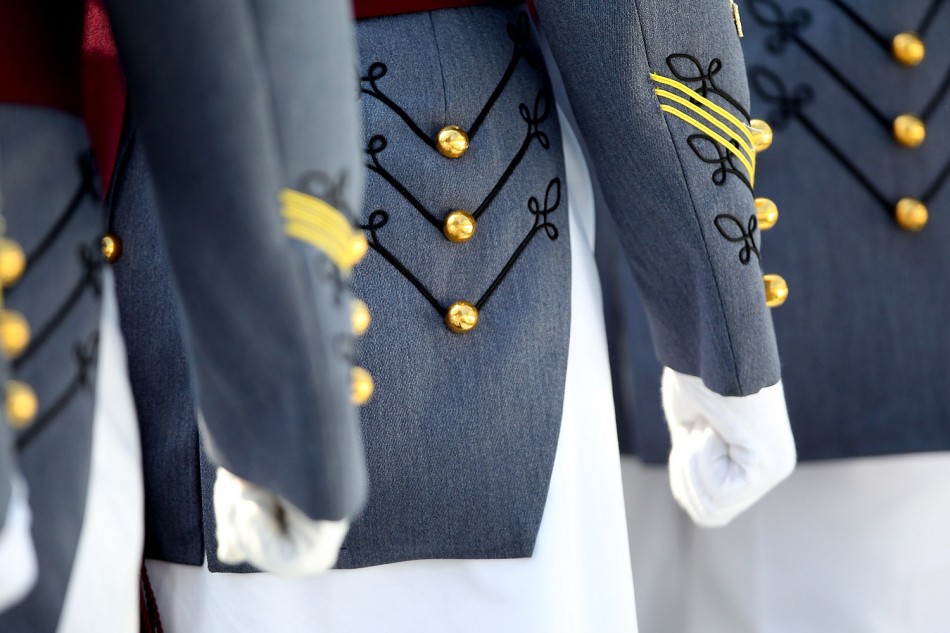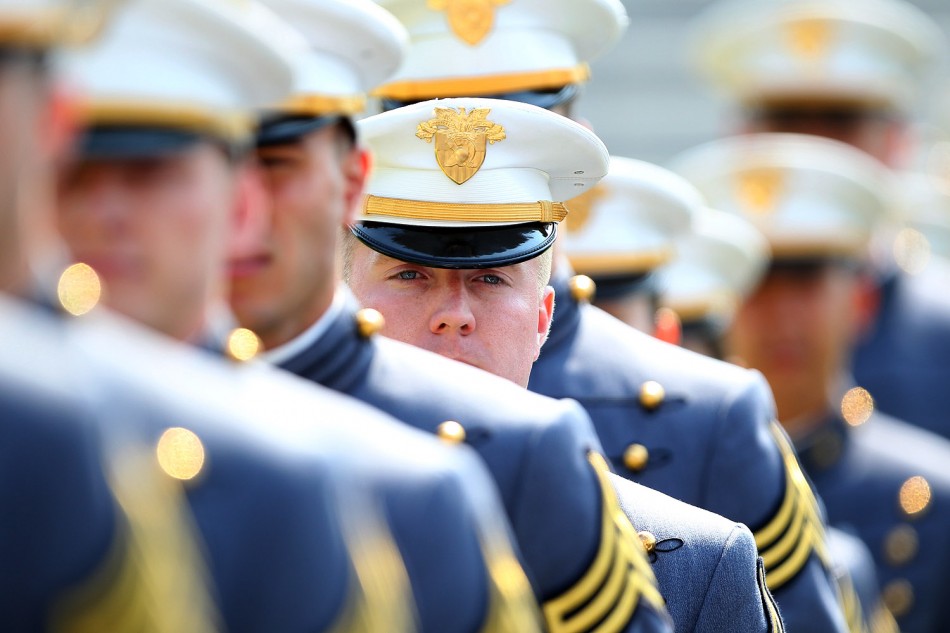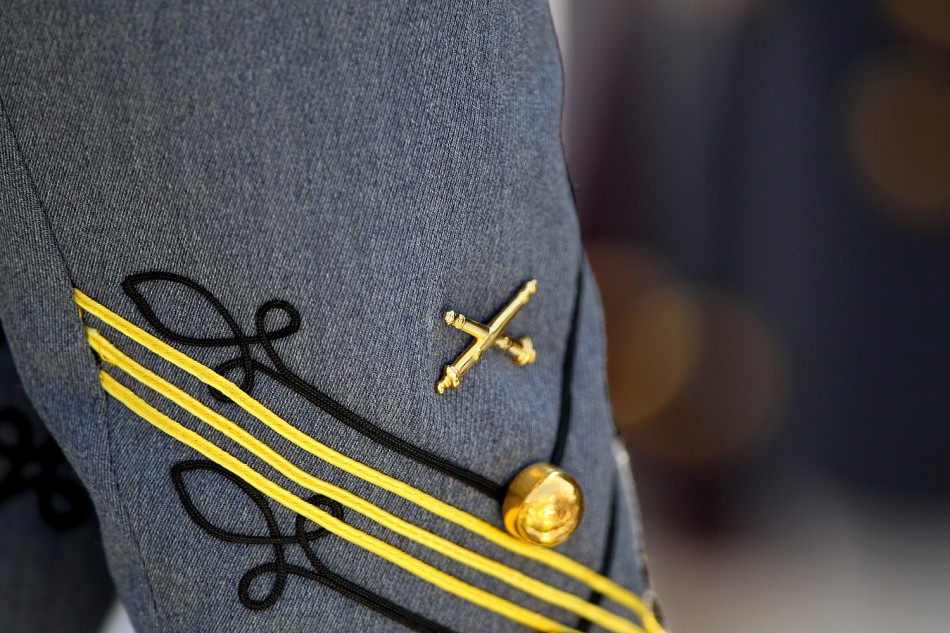 Cadet Kalen Larsen keeping an eye on the action: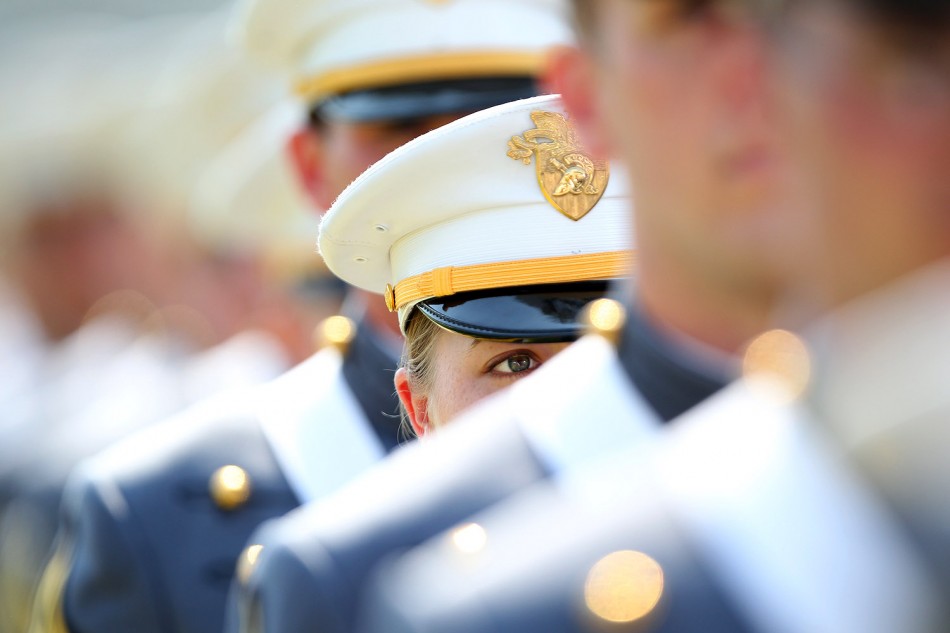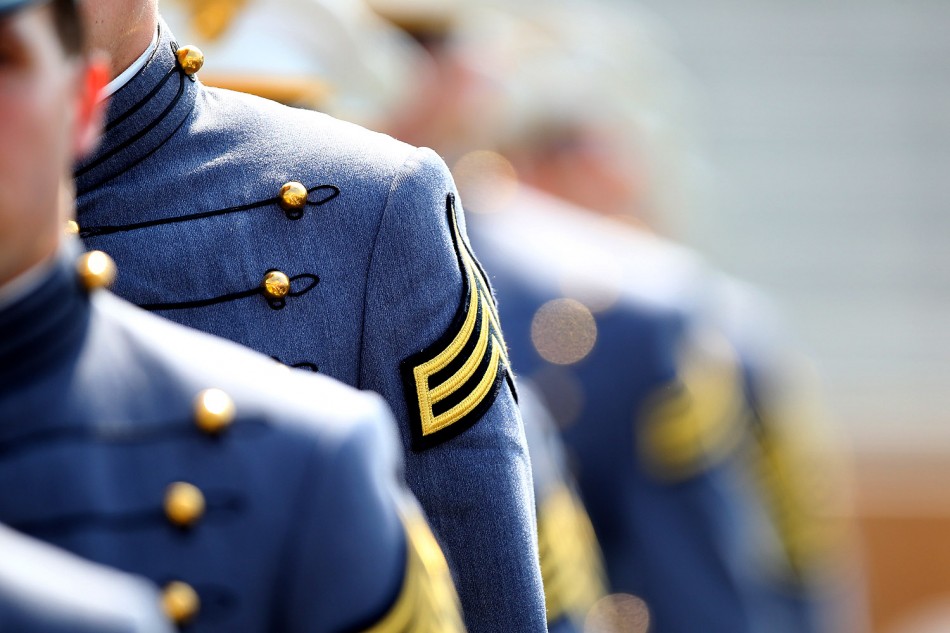 Pure coincidence here, this is Bill Day, who I shot many times with the Army hockey team: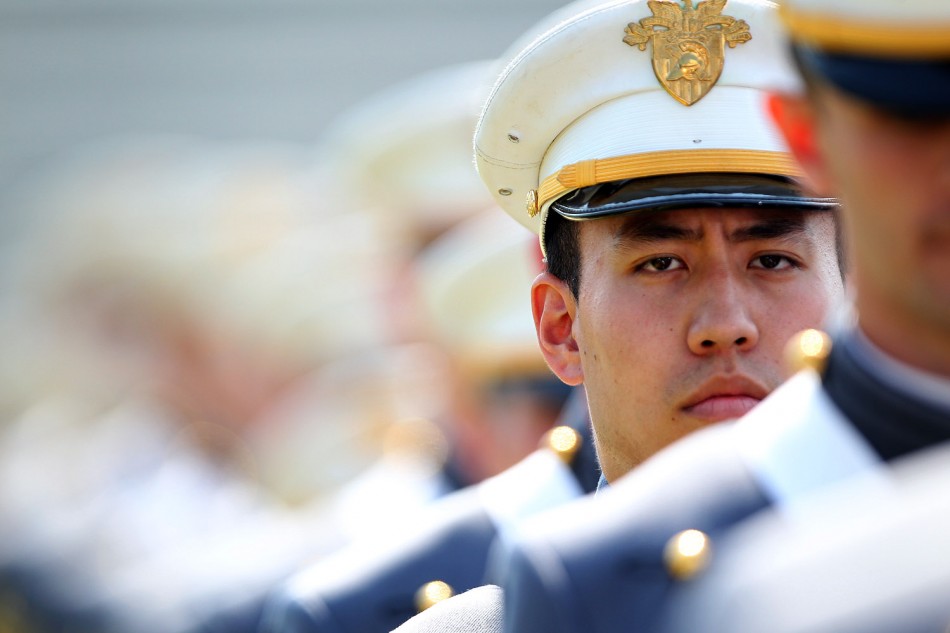 Once all 972 cadets had found a seat, the stage party strolled in through a tunnel of underclassmen. First was John McHugh, the Secretary of the Army: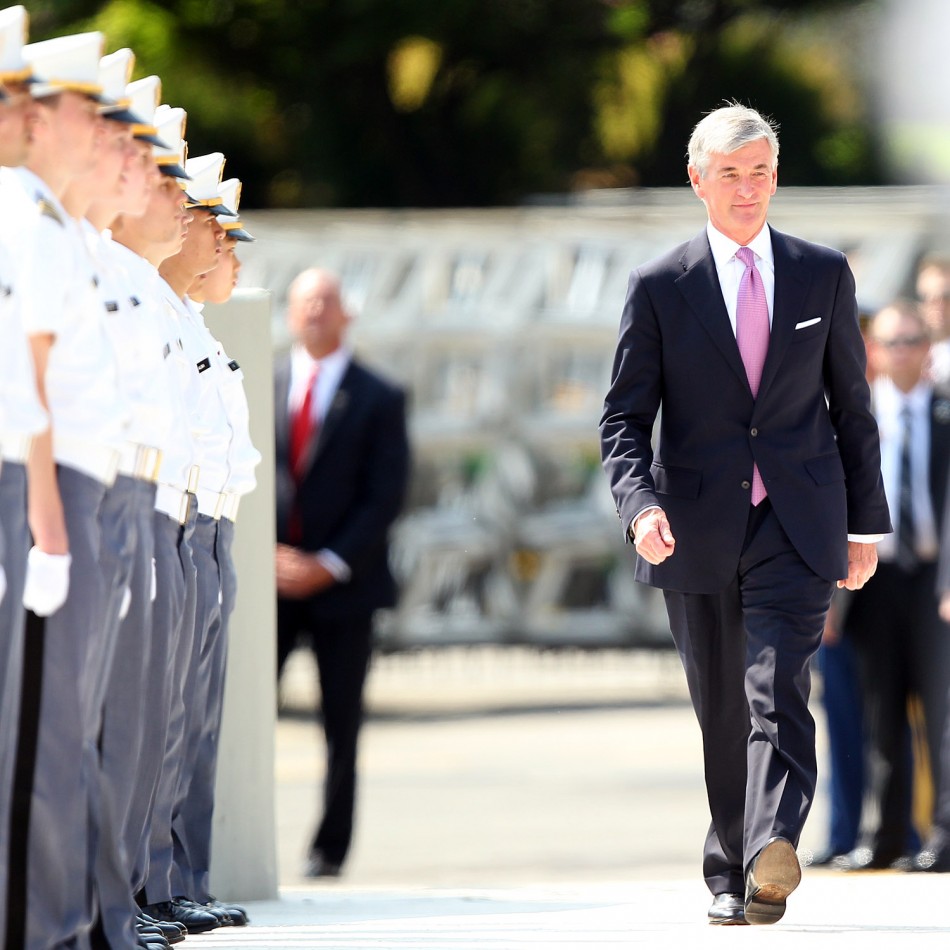 Next was New Jersey native and Army Chief of Staff Ray Odierno, who graduated West Point in 1976 and later led the team that captured Saddam Huessein with the 4th Infantry Division in 2003.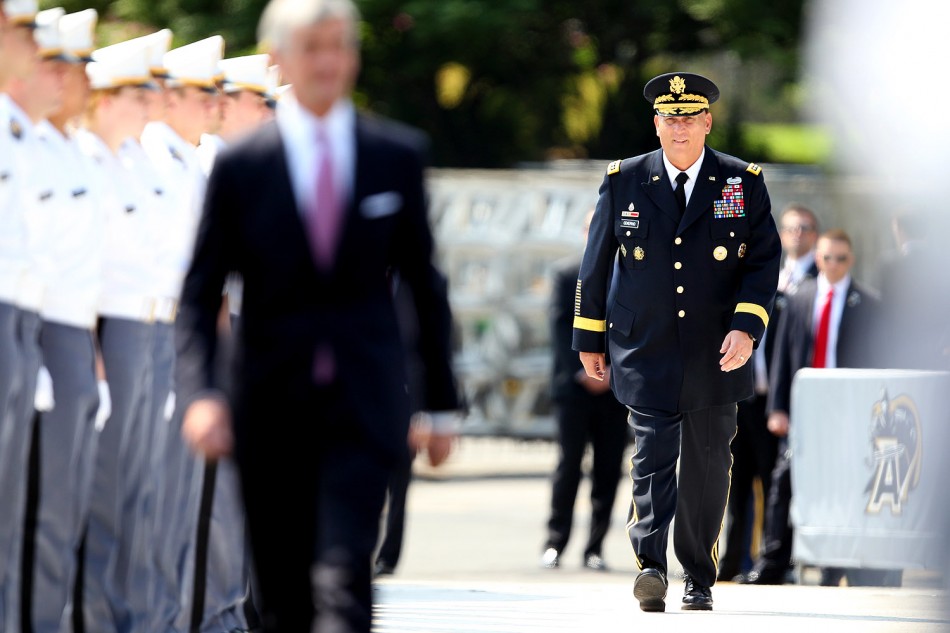 Lt. General David Huntoon Jr, West Point's superintendent, was followed by Biden, who I soon found out had an Hollywood-like smile for the moment: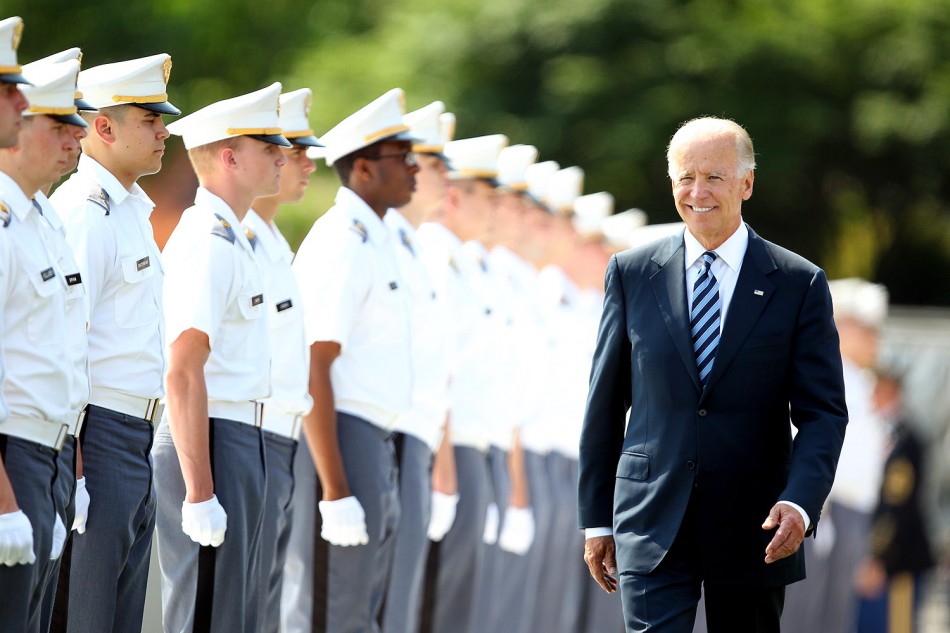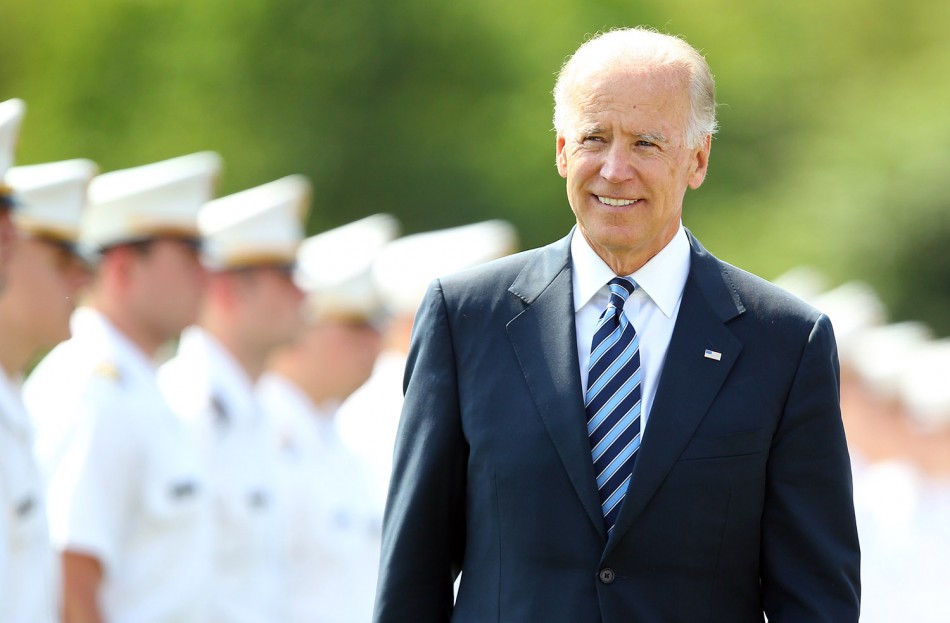 Huntoon introduced Biden on stage, and the speech began. I shot it at 400mm as well as with a 1.4x and 2x teleconverter, so that gave me a range of 400-560-800mm from just about straight on. I moved slightly to the left at times to get the microphones away from his face.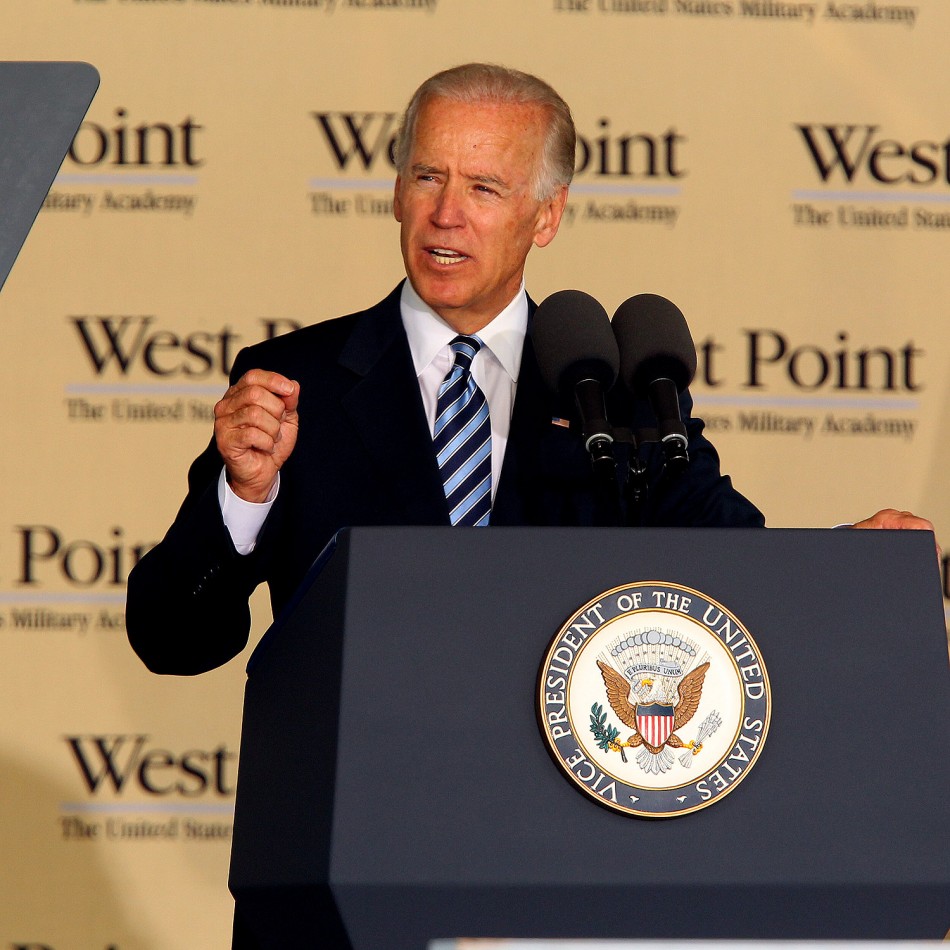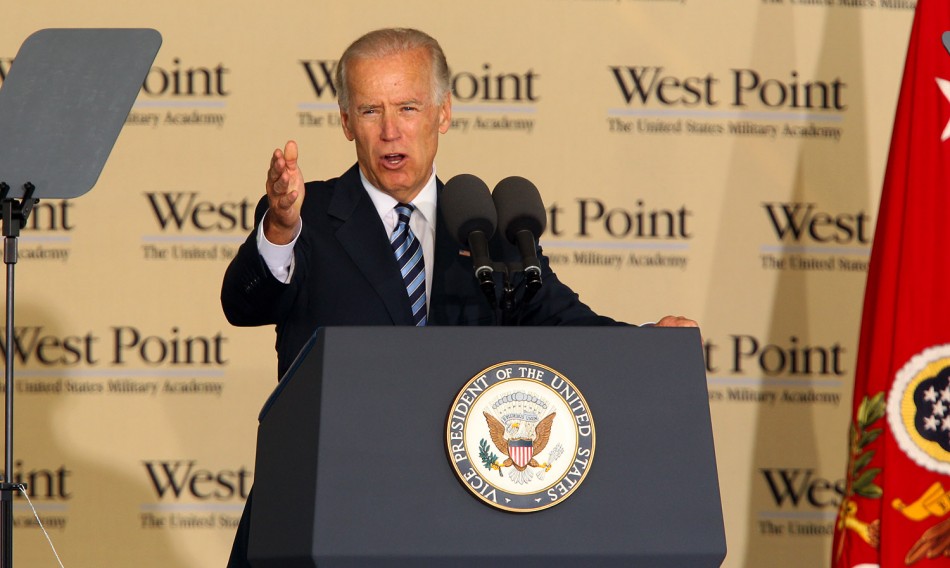 Here's a shot of the scene from the media risers with my 16-35mm L — a couple weeks ago I found a cool way to mimic the tilt-shift effect with a gradient blur in Photoshop, so I tried it here to spice up an otherwise boring photo.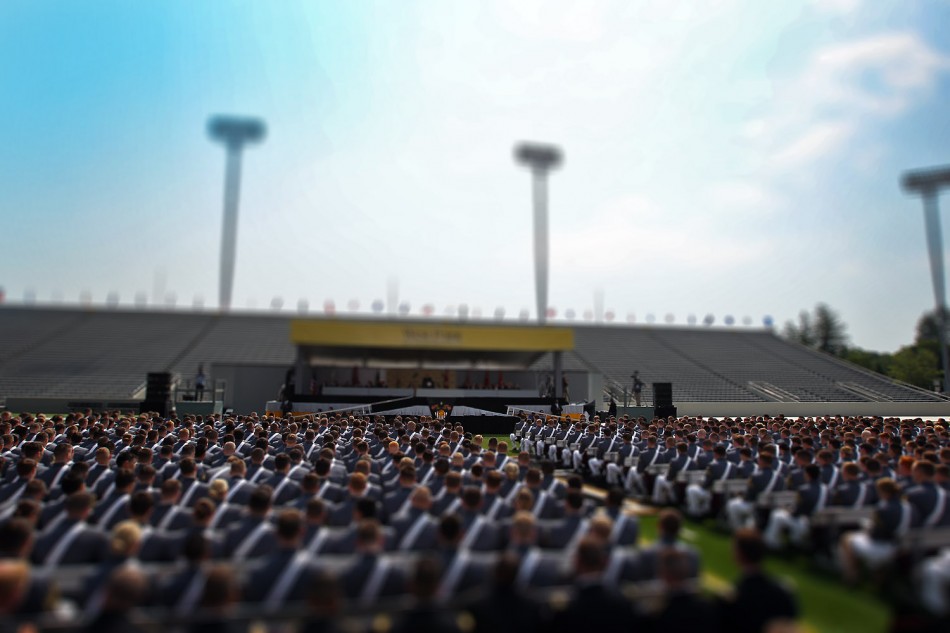 Here's a 400mm frame: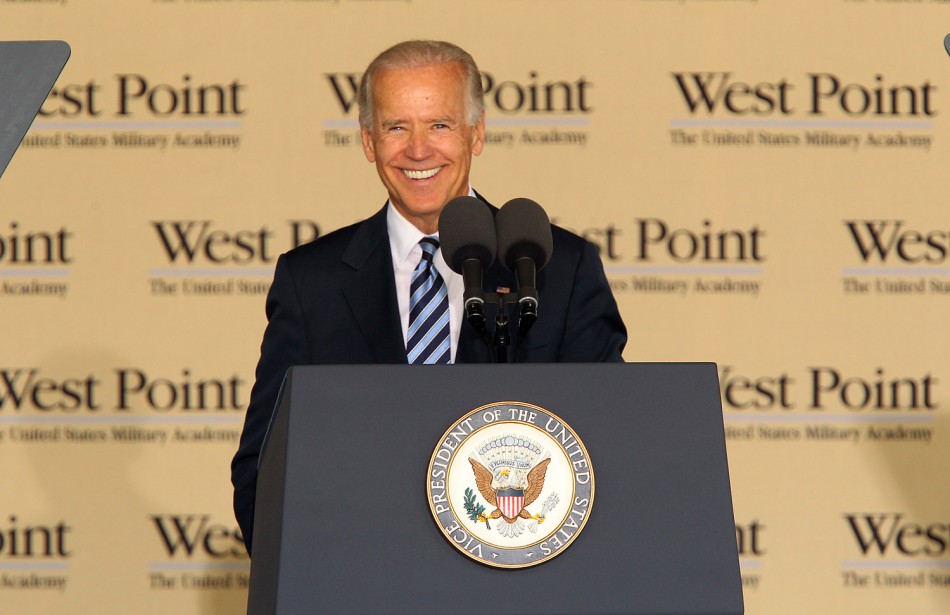 And here's one at 800mm. I think I bumped my f-stop to about f/7.1 or so on these to try and get it sharp.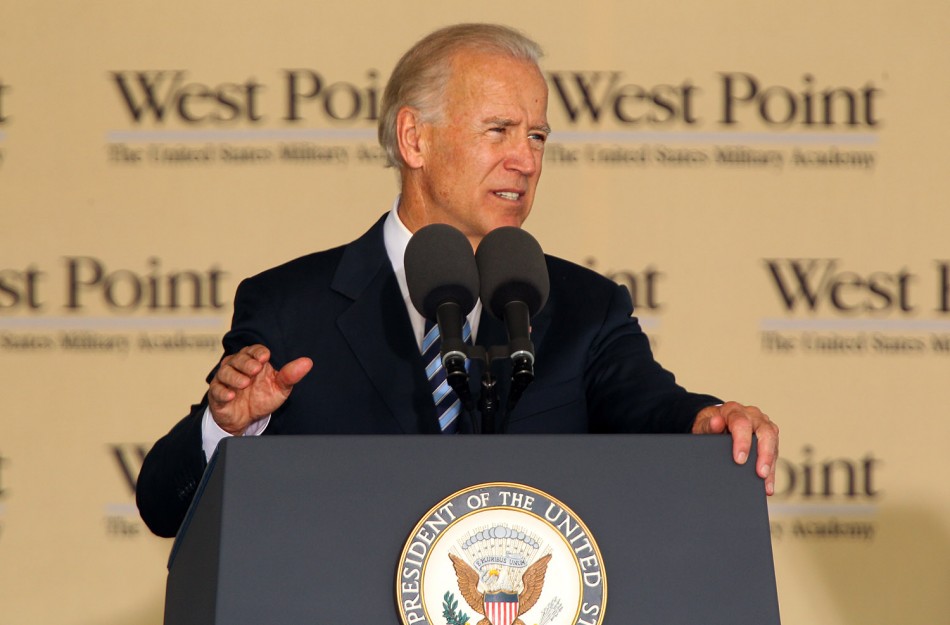 During Biden's speech, I got a little bored and turned around to get a stadium photo again with the 16-35mm and a polarizing filter. I did the same faux tilt-shift thing again, and you can see the rest of the Corps up in Michie: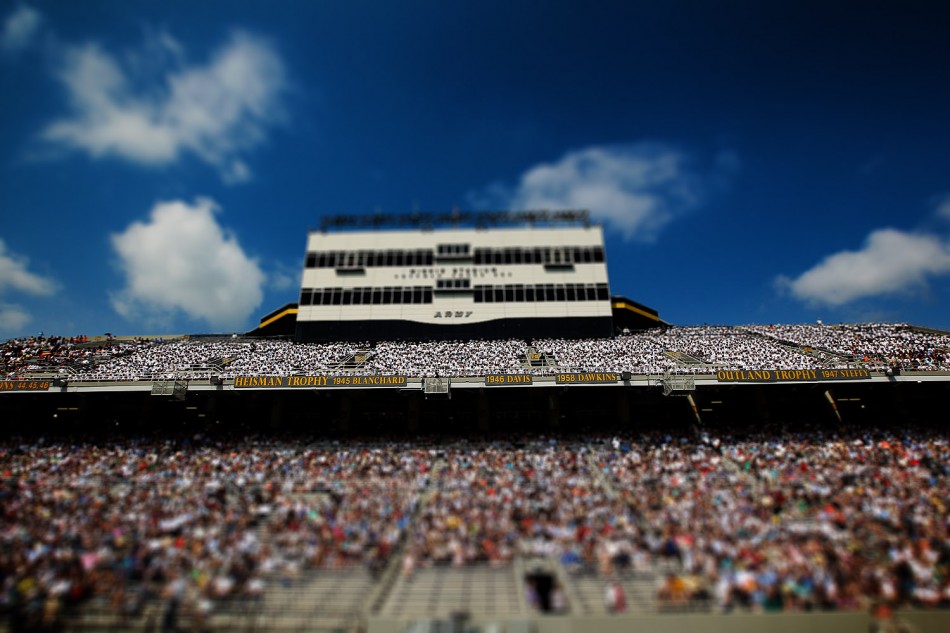 After the speech, Biden was presented with an honorary cadet sword, as is tradition: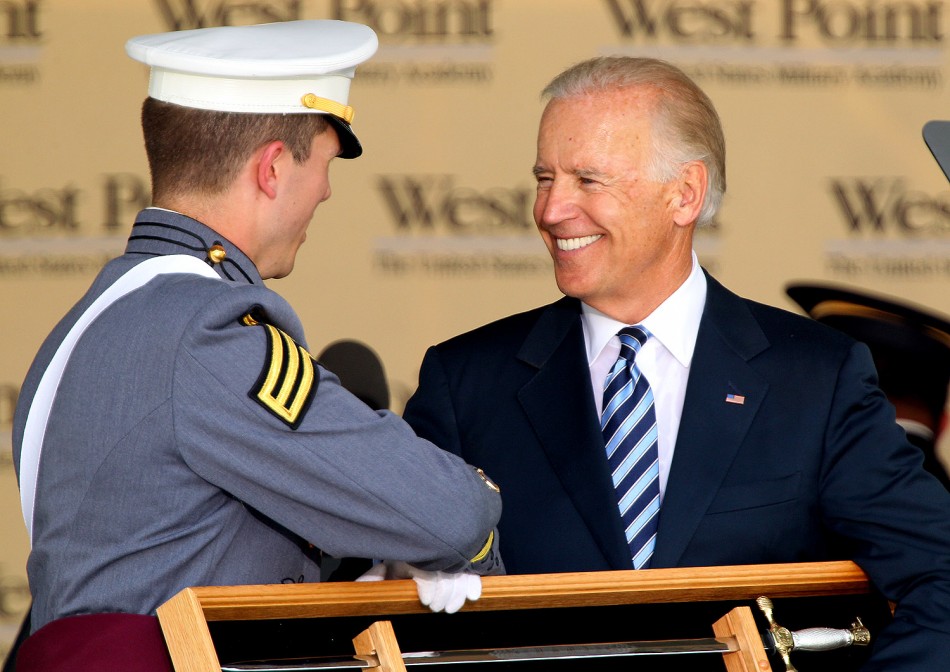 Here's a flashback to 2010, when Obama received his sword:
Some notes on the sword:
In 1841, the superintendent of the Academy ordered that sashes were to be worn with the sword.
In 1955, Frederick P. Todd noted that today the West Point cadet officer is the only person in the Army who wears a sword and sash, and is the sole guardian of the tradition.
The sword is used during formal functions, parades, inspections, graduation and during drills.
After graduation, an announcement was made asking anyone who may have found a sword to return it to the stage. Uh oh.
Swords are issued upon a cadet's appointment and returned to the Cadet Store after graduation. I'm guessing Biden got to keep his.
For a select few, including Army football captain Andrew Rodriguez, it was Biden himself who handed over the diploma: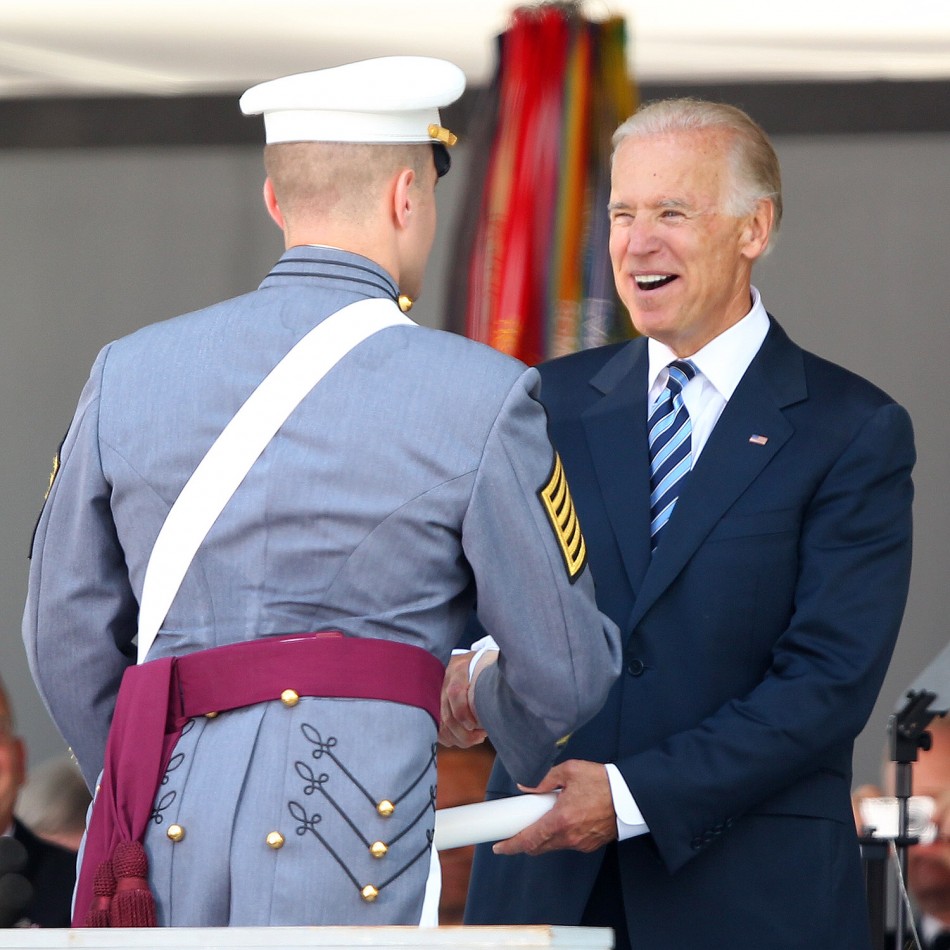 Others received their diploma and a handshake from Huntoon and the Commandant of the Corps, Brig. General Ted Martin. About 75 percent of the cadets who entered on R-Day ended up surviving to graduation day, for those those "old grads" out there who think it's easier these days: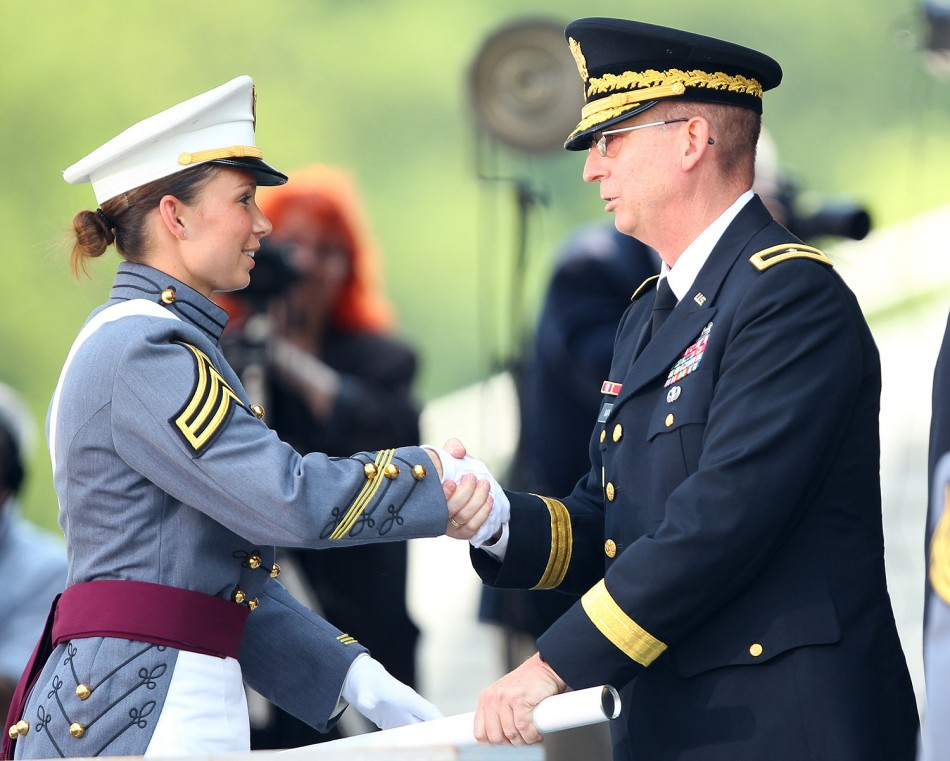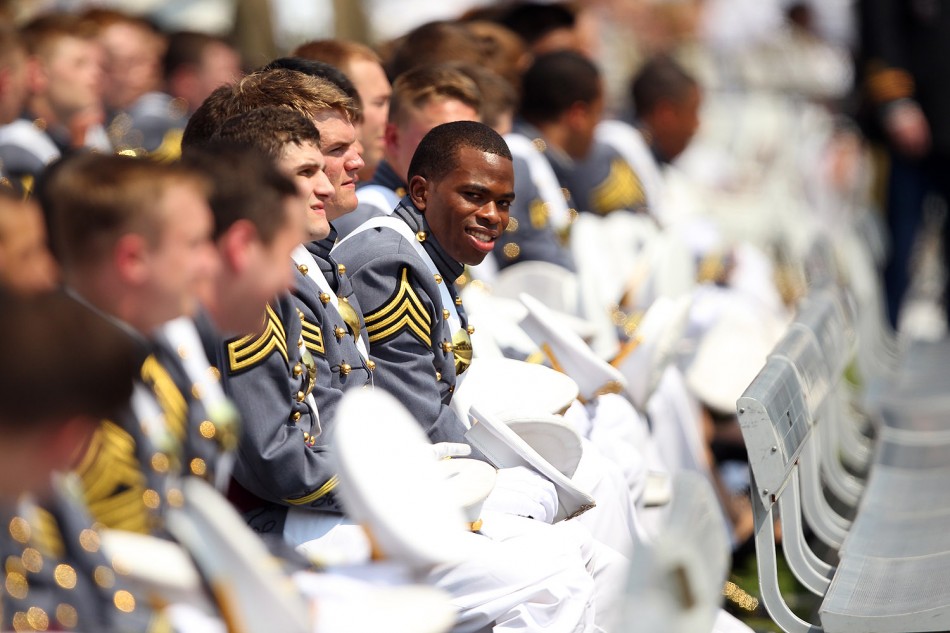 This is 2LT Mike Hutchins, who was tagged in this photo on Facebook and instantly saw a lot of love from friends and family. I liked the photo, especially with his cap just a little off-center: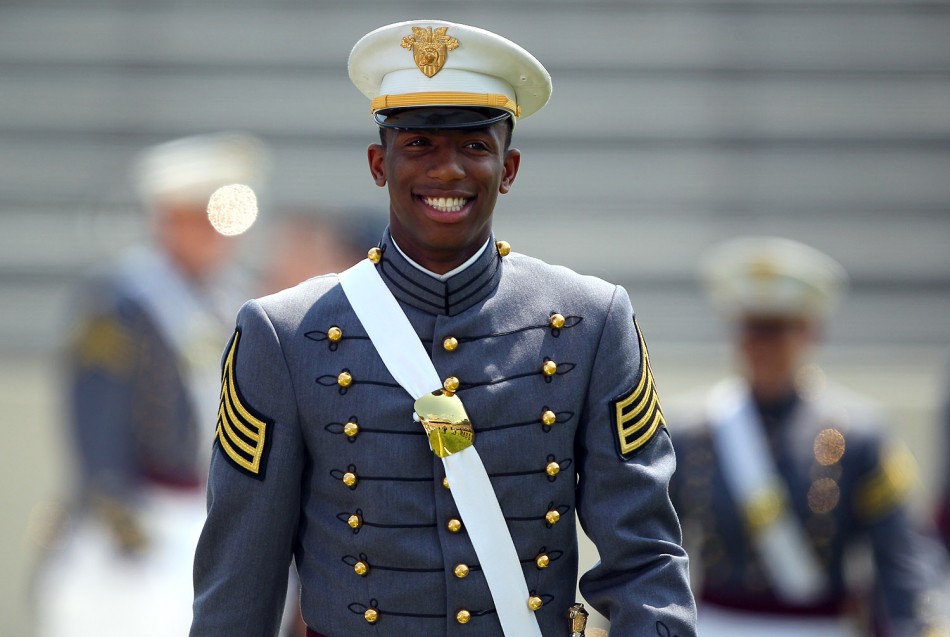 Once a cadet received his or her diploma, they walked back to their seat and the relief and excitement in their faces was evident — this was it, they'd finally done it. Forty-seven months, endless summers and now, all they had to do was sit in the sun a bit longer.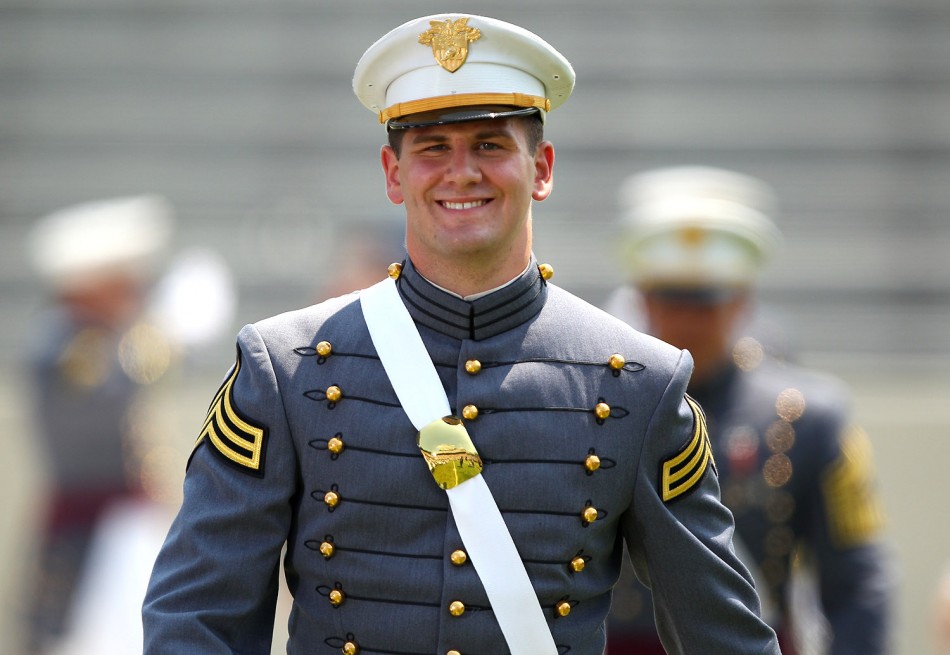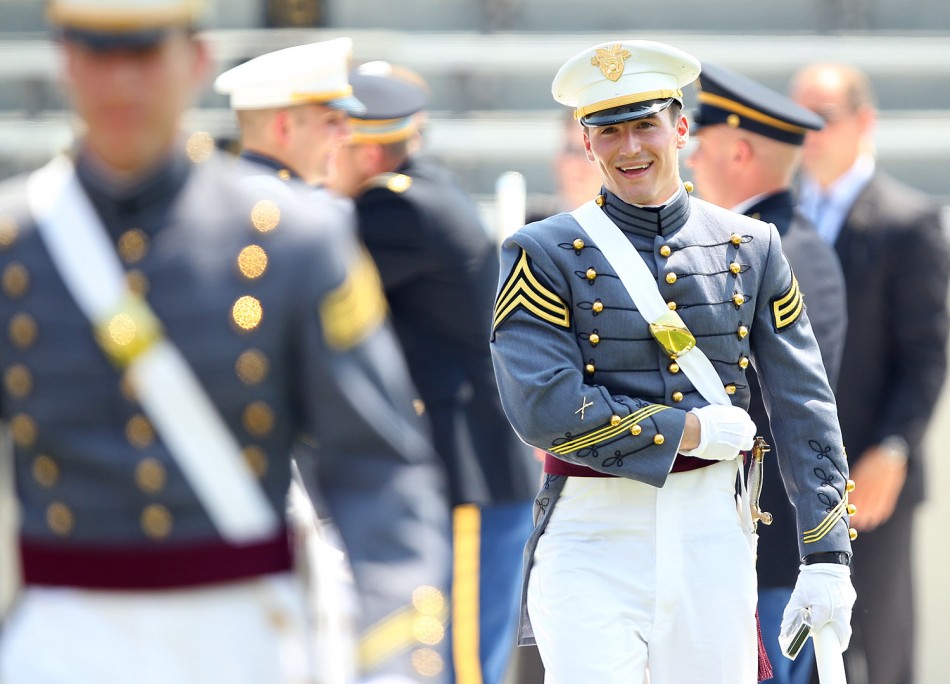 I asked this on Facebook for this photo: overwhelming emotions or brutal humidity? Also, it's a two-hour ceremony in the sun. Even the most disciplined of soldiers starts to melt:
Others were simply tired (you're yawning now, right? Or you're fighting back the urge?)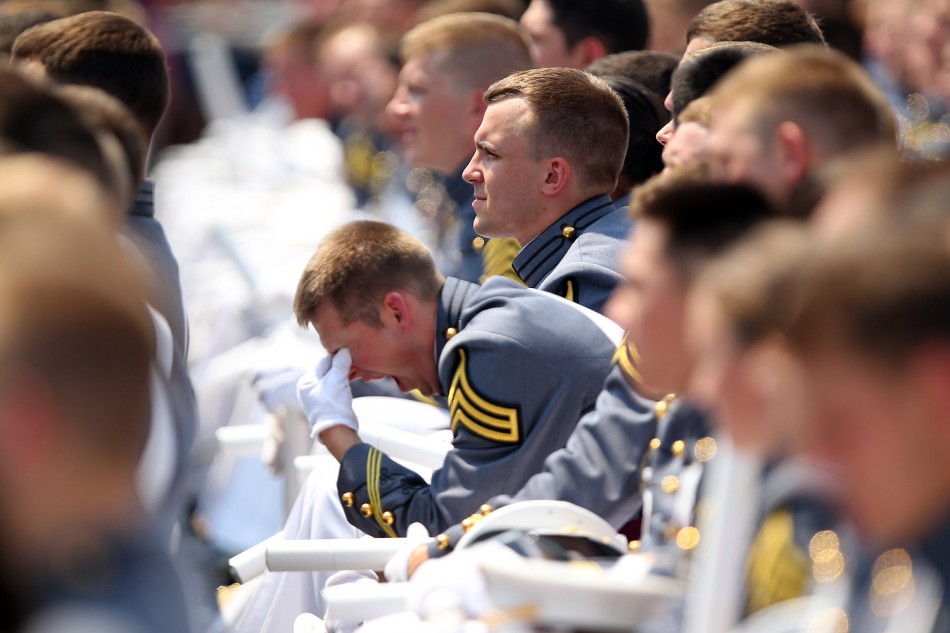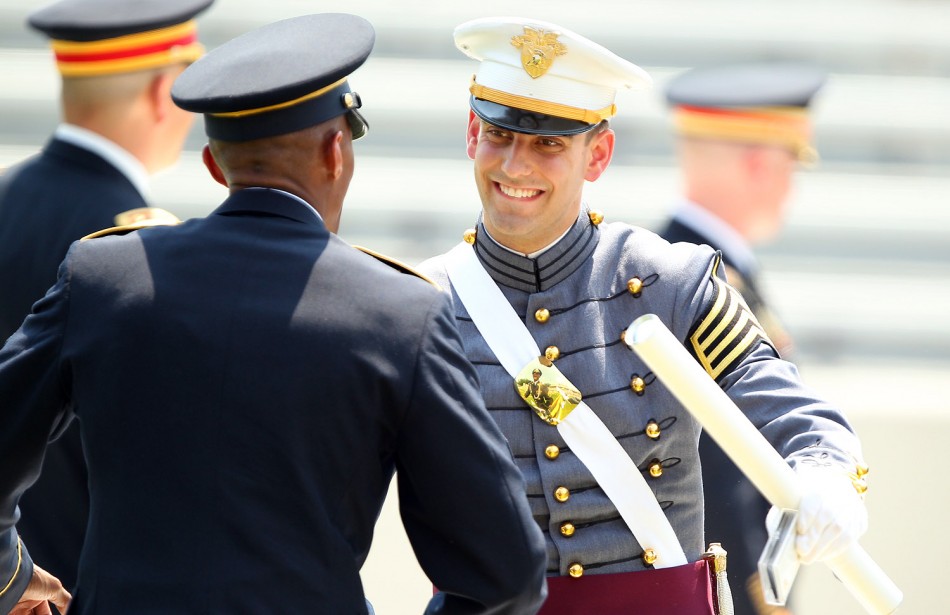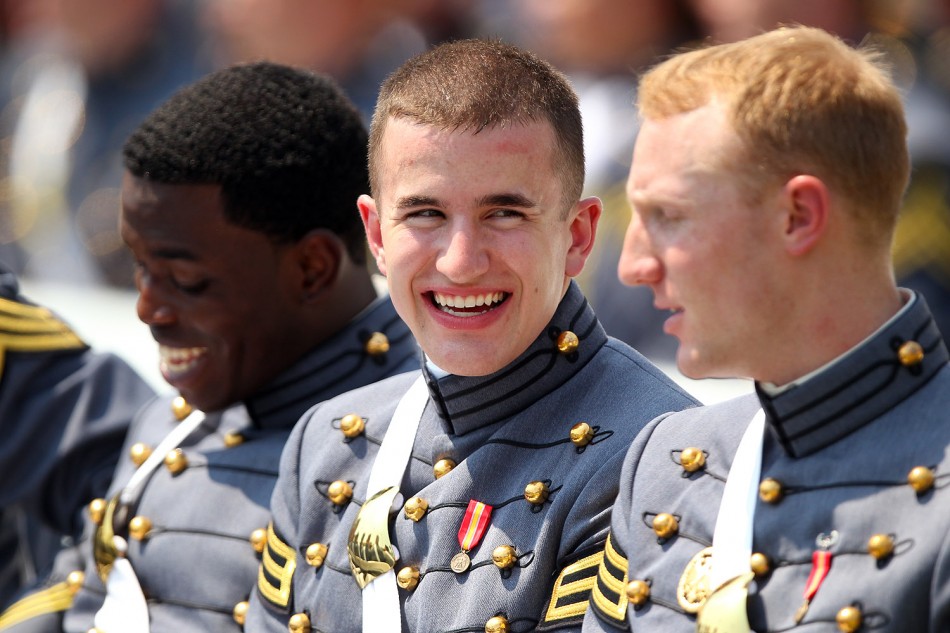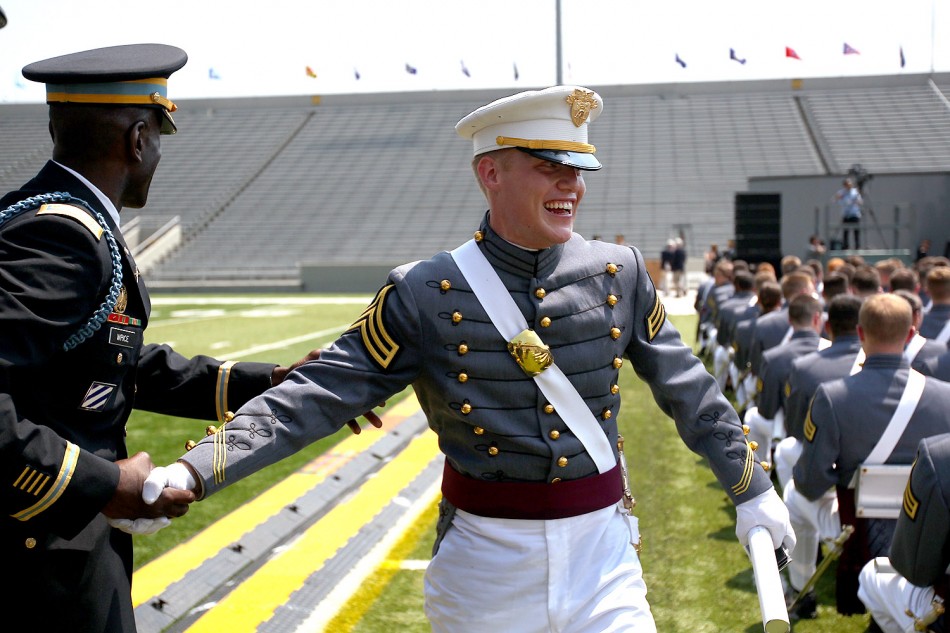 Finally, the Corps stood and prepared for the traditional cap toss. Us civilian media folk sometimes wonder, why would they want to throw the caps, it's a nice item you'd want to keep? It is tradition, though, so much so that keeping your cap is bad luck, and those who throw 'em often stick inspirational notes and money inside for the children (age and height limits strictly enforced) that storm the field and retrieve them as souvenirs.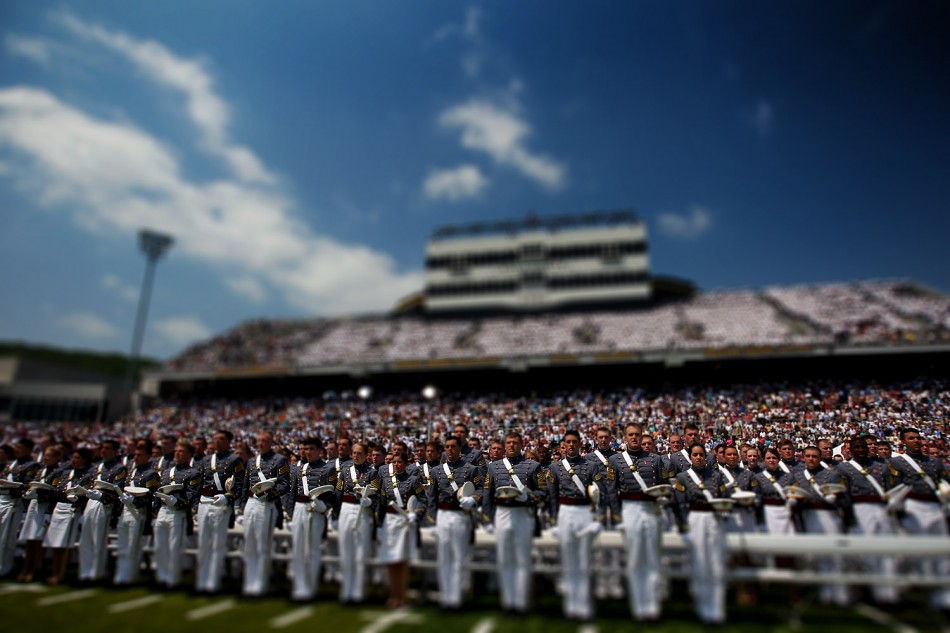 Anyway, for my purposes, this was the iconic image from West Point graduation that needed to be captured. I put down my 400mm and took both a fisheye and 16-35mm with me. As cadets stood and recited their oath (below), photographers moved into position at the corner of the stages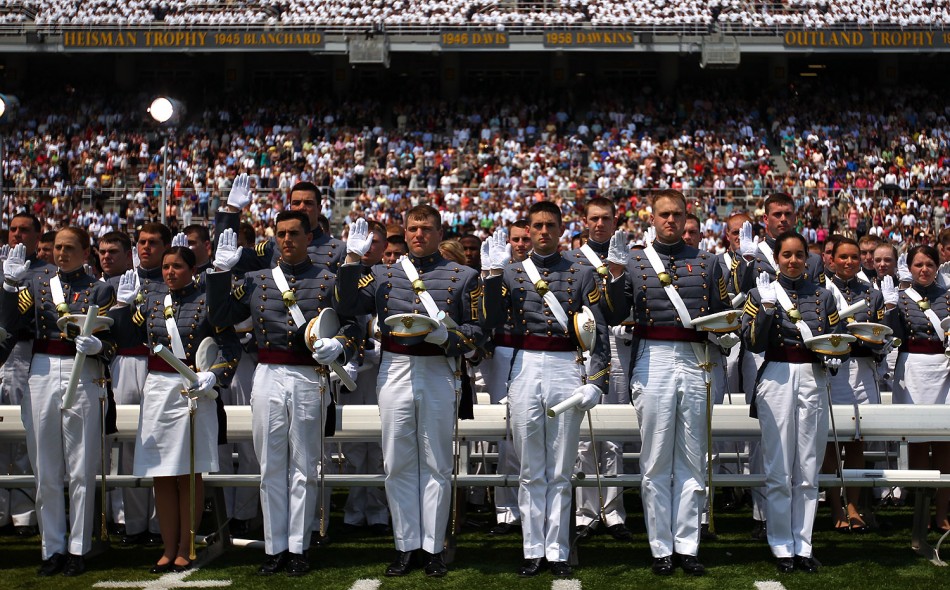 After the oath, the Commandant hands the keys over to the first captain, who proudly said the Class of 2012's motto, "For More than Ourselves," and announced a "class dismissed." I had my 15mm fisheye lens on a Canon 1D Mark II on the ground, pointed up at an angle, my left finger on the shutter, manually focused at around f/4 and ISO 125. In my right hand — and I'm laying on my stomach here — I had my Canon 1D Mark IV and 16-35mm with polarizing filter, manually focused and ready to roll. When the caps when up, I held down both shutters and hoped for the best.
Here's a shot with the 16-35mm, which I framed to sort of keep those stadium light towers about even from each side — in a football field sense, we weren't right on the 50, maybe the 40 or so. Close enough.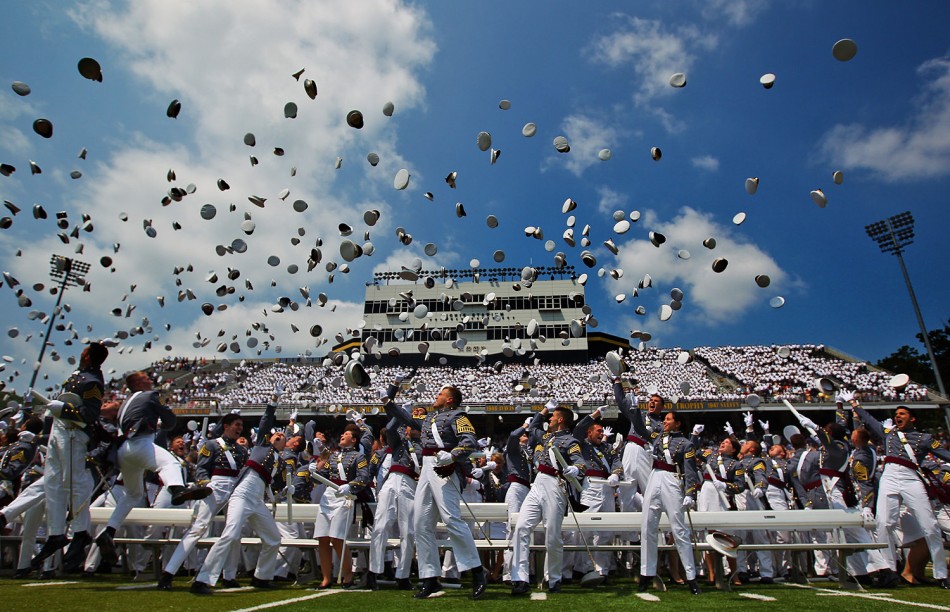 Here's the fisheye image, you can see it's considerably wider (that's the edge of Kimsey Athletic Center on the far left edge) and from slightly lower. Both images were edited a bit so as to bring out the colors, depth, contrast and blue of the noon sky. For this fisheye shot, I applied a blue filter in photoshop, so it's not as warm as the one above. Which do you prefer?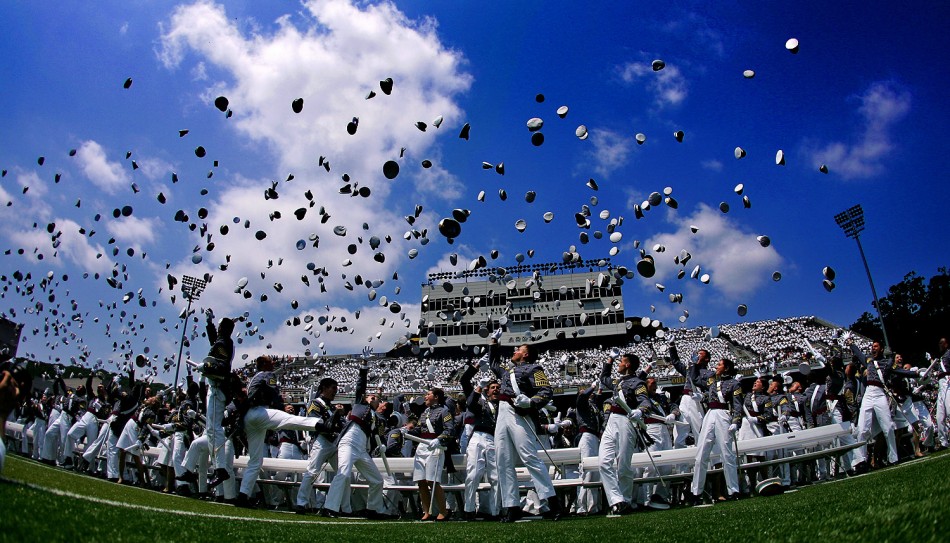 After the caps go up, the chaos begins. Here's a cadet riding atop the shoulders of a friend like he just knocked out Floyd Mayweather, flanked by West Point PAO's Mike Strasser and Eric Bartlett, who are both a snapping away. The dude in the white shirt on the right was from Getty Images: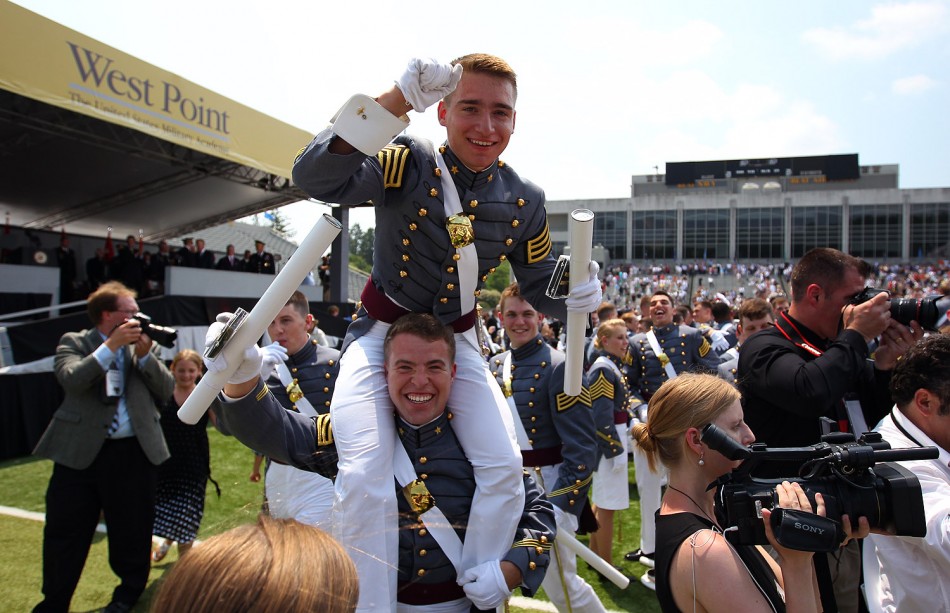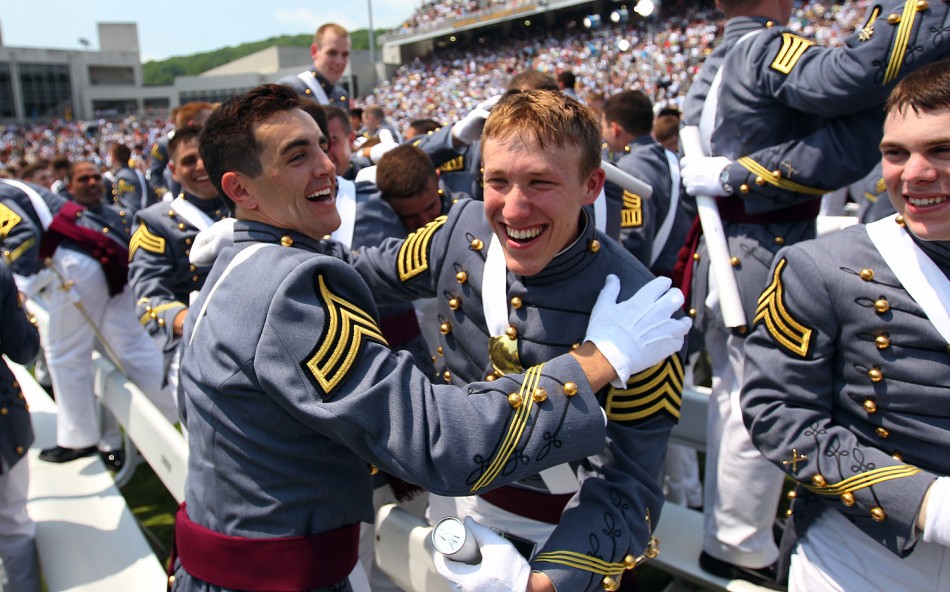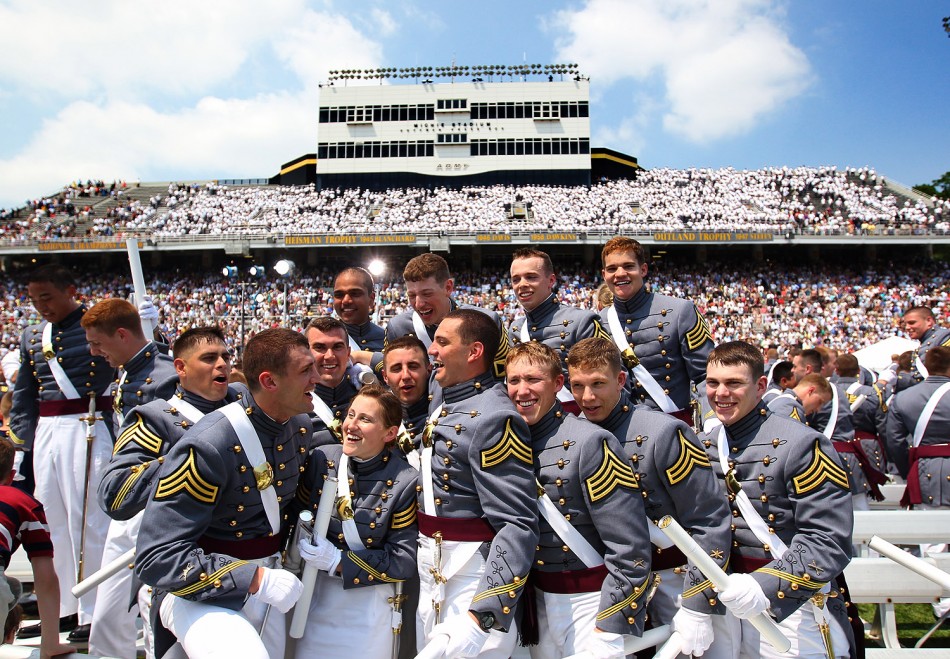 Two good men here, Army's Senior Executive Associate Athletic Director Bob Beretta (left) congratulates Army football captain Andrew Rodriguez, who was ranked No. 2 in his class and won the Army Athletic Association Award and the Amateur Athletic Union's 2011 James E. Sullivan Award as the nation's most outstanding amateur athlete based on character, leadership and sportsmanship. He is the third West Point athlete to win the Sullivan Award, joining Army greats Felix "Doc" Blanchard and Y. Arnold Tucker. Rodriguez put his name alongside Tennessee standout Peyton Manning and Florida Heisman Trophy winner Tim Tebow as the only two college football players to win both the Campbell Trophy and Sullivan Award.