College football season is upon us! Army held its annual media day on July 31 as the 2013 team took its first step toward opening night on Aug. 30 against Morgan State.
Media day is, I'm sure, a considerably larger event at bigger schools with more high-profile programs. Only a handful of outlets came to Wednesday's event at Michie Stadium, mostly some local writers from the Record and YNN. But nevertheless, it's a fun kickoff to the season and a chance to see who's back on the team.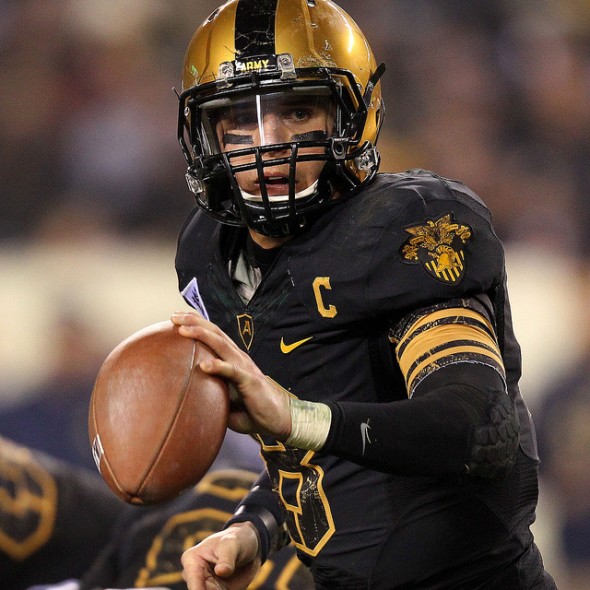 That actually was kind of a rude awakening — there are a lot of new names and faces on the roster this season. I began covering Army in 2009, the heart of the Steve Anderson/Josh McNary/Steve Erzinger/Trent Steelman era. In fact, it was Steelman's first season. Five years later, all those names and faces are gone:
– Anderson is now a platoon leader in Fort Stewart, Ga.
– Erzinger was the football team's strength coach last year along with former WR Austin Barr, but I think he's now down at Fort Benning.
– Steelman is actually still at West Point and is due to graduate this August — injuries prevented him from attending summer military training in the past, so he's currently a commanding officer at Camp Buckner. He also was offered a free agent contract by the Baltimore Ravens after the NFL Draft in April but the contract evidently has not been finalized due to some red tape from the U.S. Army. He also got an invite to the U.S. Olympic bobsled team trials later this year after impressing scouts at a combine in June, oddly enough. If he makes the team, he would attempt to compete in the 2014 Winter Olympics in Sochi, Russia. Crazy stuff.
– McNary, Army's all-time sack leader, signed a free agent contract with the Indianapolis Colts and you can currently buy his No. 48 Colts jersey on NFL.com for $149.95. Really rooting for Josh to make the team's opening day roster this year, he's on the team's 90-man right now.
Anyway, back at West Point, the most recognizable names this season seem to be running back Raymond Maples (below), fullback Larry Dixon, returning captain and linebacker Jarrett Mackey (playing in his fifth year after receiving additional eligibility due to injury) and sophomore quarterback A.J. Schurr, who is officially Army's No. 1 QB (see depth chart) entering the summer practice season.
Army head coach Rich Ellerson seems to think the depth and experience of this year's team is… good.
"Well, just organically there are some good things happening," he said. "The center of gravity of the football team on the two-deep will be dominated by juniors and seniors. We're still going to have some underclassmen, there will be a number of sophomores and a handful of freshmen that get into the mix, it's just inevitable that they will. We'll be relatively young, but for the first time in a couple of years, we'll have more juniors and seniors on the two-deep. That can't not be a good thing.
"It's guys that have been there, guys who have some experience. It's guys that know how to do West Point. They've been here long enough that they know what's expected of them, and they know how to manage the experience."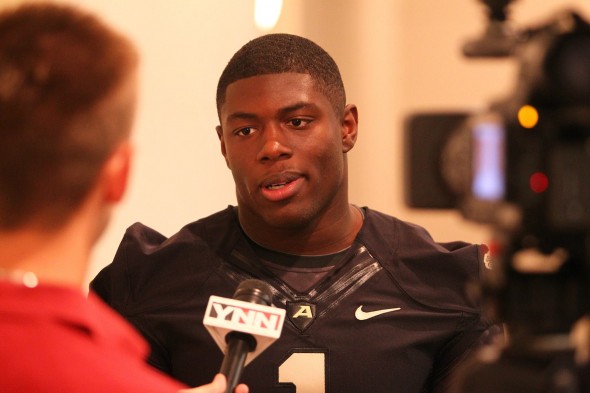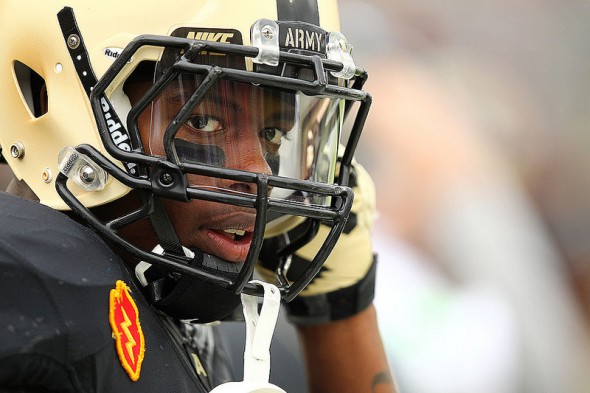 When asked about who this team's voice is (ie: the leader), Ellerson gave somewhat of a vague response — basically, no one is really the center of attention at this point. Is that good or bad?
"I think they found a group of guys. There is not just one guy, there is a group of guys, both juniors and seniors, that are within their groups and within their classes are influential people," Ellerson said. "Starting in January, the senior class, and the junior class, decided this was going to be different. We tried to do some things in the spring. If there was something we could do differently, we did it differently. Those guys embraced that. There is clearly a different internal voice and it smacks of determination."
How about this?
Overlooked media day quote correction: Coach Ellerson said, "This has a chance to be the best #ArmyFootball team in a generation."

— Sal Interdonato (@salinterdonato) August 1, 2013
Strong statement. It's just worth mentioning that, in recent years, the aforementioned guys (Anderson, Erzinger, Steelman, even guys like Mike Gann and Nate Combs and Pat Mealy) were decidedly the faces of the team. Anderson was like a sports movie star type of motivator who literally made you want to follow him into battle.
Mackey has long been plagued by a knee injury he suffered two years ago. He's actually listed behind James Kelly at the whip linebacker position: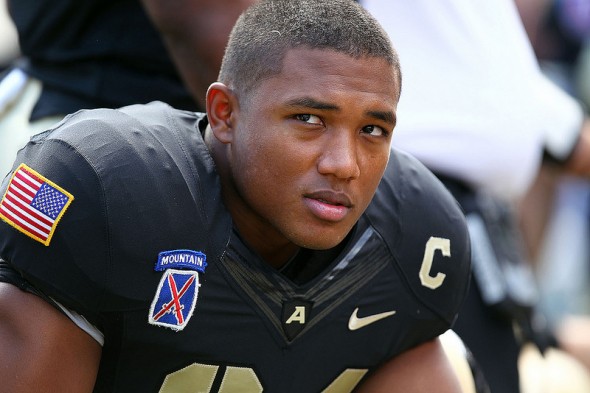 Outside on the field, I caught Mackey taking a posed portrait for West Point photographer and boxing aficionado John Pellino in the north endzone: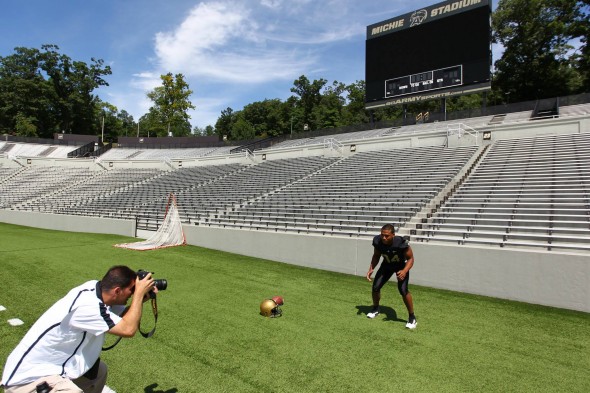 Competing with Schurr this summer is junior QB Angel Santiago, probably best remembered for his fill-in duties in 2011 when Steelman was beset with a variety of injuries. Santiago played in four games that season and started Army's loss to Rutgers at Yankee Stadium.
"Coming off of last season definitely hurt us, but I think after the spring we turned the page offensively and defensively," he said. "I truly believe that we come into this training camp ready to go and firing on all cylinders."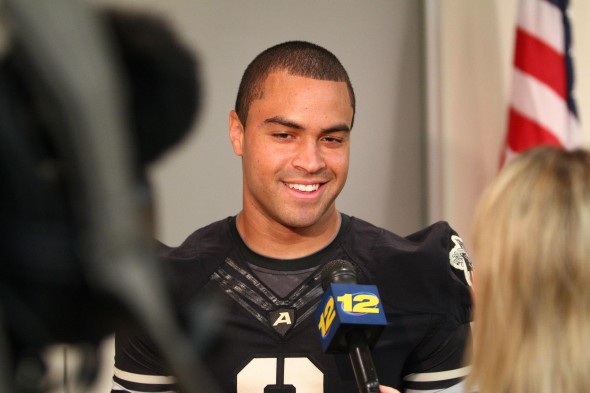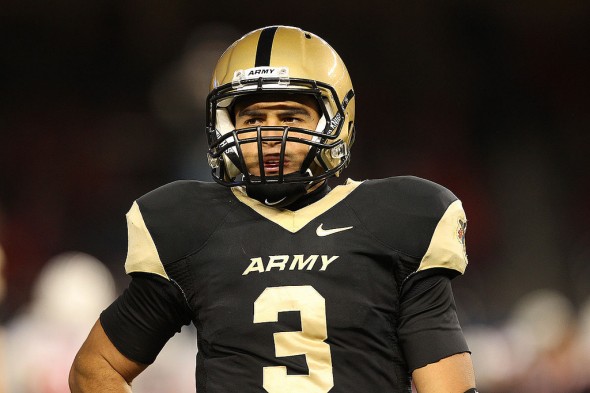 Left defensive tackle Bobby Kough talks with YNN: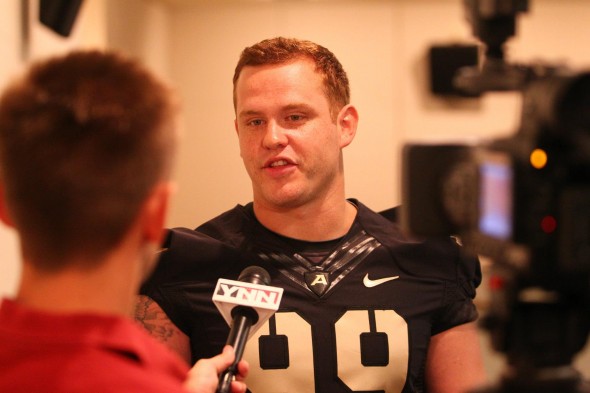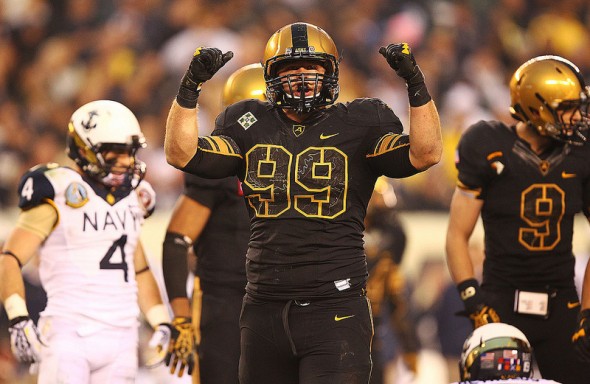 Outside, the weather was actually pretty nice considering it was a) late July in New York and b) the weather has been horrendously hot and humid on recent media days: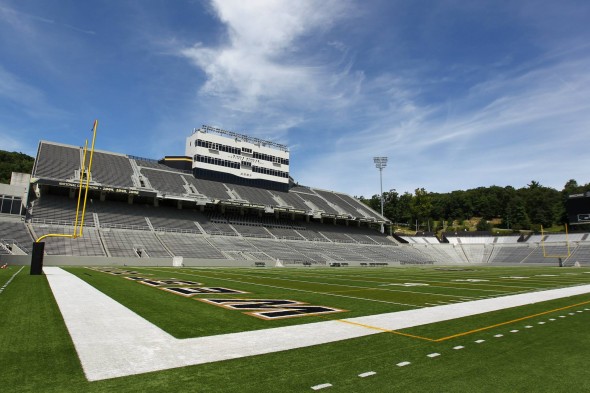 Back inside, Ellerson was in good spirits as he kicks off his fifth season at USMA. This is a team and program that consists entirely of his recruitment efforts at this point, so the pressure will only grow for Coach E and his staff to produce results. That said, USA Today ranked Army No. 106 of 125 in the nation in its preseason poll.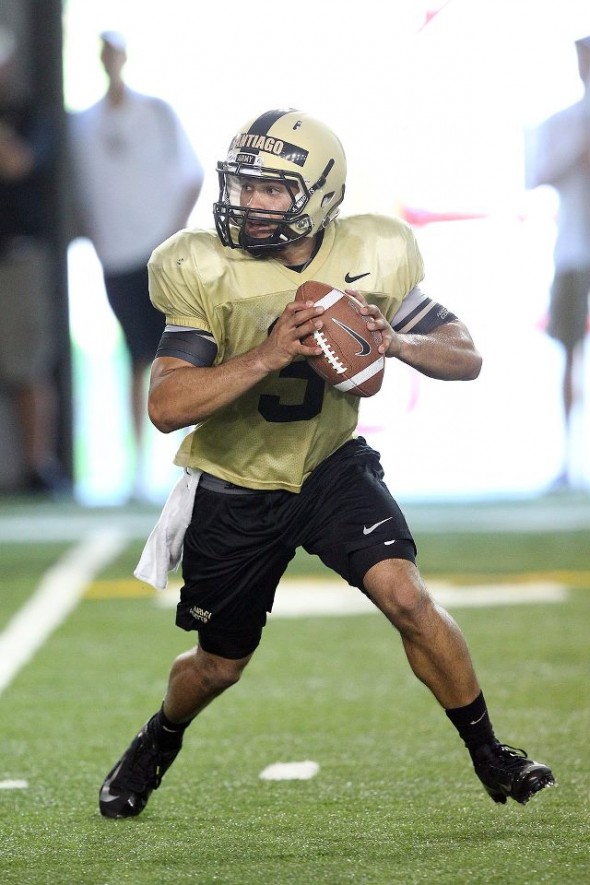 Now, the annual point of contention between Army fans and the coaching staff is Army's reluctance to pass the ball. While they return a few very talented running backs in Maples, Dixon and Terry Baggett, they have lost Steelman, who was arguably their top ground threat, along with Malcolm Brown. So, is this the year we can expect more passing? Ellerson explains:
"We're doing such a good job of running the football that it puts folks in a bind and creates opportunities in the passing game. We need to take advantage of those opportunities. Frankly, that's one of the things we tried to shake up this spring."
Keep in mind, last summer we saw Army running some pistol and shotgun formations over on Howze Field, but not so much during actual games.
"I feel great about where our quarterbacks are," Ellerson said. According to the Record, Santiago has the edge at No. 2 overall Kelvin White, who is a big, bruising dude who adds a new dimension to Army's offense. I don't know how fast he is, but evidently he has a good arm.
"We have some guys who can deliver the ball, and Trent [Steelman] could deliver the ball. We did not do a good enough job of competing for balls in the air and we didn't consistently catch the ball. When you don't throw it very much, and something bad happens, you don't want to throw it again. I've sensed that from myself and from Coach (Ian) Shields. As signal callers you get into that mindset of we have to throw it instead of saying, 'Oh, boy!' Both as coaches and players, when we see something like that, our internal voice has to say, 'Oh, boy! Look out. Here we go.'"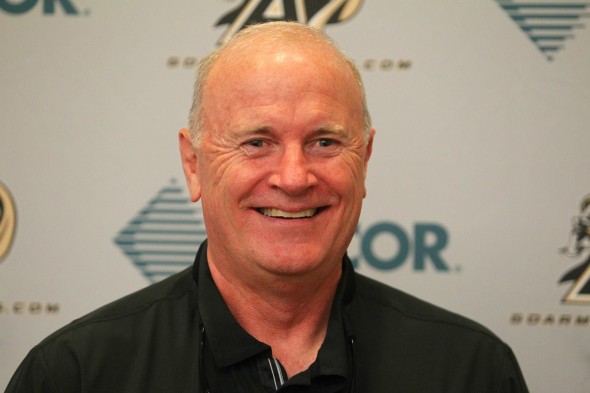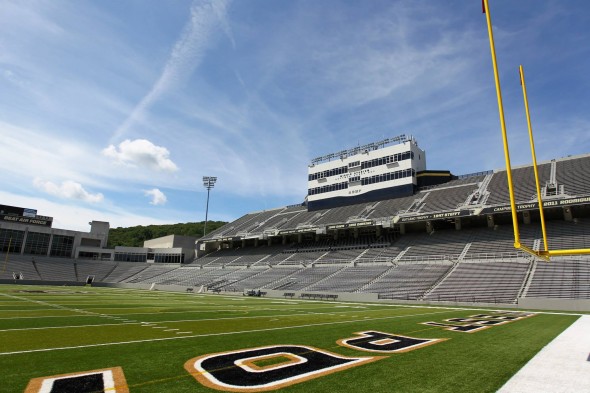 Here's wide receiver Patrick Laird hamming it up for a flip cam with another teammate:
Here's Santiago being interviewed: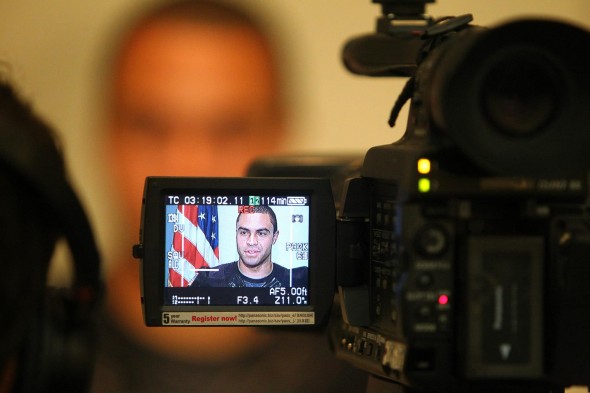 Junior defensive back Lamar Johnson-Harris was showing off the guns during his formal team headshot: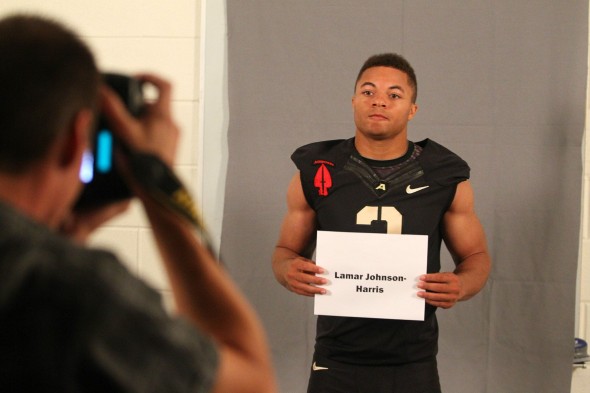 Larry Dixon chats with a reporter: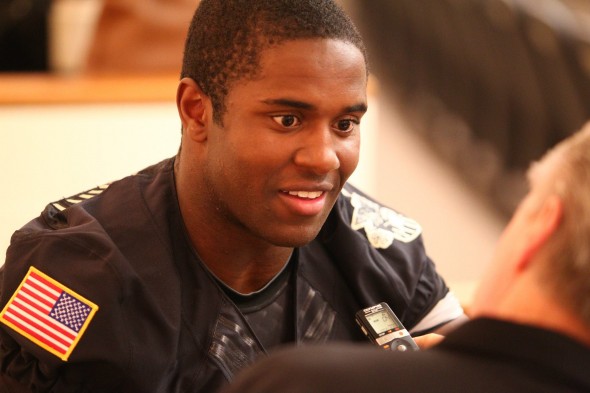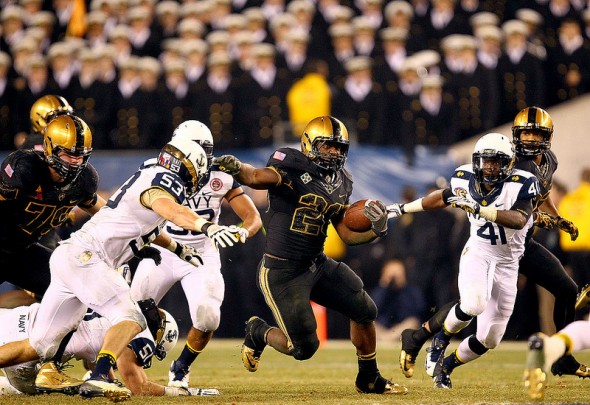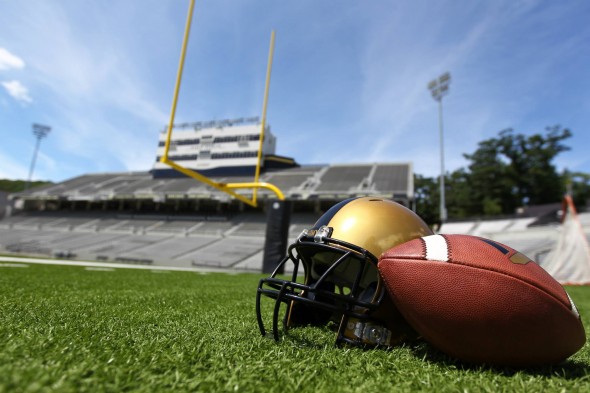 Here's Dixon and Schurr taking a break: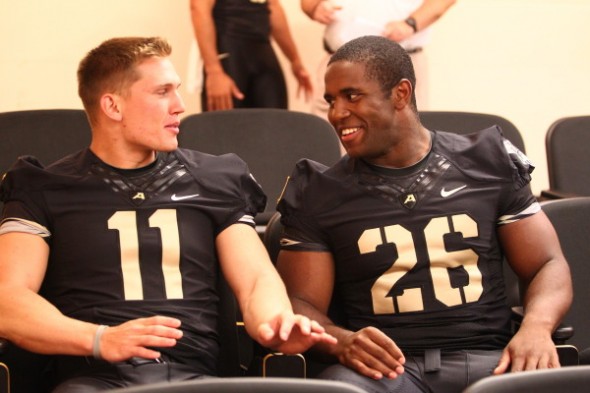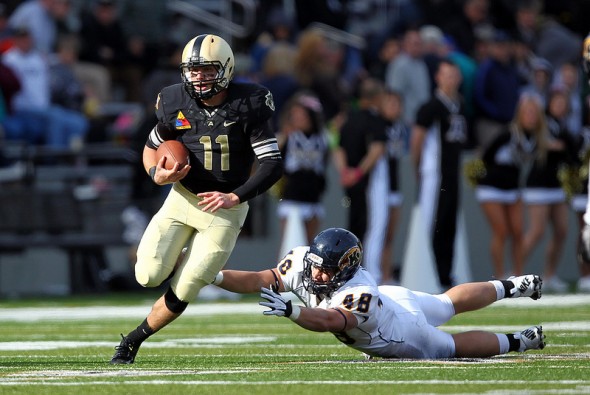 So how does Dixon feel the team will fare in the post-Steelman era?
"We lost a great player in Trent," he said. "He's going to go down in the record books as one of the greats. We've taken steps to recover. We might be a little bit different, but we have a lot of good players ready to step up."
Here's how USA Today summed up the 2013 Army team:
What's missing is a sense of urgency. Army made a brief charge at Navy and Air Force three seasons ago but failed to muster any staying power. Meanwhile, the Midshipmen and Falcons continue to do just enough to remain bowl eligible against equally stout – if not more difficult – annual schedules. What's missing? Energy, enthusiasm and a sense of purpose, basically. Perhaps the way last season ended will light a fire under the Cadets