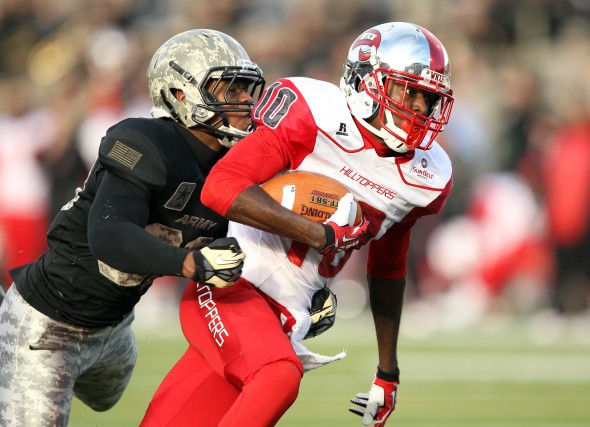 Army is off this weekend so I finally have some time to look back and post some photos. I apologize for the lack of updates here this season, I fell behind and have been out hiking and taking photos almost every weekend, so it's tough to catch up here. That said, Army's season is winding down with two more games left against winless, 0-9 Hawaii and… Navy. Here's a look back at Army's rough last-second loss to Western Kentucky last weekend.
I guess the most memorable thing from this game was Army's uniforms, which were similar to the ones they wore against Navy in 2008 — a black top with camo letters, a camo helmet and matching pants. I personally really like that look, probably more so than the full ACU camo they memorably wore in 2010 against VMI. Army also went with a camo look at Air Force two weeks ago. Whether you like them or not, believe me, these are far and away the most popular uniforms when it comes to the players and cadets. The team loves putting on camo, so it was nice to see the program bring this back in 2013.
Of course, it didn't help. Army lost to a 2-8 Air Force team despite a strong first half and then gave away a win to Western Kentucky with 32 seconds left. Army is now 3-7 and, with the loss to WKU, they are officially no longer eligible for a bowl game.
Sal from the Times Herald-Record had an interview with Army's athletic director, Boo Corrigan, in which Corrigan more or less said head coach Rich Ellerson's job is safe for now. (Somewhat related, it's worth noting the absolutely shameful, disgraceful move by the Record this month to fire it's entire photo staff along with three longtime editors. For those of you in the Hudson Valley who have enjoyed the Record's coverage of Army football over the years, you have the very talented Chet Gordon to thank. It was a sad day on Saturday when I walked into the photo workroom and Chet wasn't there.)
But luckily, Sal is still around, and he asked Corrigan, bluntly, if Ellerson needs to beat Navy to keep his job.
"We are going to sit down and evaluate the program like we did the last two years," Corrigan said. "It's no different than the way we have handled ourselves since we've been here."
Anyway, back to the photos. A cool autumn day featured the parachute team, a helicopter fly-over and generally nice weather. It was senior day at West Point, so the team's long line of seniors were honored alongside family and friends. Here's Raymond Maples, whose season didn't turn out as planned due to a groin injury: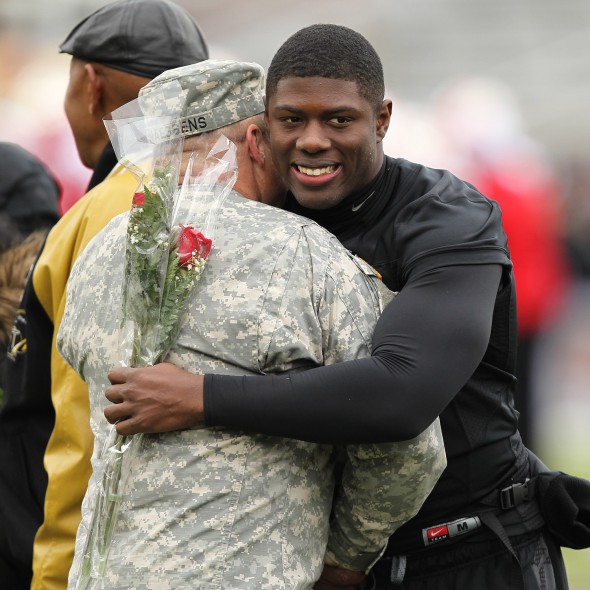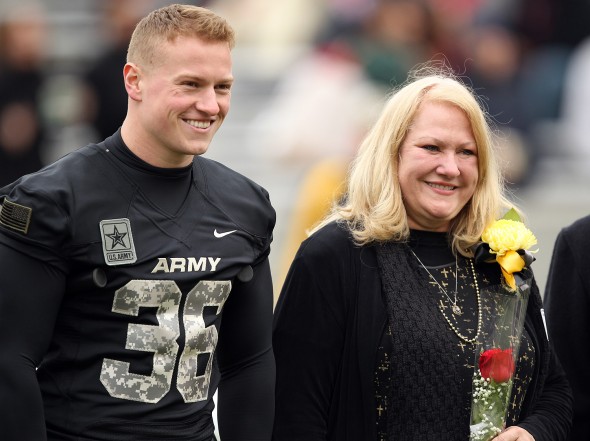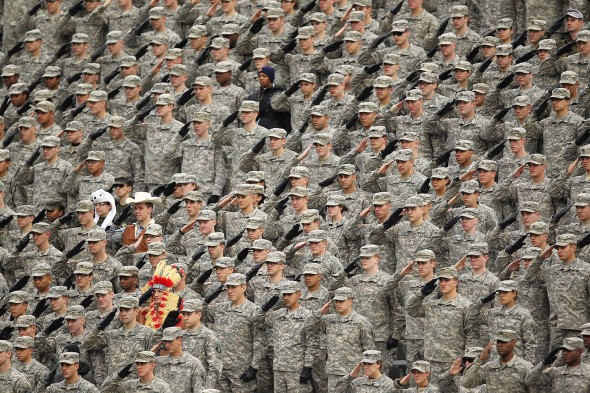 The parachute team arrives: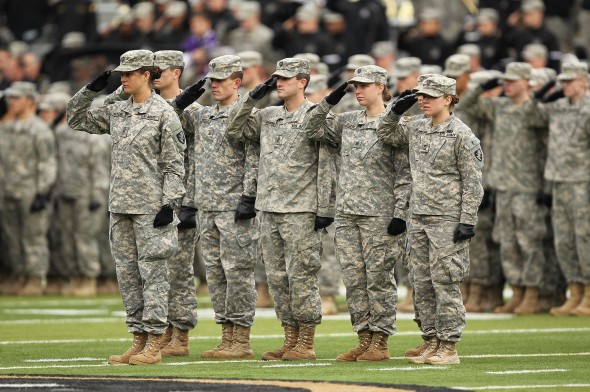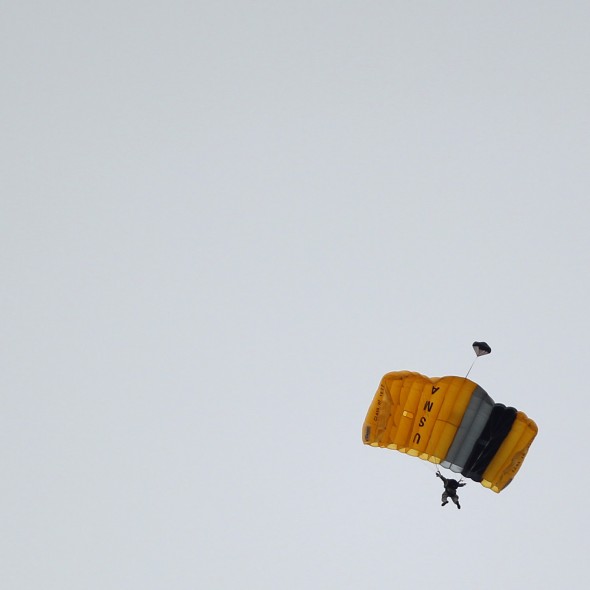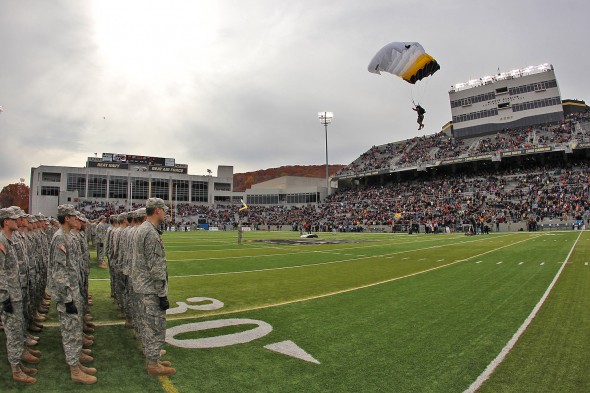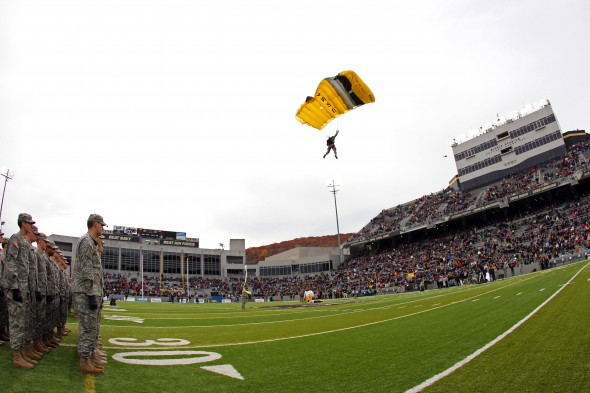 And the team takes the field through a tunnel of cadets and academy leaders: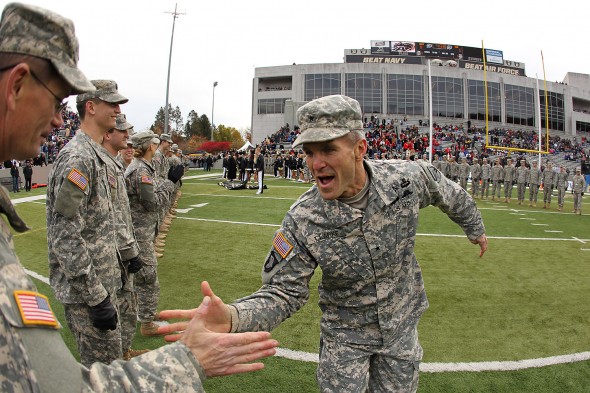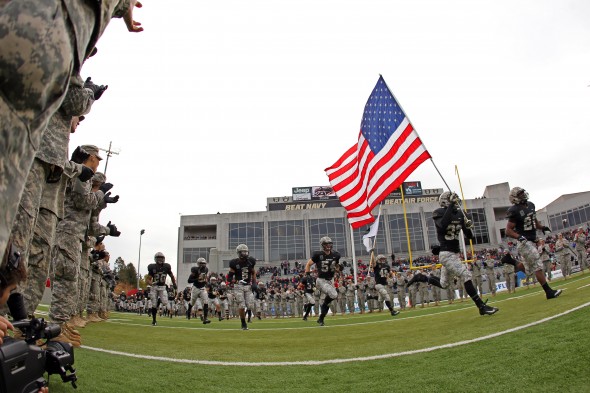 Army tried some trickery on the opening kickoff with kind of a short squib kick, and it actually worked — the Black Knights recovered the ball: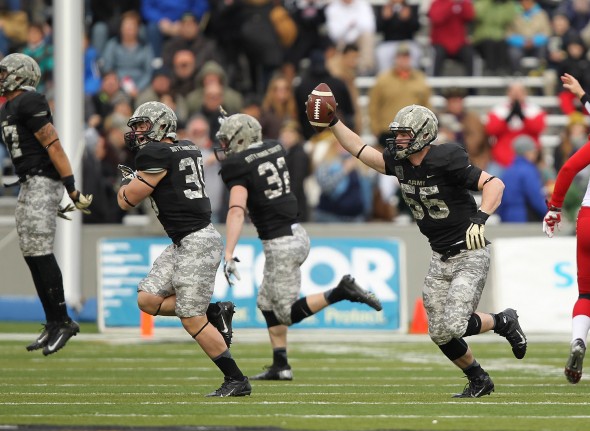 Except it was called back due to a penalty, and WKU safely caught the ball on the ensuing kick.
Here's a look at the uniforms, with Hayden Pierce (9) on the right: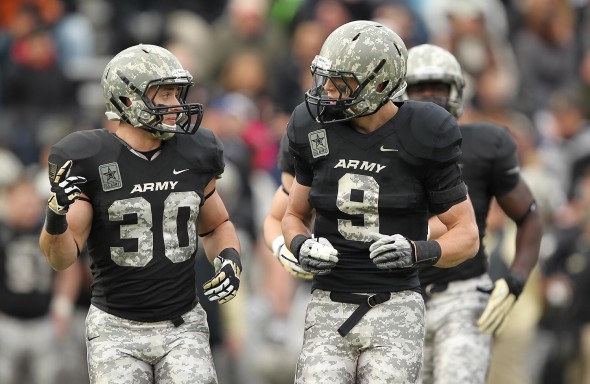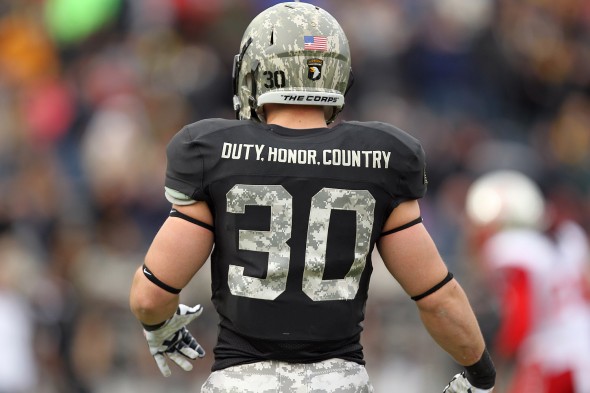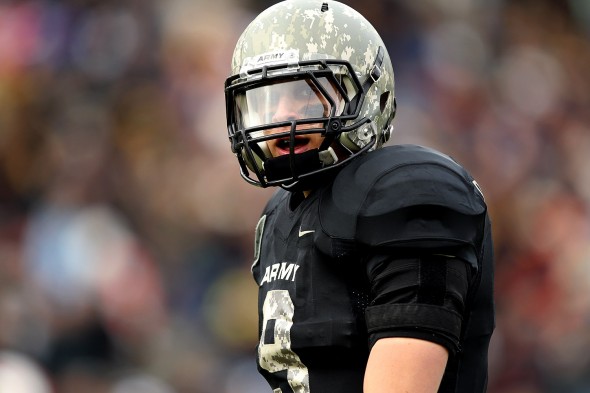 Army' trademark play cards: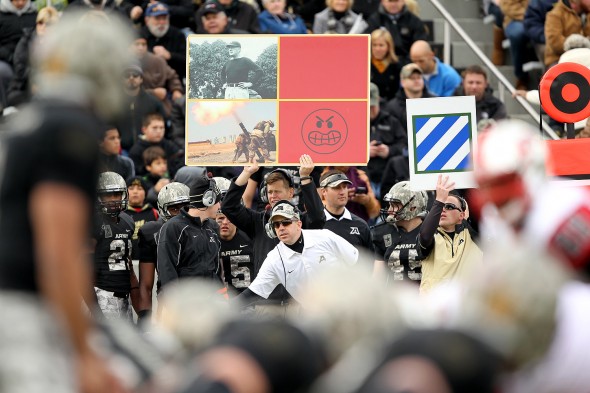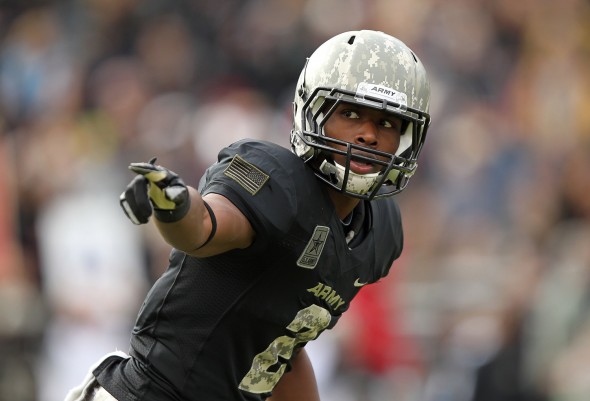 Western Kentucky's punt coverage: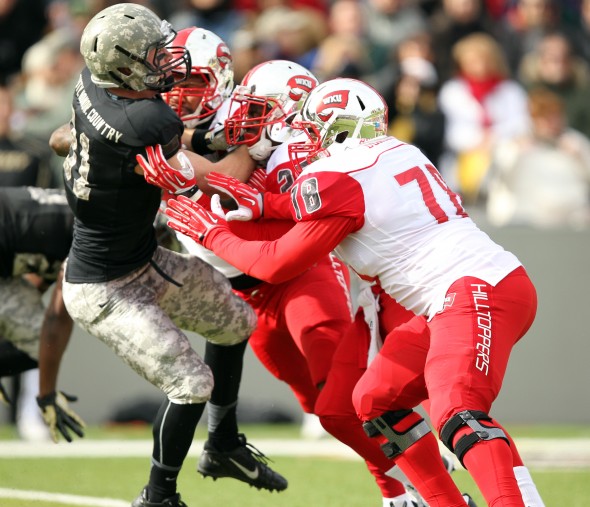 Army began its drive from deep in their own zone with a handoff to Matt Gianchinta: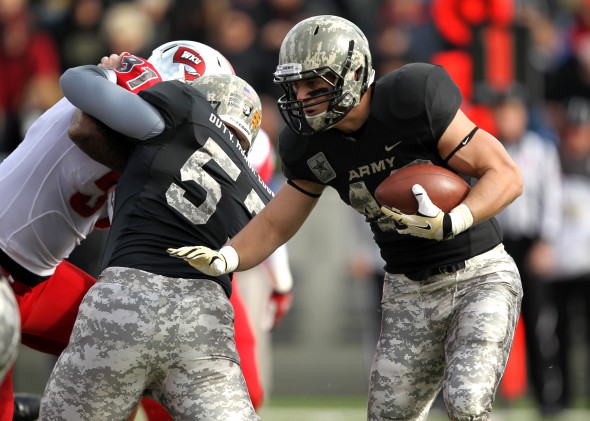 Here's Angel Santiago with a run to the left: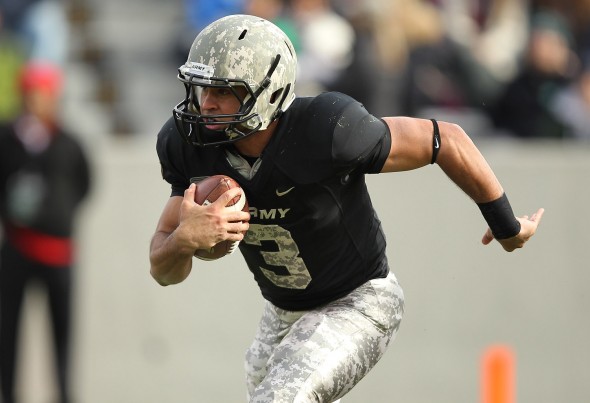 A section of the Corps wore white polar bear hats. I have no idea why, but it was worth a photo: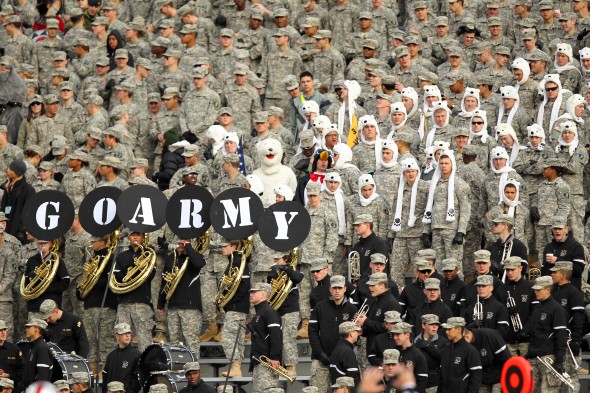 During the first half, I went up to the Superintendent's Lounge to take a portrait of someone and brought along my 400mm lens, which gave me this opportunity to work in some cadets on a nice late autumn background: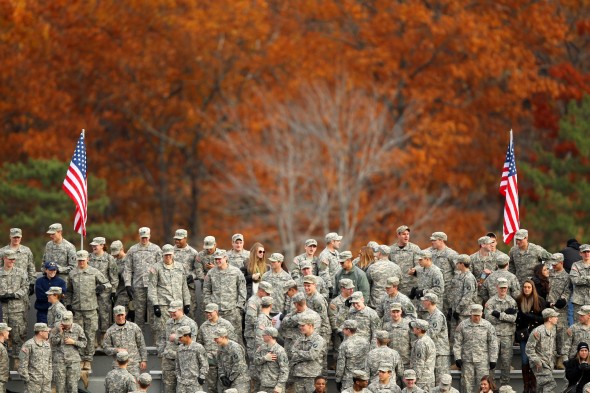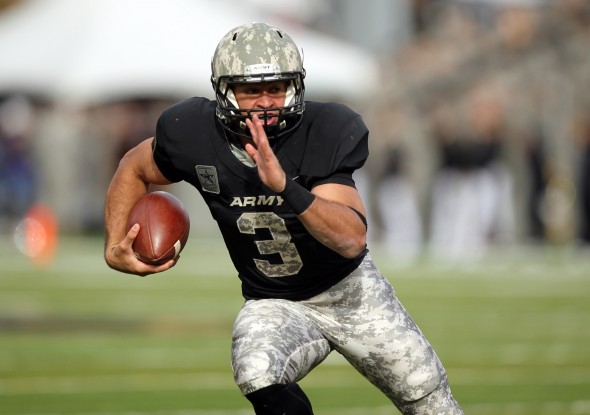 Down below, I had a different angle of the fall foliage: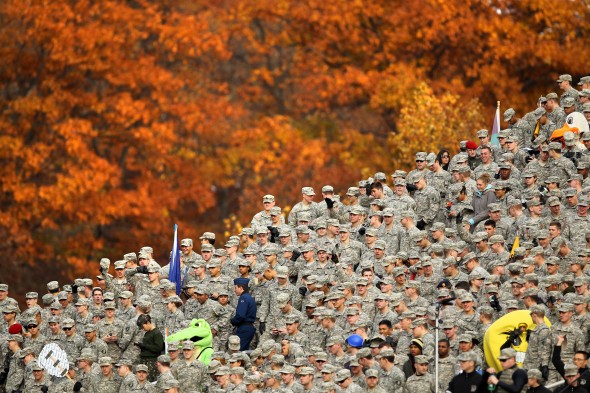 Elvis was in the house: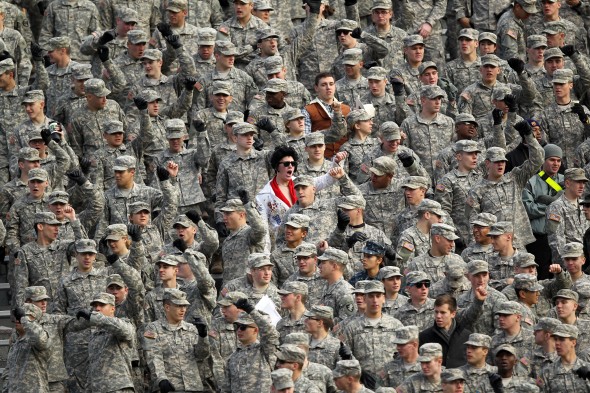 I got a nice sequence here of a catch and run in front of Army's Shaq Tolbert: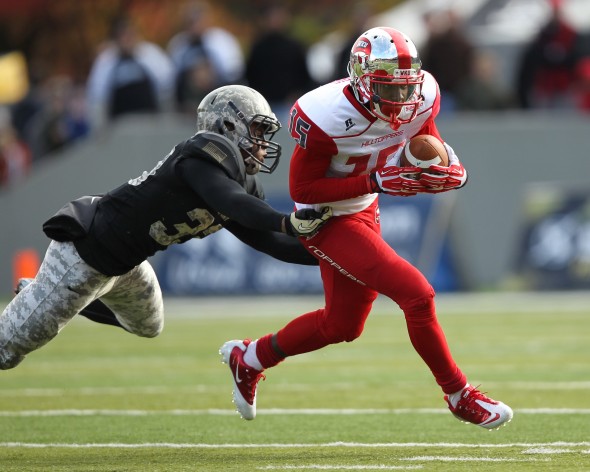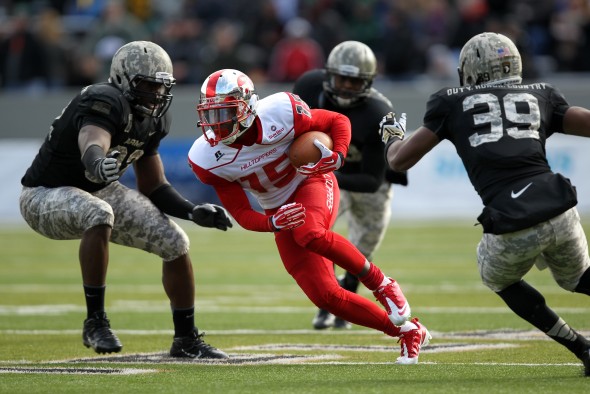 Finally we reached halftime, which included a nice speech from West Point's new superintendent, Lieutenant General Robert L. Caslen Jr., who spoke about veterans and the military. Cadets then opened up this field-length American flag during some patriotic music… I had hurt my back a day earlier at the gym, so I wasn't really set on climbing up to the root of Michie for a photo. Instead, I walked up to the top of the east stands and tried to capture the flag along with the Corps and other smaller flags: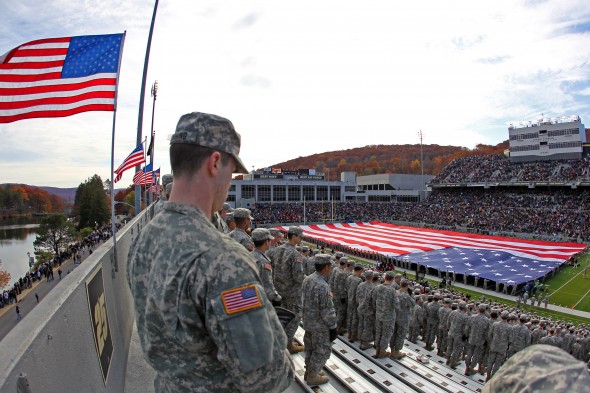 So, it came out OK. Nothing to special, but it does show Lusk Reservoir, a bunch of flags, cadets, the small uniform flag patch, the orange hills, most of Michie…
Western Kentucky's Antonio Andrews really ran through Army all day — I believe he's the No. 1 rusher in the nation — and so I made sure to get a few of him: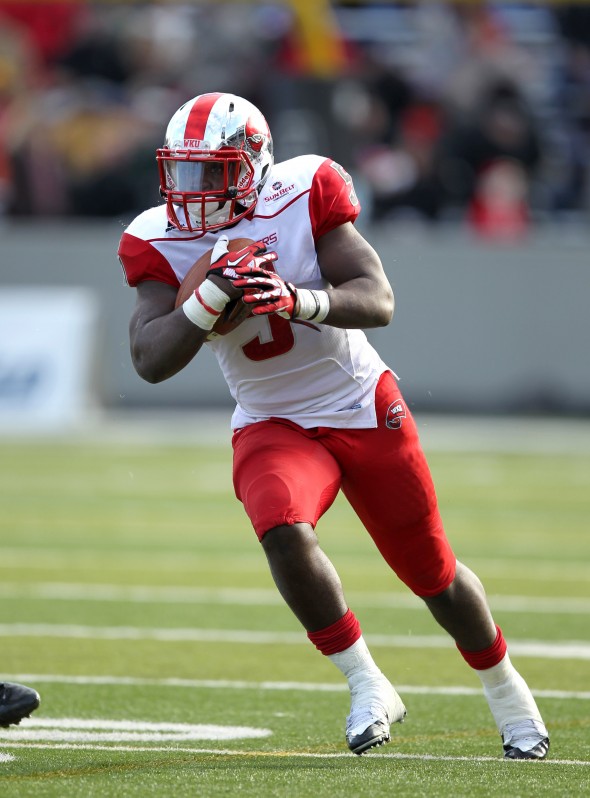 After falling behind early, Western Kentucky chipped away in the second half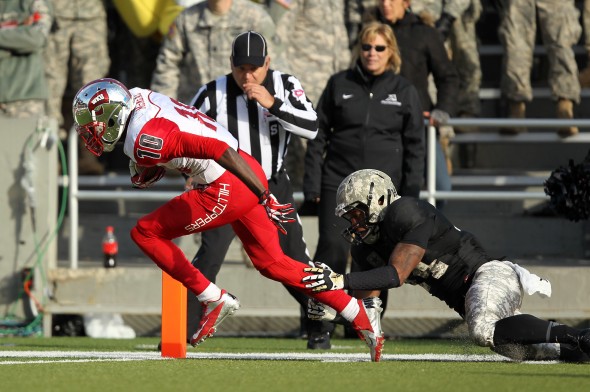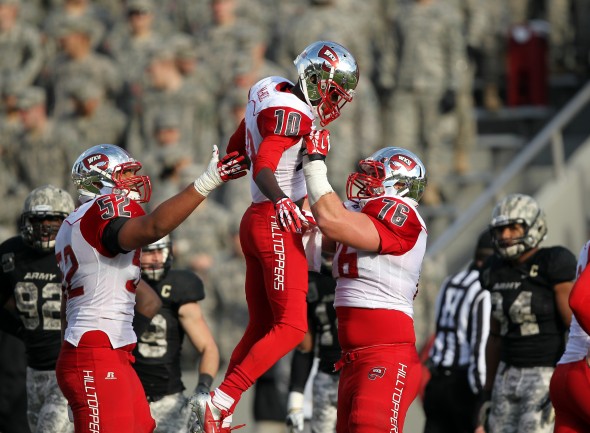 The sun came out late in the game, making for some nice shots of QB Brandon Doughty: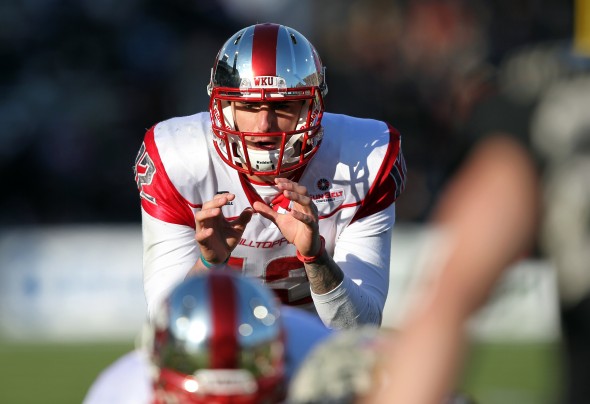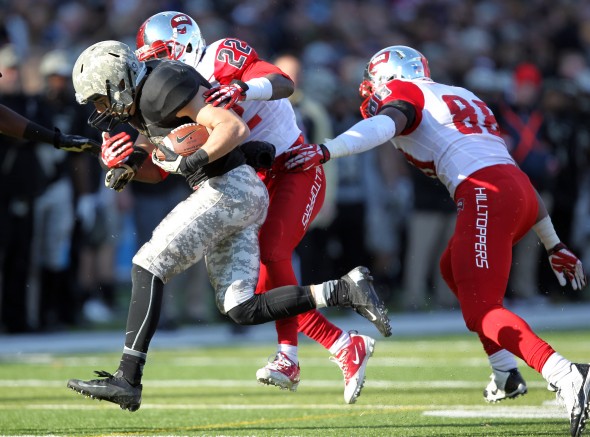 Here's Ellerson on the sideline: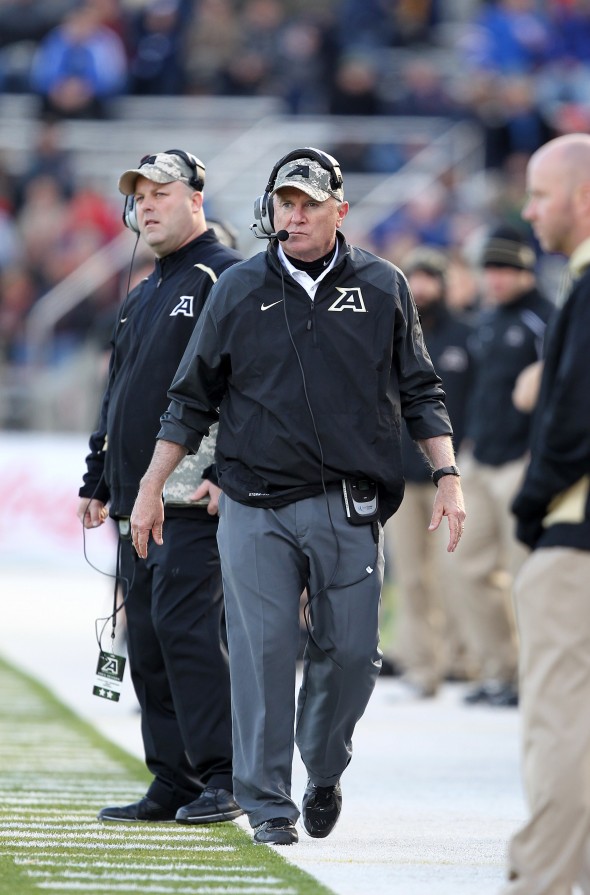 Finally, Army's Terry Baggett ran through traffic and scored to put Army ahead, 17-14, about halfway through the fourth quarter. Baggett went nuts (evidently he's been working out) and Army looked like it was headed for win No. 4:
Western Kentucky took over and Army recovered a fumble almost immediately: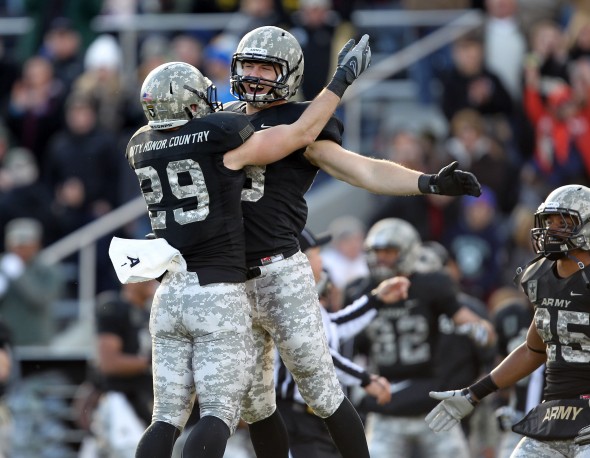 So, about four minutes to go, Army ahead and driving. I looked up at the scoreboard and thought, "I need to get my wide angle lens for some celebration photos." I walked around the field, from the Corps to the Army bench to grab my lens, and by the time I got there… guess what? Western Kentucky was on the doorstep of at the very least tying the game with a field goal. Then, a huge pass to Willie McNeal (below) setup the inevitable go-ahead touchdown: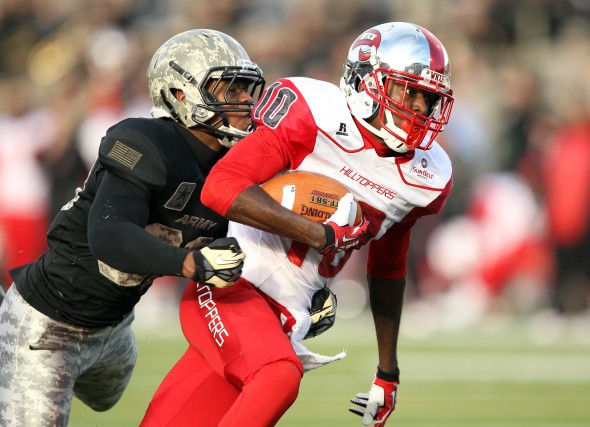 Western Kentucky pretty much walked into the endzone on a goalline run, and that was it. Army trailed by four with 32 seconds left, and suddenly, I didn't need the wide angle lens anymore.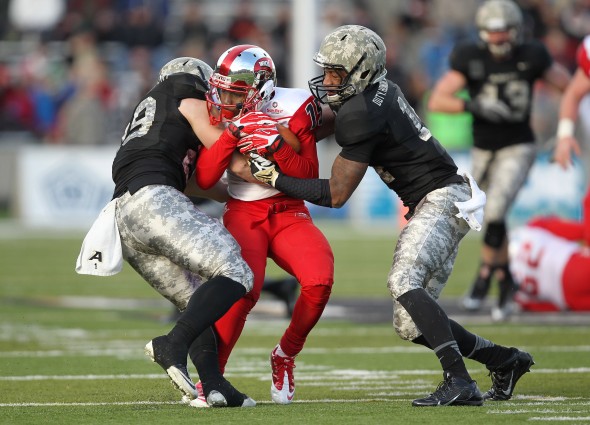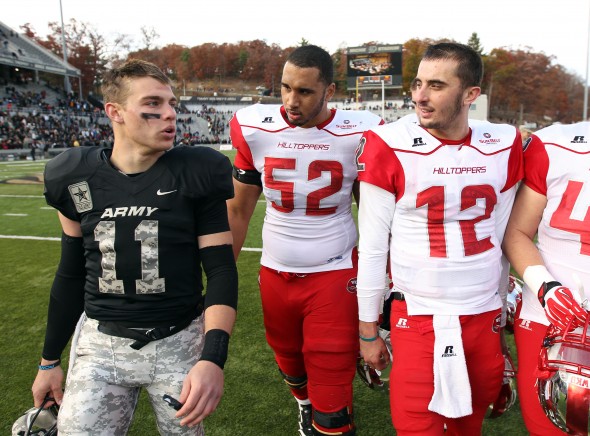 Later on, I found a number of my images made it up around the web, including one on NFL.com: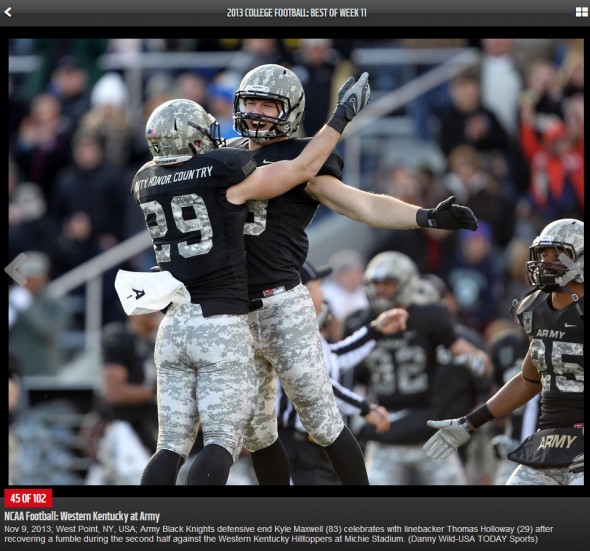 Here's Baggett screaming on USA Today: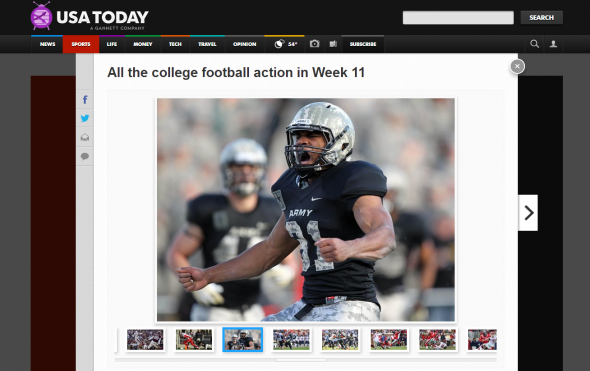 And one of Antonio Andrews on The Tennessean: