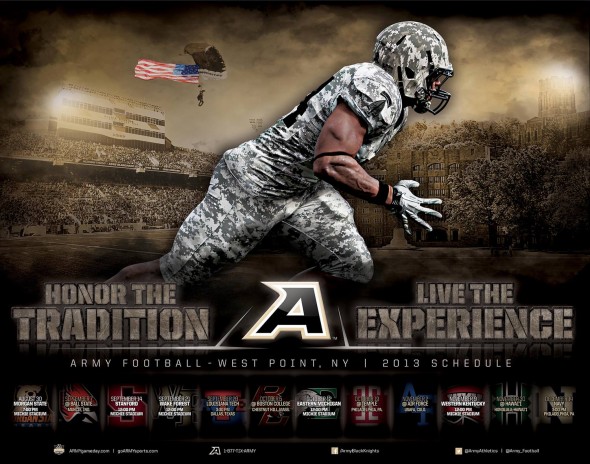 Army recently revealed its schedule poster for the 2013 football season, a design that primarily uses my photos. This week Bleacher Report ranked NCAA posters nationally (anything to write about college football in August, I guess) and they put Army's design at No. 6!
The poster's primary image is my photo of former Army defensive end Josh McNary taken during West Point's "Salute to Armed Forces" day against VMI back in 2010, the only game Army has worn the popular camo uniforms. McNary has since graduated as Army's all-time sack leader and is currently signed with the NFL's Indianapolis Colts.
Behind McNary on the left is a photo I took last season of a parachute jumper gliding above Michie Stadium with a large American flag. On the right is a fairly generic shot of Washington Hall and the cadet chapel from the plain.
You can pick up a poster for free at West Point — the season begins next Friday, Aug. 30 against Morgan State.