I recently worked with West Point Magazine, the new official publication of the West Point Association of Graduates, on two sports stories. One, which followed the Army hockey team for a weekend in February, was published in the April/Spring edition of the magazine, which is sent to over 50,000 West Point alums.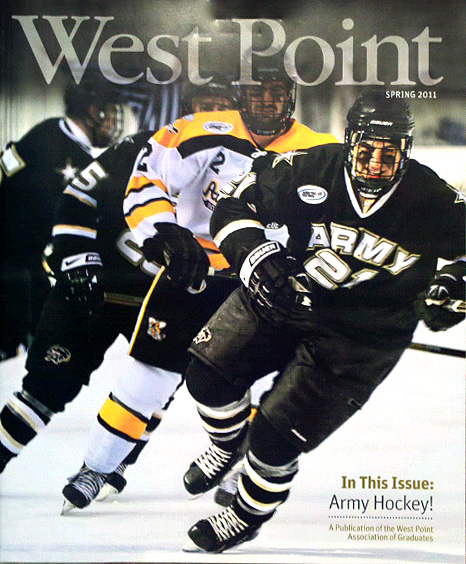 The next issue is due out in the fall and will showcase Army's undefeated men's rugby program, which beat Penn State when I covered the game two weeks ago, and then knocked off Navy last Saturday. The photos looked great after the game, I was pretty pleased with what I got.
For hockey, though, it was a combined effort to get the whole story told. Author Jim Johnston caught up with the hockey team for a home game against American International on a Friday before following along to Hartford, when Army played AIC again in UConn's football stadium.
My two good buddies from West Point, Tommy Gilligan and John Pellino, had a bunch of great images in the hockey story as well.
The great four-page story details the program's current state, highlighting seniors (firsties, in West Point-speak) like goalie Jay Clark and captain Cody Omilusik, as well as the program's legacy tied to former player Derek Hines, who graduated West Point and was killed by the Taliban in the Afghanistan district of Daychopan in 2006, when he was 25.
You can find more info about the magazine and ways to pick up a copy on the USMA AOG website.
My photos of the team celebrating (left) and captain Cody Omilusik.
My photo of the team (top) above John Pellino's great locker room speech moment.