WR Davyd Brooks (13), E.J. Tucker (86) and Jared McFarlin celebrate Army's 45-6 win. (Danny Wild/USMA)
Saturday was a rough day for Tulane, but it was probably worse for me. I woke up around 4 a.m. and was extremely sick. A few hours later, it got worse. I realized I wasn't going to be in any shape to shoot the Army game I'd looked forward to seeing all week.
And then, for whatever reason, and defying that voice in my head that kept saying, "dude, stay in bed," I got dressed, hobbled out the door and drove to West Point.
Honestly, I felt horrendous. I was really tired, I'd thrown up, I was dehydrated, and I felt queasy all day. I pulled over and collected myself in the McDonald's parking lot outside Thayer Gate for a few minutes and could hear the roar of the crowd from Michie in the distance. A golf cart escort from J Lot to the south entrance of Michie got me to the stadium just as the second quarter had begun.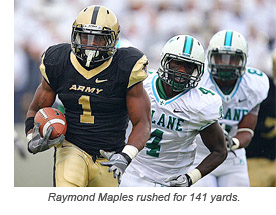 I really didn't want to miss this game — this year, we have only four home games at West Point. I've only missed one since I started in 2009. This was also my first time I'd be contributing to
US Presswire,
and I really didn't want to try and explain to them why I'd missed the game.
That being said, it was great to see Army come out and play so well on both sides of the ball. It was 14-6 when I arrived, and not long after, I found myself in perfect position behind the north endzone to capture Davyd Brooks' 40-yard touchdown catch. Army was running the ball well, now they were passing, and the defense was creating turnovers.
Photographically, I started doubting whether I should have made the trip; I wasn't anywhere near 100 percent, the smell of sausages and kettle corn was making me sick,  and I started wondering if it would effect the images I could produce. But, at the end of the day, I was satisfied with the results.
Before I get into the shots below, if you want to see more great images from this game, check out the photos from Tommy Gilligan, who rolled into Michie with a CPS 600mm lens and a new Canon Mark IV.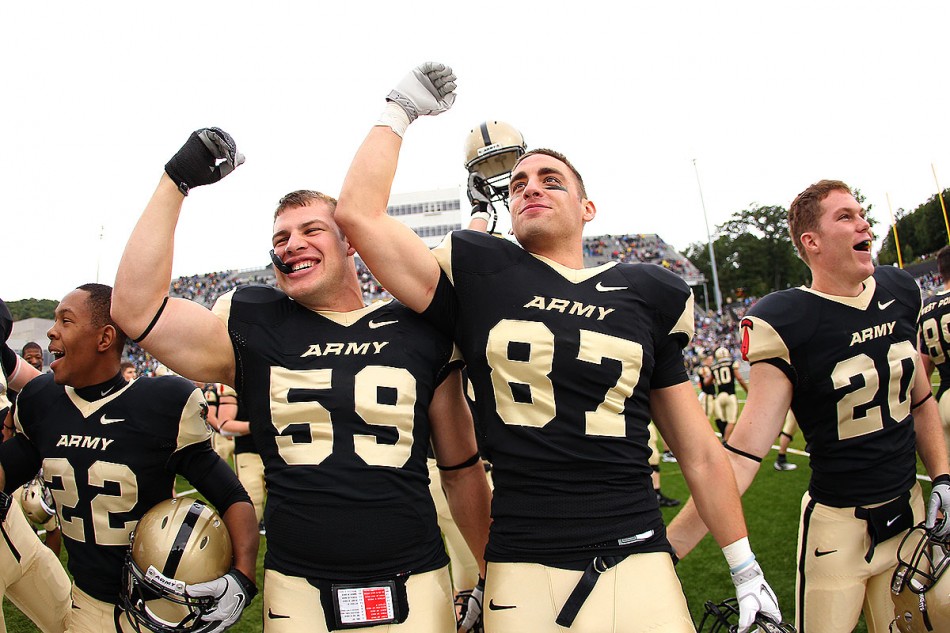 Austin Barr (87) and Chad Littlejohn (59) gesture to the Corps of Cadets before the alma mater. John Pellino and I had the fisheye lenses in action.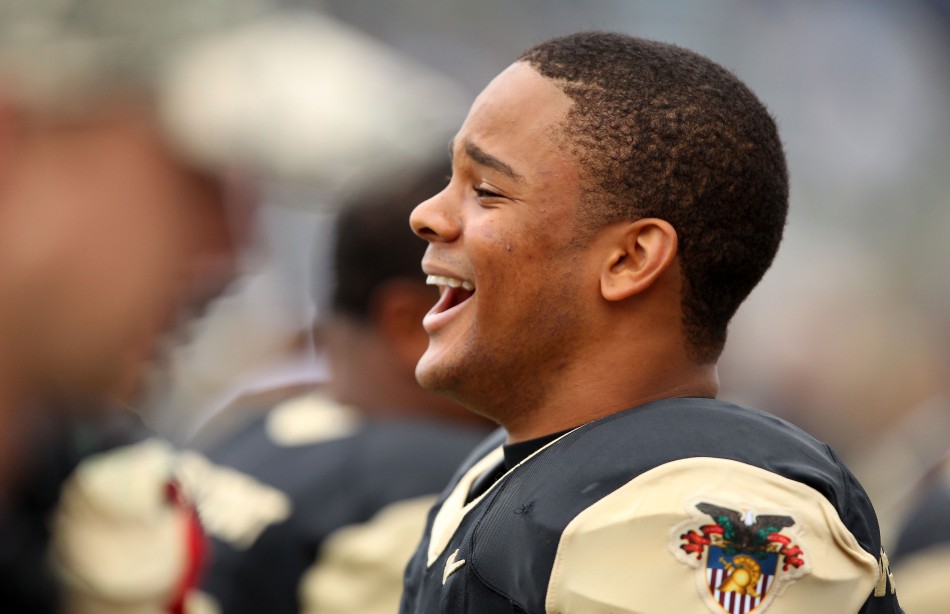 Josh Jackson had a big day with an interception in the first quarter (which I was not there for).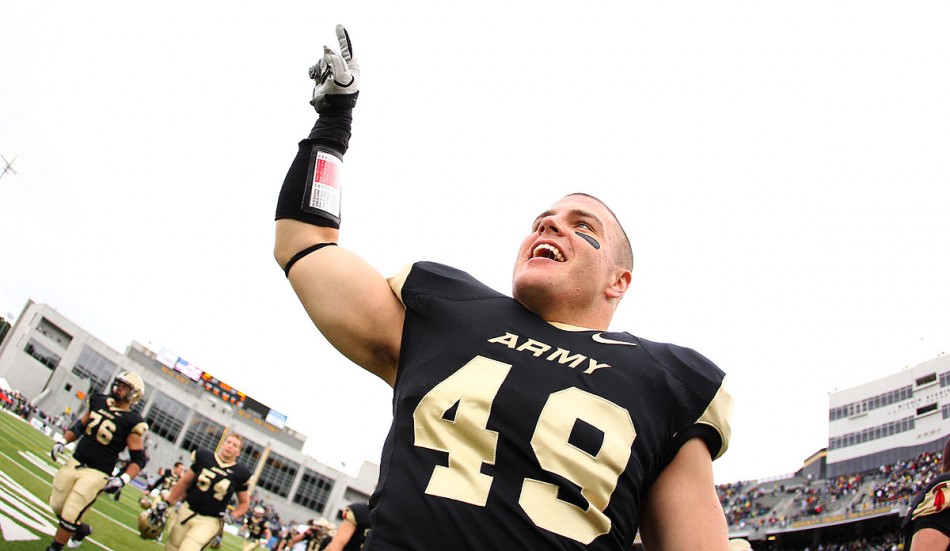 Continuing what's become a weekly tradition, I got another great image of Justin Schaaf. Mike Groll of the AP also got a nice image of Justin.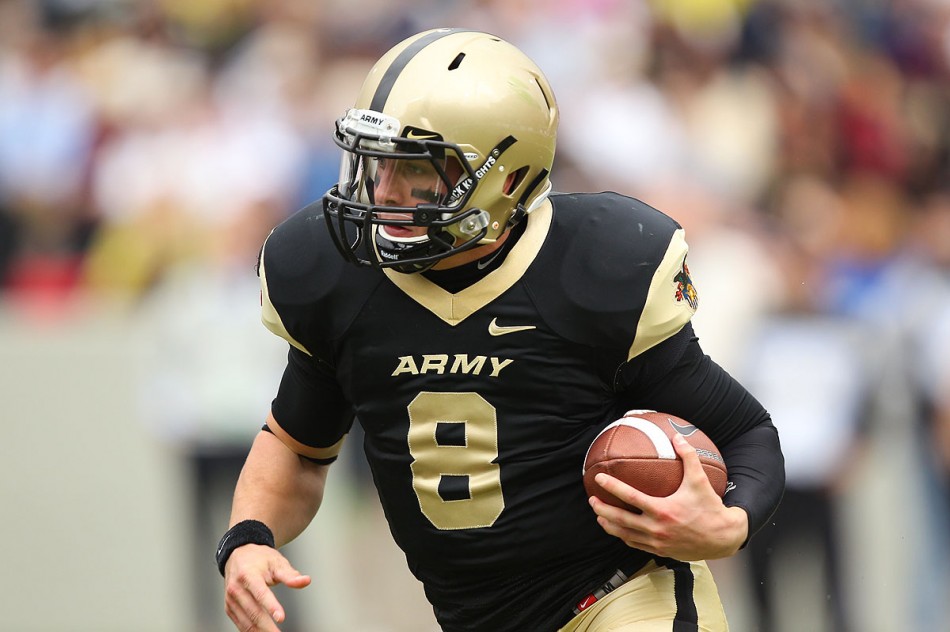 Trent Steelman tied an academy record for consecutive starts by a quarterback with his 30th while posting another huge game, rushing for a pair of touchdowns and throwing another. The Kentucky native completed all three of his passes for 70 yards and rushed for 54 yards.
"When the other team scores, you always want to respond with a touchdown," Steelman said. "Our offensive line and entire offense did an awesome job of matching that intensity, being tuned in and keying on their assignments. When we do that, it shows we're a hard offense to stop."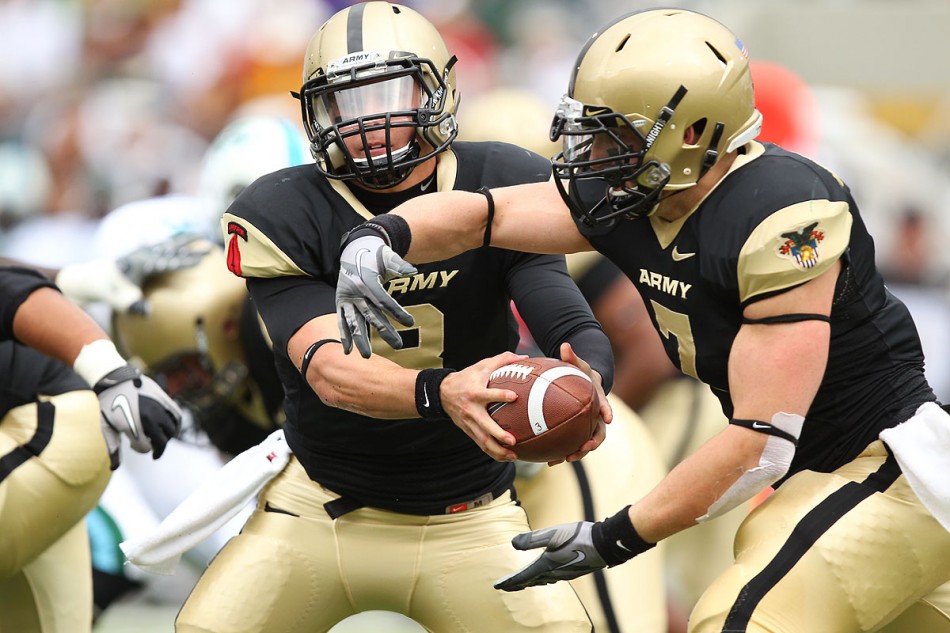 Steelman hands off to fullback Jared Hassin in the second quarter.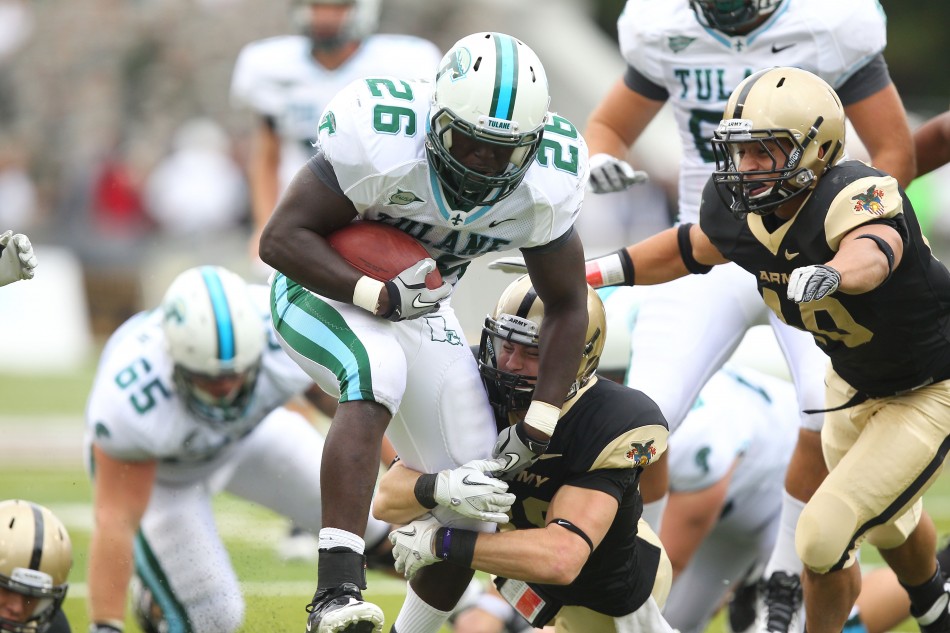 Tulane running back Orleans Darkwa is wrapped up by Tom Holloway and Zack Watts. Darka said the loss made him feel ill, although I doubt he was anywhere near as bad as me.
"Sick," he said. "You can't turn the ball over and win games, simple as that."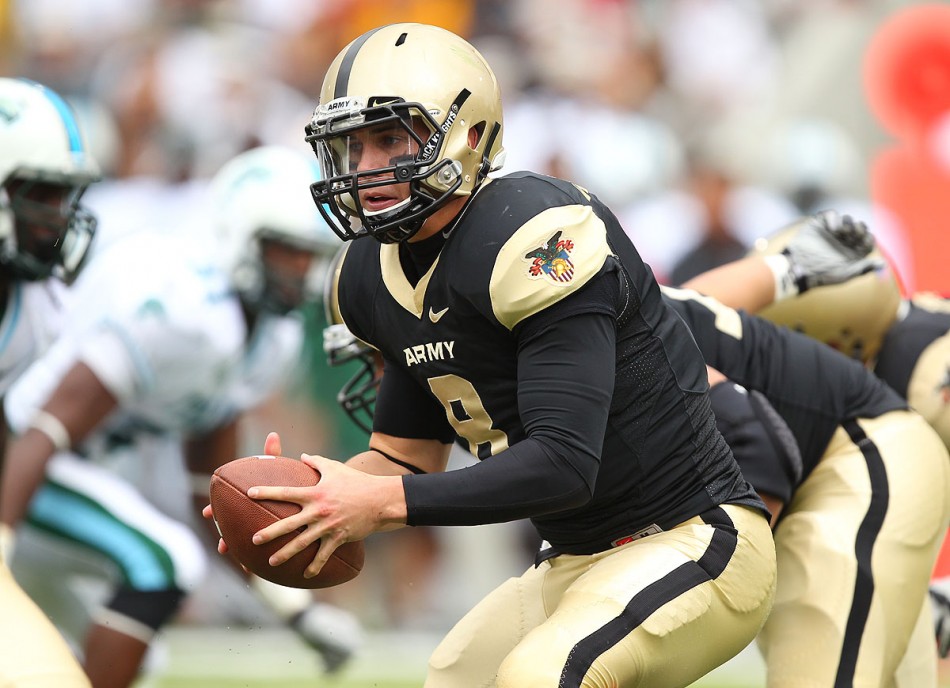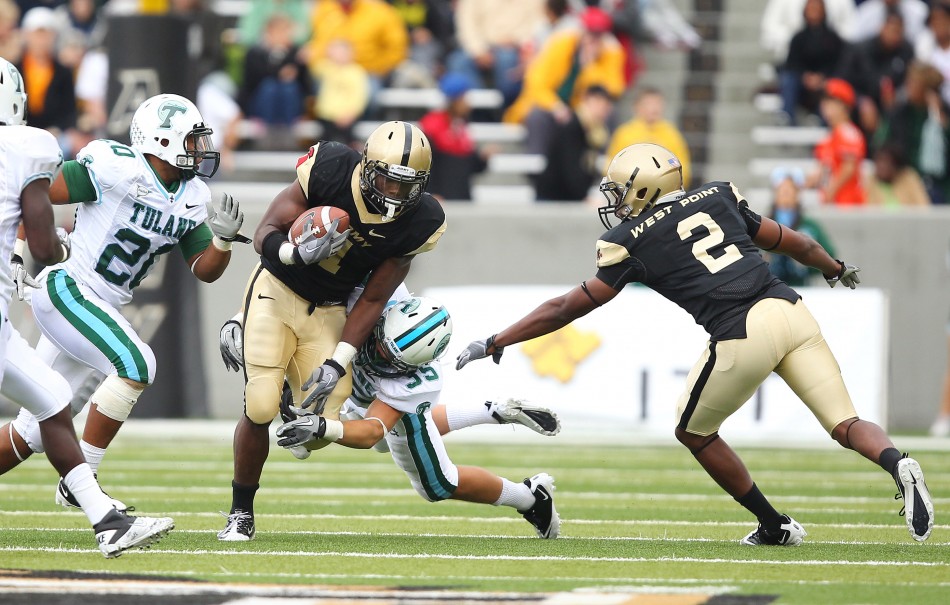 Raymond Maples had a huge day with a career-best 141 yards and a touchdown. Oddly enough, Tulane linebacker Matt Bailey seemed to see the game differently.
"I feel like we could have won the game," he said.
Army rushed for 353 yards and picked up 423 yards of total offense while limiting Tulane to 199 yards of total offense.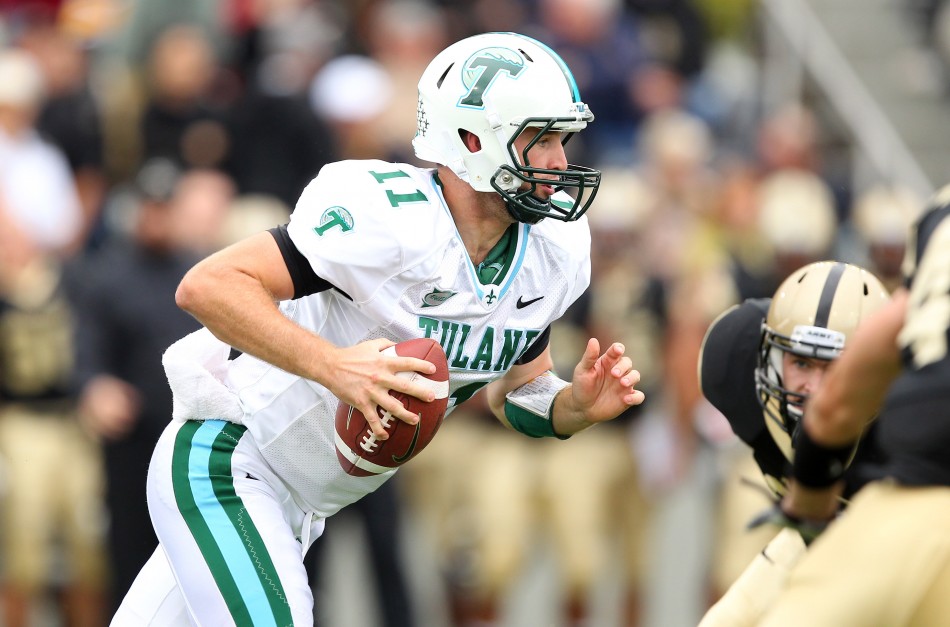 Tulane QB Ryan Griffin.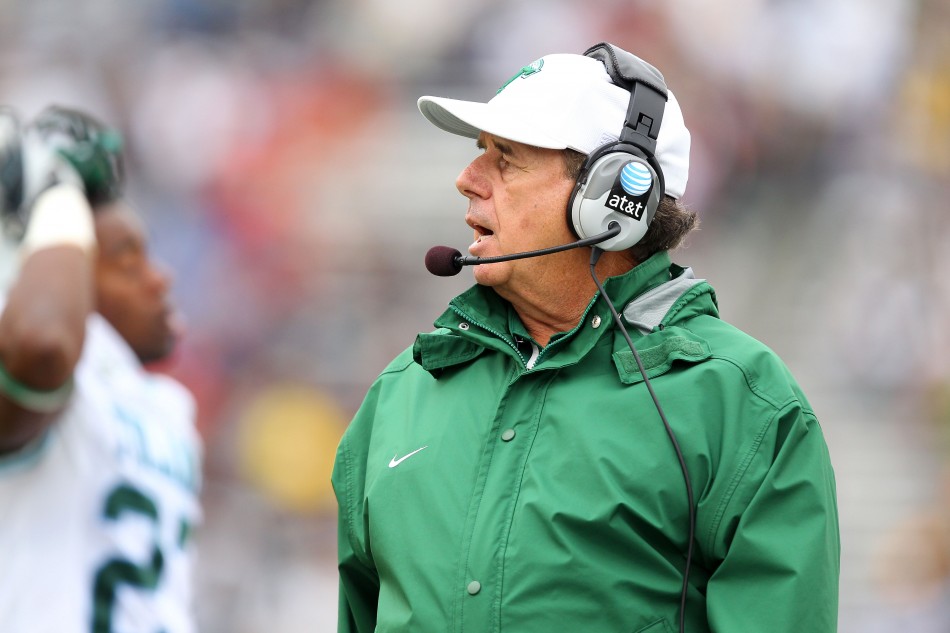 Tulane coach Bob Toledo's team fell to 2-3 with the loss.
"We just didn't have the ball, first and foremost, because we didn't do anything with it offensively," Toledo said. "And secondly, we couldn't stop them offensively to get the ball back. They took it to our defense pretty good particularly inside. They physically ran through us."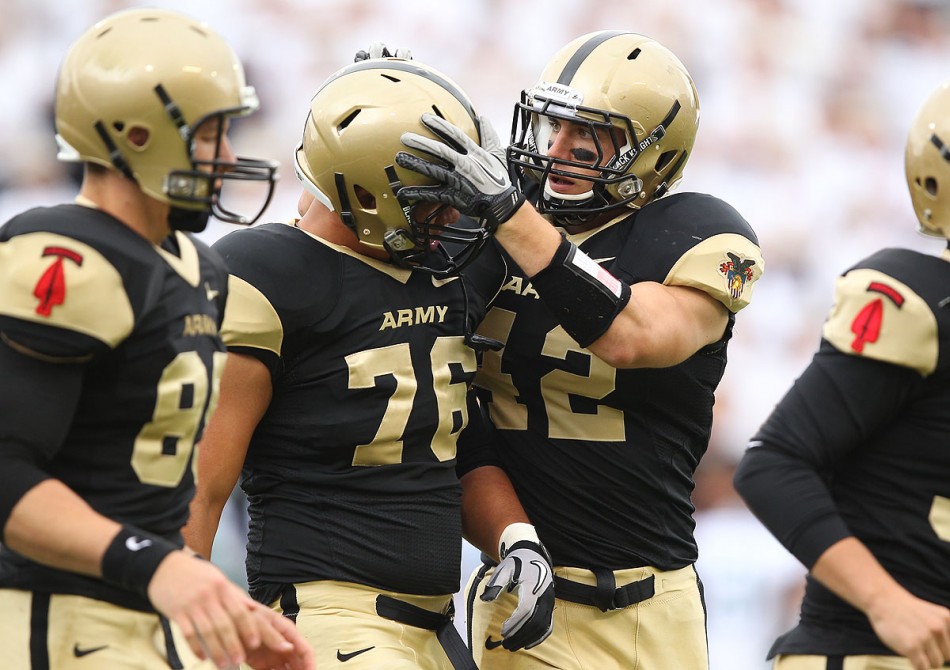 Army captain Andrew Rodriguez celebrates with Rob Kava after one of Army's four fumble recoveries.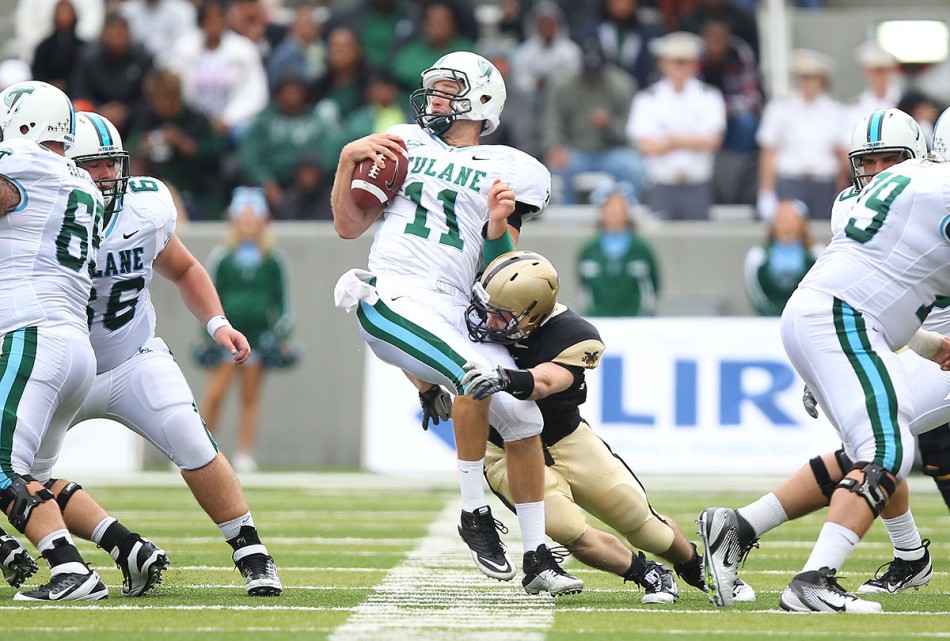 Linebacker Colin Linkul sacks Griffin.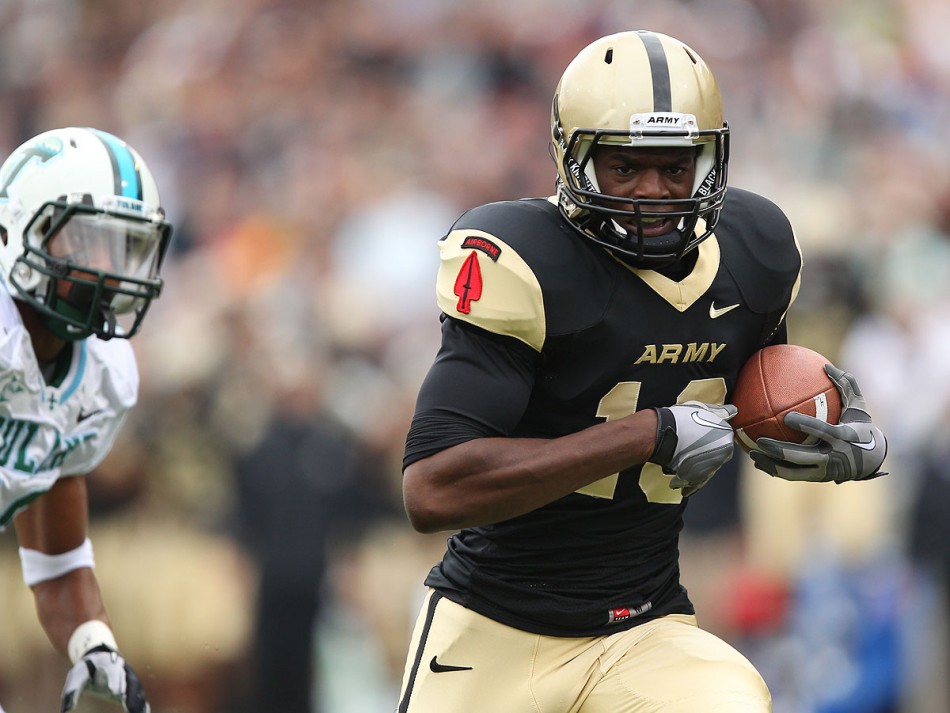 Army was around midfield when I made my way to the back of the endzone. I focused on Brooks and, as luck would have it, Steelman reached back and threw a perfect pass to the Newburgh, N.Y. native. I could hear the crowd's excitement rise as I watched Brooks through the lens look back over his shoulder and make the catch. He easily ran by Tulane's Ryan Travis for the 40-yard score.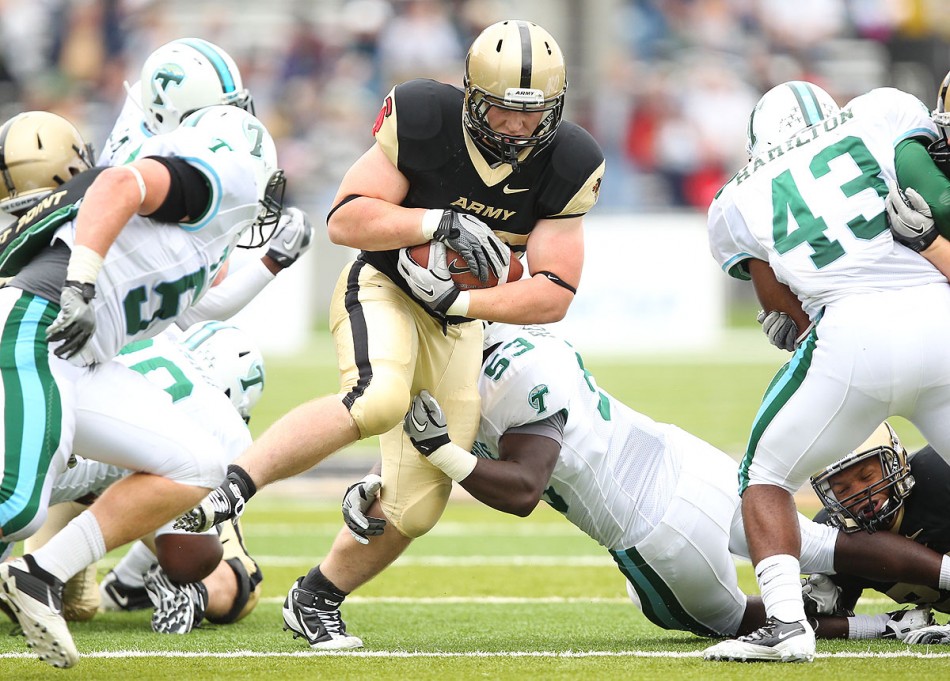 The cadets had 11 different players carry the ball in this win, hard to imagine. Here's fullback Hayden Tippett getting a rush up the middle.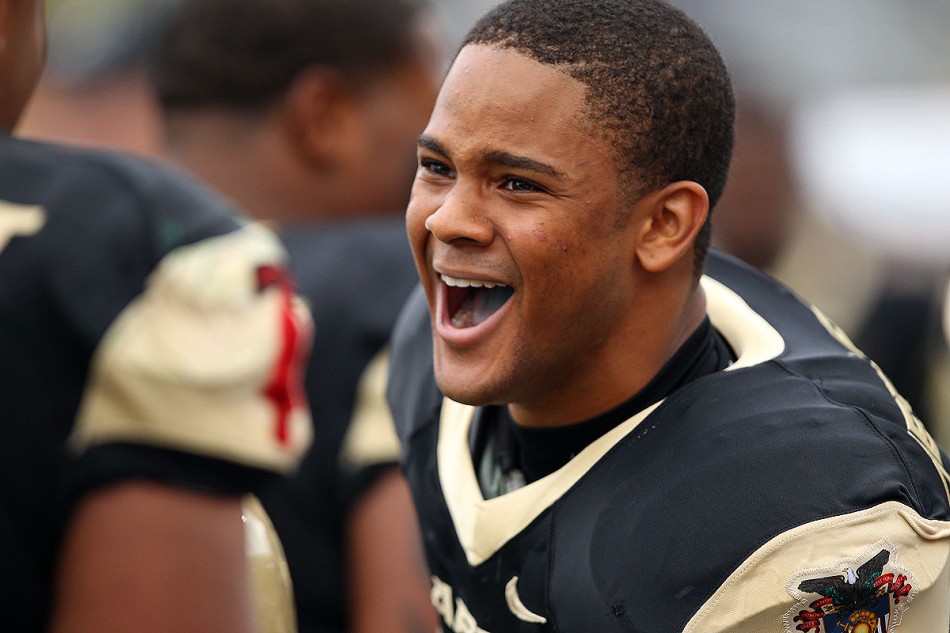 JJ, excited as usual on the sidelines.
"The secondary probably played the best it has all year," Jackson said. "That was shut-down coverage. You go back and watch the film, they (Tulane) didn't have anything all game. We were using the new defense that we put in. We pretty much had their receivers sandwiched all game. The quarterback thinks they're open and I'm trailing a receiver, and then you have the safety over the top. It results in picks.
Kelechi Odocha hammered home Army's final touchdown on a big sweep to the right along the Army sideline for a 44-6 lead. I was kneeling in the corner of the endzone, so he ran right at me. Alex Carlton knocked home the extra point for the final score en route to winning FBS Independent Special Teams Player of the Week honors (you can see my photo there, too).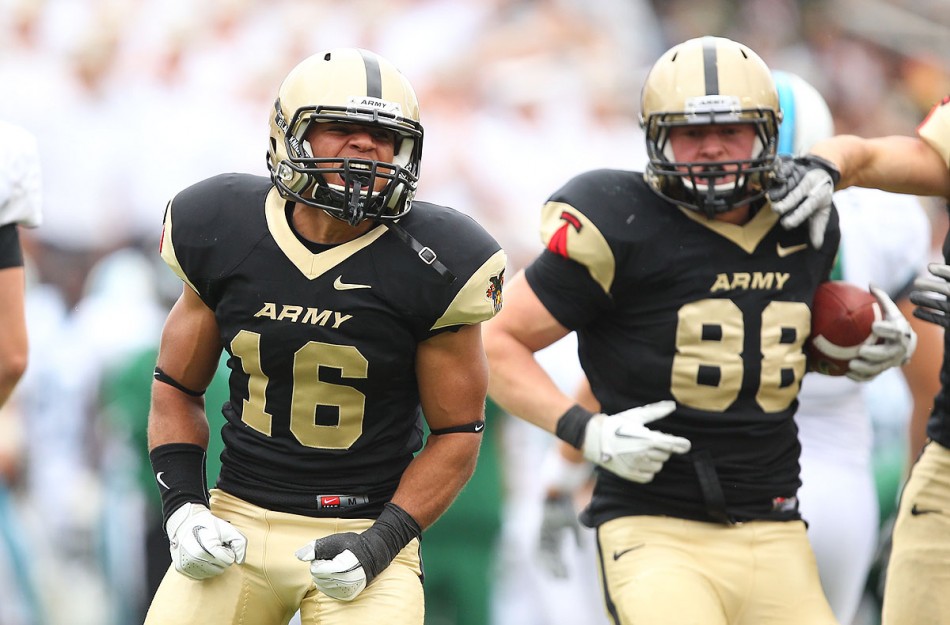 Army's Lamar Johnson-Harris screams after DL Holt Zalneraitis (88) recovered a fumble.
Larry Dixon ran six times for 30 yards, with most of those coming on this run in the first half.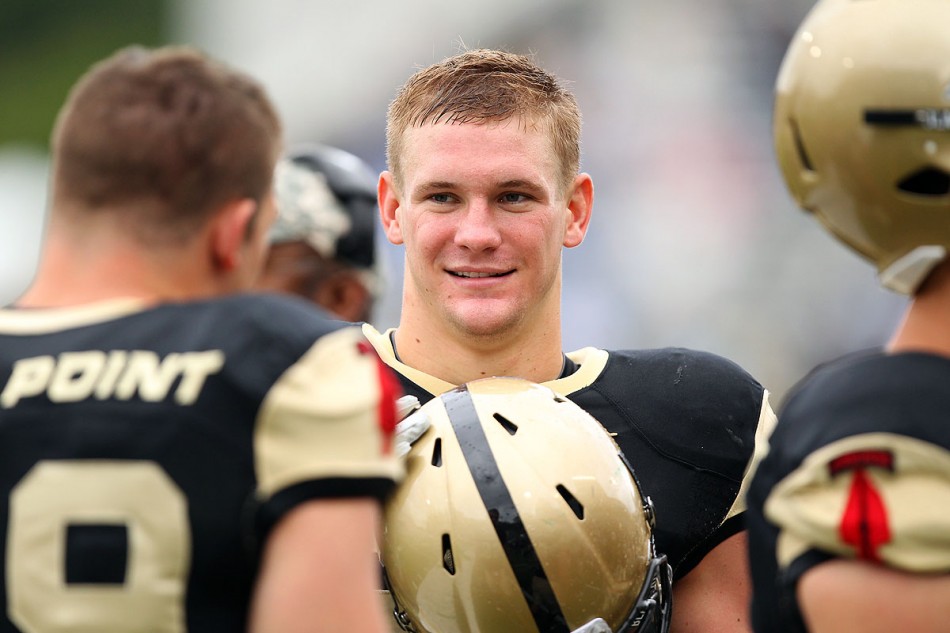 Nate Combs was proud of his defense on this day.
"Our coaches came out with a good scheme this week," Combs said. "We knew that Tulane was a great offense, especially passing, so we came out and added another secondary guy, got me and A-Rod (Andrew Rodriguez) on the field at the same time, which hasn't happened this whole year. It really helped us. Tulane couldn't adjust."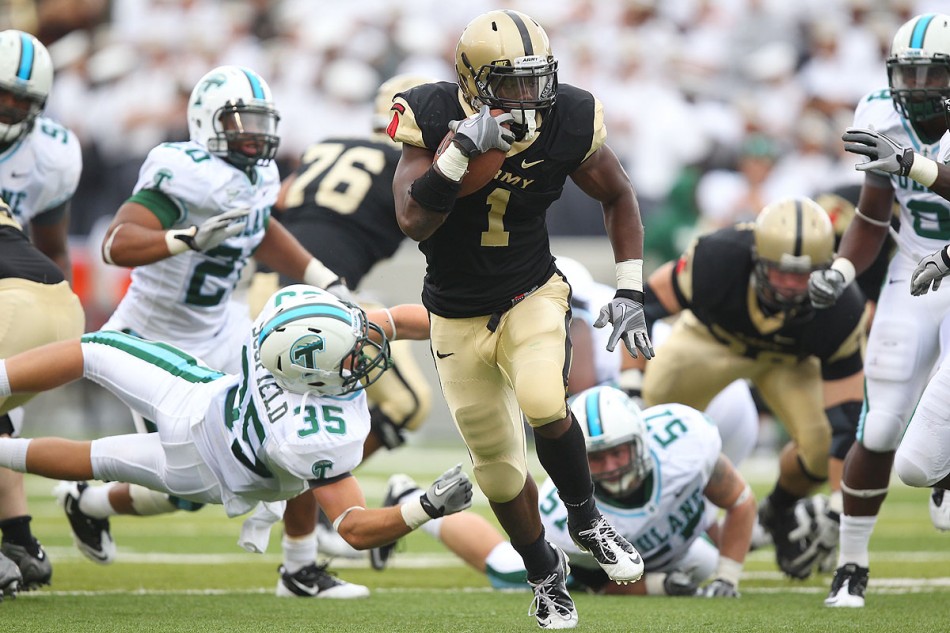 Maples breezes through the Tulane defense for a 23-yard touchdown on the first play of the fourth quarter. One of my shots appeared on GoArmySports.com after the game.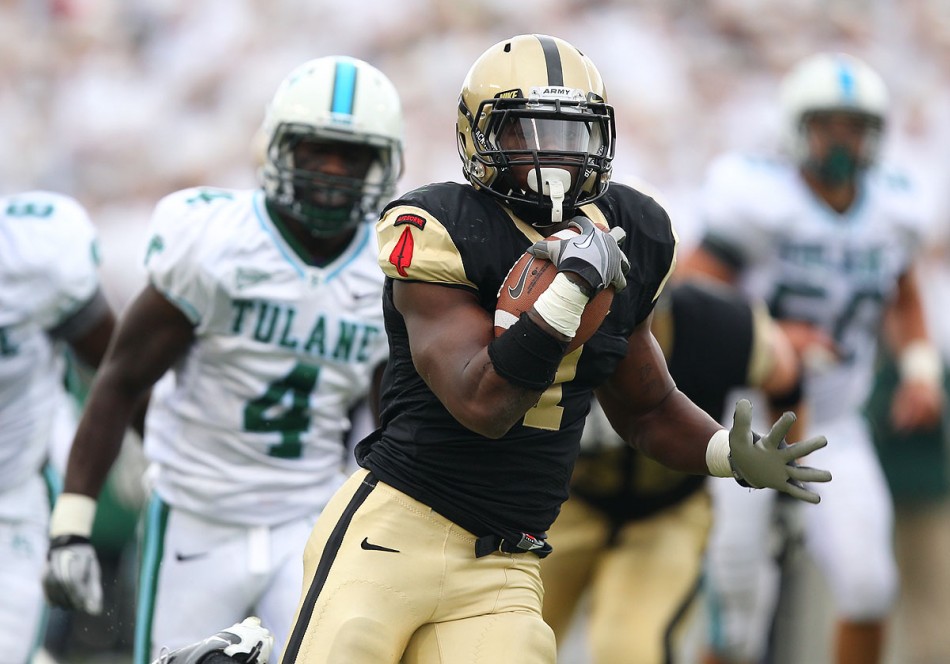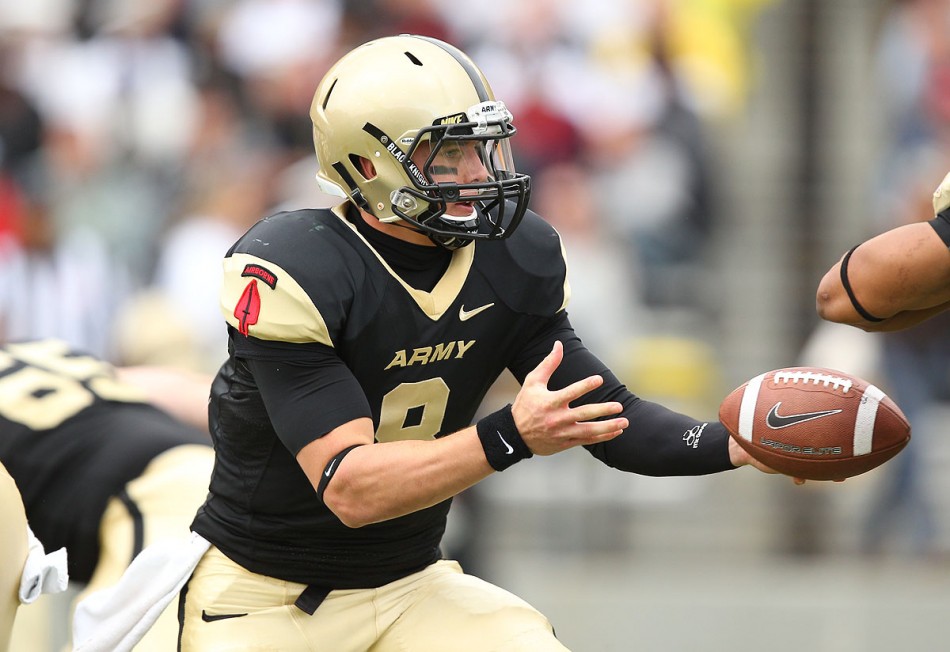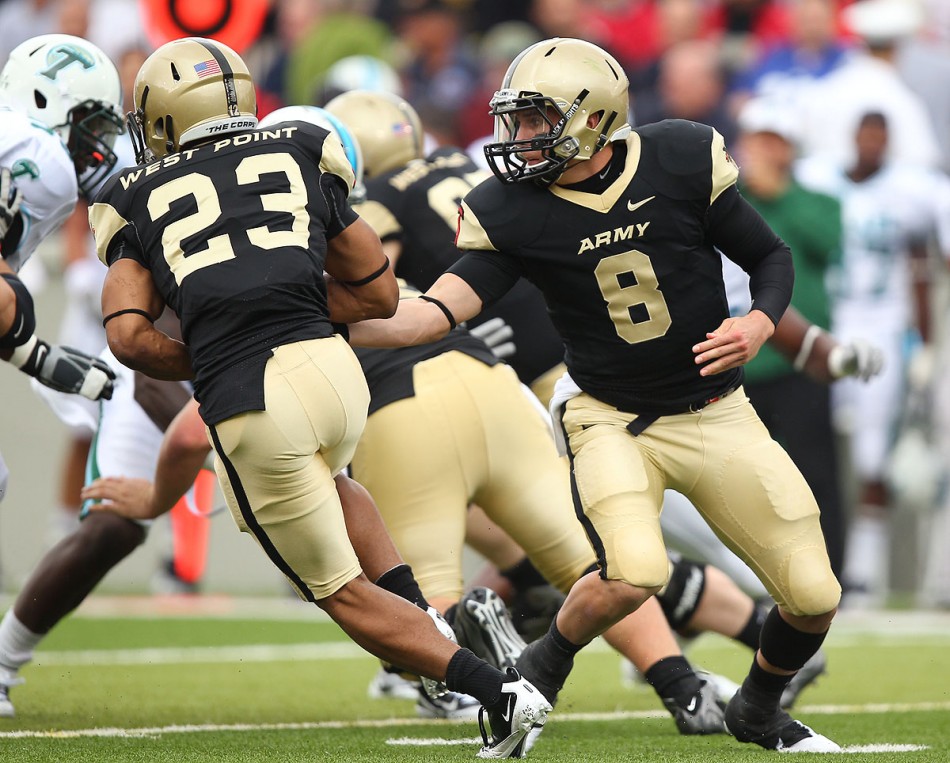 Steelman gives the ball to Malcolm Brown, who collected 35 yards on five carries.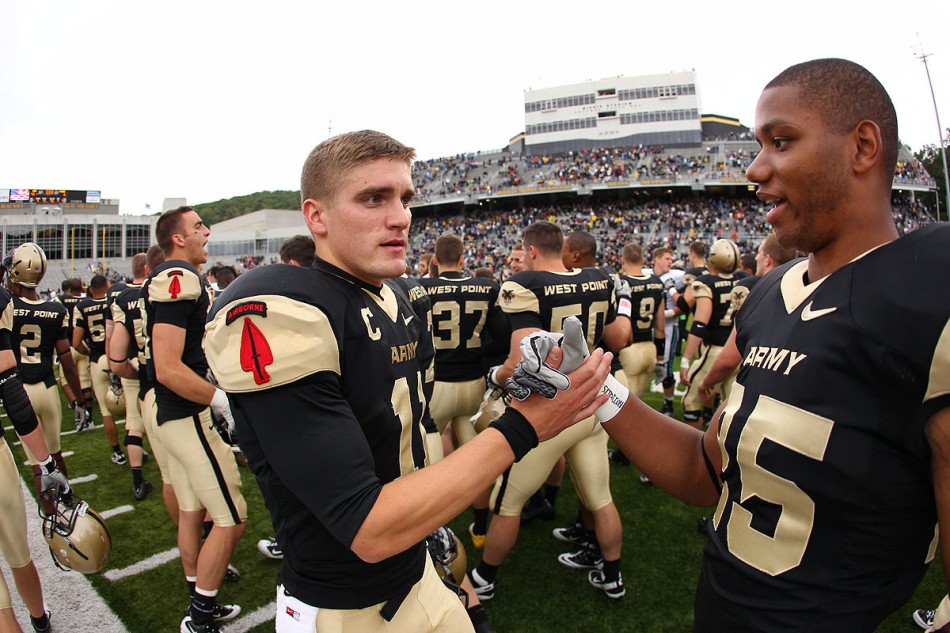 Senior captain and backup quarterback Max Jenkins came in for Army's final two possesions and was behind center for Odocha's score. You can also see the United States Army Special Operations Command (USASOC) patch worn for this game.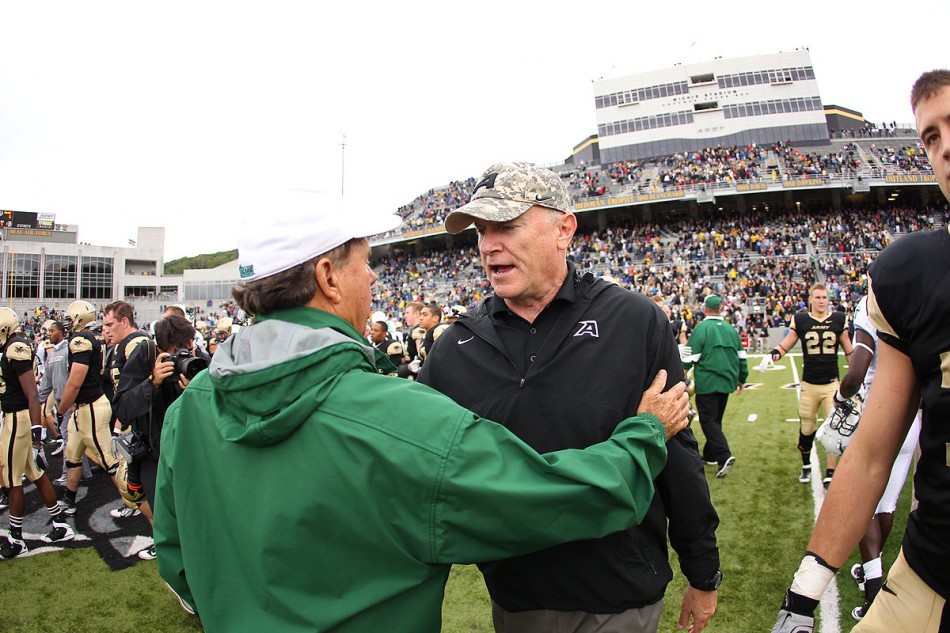 Army head coach Rich Ellerson embraces Tulane coach Bob Toledo as time expires.
"Obviously, I'm thrilled with the outcome," Ellerson said. "It was hard-fought. I think there was some growth that took place. You saw the turnover battle start to work in our favor.  One, we got some, and offensively we took advantage of those turnovers."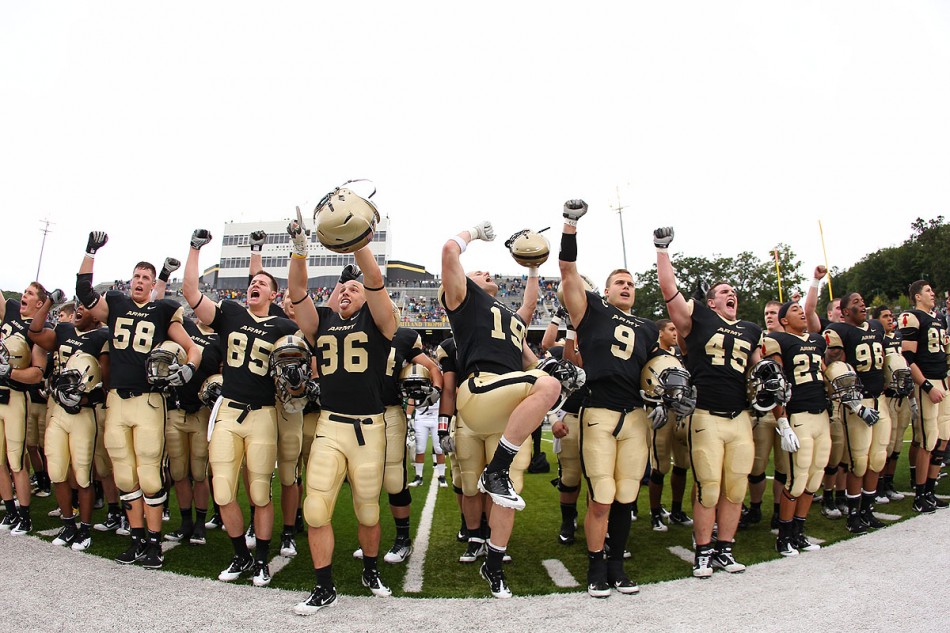 A nice moment, Tulane players slap hands with cadets as both make the way out of Michie after the game.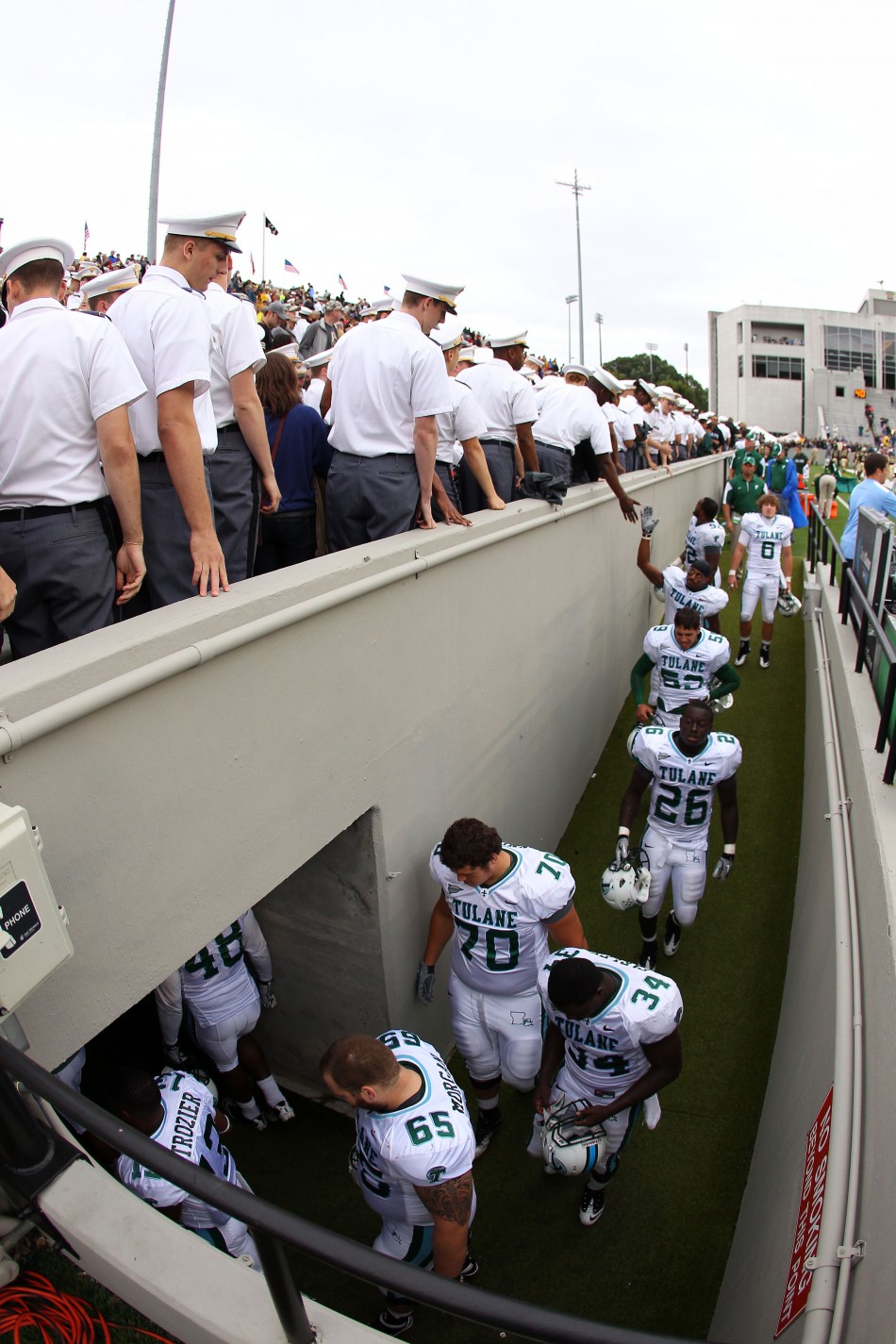 You can find more of my photos from this game here.