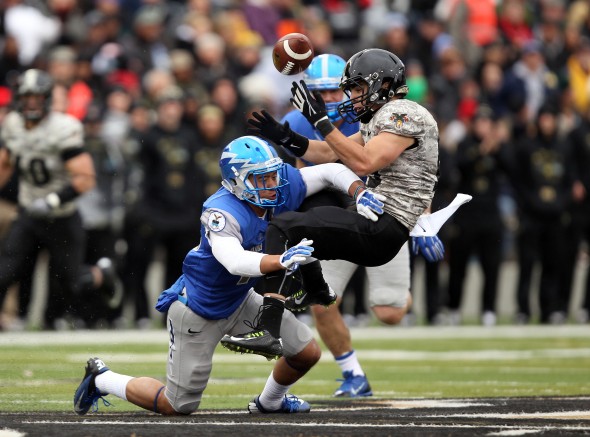 Army's first academy test in the Jeff Monken era ended in disappointment on Saturday as the Black Knights' offense struggled to move the ball in a 23-6 loss to Air Force at Michie Stadium in West Point.
Air Force's defense limited Army to 169 yards of total offense as Monken's squad, with the cloud of the recruiting scandal still looming overhead, managed just eight first downs. Air Force secured the Commander in Chief's Trophy and improved to 6-2 on the year, while Army fell to 2-6.
"Credit to Air Force. They just did a really nice job," Monken said. "They are a great football team and a well-coached team. They did a great job defending us today. We couldn't get anything going on offense and 1-of-12 on third down is about as good as you can do and 0-for-12 would be the only thing better and just an unbelievable job on their part. It was frustrating for us. We didn't sustain any blocks on offense and we were not able to get anything going inside."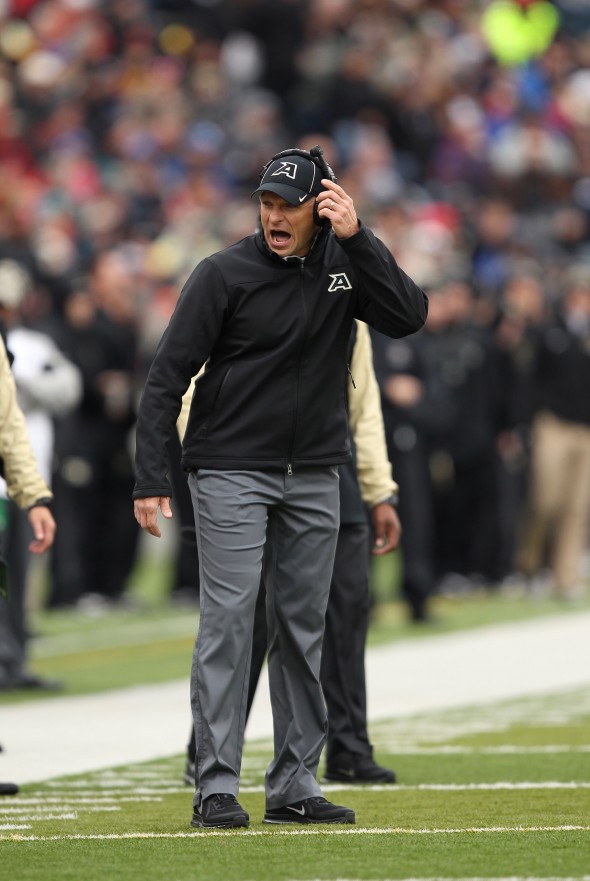 This game was, to be honest, a bit hard to watch as a fan (less painful as a photographer, but in terms of big plays and action, it lacked… unless you're into field goals). Both Air Force and Army run similar offenses and relied on option runs, although the difference was Air Force could connect on passing plays when it needed to. West Point's Angel Santiago finished with 20 yards passing in a 2-for-11 effort, while the Falcons' Kale Pearson threw for 141 yards and was 8-for-12 on the day.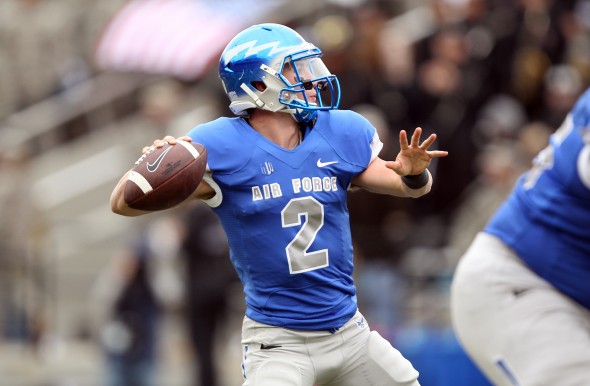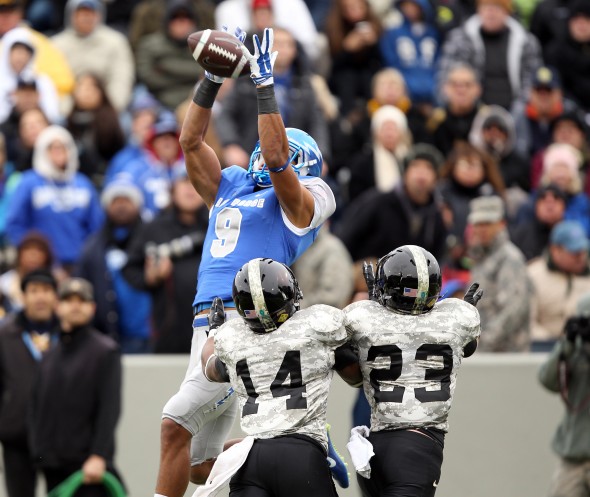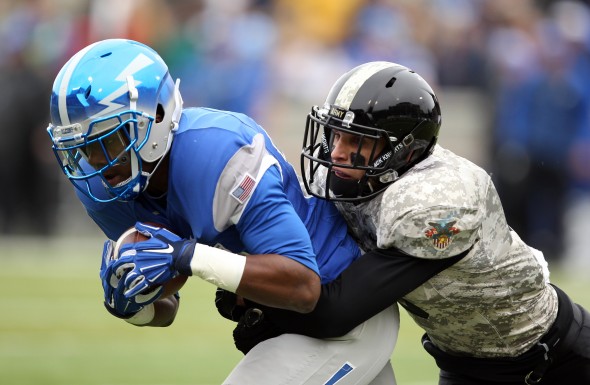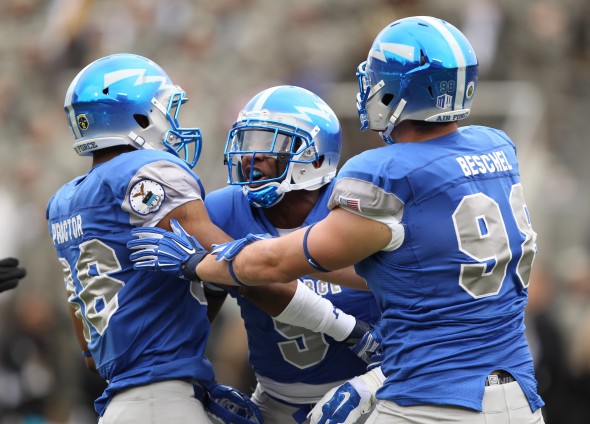 Being on the sidelines for this one, I came away with one thought: Air Force was no bigger, stronger or faster than Army. This wasn't a situation where Army was overpowered by a larger football program (like, for example, Stanford). Navy will be 4-5 tonight after losing to Notre Dame, while Air Force's six wins are more than Army has combined over the last two seasons. Army has just one season with at least six wins since 1996.
"We fully anticipated that it was going to be a slugfest with two teams battling it out and that's what type of a game it was," said Monken. "Ultimately, they have a good football team and they beat us today."
And so on the subject of frustration, I'll go through some of my images. The day began with the worst traffic backup I have experienced in my six years shooting Army, with bumper-to-bumper beginning at the Bear Mountain circle. After an hour and a half, I made it the seven miles to Michie and hit the field just before kickoff. Army quickly picked off Pearson and the optimism was high.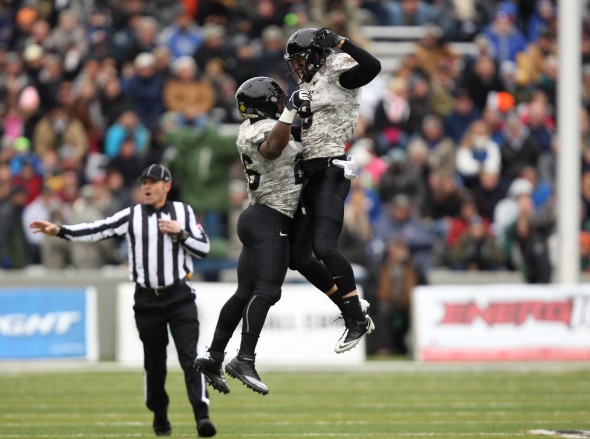 Angel with the Heisman pose: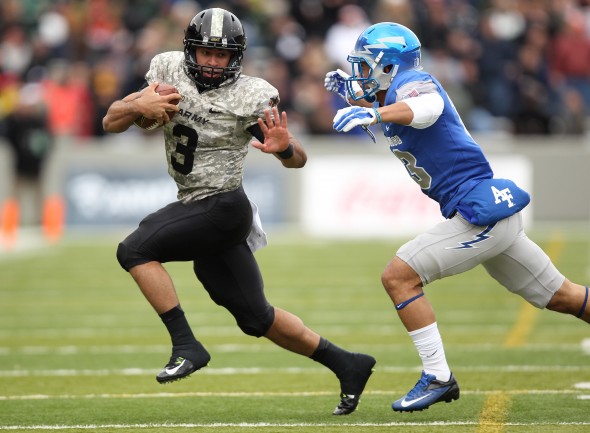 Dixon takes a handoff: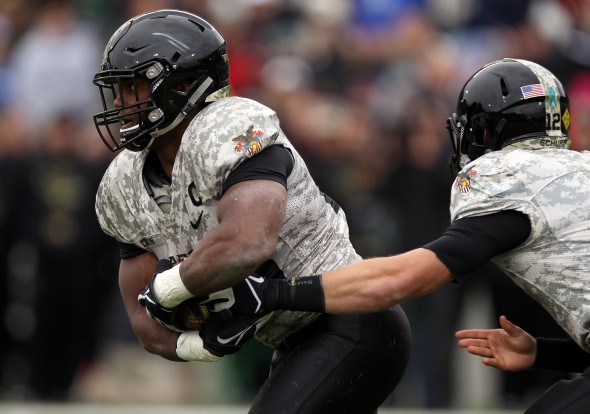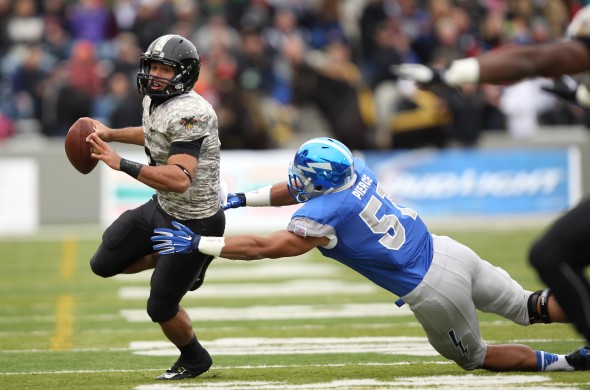 Monken and Air Force coach Troy Calhoun chat during an injury timeout: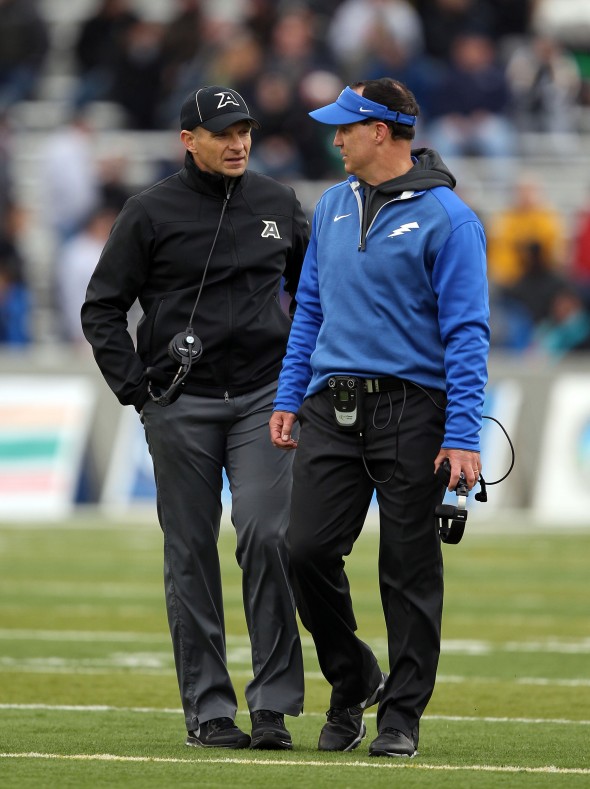 Army was limited to field goals, as Air Force steadily chipped away and took a lead. The breeze aided a 50-yard field goal in the second half, but the game had already begun to slip out of reach.
It doesn't appear Monken addressed this play post-game, but I will say the non-call on Santiago's would-be touchdown pass in the second half was just about as bad as it gets for the refs. I was setup in the endzone and watched that whole moment develop, and some of us even had photos of the Air Force guy's hand wrapped around the helmet of Army's receiver (I can't recall their names). It was textbook pass interference and it was pretty stunning when no call was made. Perhaps the field judge felt the contact went both ways? That's my only reach of a guess. Did they explain it on CBS? What a brutal non-call. Monken lost his mind and a few minutes later had a long discussion with several of the refs, including the guy who didn't throw his flag. Anyway, a touchdown there (or a flag and a first-and-goal) changes things dramatically.
Tony Giovannelli's catch-and-fumble was unfortunate as he was carted off the field (first time I've seen that happen at West Point, and probably the first time I've seen it in person since Eric LeGrand in 2010).
And that about did it. Air Force took a couple of knees and prepared for their alma mater celebration. First, Army: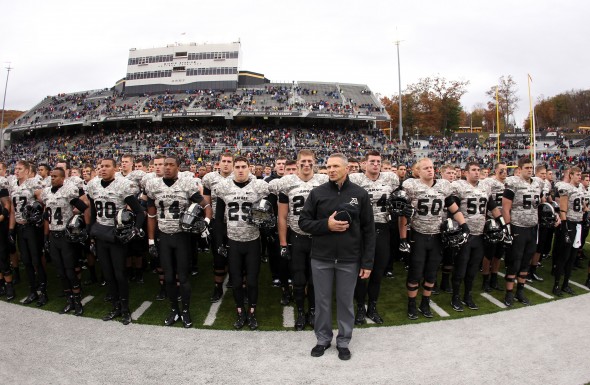 And then Air Force:
Army next takes on UConn on Nov. 8 at Yankee Stadium before hosting Fordham later this month.