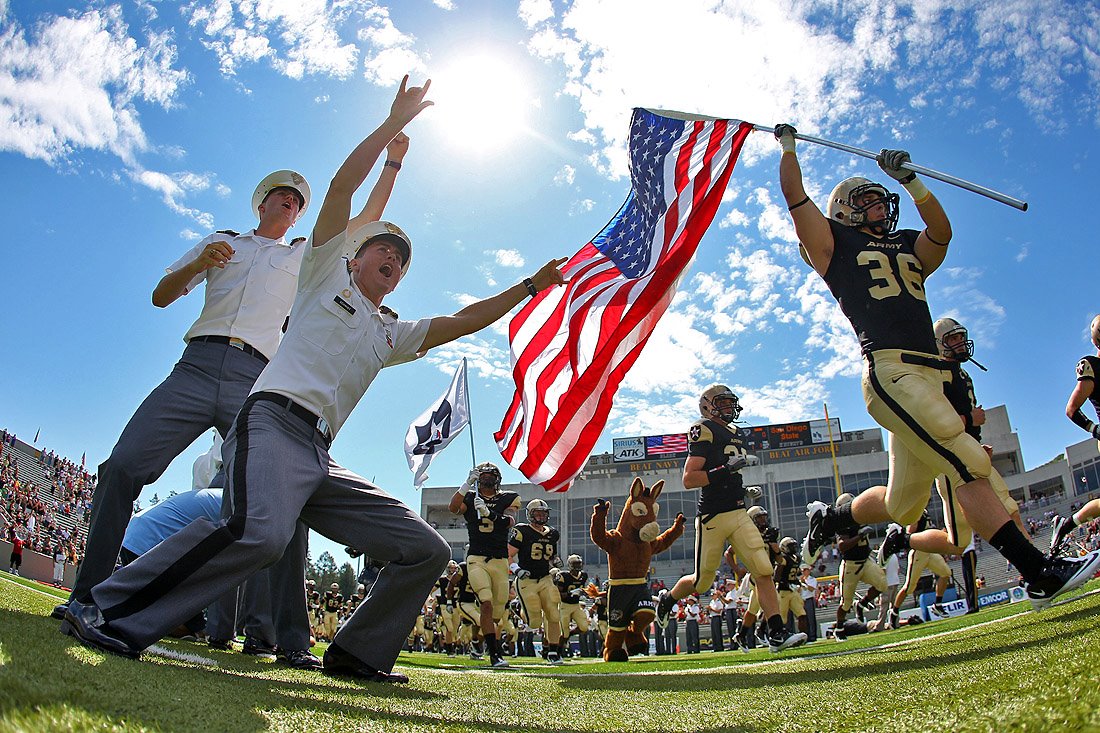 Army's Jon Crucitti carries an American flag flown on Sept. 12, 2001 at the World Trade Center out into Michie Stadium before Army's game against San Diego State on Sept. 10, 2011 in West Point, N.Y. The Black Knights fell just short in their final drive, losing 23-20 in their home opener. (Danny Wild/USMA)
* * *
Army made it's long-awaited return to Michie Stadium on Saturday, a close game that should have been an Army win but ended up being a [sloppy-at-times] 23-20 loss to San Diego State.
I thought Army ran the ball well again, but the defense stepped up big at times, which was good to see after losing DE Jarrett Mackey in the season opener.  The turnovers (or near-turnovers) was upsetting and extremely frustrating to watch, as I'm sure it was for the ball carriers all afternoon — last year, this team prided itself on being among the top teams in the nation in turnover ratio. I don't know what the problem was on Saturday, but hopefully we'll see better against Northwestern.
Head coach Rich Ellerson didn't have many answers when it came to this issue, either.
"Some of that is your opponent having high-speed collisions with the football. I wish I could tell you what exactly it is," he said. "We obviously have some youth in there, but a lot of the challenges are veteran players doing things that they're very experienced at. We haven't done anything differently with our preparation. We take great pride with those fundamentals associated with the football. Obviously, we didn't take all those great fundamentals to the game."
"We're not going to change anything we've done," he added. "We've gone from being one of the best teams in the country in that regard to one of the worst."
That about sums it up. On to the photos: It was a very bright sunny afternoon for this game, and at noon, the sun was pretty tough to shoot in from any angle. Heat waves tend to come off the turf at Michie on sunny, warm days, and they can really mess with images at long distances. The best light was in the fourth quarter (the NU game begins at 3:30 pm, so I'm expecting better light throughout).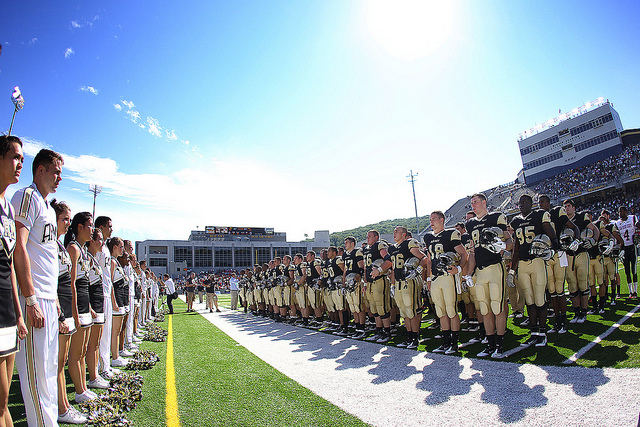 Here's the traditional alma mater after the game, and you can tell by now, the shadows are longer and the sun is a bit lower.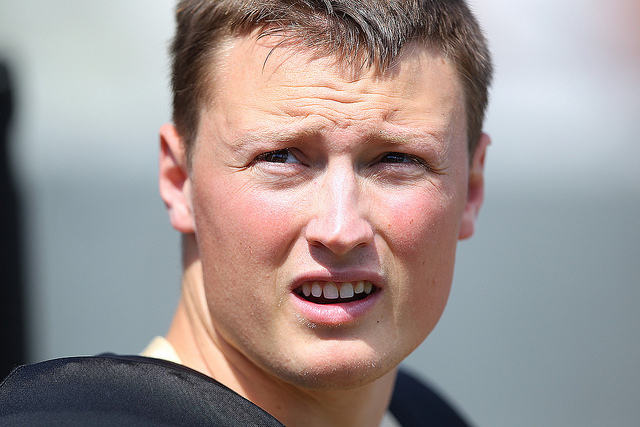 Punter Kolin Walk on the sidelines. He got a rude greeting a week earlier when his first collegiate punt attempt was blocked and returned for a touchdown in Northern Illinois.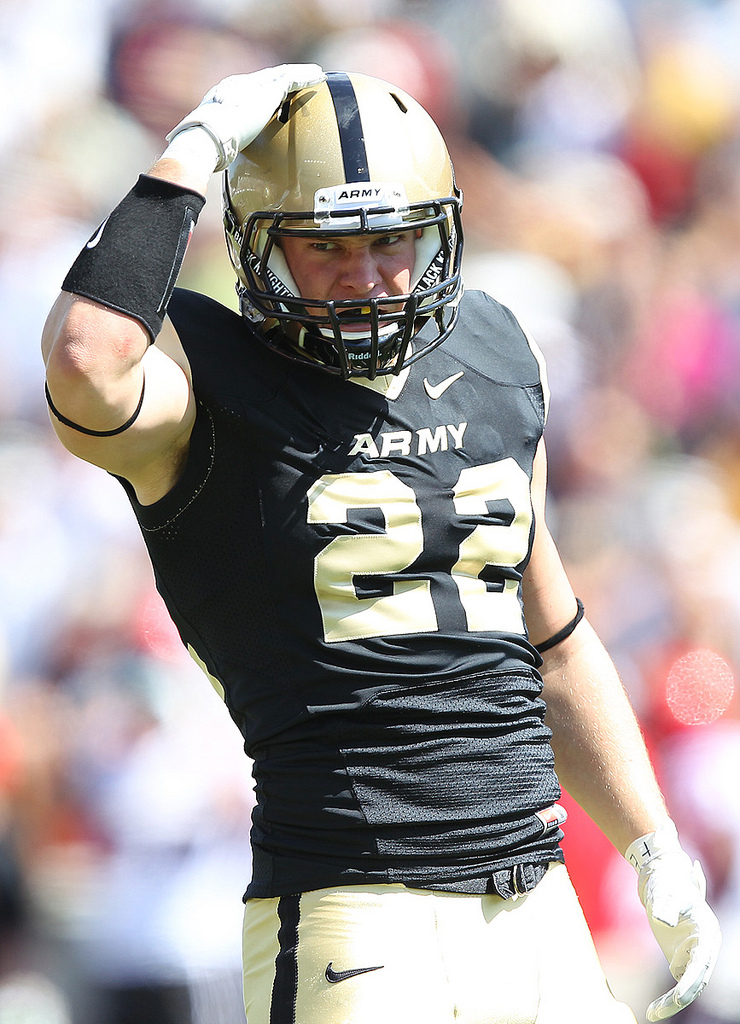 Nate Combs shows some intensity on the field after missing almost all of the 2010 season. Part of the difficulty in shooting in this kind of sunlight is shown in an image like this one — harsh light, a black jersey, and a need to capture the eyes and emotions and expressions of the players. His arms are overexposed, but I'd rather see his face than his forearm, personally. For this reason, shooting in Av mode can't be trusted (how come Canon can't get Av to ever work right?)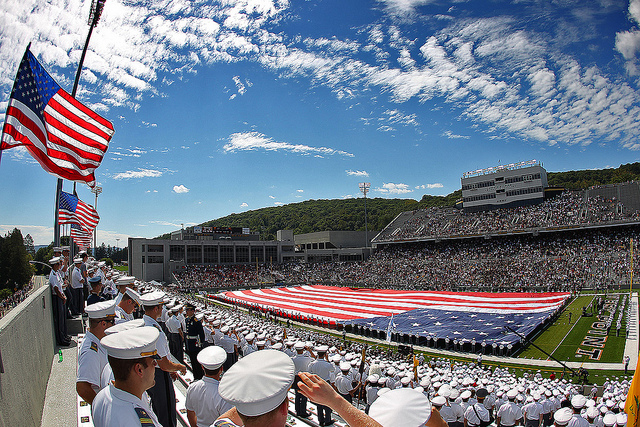 I initially had hoped to capture the halftime super-flag from the roof of Kimsey Athletic Center (the gray and black building on the left side of this image, behind the south endzone. Being it was the 9/11 weekend, and being it was West Point, I was told there would be no access due to snipers up on the roof). Plan B, which I had in mind for about a week, was the left corner of the east stands, where the Corps is stationed during the game. I knew this would give me a view of the flag, the press box, Kimsey and would incorporate the American flags on the left and the Corps itself. So, I was pretty pleased at how this came out, as planned. I tried to bring back some of the sky a bit in post-editing as well.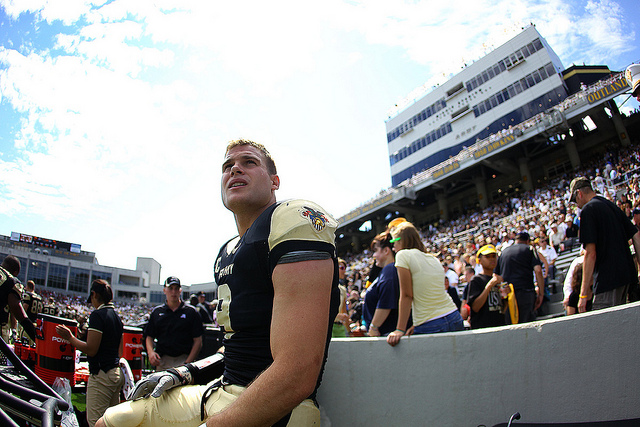 Captain Steve Erzinger checks out the scoreboard while riding a stationary bike on the sidelines. These two above images are both from my 15mm fisheye lens — I'm starting to get kidded about my favorite combo, which is essentially big (400mm super telephoto) and small (a round little fisheye I toss in my pocket). I think it creates some good variation though.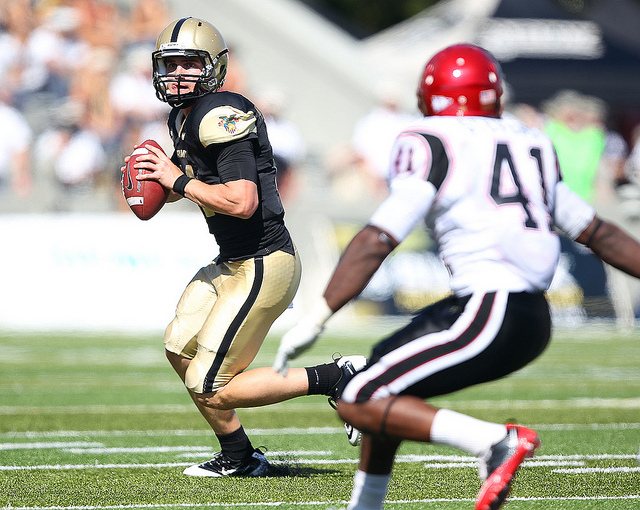 Max Jenkins was 0-for-3 in passing attempts, but he looked pretty good when he was quickly forced into action after Trent Steelman went down with a shoulder injury. It looked like Max slipped a bit on a near-impossible 4th-and-25, effectively ending the game, and that came after a timeout with around 1:05 remaining.
"Max is one of those guys, with relatively few reps during the course of the week, who maximizes what he takes away from those opportunities," Ellerson said. "He may not be the weapon, at times, that we feel Trent can be, but his ability to manage the offense, his ability to execute and get us into the right play and keep giving the offense a chance is really remarkable when you consider relatively few snaps he has had."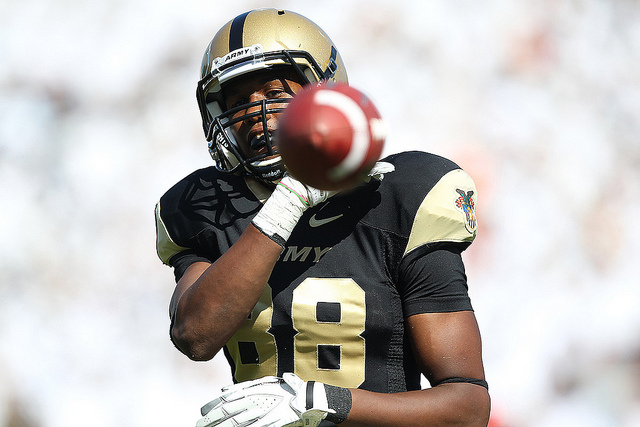 Jared McFarlin was targeted throughout the day and looks like he's emerged as the No. 1 WR target for Steelman (and Jenkins). Ellerson more of less confirmed that, gushing about the progress he and Anthony Stephens have made.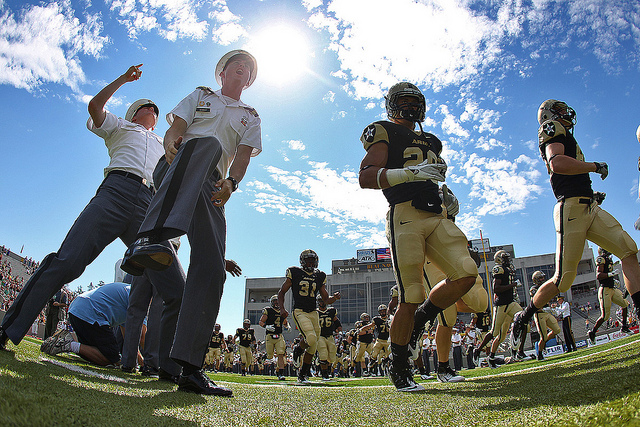 This was a few frames after Crucitti took the 9/12 flag out to the field, and I liked the poses of the two cadets on the left. I sent one of these images into Sports Illustrated and got no response.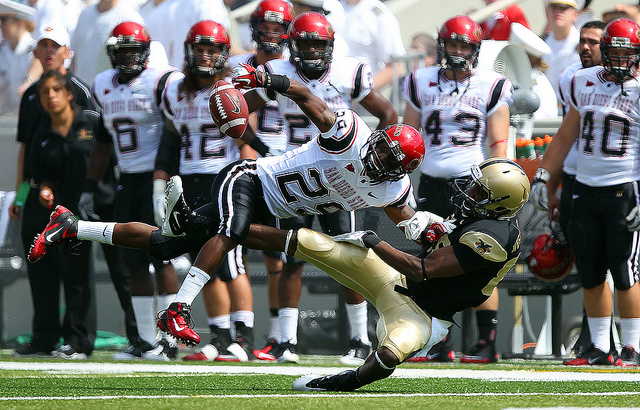 Here's McFarlin having a pass swatted away. I got a few of this play, but I wish the background was cleaner.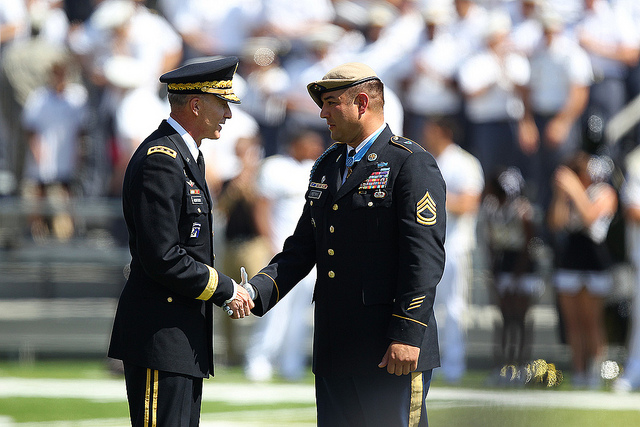 Sergeant First Class Leroy Petry, the latest Medal of Honor recipient, was introduced to the fans by Lt.General David Huntoon, the 58th Supe of West Point. Great to see SFC Petry on the field and shaking hands with young fans. At one point he walked up through the seating area and a wave of fans stood and applauded as he walked. Petry lost his hand in combat when he tossed away an enemy grenade, saving the lives of his fellow soldiers. And that was after he'd already been shot in the leg. He's been making the rounds in New York lately, stopping by a Mets game and, the following day, a Jets game. I know many of the cadets on the team were in awe of meeting him a day earlier.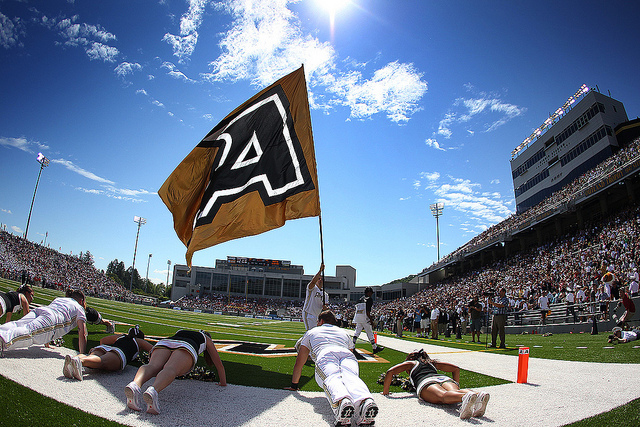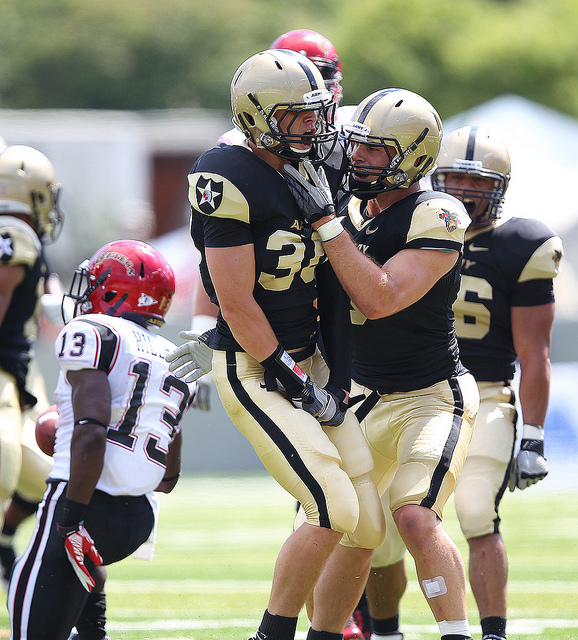 Plebe Hayden Pierce (left) celebrates a stop with captain Steve Erzinger on San Diego State's Ronnie Hillman. Hillman really torched the Army offense, especially early when SDU took a 14-0 lead.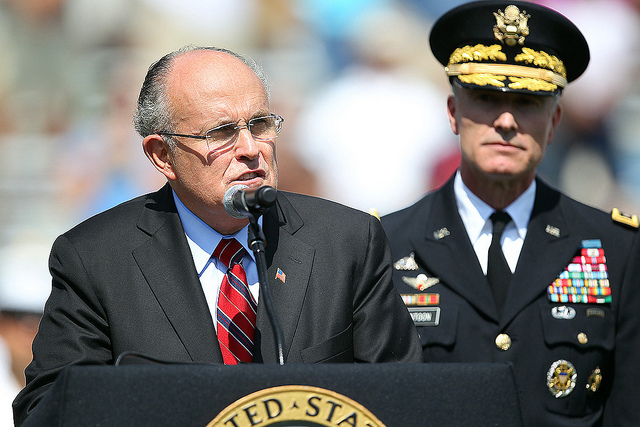 Former New York City Mayor Rudy Giuliani spoke during a ceremony honoring 9/11 first responders.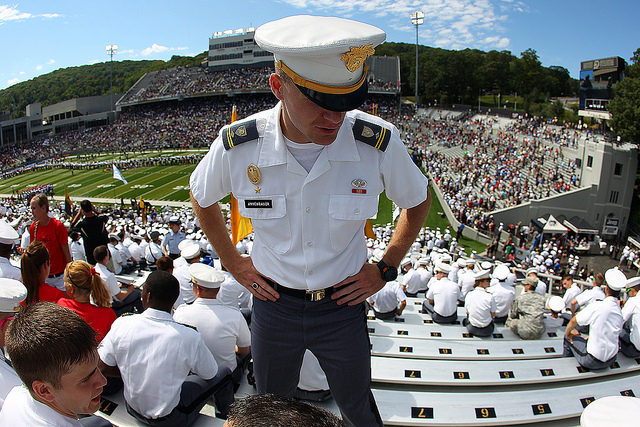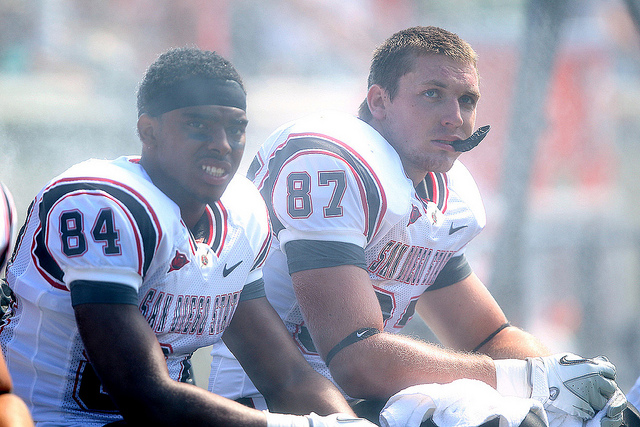 San Diego had these huge fans blowing mist on the sidelines, and it created a cool effect seen here. I added a bit of contrast here to cut through the haze a little, too.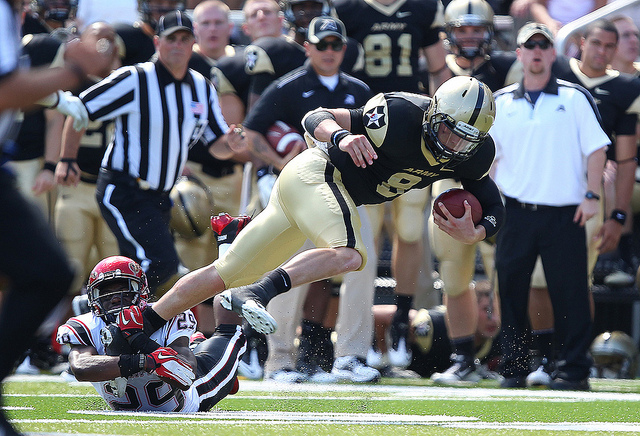 Trent Steelman had a career-best 157 rushing yards, along with three touchdowns.
Another of Hayden Pierce — Army is running a feature on him and another rookie in the upcoming game program, so I made sure to get a few.
West Point wore 9/11 decals on their helmets in honor of the weekend's anniversary.Last September, Army took the field with a flag flown at Ground Zero, and they did the same again this year.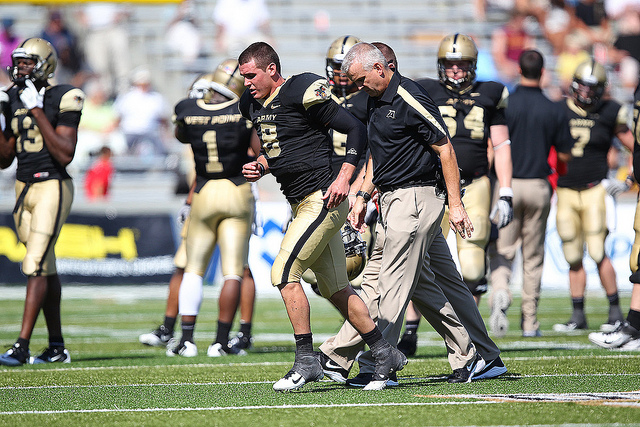 Steelman leaves the field with trainer Tim Kelly. He returned briefly, but Jenkins finished the game's final drive. Ellerson said he'll be back for Saturday. "We expect him to be available. How much we're going to be able to do during the week with him, we'll wait and see this evening."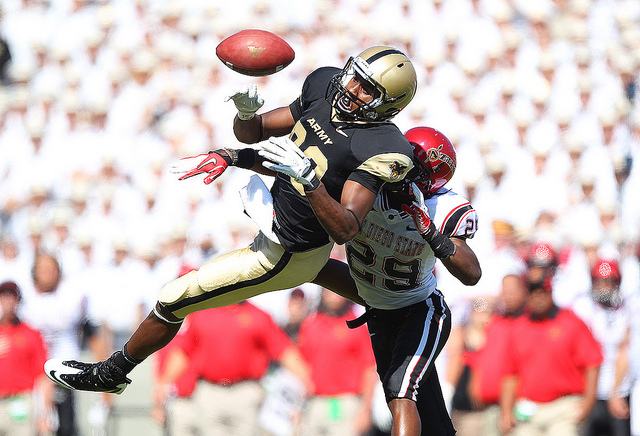 I got three nice frames in a sequence here of Jared McFarlin, who watched this desperation pass from Jenkins slip through his hands in the final minute of the game. I'm hit and miss when it comes to correctly predicting where the ball will go on any given play (the triple option is a nightmare to shoot) but this one came together, especially with the background of cadets.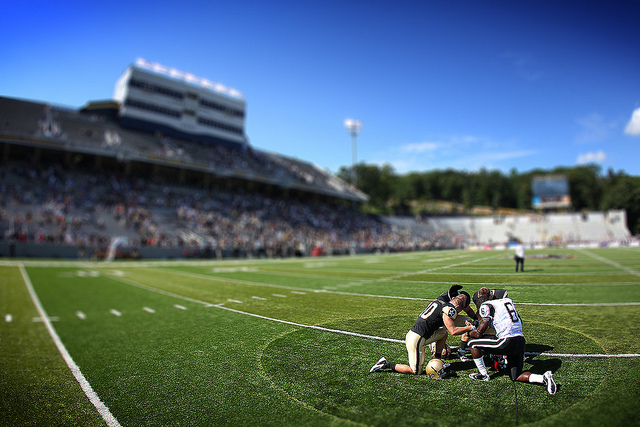 This final photo I took some artistic license on and selectively blurred the background to create an effect you'd see with a tilt-shift lens — that's not something I nor most photojournalists would do, but since it was just for fun on the blog, etc, I gave it a shot. Essentially, it draws your attention more toward the players who gathered to pray (conveniently right in the middle of a circle on the field, where the lacrosse net is usually placed). I got some nice feedback on the photo, so I'm fine with it.
You can see more of my shots alongside those of Tommy Gilligan here (click on Photo Gallery 2): http://www.goarmysports.com/sports/m-footbl/recaps/091011aaa.html#
Pro combat uniforms revealed
The other bit of news this week was the new uniforms Nike unveiled for the Army-Navy game in December — here's a look at Army's version in high-res.
Personally, I love it. Personally, I do not like the black (or gold) sleeves on the current uniforms, it looks like a vest to me. Not only is this Nike one all white, but it brings back the old-school stripes on the undershirt. Really cool. The combat-colored boots are really nice. The "sing second" phrase embroidered into the collar is also a great add. From what I heard, Ellerson was adamant about keeping these uniforms simple and traditional (we've seen what Nike is capable of unleashing — Maryland, Oregon, etc — given free control). Navy's version is nice as well, but I don't like blue on blue.
-D