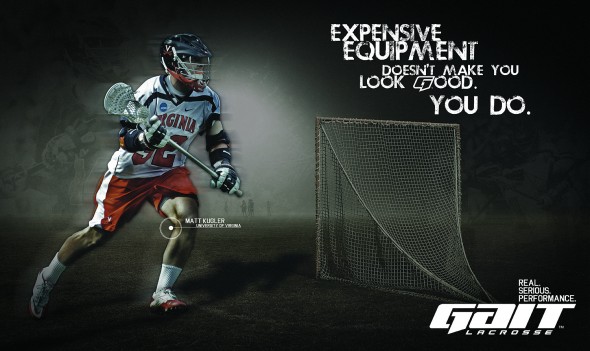 About a year ago I was contacted to do some graphic design work for a lacrosse equipment company's magazine ads. I had less than a week to crank out some ideas that captured the gritty, tough feel of lacrosse and, in this case, the Gait equipment brand. No sweat. And now after a year of unanswered emails and even a phone call, I've been totally stiffed on this job. A week's worth of high-res graphic design work and zero compensation.
What can I do? Pretty much nothing. So, I figured I'd at least show off some of the design work I did on these ads, which ultimately were not selected and never saw the light of day.
Gait Lacrosse takes its name from storied college lacrosse star Paul Gait, who gained fame in the sport alongside his brother, Gary. Today, the brand is the official equipment provider of about 14 college programs, including the University of Virginia, one of the top-ranked teams in the country. The Gait folks probably have no connection to my situation and likely have no clue I got screwed on this job.
My task was to create some compelling two-page magazine spreads that showcased UVA lacrosse players alongside the Gait branding and some catchy phrases or lines. What was originally supposed to be 3-4 designs ended up being about 15.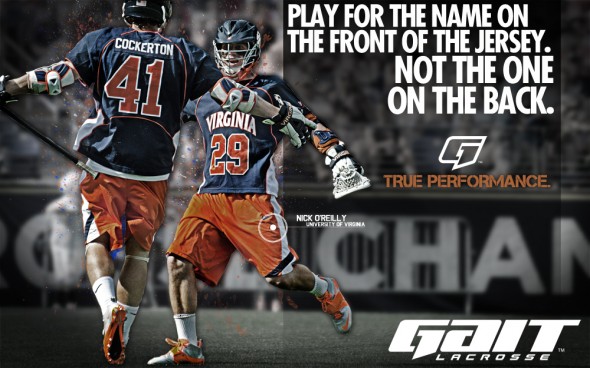 The project was requested by Jarrett Laabs of Pocket Knife Advertising. Nice enough guy, but for whatever reason, he just won't pay me. It's become a losing battle.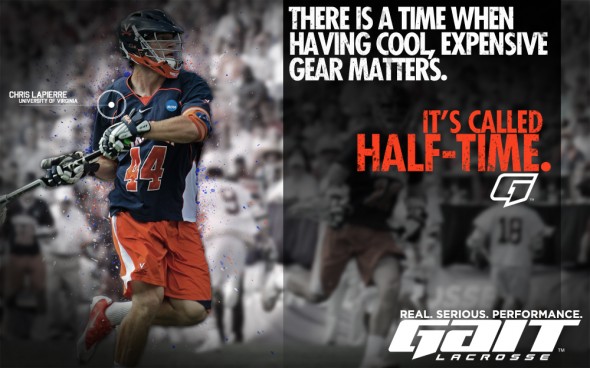 I was provided with the slogans to accompany the photos used, and I tried some splatter paint Photoshop brushes to throw in some splashes of team color into the images. Most of the designs feature players cut out from the image over a filtered lens blur. I got to play around with some fun fonts, like a Nike-esque Futura typeface in a few. Gait has a cool logo that worked well in the concept.
Ironic reference No. 1: "You can pay more money and look like a winner, or you can pay less (or, in my case, no money) and actually be one."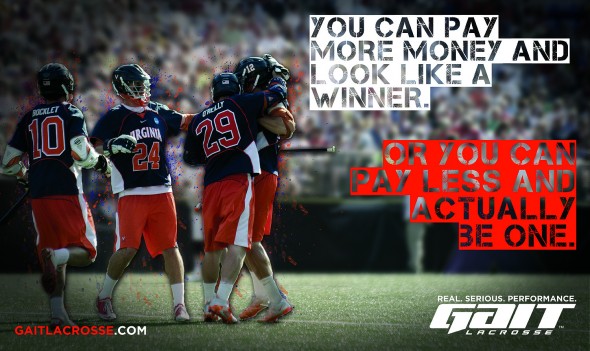 In Jay's defense, he's not the only one who's assigned me something and then stiffed me with payment. Evidently I'm too nice when it comes to getting people to actually pay me for my work. It's a good business model. Besides, photo equipment and computers are pretty cheap anyway…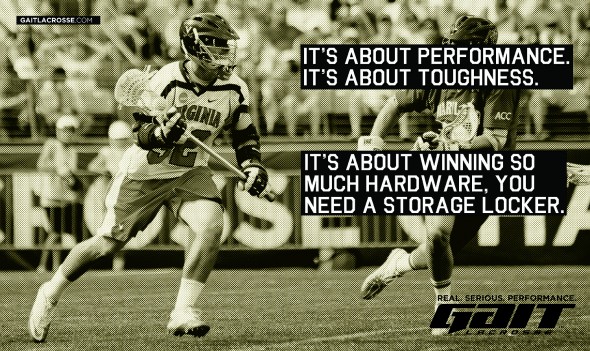 Ironic reference No. 2. I give up.